23 Bathroom Visualizations Featuring Decorative Wall Tiles
See how decorative wall tiles can look very stunning for your bathroom!
Because of the advanced computer technology these days, realistic images of interiors and architectural designs of homes can already be designed. This is very much helpful since it can give the owners a picture of how their space will look like when it is done. This lessens the chances of revisions in terms of design because the owner has already seen the space through rendered 3D images that appears like real existing spaces. We have used visualizations in some of our lists but today, we will be showing you an entire list of computer generated interiors that will no doubt blow your mind away because of how realistic they appear.
Today, we will be showing you bathroom visualizations that feature decorative wall tiles. Yes, it looks really beautiful in the bathrooms that are about to see and I will not blame the owners of these spaces if they are very excited about seeing the actual space. You will see different ways to work on wall tiles in the round up below. Scroll down and take a look at the images we have gathered for your inspiration.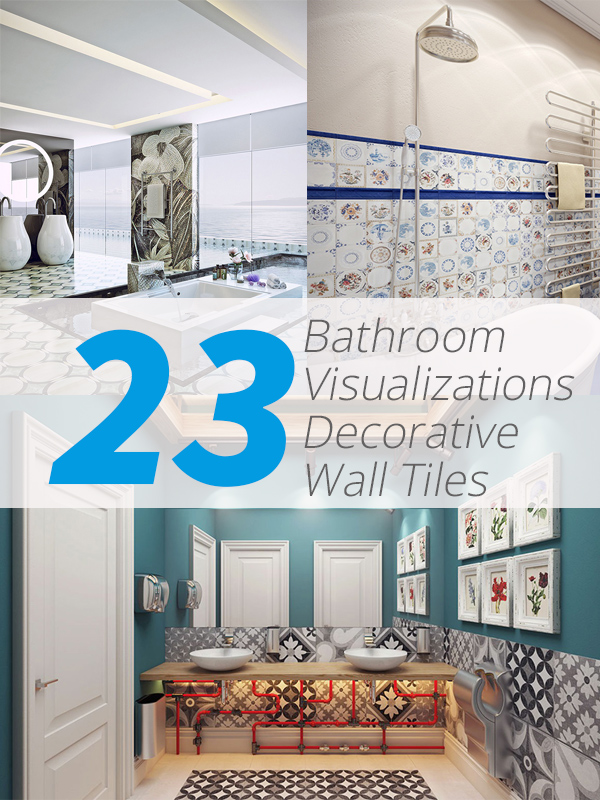 1. Bathroom Visualization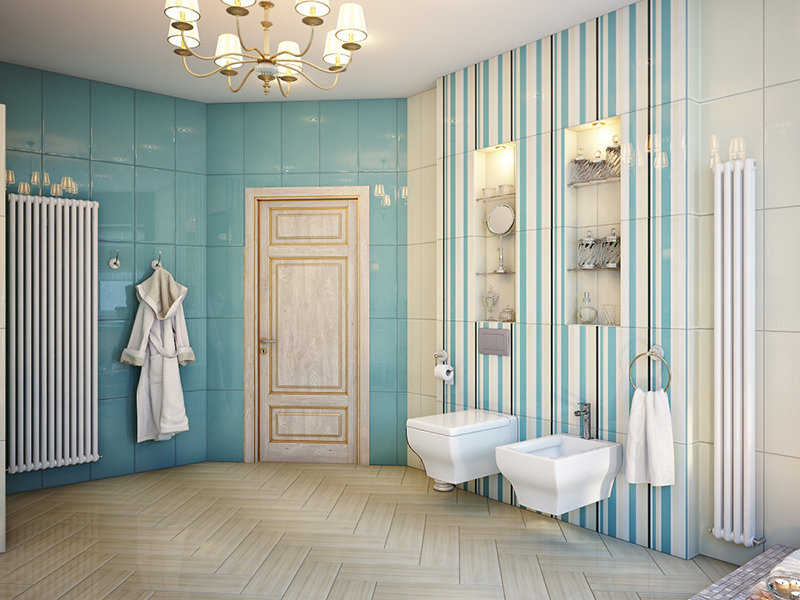 Love the colors used in this bathroom with stripes on one wall as an accent. I also like the flooring as well which looks very creative.
2. Boy Bathroom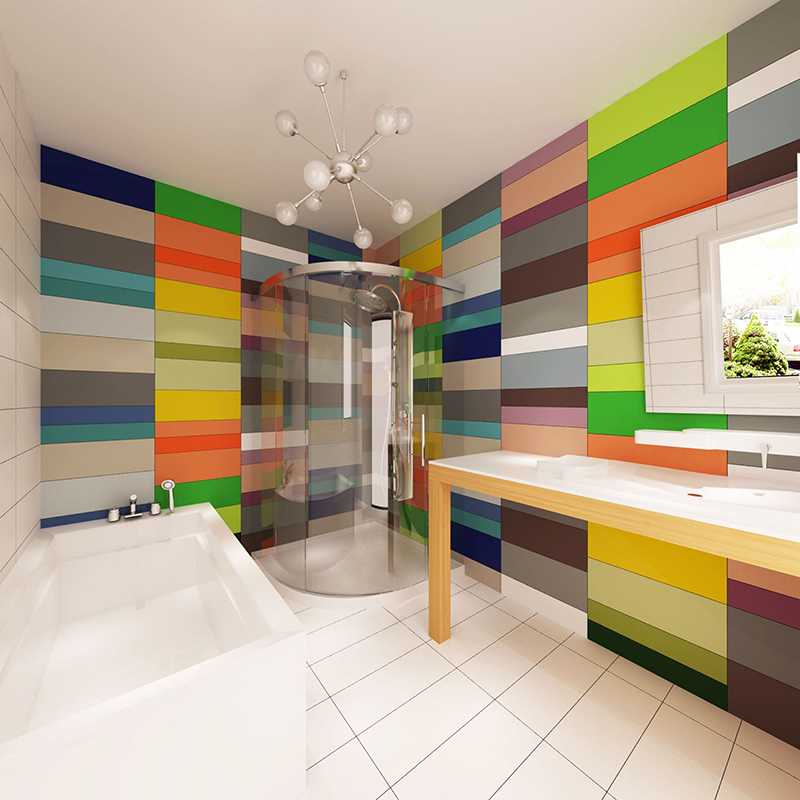 If you don't want to use printed wall tiles, then try this technique. Put together wall tiles of different colors to achieve a lovely bathroom like this.
3. Classic Bathroom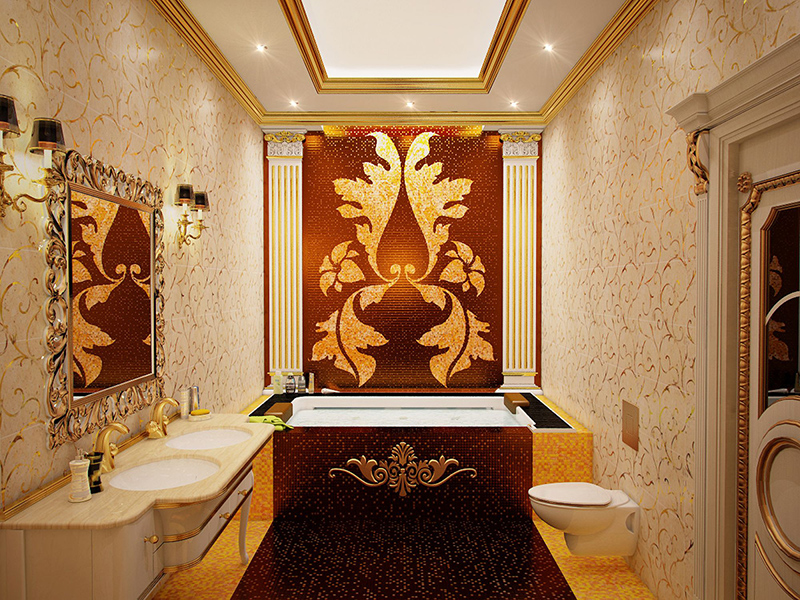 Now this is indeed a luxurious bathroom especially that it used gold in it. Aside from the floral swirl wall tiles, you can also see how it used mosaic tiles to create a lovely wall accent.
4. Bathroom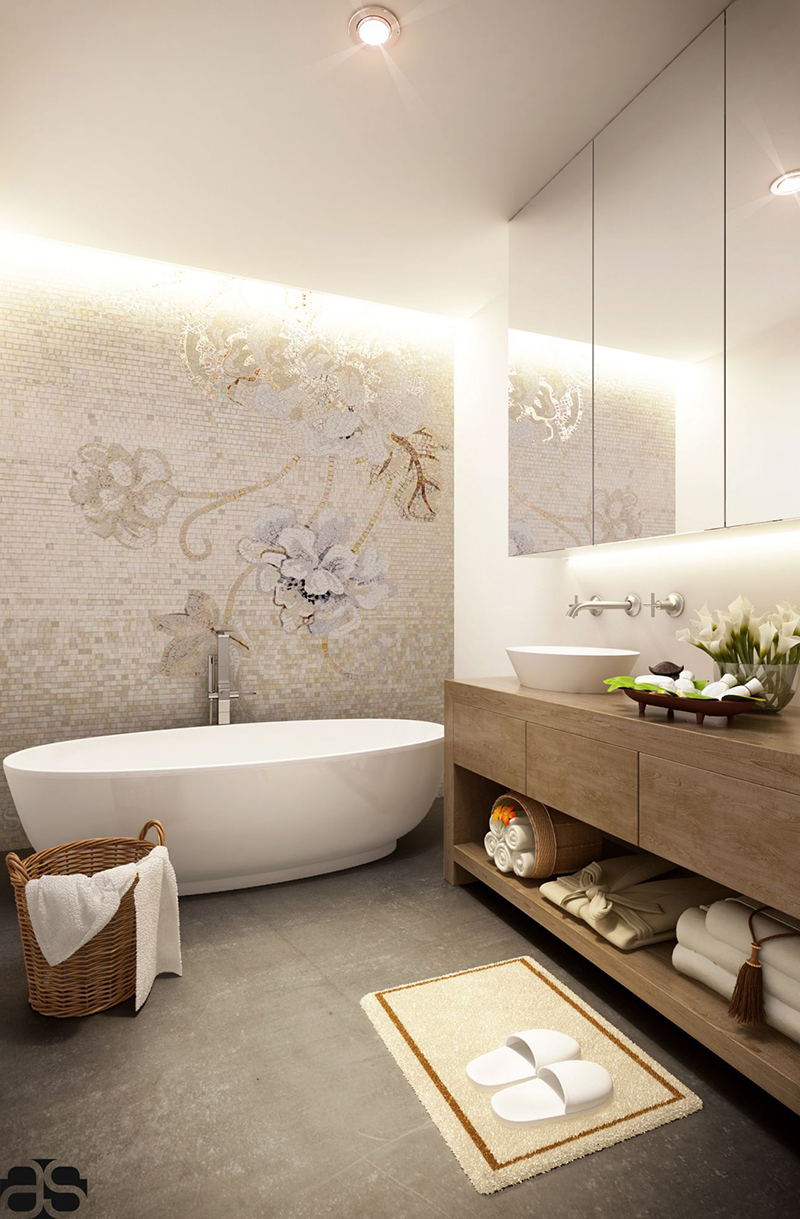 A mosaic wall that used tiny tiles together to create this lovely floral wall. I would definitely want this for my bathroom!
5. Bathroom 328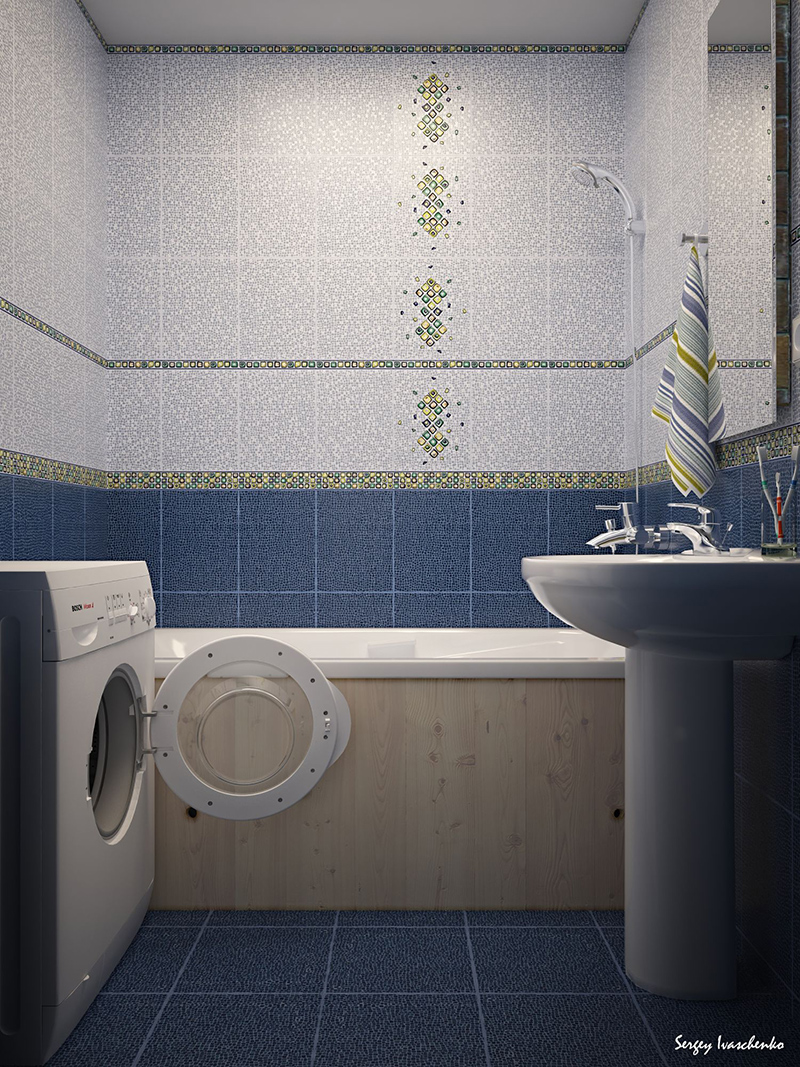 Although this bathroom is small, it looks really nice that it used different tones of blue in it with some yellow accents.
6. Bathroom Visualization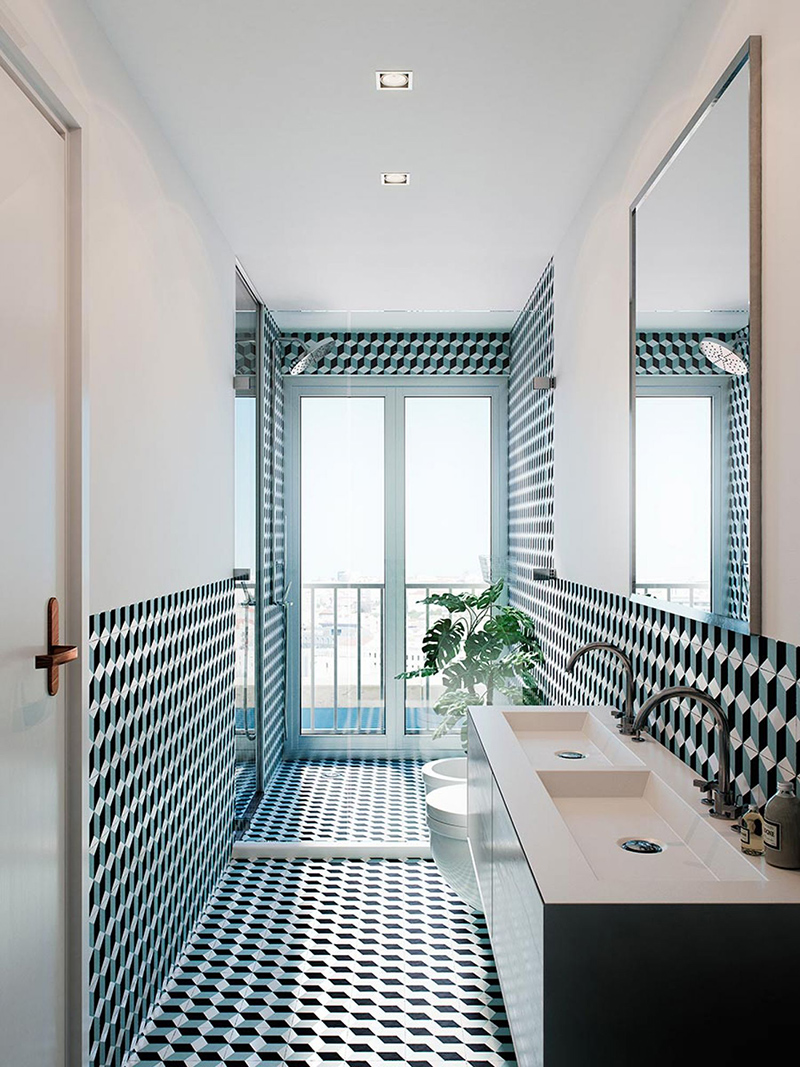 It isn't just the walls that is covered with geometric patterns but even the flooring too to create continuity in the design.
7. Blue Project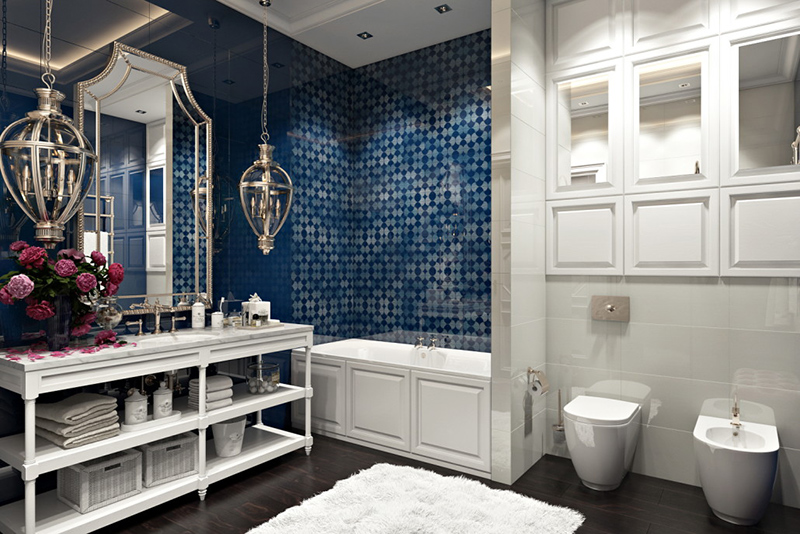 A classic bathroom with blue tiles for the bath tub area. Do you like the patterns use it? It sure looks awesome and brings more life to the space.
8. A Bathroom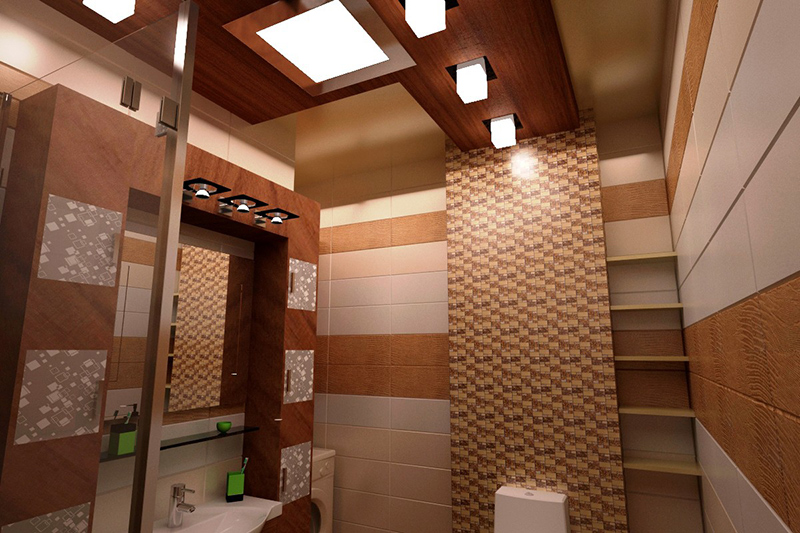 Who said a brown bathroom is just boring? Of course if you add wall tiles with prints in this manner, it will not look dull at all!
9. Bathroom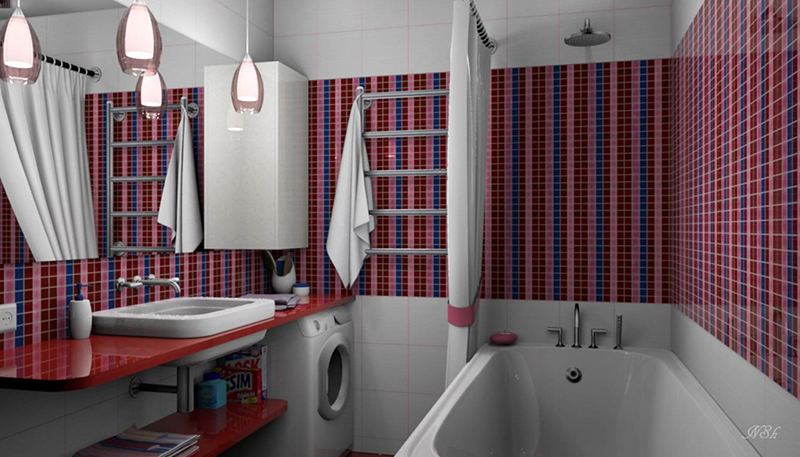 Another idea of using tiles for the walls. This is nice if you are turn between two colors to use in your space because you can actually use them together.
10. Water Closet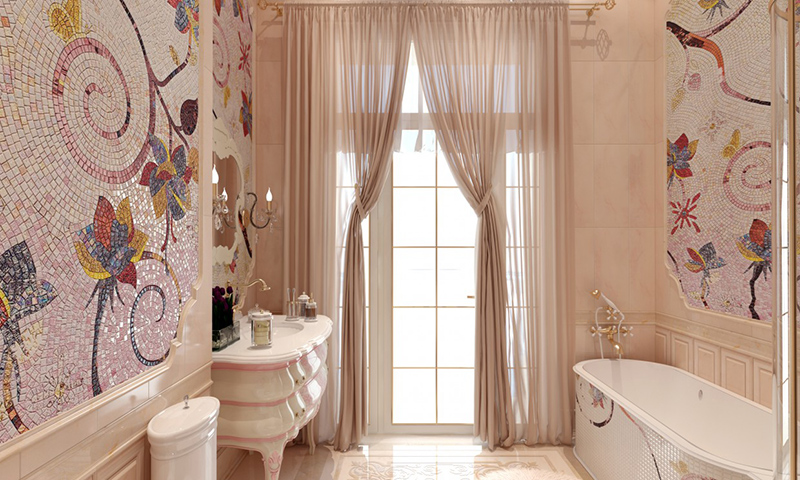 I honestly like it when I see mosaic wall tiles like this. Although it looks complicated, it sure is very stunning and anyone would definitely love to have a bathroom like this!
11. Luxury Bathroom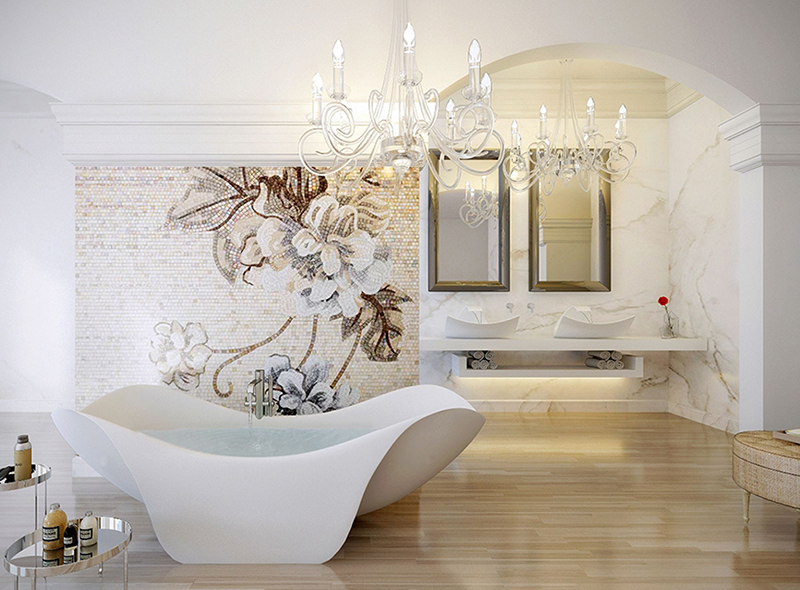 Another bathroom with floral mosaic tiles on the wall. Don't you just love the colors in it that looks totally sophisticated? And notice that unique bath tub too!
12. 3D Architectural Illustration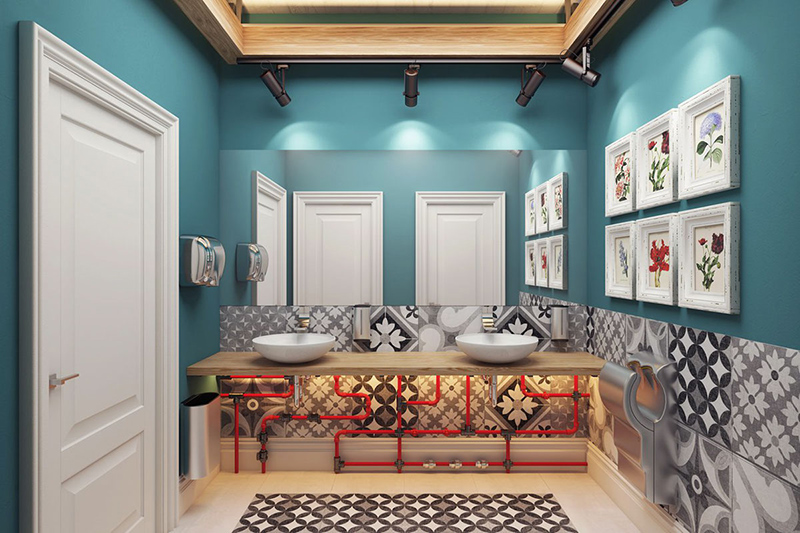 Aside from the patterns on the tiles, what I find interesting here is the exposed pipes under the sink that were painted red. Nice idea, right?
13. The Loo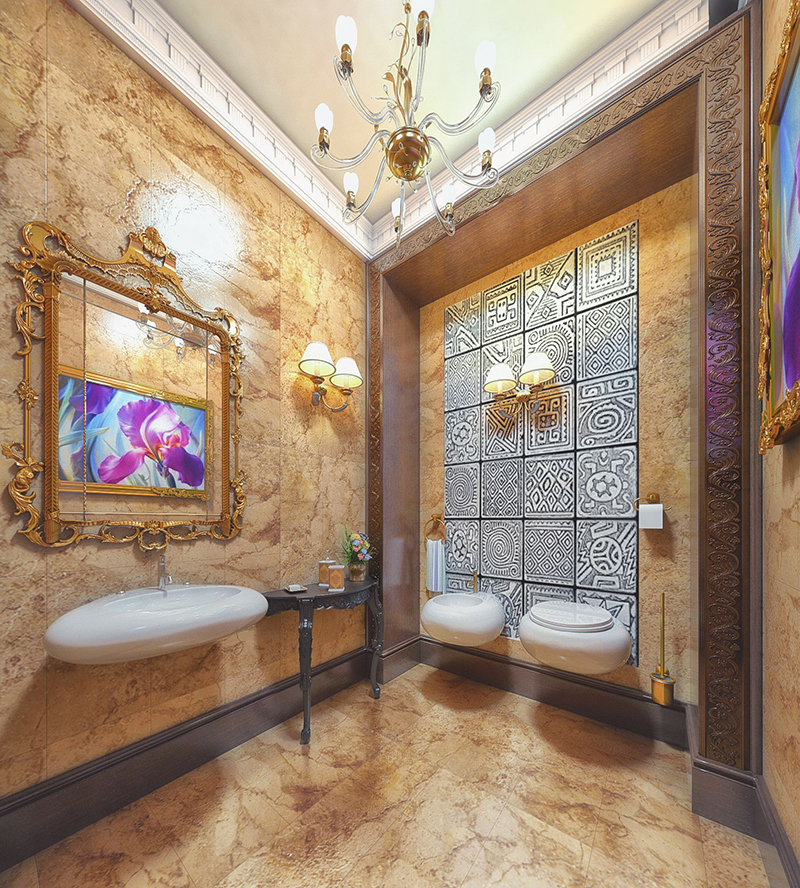 You can also try this idea by putting together printed tiles in black and white to make it appear like a doodled wall. Now it looked more exciting aside from the textured tiles it used for the wall and flooring.
14. Bathroom in the Slums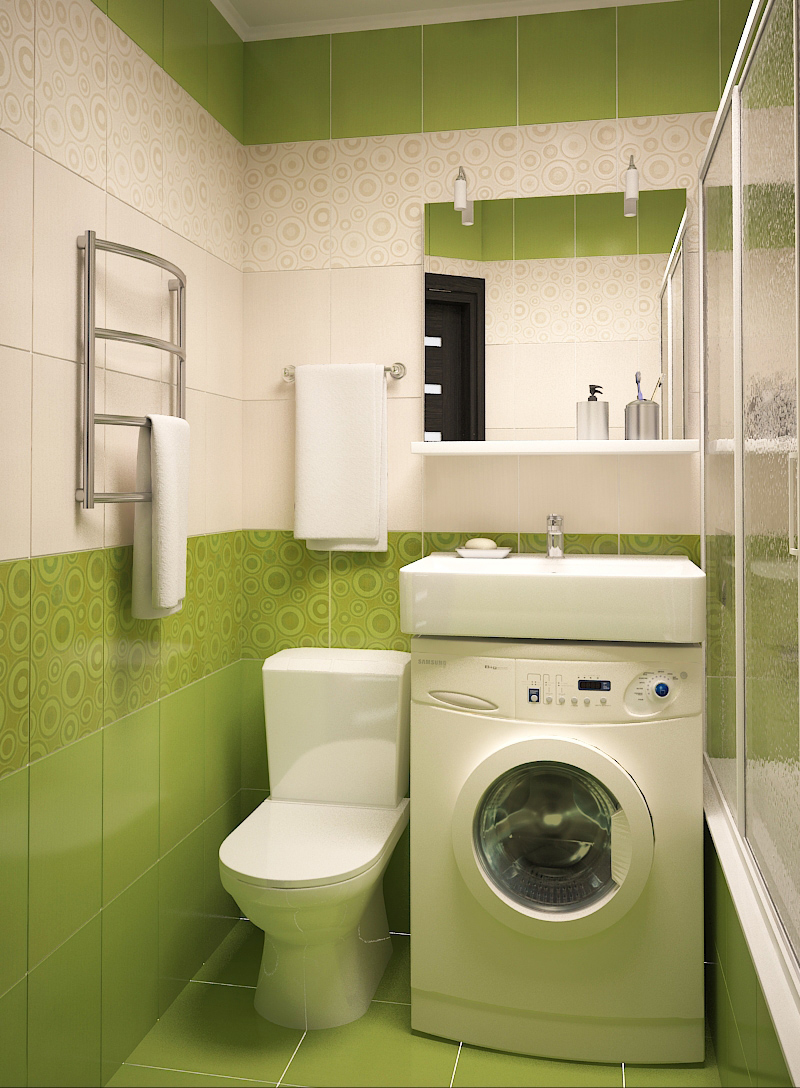 For this bathroom, the same prints for the all tiles were used but of different colors. Works well, right?
15. Yellow Bathroom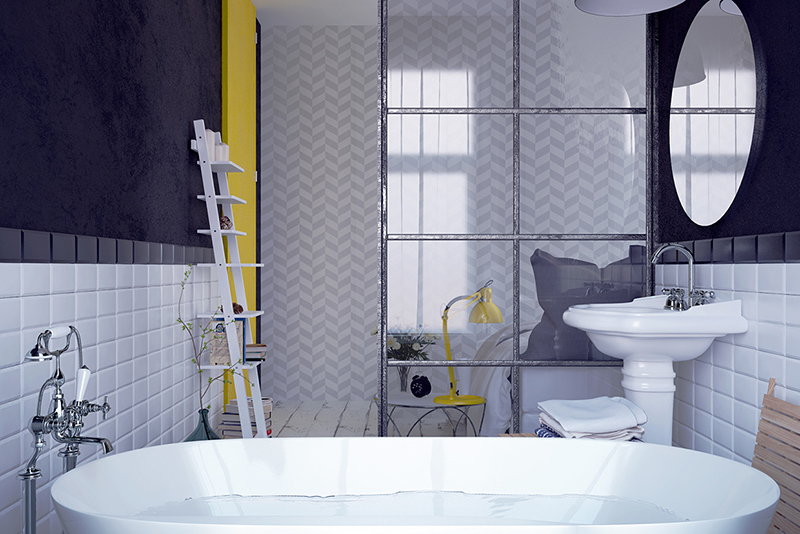 A simple bathroom in black and white but it has a patterned wall for the shower area for a modern touch.
16. Bagno 2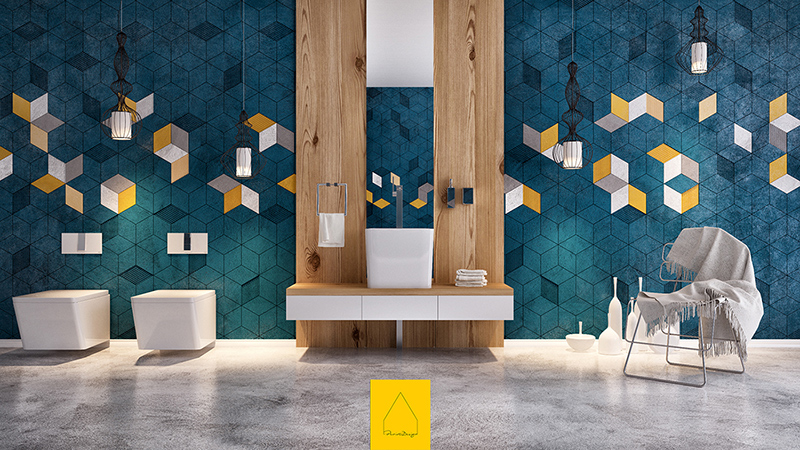 I so like how the walls of this bathroom are being done! It combined yellow, white and gray together in a stunning manner that it is being highlighted against the green tiles.
17. Female Bathroom Design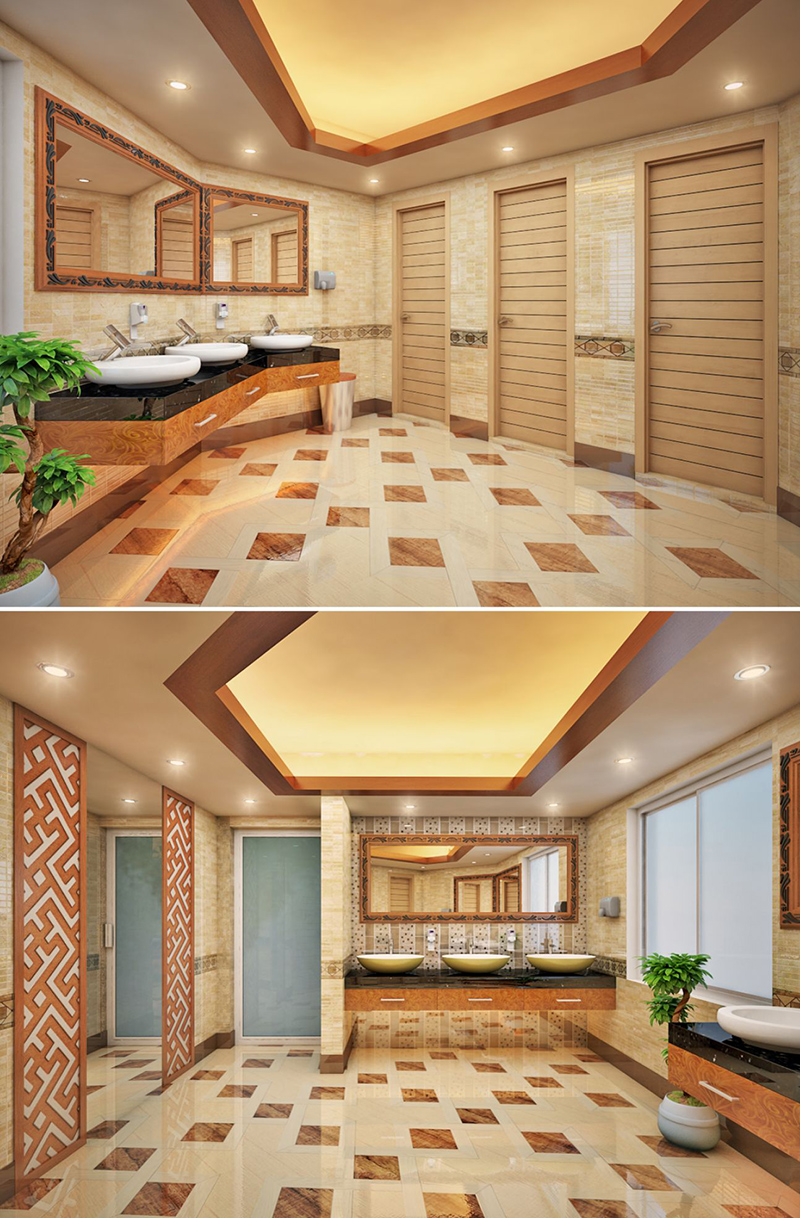 For this one, the approach is different. Aside from the sandy wall tiles, it added a line of decorative tiles in the center. You can also use this idea by adding wall tiles of different design for the vanity. I also like the wall accents on the other side too.
18. Washing Room Near Mans Majlis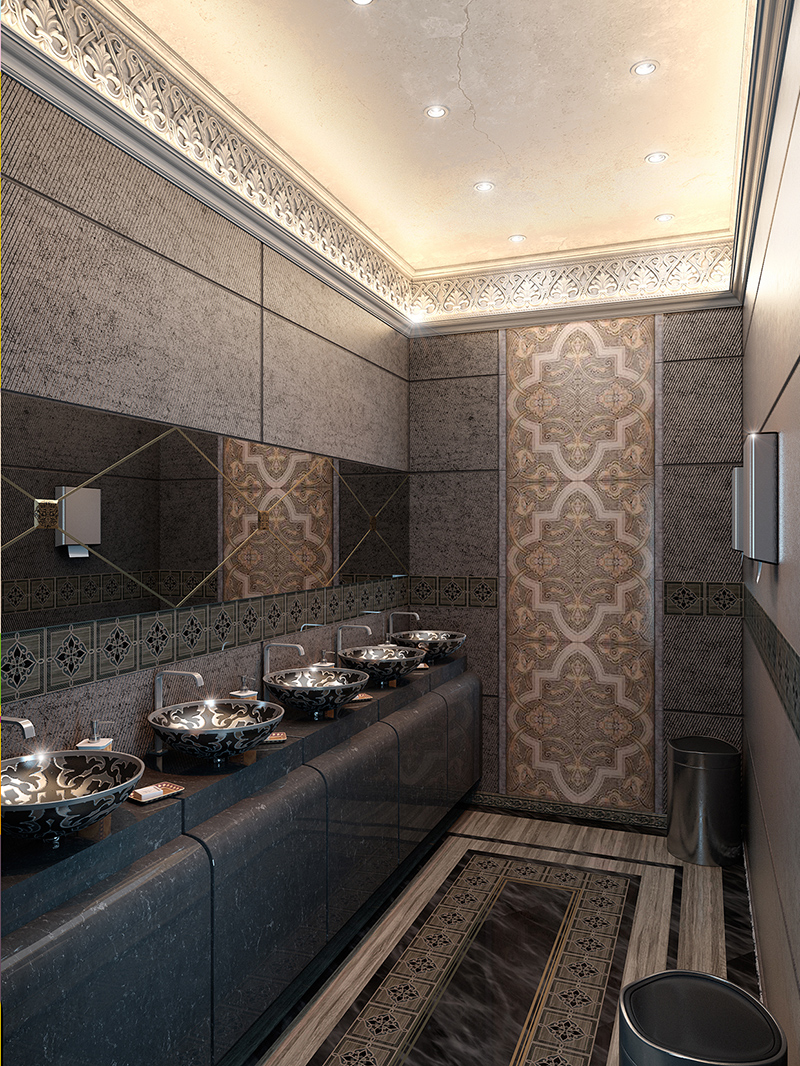 Intricate patterns were out together for this bathroom creating a totally mind-blowing space!
19. Luxury Bathroom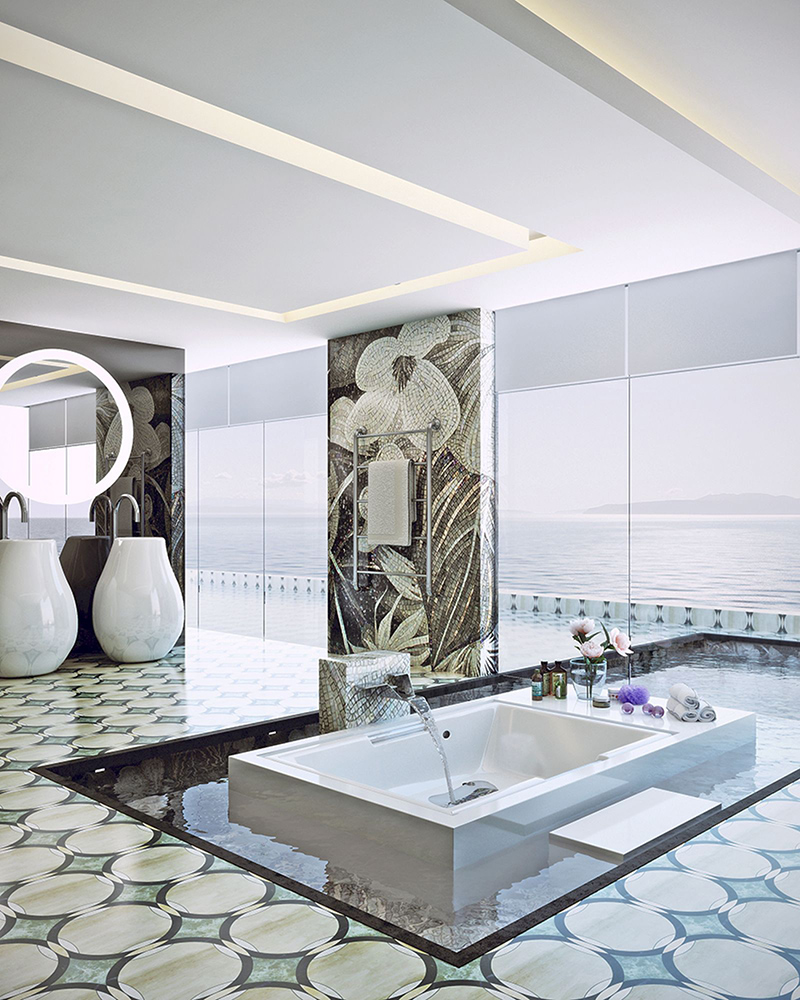 Another luxurious bathroom design with floral mosaic wall tiles. Aside from that, it also has printed flooring but what I really love here is the way the bath tub is sunken in the flooring.
20. House Sample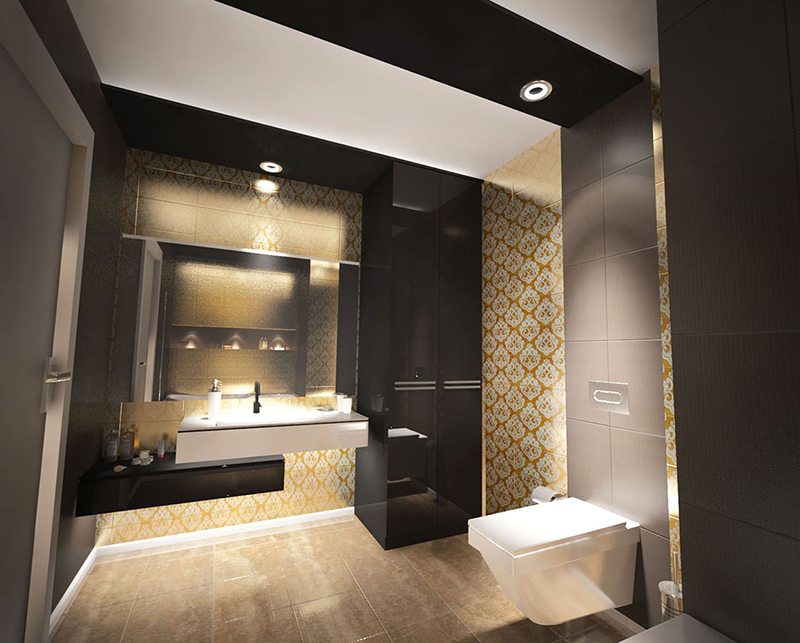 The wall of this bathroom is covered with damask wall tiles and it looks nothing but sophisticated!
21. Purple Bath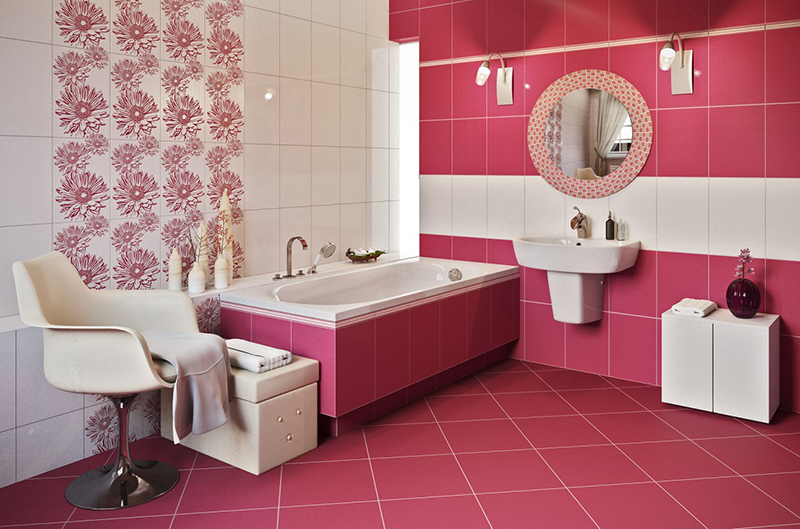 If there is one color that you like for your bathroom, then go ahead and use it with white. Also, aside from using plain wall tiles, bring in more excitement by adding some printed wall tiles of the same colors on one side of the wall.
22. Bathroom Remake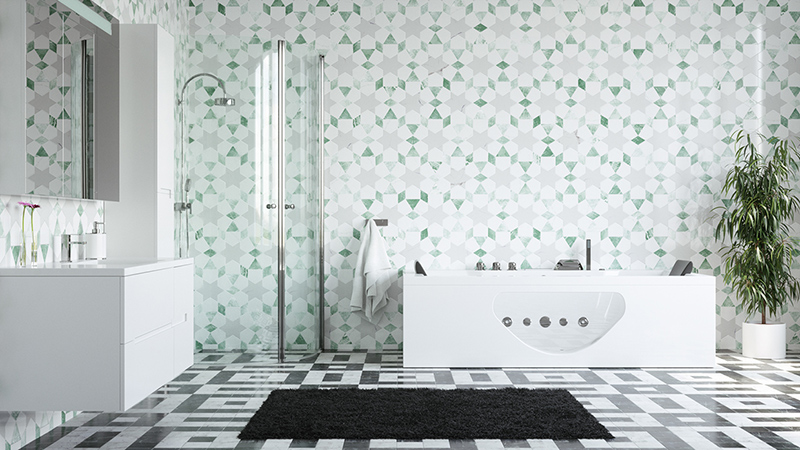 Modern patterns are everywhere in this bathroom from the lovely wall to the creative black and white flooring.
23. WC 949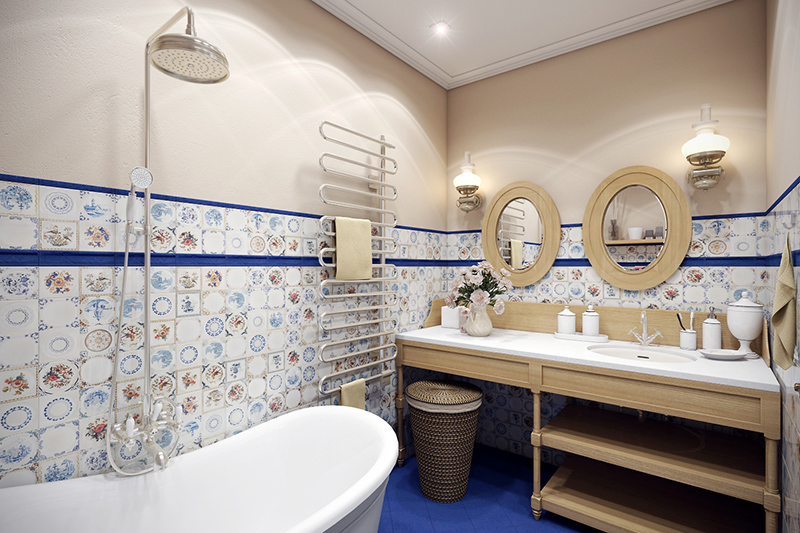 I can tell that the owner of this bathroom loves creativity as they combine tiles of various prints for the wall. Turned out really beautiful!
Yes, these bathroom visualizations are indeed inspiring and very beautiful! Well, who would think that your bathroom can actually look as gorgeous as the ones in this list? I am sure that the actual bathroom looked equally breathtaking too. Although some featured complicated tile work, it is actually achievable as long as you got the right man for the job. If not, you can look for other options to achieve a similar look. Now can you tell me, which of the above bathrooms do you want to see in your home?