15 Bathroom Designs of Rustic Elegance
Rustic interiors usually lack refinement and are left unfinished or roughly finished. This can be done by adding rusticated wood or even cement. Home interiors made use of this style in different areas of the house and amazingly, they come out stunning! It really depends on how a designer does it in order to make it look beautiful despite the coarse look.
Today, we will feature some rustic bathroom designs. Try to observe what is common in the bathrooms below and how the designers managed to make them look elegant while being rustic. Scroll down and check on what we have collated for you and tell us what you think about them.
Reclaimed Rustic Bathroom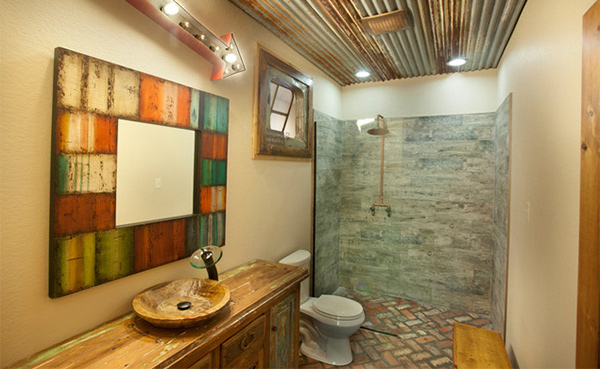 An old European sky light looked great as a window for this rustic bathroom. The use of barn tin for the ceiling gives it a total rustic look!
Napa Wine Country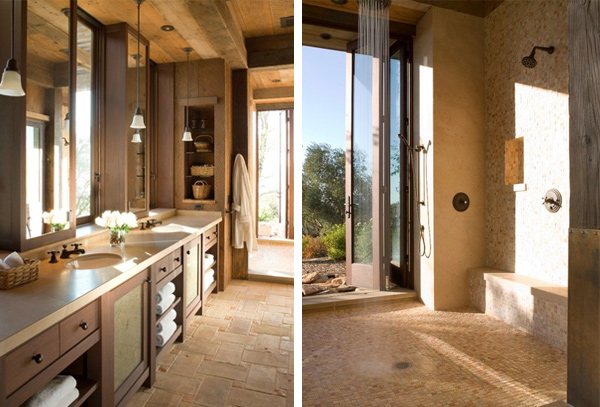 Walnut with a clear finish for the cabinets and reclaimed French limestone for the flooring summed up to a rustic bathroom like this.
Master Bedroom and Bathroom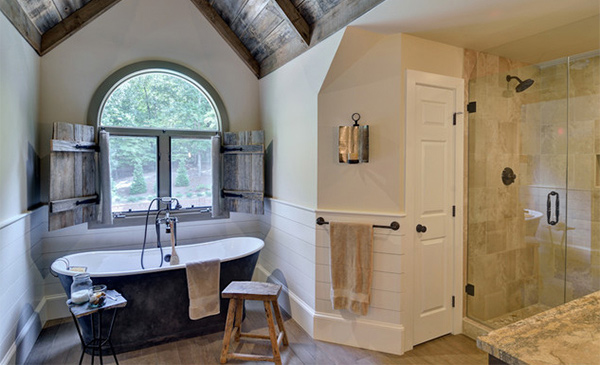 Barn wood used for the ceiling and window was treated for pests. You can also see a countertop from Mahogany Travertine Honed, shower floor of travertine and the walls made from Nova Gold Limestone.
Indian Lakes, Mountain Lodge Style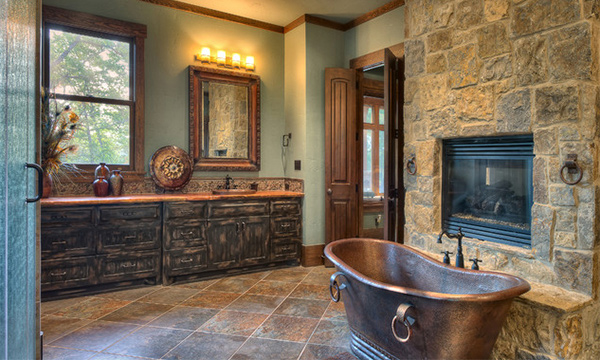 Benjamin Moore 699 "Garden Oasis" wall paint matched well with the stones on this bathroom.
Utah's Luxury Home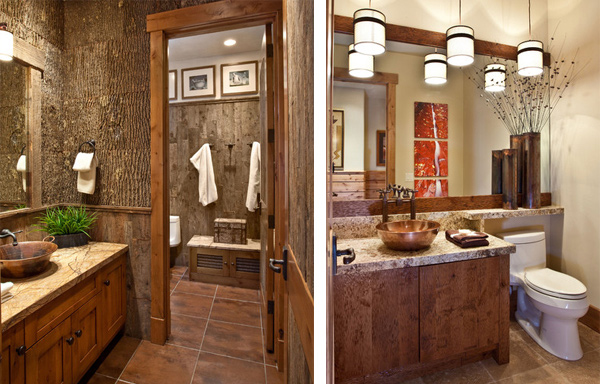 Even a luxurious home can have a rustic bathroom. This one used poplar bark sealed with lacquer for the walls.
Log Home Design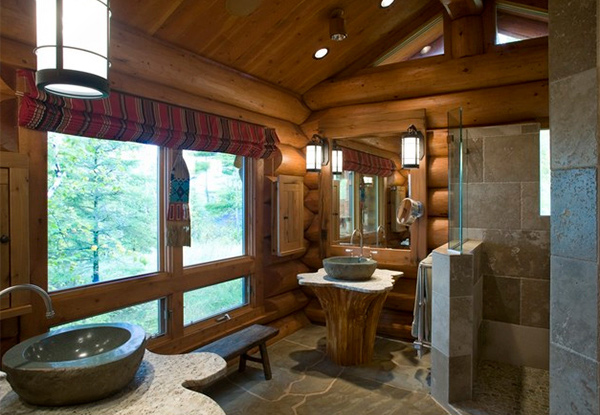 A rustic bathroom with natural materials in it like the cedar stump for the sink.
Master Bathroom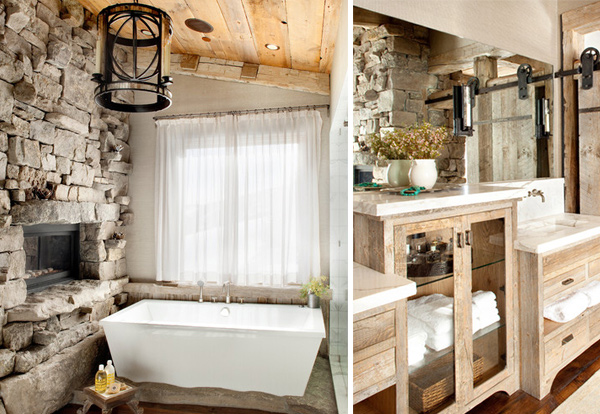 This is one gorgeous master bathroom with a rustic feel created through the stones and wood. The barn door is one good feature too.
Mexico House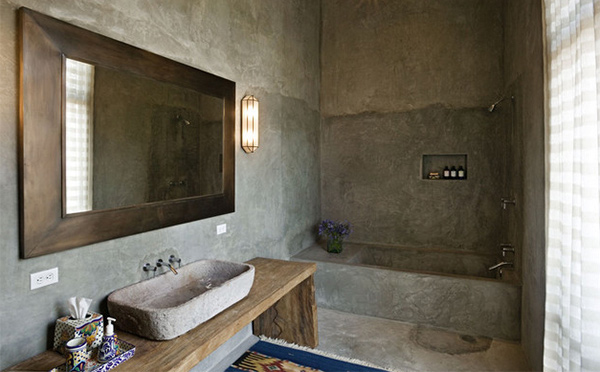 Plastered cement mix for the walls gave this bathroom that rustic look.
Ultimate Man Cave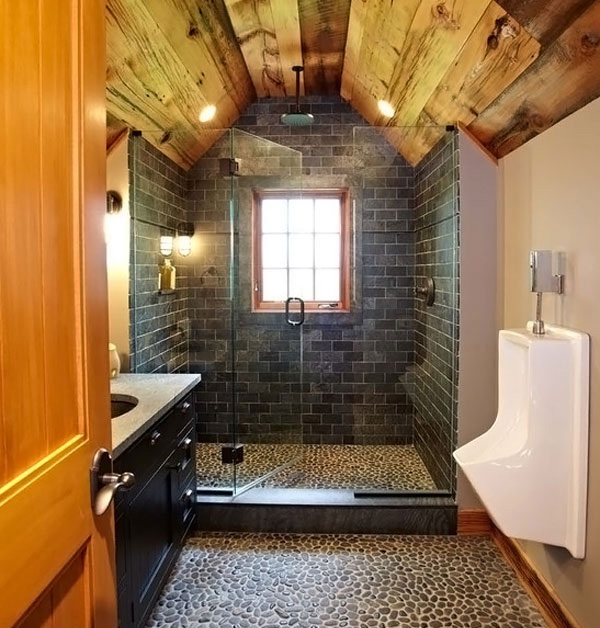 Remote controlled toilet and urinals and a built-in vanishing LCD TV in the mirror- these are the features of this bathroom which looks ordinary on first glance.
Telluride Houses
Sleek gray metal and wood combined creates a modern rustic bathroom like this one from TruLinea Architects.
Fairy Lake Home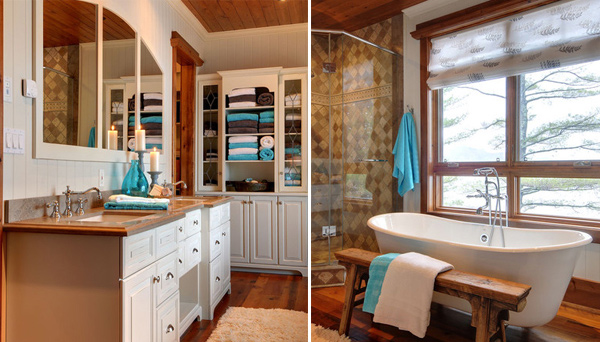 An urban rustic interior with some aqua accent colors. It looked great with wood and other natural colors in the interior!
Jane Kim Design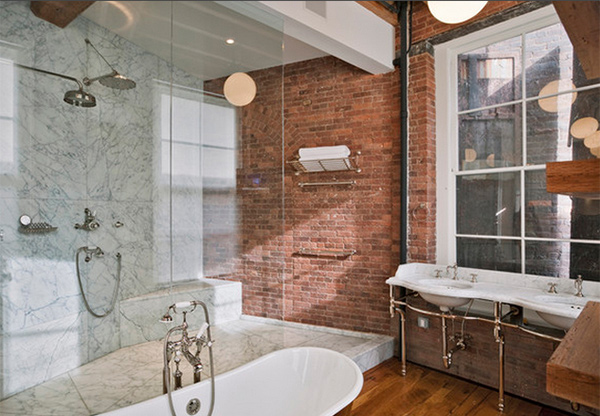 If you'll see the rest of the pictures for this bathroom, you will surely love its rustic and industrial look that has some chic touches too.
Hallmark Cabin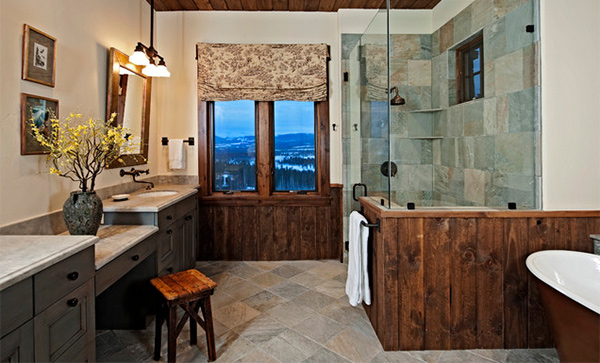 Slate and wood sure made this bathroom achieve a rustic look while making it even more visually appealing.
Santa Fe Master Bathroom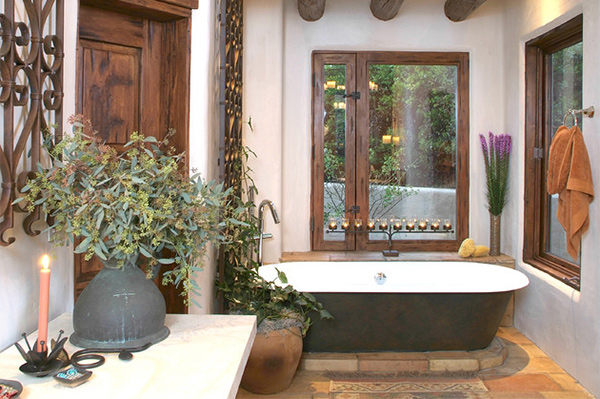 This rustic bathroom is lovely but the addition of plants and candles made it look even more stunning and dramatic.
Italian Retreat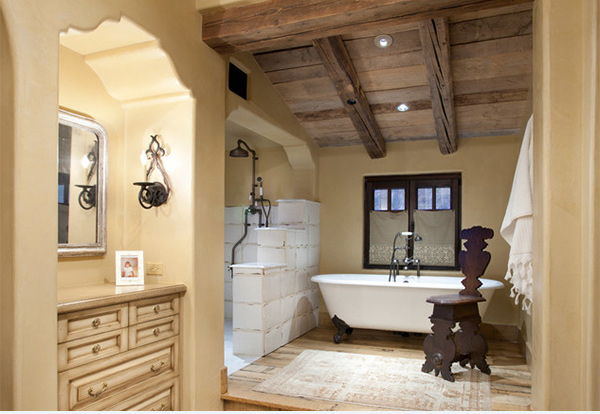 A Mediterranean and rustic bathroom in one- isn't it a charming combination?
Rustic bathrooms don't necessarily look too rustic but adding some rustic elements to it can already give it that kind of style. You can actually experiment with material combinations like the ones you see above. But make sure that you always think of function before anything else. Want more bathroom designs? Check out a list of some dream bathroom ideas.