25 Ideas on How to Add Seating in the Bathroom
For people out there who have tons of space in their bathrooms, this list will be a great option for you; truth be told is that seating options for the bathroom is not really for everyone's spaces since if you have a smaller space adding a chair or stool in your bathroom may mean more cramped which may cause traffic inside; this is not road traffic, you know what I mean.
Below is a list about the ways you can decorate your bathroom with stunning chairs, stools and arm chairs that sometimes come with a wonderful vanity or just a stand-alone chair beside an awesome bath tub. The designs of the bathrooms below are either traditional, transitional or contemporary spaces – I am sure that you'd love this list because I sure did!
1. 750 South Ocean Blvd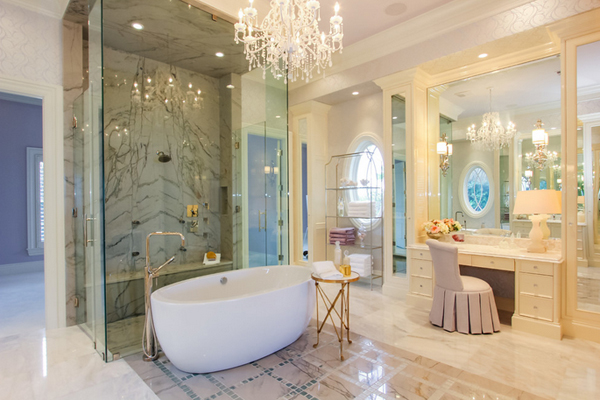 Awesome shower tile; glass enclosure and freestanding tub – what more can you ask for?
2. Amy Trowman Sullivans Beach House No. 3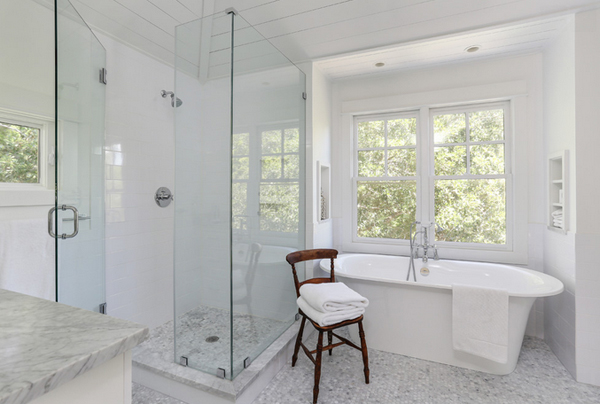 Clean white shower tile with grey floor – totally digging this one!
3. Austin Country Estate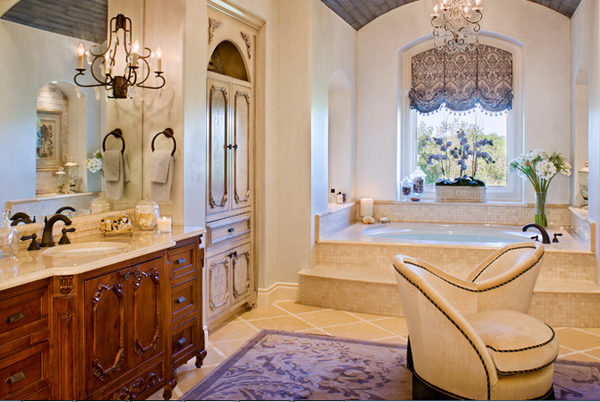 If you don't go modern/contemporary, this is very nice.
4. Bangholme Project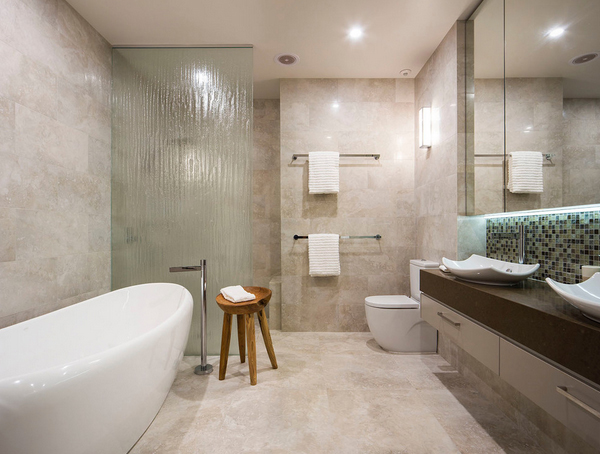 To create the ultimate private-hotel-suite look for your buyers, add a beautiful decor piece that is functional as well. Put a stool beside the bathtub and add neatly folded face and hand towels, soap, a candle, potted plants or even a good book.
5. Book House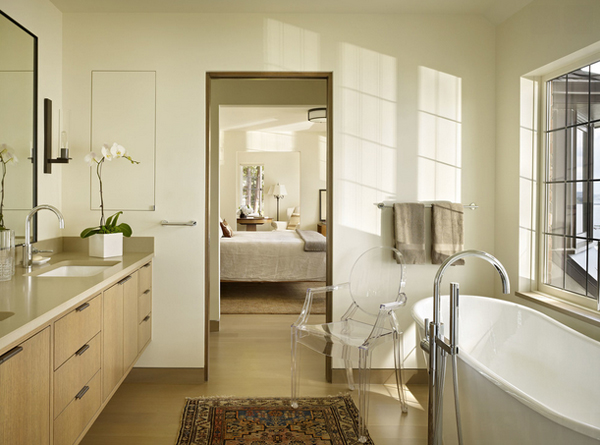 The master bathroom is open, airy and light-filled in its new location. Custom cabinets float off the floor, while a concealed medicine cabinet disappears into the wall and pocket doors save space.
6. Cove House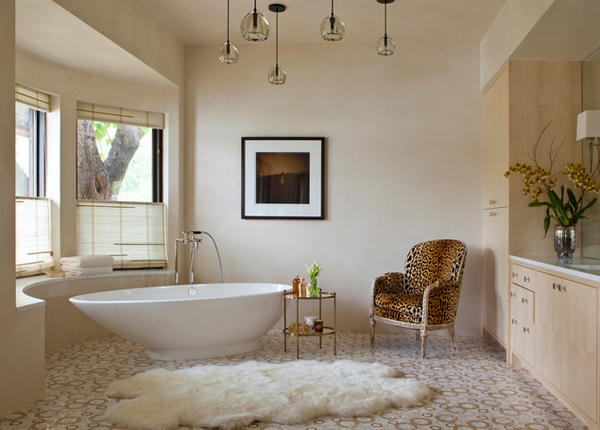 The floor adds just the right amount of interest to this space – the rug is one classy touch along with the leopard-printed arm chair!
7. Haute Rejuvenation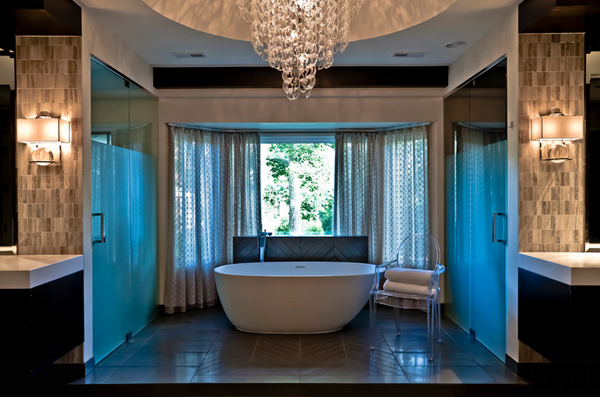 I like the symmetry on this bathroom – a lovely ghost chair completes the look for this modern bathroom; note the chandelier too!
8. Helena Bathroom Suite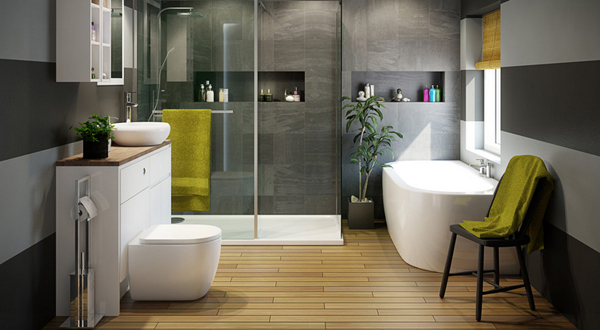 From luxury bathroom suites and furniture collections to stylish showers and bathroom accessories to add the finishing touches, B&Q is the premier destination for all your bathroom project needs.
9. House in Wimbeldon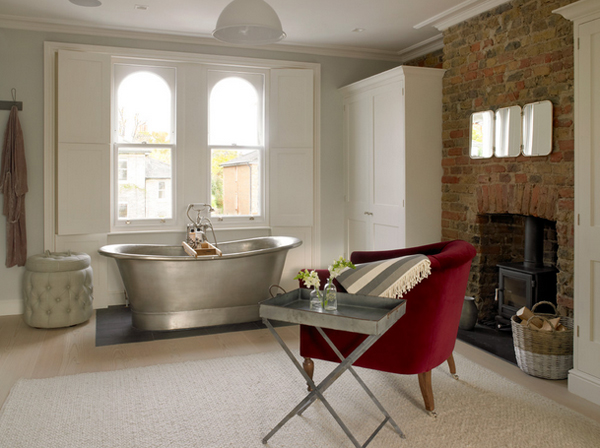 Having a fireplace in the bathroom is just a cool thing for the London air.
10. Lilly Farm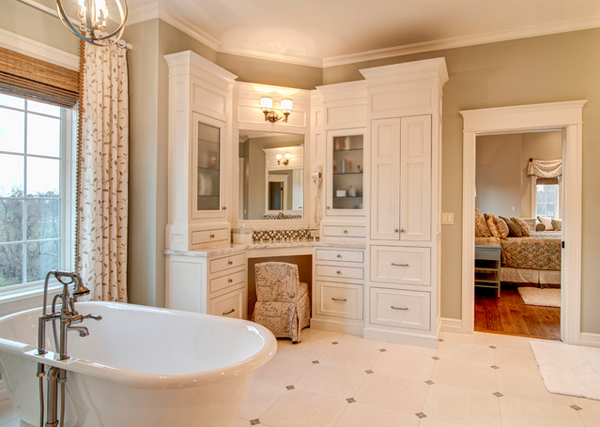 This would hold everything I need in one convenient spot.
11. Los Angeles Transitional Bath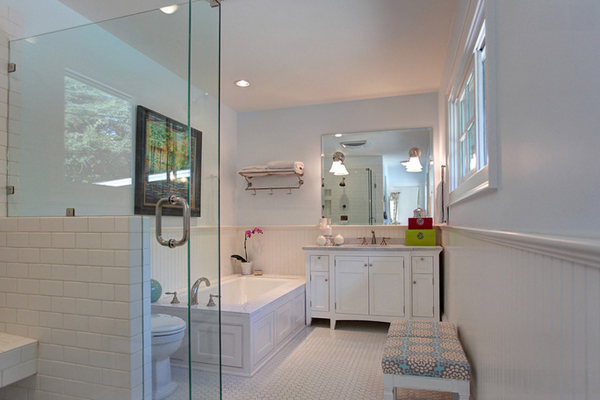 An all-white master bathroom fits into the home's new interior cottage scheme. Art found on eBay and a reupholstered bench add color to the classic white vanity and Daltile floors and shower.
12. Luxury Master Bathroom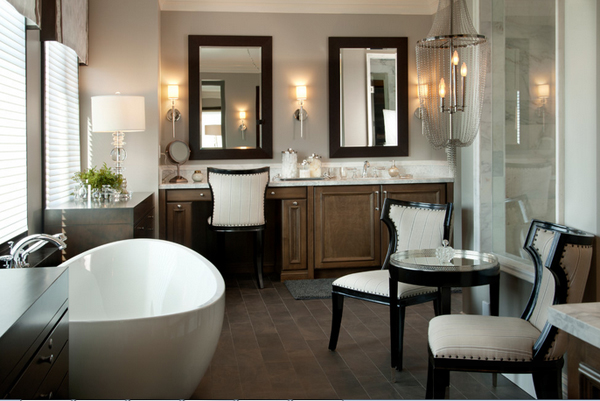 The wood! Love the idea of wood in the bathroom area.
13. Master Bath Dressing Table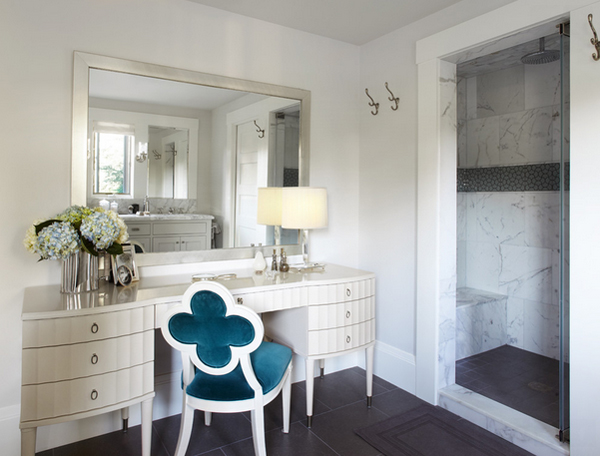 Always consider your curb a potential tripping hazard. A curb set with the same tile as the shower and bathroom floor can be hard to see for someone with a visual impairment. Choose a contrasting tile color to avoid this danger.
14. Mediterranean Bathroom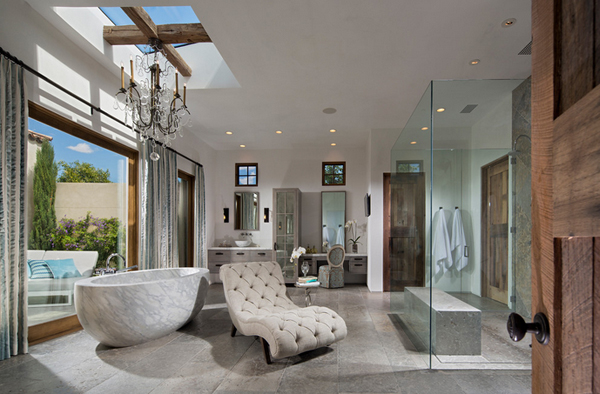 This is one glamorous bathroom too expensive but surely worth it!
15. Minnetonka Shingle-Style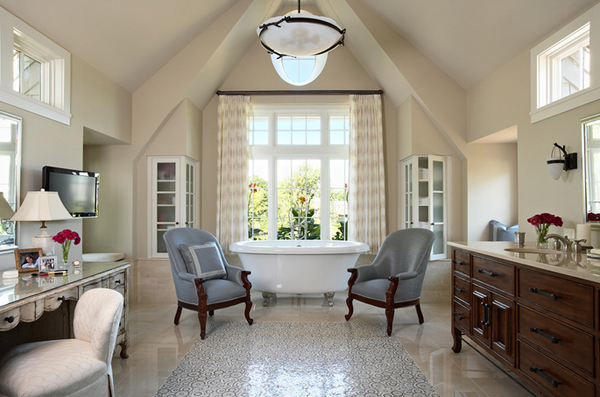 The tile floor and tile inset in this lake side living home is beautiful.
16. Mt. Evelyn House Bathroom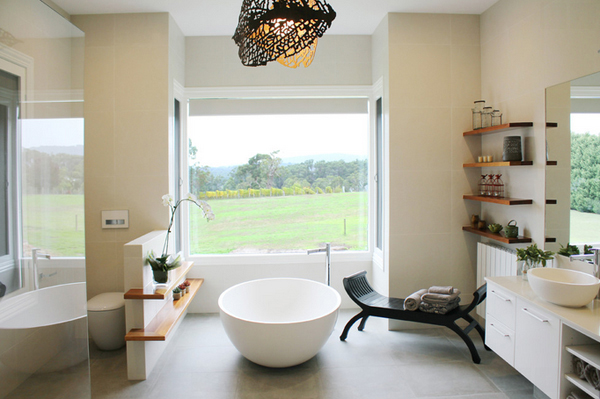 According to McClelland, our love affair with freestanding baths isn't over just yet, and not just because they make striking, sculptural design features, but because they help set the mood for rest and relaxation too.
17. Nashville Master Bath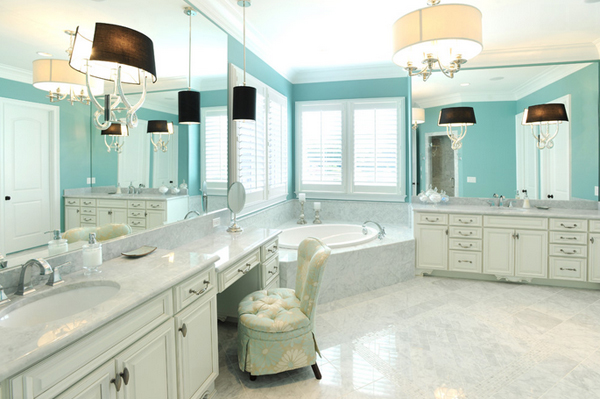 The turquoise walls may be the most stunning touch in this rather cold grey space – love the chair, the sconces and the hanging pendant light.
18. Parade of Homes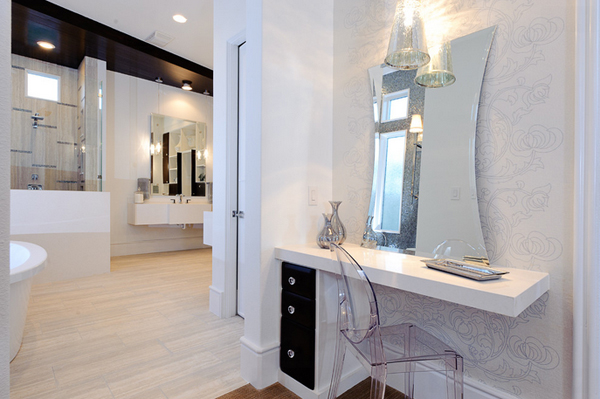 We see a small vanity set up by the door, but it sure is classy!
19. Phoenix Eclectic Bathroom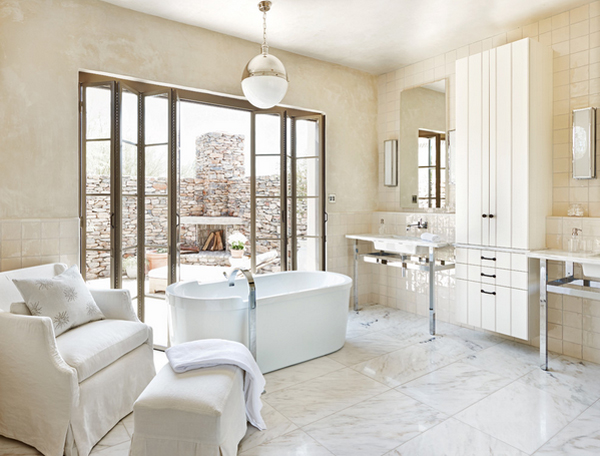 Although this pretty bath has a wintry feel, with its many shades of cream and white, it's in Arizona. The room opens up to an adjoining stone patio with a set of narrow folding French doors.
20. Prospect Heights Townhouse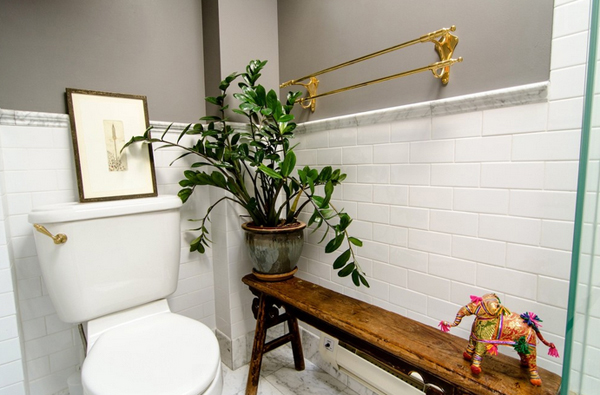 Even a small bathroom can benefit from a piece of furniture. This antique Chinese bench fits well against an open wall. Set a plant on it or just leave your clothes there while you shower.
21. Providence Master Bathroom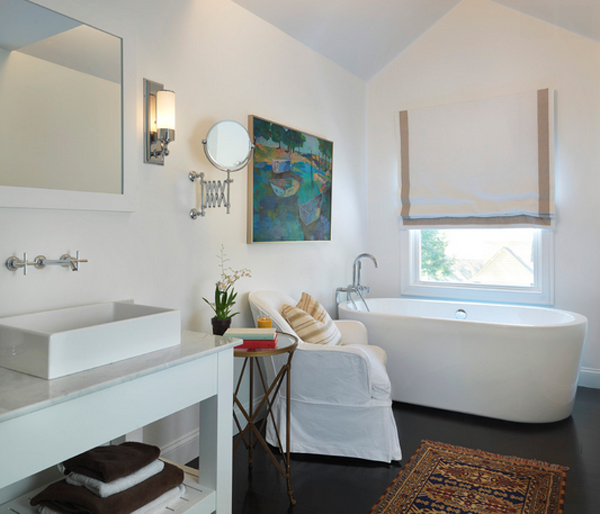 Running water is one of the most soothing sounds, and thankfully one that can be had with ease for many of us, whether you're in a tiny studio in the city or in a spacious ranch house in the 'burbs.
22. Royal Palm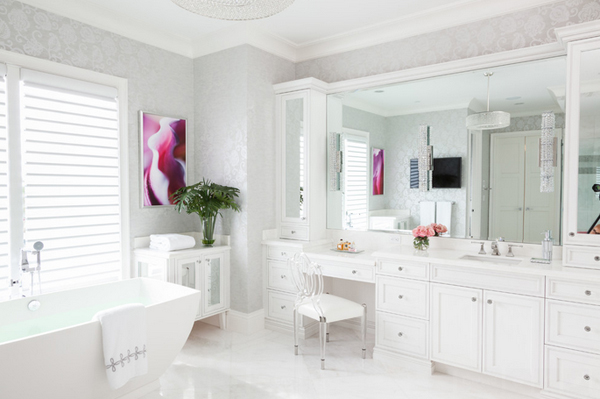 Name someone who wouldn't love to have this large mirror in this stunning vanity set because I bet everyone would love this!
23. Stillman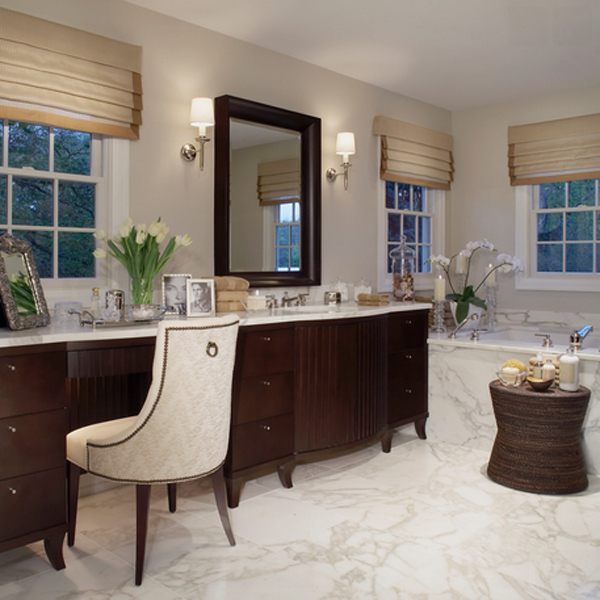 The vanity in this Detroit bath is rather traditional; love the Roman shades too, how about you?
24. Tybee Beach House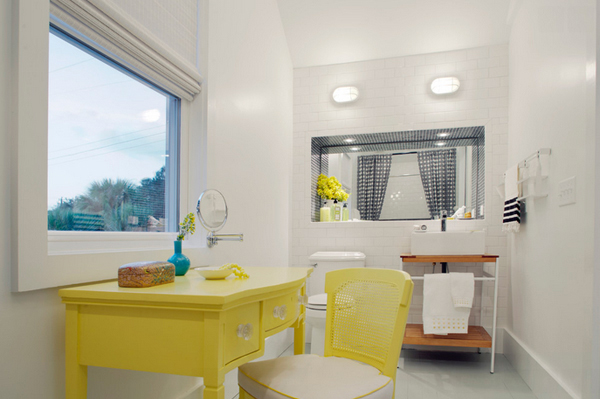 A vintage desk set got a makeover with bold yellow paint and glass drawer pulls, making the perfect vanity for the upstairs bathroom. Classic subway tile and simple sconces keep the space light, bright and functional.
25. Yeo Street Neutral Bay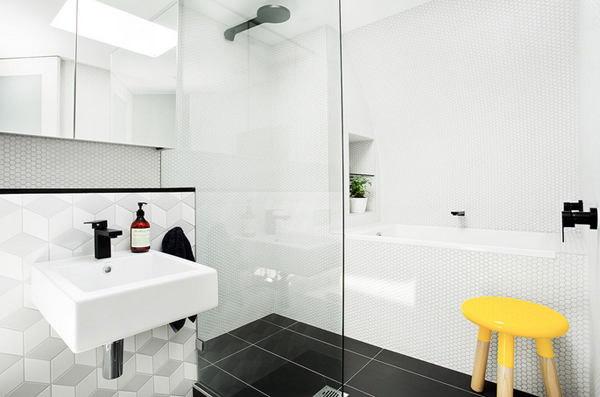 If you are going to repaint your walls, upgrade your tiles or invest in new cabinetry, it's always a good idea to keep to a neutral palette for these larger elements, as it will appeal to more buyers. If you want to add some fresh color, use towels and accessories.
I have one bathroom here that I really love – and I actually wish I'd have one soon; I sure hope that you liked this list not only because of the awesome designs that each space have, but also with the feel you get if you see them because if you actually feel good about a certain space it usually feels the same way when you are inside one awesome bathroom – best room after the bedroom – well that's for me!