20 Cool Basement Bathroom Ideas
Basements gets bad raps from time to time, if built finished out or remodeled later on, they actually offer a wealth of extra living space for many purposes and activities. For instance, a media room, living room, wine cellar, wet bar, gym, office, playroom, man's cave, laundry and guest room are all popular choices for basement spaces. If you are lucky enough to live in an area where basements are a commonly built element of most homes, you may just be sitting on a myriad of abundant new living possibilities!
Today, we will be showing you a couple of pictures of basement bathroom ideas that looks totally amazing! They differ in archetype, design, planning and inspiration – but we are sure that you will definitely love this list because of the cool things you can actually do with your basement if ever you decide on adding or creating a bathroom in the basement. Take a look at the pictures below and be astounded!
1. Armadale Project – Basement Bathroom & Laundry Room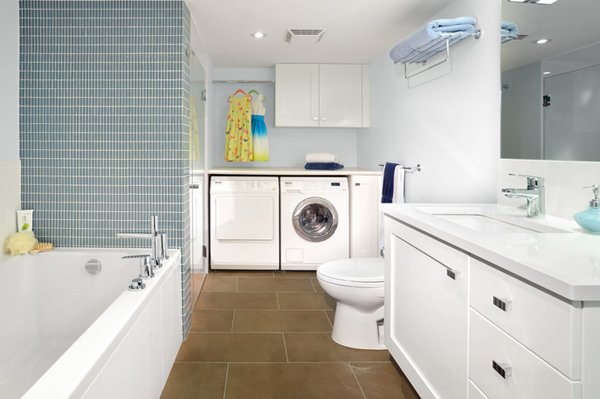 Functional combined purpose room. What more can a mom ask for?
2. Atlanta Basement Bathroom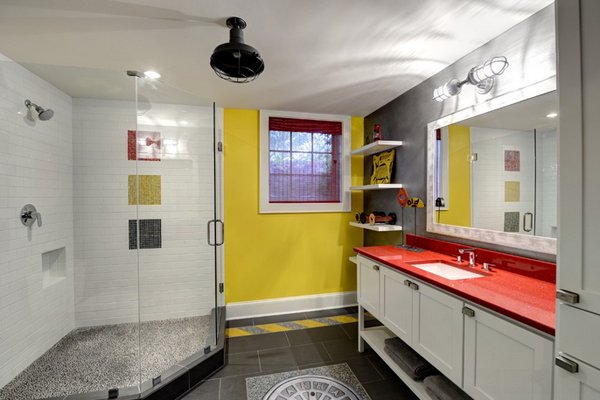 Consulting House Inc., "Designed a bathroom as part of a full basement build-out. I was asked by the client to incorporate some yellow/black street tiles and a manhole tile. I created a bathroom that simulated being outside on a road and the glass tile in the shower represents a stop light."
3. Austin Modern Bathroom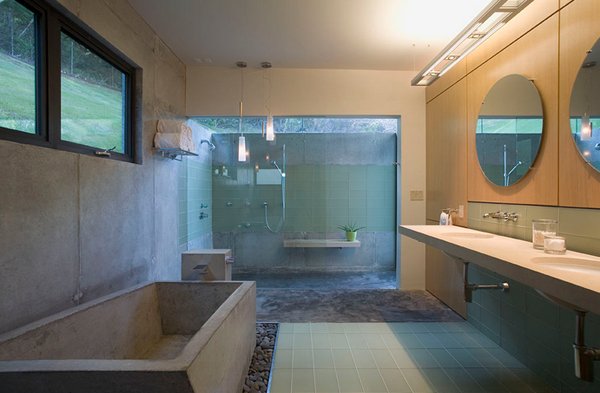 Curbless showers don't have to be open, this one's contained behind a frameless, glass enclosure. The lack of a curb and a shower frame give this bathroom an absolutely seamless sight line.
4. Basement Spa Bathroom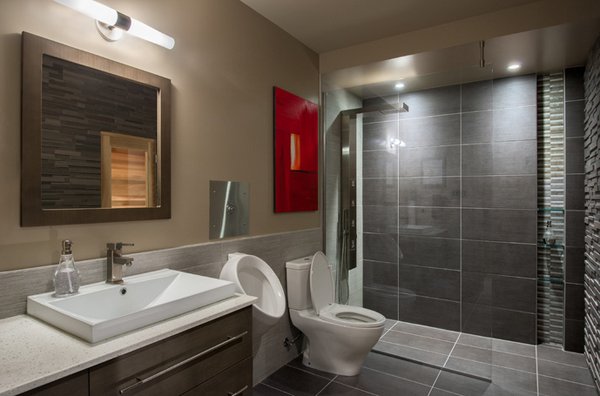 This bathroom looks a little masculine, but the design team just wanted to achieve a neutral feel to the space. Great tile work!
5. Boston Beach Style Basement Bathroom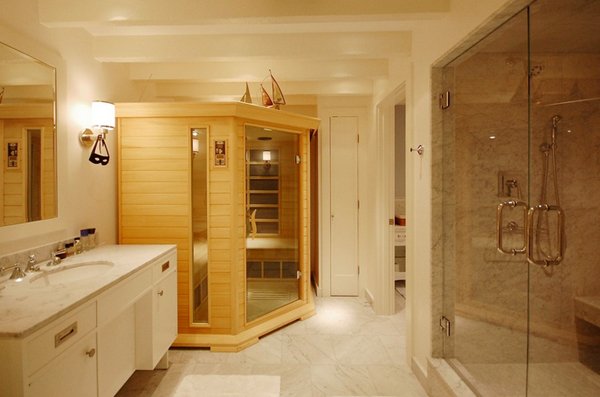 The sauna takes up about the same space as the tub across from the shower – but who cares? Anyone would love to get one for their bathroom!
6. Crest Meadows Residence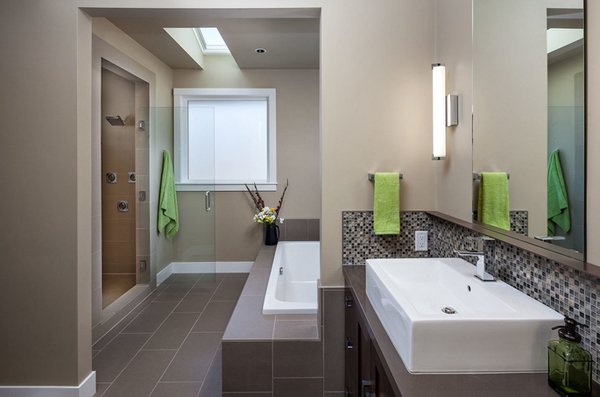 Looks clean and simple and relatively inexpensive to build.
7. Ecologia Montreal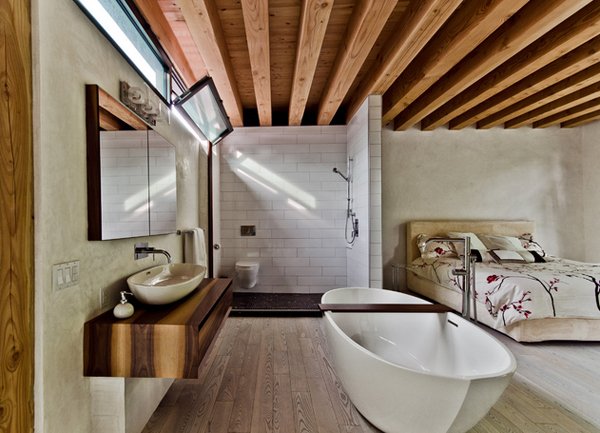 A partial wall visually separates the toilet from the bed, but the soaking tub and vanity are part of the room's open plan. To protect the wood floors, the couples use a bath mat and keeps splashes to a minimum. "The child's bath is different from ours," Karsenti says, "but our bath is pretty special: spa like and calming, a bit like Japanese soaking tub space."
8. Finished Basement Malvern, West Chester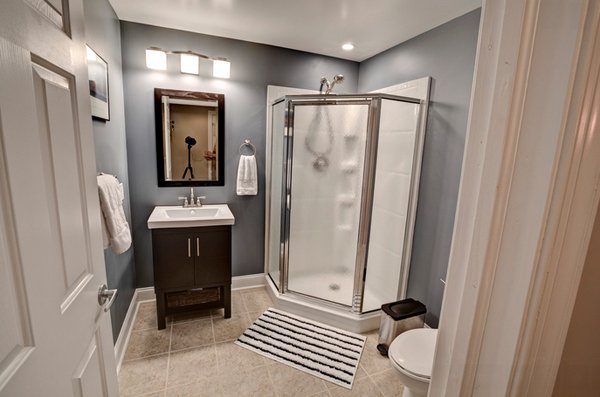 I'm not usually a fan of blue paint, but I love this color!
9. Girard Townhouse, Philadelphia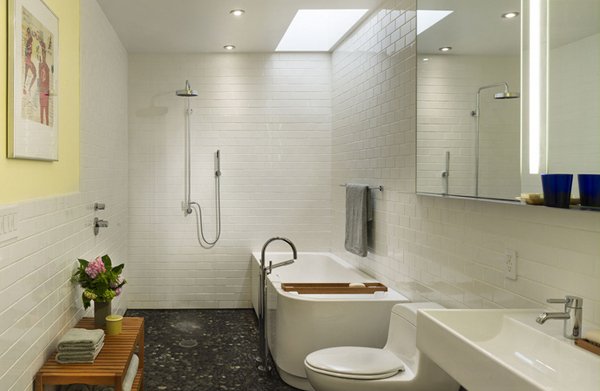 There's no need to worry about splashing here, because this entire bathroom is a wet room. Having the shower's controls at the opening of the shower makes heating things up easy and keeps the homeowners from getting wet in the process.
10. Guest Bath New Construction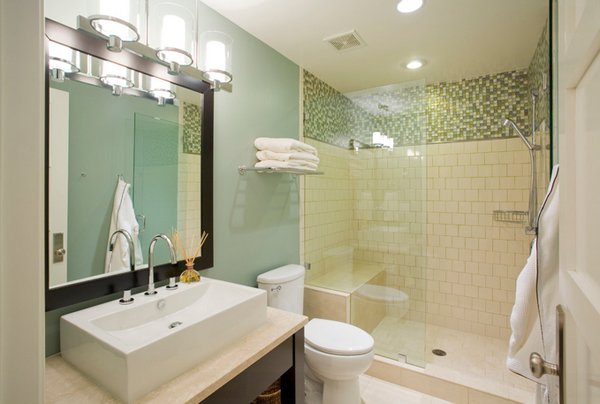 It is small and pretty and just the right size for our bathroom. And it looks just a tiny, tiny bit cool.
11. Industrial Chic Basement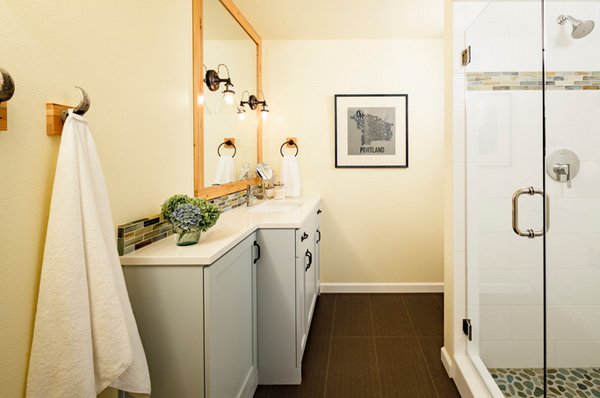 Mosaik Design and Remodeling recently completed a basement remodel in Portland's SW Vista Hills neighborhood that helped a family of four reclaim 1,700 unused square feet. Now there's a comfortable, industrial chic living space that appeals to the entire family and gets maximum use.
12. Italian Basement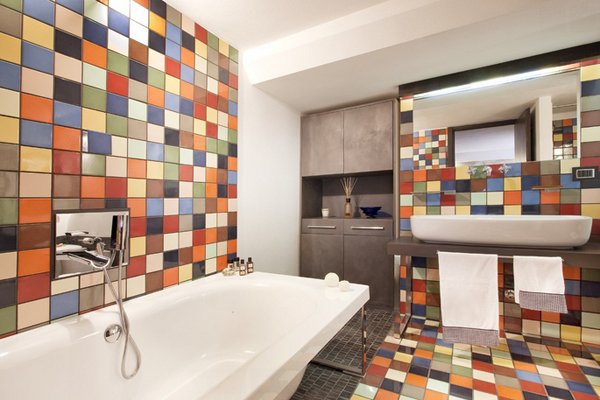 The third bathroom shows a completely different style from the other two baths. "The client has a child who wanted to participate directly in the choice of the color of his bathroom. I was amused to involve him, and the result was so surprising and unexpected," Dellatorre says. "It seems to be in a paint factory where you can view all the Pantone colors all at once."
13. Lodge – Contemporary Master Bath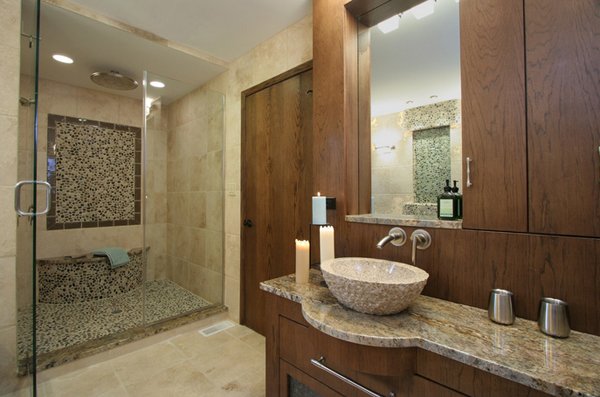 The tile work in this Chicago master bathroom is totally beyond words! Tell us what you think about them!
14. Lower Level Retreat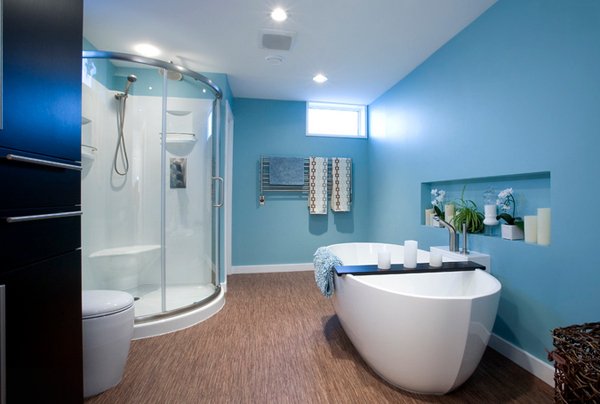 I love the color of the walls, the freestanding tub and the show area! Totally classy and very contemporary!
15. Metro Traditional Bathroom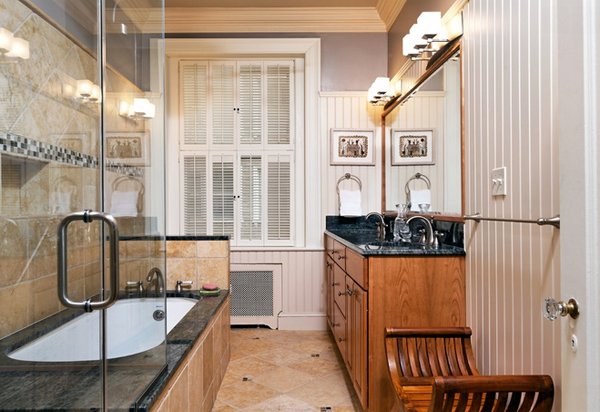 I like the wooden bench in the bathroom! Pretty classy!
16. Modern Marvel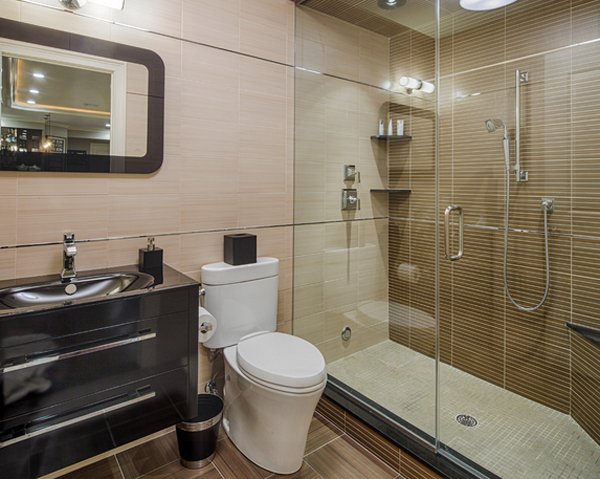 A basement renovation complete with a custom home theater, gym, seating area, full bar, and showcase wine cellar.
17. The Pennock Family Home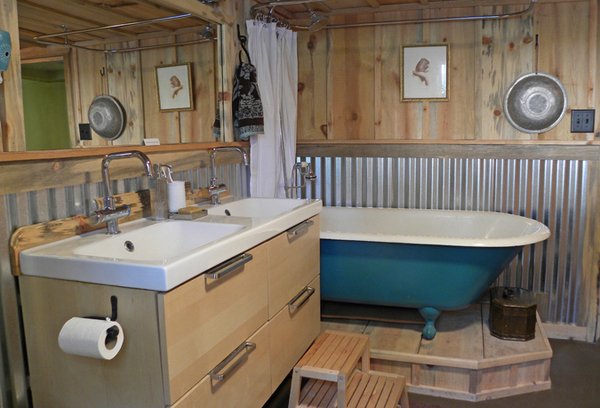 The basement bathroom is an exciting departure in style from the rest of the house. Barn wood walls and corrugated metal siding give this space a wonderful rustic feel. The new double sinks from Ikea mix well with corresponding vintage items, like the blue soaking tub.
18. Tine Halseth Vuorma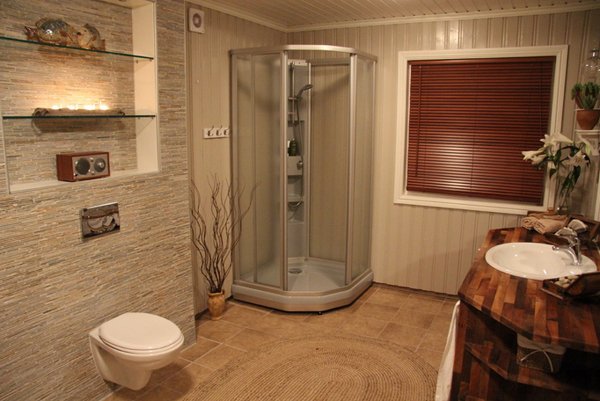 Won't you agree that all designs and construction is really hard work – look at the job done on this bathroom and how lovely it is.
19. Toronto Basement Bath
I have a feeling this industrial look is going to be the next big thing in bathrooms – this bathroom is totally sleek and sophisticated.
20. Venice Canals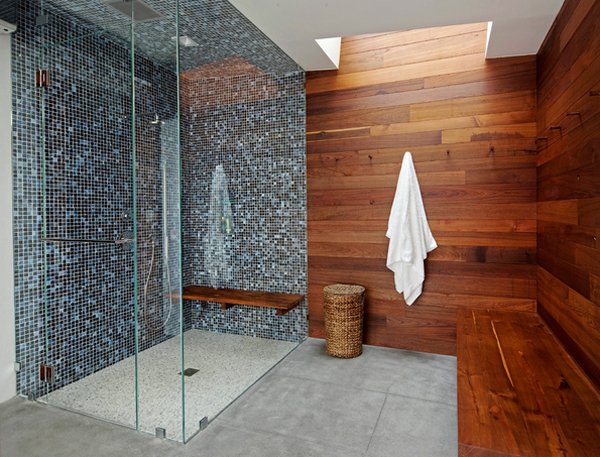 I love the small tiles in the bath; the glass enclosure is actually sexy and is fun that complements with the wooden walls.
If you loved this list, we are sure that you will love this list about how to use the basement that are interesting, unique, fun and really cool; just like the pictures in this list about basement bathroom designs. The pictures above are not only contemporary and even modern; they are totally charming and achievable for your basements too! Hope you had fun with this list!