Add Skylights to Bring Natural Light in 22 Different Bathroom Designs
A skylight in the bathroom? Yup. It actually looks pretty stunning with one!
There are different ways to lighten up and brighten the interiors. It could be by adding lighting fixtures in it or maybe by using windows. If we talk about windows, there are some that use floor-to-ceiling windows in order to let natural light in but others prefer to use skylights which could be at the top of the ceiling or on one side of the wall nearest to the ceiling. Skylights are usually used in the living area or bedroom but it can actually be added in any area of the house- even in the bathroom.
Today, we are going to show you some bathroom interiors that made use of skylights. This way, you will be able to see how beautiful it is to bath with the sun's natural light when you are bathing, or doing other private activities in the bathroom. In the list below, you will see that skylights work well in whatever design of the bathroom whether you have a modern or traditional space and it also looks nice whatever is the color and motif of your bathroom. Let us take a look at the list below.
1. Tempe Crescent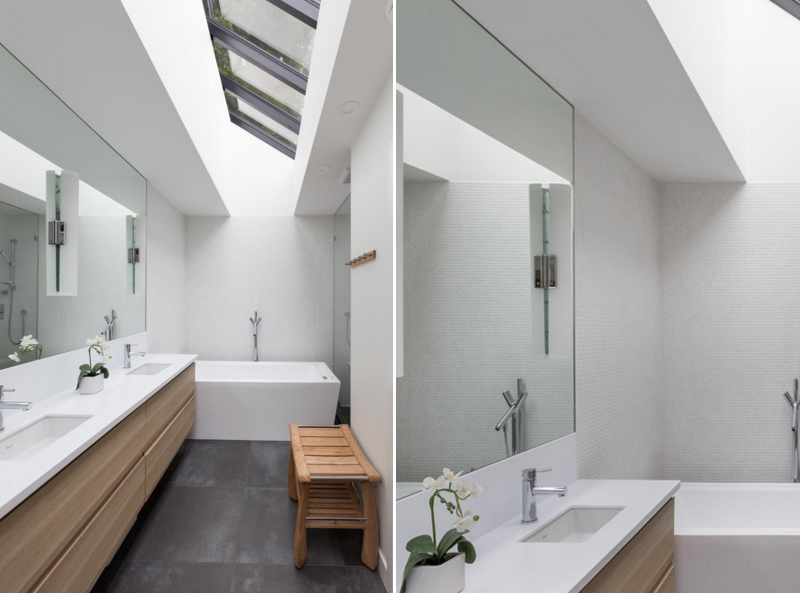 A modern white bathroom with wooden elements look nice with a skylight especially that the ceiling is tall.
2. Cetatuia Loft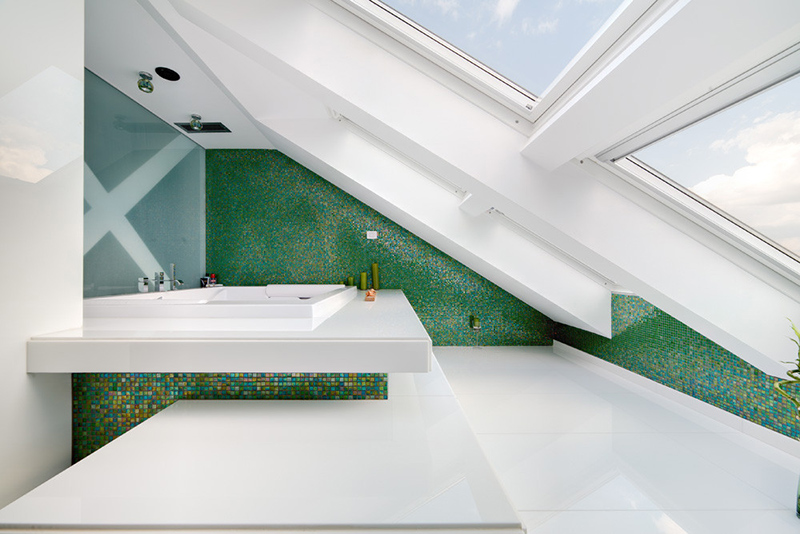 The green mosaic wall is one unique feature of the space as well as the lights that change colors during the night. The area, as you can see, is filled with natural light from the windows.
3. Bathrooms 2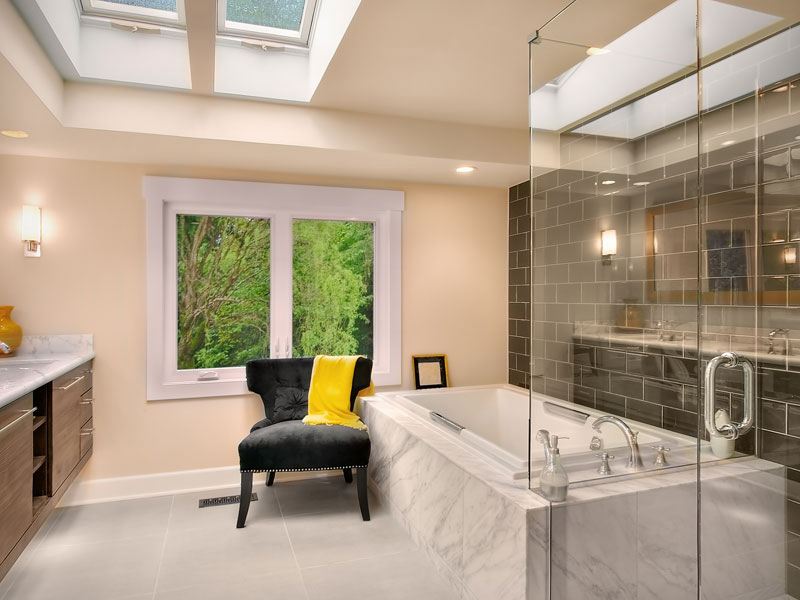 A traditional bathroom with a skylight in the middle and a picture window on one side of the wall.
4. Coconut Bath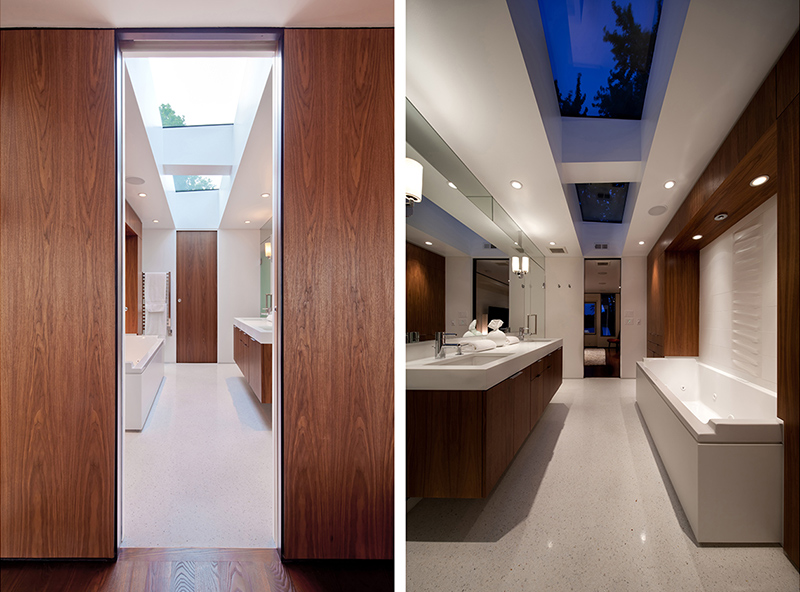 I like this idea! It would really be nice to have a skylight like this one to enjoy both the views of daytime and night time.
5. Holly Bush Lane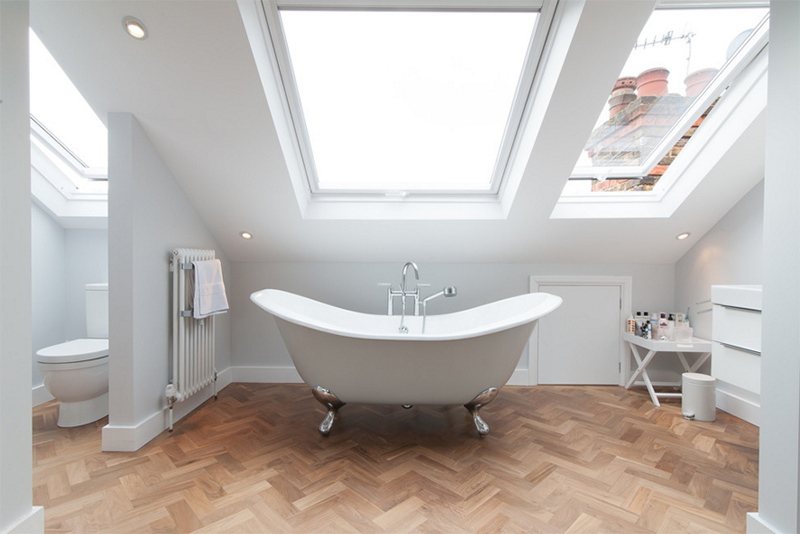 Image: 50 Degrees North Architects
Beautiful bathroom in white that looks almost Scandinavian especially because of its skylights.
6. Contemporary Beach Home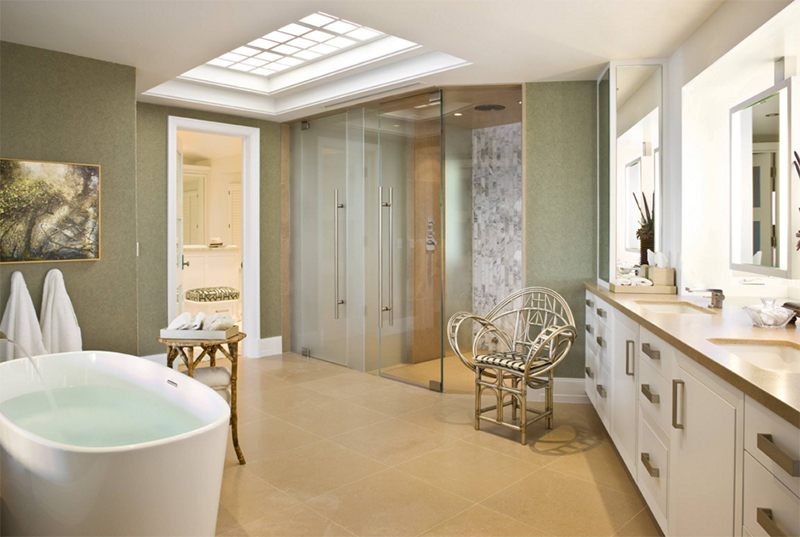 A sophisticated bathroom with pops of gold is seen here. Notice the impact of having a window like this that brings much light to the area.
7. Velux Bathroom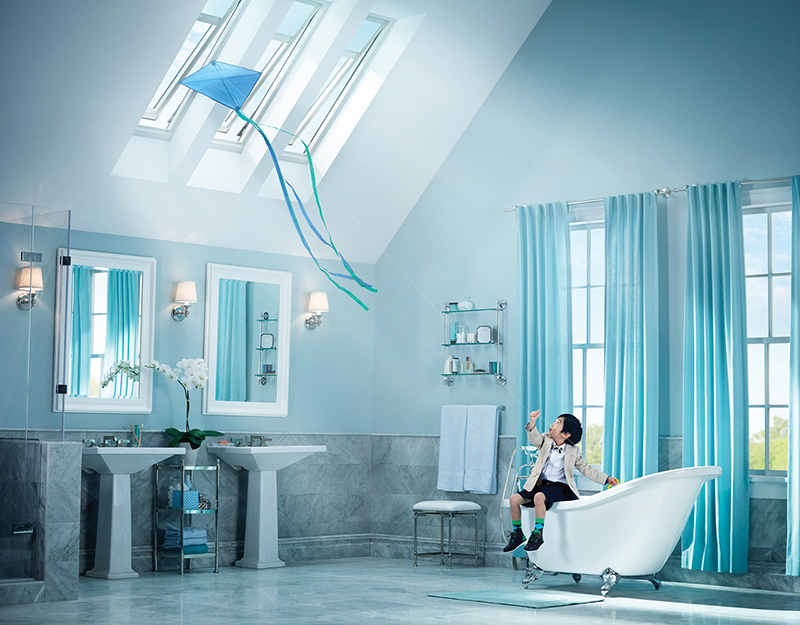 I so love the cool feeling of this spacious bathroom because of the blue curtains. Those skylight windows look really nice as it adds to the appeal of the bathroom.
8. Penthouse Apartment Bathroom Design
Look at this design. A tall wall separates two skylights to define the bath tub and shower area. Very creative, right? I really love the design of this bathroom especially the combination of materials inside it.
9. Hawley Court Project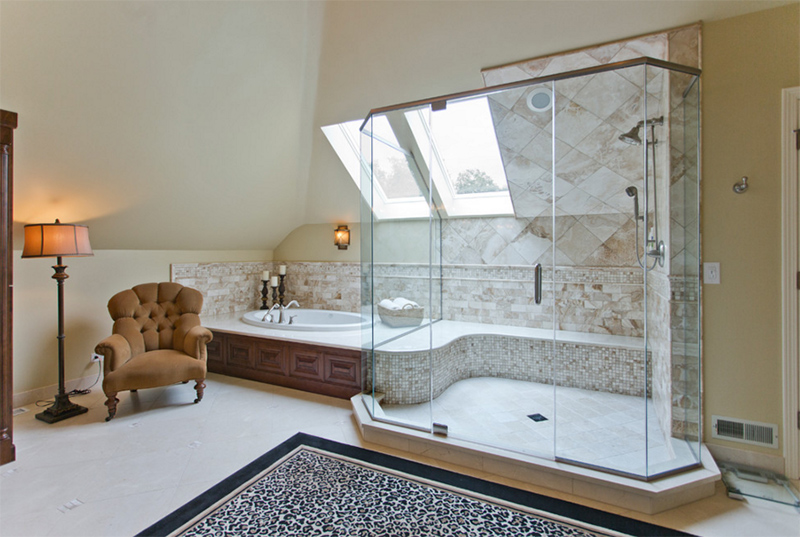 A traditional bathroom with pretty elements in it like that tufted chair. And look at that bench in the shower area too where the windows are located.
10. Wellness bathroom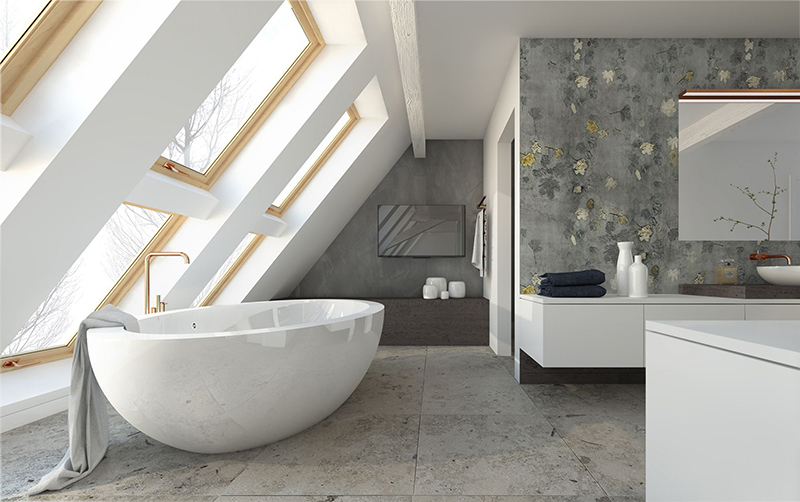 A neat contemporary bathroom with a relaxing feel because of the colors gray and white in it and of course due to the natural light in the area.
11. St. Croix River Cabin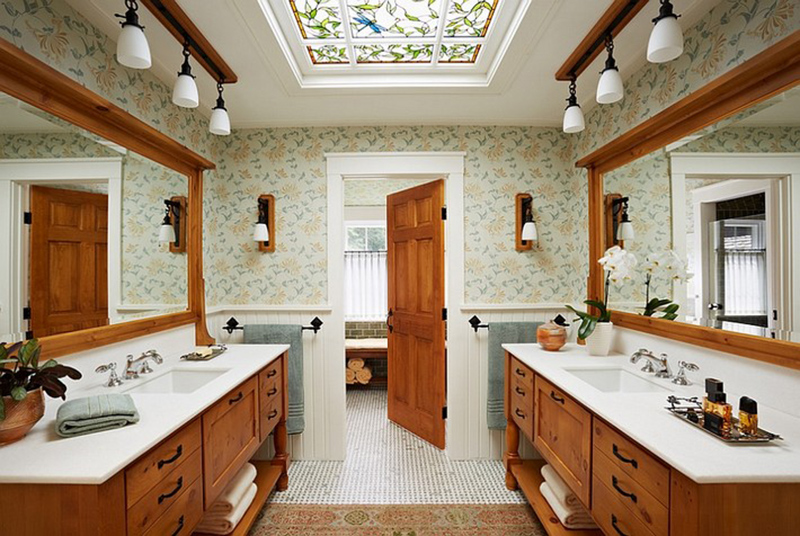 Instead of a plain glass, you can also use a decorative glass like this one for the skylight which just fits this bathroom with floral wallpaper.
12. Easy St. Patrick's Day Decorations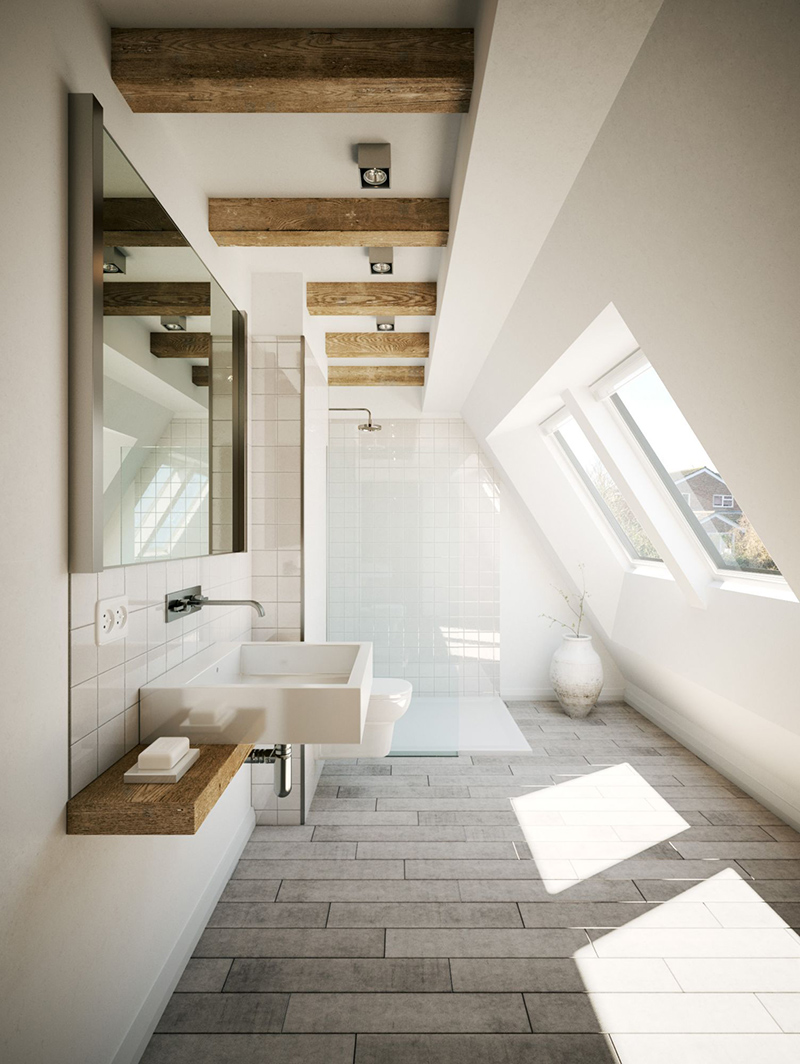 A simple bathroom in white which features many different natural materials in it.
13. Loft Conversion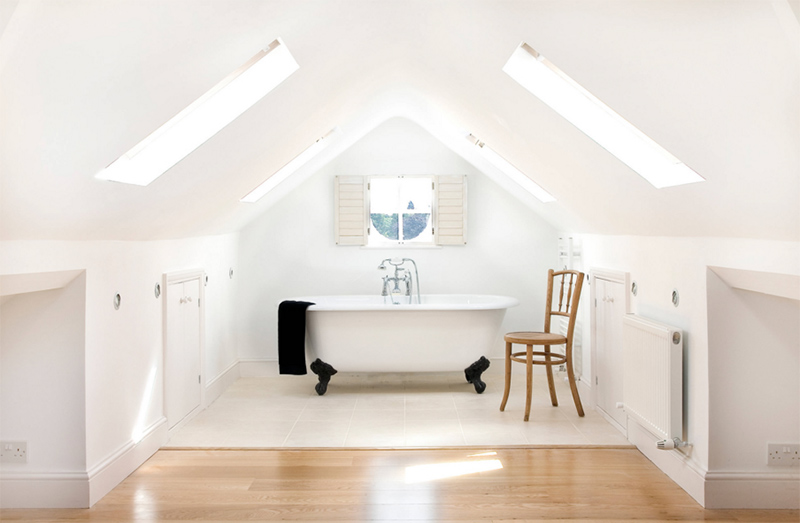 Another white bathroom that you would surely love! Just look at that free standing bath tub with black legs, it is very unique.
14. Quince Reverse Shed Eichler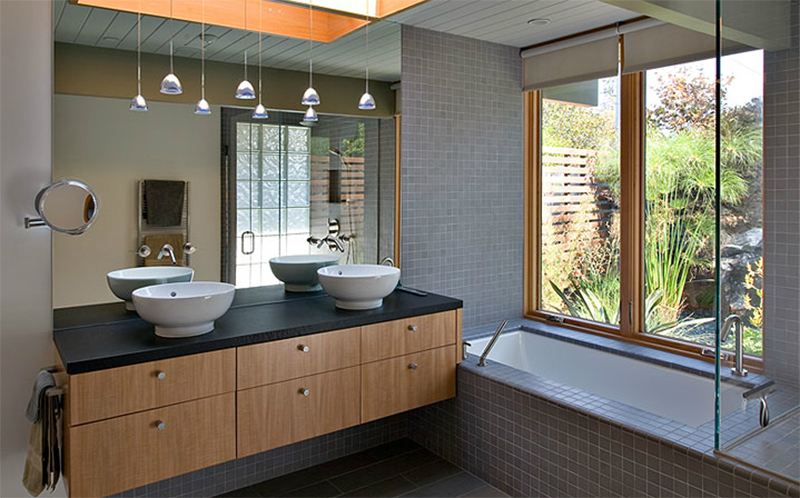 A contemporary bathroom with wooden doors for the vanity and round ceramic sinks. Who wouldn't love this space? From the skylight window area hangs some small pendant lights.
15. Velux Bath
Painted white wood is used for the ceiling and walls of this white bathroom that has a nice view of the skies.
16. Why Skylights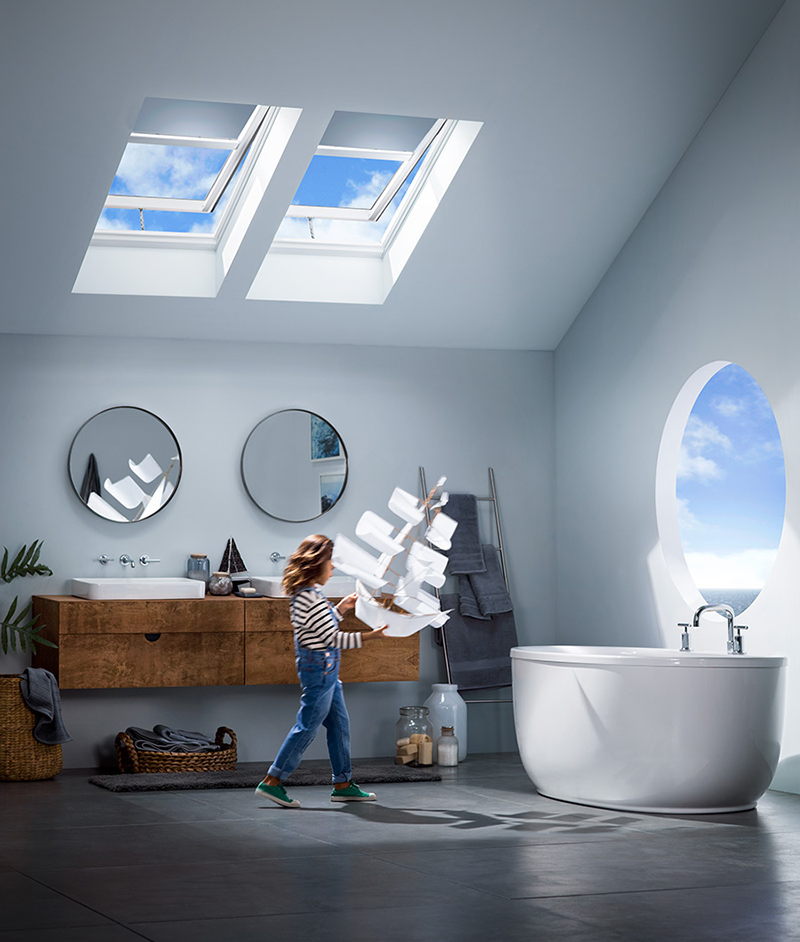 Aside from that round window, it also has a skylight which can surely make your kids feel like they are playing outdoors.
17. Two Dingy Flats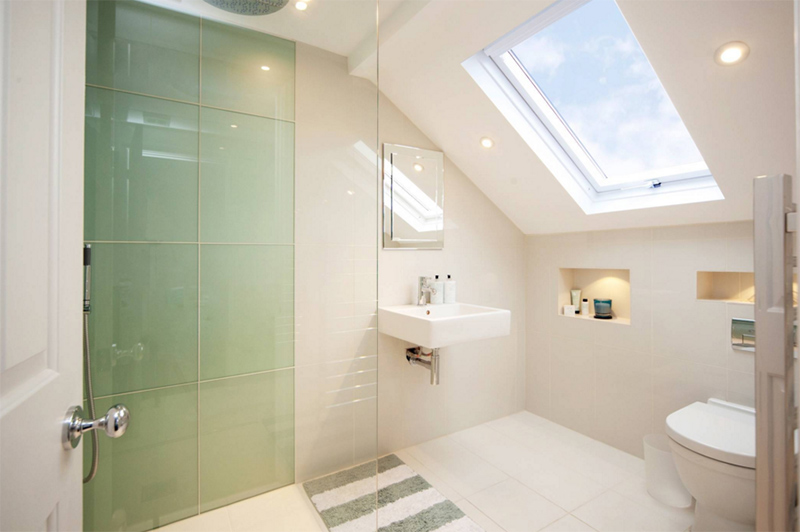 A loft space is created into a new bedroom and en suite shower room, with floor tiles from Solas Ceramics, Birmingham, wall tiles from Solas Ceramics and sanitary ware by CP Hart.
18. Levin Residence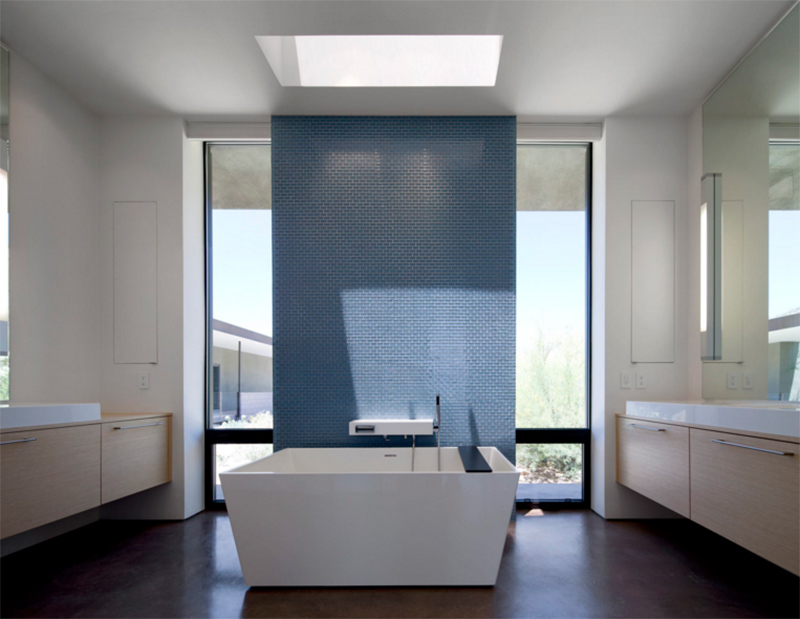 That blue backdrop, which I guess is a shade to add privacy to the area brings some appeal to the space. And yes, one can dip in the tub for a long time while bathing under the heat of the sun as well.
19. Elegant Zen Bathroom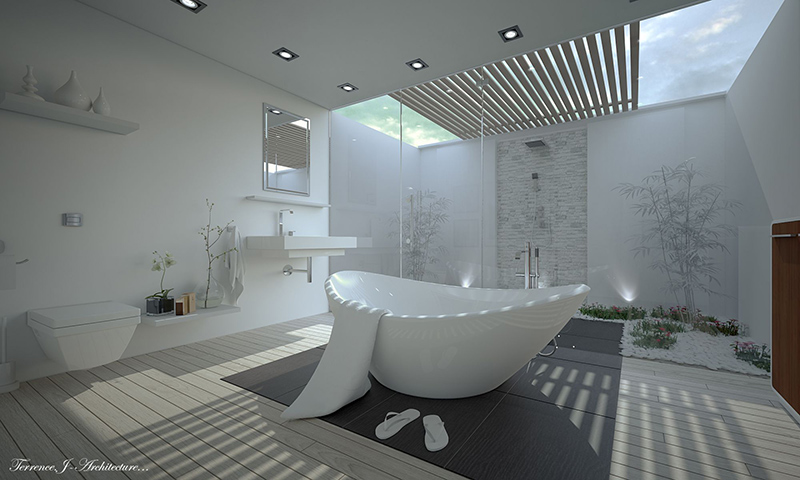 A gorgeous Zen bathroom with white colors everywhere. Notice that in the shower area, one will feel like taking a bath under the sky because of the skylights. It is also a good idea that wood is used for some part of the house.
20. Bathroom Remodeling, Portugal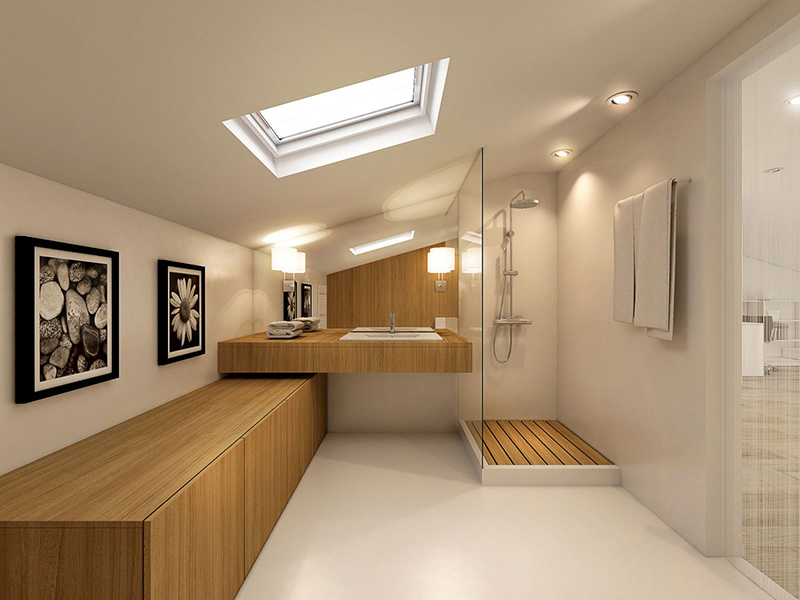 This lovely bathroom has wooden elements in it as well as some glass too. The area has lighting fixtures in it to add brightness. I like it that the flooring of the shower area is made of wood.
21. New Moon Rising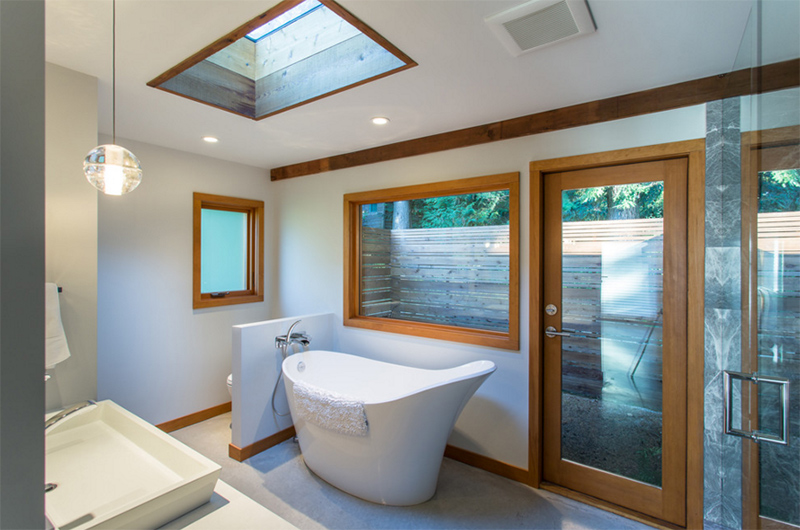 For this bathroom, the windows are framed with wood including the skylight and the base of the walls. When you pair wood with white, it looks really beautiful.
22. Bathroom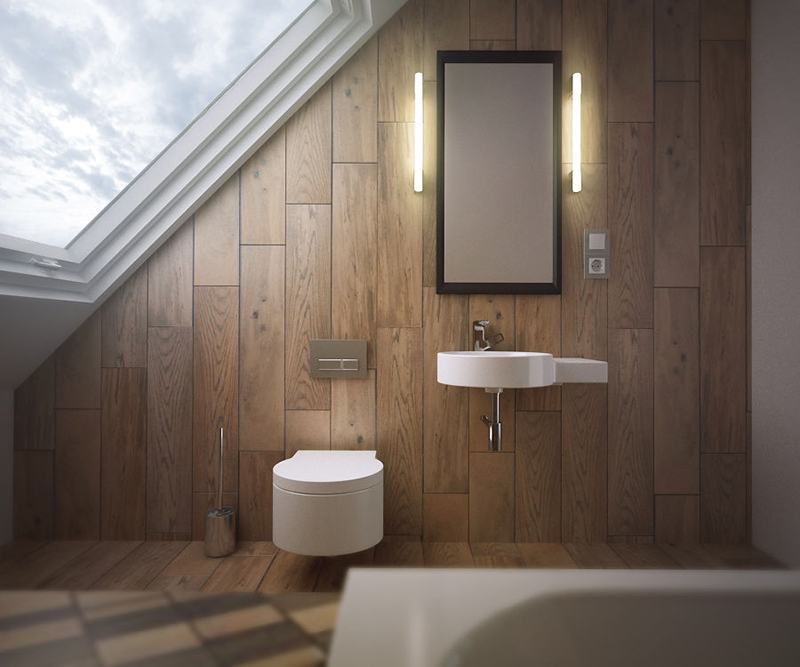 The bathroom has wooden walls and flooring as well as modern fixtures that look totally neat. Of course, the bright area adds to the areas overall appeal.
Having skylights in the bathroom is a nice way to allow natural light into the home. Isn't it nice to be able to feel the fresh heat of the sun even in the bathroom? It sure is! So, do you think it is a good idea to add skylight windows? I actually think it is especially after I have seen the images above. How about you, what do you think?