Stunning Use of Glass in the Modern Cetatuia Loft in Romania
Some people prefer to live in apartments and loft apartments so they can be near their work areas or their schools. Living in places like this would be different from living in a usual house where the place is totally your own. But it doesn't mean that we would merely stick to a boring place to live in. We can always be creative or ask someone to do the design for us.
In Brasov, Romania sits a three story building that has 6 apartments with two each per level and two lofts. The sire gives a panoramic view to every apartment including this one that we will feature today. The Cetatuia Loft was used to its maximum potential and has a panoramic view over the mountains as well as the historical center of the city. The interior has a minimalist and clean design with contrast of textures and colors. Come take a look at the beautiful interior of the loft.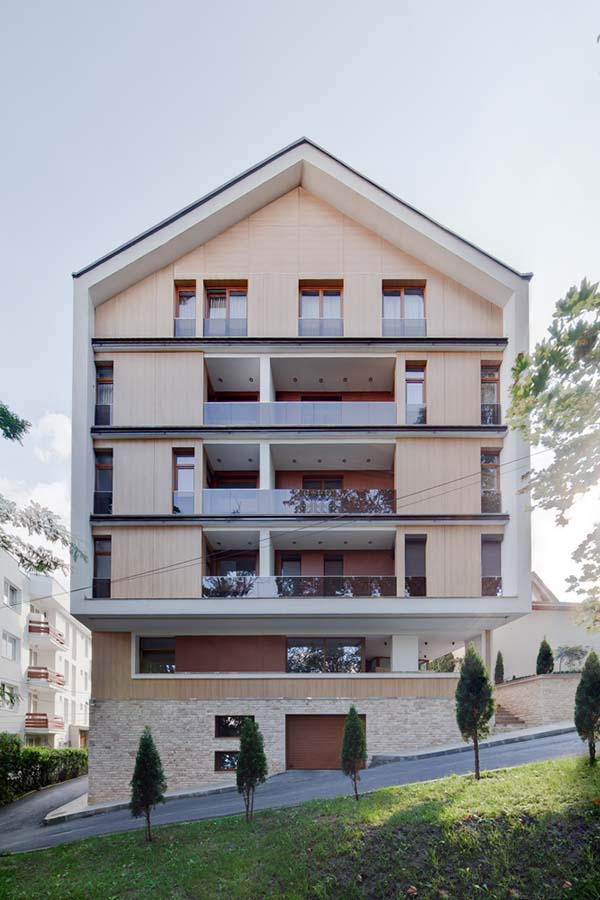 This is how the three-story building looks like where it houses many apartments and loft spaces.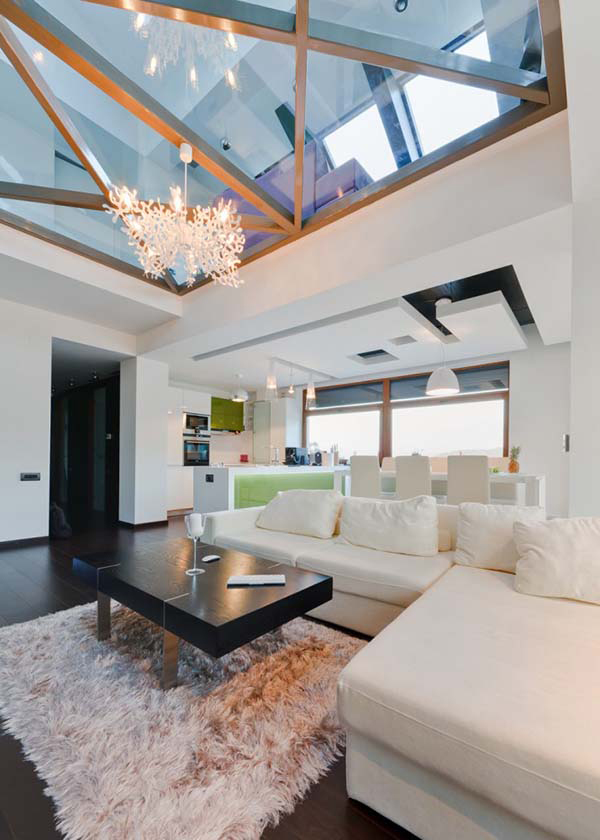 The interior has a comfortable, neat and sophisticated feel with contrasting textures.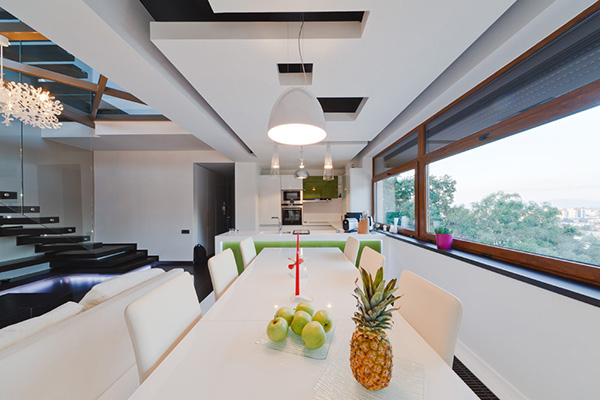 Most of its furniture are white which made the area look even more spacious.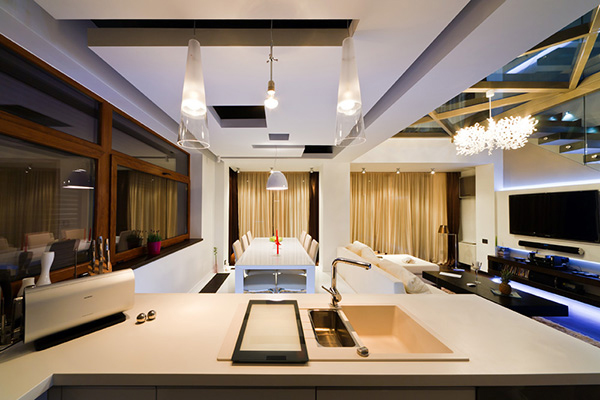 Ceiling to floor windows allow more natural light to get into the apartment.
Glazed surfaces bring in sheen to the house which made it even more sophisticated.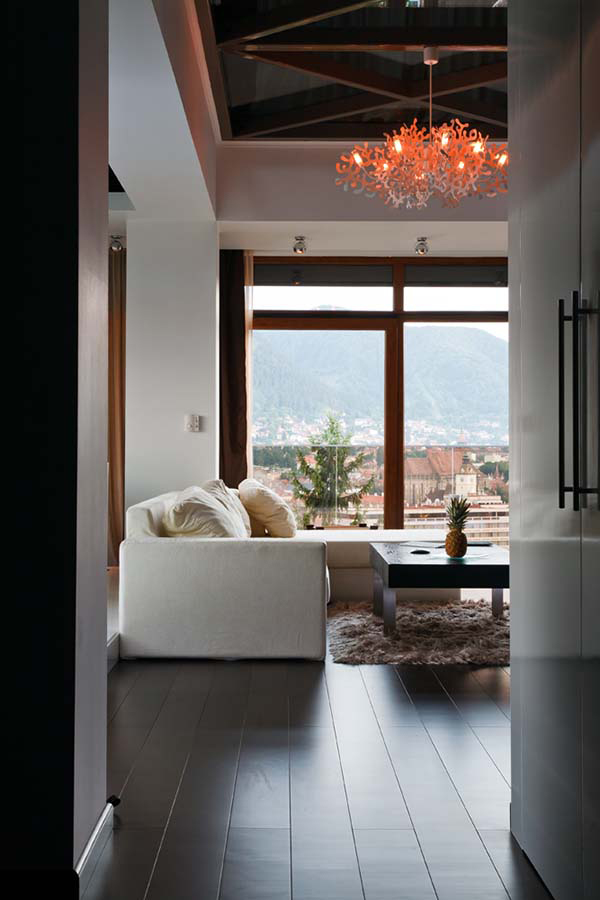 Aside from natural light, the windows also allow the occupants to get a good view of the surroundings.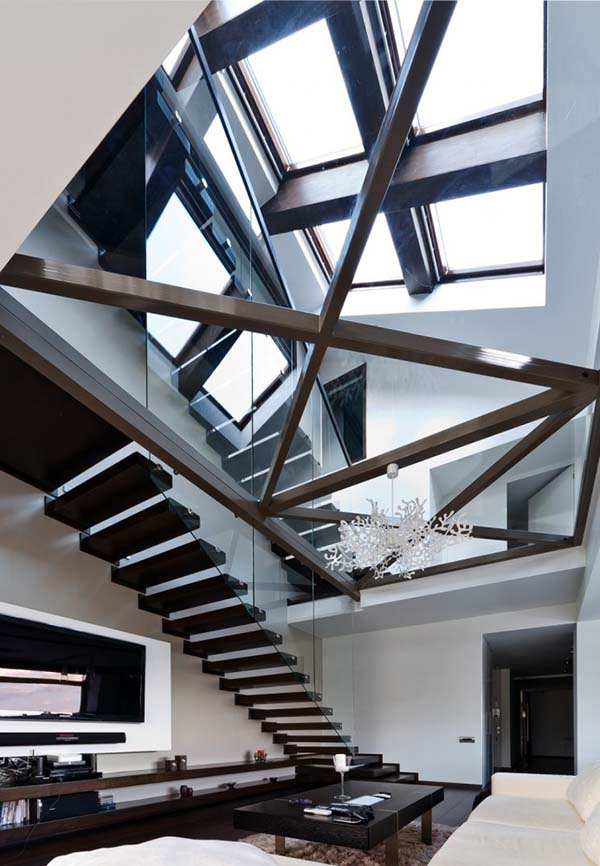 The stairs used transparent glass for the railings that altered the clear perception of space.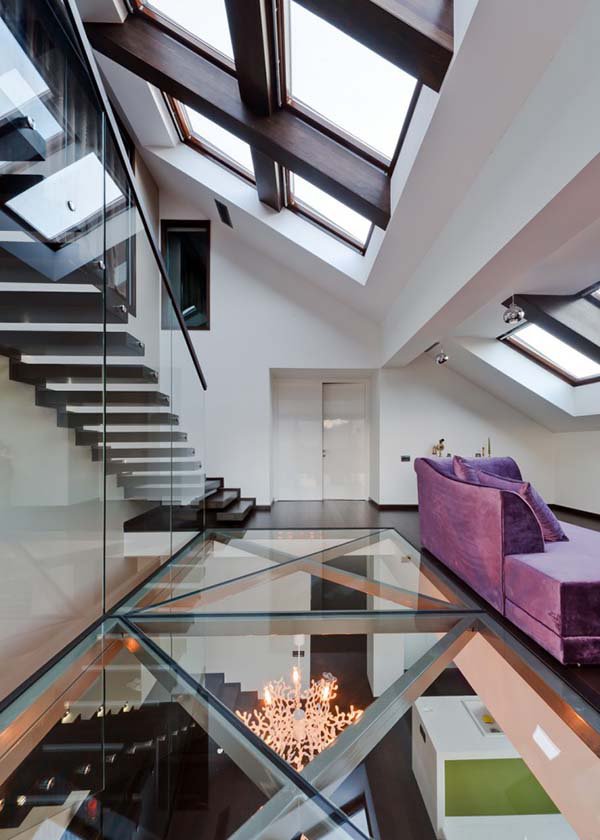 Part of the flooring is made of glass with exposed beams.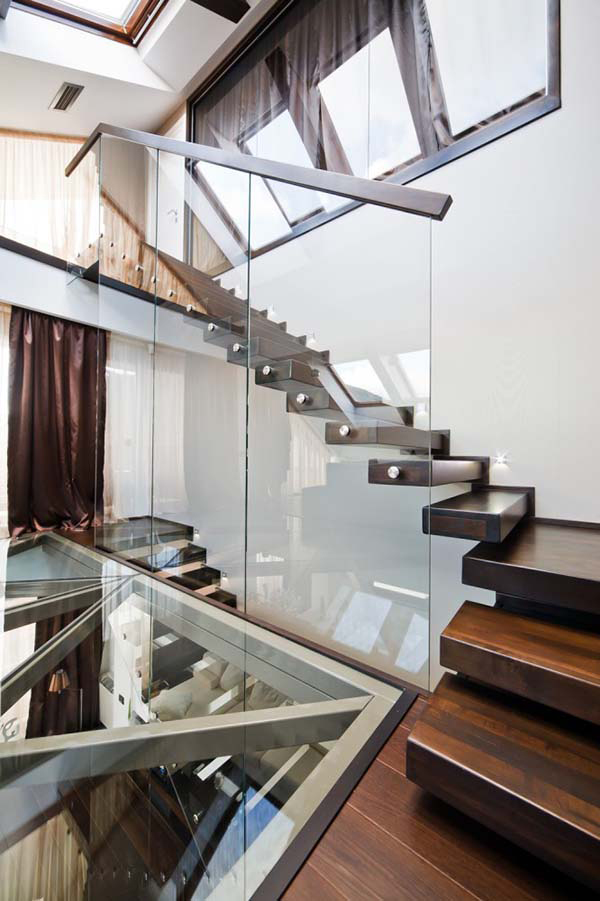 It used wood for the steps where the clear glass railings were attached.
You can see that the house made use of glass in different areas of it.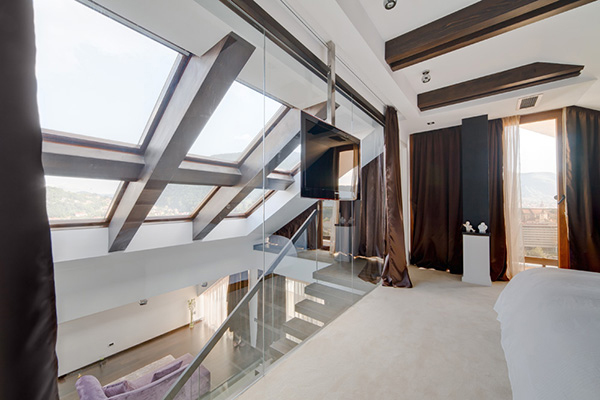 You can also find roof glass windows too that bring even more natural light to the home.
The vaulted ceiling of the bedroom may look challenging to work on but look at what they did to it making it appear stylish.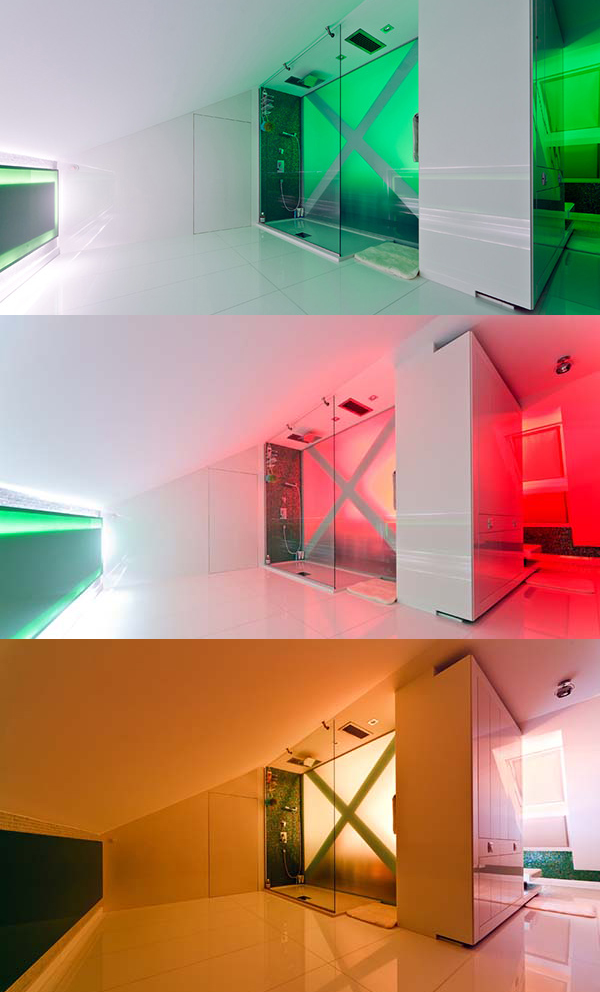 Look at the changing colors of the bathroom which is one feature that made this space interesting.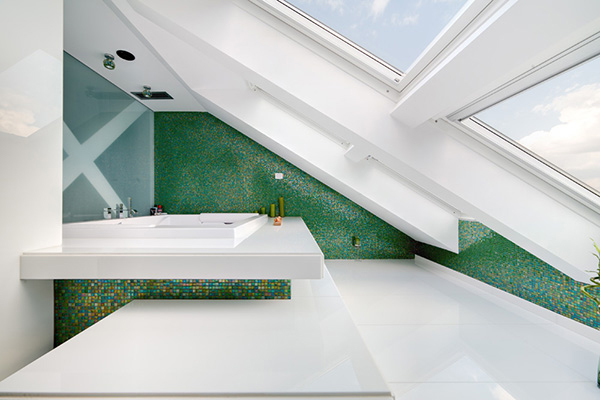 The bathroom has a raised bath tub under a roof window and is covered with green mosaic tiles.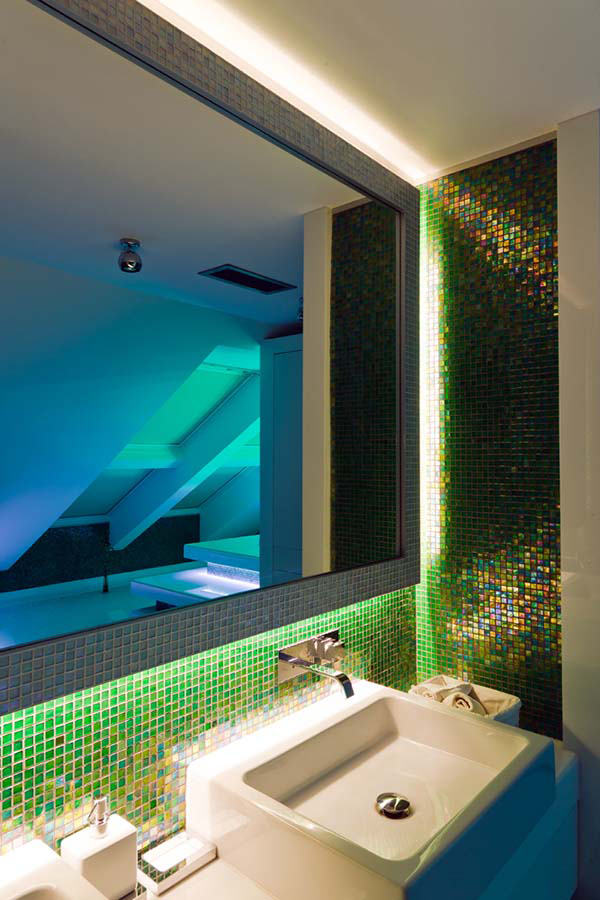 Dramatic lighting is used for the bathroom in every corner of it.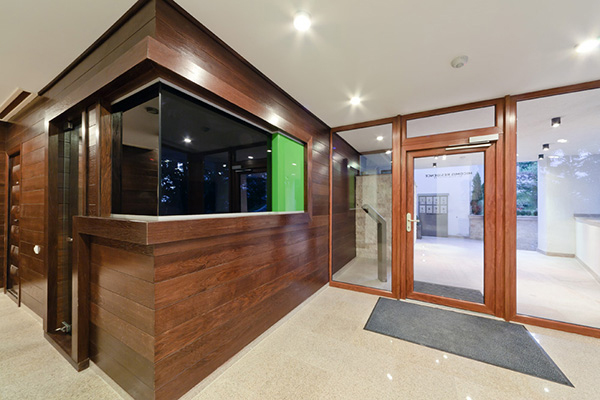 One part of the apartment that used wood and glass beautifully.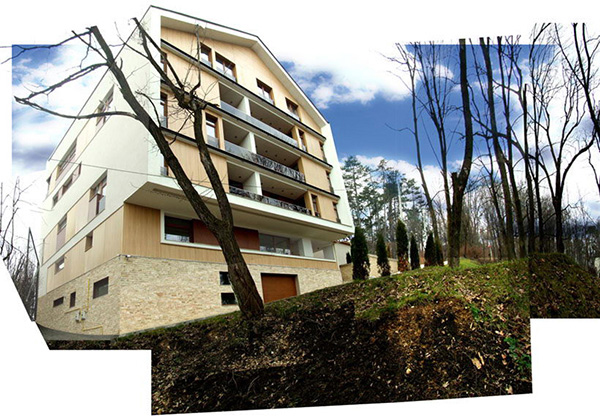 One last glance at the three story building that had beautiful secrets inside it.
This isn't the first loft that we have featured here on Home Design Lover. But what made this unique is the glass flooring in the second level. I like that idea although it does look very fragile to me. But what Ion Popusoi+ Bogdan Preda did to this loft is just impressive. Who wouldn't love to live in a place like this, anyway?