20 Gorgeous Bathroom Crystal Chandeliers
Crystal chandeliers can also be added to the bathroom. Take a look at this list.
Adding a lighting fixture in your home is like adding a sofa to your living room or adding a bed in your bedroom – aside from choosing something that you will be able to use, you also consider that this furniture or lighting fixture would make that particular space beautiful; so this about function and beauty. Two things that always come in handy whenever we are trying to decide on something that needs to be added or replaced in our homes.
For today, we will be seeing a list of wonderful crystal chandeliers that was particularly added in the bathroom for its aesthetic value. Honestly, we do not really have to add expensive chandeliers in the bathroom, right? The wonderful designers of the homes that you will be seeing below made sure that the bathrooms are beautiful and world-class. Check it out!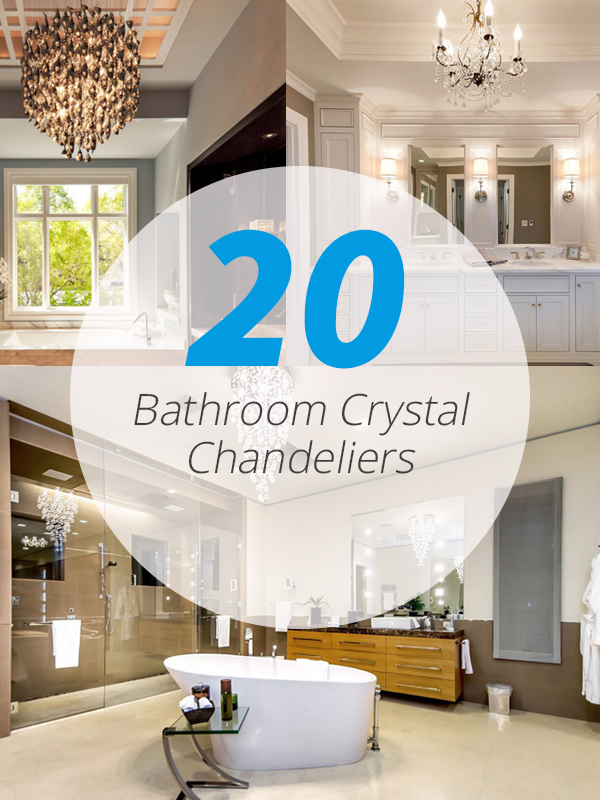 1. 10 Mulgoa St. Brighton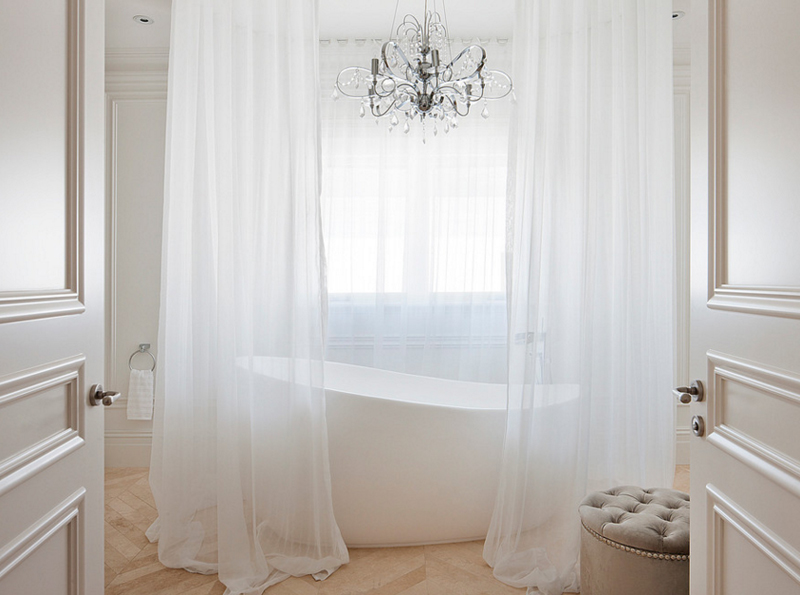 This first bathroom on the list is located in Melbourne; the design and aura of this bathroom is just heavenly – with the whites used in here, for the paint, the doors, the tub, the linens and even the crystal chandelier being all-too white is just stunning! As what my father told me, 'the bathroom should always be welcoming.' Makes sense though, right?
2. Spring Parade Home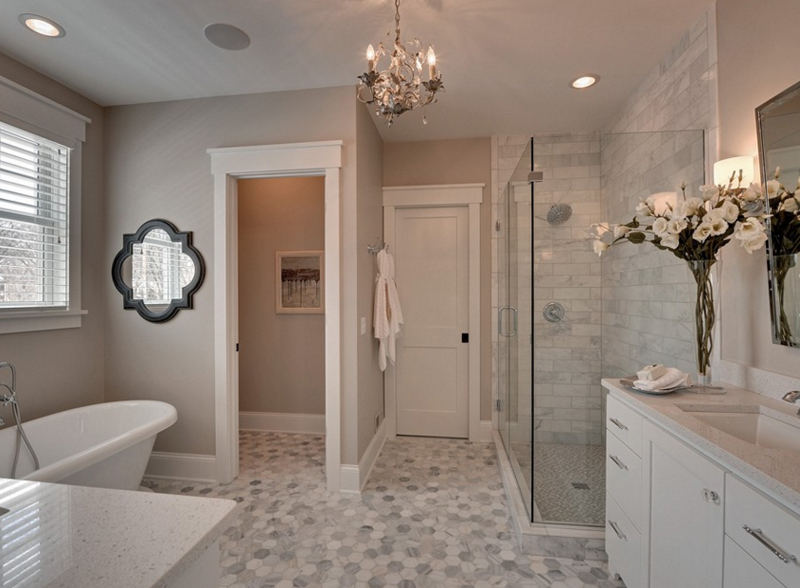 The design of this contemporary bathroom is like most of the bathroom seen in magazines – something so pearly and really inviting. The tiles used are nice and the vanity is just lovely; choosing a small crystal chandelier is ideal since there are already a couple of lights on the sides already. The chandelier in this bathroom is merely for show.
3. Bobier Residence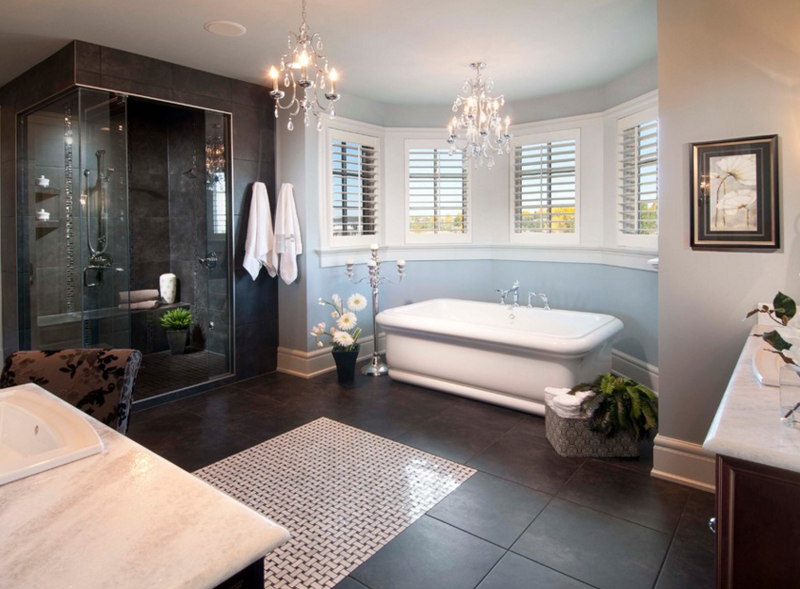 Well, it looks like this bathroom needed more lighting because the designer really thought of adding two crystal chandeliers inside. Looking at this bathroom, you see a neat space that sure is inviting, clean and beautiful. I even like the windows in here because you sure see that there are tons of light and air that can pass through them.
4. California Home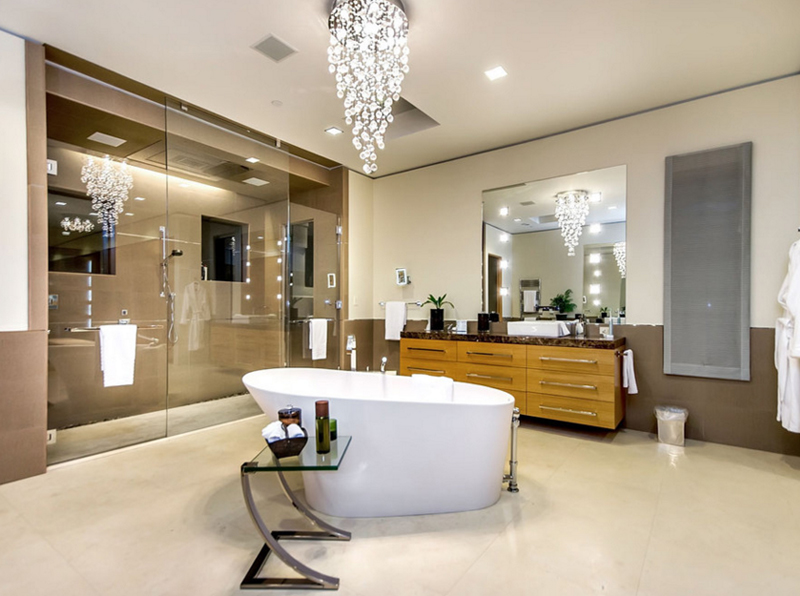 Plus points on the cute white tub in this beautiful California bathroom. The tub being the center of attraction in this space is adorned and complemented with a drop-dead-gorgeous crystal chandelier that I wish I knew where to get. I mean, I wish I owned this bathroom! The sliding door to the shower is really modern too. I love this space!
5. Classic Spa Bathroom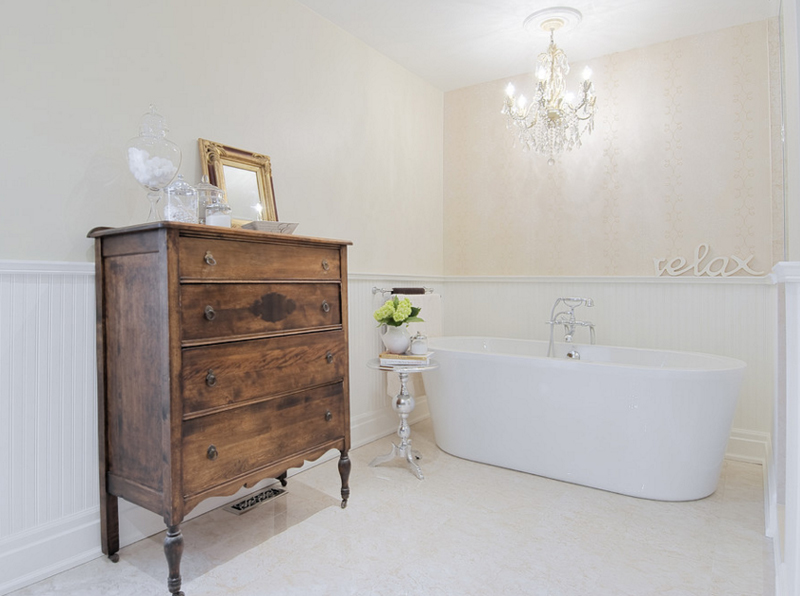 I have already seen this beautiful bathroom before and I think that this sure deserves to be a part of this list. The minimalist approach to this bathroom is just sophisticated and really classy. Adding an old dresser added to the vintage-inspired look that the designers wanted this space to achieve.
6. Contemporary on the Water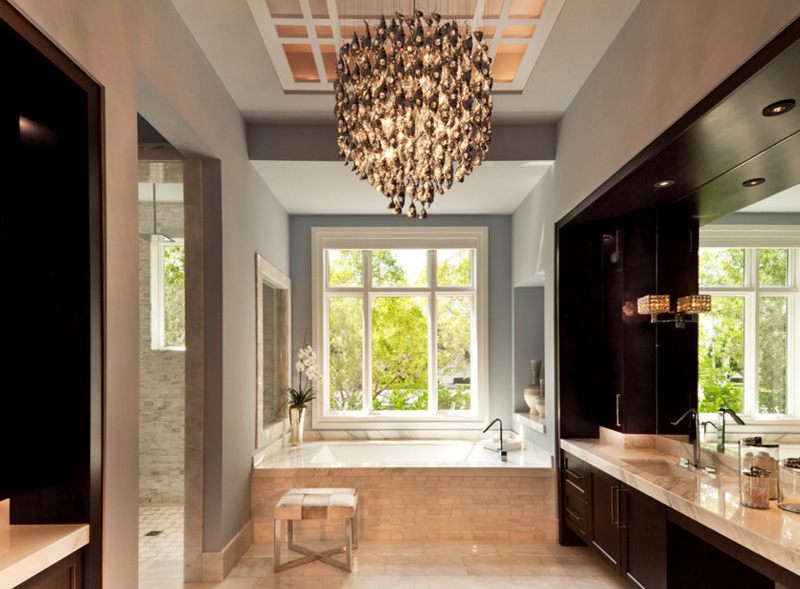 I can't explain how weird-looking this crystal chandelier is – but the modern design sure is appealing. The color of this chandelier is not really something that you see every day in your regular visit to friends, right? Hey, it sure is one great conversation starter if you had this one at home though, right?
7. Euro-Chic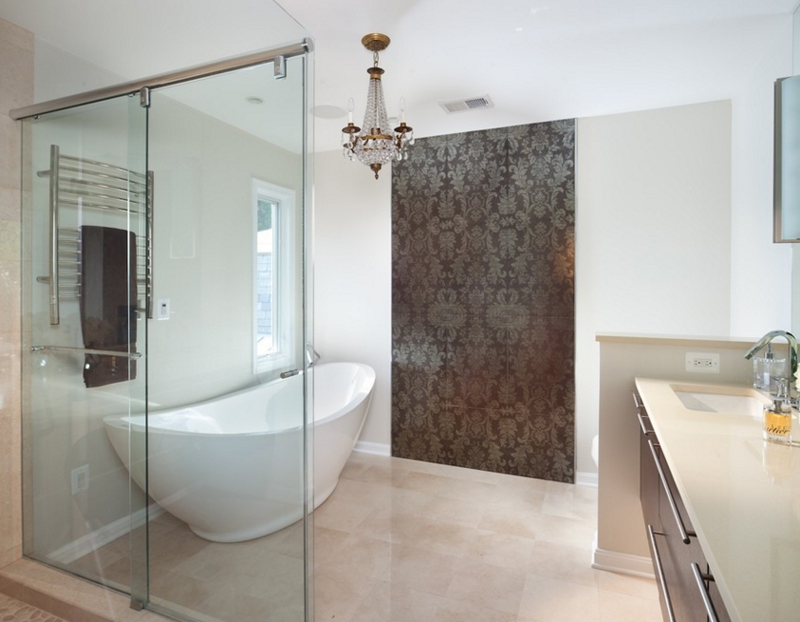 This is one nice bathroom – I would like to say that it's minimalist and all that, but, what am I actually expecting to see in a bathroom, right? Well, aside from the tub and the shower area, a lavatory or vanity, whether single or for two and maybe some linen compartment? Still, I think that European-inspired bathroom is beautiful, with or without that stunning crystal chandelier.
8. Forest Hill Home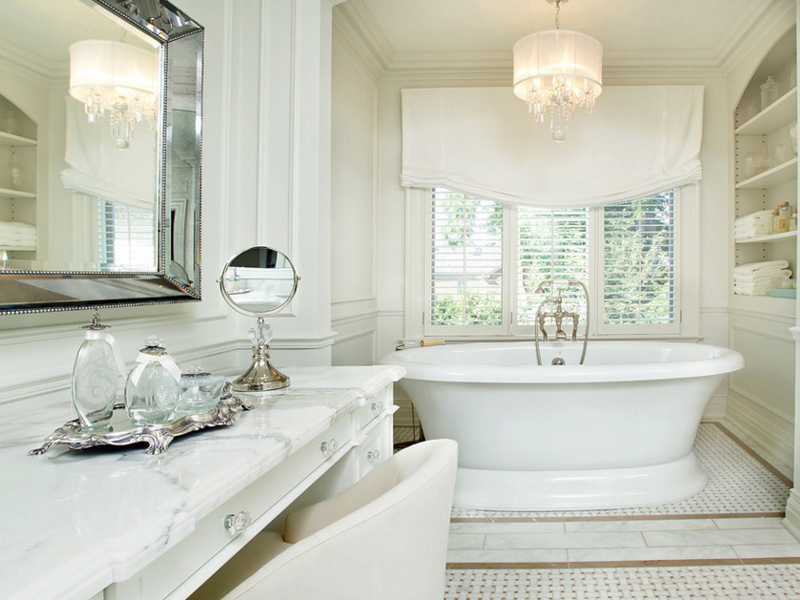 I think that I have already featured this bathroom in one of the lists that I've made or maybe I saw this one already – but see, I still am drawn to it. I think aside from the classic looking tub, the large window on the background and the beautiful vanity, this Forest Hill bathroom is just wonderful.
9. Luxurious Traditional Bathroom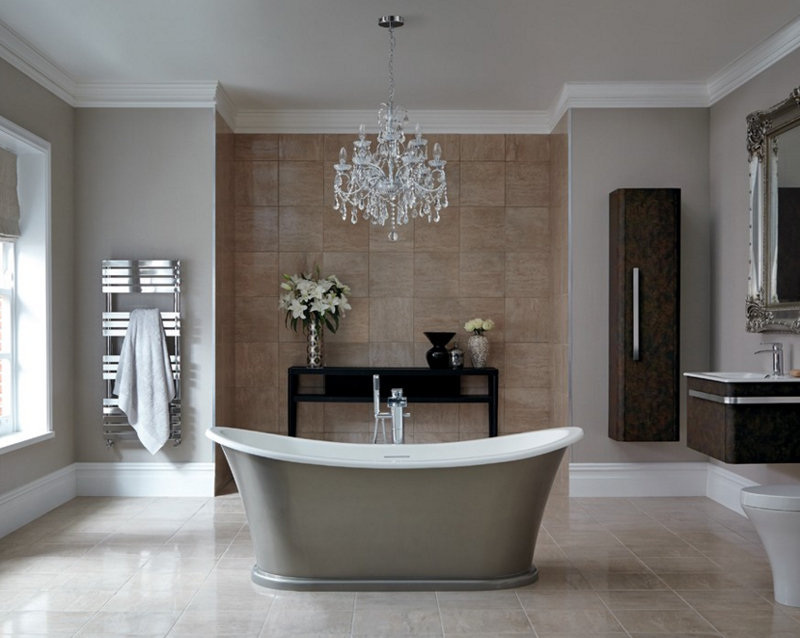 Talk about an expensive bathroom! I may not have designed a bathroom this beautiful, but I know what an expensive bathroom when I see one – and this one sure is. The choice of bath tub, the chandelier and the furniture and furnishings in this bathroom is definitely designer and you know that anyone would love to have a huge bathroom space like this one.
10. Mendota Heights Residence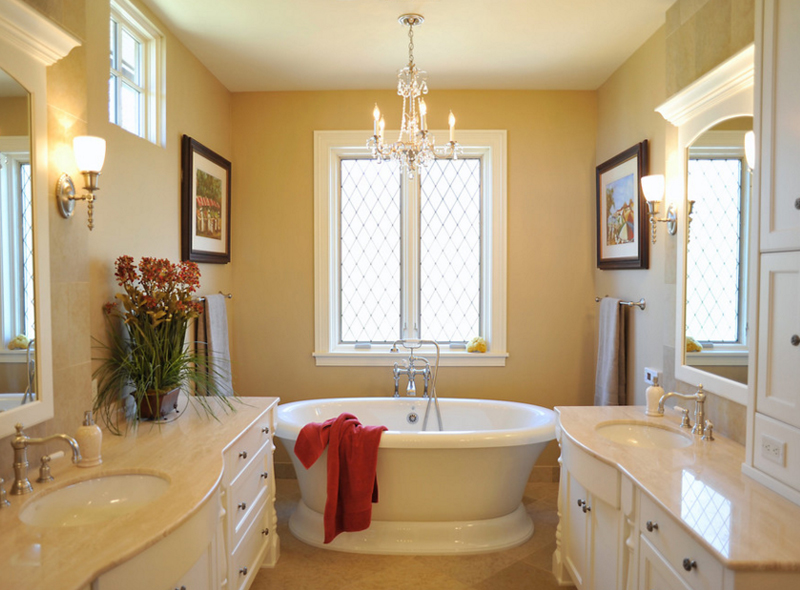 A lovely traditional-contemporary bathroom in the heart of Minneapolis. This neutral-colored bathroom a bit small because of the double vanity that sits facing each other. If I am not mistaken, this was done for siblings sharing a bathroom; I would like to think that it's the case because usually if it is for a couple, double vanities are made beside each other, not opposite each other.
11. New West Classic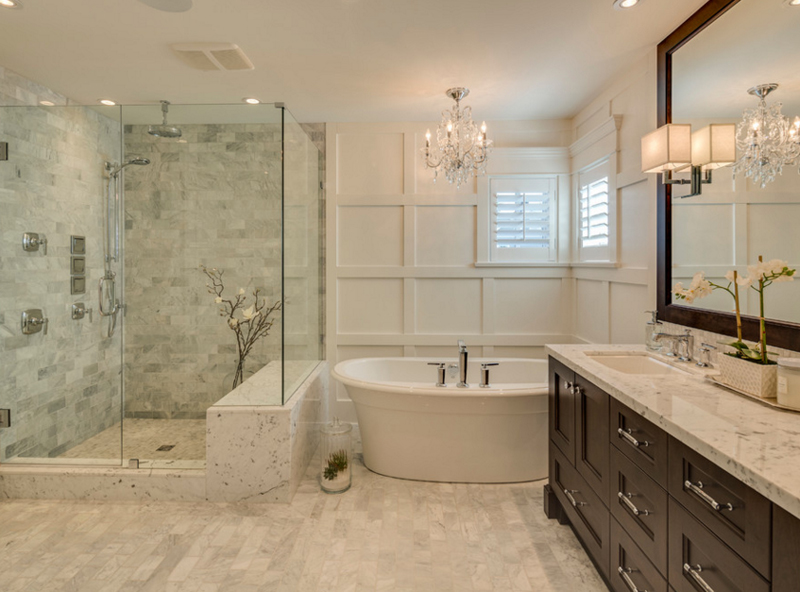 This list is dominated by large bathrooms and it sure is interesting to see because each one is special and was intended for a specific user, right? It seems that you are able to tell how vain or how much the owner loves their bathroom depending on what its contents are. Even in the choice of lighting fixture they choose to divert our attention to.
12. Portola Valley New Home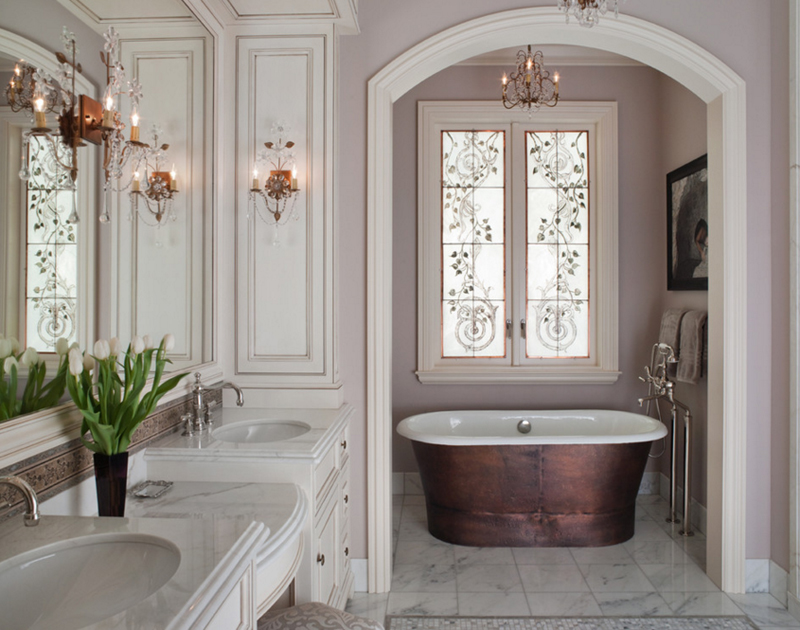 I totally dig the color of the bath tub in this space. The design of the bathroom is similar to a hotel bathroom minus the double vanity. The color of the wall is actually nice because it's a bit lilac which is similar to violet which means royalty.
13. Redfern Residence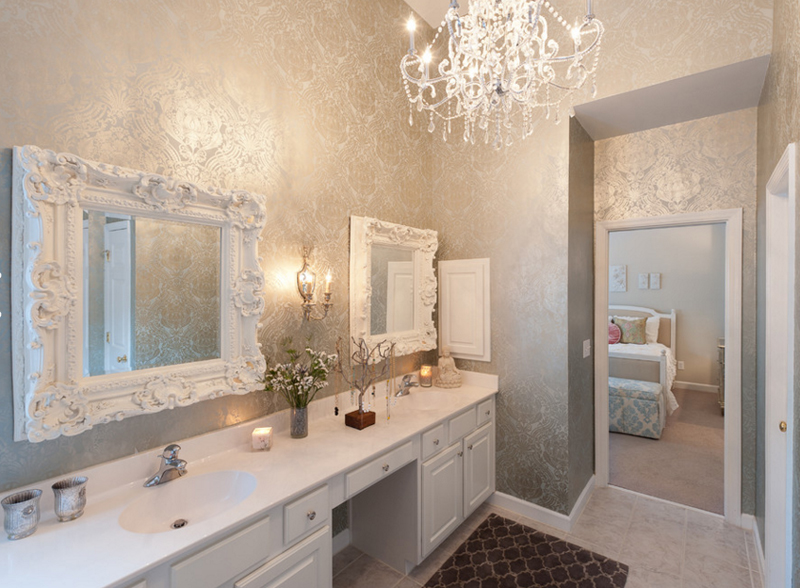 I really love the frame of the mirrors in this bathroom which is adorned with a double vanity and chandelier. The curves and details in this bathroom is definitely a plus when it comes to design and artistry – even the design of the wall paper is just superb! Talk about details, details, details – this Redfern home is just perfect!
14. Resplendent Traditional Bath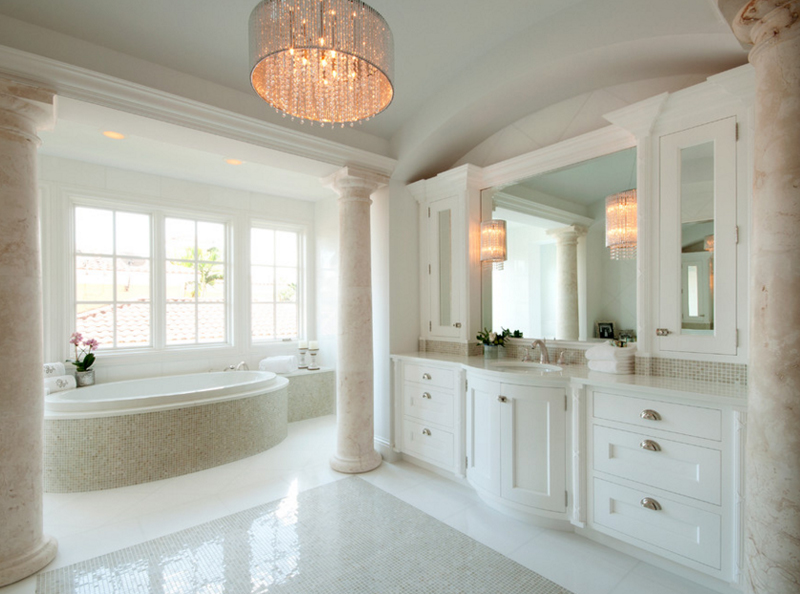 If this is what a traditional bathroom looks like, I think I'm going to consider getting one! I think the columns in this space are great additions to create a more dramatic effect; maybe to make you feel like you are in a Roman or Greek bathroom. The design of the crystal chandelier in here is stunning too!
15. Sea Ranch Lakes Home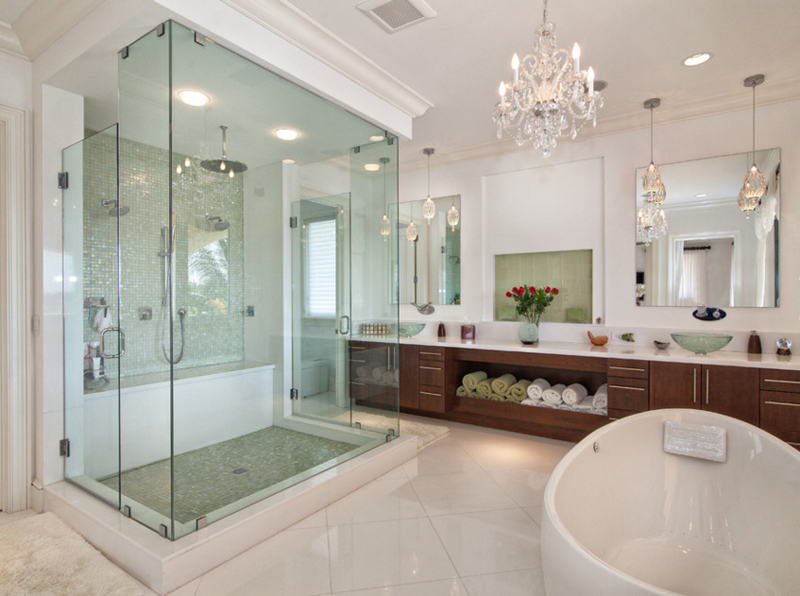 I love the design of the tub in this Sea Ranch bathroom. It looks sleek and slender and rather comfortable – although it seems ideal for a single person to bathe in, still I think it's really cute and comfy. The lighting fixtures in this bathroom also look inviting and really pretty; I like the towel holders underneath the lavatory too.
16. South Bay Ranch Remodel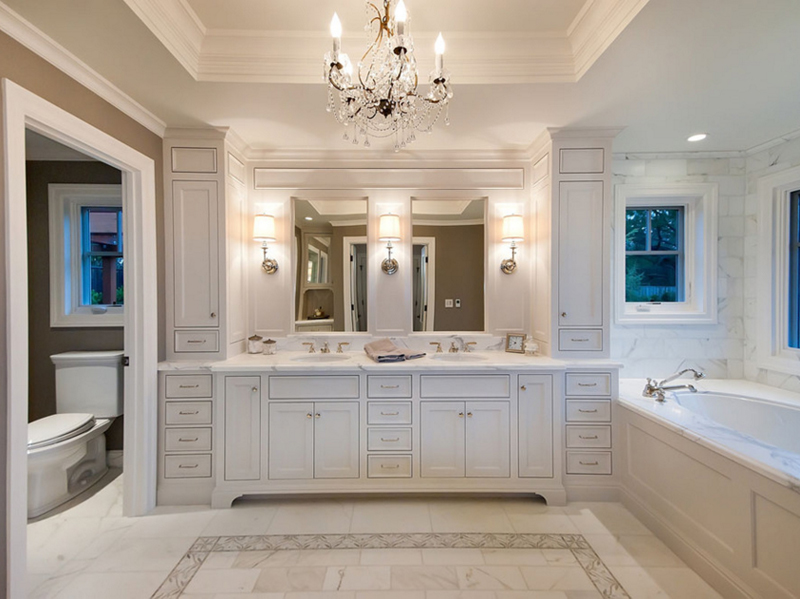 This is what the typical bathroom design that I see whenever I am in a hotel. It maybe not this large but ideally, you have the tub away from the toilet but still in the same room; the vanity may not also be this large, but the design of the cabinets is somehow similar. If I am not mistaken, the tall cabinets beside the mirrors is where they keep the wirings.
17. Syosset Home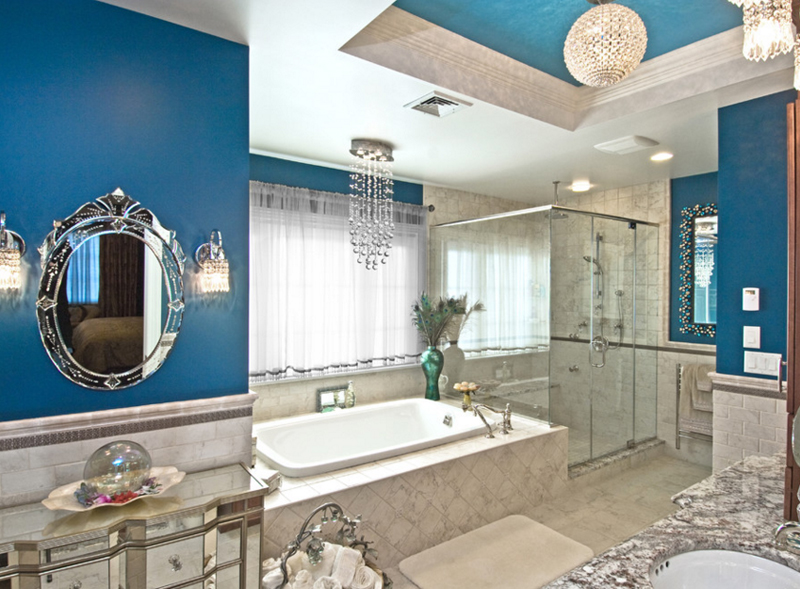 Notice that there are plenty of beautiful lighting fixtures? I do not know why they chose to use different designs of chandeliers instead of using one design among the three; but hey, it's the prerogative of the designer or the owner, right? Like what my friend says, 'why not?'
18. Toronto Traditional Bathroom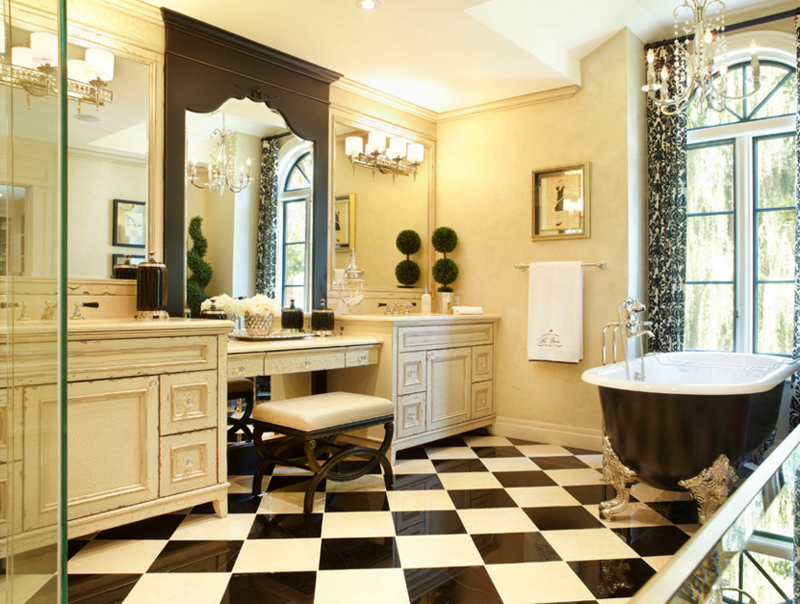 Look at the beautiful and sophisticated color and design of this bath tub! It's in black and the legs has intricate details that rather looks expensive! I can't say for sure though if it's in silver or in gold. The black accent in the center of the vanity if just beyond words – it makes this entire bath extremely fashionable and stunning; I can't say for sure if I love the tiles on the floors though.
19. University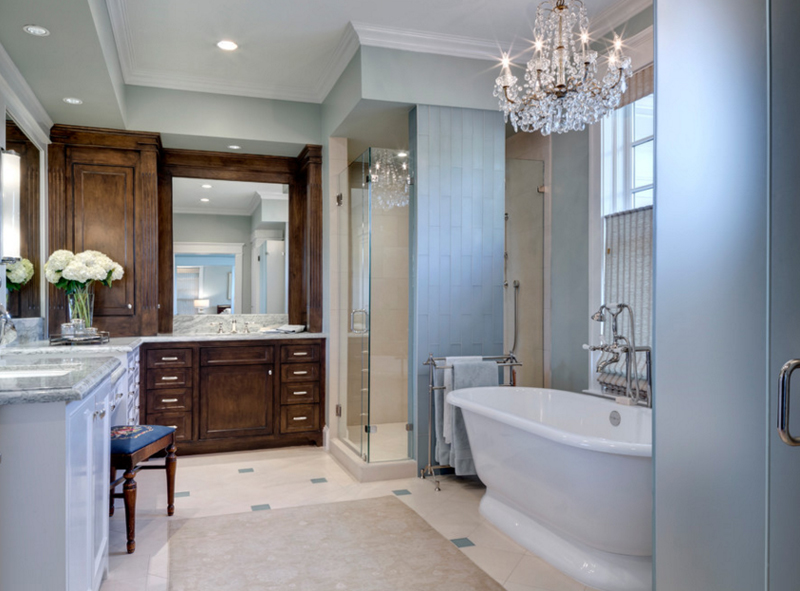 This Dallas bathroom looks really pretty. The cabinets and the glass looks like it's frosted blue and it sure complements well with the white tub and the dark brown vanity. The crystal chandelier in this bathroom looks like something you usually would place by the stairs or in the living room; it seems too glam to be in the bathroom, but like I mentioned above, 'why not?'
20. Watkins Road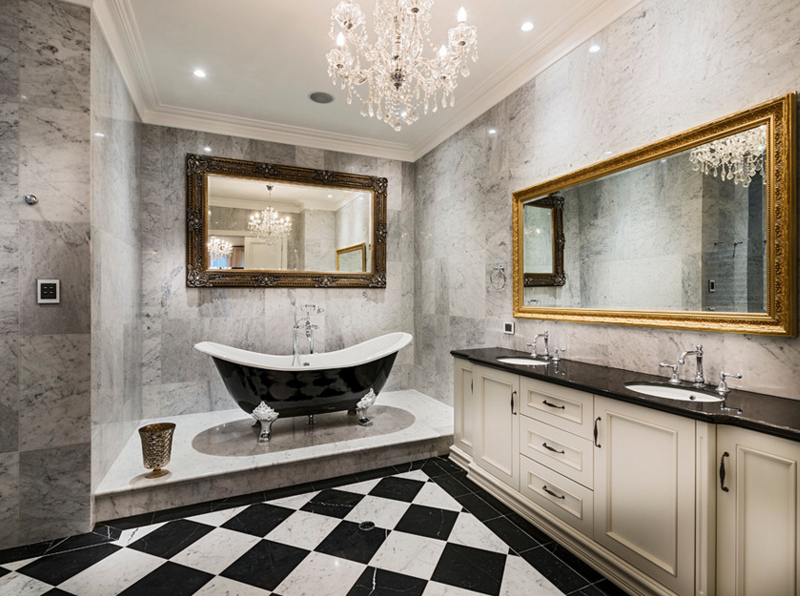 Well what do you know, another bath tub in black and silver that looks super duper stunning! It's really glamorous and sophisticated that the added crystal chandelier in here just complement and blends well with it. I also comment the designer of this space for the beautiful choice of mirror.
There you have it guys, the 20 Gorgeous Bathroom Crystal Chandeliers that surely complements with the living areas of similar lightingsthat we have created before. I think that both these lists produced stunning pictures that surely inspired people who wanted to buy a crystal chandelier for their homes – more pictures of home spaces with stunning chandeliers coming your way! Happy reading!