18 Colorful and Whimsical Kid's Bathroom
When we are doing a design for kids, it is always colorful and is full of fun. This also reflects the characteristic of children showing how lively, dynamic and happy-go-lucky they are. Kids are kids and everything associated with them is always fun-filled! And that doesn't exempt the bathroom. Some bathrooms for kids are designed based on a certain theme depending on what the kids like. To make sure that you can achieve that, try to research if there are available items that will fit in the theme before you finally decide to stick to it. There really items that are hard to find and you don't want to disappoint your children.
Aside from researching bathroom accessories, you can also look for bathroom design inspirations that will help you decide on how you will decorate the bathroom. So, we have collated some kid's bathrooms for you. You are about to see various types and themes but we are sure that after seeing this list, you will end up with a good idea for your kid's bathroom. Scroll down and take a look at 18 colorful and whimsical kid's bathrooms:
Ultimate Kids' Bathroom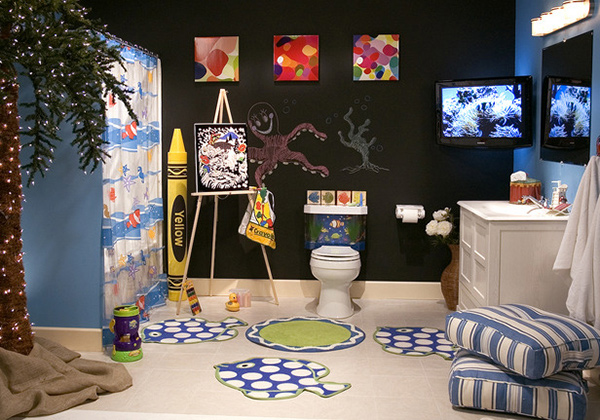 A fun bathroom with an under the sea theme. You can see a blackboard on the wall which allows the kids to create and draw on it anytime they want. This bathroom fits for an artistic and creative child!
Child's Washbasin Cabinet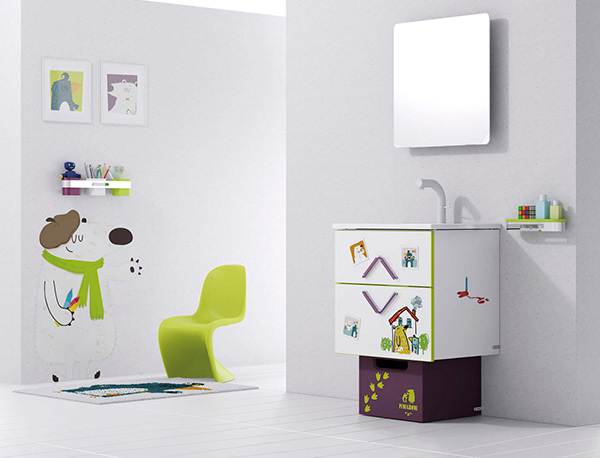 Achieve a modern bathroom for kids like this by adding a washbasin cabinet as lovely as this!
Kids Bathroom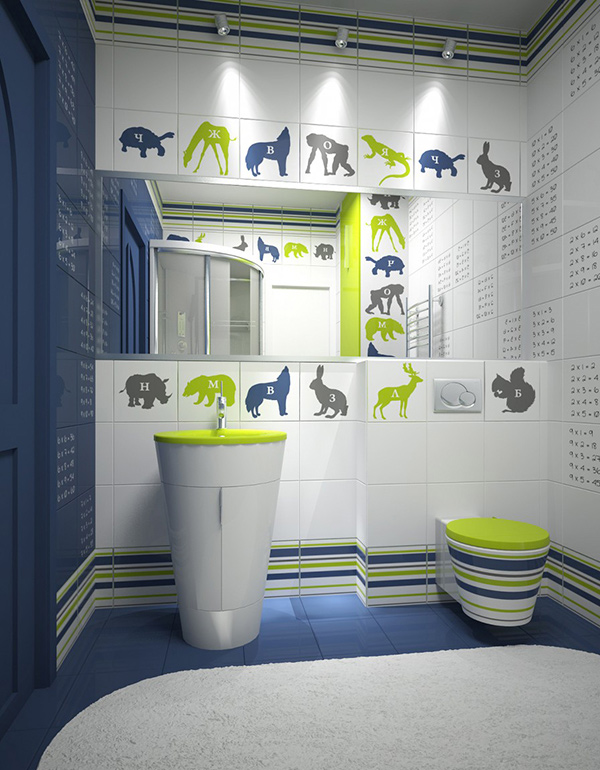 Safari inspired bathroom in greens and blues. What look amazing for us are the multiplication solutions on the wall.
PB Kids Flowers Bathroom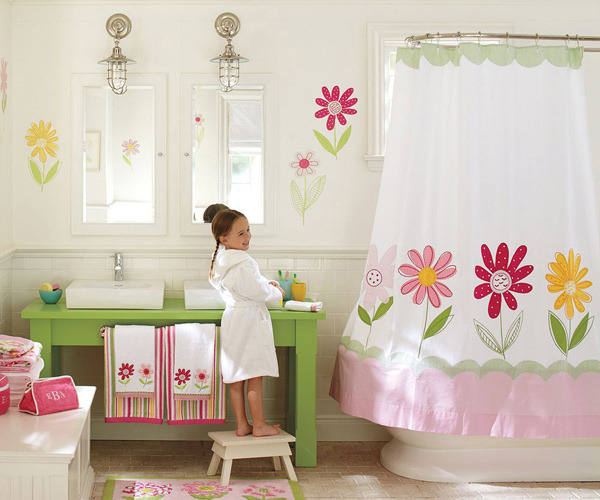 Your little girl will be pleased to see a bathroom with flowers in it. With greens and pinks, this is one stunning bathroom indeed!
Laufen Kids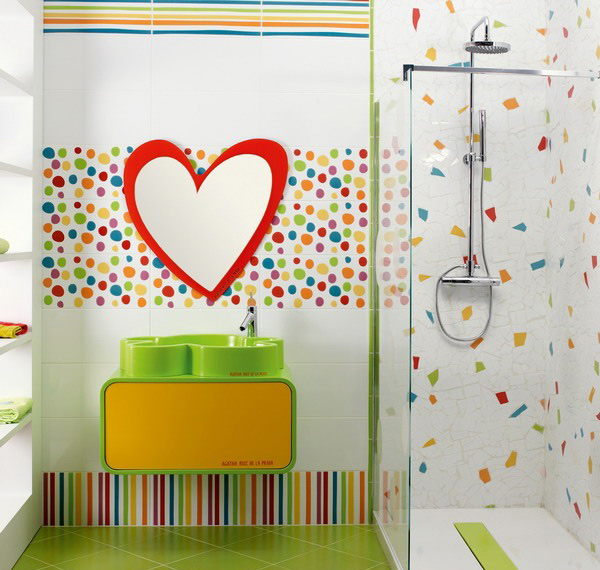 You see not just a unique shape for the mirror but also for the lavatory. The colors in this bathroom are so lively and fun!
Bathroom for Kids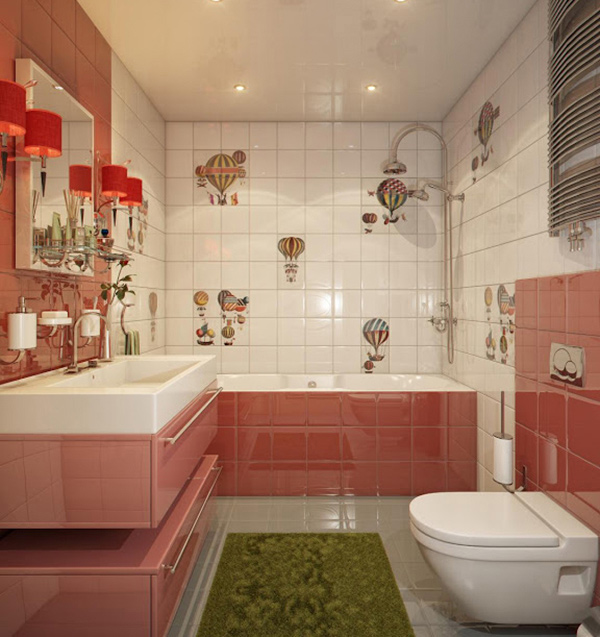 The wall tiles with hot air balloons and the colors of the bathroom are both childish and spectacular!
Children's Bathroom in the Home Country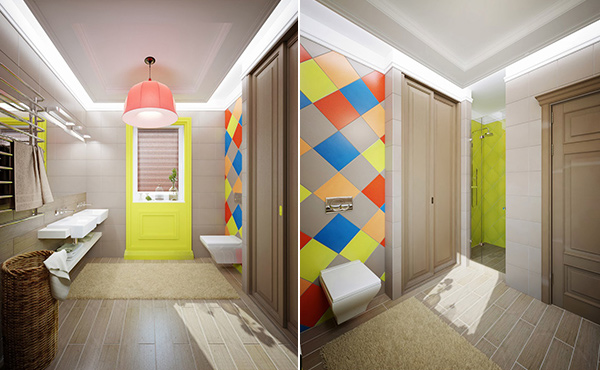 Another modern bathroom that used wall tiles of different colors to add some childish touch in it.
PBK ABC Bathroom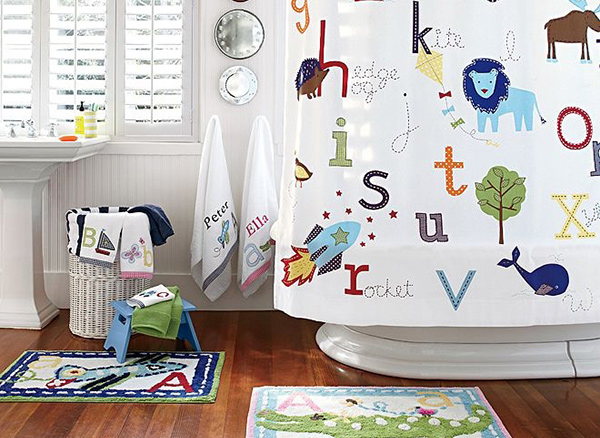 Your kids will love to learn their ABC's especially if they are in the water! This is one cute bathroom for kiddos!
Whole House Renovation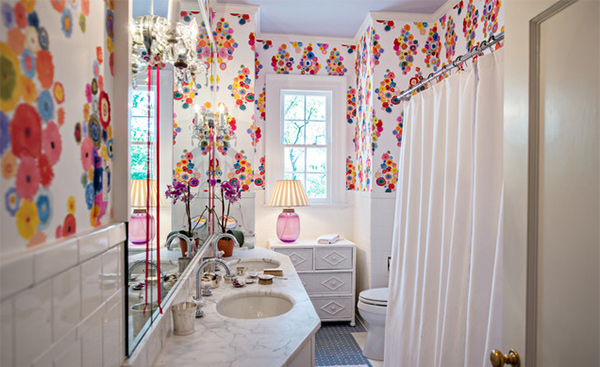 A bathroom of a house renovation adding some colorful flowers on the wall. It looks good with the whites in the space. Even the lampshade is a good addition.
Bathroom Yellow Green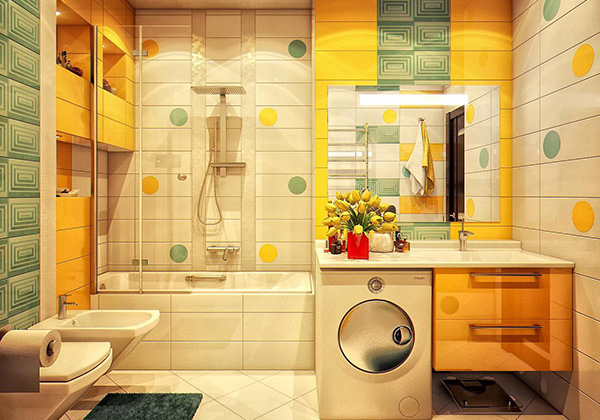 Combining different patterns in yellow and green for this bathroom give it a funky look. When one gets inside, it seems that they are invited to groove!
Butterfly Bathroom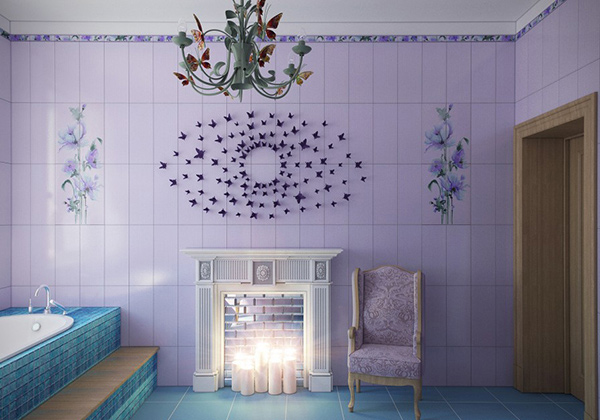 A whimsical bathroom of butterflies and flowers which gives your little princess the feeling of being in her own magical kingdom even if she is in the bathroom.
Hello Kitty Tile Collection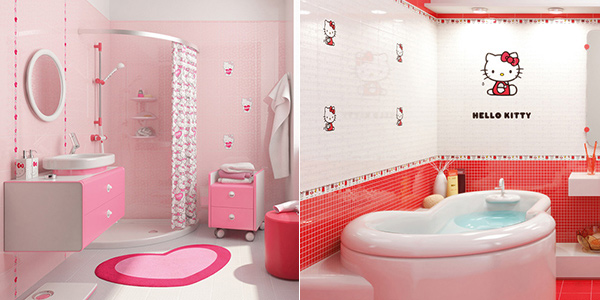 Hello Kitty lovers will go wild upon seeing this bathroom with cute Hello Kitty tiles on the wall!
Whimsical Bathroom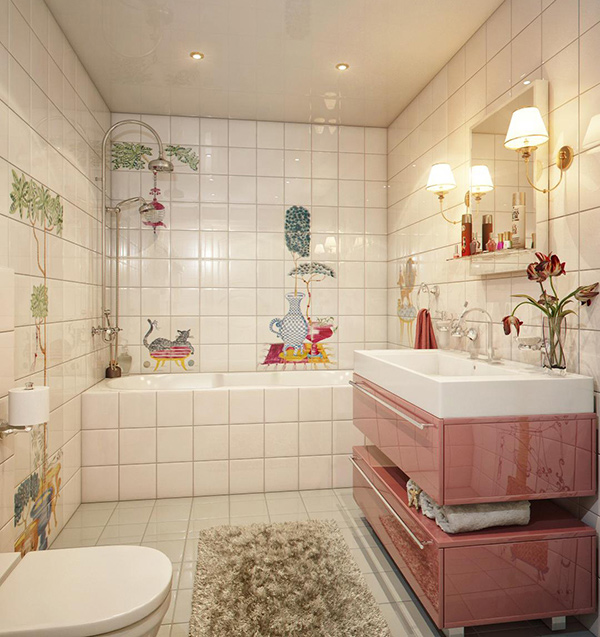 Whimsical and wonderful! Your kids will feel like they are visiting a land of magic and adventure with the wall tiles as lovely as the ones in this bathroom!
Children's Bathroom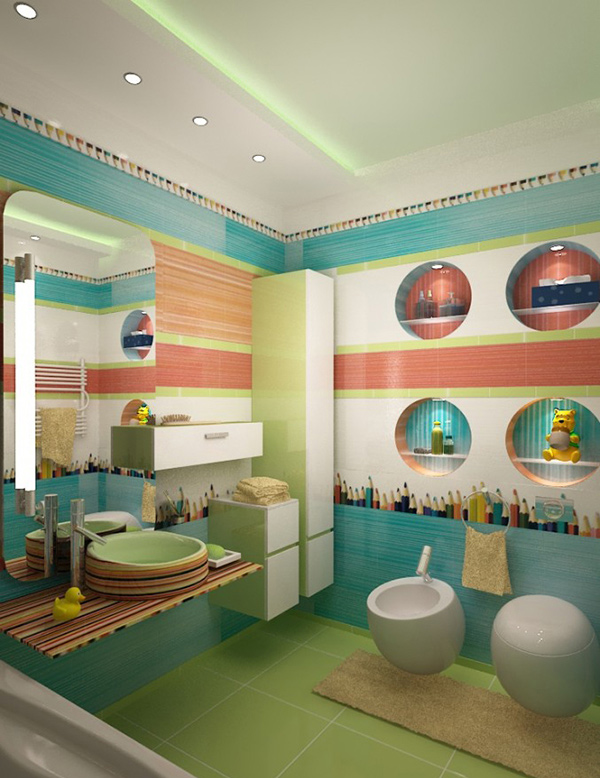 Creative colored pens wall border and the use of different colors makes this bathroom get a childish look. We love the design of the wall shelves as well.
Kid's Bath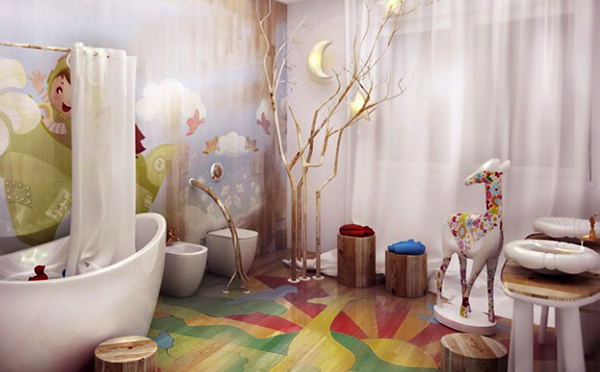 Another bathroom that will bring your child's imagination to a world of adventure and mystery. Just look at all the cute features in it!
Kid's Bathroom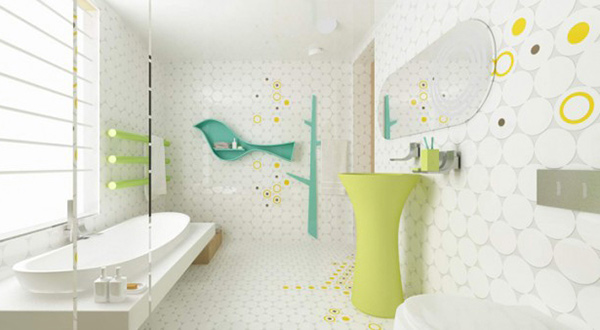 Funky modern bathroom of circles and greens! It looks simple and lovely at the same time.
Bathroom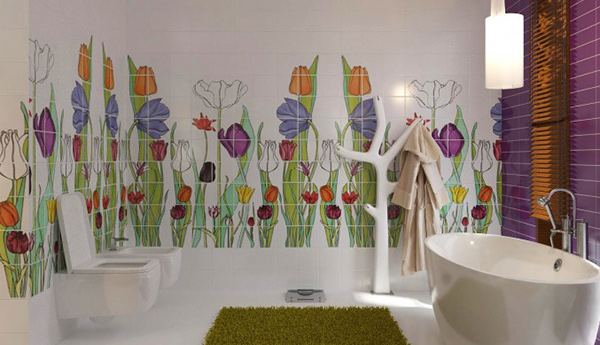 The wall tiles showing flowers on it are indeed girly! Notice that stand designed like a tree? Isn't it cute?
WC Detskiy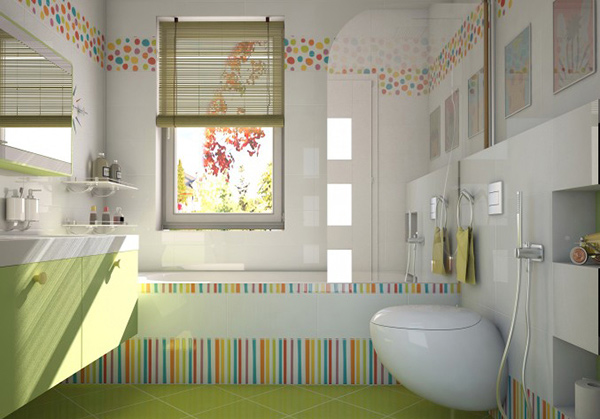 Lime green is love! The colorful wall border as well as the colorful stripes matched well with the lime color accent of the bathroom. This can even fit for a teen!
Colorful and fun! These are what you can see in most bathroom designs for kids. You have just seen some of them above. You can observe that aside from themed kid's bathroom, there are also others that look modern with some colorful additions to add a childish touch to them. If you are currently working on your kid's bathroom, then the above designs will surely be a good source of inspiration but do not stop there. Read our tips for with accompanying photos for more inspiration.