20 Beautiful Drum Shade Lighting in Bathrooms
Drum shade lights also look nice in the bathroom.
Bathrooms usually have the simplest lighting or lighting fixtures in all the parts of the house – but definitely not on the bathrooms on this list, I'll tell you that. Of course having a decent lighting in the bathroom is a necessity, but picking a bit more expensive or classy fixture is not; that is not the case in some of the bathrooms that we actually feature here and we surely know well what that is.
Below is a list of 20 Beautiful Drum Shade Lighting in Bathrooms that I think are not only fancy but surely awesome! They both are functional since they surely give light to the spaces and they also create a wonderful and dramatic aura every now and then; also they are dramatic and whenever you think that doing a bathroom selfie is a necessity, having a stunning piece of lighting fixture would definitely do the trick, check out the list below and tell us what you think!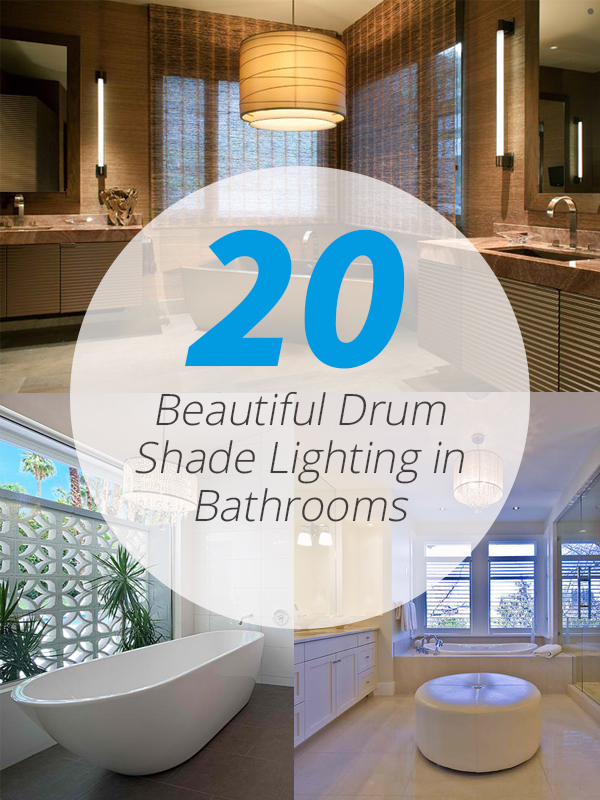 1. 2055 N Fremont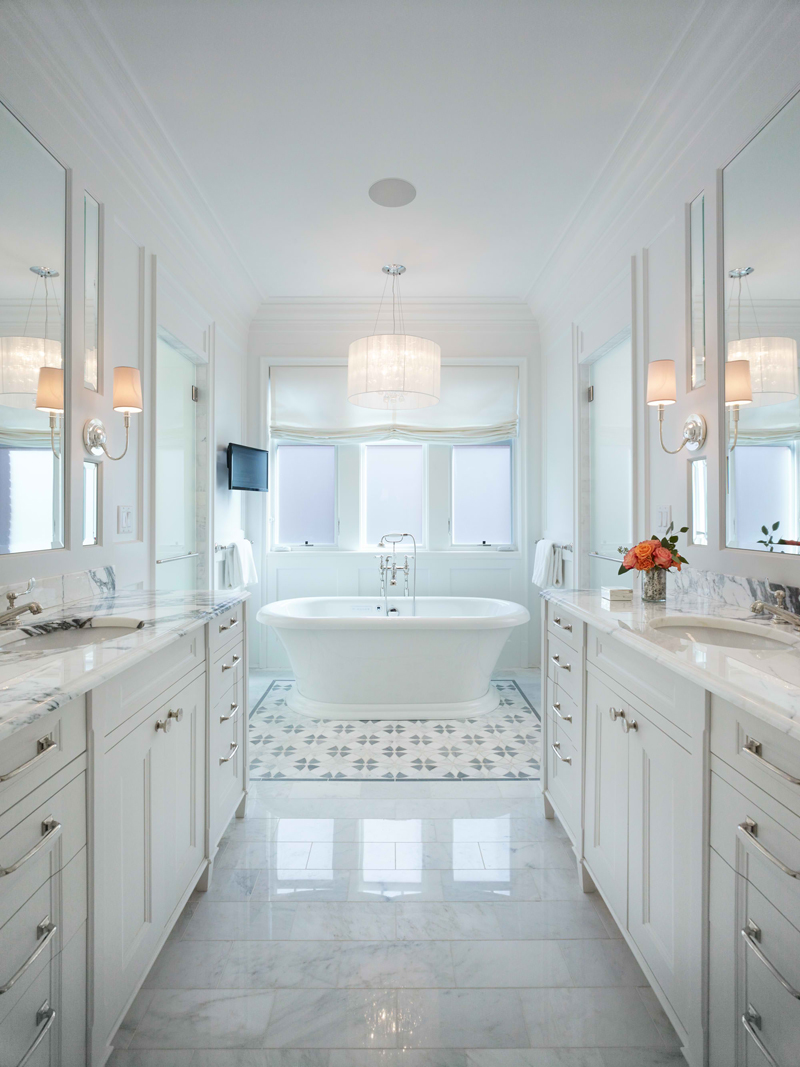 This beautiful bathroom sure showcases what a dream bathroom looks like. Awesome vanities, a wonderful tub and a stunning lighting fixture! In as much as this space doesn't look too large, the mere fact that this has everything we would want in a bathroom seem okay – well, perfect actually.
2. Beaton Project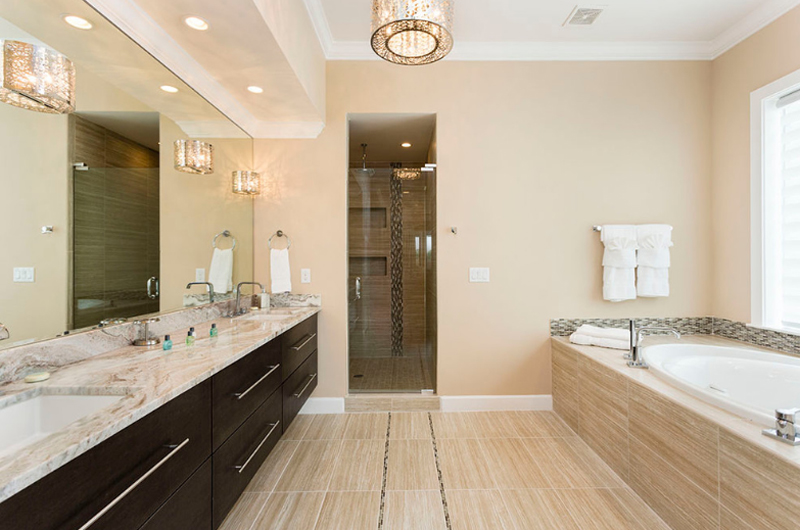 This is one larger bathroom than the first one on the list. The colors used in here are really classy and pretty. The drum chandelier may not be too obvious in this photo but it sure is real neat, right?
3. Beverly Hills Traditional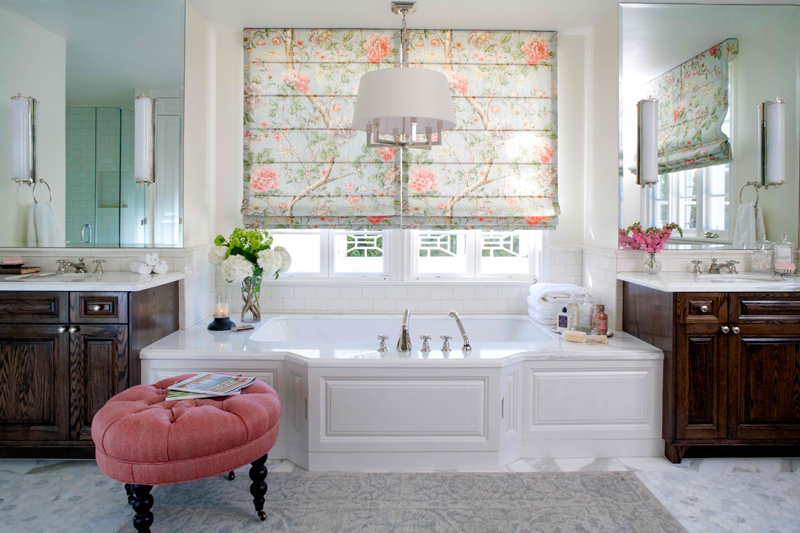 Look at how girly this bathroom is! It may be the printed drapes that the windows have and the pink ottoman which surely makes it all feminine but I think we simply get the vibe when something is actually more feminine or more masculine than neutral.
4. Bryant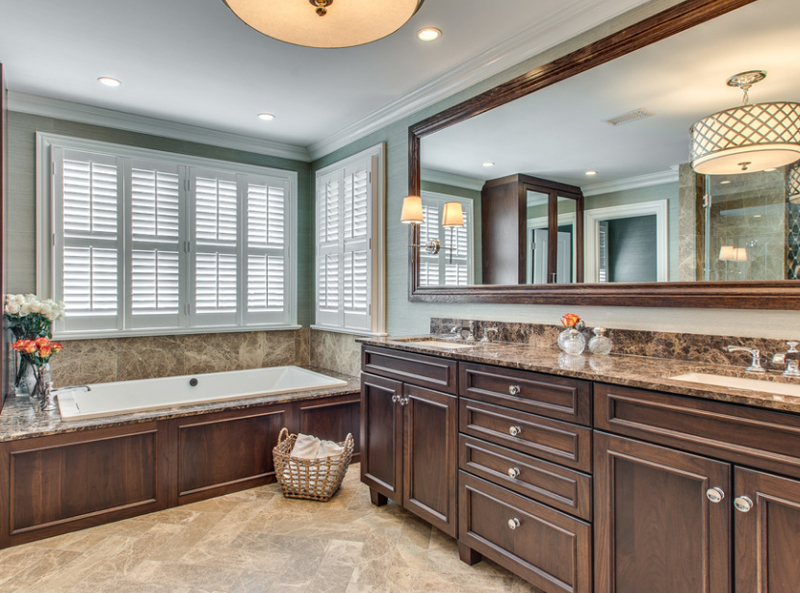 Now, the drum pendant light in this bathroom is something that we actually see indirectly from the mirror – a reflection of how the fixture actually looks like. The browns of this bathroom make it more of a classic than traditional. The fact that the tub is encased in a wooden crate of some sort – it makes it more interesting and really beautiful.
5. Crystal Dwelling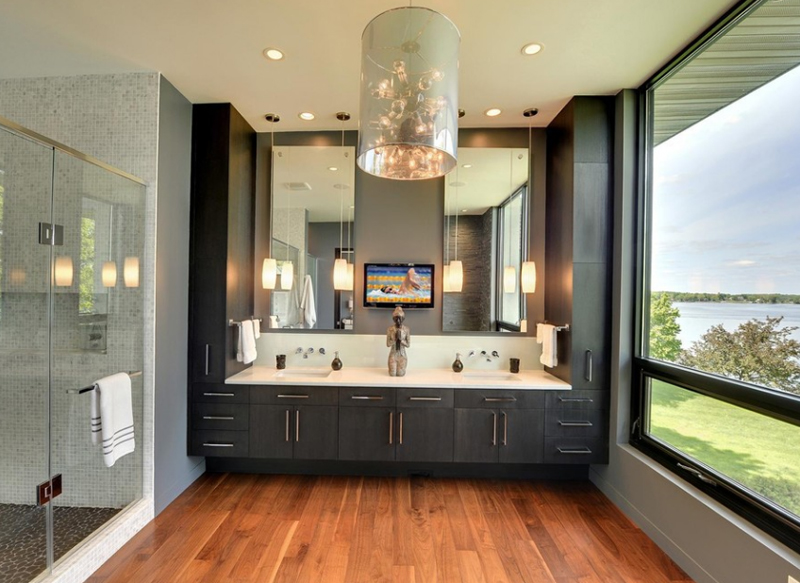 This is one elongated drum pendant lamp. The color and design of this fixture is really sophisticated and it surely looks expensive. The design of this space is quite neat and the thought of a large window is quite weird but I think adding a Roman shade would do the trick.
6. Duvall Creek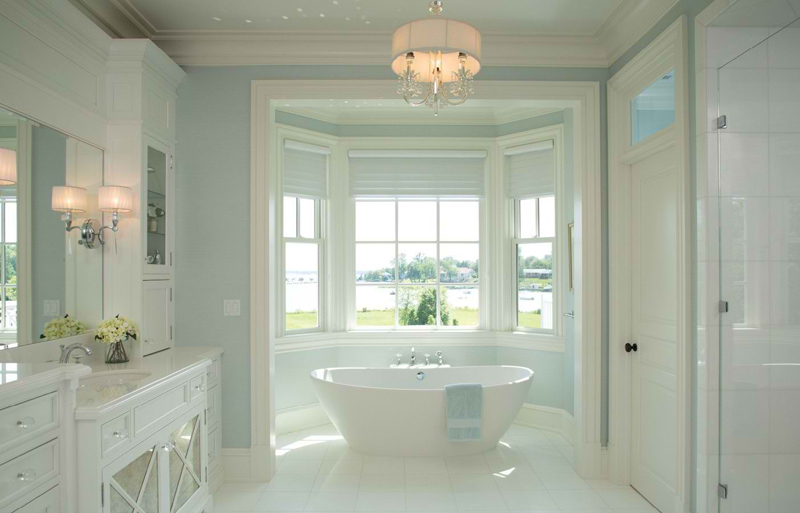 A stunning stand-alone white tub in the middle of the room which is adorned with a lovely drum crystal pendant. If this was a staple in every bathroom, I think that more and more people would be late in actually leaving for their work every day of the week.
7. French Country Luxury Home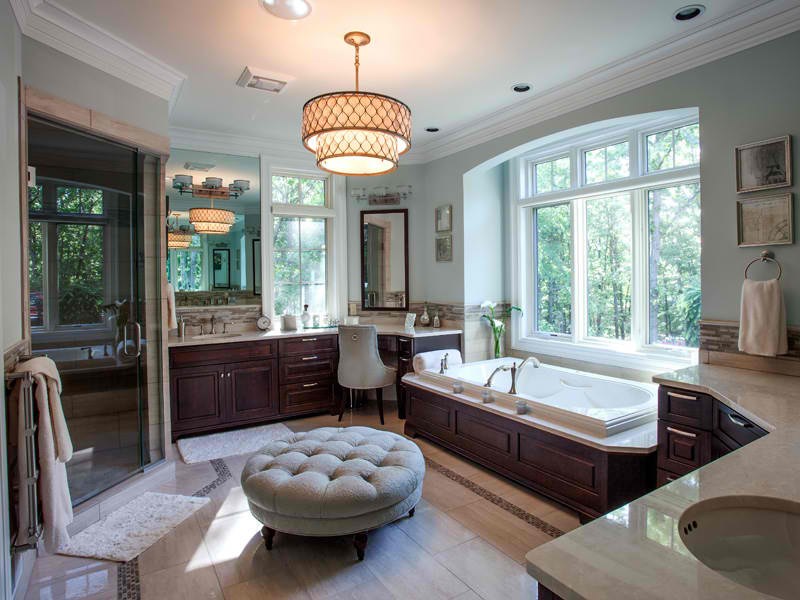 A unique drum lighting fixture is seen in this bathroom that surely stands out because of the color it actually has. If you notice, the entire bathroom has a different shade of brown against the color of the lighting fixture itself and it just looks wonderful.
8. Hideaway in a Wooded Spa Retreat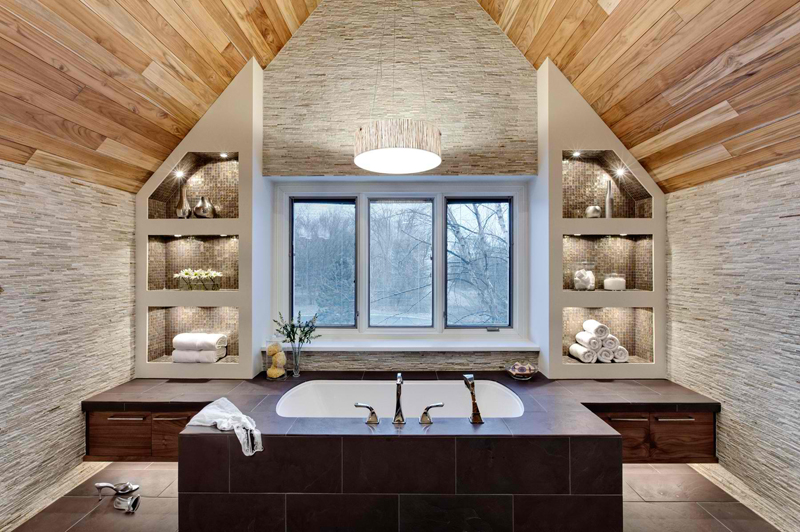 This stunning bathroom is something really worth the money spent on it. The material used on the walls and the ceiling is quite interesting. Notice how the design of the drum chandelier blends with the color and material of the wall. Pretty weird but pretty.
9. Hillgrove Residence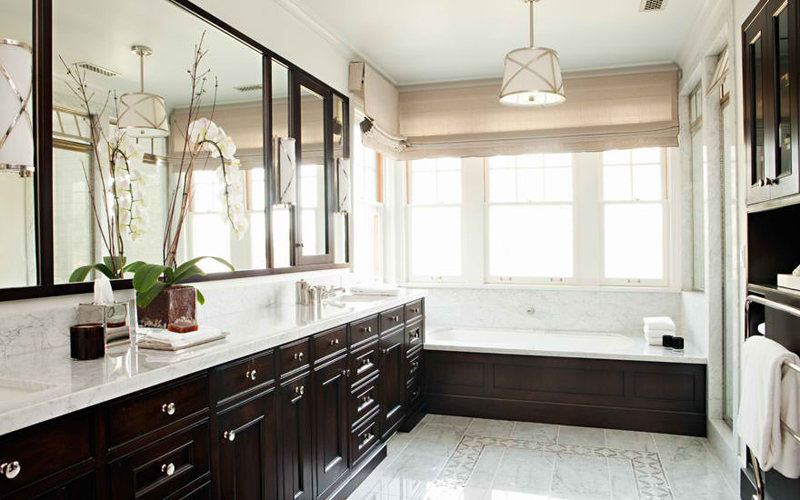 The simple drum chandelier in here is quite charming. It complements and completes the look of this classic neutral bathroom. The design and details of the cabinets in here is something I think people would love even at the beginning of seeing this space.
10. Hollywood Glamour Meets Modern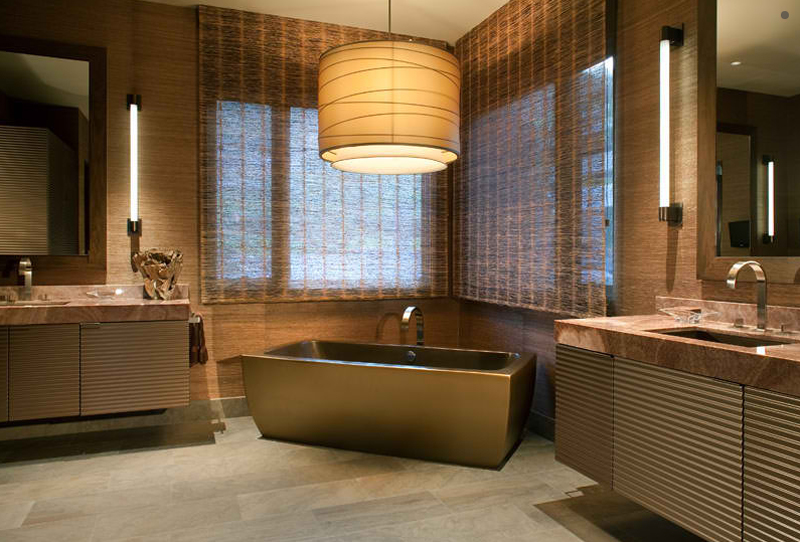 Now talk about an interesting and expensive looking bathroom! I know that the chandelier in here is actually enlarged through a camera angle of some sort, but I think that this one is simple but very stunning – something any chandelier fan would actually love. Matching fixtures and decorations in here is just an added bonus.
11. Kathi & Mike's Master Bath
Whoever Kathi and Mike is, I think that they totally love this bathroom that they have. The neutral colors are neat, it makes the space really homey and I think that the double vanity is such a wonderful addition to this space. Aside from it being pretty convenient, it's something people are really considering especially for shared bathrooms.
12. Lake Country Residence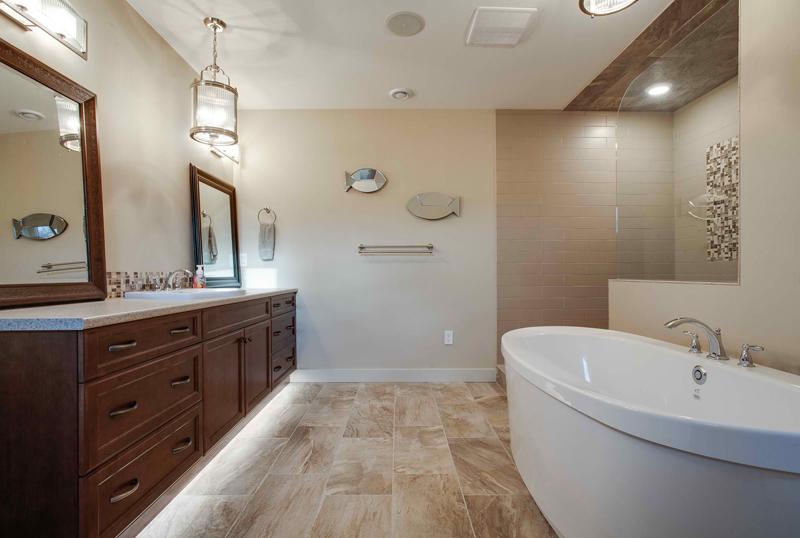 I know that this color palette is something commonly used aside from the popular white and black bathrooms out there. There is no basic theme for the bathroom except the use of this brown and white combo that they combined on the tiles, the walls and the cabinets – I totally love this space!
13. Lakeview Greystone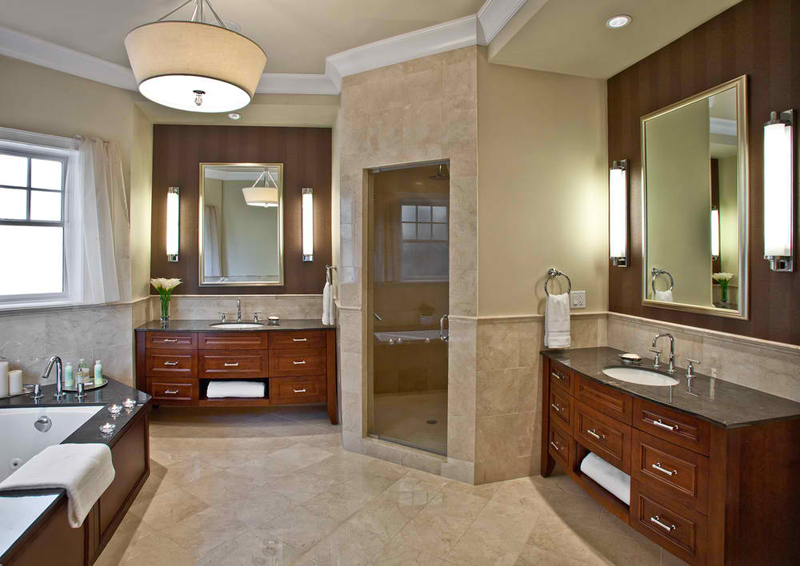 A traditional bathroom with the best cabinets and drawers one bathroom could actually ask for – if they ask for anything at all. The color palette in here is just perfect for people who want neutrals but not necessarily in white. Notice the drum chandelier and tell us what you think about it.
14. Madison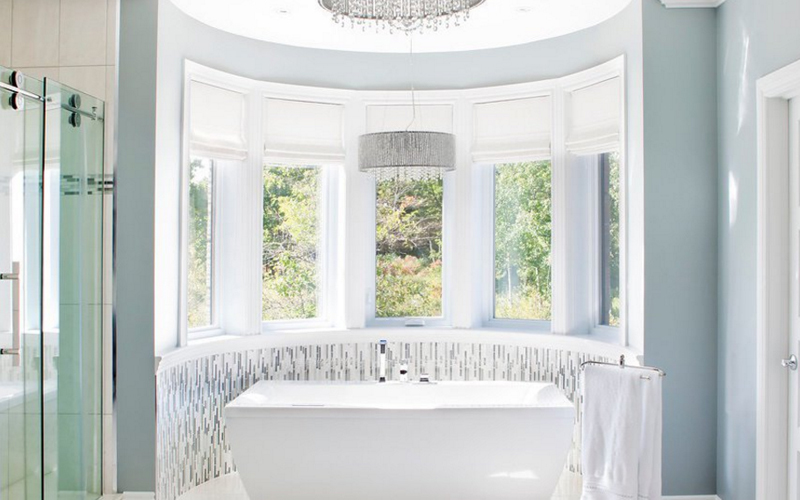 I don't know what it is with bathrooms that people really prefer it in white. I mean, believe me, at some point all this white will turn yellowish at some point and you'll want to have them replaced or something; but then again, white bathroom show us how luxury bathroom actually look like.
15. Old Palm II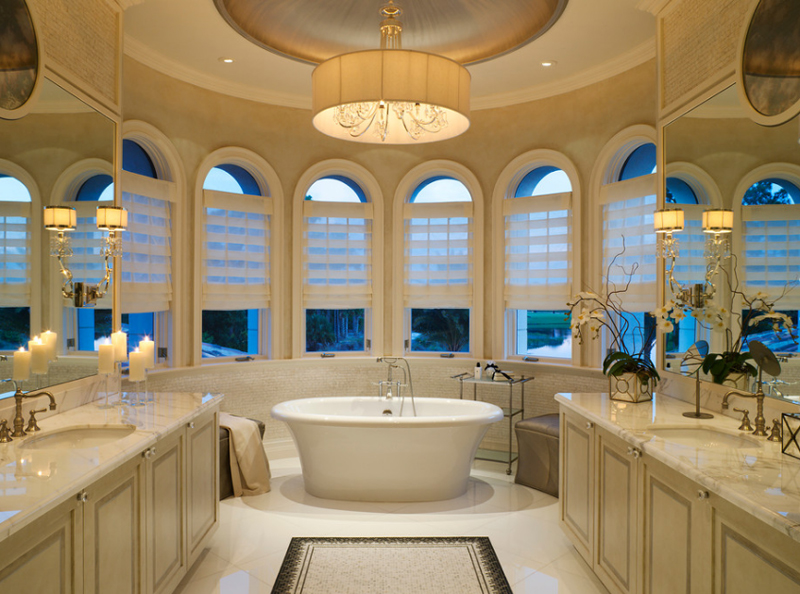 A grandiose bathroom with all the perfect areas in capturing the best selfies! A stunning tub, a lovely chandelier and awesome vanities – what more can one lady ask for in a bathroom? Of course the toilet is in another spot in the bathroom, if you're asking.
16. Sophisticated Getaway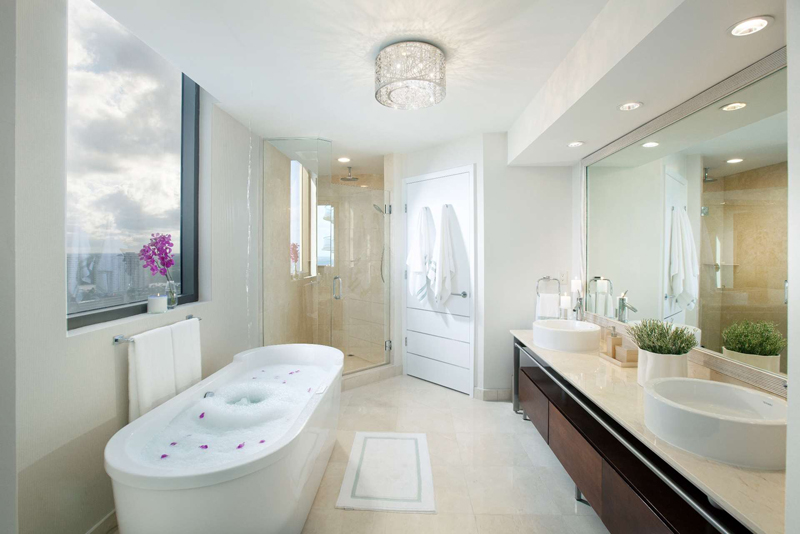 An immaculate space with everything that one actually needs to have in their bathroom. If you notice the drum chandelier in here is similar to something we have at the beginning of the list. I love the oval tub in here and the chandelier of course.
17. South Bay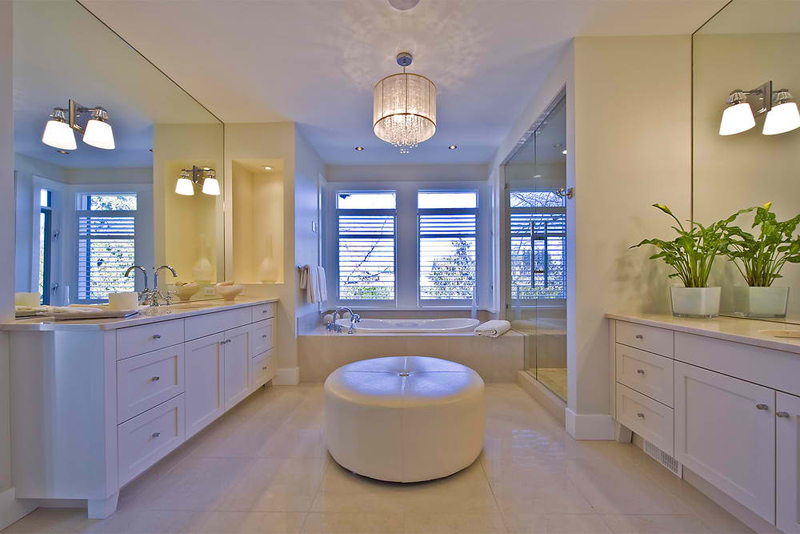 Don't you think that this bathroom is just fancy? Everything in here is either white or beige – or both; really. From my personal experience, I adore bathrooms like this one except that they're actually hard to maintain especially when kids are involved, but if you're living alone and all that, I think that this space is just heaven!
18. Trail's End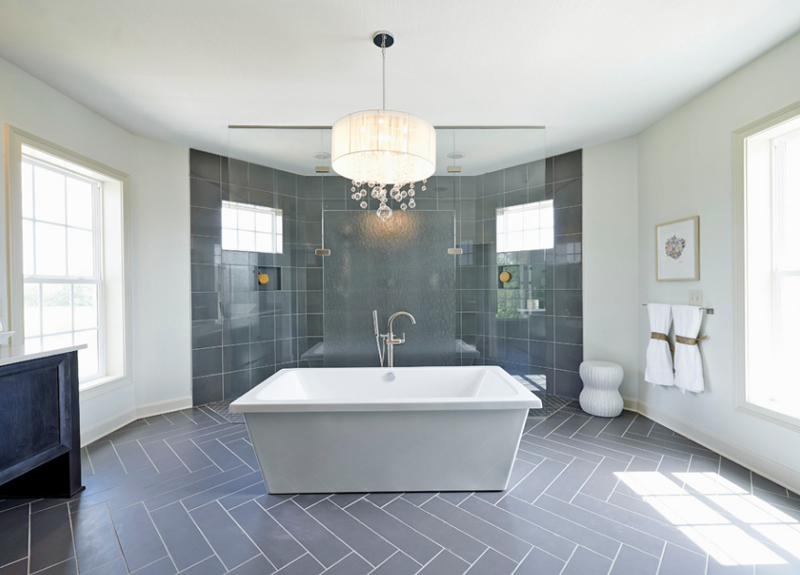 What an interesting flooring to start off this bathroom. The black and white theme is just fascinating – this space is basically contemporary but with the beautiful drum chandelier, this bathroom's look and feel is elevated. The thought of having a large bathroom is just wonderful.
19. Via Vadera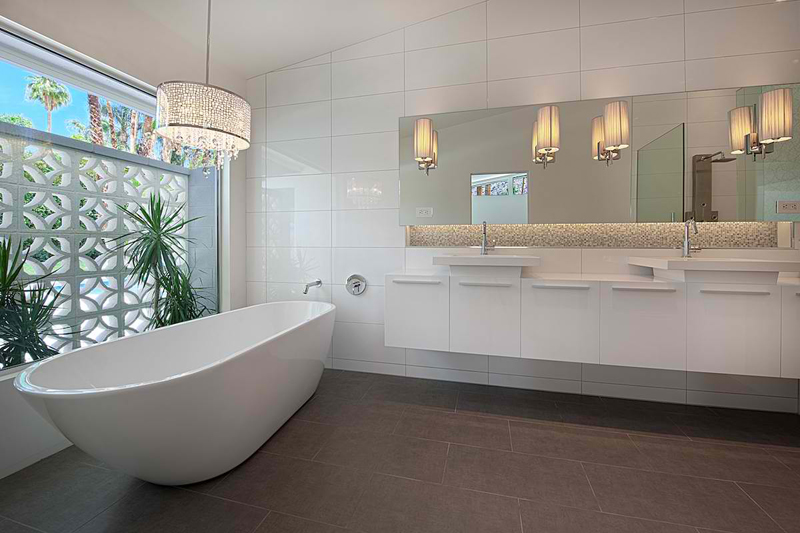 A stunning stand-alone tub that is adjacent a wonderful drum chandelier is seen in this H3K designed bathroom. I am pretty amazed with the design of the wall/window where the tub is closest to because it's quite open to the outdoors.
20. White Glamour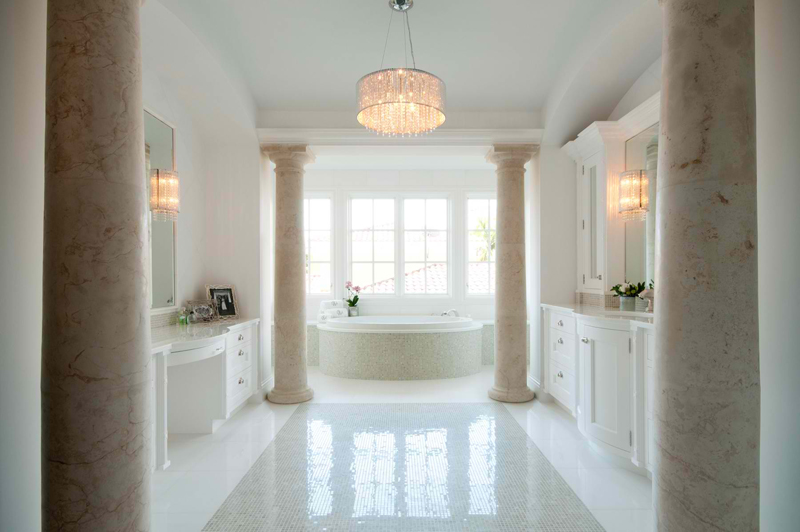 To end this list, I think that this bathroom is just the perfect example. The columns that you pass by before you reach the tub are just so heavenly. Makes you imagine living during the time of Hercules or something. The chandelier in here is just perfect too.
Now, what did I say about fancy bathrooms? Aren't they all stunning and eye catching? I sure enjoyed creating this list because of the wonderful bathroom photos that I was able to collect and well sort of use as inspiration for that bathroom renovation my parents have been thinking about. I hope you liked this list as much as I did. Check out the 20 Cool Drum Chandeliers in the Kitchen and share them with your friends! More to come in Home Design Lover!