20 Cool Drum Chandeliers in the Kitchen
Drum chandeliers could also add appeal to your kitchen.
A few days back, we have featured a list about spaces with drum chandeliers in them; so, for today, we thought of creating another list just like that – only this time, in the kitchen. Of all the spaces in the house, aside from the living room, it is usually in the kitchen that we see awesome pendant lights, chandeliers or a unique lighting fixture.
In this list, you would be seeing different variations of drum chandeliers and or pendant lights that I think would interest you. They are somehow amusing at times but for the most part, they're really adding light to the room – in its most literal form and they add charm to it; pretty much something we hope they would opt to. Check out the list and go ahead, pick a favorite and tell us about it.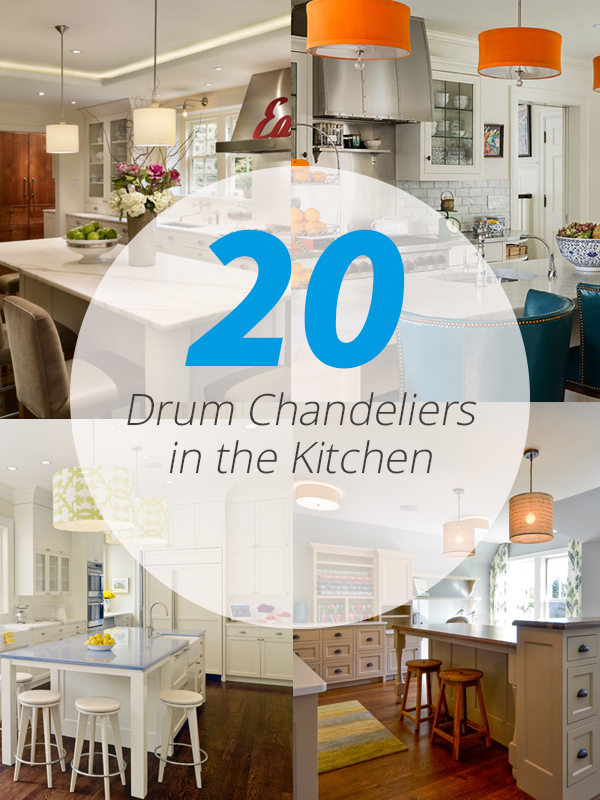 1. Cow Hollow Historic Home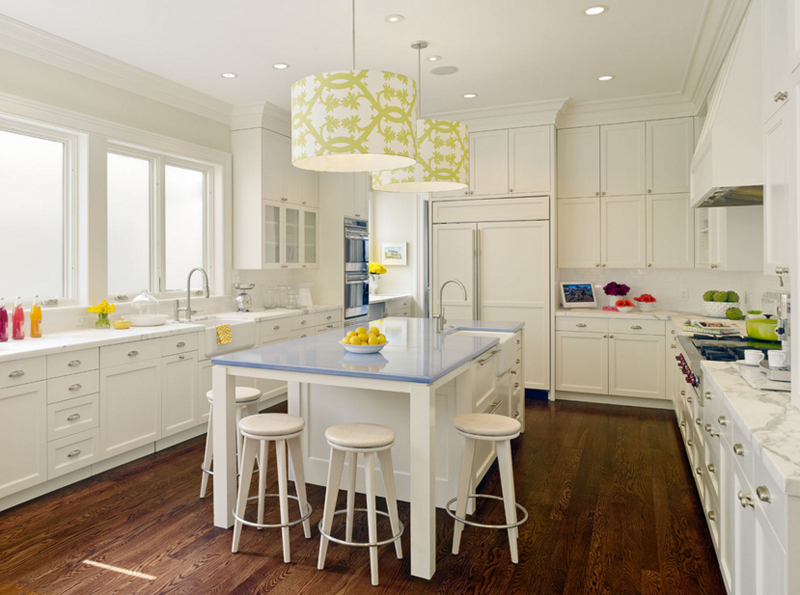 First up is a beautiful printed shade which was chosen by the designers at Martha Angus Inc. The color somehow is close to the tiny trinkets of yellow and green on either sides of the kitchen. I think that these chandeliers particularly stand out is because of the unique print it has and the fact that the space is actually plain in color.
2. Hampton Style Remodel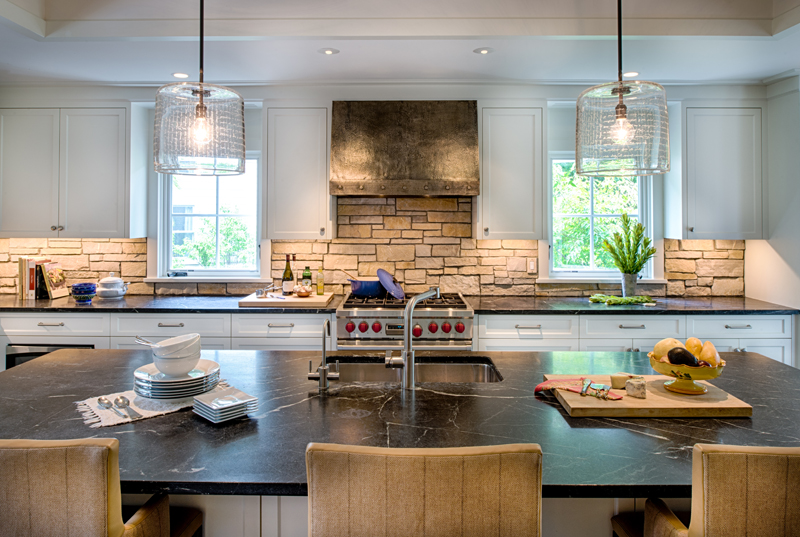 Glass drum pendant lights are seen above the kitchen countertop and bar. In as much as the design or motif of this kitchen is not as clear as it is, I think that adding a pendant light with an industrial feel and look will never fail. If you notice, most of chandeliers or pendant lights seen in kitchen photos are actually industrial type.
3. In Living Color : Wellesley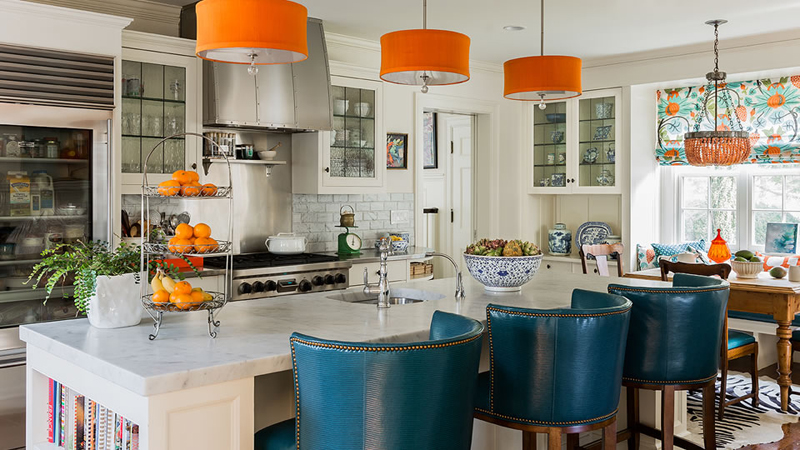 This Wellesley kitchen is definitely an eye-catcher! From the deep orange color of the lighting fixture in this space, the hints of orange here and there is pretty distracting – but in a good way of course. The vintage-looking mid-high stools look rather appealing against the granite counter and bar.
4. Montage Laguna Beach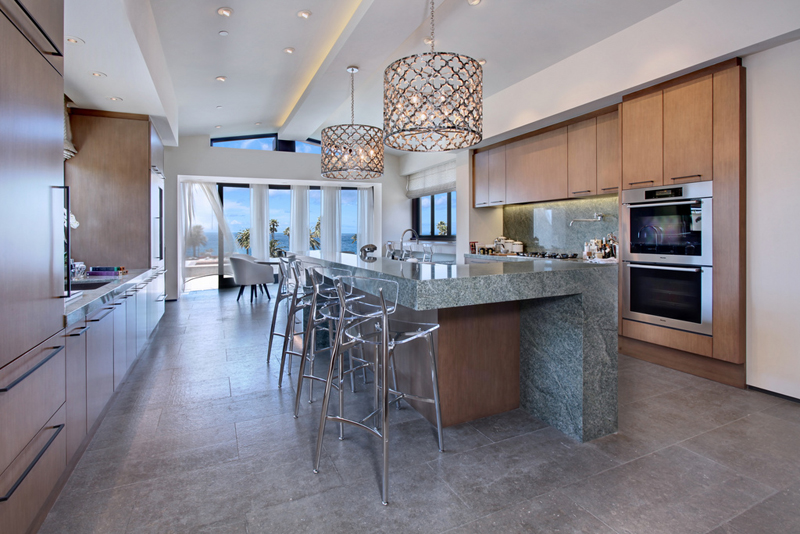 What do you think about stainless drum chandeliers or pendants like this one? The design of the material is definitely beautiful and sophisticated which surely complements the classy ghost metallic stools in the bar area too. If you ask me, I think that it's the stools and the chandeliers that make this kitchen interesting.
5. Nusbaum Residence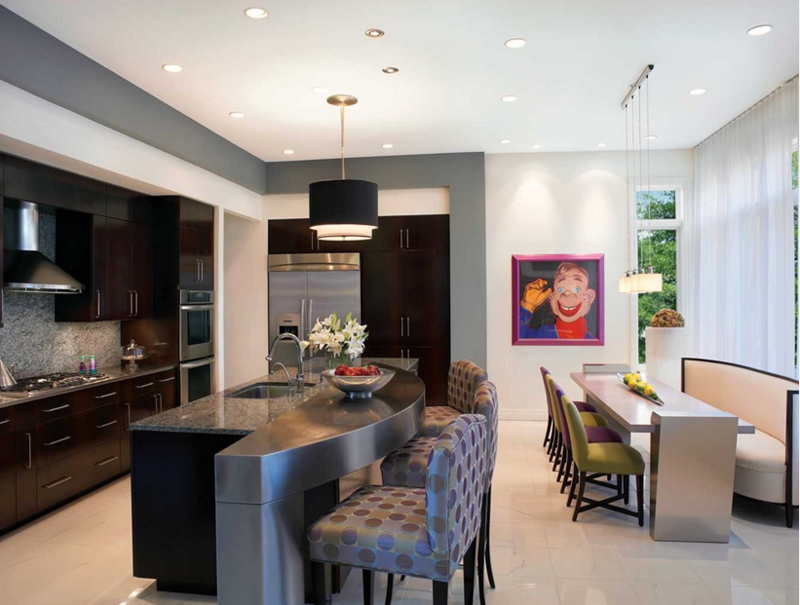 I think that a pendant lamp with a black shade will never go out of style. Aside from making sure that this area is lighted – chandelier and pendant lights create an appeal to the home owner and the people coming over a certain something – just like any piece of art.
6. San Carlos Residence One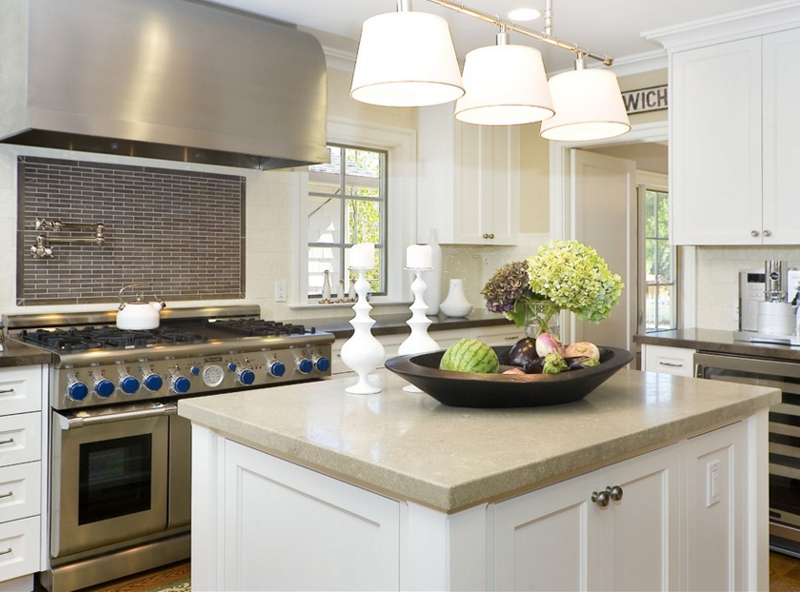 This triple shade drum pendant light is giving this cute kitchen island awesome lighting and enough charm to invite the home owner to always visit the kitchen to bake or cook. I like how kitchen islands give home owners or kitchen user's additional space for food preparation aside from the kitchen countertops.
7. Scarsdale NY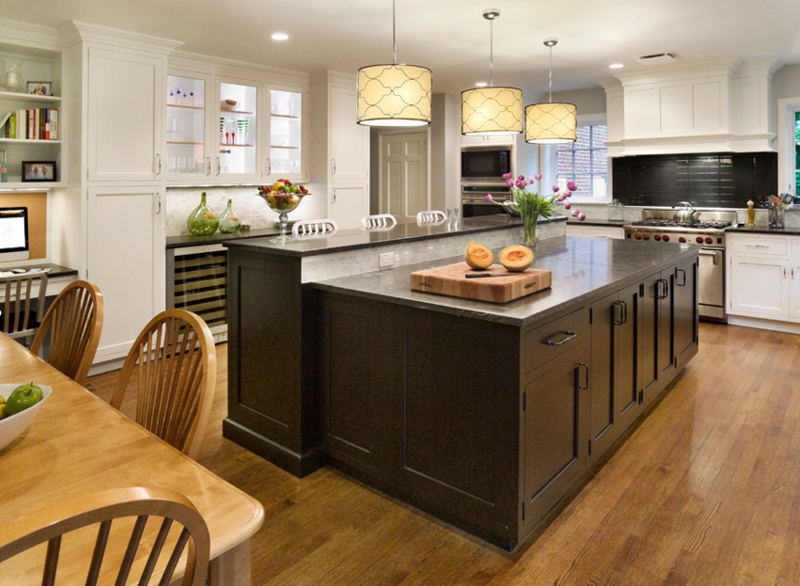 The pattern on the shade of these drum pendant lights is similar to one of the lamps we just passed, only this one has a shade on it to cover the bulbs under it while the other one has pretty much just have the base. Like I said before this photo – I totally love the fact that there is an island in here to prepare the food.
8. The Zero Energy Home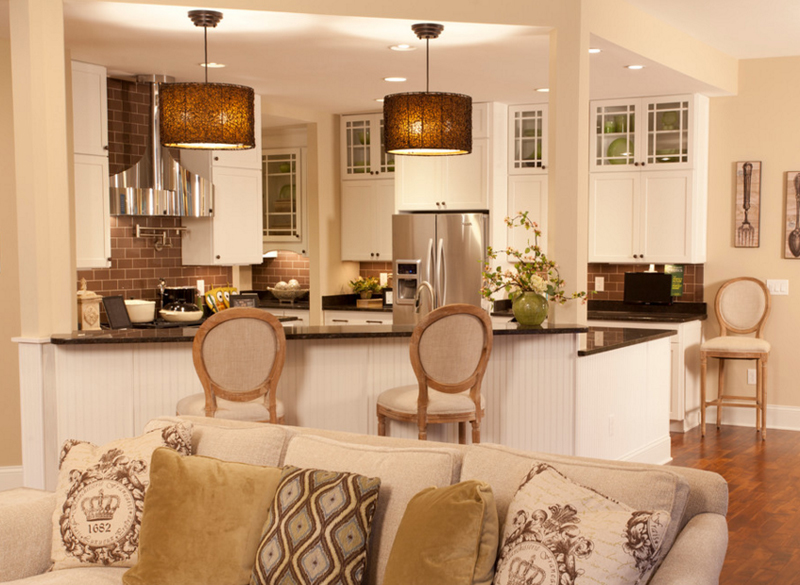 I love the color of the shade that this pendant light has. It looks like it's rattan or something of that family that is on the outer part of the drum shade. Its darker colored outer shell is nice because it complements these rather nude or neutral colors for walls and literally everything in it.
9. Tunbridge Residence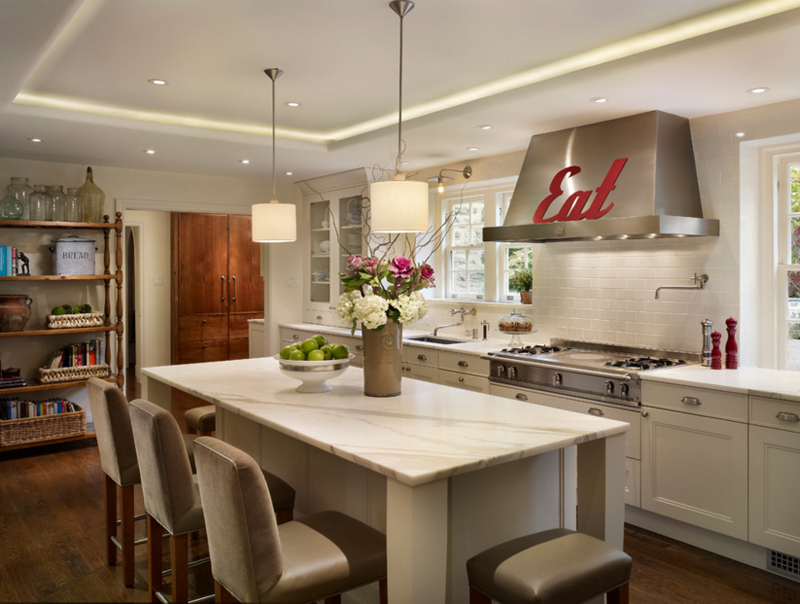 I like the fact that this kitchen, however traditional, has added trinkets in here to lighten up the space. The word 'eat' above the exhaust, the comfortable and beautiful kitchen stools and of course the charming twin pendant lights!
10. Rhinebeck Residence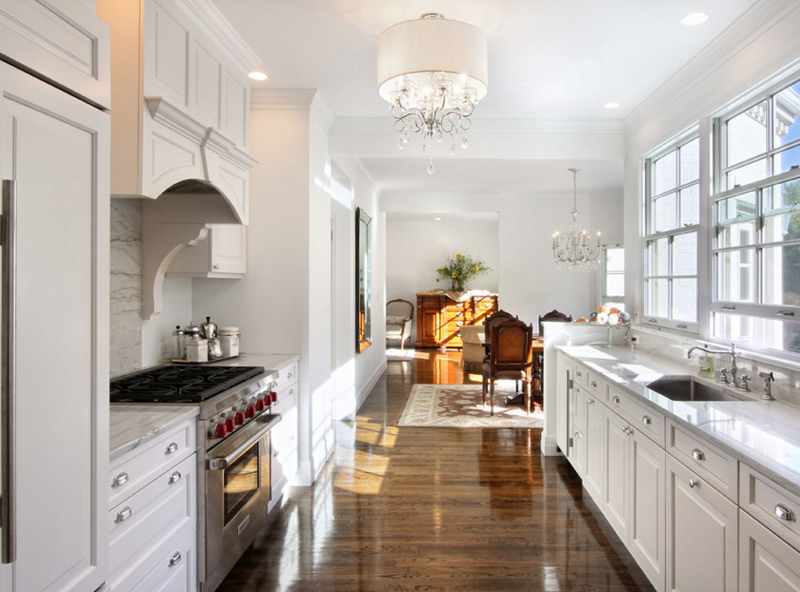 Now, this is what I'm talking about! A stunning example of a chandelier with a drum shell or shade. The chandelier lighting underneath it is just so pretty, you won't mind coming back and forth the kitchen to get additional food or whatever.
11. 754 Winn Road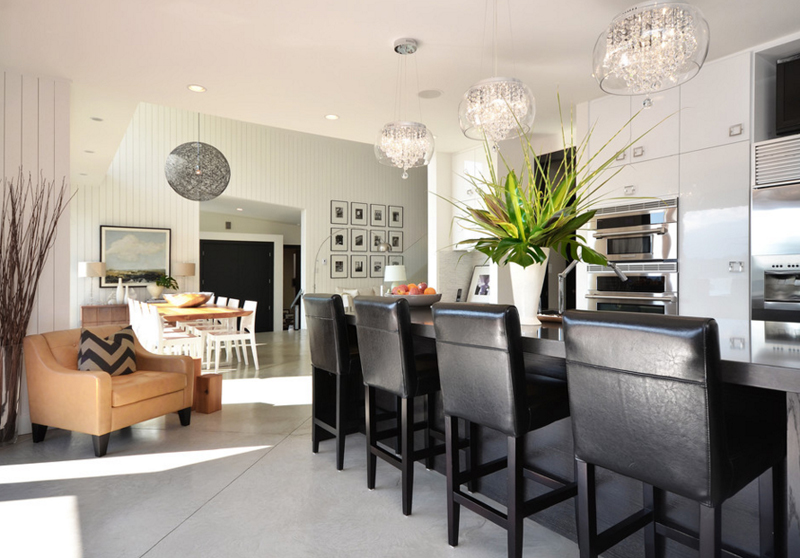 Another example of a chandelier with a drum shade; see-through, but perfect! The way that this kitchen was actually arranged in a very classy and sophisticated manner which is pretty awesome. The black and white combination in the kitchen is just stunning! And don't you forget the lovely planter in the middle of the kitchen bar.
12. 1929 Estate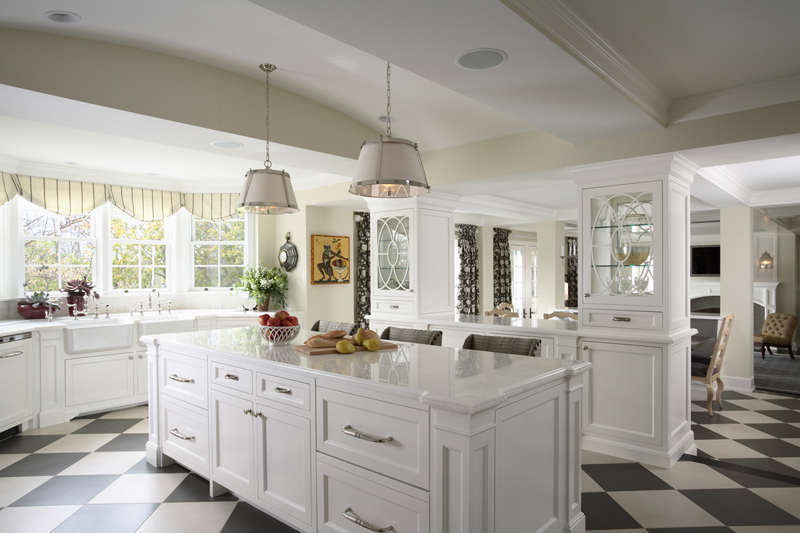 From the name itself, I think that this estate is very hard to clean up. Although, like what we said, time and time again – a lot of people really prefer a white kitchen because aside from it looks luxurious and expensive – it's just so nice to feel that you are surrounded by clean things.
13. Belleville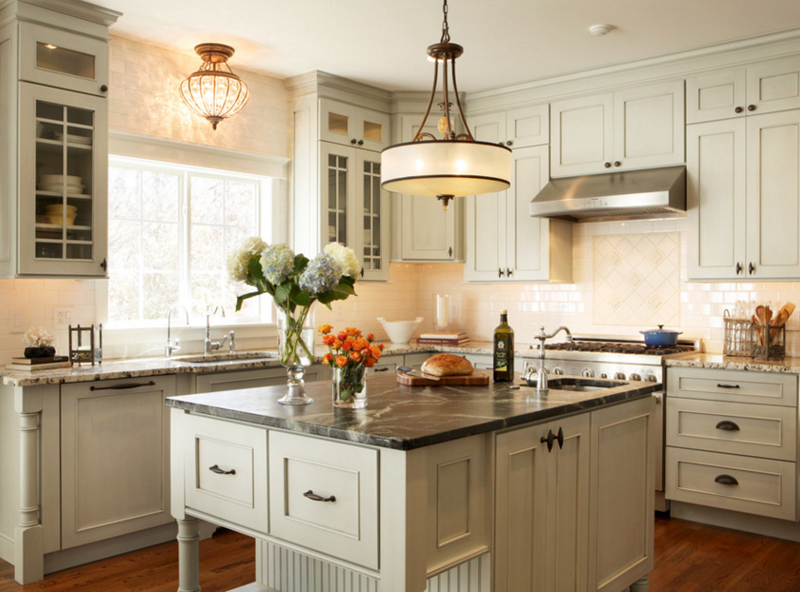 Two beautiful pendant lights but with different designs is making this kitchen very much appealing for people to really visit the kitchen. For the most part, of course, we want to really have pretty lighting because at some point, we have to definitely post a selfie for our followers.
14. Claremont Park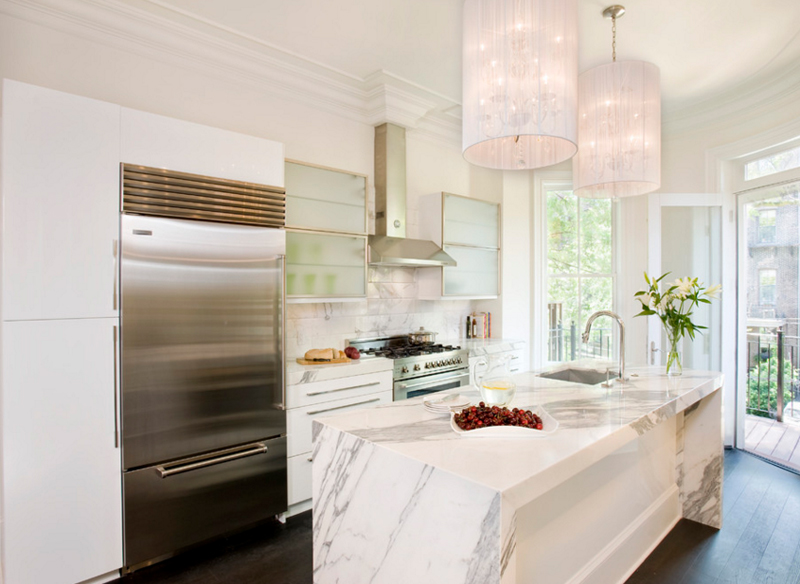 At first glance, I would like to think that the lamps in this picture is actually just photoshopped to add the lighting fixture. Period; but oh well, this kitchen still looks divine and without a doubt one stunning space to be in, baking all day and hanging out.
15. Lough Derg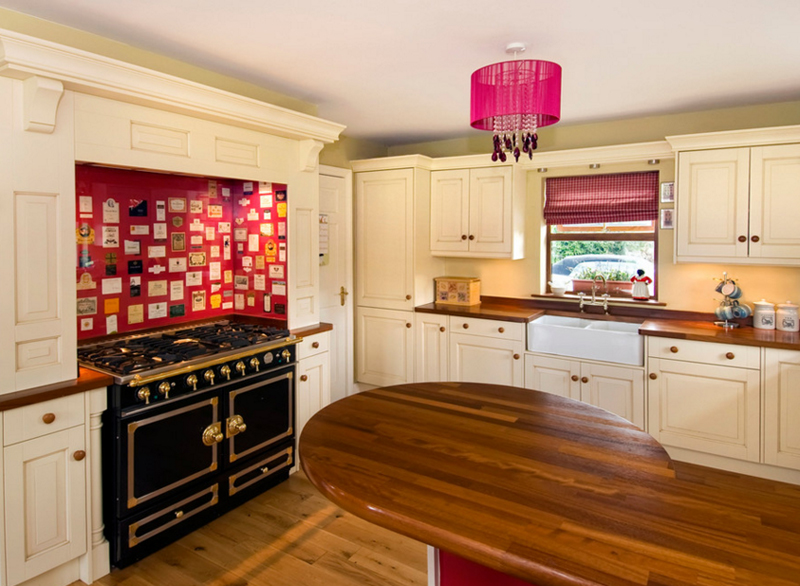 Sometimes, there are people who are proud collectors of one specific color and they get pretty much everything in that color – clothes, shoes and even home decorations or linens – like in this photo; I mean, don't get me wrong this color would actually work for this space because it looks like this space is neutral in color and it needs a bit of lifting up.
16. North Bondi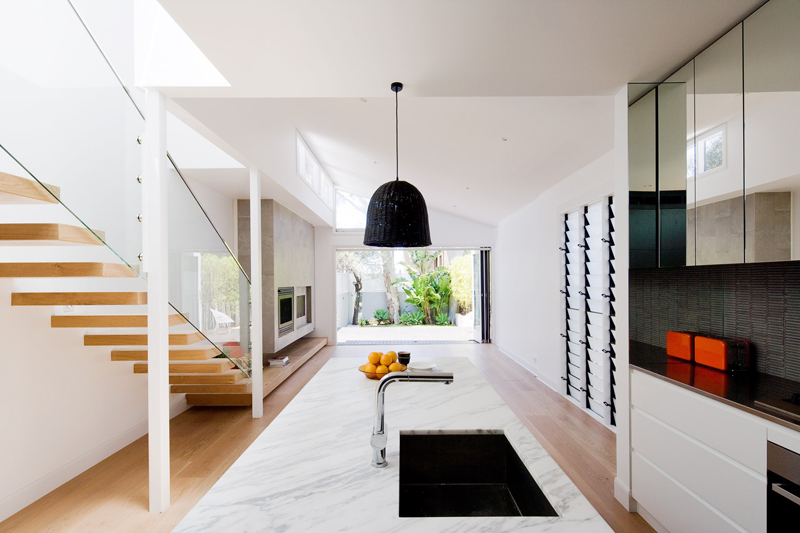 A native material is used in this kitchen pendant lamp and I think it has outstanding charm to it, plus it complements with the color of the back splash. What do you think about this place though? It's all new and pretty large too, right?
17. Richmond Heights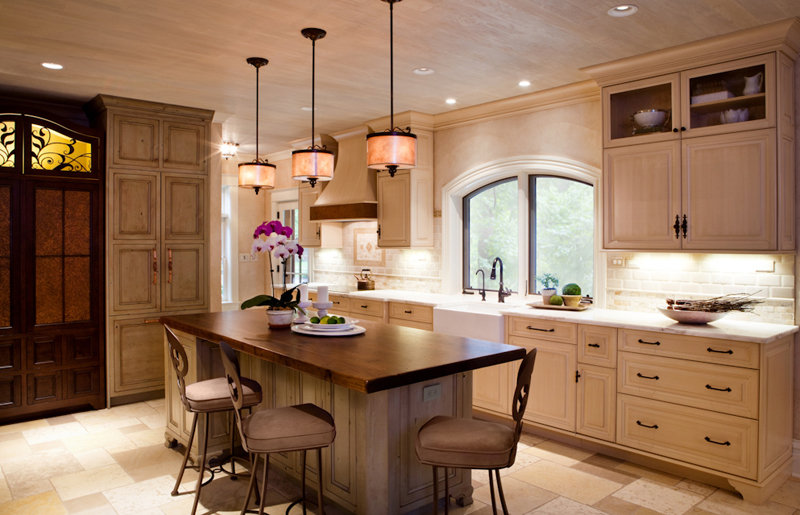 A romantic aura and look is created for this kitchen and I totally have no idea what the color of the lamps are, but it sure complements with the color of the stools which I love and I think that the cabinets in here are pretty special too.
18. San Francisco Pacific Heights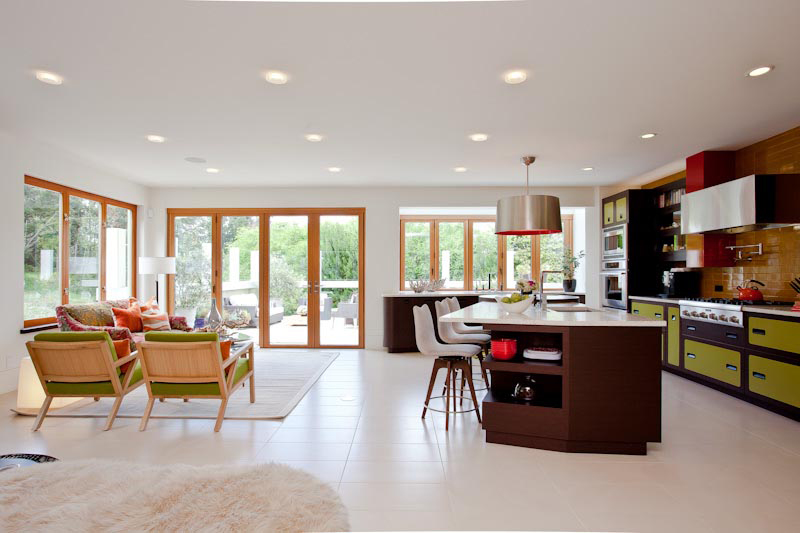 From the ratio of this kitchen, we can see how large the drum pendant light is and I think it's a great choice – to just get one large pendant lamp so that you can easily light up a space without the cost of having additional fixtures in the long run and we know that pendants like this one is hard to come by too.
19. South Harriet Park Luxury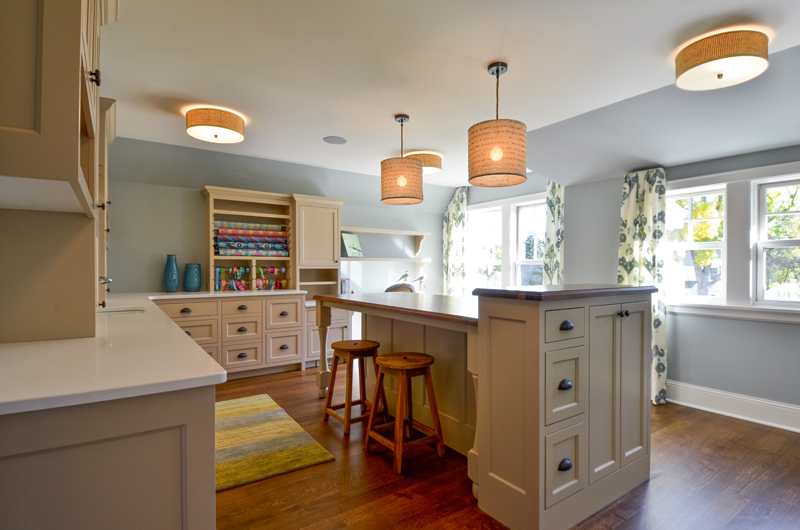 Of all the spaces in the house – it is the kitchen that is required and expected to really have a lot of windows and light that comes in because of the germs that is usually just around the corner of the kitchen. As what people say, kitchens are the most hard to maintain but worth it once you see how clean it is – especially if you're the one who really loves using the kitchen in the first place.
20. Tropical Retreat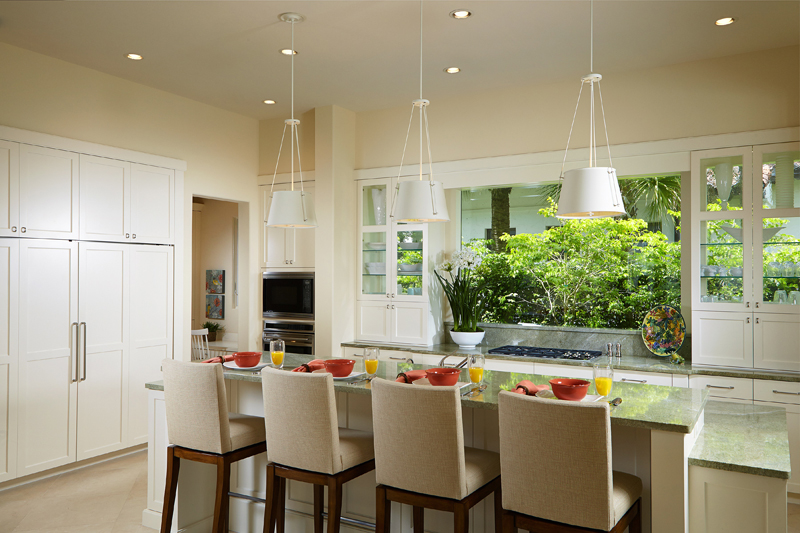 The design of this lighting fixture looks a little like inverted planters made from tin or something. I like its design which is not only simple but very homey too; plus if you're really crafty, you can even make your own fixtures at home!
Well, that list turned out cool, right? Lists about kitchen might be my second favorite thing to right about aside from bedrooms. Wait for our next lists and I hope you continually share the links in here for our community to really grow. Feel free to check out the 15 Silver Drum Flush Mount Ceiling Lights for more lighting fixtures with a drum-shaped shade. More to come in Home Design Lovers!