22 Kitchens in Black and Wooden Palette
Wood and black looks great together even in the kitchen.
Aside from the living area or the bedrooms, one part of the house that we are really very particular of is the kitchen, especially for those who love to cook and are spending much of their time preparing different menus and experimenting with various recipes.
It would be nice to have a beautiful kitchen to do all that. And when we talk about a beautiful kitchen, there are different ways to achieve it depending on the kind of look you want for your kitchen area.
If you want a neat kitchen, you can go for a modern design which focuses more on function.
But other kitchen styles are also lovely too like industrial ones or shabby chic ones.
But then again, what we are going to show you today is a list of kitchens that used black colors and wood in it.
Black is a neutral color that works well in any space. Wood is also the same, wherever you put it and in whatever way you use it, it always looks nice.
It can even help enhance a space and the material can also be found anywhere.
So today, we are going to show you a list of kitchens with black and wooden palette in it. Take a look at the list below.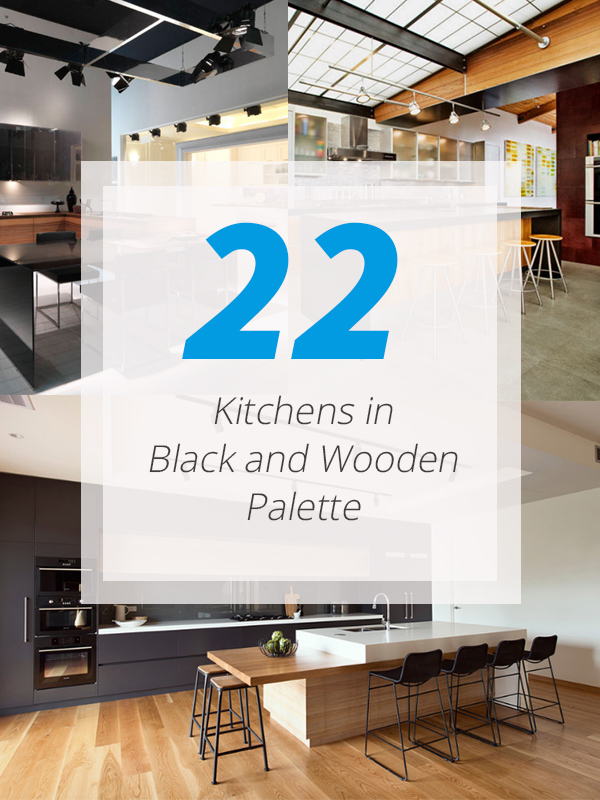 1. Luxury London Kitchen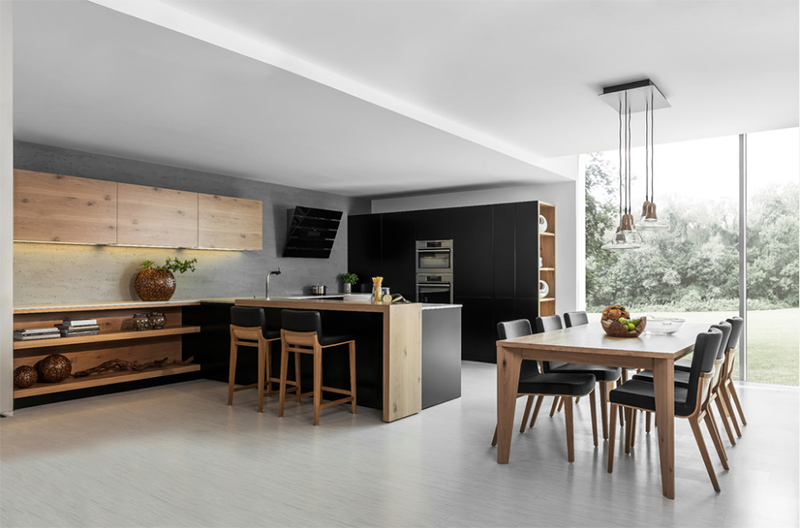 This kitchen is a modern mix of natural wood and laminate finish for kitchen diner.
Its appliances include wall mounted angled extractor and built-in ovens.
2. Whole House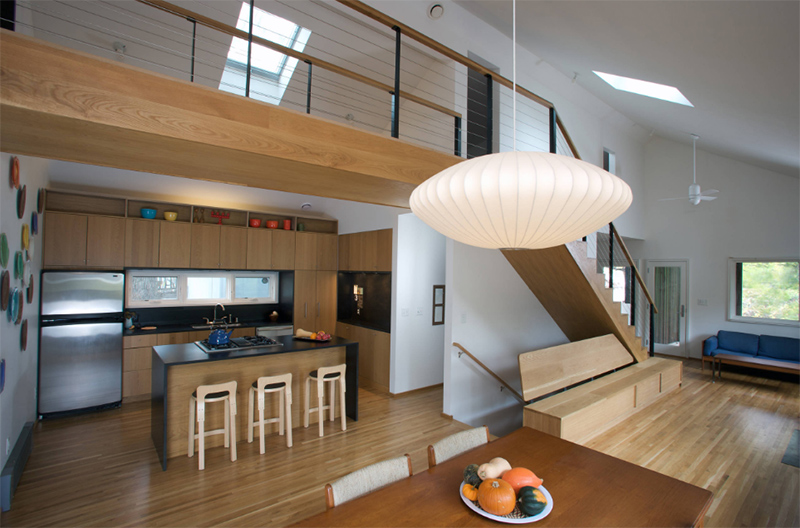 Look at how neat this kitchen is with a black countertop and wooden cabinets everywhere around it and it sits under a mezzanine.
3. Peconic Bay House Kitchen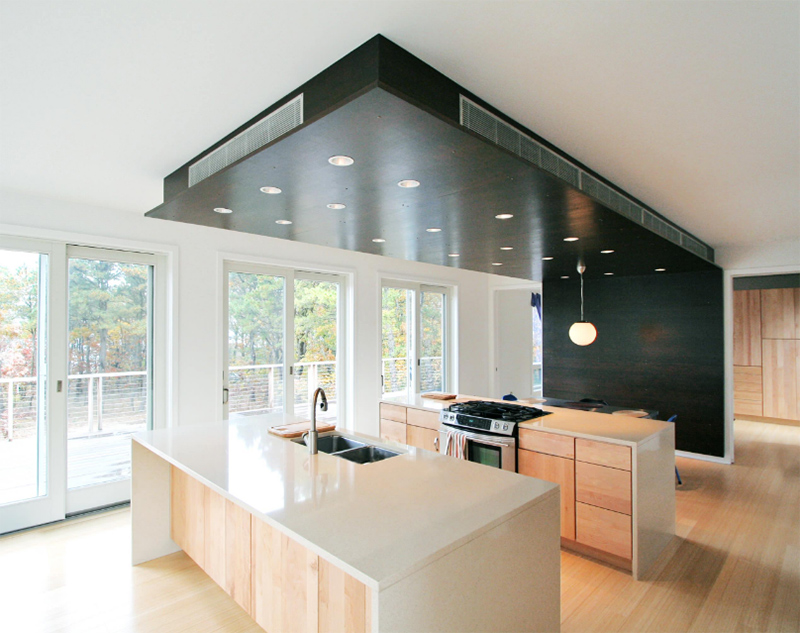 This one also has white colors in it but what makes it unique is that has a black canopy that extends from one wall.
4. South Bay Residence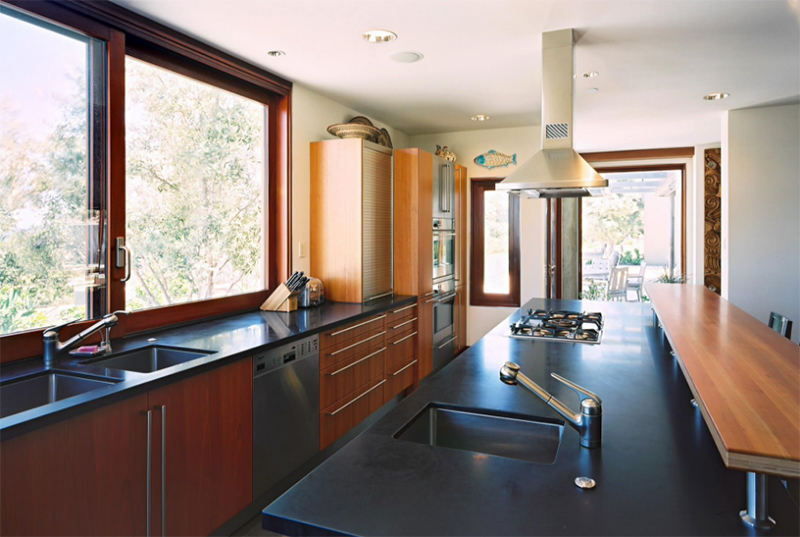 Because of the windows around the kitchen, the area is well lighted with natural light and it doesn't look dark despite using black on the countertops.
5. Hummel Kitchen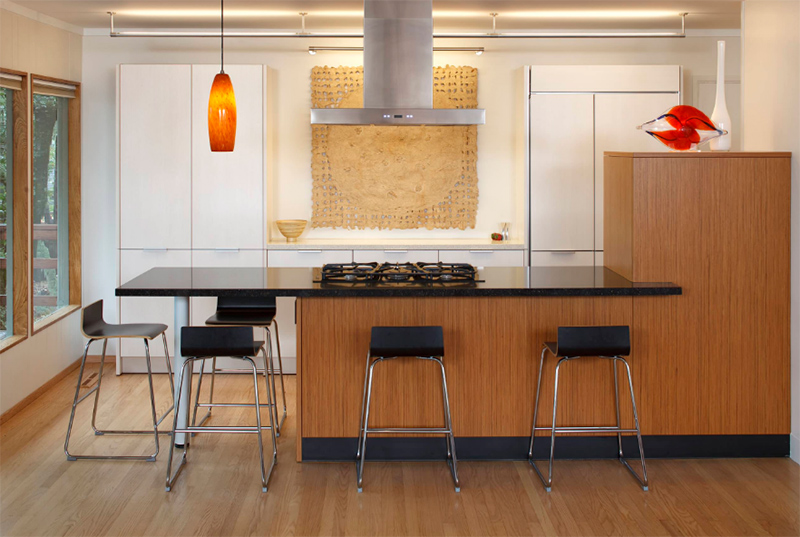 For this countertop, it is extended to turn the area into an eat-in kitchen.
On the sides are tall white cabinets with simple designs.
6. Kent Lake House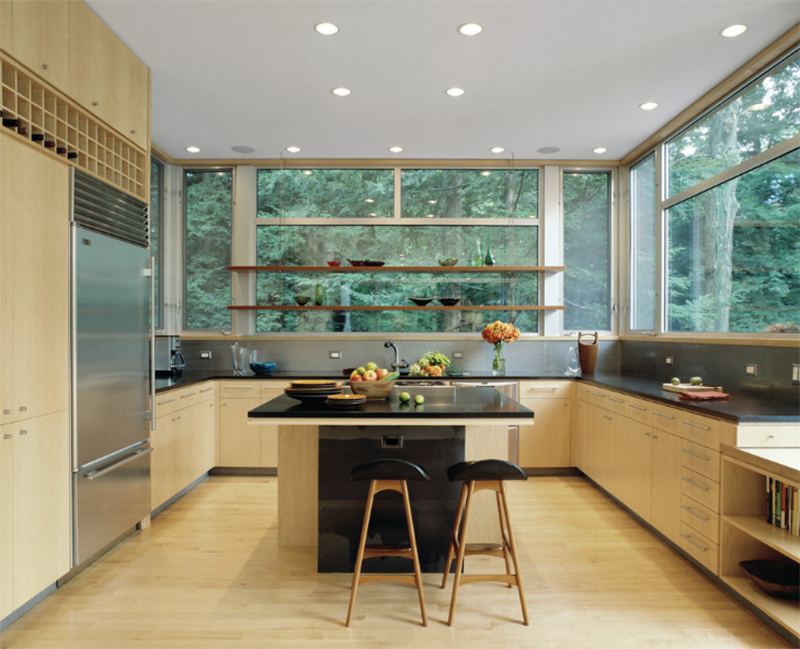 I like it that this kitchen has glass windows around it that it almost feel like you are actually cooking outdoors!
Beautiful black accents in the counter with light wood materials.
7. Olympia Residence
What can you say about this kitchen? It sure neat and simple but it has everything one needs to prepare food.
8. Modern Kitchen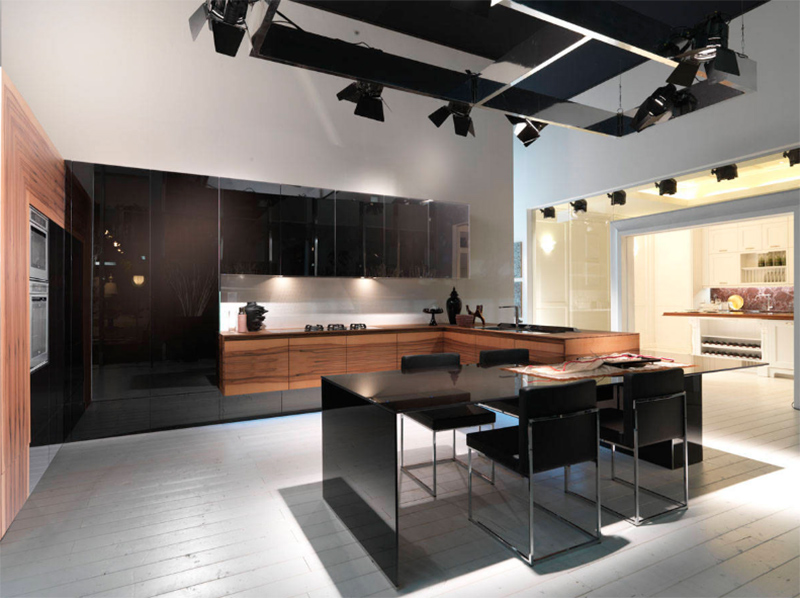 The glossy materials used for this kitchen made the area look more luxurious and sophisticated.
9. 9 White Cloud Drive – Kitchen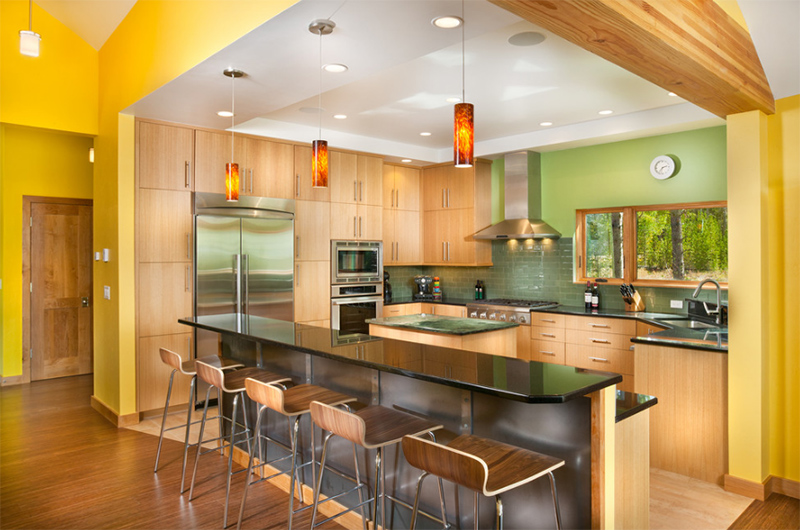 Aside from the black counter, you can also see other colors in the kitchen like the yellow walls and the green backsplash.
10. High Street Project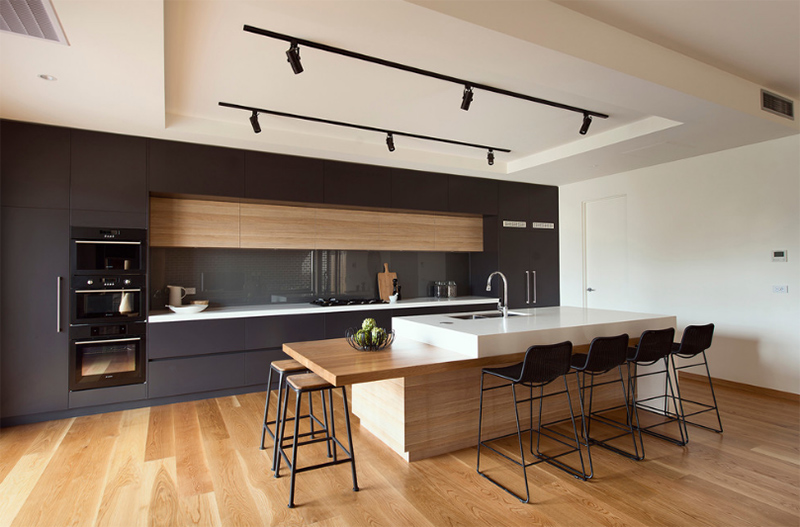 I like the simplicity of this one. I also like the design of the island and the storage areas that are very neat and sleek.
11. Arado weeHouse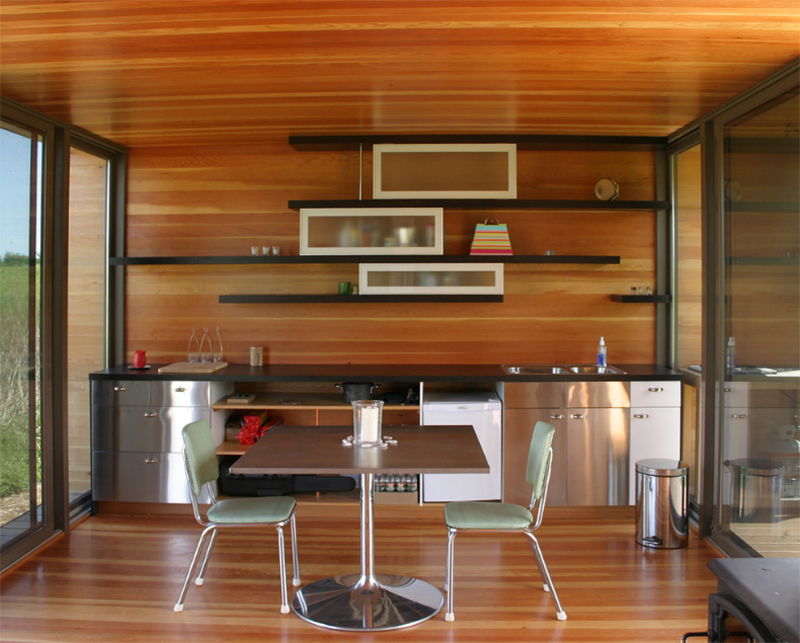 Floating shelves in black are used for this kitchen. You can also see here that it has a small square dining table in it.
12. Modern Scientist Residence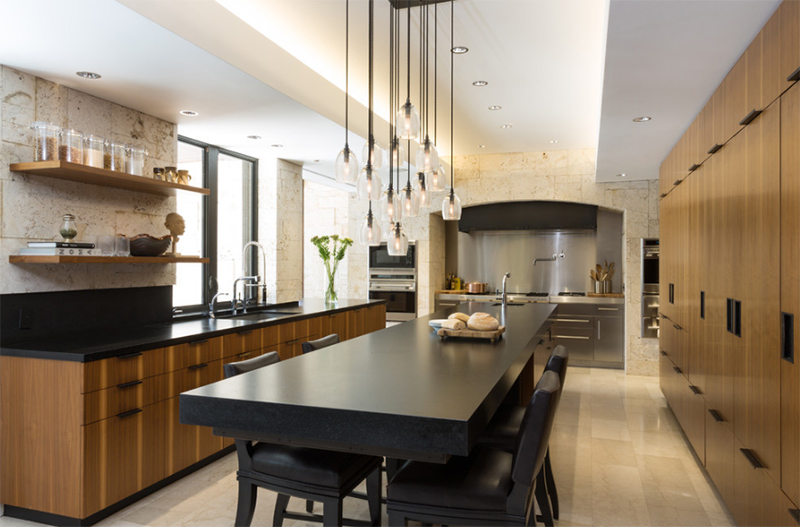 A sophisticated kitchen that has interesting textures on the walls that goes well with the black elements and the wooden cabinets.
13. Modern & Sleek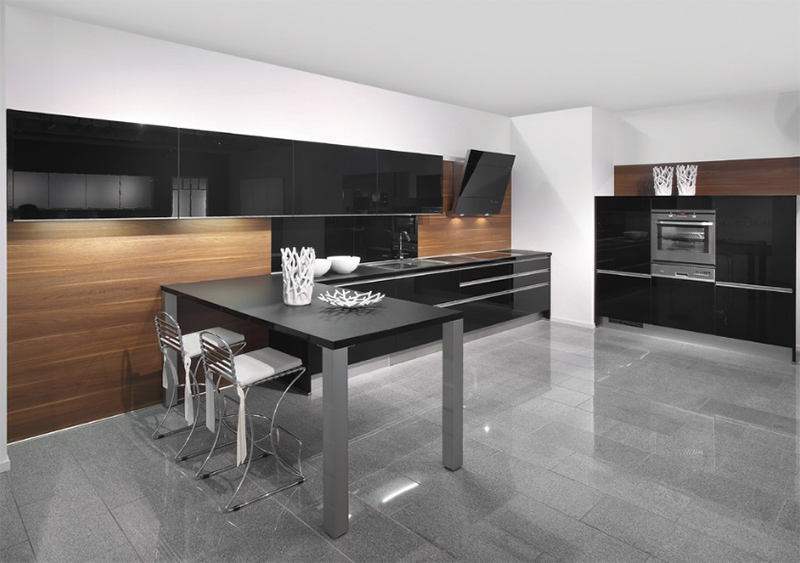 Whenever something is sleek and glossy, it would automatically look very luxurious just like what this kitchen have.
14. Arc House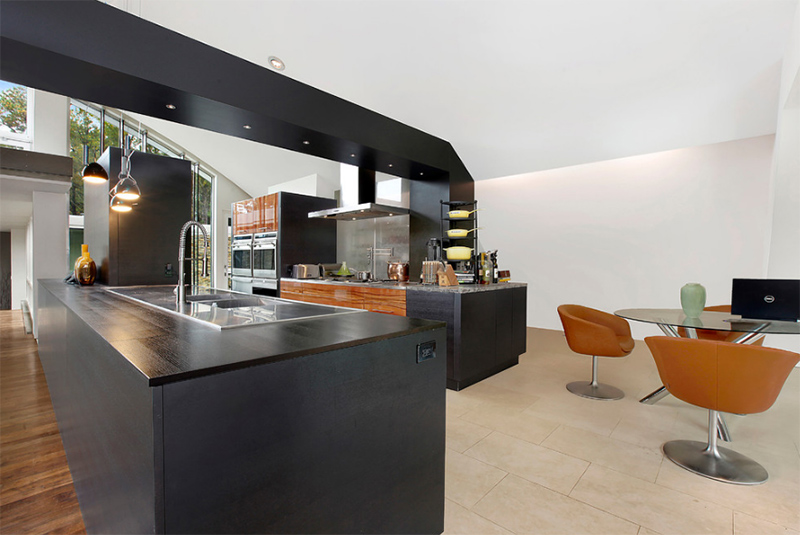 Black is everywhere in this kitchen. You can also see that used wood for the storage areas to make it easier to distinguish them.
15. Buddhist Retreat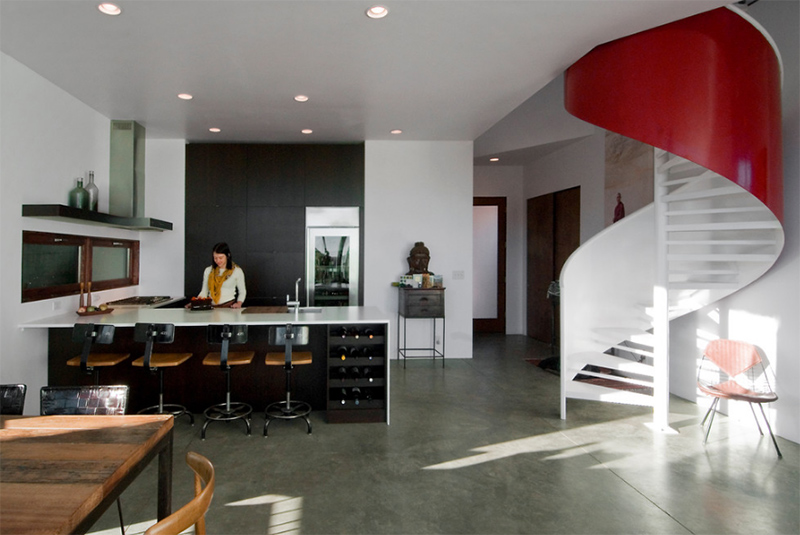 At first glance, my attention was drawn to the spiral stairs but of course, you can also see here the black colors and wooden features of the kitchen.
16. Minnetonka Residence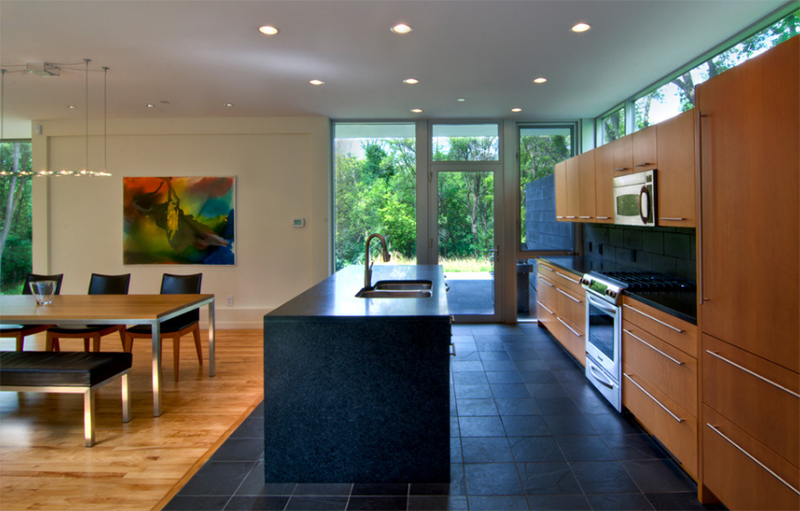 A black flooring and kitchen island is used in this area. It also has a wooden kitchen cabinet too to store items.
17. Modern Kitchen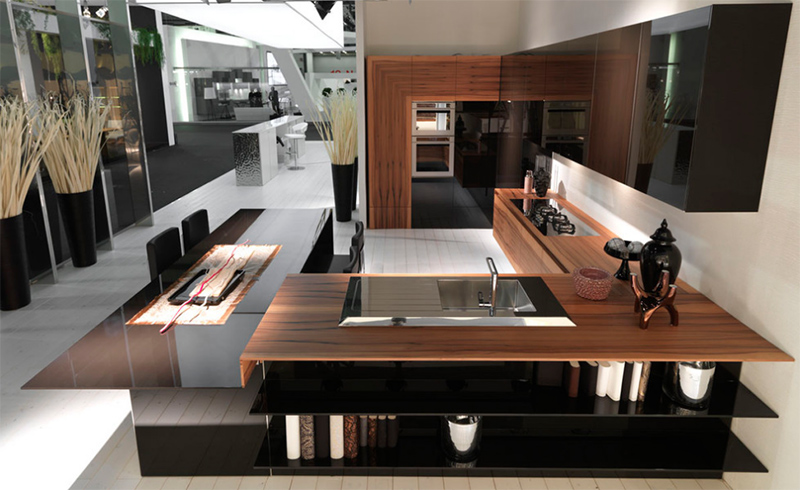 In this kitchen, you will love how everything seems to be flowing together from the kitchen island to the dining table. The usage of black glass is very sophisticated too.
18. Lovell Residence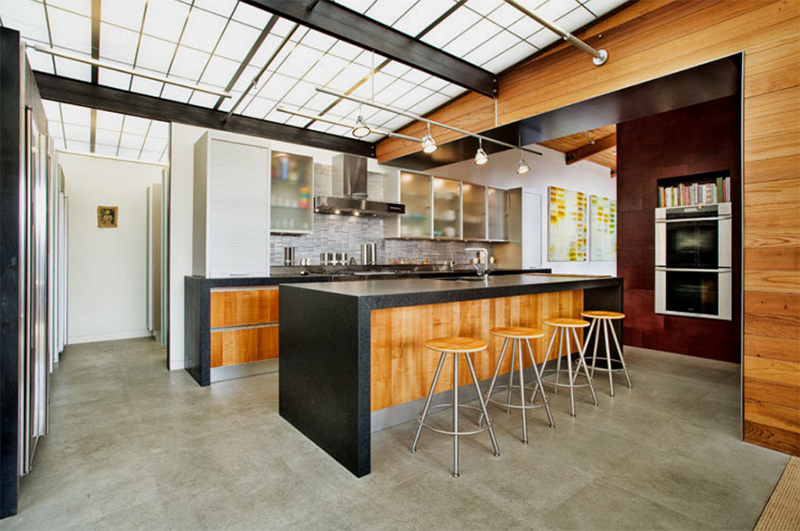 For this kitchen, it combined black, white and wood. And they all look really stunning especially that its ceiling appears transparent.
19. Russian Hill High-Rise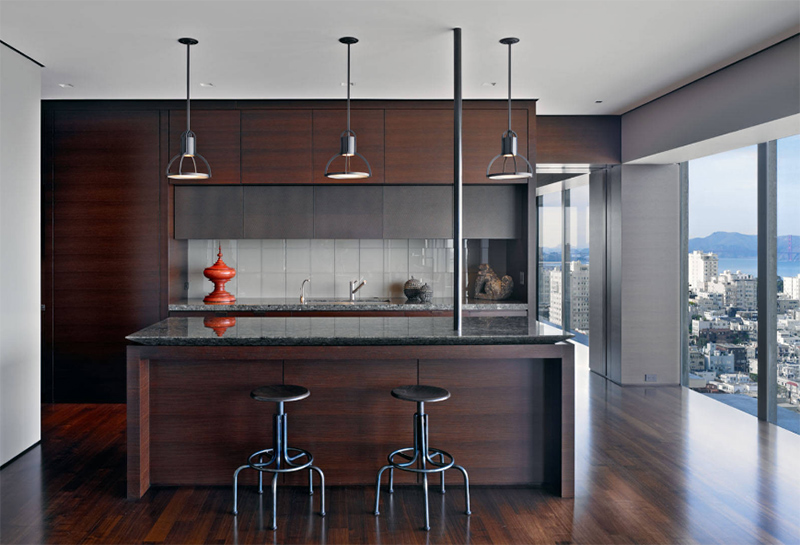 A dark kitchen that used dark wood and black was balanced with white ceiling and backsplash. But it actually doesn't look dark at all because of the light from the windows.
20. Parlette Residence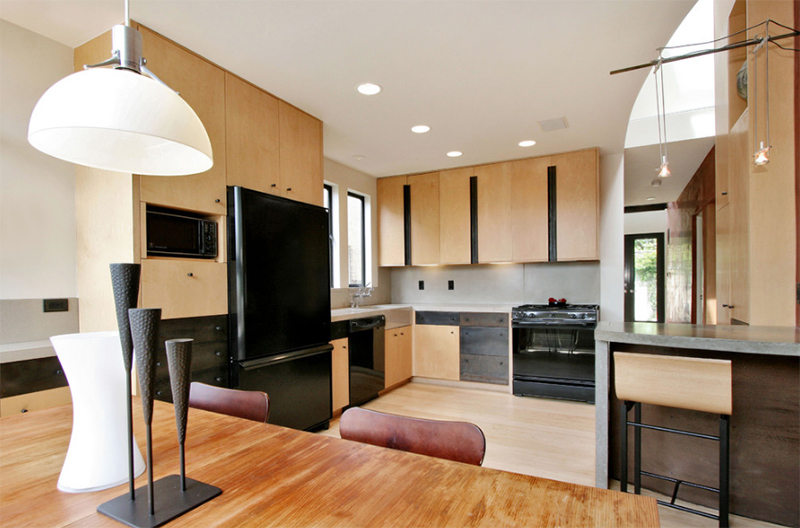 Light wood and black colors look beautiful in this kitchen that is located next to a dining space that also has a wooden dining table.
21. Port Washington Residence
This kitchen may be small but its features are no doubt huge! I like what they did to the ceiling too.
22. Galley Avenue Residence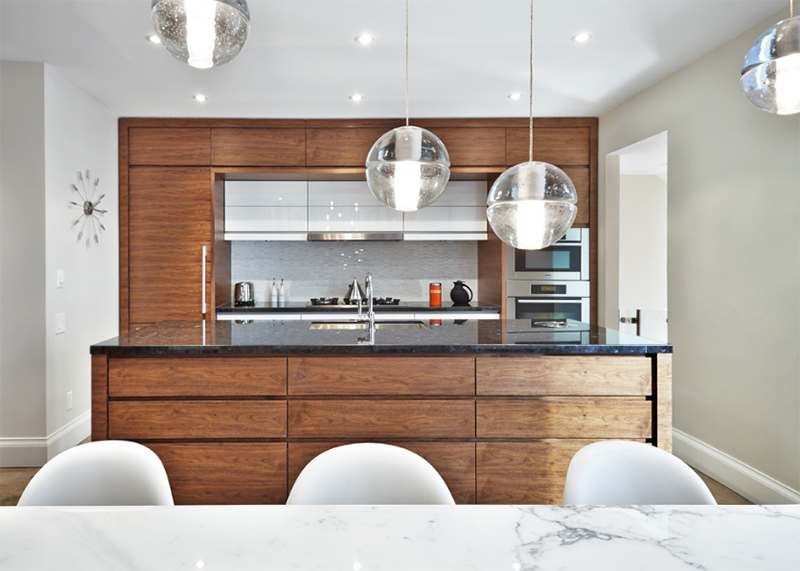 These orb lights in the kitchen look fantastic and brings a lot of charm to the space that used black marble as a countertop.
Conclusion
Nope, not only white and wood is beautiful but even black and wood. Well, this makes us realize that when we combine two things that work well in any space, it will surely work well too just like what we have seen in this list we have today.
Remember the list we made where white was used together with wood in the kitchen? If you are the type who wants to dwell in a home with light colors, then it will be a good option but if you are more experimental, then go ahead and work with black and wood.
Well, the images above are enough proof to show us that the combinations are also beautiful. Would you try using it for your kitchen?