15 Different Kitchen Flooring Designs
Most often than not, the floors take a beating under the best circumstances; but more than any room in the house, it is actually the kitchen that gets most of it. This space is mainly for cooking, but there are also some family gatherings that typically take place in the kitchen.
So, designers and even some homeowners make an important move in choosing the best kitchen flooring that can withstand constant traffic in this space, and matches the style they want to use.
For today, we will be showing you a list of photos which captures 15 Different Kitchen Flooring Designs. Look through these features and check the pros and cons of the choices made in each photo.
To start off, let us consider what are the usual choices for kitchen flooring. First thing is ceramic tiles, natural stone, solid wood, vinyl, linoleum, cork, concrete, laminate and bamboo. All the things we just mentioned are available below.
Take a look at the samples. Here we go!
Alvarado Residence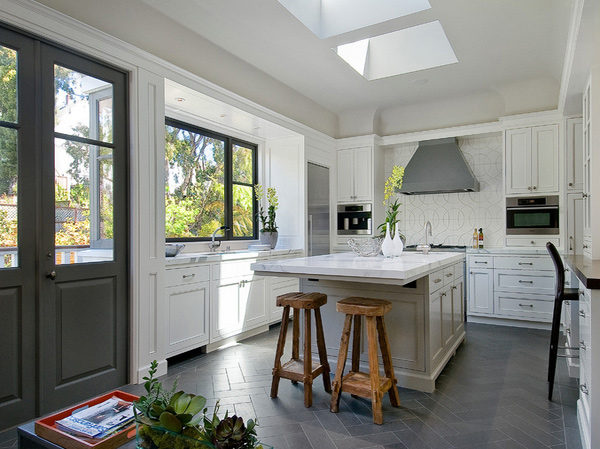 Elegant, airy custom kitchen addition: view from seating area across Calacatta oro marble countertop; herringbone Italian volcanic basalt floor tiles (volcanic) unify room with adjoining garden.
Beach Style Kitchen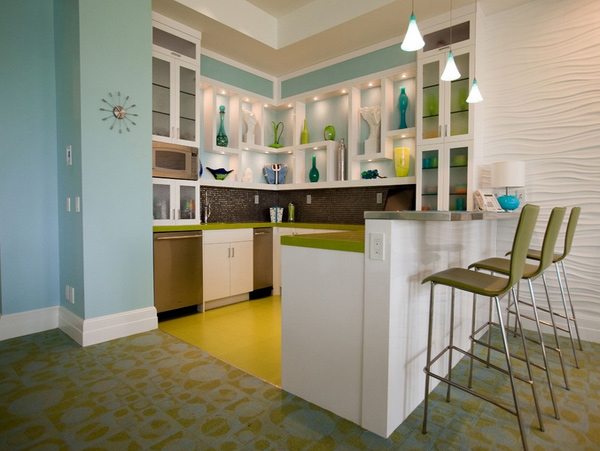 Go retro bold with a bright color like this yellow kitchen floor. Its bright hue will keep you happy as you cook.
Bowman Kitchen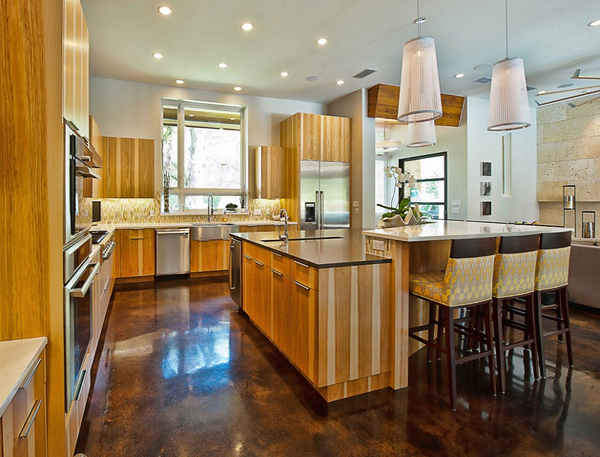 The concrete flooring of this grandiose kitchen outshines any kitchen flooring we have seen, no pun intended. But honestly, this kitchen used great wood for the cabinets, drawers and kitchen bar which complements greatly with the flooring.
Brunstrom Residence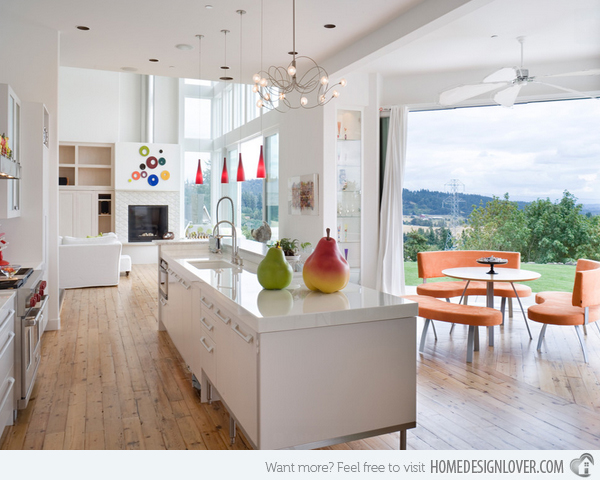 Engineered wood floors. Extending wood floors into the kitchen is a terrific way to seam together several spaces, as this home demonstrates. Doing so requires a stout floor that can take the wear a kitchen doles out.
Calgary + Edmonton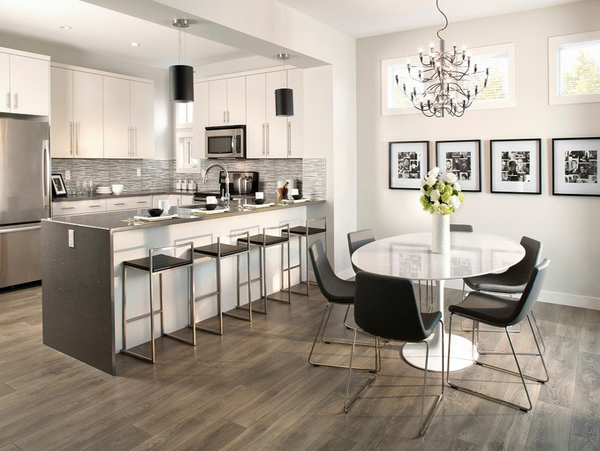 The wood flooring sure looks great with its color and stain which complements the grey kitchen bar and the cute dining furniture on the side.
Capital Hill Kitchen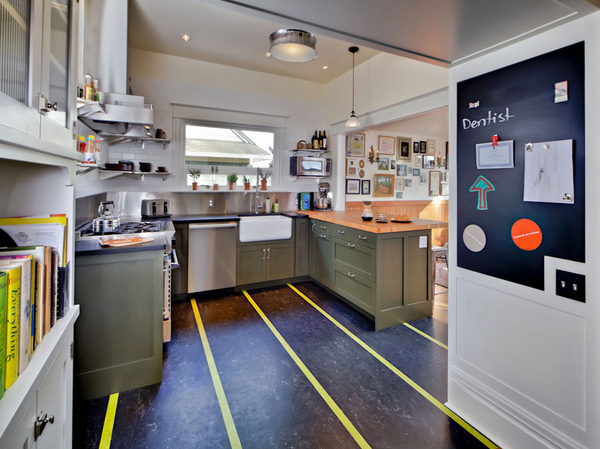 Striped marmoleum in Seattle. While marmoleum is known for its durability and low maintenance, this Seattle client chose it as flooring mainly for its eco-friendly attributes. Bold yellow stripes help break up the dark, open floor.
Field Club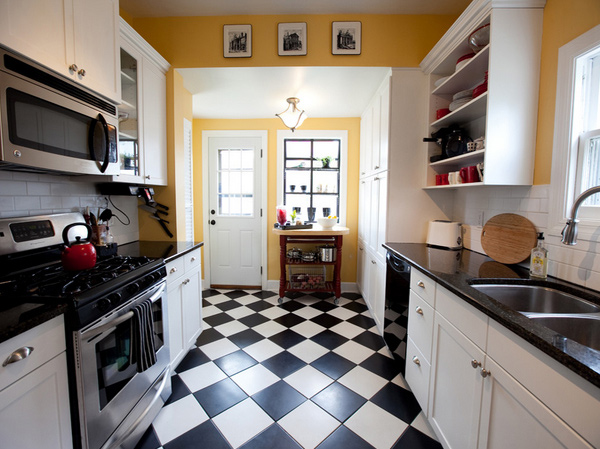 The bold color combination takes on a traditional tone in softer butter yellow with checkered floors.
Inverness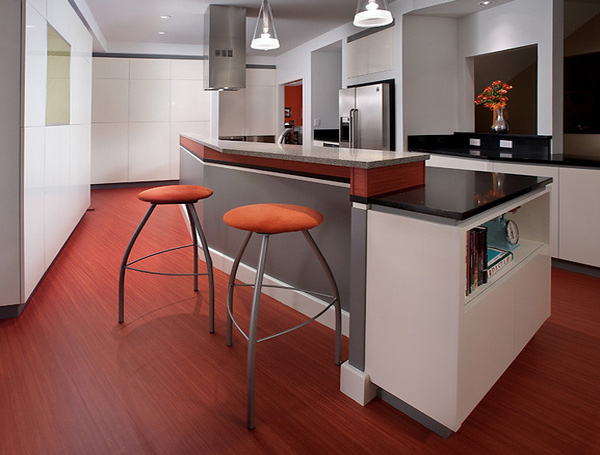 The new geometry accommodated an informal built-in dining booth, environmentally defensible Forbo Marmoleum flooring and countertops.
Ivy Street Kitchen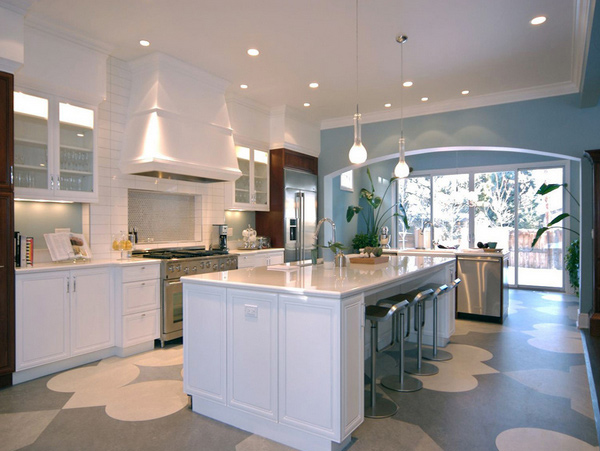 For a reasonably affordable way to add style to your space, try a linoleum tile design. The oversized graphic patterns bring a heightened sense of dimension to this kitchen.
Naperville Custom Home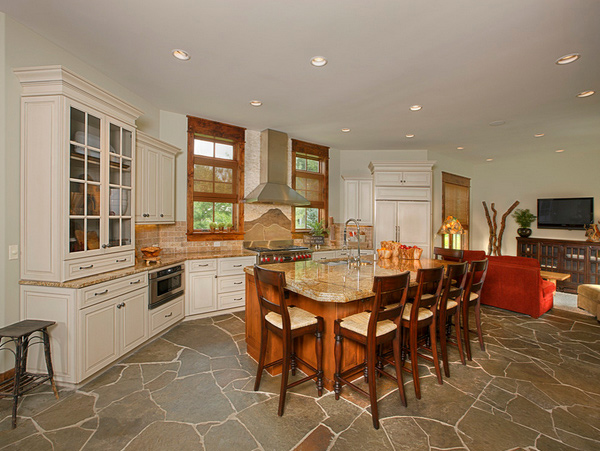 The flooring for this kitchen sure looks like pavers you can see outdoors. This design is usual for some traditional homes – it's a great way to add flooring like this, especially when the said kitchen is often used.
Retro Minneapolis Kitchen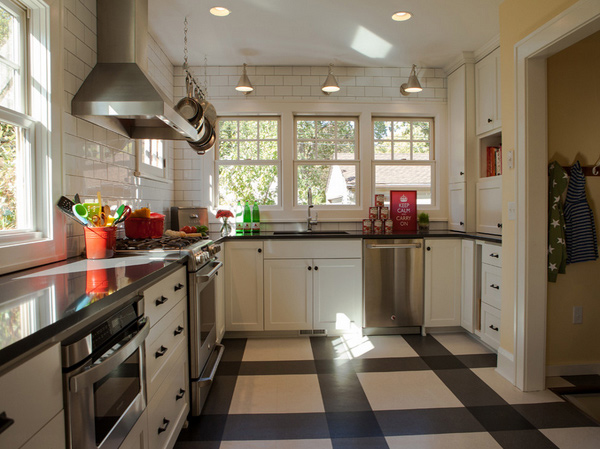 Three different colors of sturdy, vinyl composition tiles make up a plaid-inspired design, based on a fabric the clients love. The affordable vinyl fit their budget and works well with the kitchen's heated floors.
Rustic Kitchen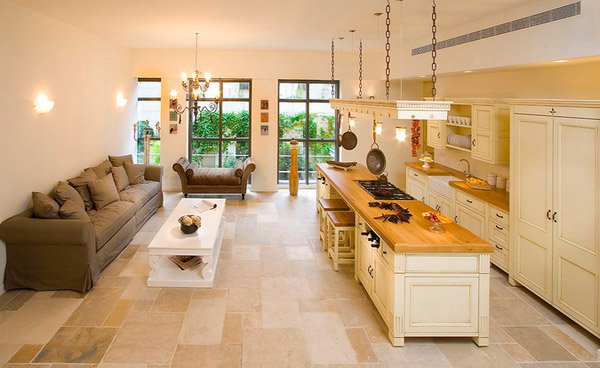 The designer used patterns of non-square tiles in different sizes actually looked better than square. Sometimes, moves like this is is rather bold, but looking at the end result – the designer sure did a great job!
Valley Street Duplex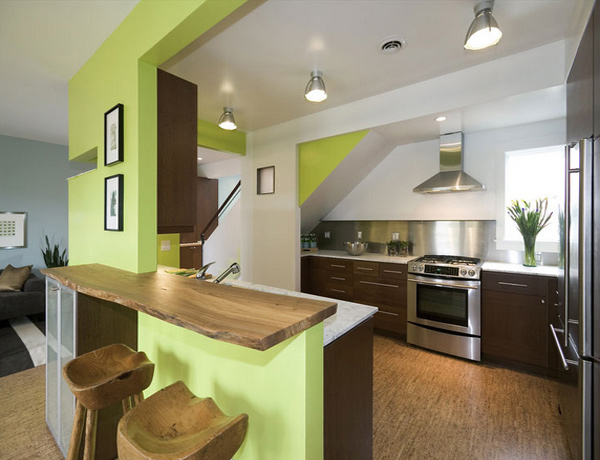 Cork sustainably harvested from the bark of the cork oak tree, cork is an excellent resilient floor choice in a kitchen due to its high level of cushioning. It's available in a variety of colors, patterns and textures, and in tile or plank formats.
Wando River Private Residence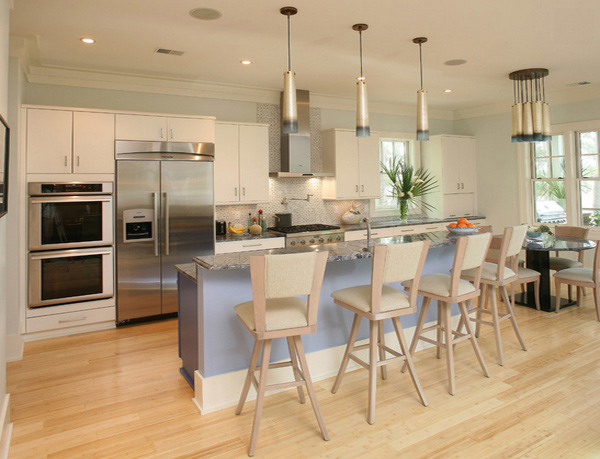 Bamboo has many of the same advantages and disadvantages as wood. It's a good option if you are looking to use a sustainably harvested material for your kitchen floor
White Brick Mediterranean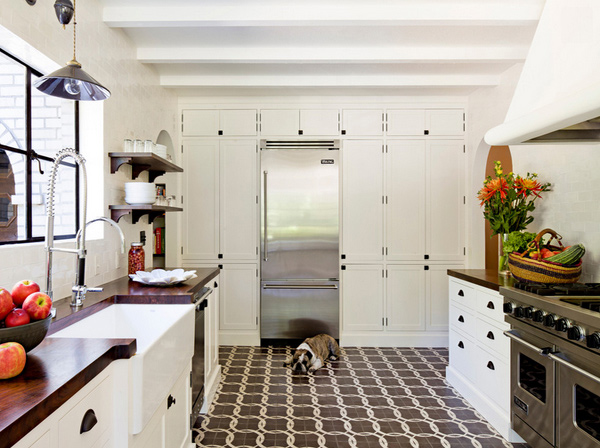 Just because you will be traipsing across your kitchen floor hour after hour, day after day, year after year, does not mean it cannot have a beautiful pattern that makes your heart swoon every morning. If your kitchen floors were this gorgeous, we're guessing you would never want to leave.
Surely, we covered the entire list of materials that can be used for our kitchen flooring. The designs that we have seen above showcase these materials in different patterns, colors and even in sizes and shapes. When you think about it, the flooring is sometimes neglected in the design process, but we can actually attest that in the 15 Different Kitchen Flooring Designs we have above, they were in fact stunning and well thought of, just like the 15 Refreshing and Stunning Kitchen Interior Designs that can be applied in decorating your very own kitchen spaces. Hoped you had a blast!