20 Unusual Kitchen Designs to Check Out
Completing this entire list of unusual kitchens took a really long while. Why? Because at some point, I am not sure how unusual is unusual. Is it maybe too modern? Too high-tech? To rustic or what. Then I came to a conclusion that an unusual kitchen is something that you rarely see – like a relative or friends' kitchen; a kitchen that you see Chef's use in movies or reality shows. Now, that's unusual alright! So, with all these things in mind, I scoured out the internet for the most unusual but still wonderful kitchen designs out there! From the ones that look like Flintstone's' lived in, to kitchen designs that is too Victorian or have weirdly-shaped kitchen islands! There are a lot more out there for sure, but here are the 20 Unusual Kitchens to Check Out!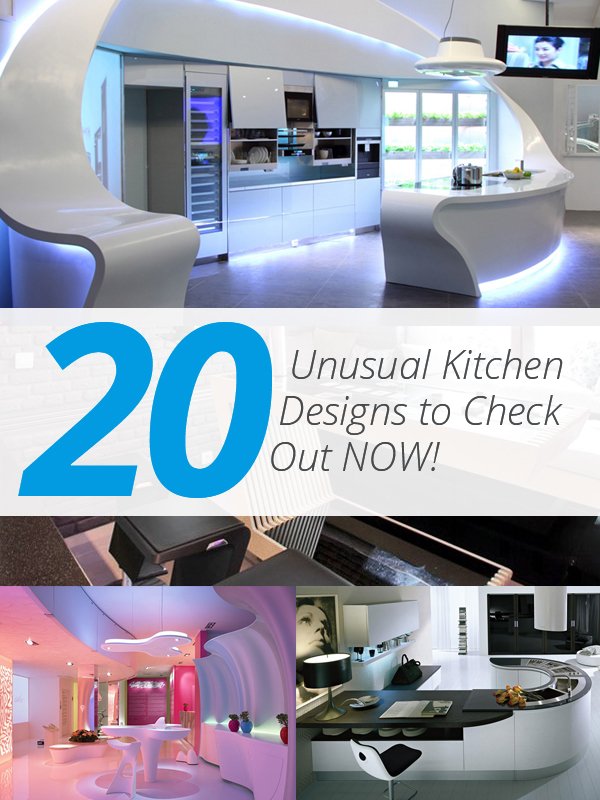 1. Artika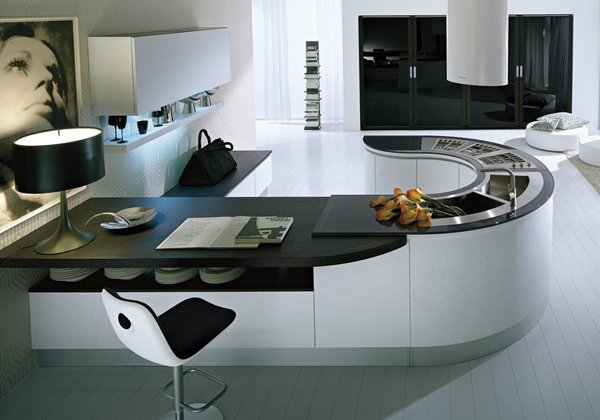 Pedini Cucine Artika. Available in cherry wood (matte or glossy) and lacquer in matte, textured and glossy finish.
2. Tron-Inspired Kitchen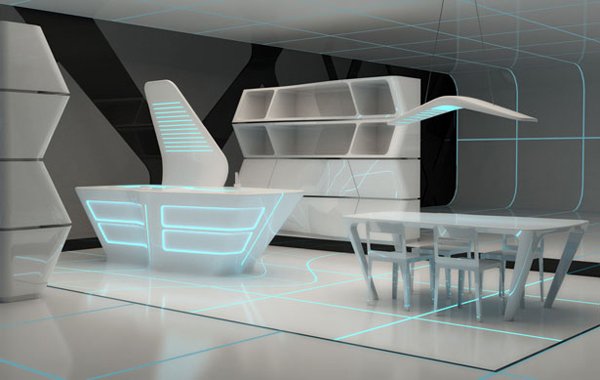 If you have ever watched the movie Tron, you would love this kitchen design. Pretty awesome, right?
3. Marecucina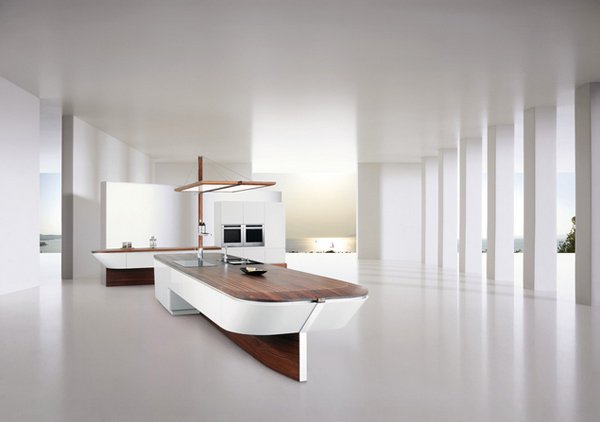 If you can't get to the boat, bring the boat to you. This boat-shape kitchen island is only for the true, unwavering sailing enthusiast.
4. DuPont Kitchen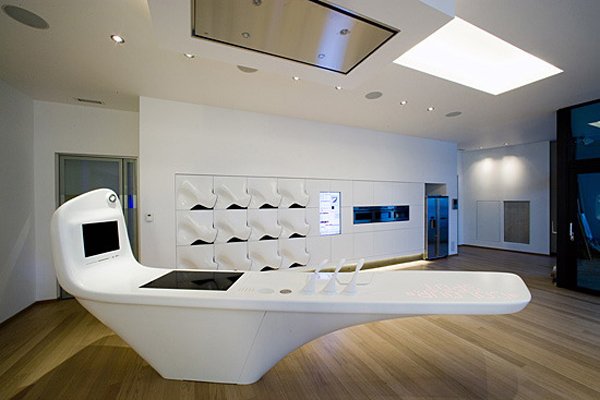 Tell me what you want about this modern kitchen design; the kitchen island is spectacular too!
5. Fresh Kitchen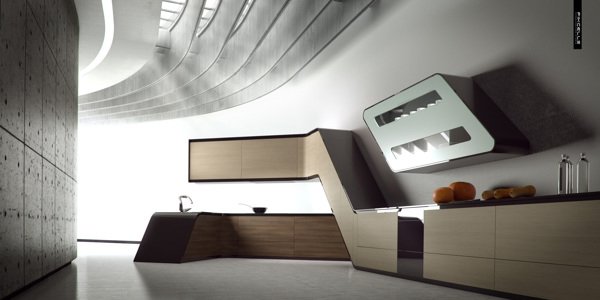 The design of this kitchen counter is superb! I even love the ceiling in this space too!
6. Central Kitchen Design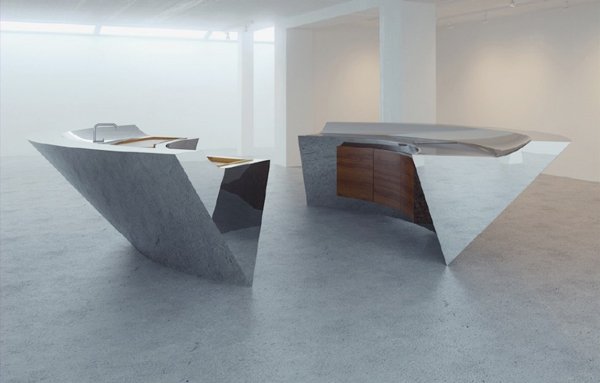 Elad Gonen has taken the picture of this wonderful kitchen which is super! The design looks unstable but really fancy.
7. Leaf Kitchen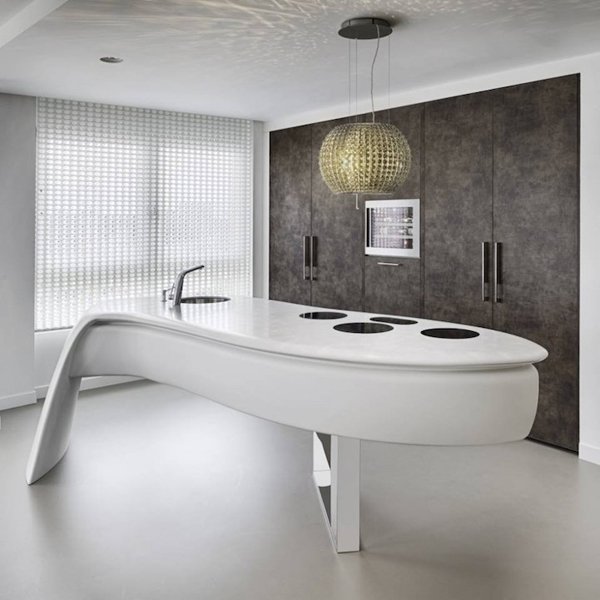 Its clean, minimalist aesthetic is accented by the stunning island in the center. Designers didn't follow conventional geometric forms and instead opted for a rounded, organic shape that, in certain angles, seems to flow from the ground.
8. A Wurster Revival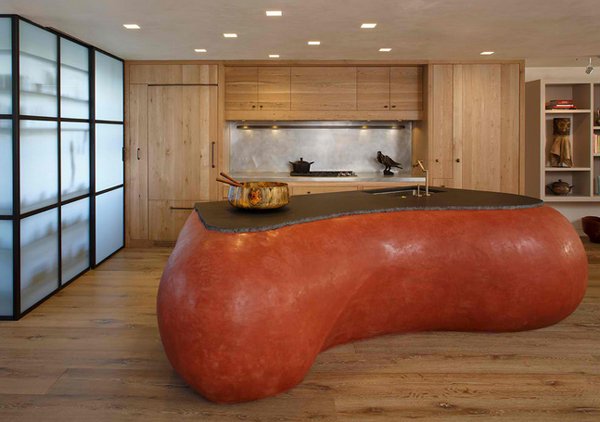 The team and the homeowner worked together on the design of this sculptural kitchen island, viewable from the entry; it was inspired by the owner's trips to Australia. Tadelakt plaster forms its contours; it's topped by a basalt counter with a chipped edge.
9. Smart-ologic Corian Living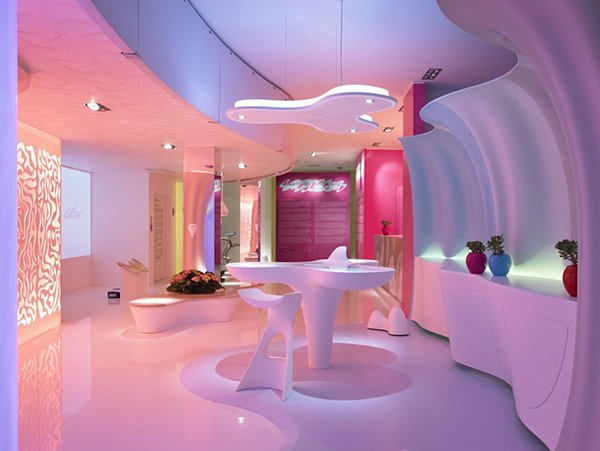 This kitchen sure looks clean – aside from the fact that the beautiful curves it has and the specially-made furniture!
10. Cubello Kitchen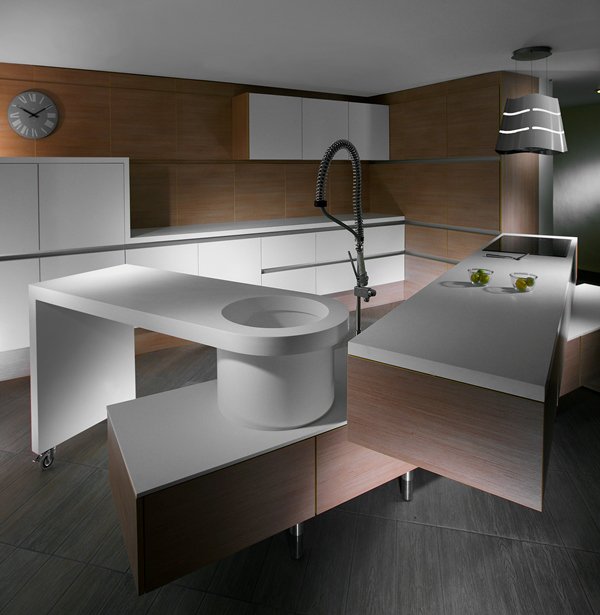 Catch the unique combination of shapes in this kitchen.
11. High Tech Yellow Kitchen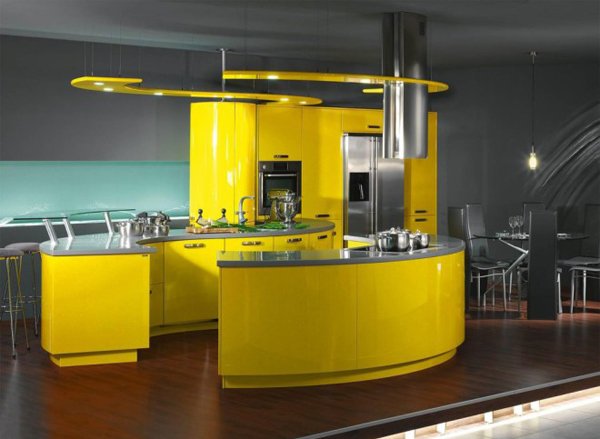 I'm not sure of the high technology capabilities of this kitchen but I remember the yellow ranger with stunning kitchen!
12. Parametrix Futuristic Kitchen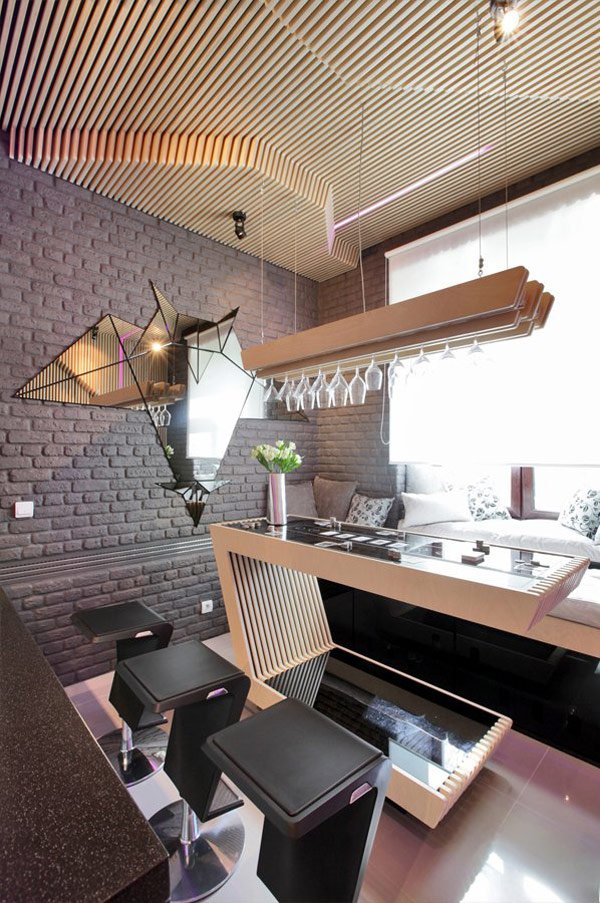 This kitchen is especially designed for a family in Moscow with a passion for extravagant modern design.
13. Mammut Kitchen Hood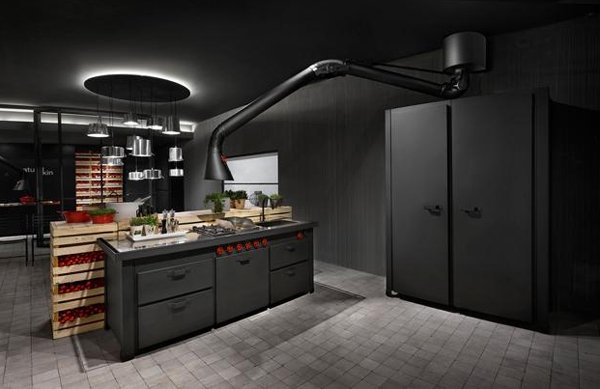 Mammut hood features a rotating 360° tube which adds flexibility to contemporary kitchen design. Made of black painted metal, Mammut kitchen hood reinvents industrial exhaust system elements and adjust them for modern kitchen design which transforms home interiors and create fabulous contemporary lofts.
14. Contemporary Veneer Kitchen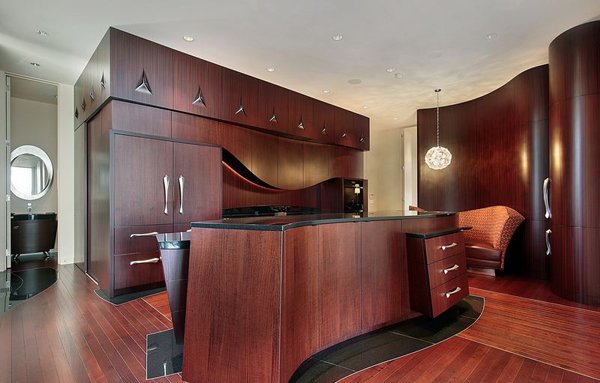 Look at the awesome wood work done in this entire kitchen! From the flooring to the wall and the cabinets and the kitchen island!
15. Innovative Curved Kitchen Design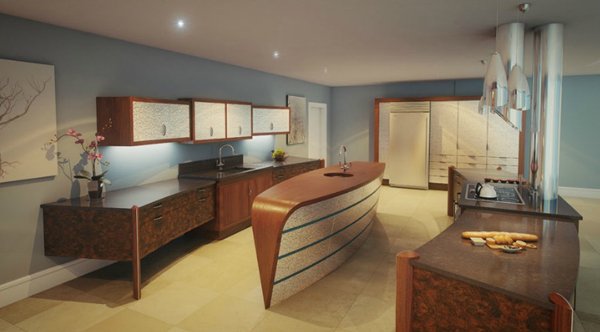 The center island of this kitchen reminds me of a slice of a cake. Awesome, right?
16. Unusual Flinstone-Style Kitchen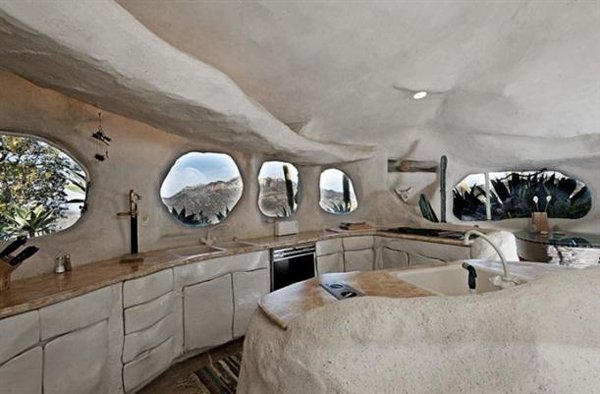 I don't know what to say about this kitchen – very Flinstone kitchen. I'm not sure is this rustic or contemporary design!
17. Unusual Kitchen Loft Interior Design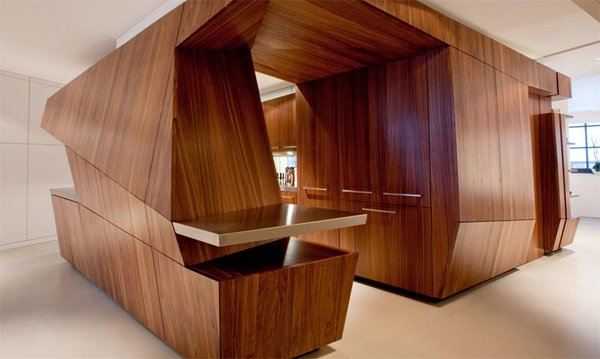 This wooden furniture located at the loft center, resulting a unusual yet unique wall structure like, separating each of the room function.
18. A Kitchen in Three Movements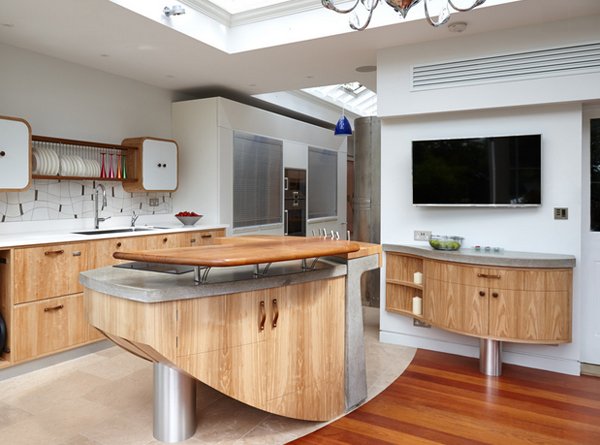 Inspired by the non-symmetrical rhomboid shape Grey created this organically contoured island to fit the space perfectly. The hob is dropped into the concrete dais and a stunning wooden chopping board extends the entire length of one side.
19. Oulin Kitchen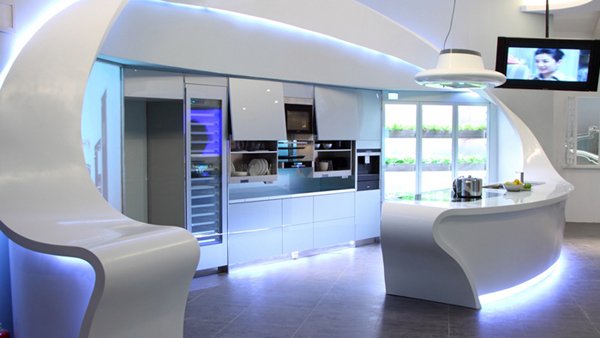 Just looking at the lighting schedule in this kitchen is fabulous! Wonderful kitchen island – looks like you are inside a spaceship!
20. Beige Dune Kitchen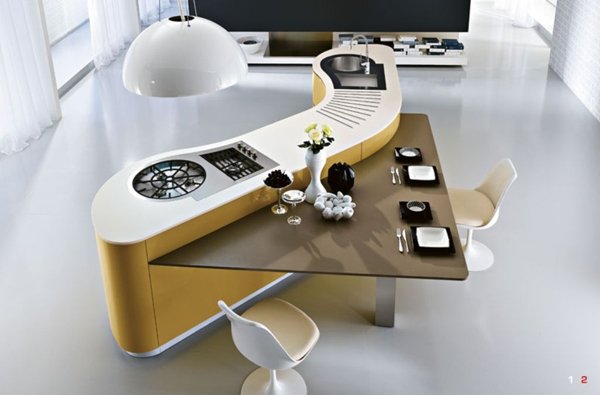 That's the beauty of architecture: individualization. A detail that provokes a personal thought or feeling for the homeowner. If you are pretty amazed with this list of 20 Unusual Kitchens to Check Out – you should check out the Unique Living Room Couches Collection that one of my colleagues made about wonderful couches that are pretty unusual too! At some point, we can say that unusual is synonymous to unique. Pretty lame revelation I know, but I hope you liked this list.