25 Contemporary Two-Island Kitchen Designs Every Cook Wants to Own
Take a look if a two-island kitchen will work for your cooking workflow and your home's space.
The kitchen is the heart of the home and is the place where food is being prepared. Because of that, we could say that it is the busiest part of the house since we consume food every day. But in order to work well, the kitchen should be well-designed and should fit the needs of the one who use it. It should fit the cook's flow of work as well as cooking processes. Good traffic flow needs to be observed in the kitchen so that it will be useful and functional and be ready to serve its purpose.
Some homes require more than one kitchen island and would also need to come in different layouts. That all depends on the preferences of the owner. When it comes to kitchen layout, the owner has to be consulted because he is the one who use the area. For some, two kitchen islands are needed in order to perform their cooking tasks well. If you wonder how a kitchen with two islands looks like, here is a list we have for you so you will get ideas and inspiration. We have collated contemporary kitchen designs with two islands. Come take a look!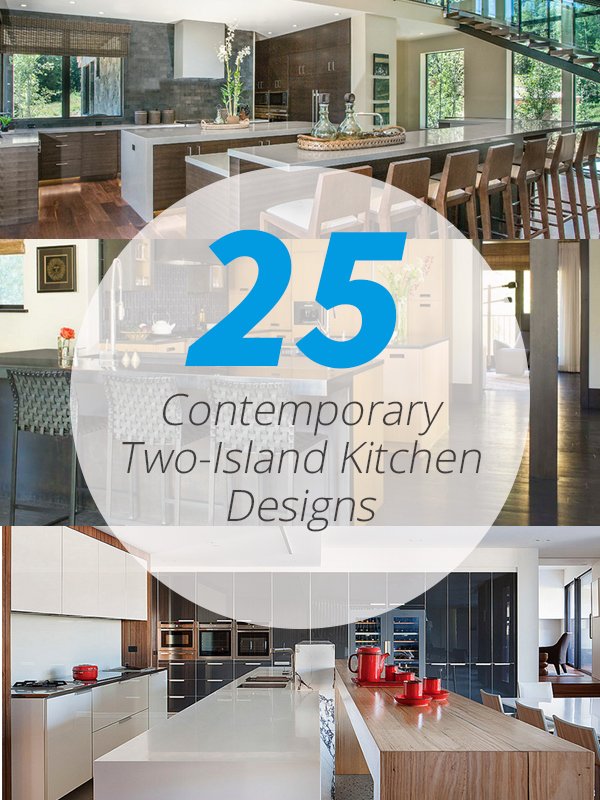 1. Cedar Park House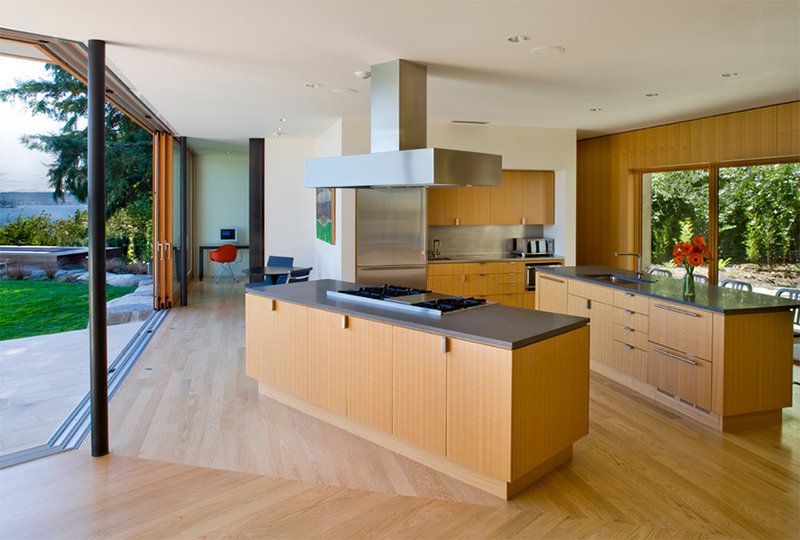 This kitchen has two islands that are arranged in a diagonal manner. You can note the use of wood and a sturdier material for the countertop. Lots of storage spaces are seen here too!
2. Dorado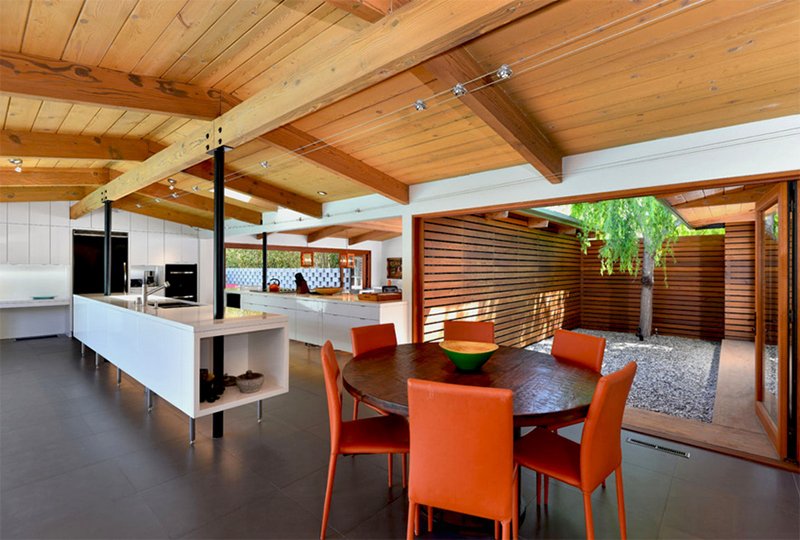 That inner courtyard is lovely and it would be fun to dine there. Take a look at the kitchen with white islands. Working here would be very convenient.
3. Kitchen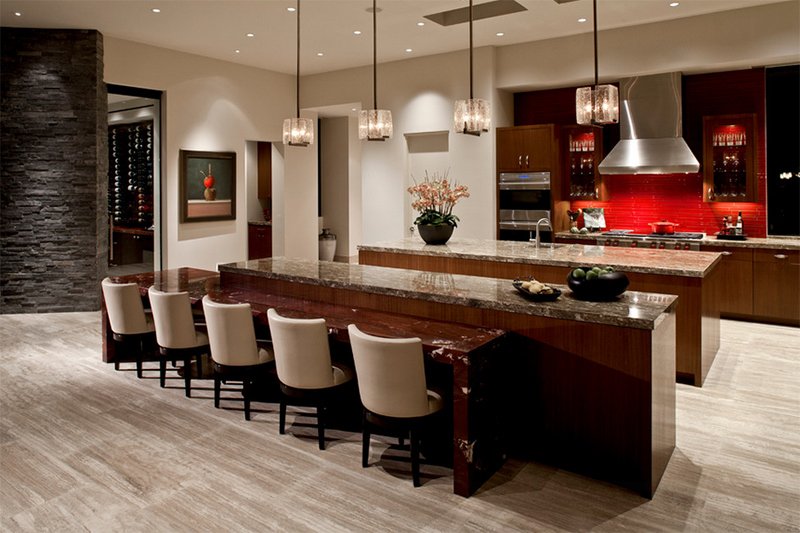 A luxurious contemporary kitchen with a lovely mix of materials and dramatic lighting. Off the kitchen is a wine storage which is strategically located.
4. The Springs – Private Residence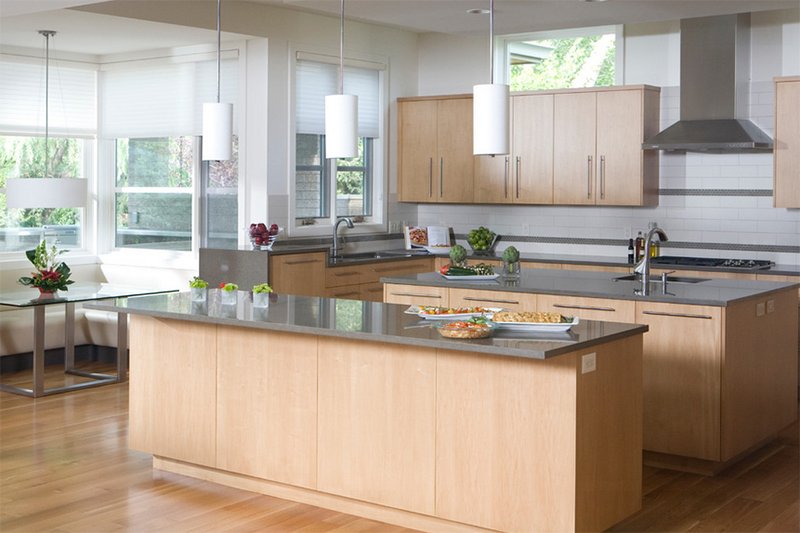 Don't you just love the contemporary colors used here as well as the materials that made up the entire kitchen? White pendant lights add beauty to the area too while lighting up the island.
5. Intermountain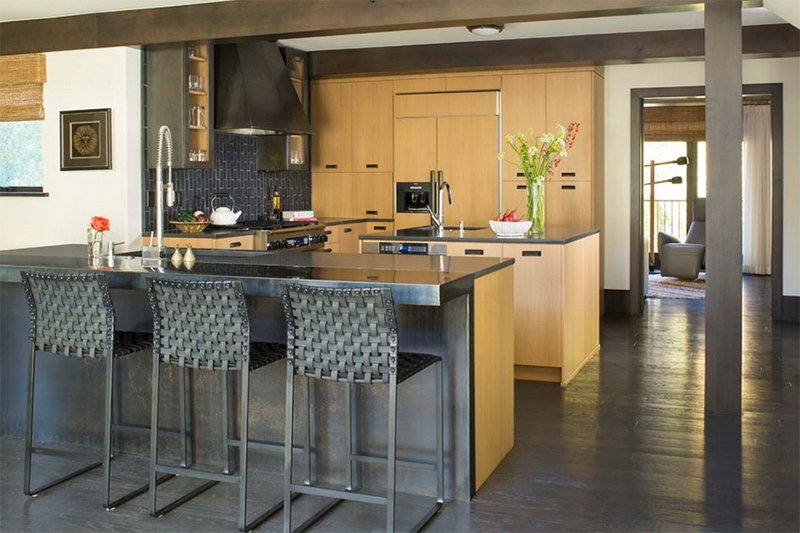 High counter stools with woven backseat were used for this kitchen. Note that each island has its own faucet and sink too.
6. Freeman Residence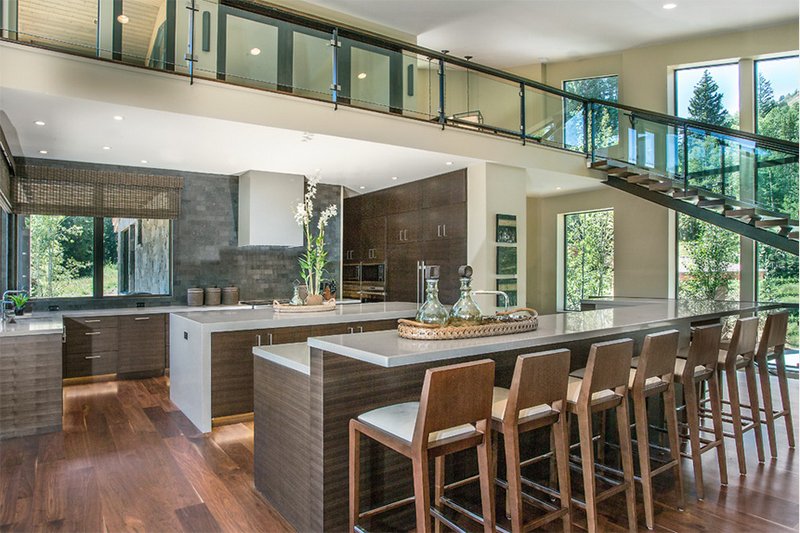 Modern kitchen with walnut cabinets and quartz counter tops were used for the double island. Although the design of the islands differ, the materials used are all the same.
7. Cortona Residence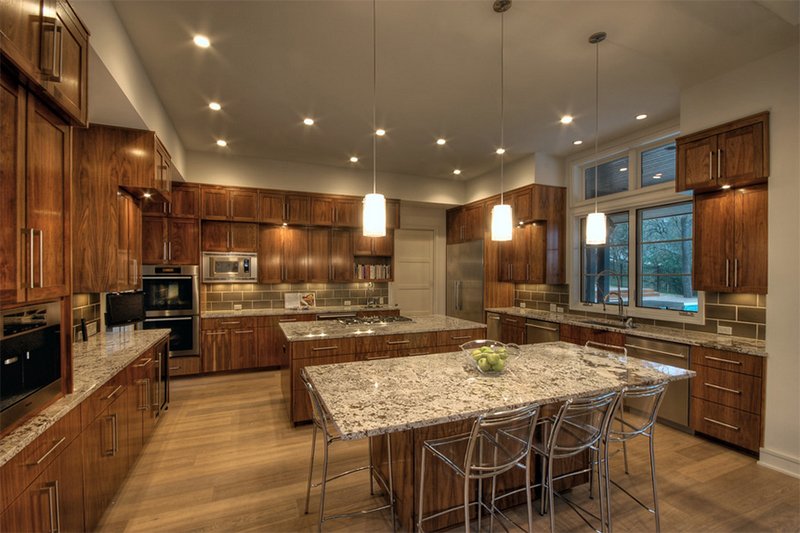 A spacious kitchen has a lot of countertops to work on. Aside from those on the sides there is also an L-shaped island and a table where the family can also dine.
8. Richmond House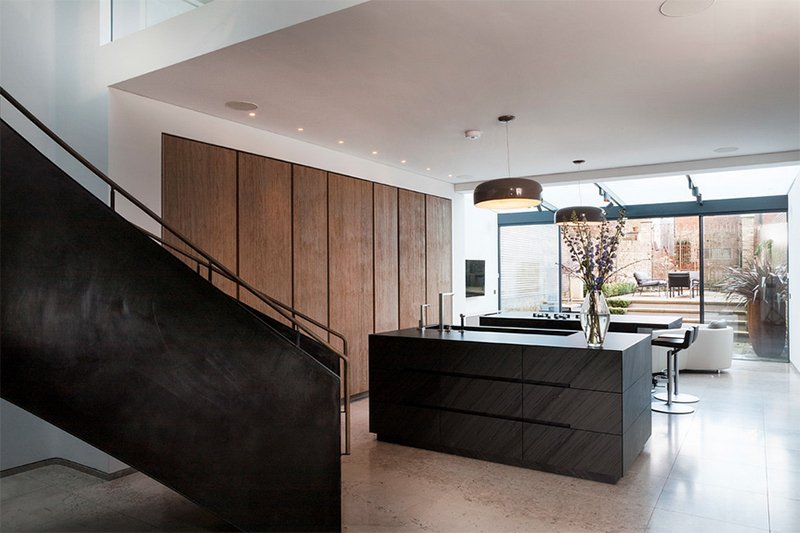 Such a neat looking contemporary kitchen with dark gray kitchen islands that are located near the outdoor area. A sliding door separates the indoor and outdoor spaces.
9. Contemporary Suburban Kitchen 2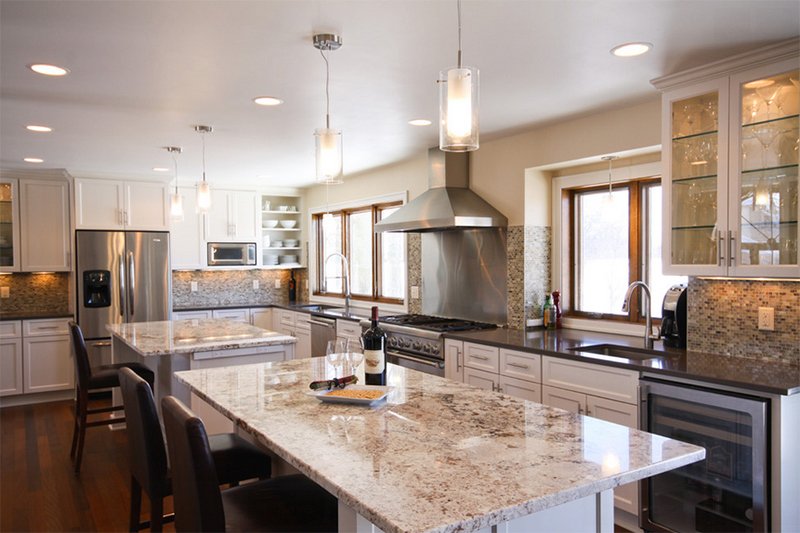 A great, open, expansive kitchen, with a wonderful view of the backyard and golf course- working here would surely be fun!
10. Contemporary Kitchen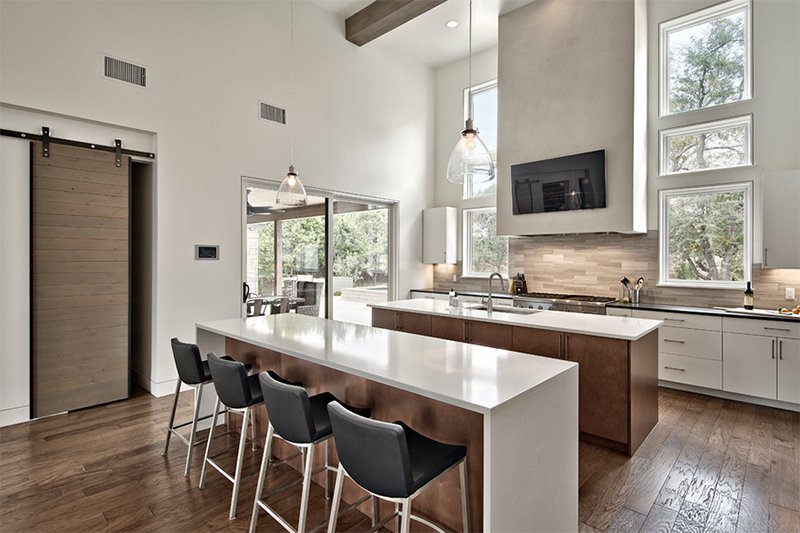 The television is installed over the range hood which is an interesting thing in this kitchen. The colors, flooring, beam, backsplash, and all the other elements of the kitchen has a modern feel.
11. Modern Contemporary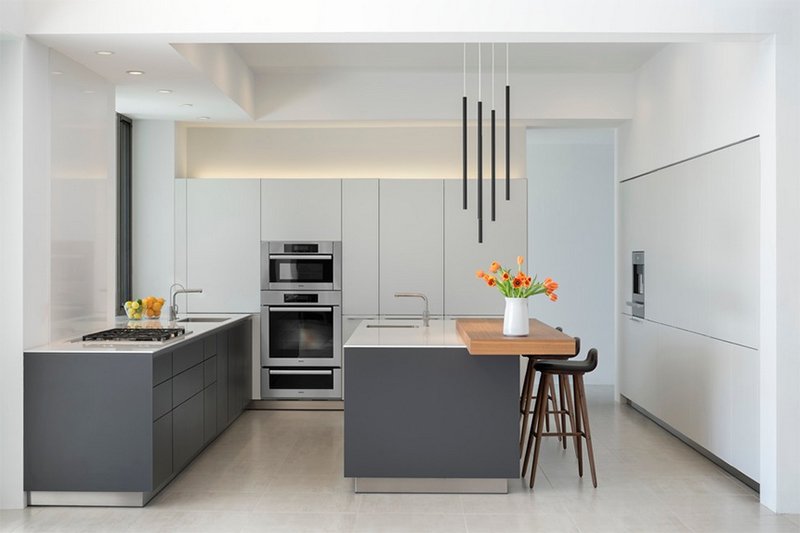 This gray and white kitchen has a neat modern minimalist look. Like that flower arrangement on the island as well as the lighting too.
12. Random Lane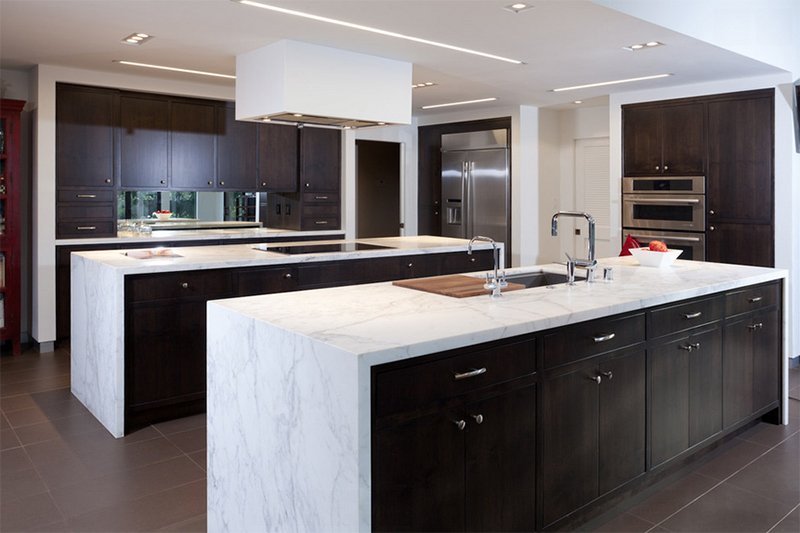 This kitchen has contrasting black and white colors on sleek double islands. The lighting here is very creative and modern too.
13. Spectacular Kitchen Remodel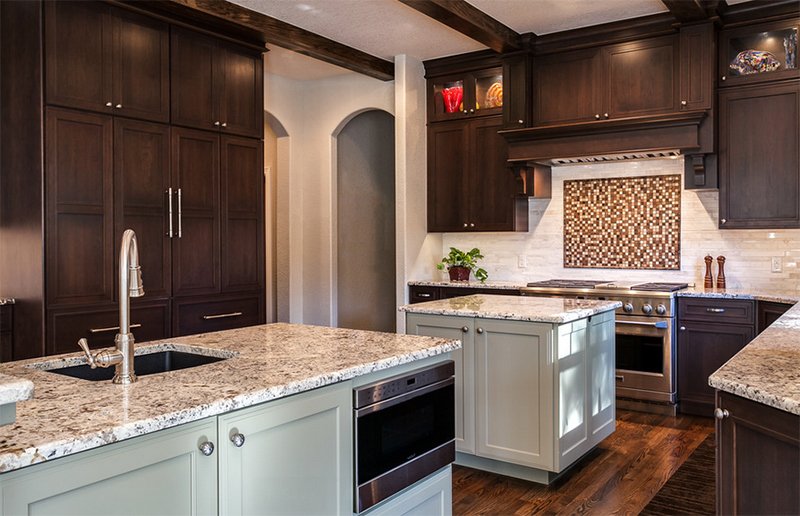 A spectacular double island kitchen with cupboards galore, gorgeous wood range hood, lighted display cabinets, granite countertops, as well as stainless steel appliances and fixtures.
14. Bel Air residence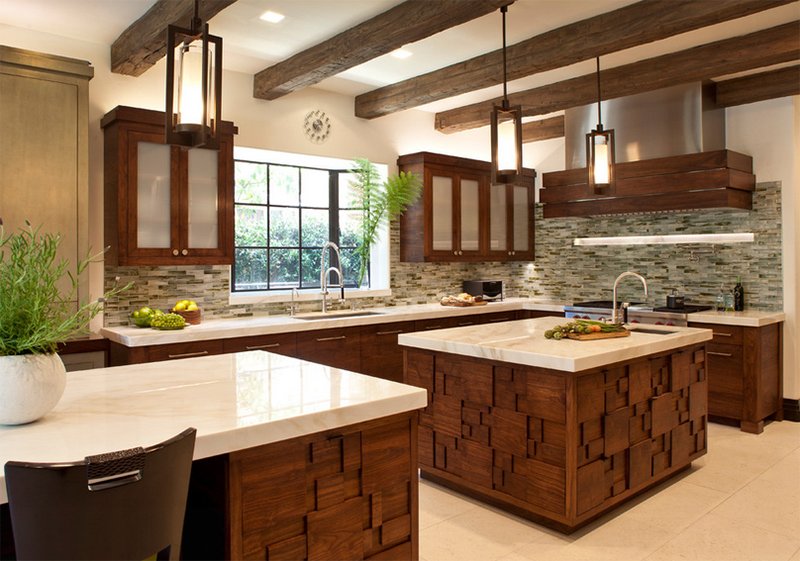 The kitchen island has a decorative design using wood that are placed on top of each other. It complements with the material used in the backsplash.
15. Rostill House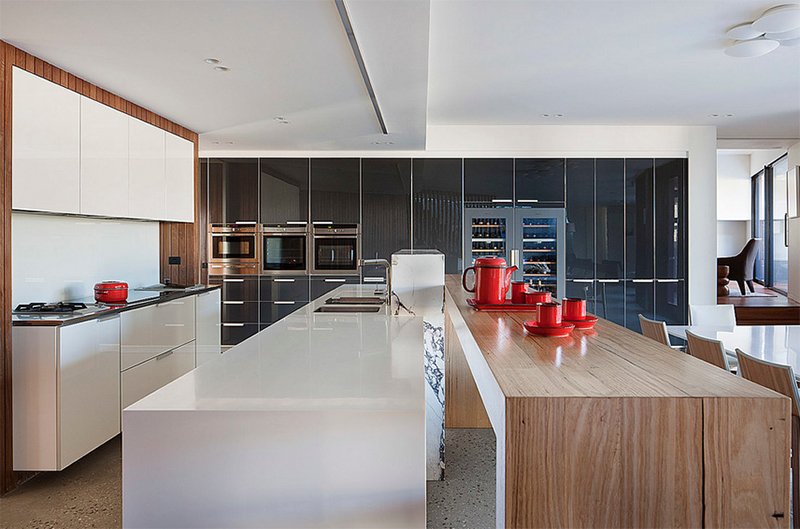 Two kitchen islands were placed next to each other and can be used on the sides. I actually think that the space in the center area is kind of wasted.
16. Melissa & Sole Kitchen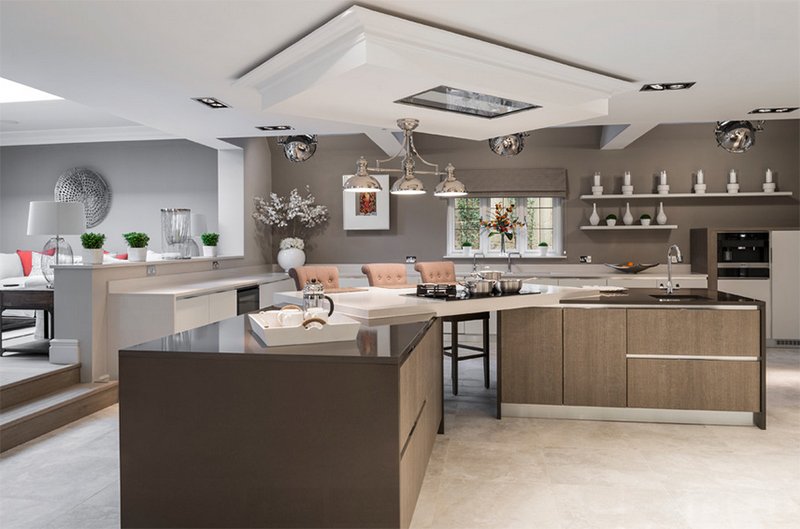 A table is placed between two islands that has contrasting colors. I also love the drop ceiling and the lighting on it.
17. Sanctuary Cove 2269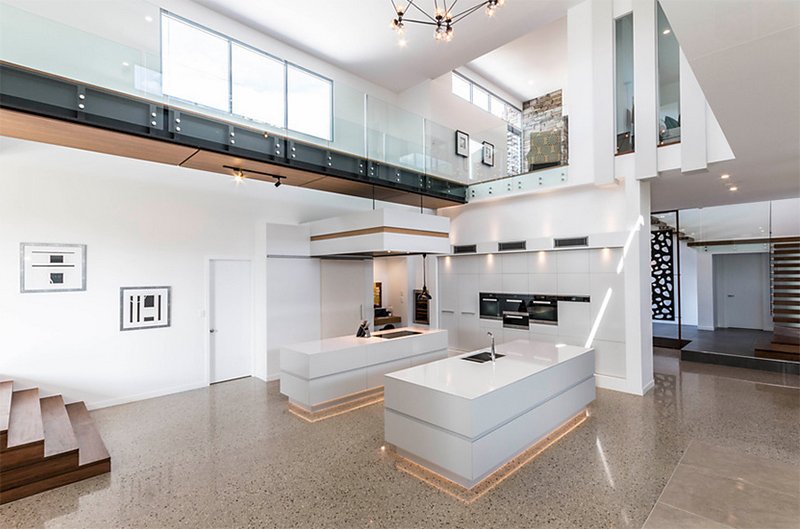 The islands look like they are floating because of the lights on it. You can see here the white cabinet with built-in appliances. Note how the range hood was done- so lovely!
18. Blackburn Melbourne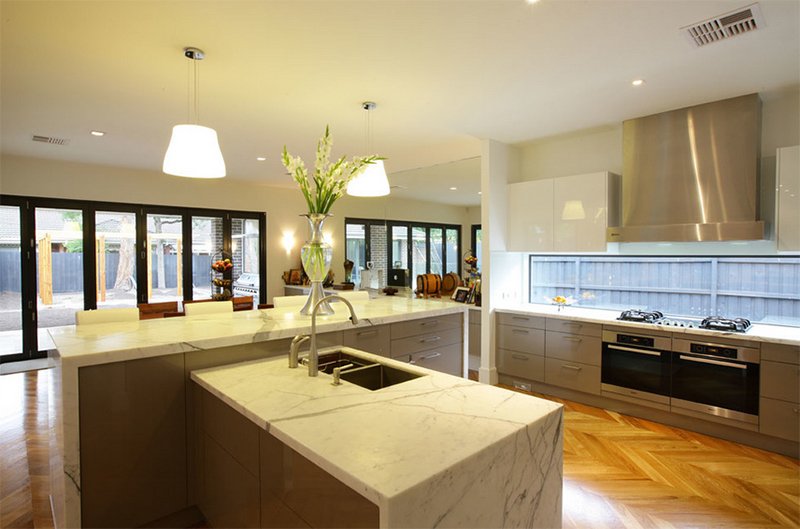 Two islands where formed in a T-style to maximize the space. It sure is a good way to use the area where storage space can still be accessed from the other island.
19. Baron Woods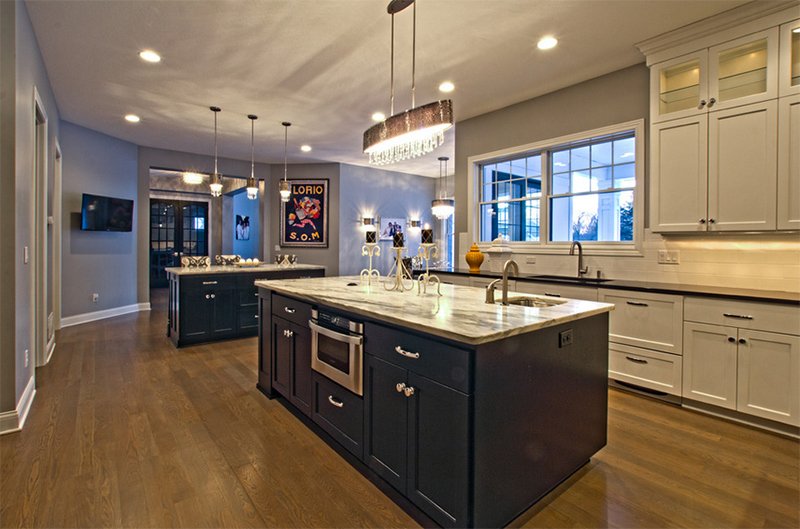 The islands here are separated from each other with marble countertops and decorative lighting.
20. NFL Players Residence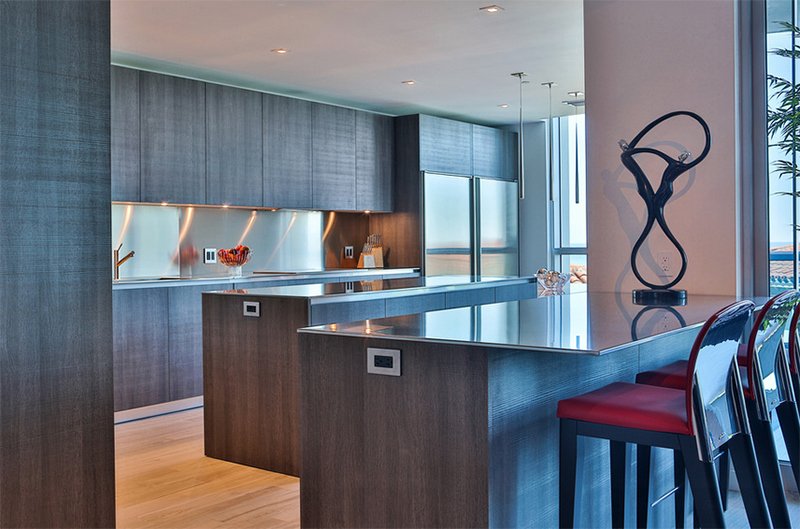 The designer's inclination to arts and fashion design is mirrored in the design of this contemporary kitchen.
21. Daring to be different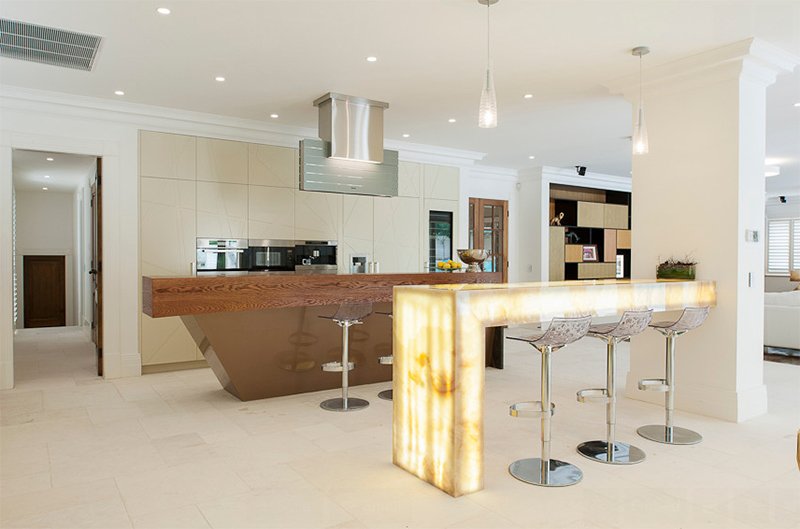 This kitchen used a backlit Honey Onyx bar and sculptural granite and timber island creating a breathtaking kitchen design! I know you want this kitchen too!
22. Miami Beach Water Front house
Even if there isn't much space in this kitchen, it managed to add two islands with beautiful sophisticated design.
23. Incline Lift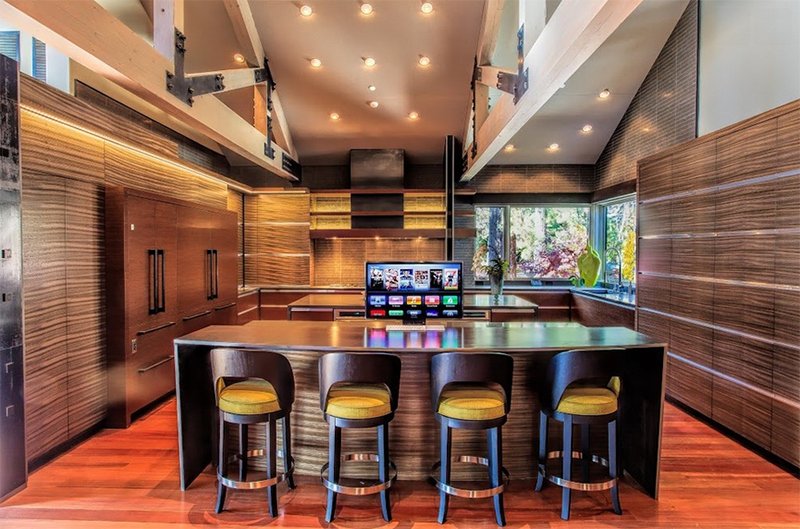 A sophisticated kitchen with dramatic lights and the creative use of wood. Isn't this a stunner? You won't just prepare food here but entertain friends as well!
24. Elegant Contemporary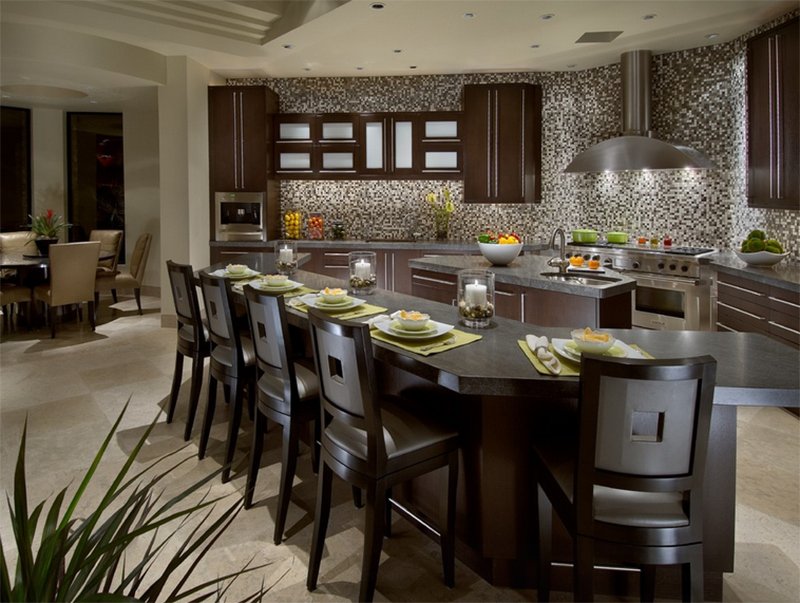 Look at the design of the islands here. The other one is longer while the other is at the center. Very creative indeed while ensuring its functions.
25. Mansfield Ave, Los Angeles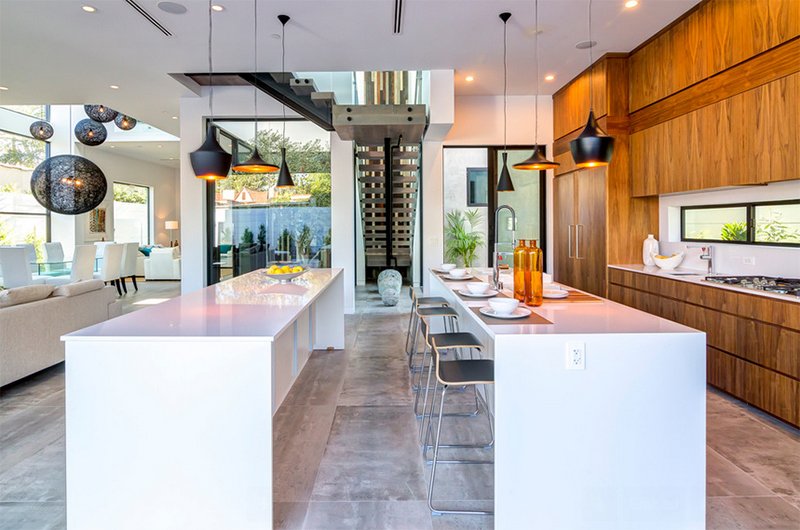 Love this one! The white kitchen islands are accented with black pendant lights in various forms and shapes.
Not all kitchens use a single island because there are some that apparently needs more because of how the cook make use of the area. There are also kitchens that do not have an island and just install their counter tops near to the wall to save space. It actually varies on one's needs and the available space of the home. The above images surely gave you ideas on how a kitchen with two islands looks like.