15 Beautiful Kitchen Island with Table Attached
Like an eat-in kitchen, some Mums want to have even a small table connected to the island for easy access from where the food is prepared to where her family members can eat. Of course, it is not necessary that we connect the table to the island, but sometimes, to save the little space that we have in the kitchen, we resort to doing just that.
Today is just like any other day, except that we have 15 Beautiful Kitchen Island with Table Attached to present to you.
They look rather pleasing for most people who already saw the said photos, and you will be amazed as to the different and unique ways the designers created this look of connecting a table to an island. Check them out!
Alderton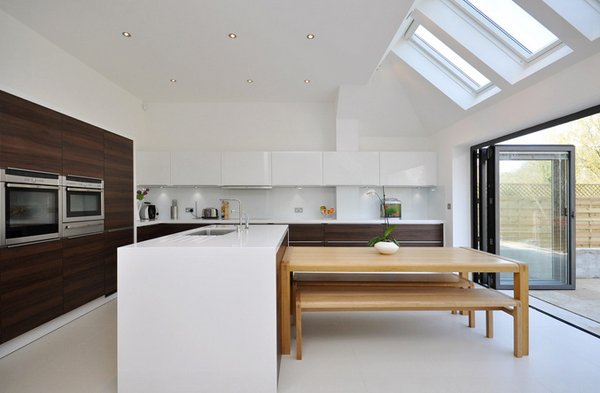 The wood accents make this look more of wooden heaven, what do you think? The white countertop is as stunning as the white walls and floors – maybe hard to maintain if you have kids, but this is just beautiful.
Antique Beam Sawn Oak Kitchen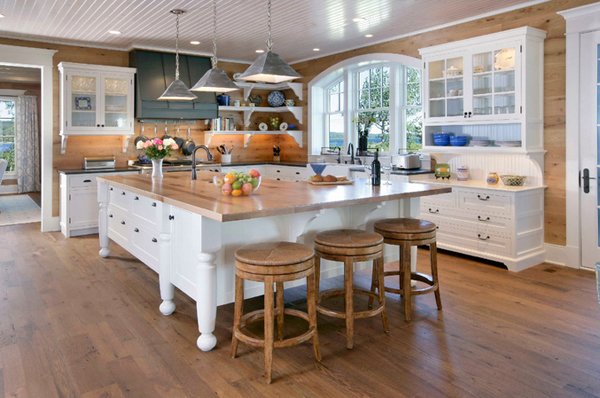 The material of the countertop/kitchen island is made of antique beam sawn Oak. The said material is makes the white cabinet work and not to mention the stool look naturally homey; not to mention lovely.
Contemporary Country Club Apartment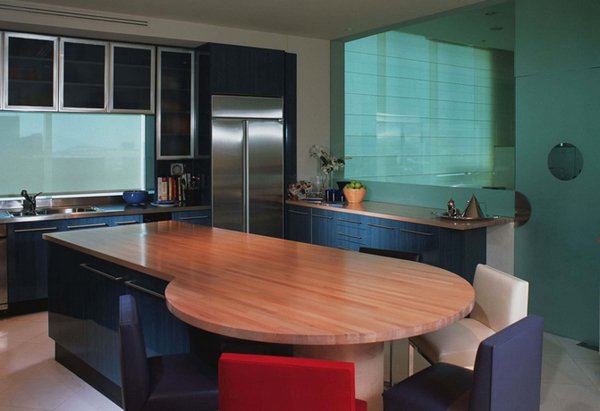 Jerry Jacobs did a great job in designing the butcher block island top with the round kitchen island. Note the glass view into the loft area of the home too.
Edina Remodel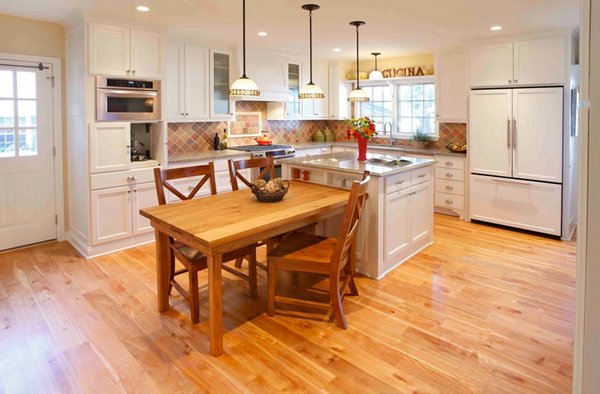 This house went through a tremendous transformation to accommodate a main level master suite, 3 kids' rooms and bath upstairs, and this stunning new kitchen in the back makes it all worth the cost of renovation!
Historic Kitchen Remodel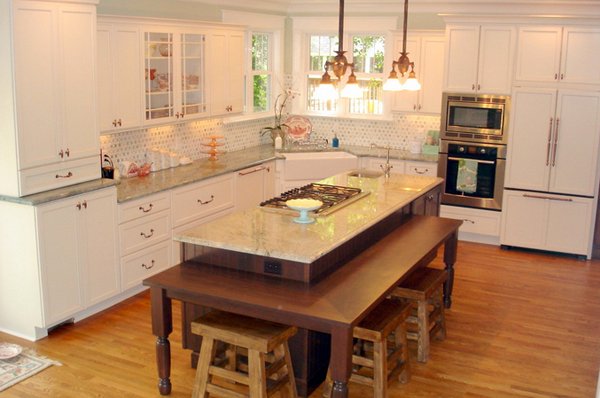 "While white kitchens are still popular, another trend popping up is the use of various shades of the grey color palette," says Jessica Allison of Essence Design Studios. "Grey is a beautiful neutral, and when used in the right way it can have a warm or cool look."
Island Dreams Kitchen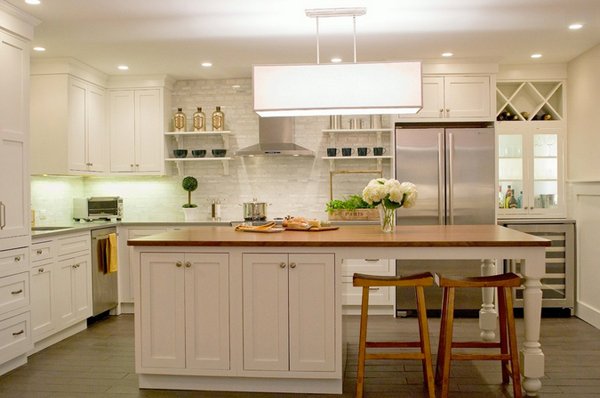 Initially the kitchen was divided into two rooms, a dark, dated galley kitchen and unused dining space. The style is a beautiful mix of classical elements with a modern touch.
Lake Minnetonka Dream Home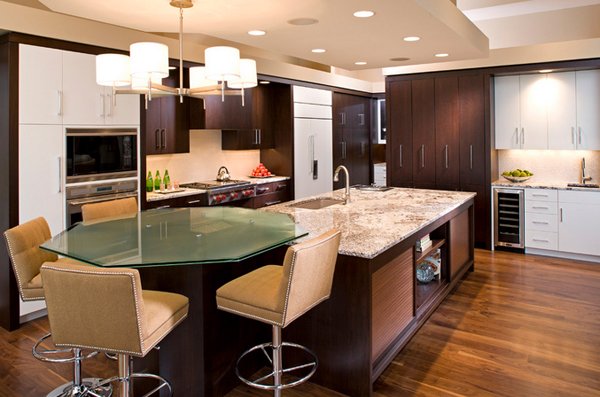 Storage abounds in this walnut and white gloss cabinetry kitchen. The contrast between the two finishes creates drama and definition to specific functional areas. The island features sliding doors that have a copper basket weave pattern encased in resin to add texture and interest. The bar height eating area is perfect for late night treats or a quick breakfast.
London Bay Custom Home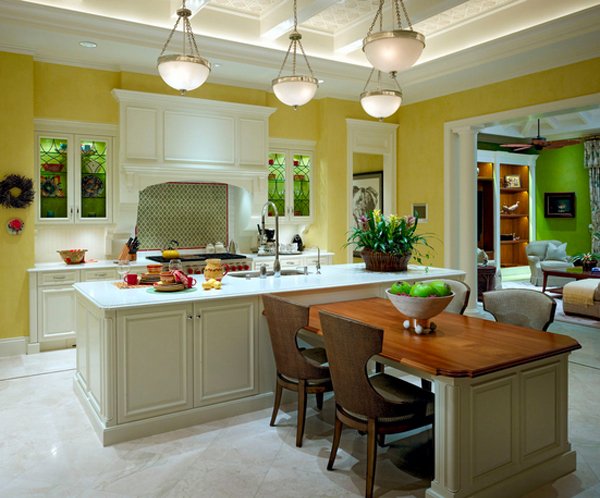 This kitchen is an example of when traditional design meets contemporary materials and designers. The color palette was chosen to fit not only what the owner wanted, but also the look that the designer wanted to achieve.
North Bondi Project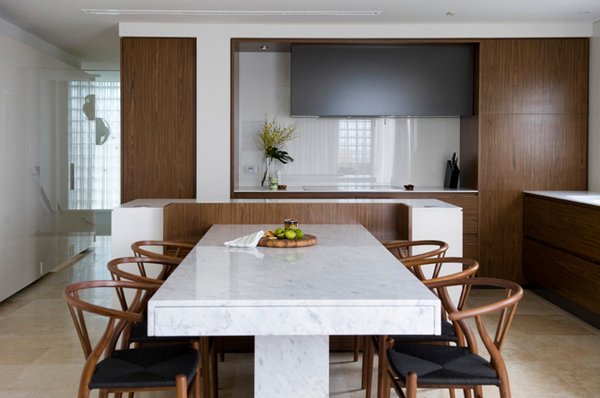 Save space with an island and table in one. The innovative kitchen in this Sydney home features an island counter on one side, with built-in seating and a marble-topped, extendable table on the other end. Combining a table with an island is a great space saver, and an extendable table can seat a crowd without taking up too much space on a daily basis.
New York Zen Kitchen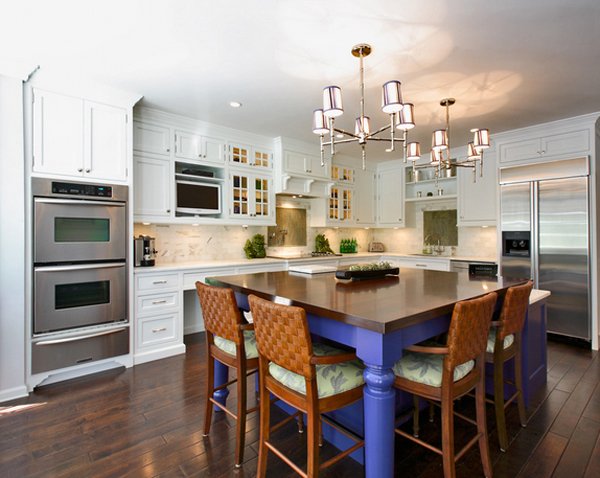 Introducing periwinkle as the pop of color every kitchen never knew it needed! We love that the designer chose to paint the base of this seating area and island in this flavorful color. It adds a little zest to the space and really sets off the richness of the wooden floor.
Southern Living Idea House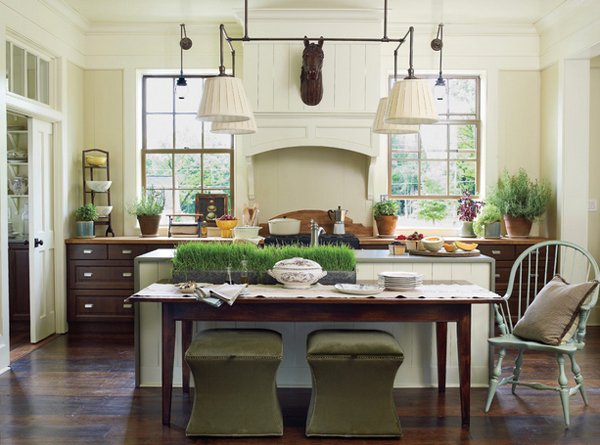 The flooring is a reclaimed heart of pine solid hardwood floor. Insidesign supplied the cabinetry, mouldings and interior doors for this project; which is perfect for this kitchen! The nook even seems to match the floor! Just stunning!
Street of Dreams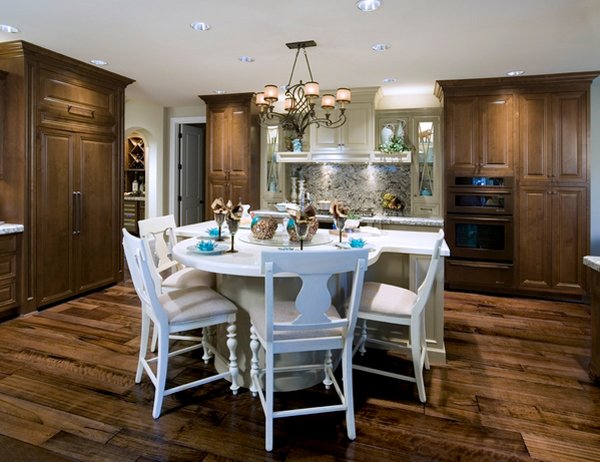 It's cute that the designers decided on making a circular table that they connected to the counters; the use of white makes all the difference because majority of the space is made from dark wood materials.
Sydney Open Plan Kitchen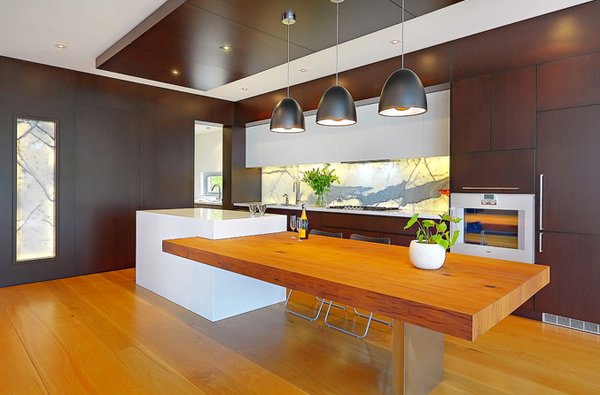 Impala just completed this stunning kitchen! The brief was to design a kitchen with warmth and impressive textures to suit the house which spanned over four levels. The design needed to allow for casual eating in the kitchen, ample preparation and storage areas.
Telegraph Hill Remodel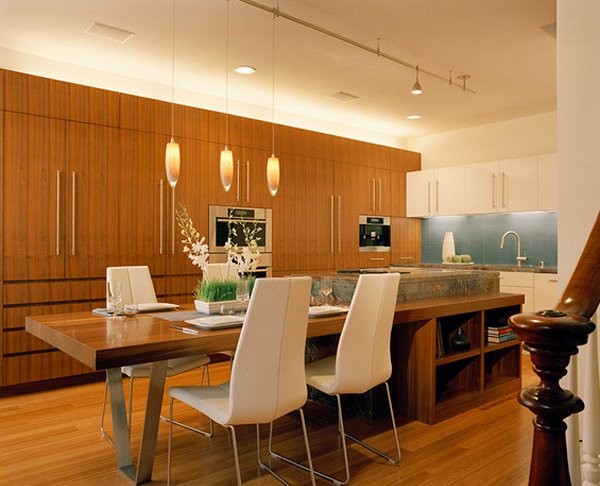 Look at how lovely this San Francisco kitchen is! This is a neat way to combine island & formal table which can look really pretty, even when the space is a tad smaller than what you could have hoped for.
West University Residence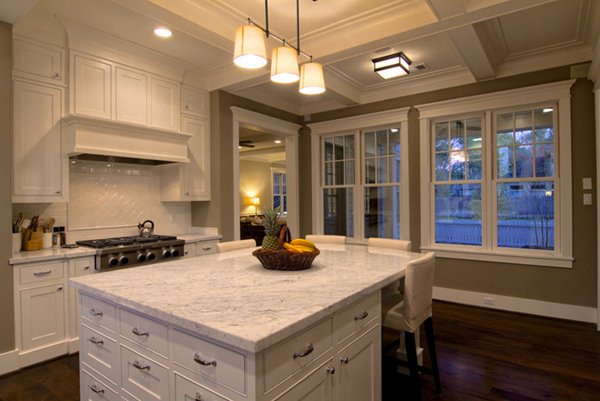 "The marble for the center island is one piece so there are no seams", that is according to the designers. Carrara marble comes in very large slabs making it a great material for this application. This connected counter and table is just stunning!
The compilation of the 15 Beautiful Kitchen Island with Table Attached is pretty much similar to the built-in kitchen tables which we created a few months back. These are lovely kitchens wherein tables were connected to either a counter or a cabinet. This is one of the many tricks our designer friends have devised to create beautiful spaces even when there is little; always putting to mind comfort, function and aesthetics. Hope you had fun!