15 Big Kitchen Design Ideas
Having second thoughts on having a huge kitchen to work with? Being a part of a small family, having a big kitchen was never an option. But for you out there who loves to cook and is part of a bigger family, choosing to enlarge your kitchen and dining space is pretty much necessary.
Below are photos that we have collected for you to take a look at if ever you are considering to have a spacious kitchen space.
Today, the photos we have compiled are of 15 Contemporary Big Kitchen Designs that might entice you in creating a large kitchen space. They're not only for food preparation, but also for eating as well.
The photos range from contemporary to modern designs which we know that you will enjoy. So, without much further ado, here goes the photos – have fun!
Airport House
Sited around an open courtyard with a reflecting pool and outdoor kitchen, the master suite and main living spaces form two 'wood box' wings.
Avon New Construction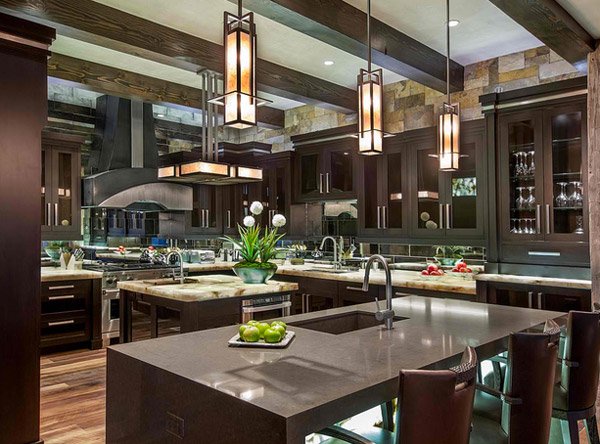 Notice the modern look, lights, mixture of wood beams with sleek cabinets that this big kitchen has to offer. Stunning, right?
Barton Creek Residence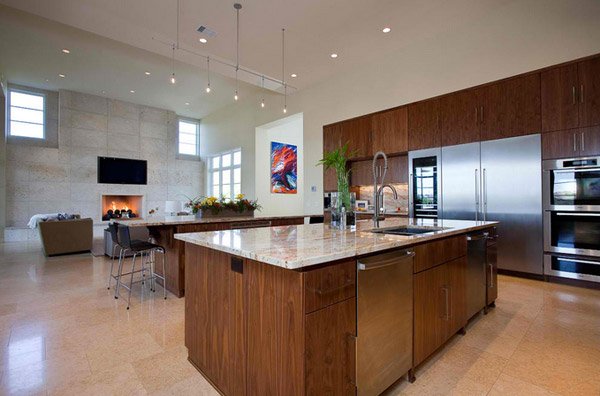 Ample dishwasher space means you can tuck dirty dishes in as you go. In a pinch you can also keep a cooler full of hot, sudsy water near the sink when you're cooking a major meal.
Cortona Kitchen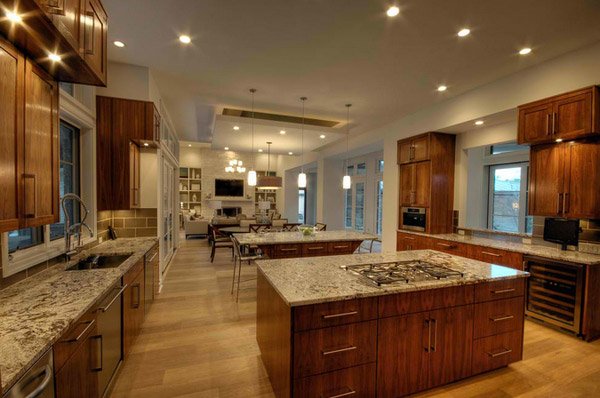 The open planning of this Austin kitchen is beyond lovely. According to one of our friends, the paint colors is magnificent.
Fairfax Station Kitchen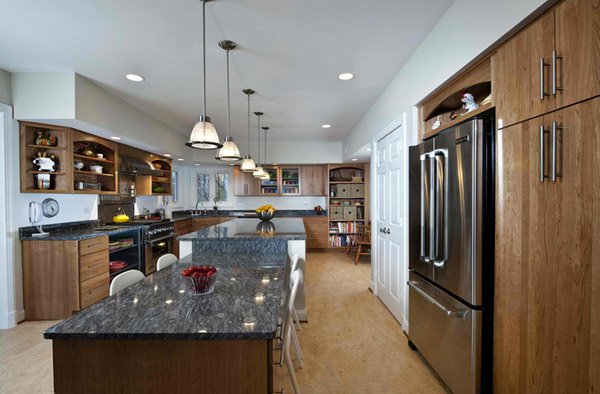 This deluxe kitchen was created with the homeowner's background as a chef in mind. Open metal cabinetry makes accessing tools a snap, and the professional range can handle any cooking project.
Kenilworth Residence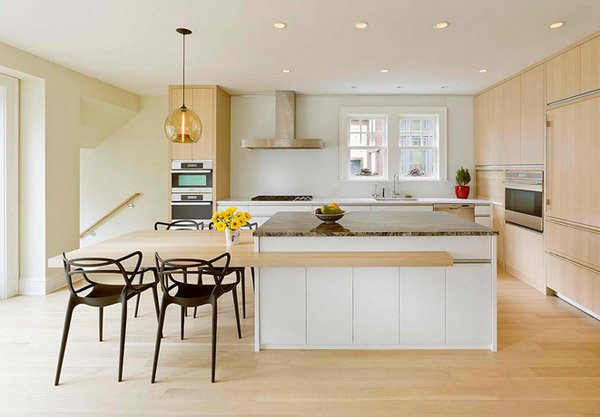 This kitchen has nice lower breakfast type seating, low to keep feet on the ground. Large enough island to have lots of cabinet space below for things not used as much.
Los Angeles Contemporary Kitchen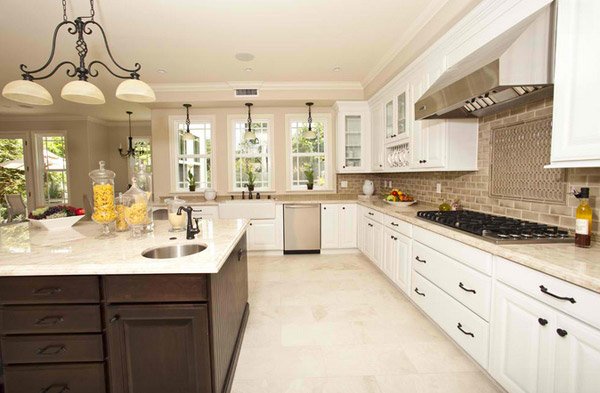 The over the cooktop treatment isn't that perfect, but we like the idea of keeping it a simple design with more texture to it. The simplicity of the color choices is best move the designer did to this kitchen. But all in all, we love this!
Lawrence Park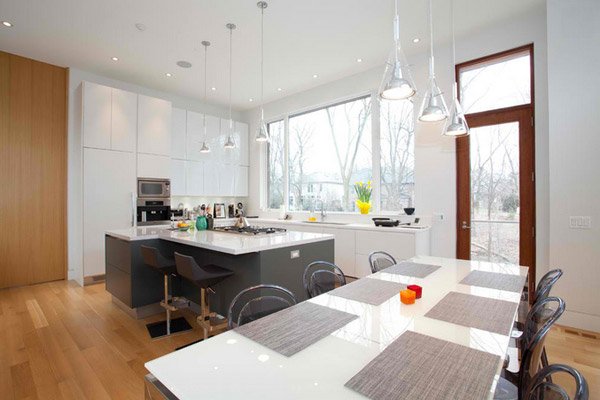 Few of the things we like about this big kitchen are the island, the gorgeous cabinet work, the huge windows and the stunning lighting fixtures! It complements not only the ceiling, but also the counters.
Saddle Springs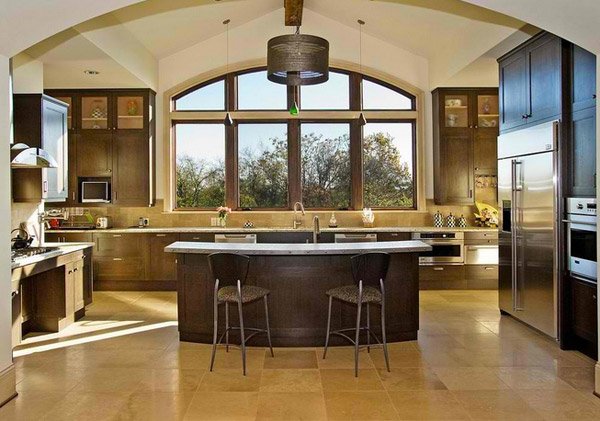 We love the U-shape kitchen plan of this Saddle Springs home; the nice entrance to the kitchen because it makes you feel that this kitchen actually surrounds you.
Saratoga Creek House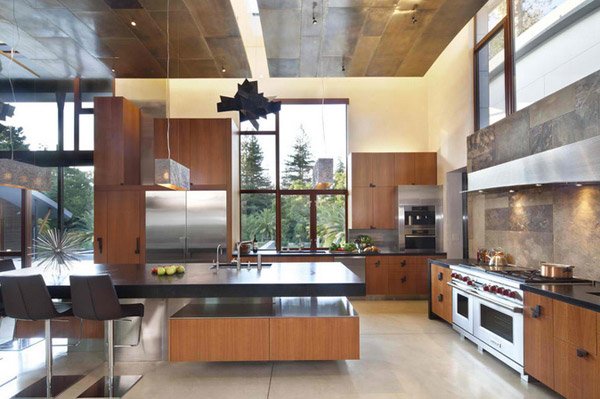 The ceiling might confuse you a bit, but they are actually suspended bronze panels. And mind you, we only usually see this design in hotels where they store bowls, plates, etcetera on that ledge. Definitely a nice use of space.
Toronto Kitchen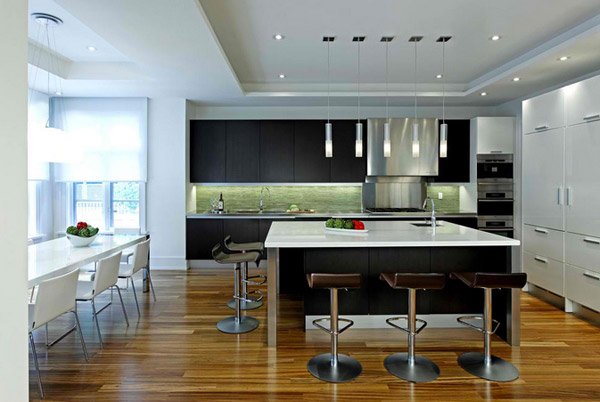 This Toronto kitchen will be more stunning if the designer took out the wall between the kitchen and atrium; but all in all, this kitchen is perfect!
Tucson Residence Kitchen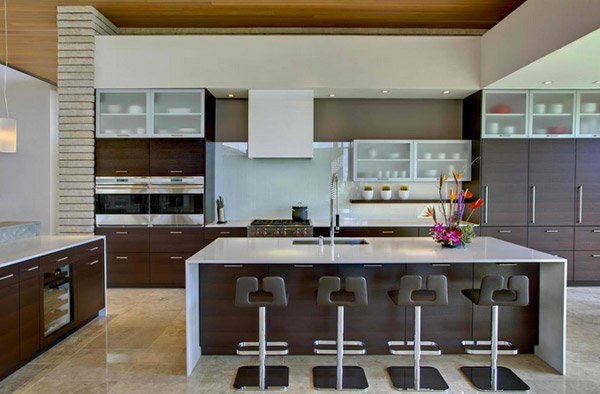 We like the layout of this Tucson residence. There is lots of storage which will definitely be helpful.
Virginia Beach Residence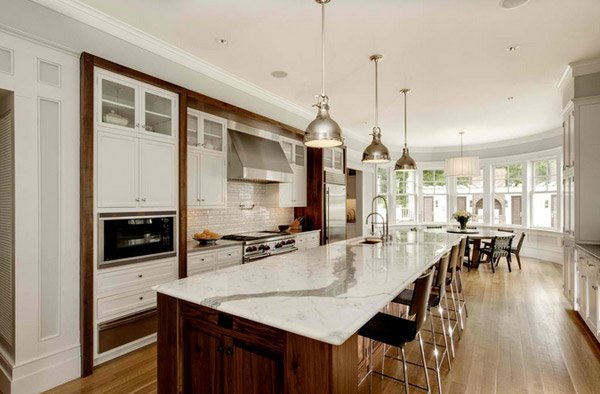 Indoors, spaces are equally airy, with the house's cross-axial layout giving way to distinct spaces that are also visually accessible to each other – allowing the family to engage in separate activities while simultaneously providing a sense of connectivity and togetherness.
Zhong Shan Jing Yi Shan Zhaung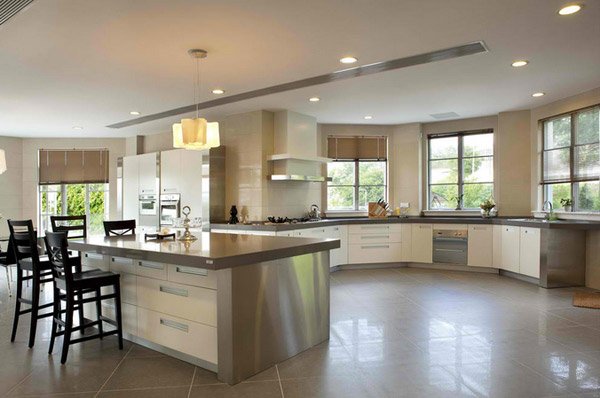 We love the color scheme stainless & beige combination with flush type handles and dark beige countertop.
South Camano Island Residence
Having multiple islands is a good thing especially if there are more people in the family who cooks, but this is most definitely inconvenient if you have kids who wants more running space. It usually depends on the need.
Like what we just said above, the space you make for your kitchen always depend on the number of users and on the need. You can always have a small kitchen and at the same time have a bigger one if the need is there – space can always be utilized among other rooms in the house. We hope that the 15 Big Kitchen Designs will actually help you in one way or another. Also, check out the list of Traditional and White Farmhouse Kitchen Designs and tell us what you think!