20 Shiny Glass Pendant Lights Giving Aesthetic Glow in the Kitchen
Want some lighting fixture for the kitchen? How about glass pendant lights?
Practically speaking, it would be more effective and enjoyable to decorate a house when you are provided with an array of decorative bits and pieces. It may sound idealistic but having enormous choices of decorative things fires-up your creativeness and imagination in time for designing. Yeah right! It's like an energy booster.
Few days ago, we have featured here at Home Design Lover a collection of pendant lights that would undeniably lighten up your kitchens. Thankfully, a pendant light is one of those fixtures that offer a wide selection of designs or types. So for today, I have here another set of collection of beautiful pendant lights that will illuminate any part of your home. This time it comes with sleek and transparent glasses!
Since glass is a very attractive kind of material they are perfect in reflecting and transmitting lights. That is why it would be a smart choice to pick for your interior home lighting. It can provide a lustrous function and style from your living room, kitchen, and dining room to bedroom. And even to your bathrooms, home offices and other parts of your house. So, here are 20 different style and designs of pendant lights for you!
1. Santa Barbara Kitchen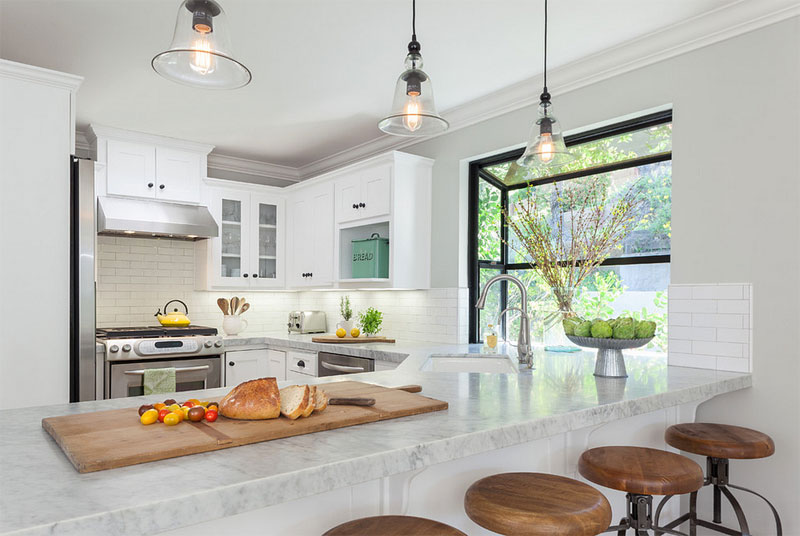 This kitchen is beautifully designed with white cabinets, backsplash, and countertop. It is then enhanced with a simple glass lighting fixtures that completes the simplicity and elegance of this area.
2. Bluffview Estates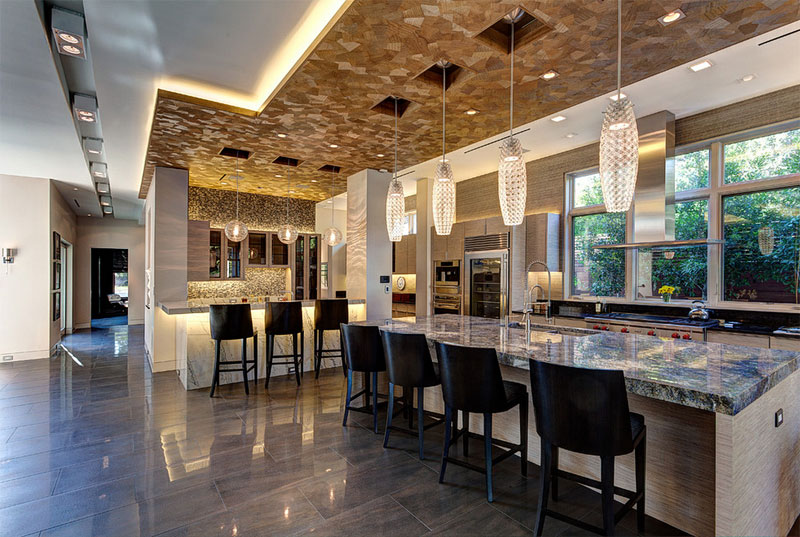 Using glass pendants in the kitchen are a great way of lighting this area. They are just so sleek and transparent where its light just shines incessantly.
3. Contemporary Ranch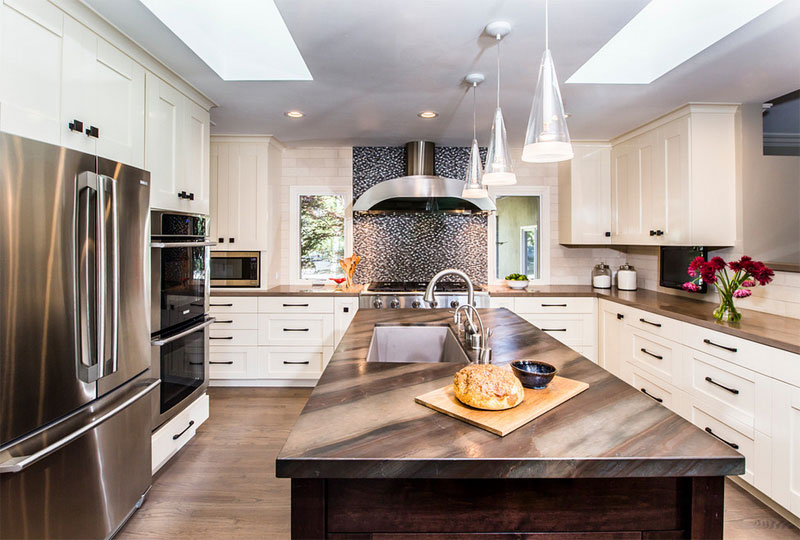 Don't worry if you only have small light opening! This can be very helpful especially when you are doing a specific task. Surely it will help you a lot.
4. Kitchen Peninsula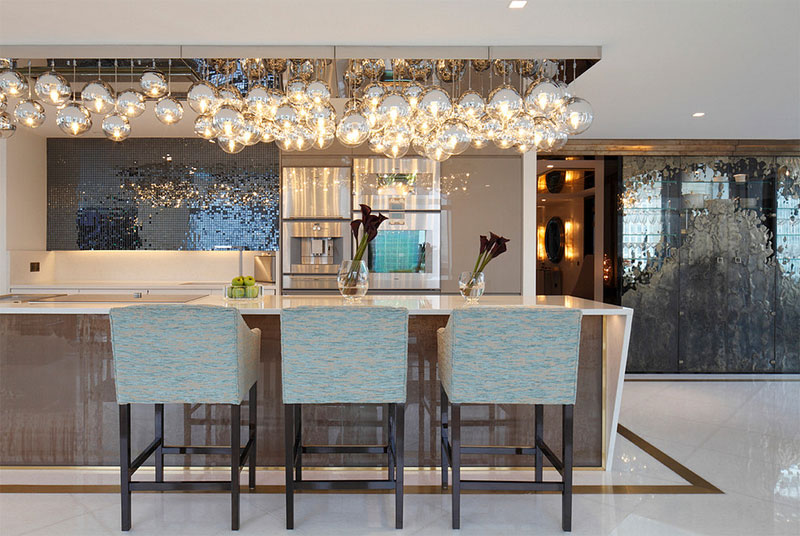 This is eye-catching! They are made from chrome glass in altering dimensions that adds to the minimalism of the kitchen and dining area.
5. Piedmont Perfect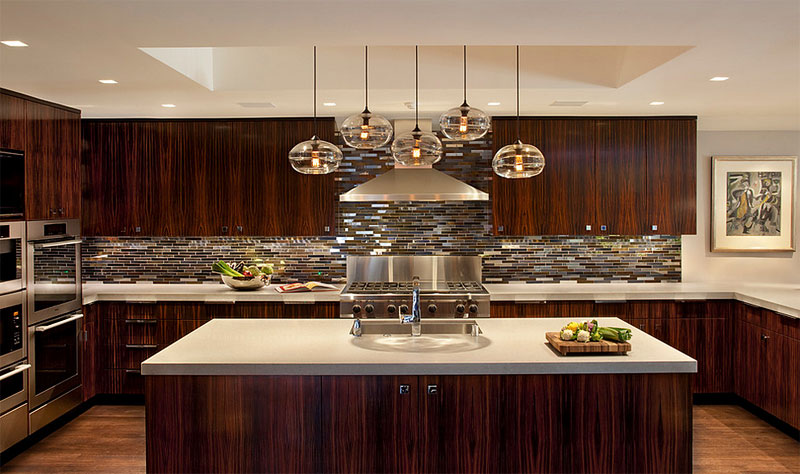 That's the beauty of a glass – it becomes unnoticeably at one glance but will unquestionably give a sense of light to a room.
6. Hudson Tea Home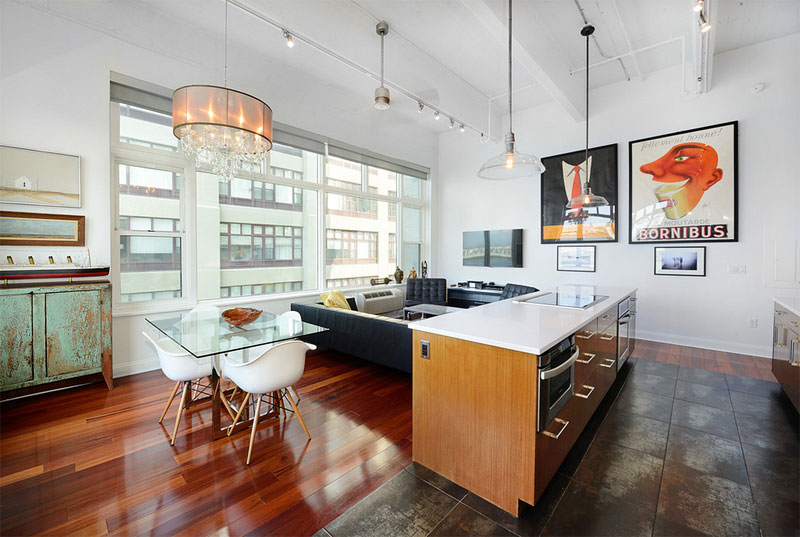 Even though you only installed two lights for your kitchen, since its transparent the light will be reflected by the glass and then will be an effective lighting.
7. Adirondack View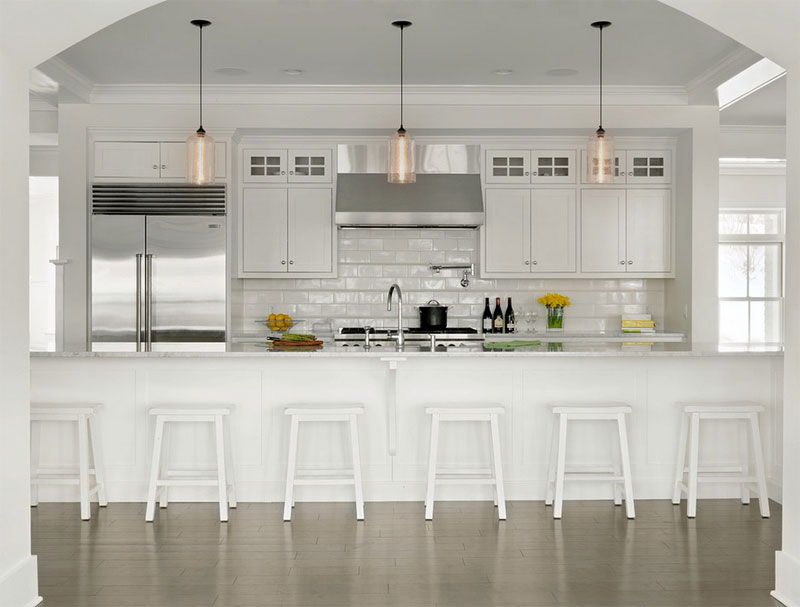 Perfect choice of pendant lights can bring a big difference inside your kitchen – just ideal for 17' kitchen island.
8. Millennium Project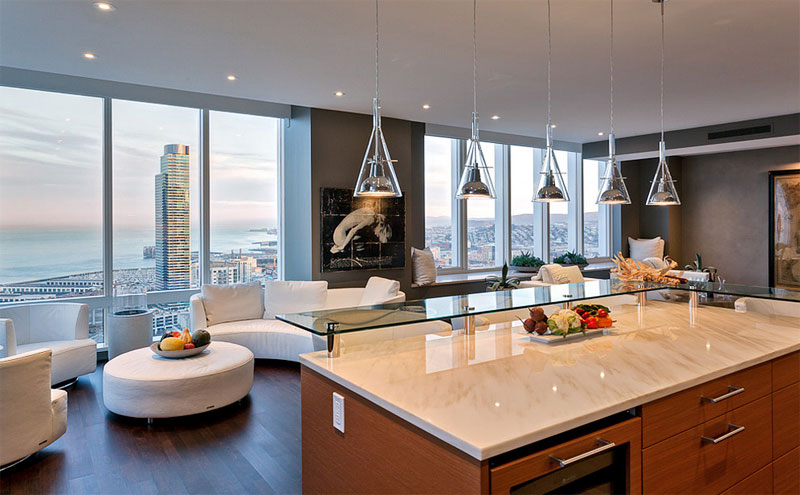 If you are not contented with just one to two lightings, I would say that having a variety of it would be greatly fine.
9. Modern Lighting + Classic Design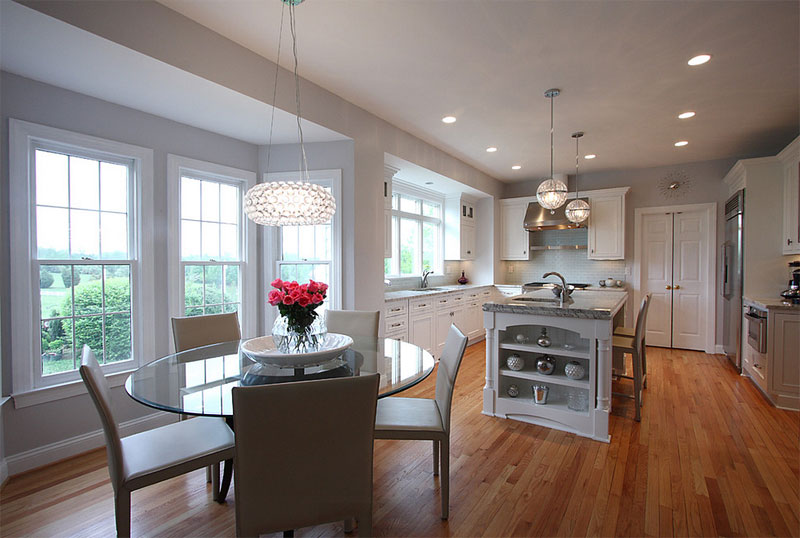 Another idea of choice for your kitchen; settle two lighting above your kitchen island and one hanging above your dining table – a perfect set up!
10. Pendant Lighting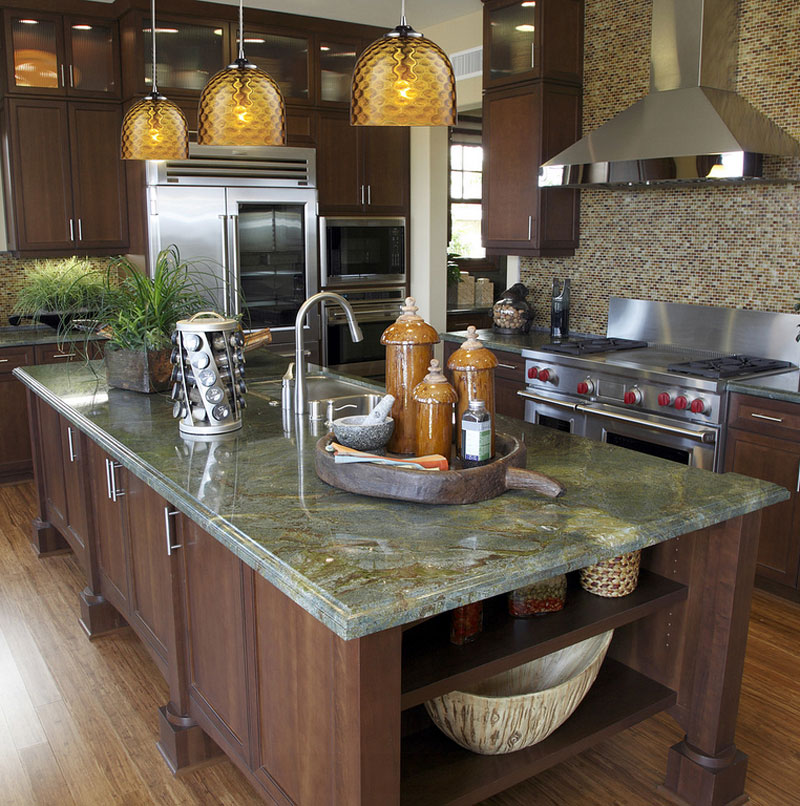 If you are more artistic, painting your glass shades would also be a good idea. It will surely give a good look to your interior.
11. Formal Dining Room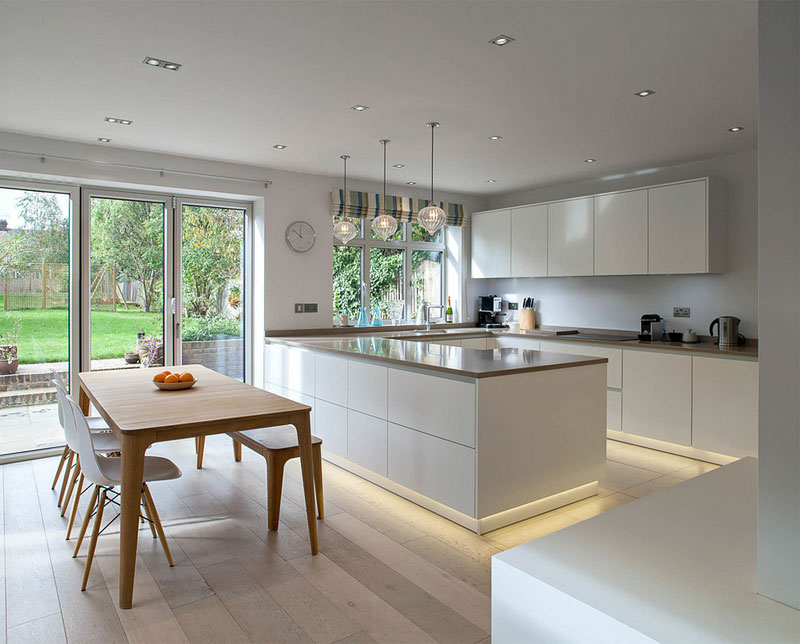 Aside from spherical shape, it is also available in a tear-drop design which can give your interior a more extraordinary ambiance.
12. Chestnut Street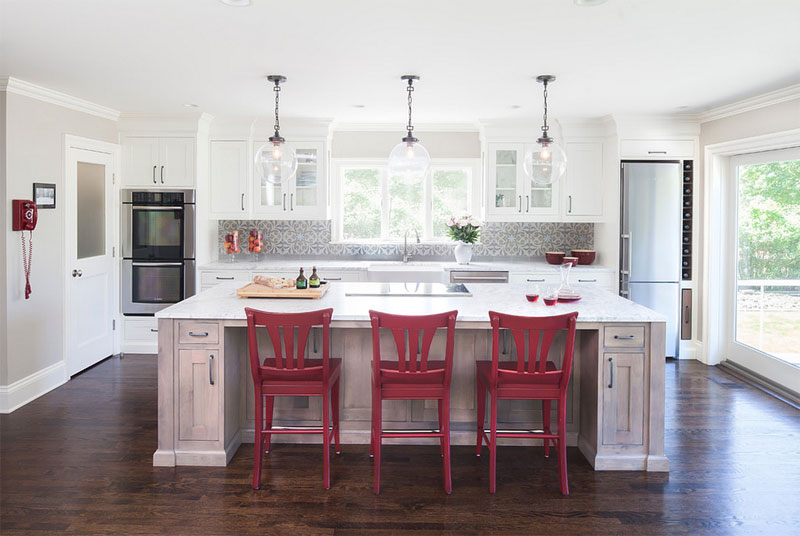 Glass appears to be transparent so it will not tend to cram your decor. You are actually adding up a decor that can invisibly bring a different glow to your homes.
13. Davidson, Scraptoft Hall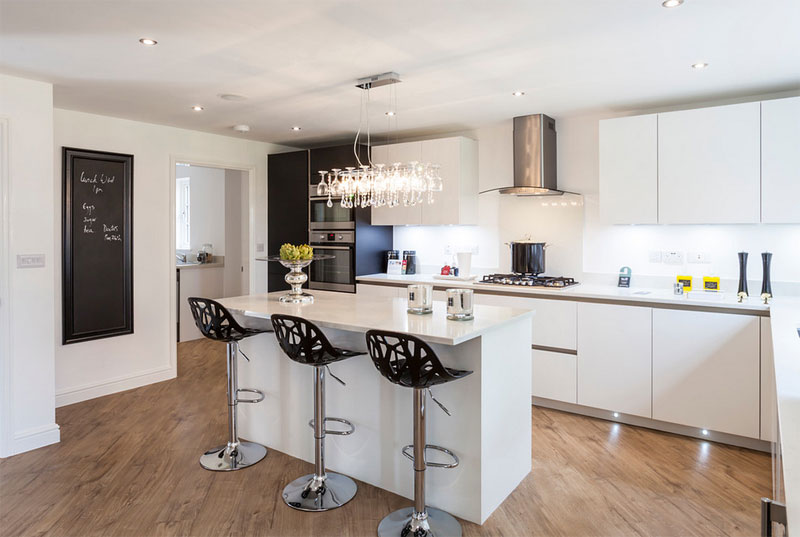 Chandelier is one great example of lighting fixture that can perk-up your homes. In contrary, a series of pendant lights are more effective in illuminating your dining area.
14. London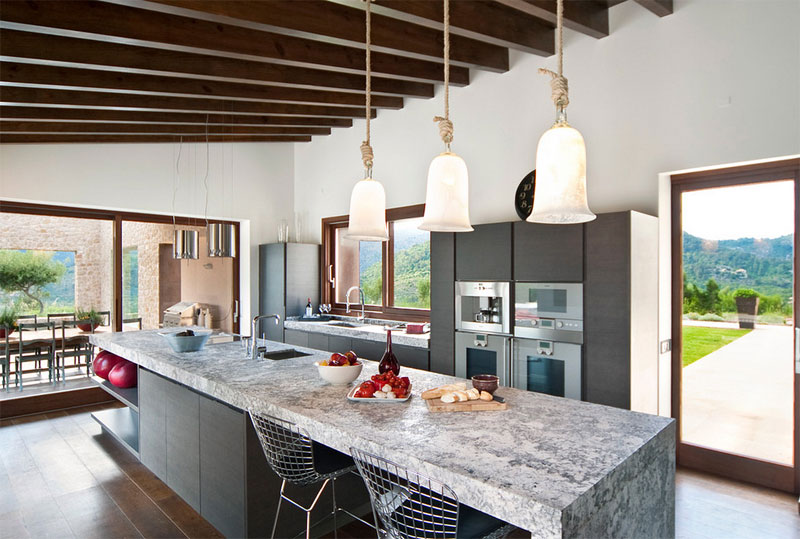 Who says glasses cannot be colorful? Well, this is great evidence! Of course if you wanted to have a vibrant interior you can just easily customize your lights by choosing the perfect tinted glass.
15. Great Room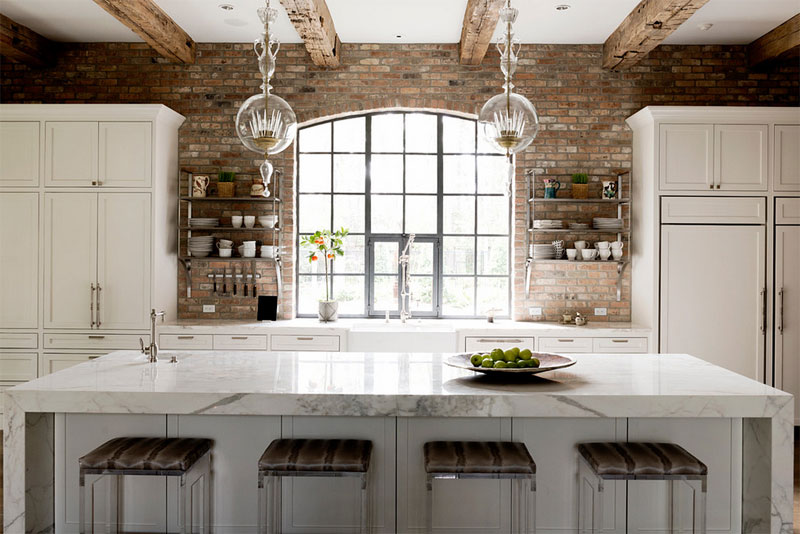 Having a high ceiling can be tricky for it may not be able to fully lit your homes. But amazingly, pendant light are very versatile – they can be hang at any length you want and surely will light up your homes perfectly.
16. Hargest Custom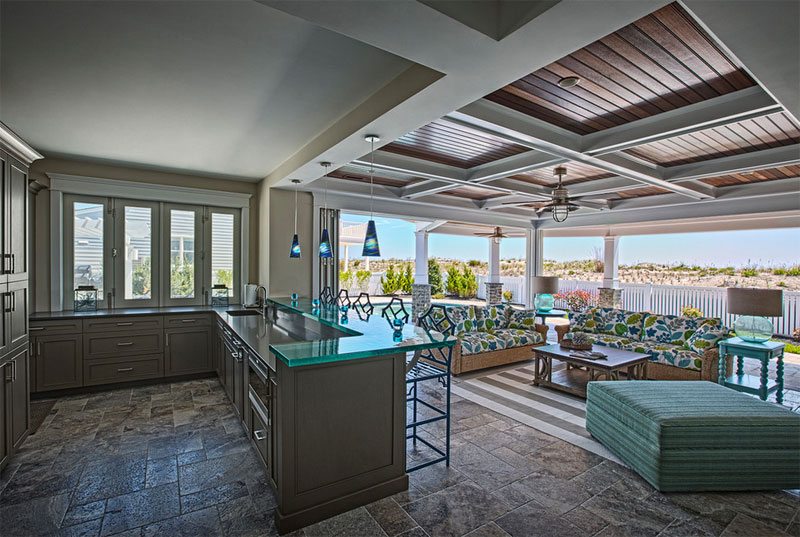 The good thing is glasses can be style with prints and colors so that they can be in unison with the design you want to achieve – if ever you are aiming for a cohesive interior design.
17. Modern Kitchen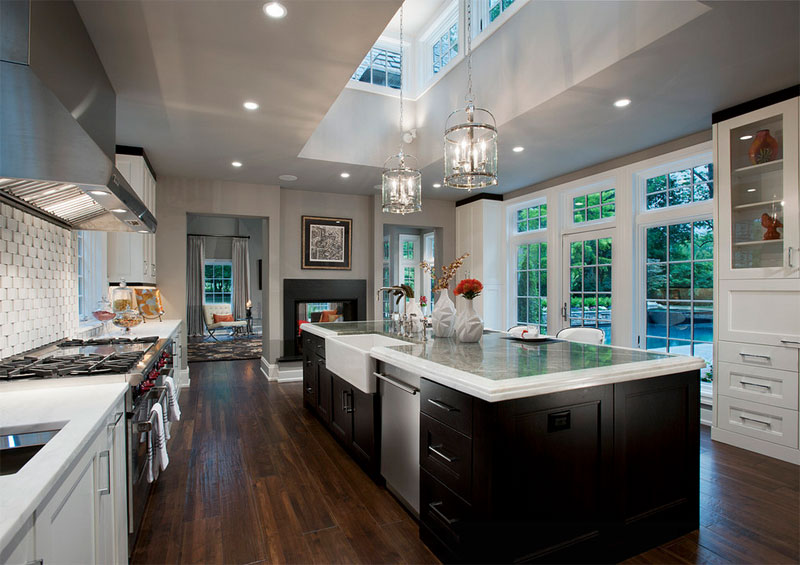 Don't be afraid to hang those pendant lights! Just make sure you'll secure it perfectly. The efficiency of its light will depend on how long you will hang it.
18. Mill's Valley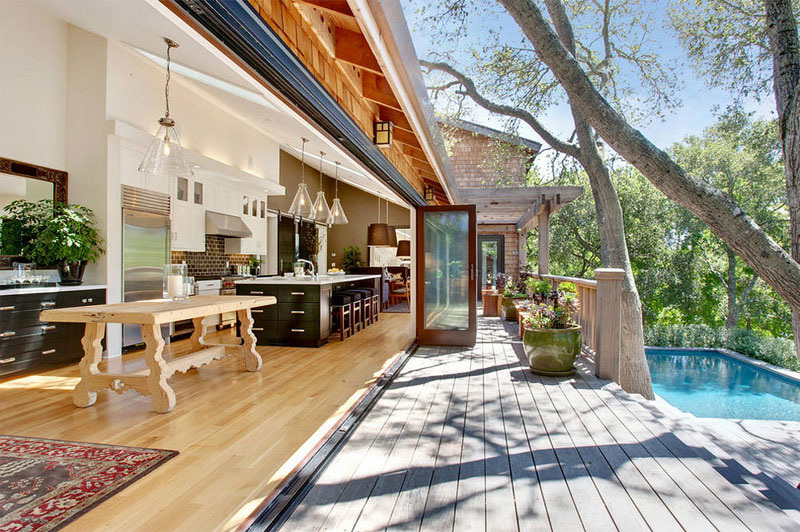 Outdoors may appear to be well-lighted because of the natural light. But during nights surely it will sustain a lively ambiance because of the pendant lights.
19. Manhattan Beach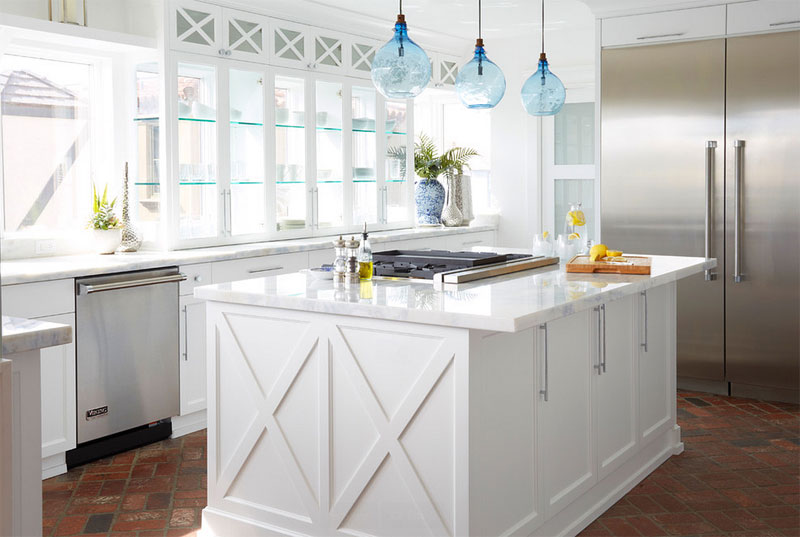 You need not to expend lot of penny just to achieve the ideal lighting fixture. There are glass jars that can be customized and can bring an effective light rays to your homes.
20. Wilton Whole Home Renovation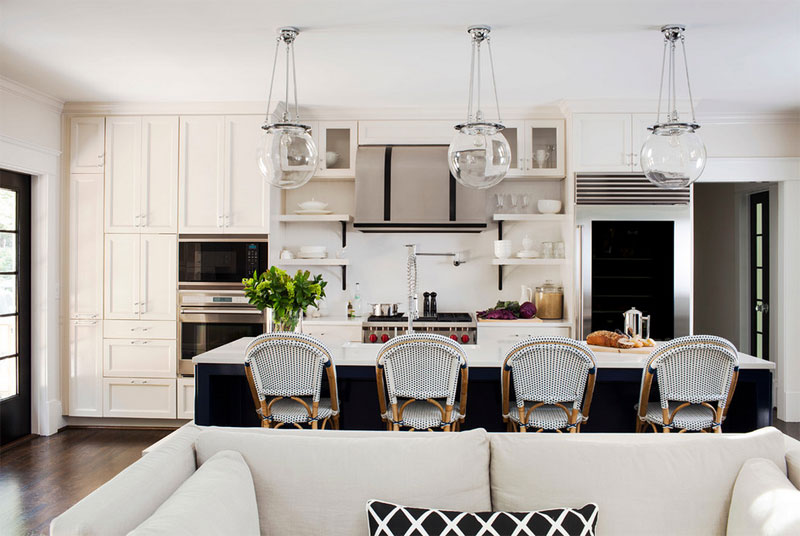 Notice the pendant lights in this kitchen — if you opted to have an elongated counter, placing a row of three large-scale pendant lights above is a great way to convey spotlight to the space. Glass pendants like these are elegant and are useful in maximizing the light.
Looks like those were really gorgeous fixtures for home lightings. Isn't it really nice when you have a lot designs to choose from? So have you already chosen your bet? Then start planning where to hang it! But don't limit the potential use of lightings. They can just be placed anywhere inside your homes, as well as outside. You just need to be imaginative and resourceful. You'll definitely love its outcome!