20 Beautiful Kitchen Stools with Seat Covers
Have you seen kitchen stools with covers? They look cute especially with prints!
A few months back, I created a list about dining room chairs with seat covers and I think that the list sure showcased the chairs and the beautiful fabrics that were used on them. Although not everyone is a fan of seat covers, I think that it's really useful.
So, whatever the reason behind home owners using seat covers, I still think that if you use the right fabric for it, you'll definitely have awesome-looking chairs! In this list though, depending on the design of the stools, there is definitely different ways to cover those lovely chairs. Check out this list and tell us what you think about them; and if you're using them at home, tell us why you do it!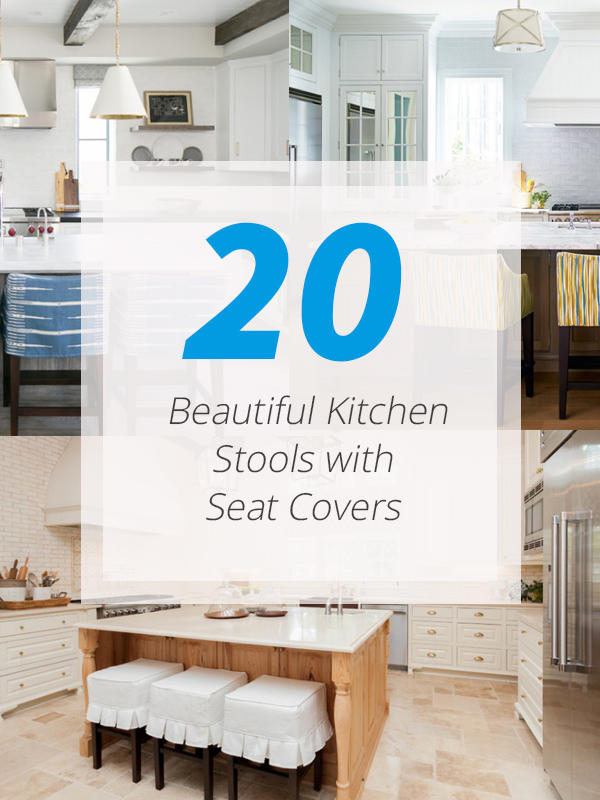 1. Bayshores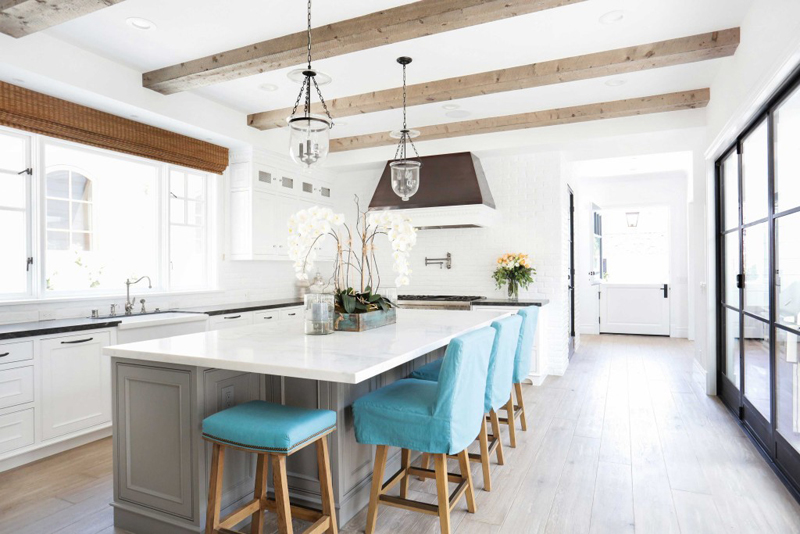 I made sure that this would be in the beginning of the list because of the cute color of the seat cover. I noticed when collecting the photos for this list, is that most of the seat covers used in the kitchen are actually in block colors or well, plain. This is I think because some prints do not go well with the existing colors or design of the space.
2. Bright and Bold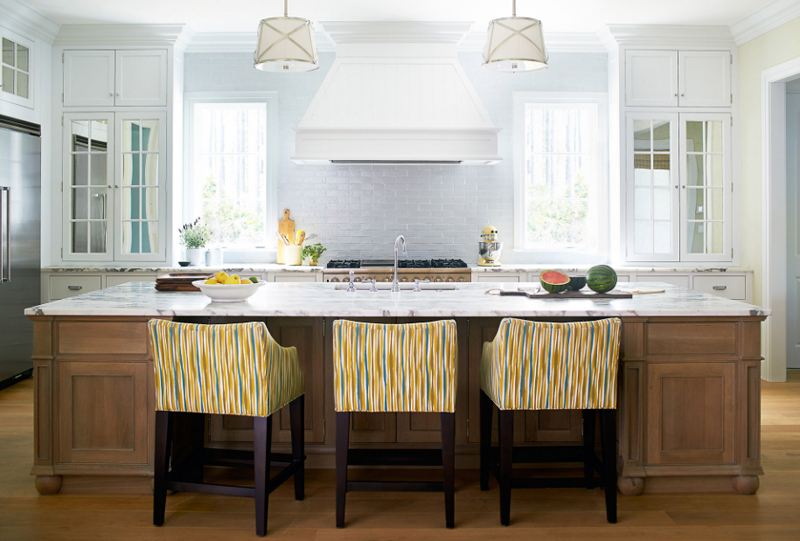 Here is one variation though – something printed and pretty much colorful. I like how everything inside this kitchen is actually plain and it's just the chair's seat covers that add a hint of print in here. The color choice is actually bold but real cool.
3. Lemon Street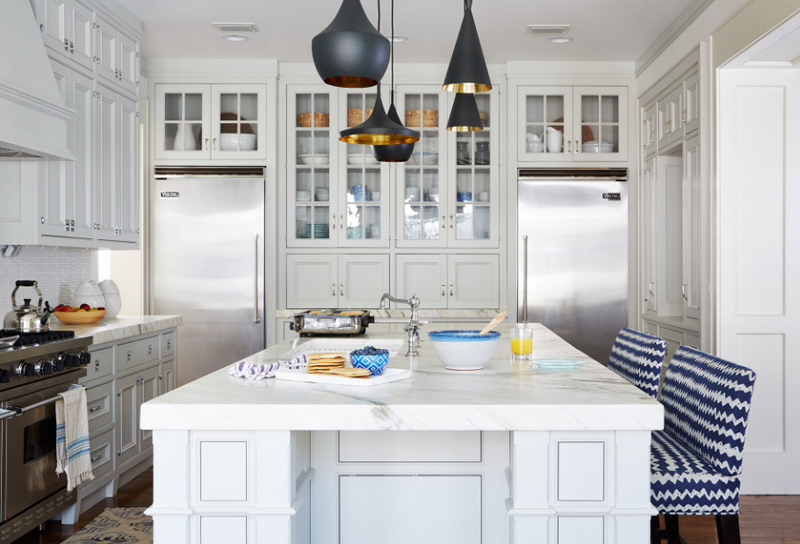 The blue and white zigzag print on the fabric used for the seat cover for the stools is pretty neat. It sure gives off the beach vibe that this space actually has. What caught my attention next from the seat cover is the fun pendant lamps above the kitchen island. It's nice that they added variety of these lamps.
4. Los Altos Residence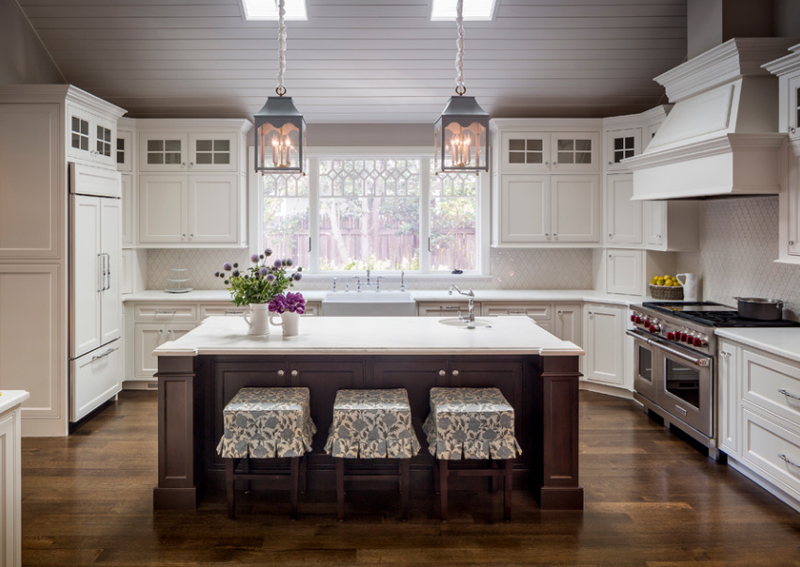 The simple and traditional design of the seat cover is pretty interesting for me.
5. Mandeville House
I was not able to get a closer photo of the kitchen part showing the kitchen stools aside from this one but I think it's nice that this entire angle of the kitchen is seen because we get to see that the chairs of the dining set uses seat covers too – and everything in here is in white! Too hard to maintain if you actually have kids at home!
6. Marigold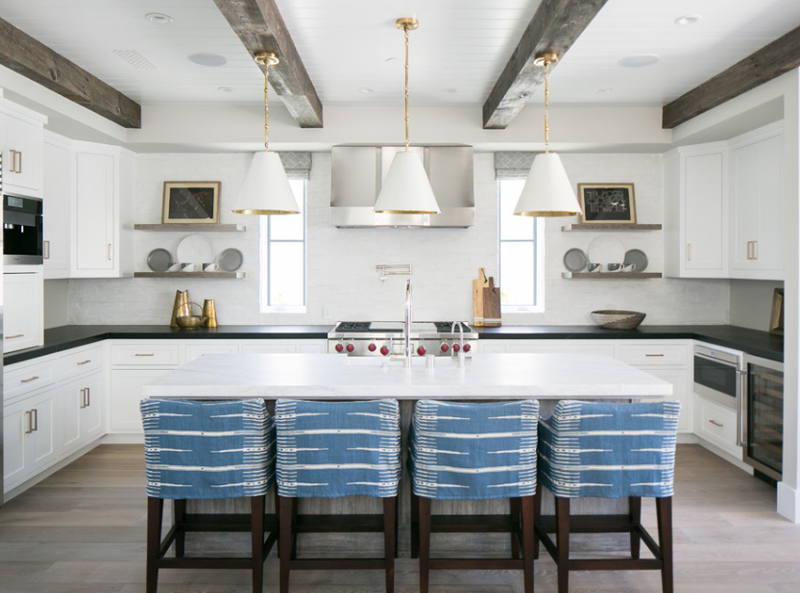 Well, the back view of these chairs in here looks simple; but I like how this is also the only color separate from the black and white theme of this kitchen. Look at the stunning pendant lamps in here too.
7. Old World Revamped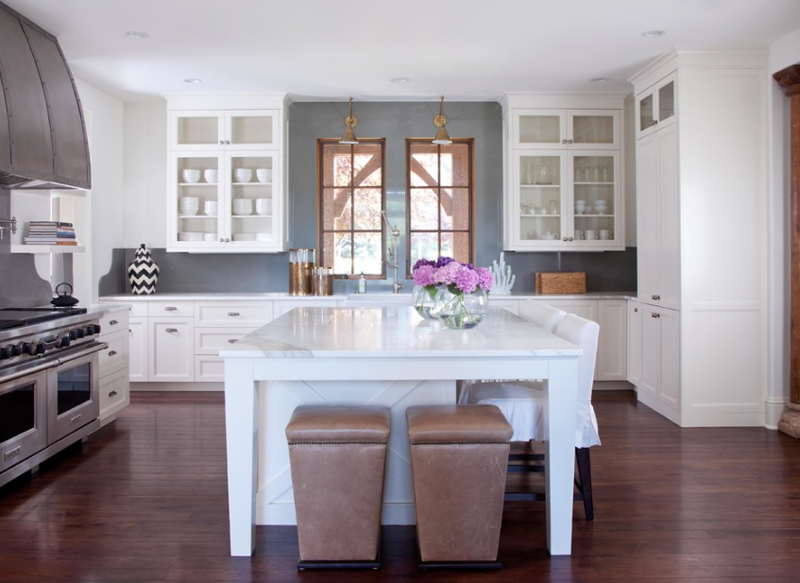 What do you think about this beautiful kitchen? The cabinetry is stunning, the furniture is gorgeous and the kitchen island is just so pretty! I think this is one kitchen island I actually really like – plus the oven too!
8. Sea Winds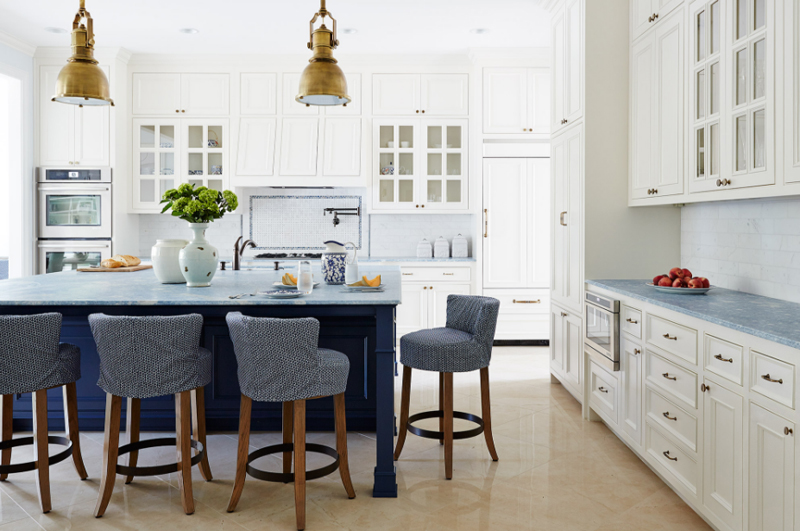 I think that the gold-plated or gold-colored industrial lamps might be too much, but it's like the center of attraction in this kitchen. Anything around it like the kitchen island and the covered stools are just accents, right?
9. 183 Settlement at Willow Grove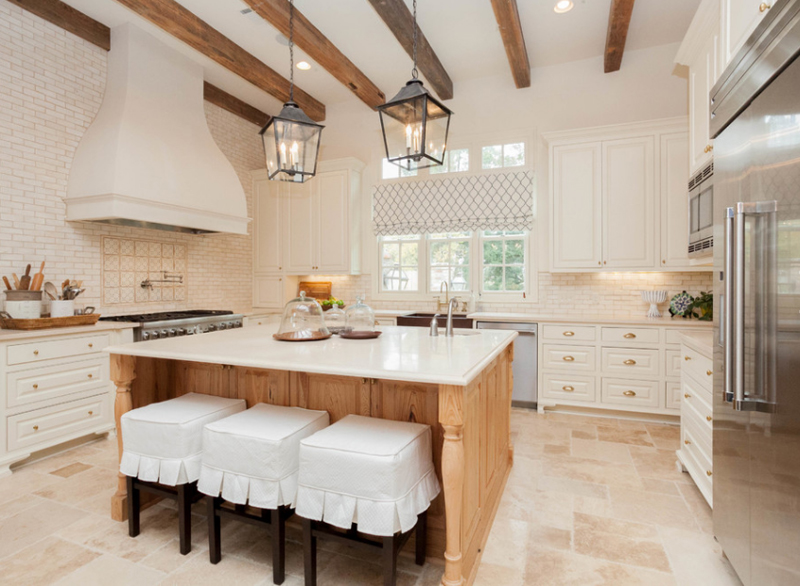 The white kitchen is one classic look home owners usually go for. Aside from having a stunning living room for entertaining guests, I think that people would consider having an equally stunning kitchen or even so much more.
10. Transitional House Kitchen Remodel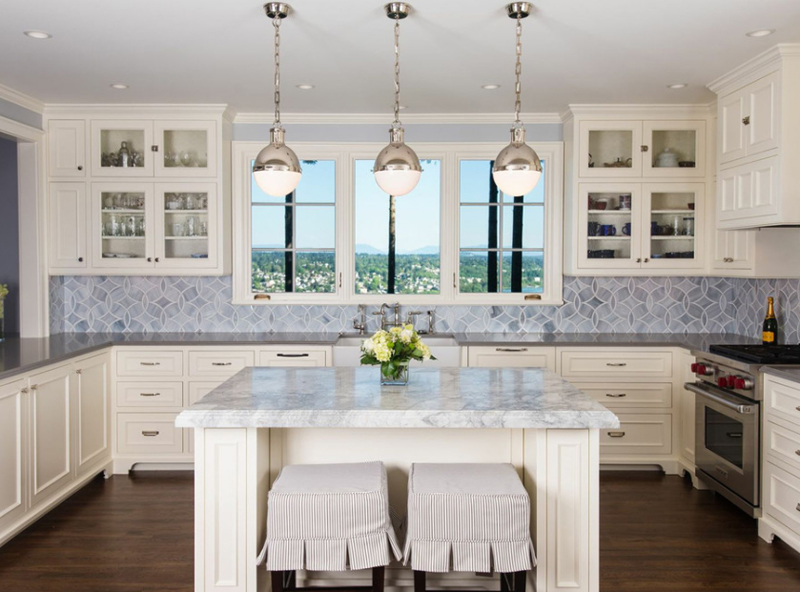 Noticed the kitchen photos that we have been seeing have industrial lamps above their kitchen bar or islands? A common denominator among them and I think that kitchens without pendant lamps seem sad or dark. Believe me, even kitchens deserve mood lighting!
11. Balboa Island II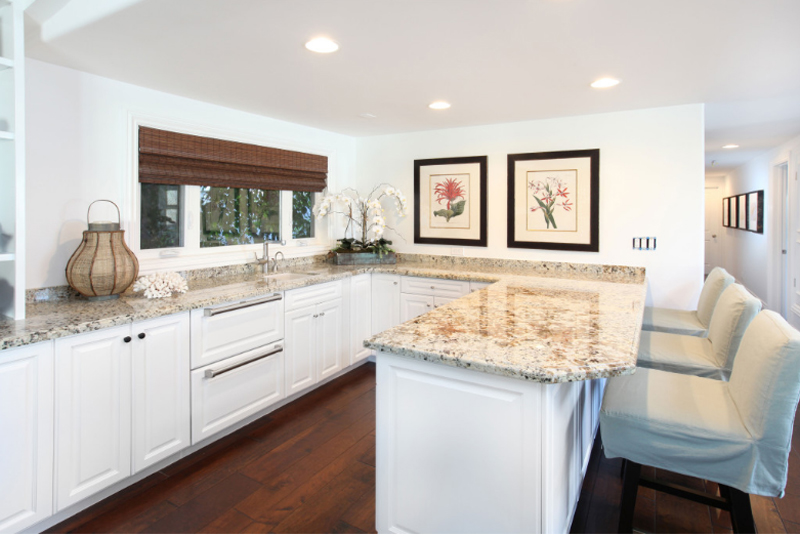 A simple kitchen with a functional space – I should say, with a continuous marble countertop that ends with a nook for people to have meals in. The plain colored seats covers just blend well with the color of the entire kitchen.
12. Ranch Lane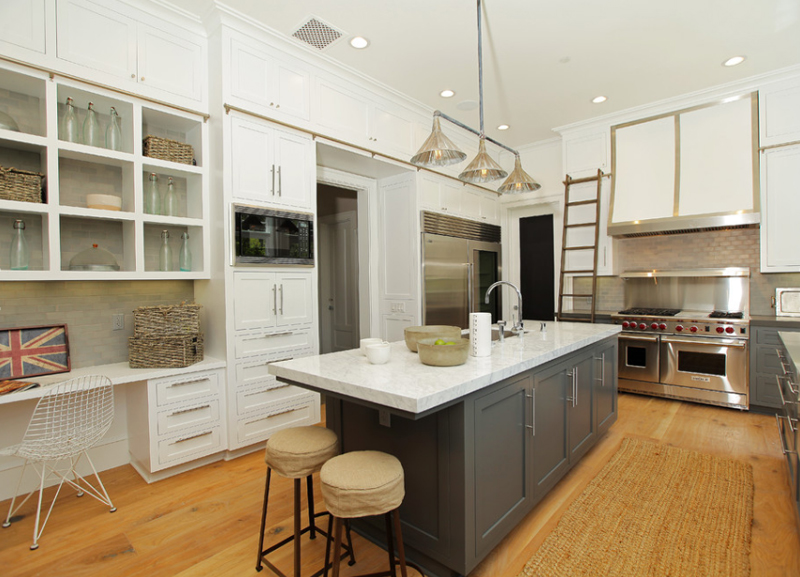 This is one large kitchen that even when it's actually clean, I feel like it's a bit cluttered. All in all though, I think that this kitchen is one large space that would allow a couple of people bake or cook together as an activity of some sort.
13. Kleinburg Residence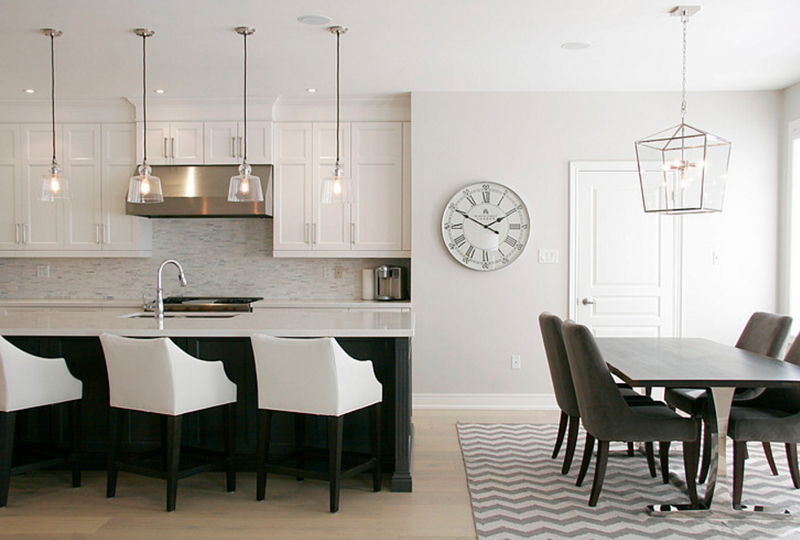 I surely think that this kitchen and dining area is real pretty. Of course, it's the classic black and white and accented with neat lighting fixtures and cute decors 0 which might be common and all, but definitely a classic. I love it!
14. Coastal Chic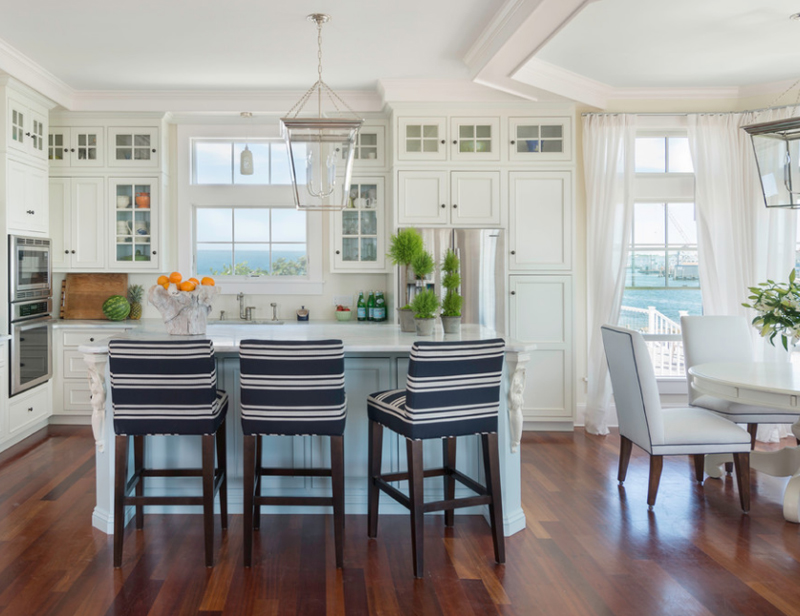 This is one beautiful coastal kitchen! The whites on everything and hints of blue on the seat covers is perfect! In this kitchen though, I think what bound the whole space together are the floors. What do you think?
15. Lake View Residence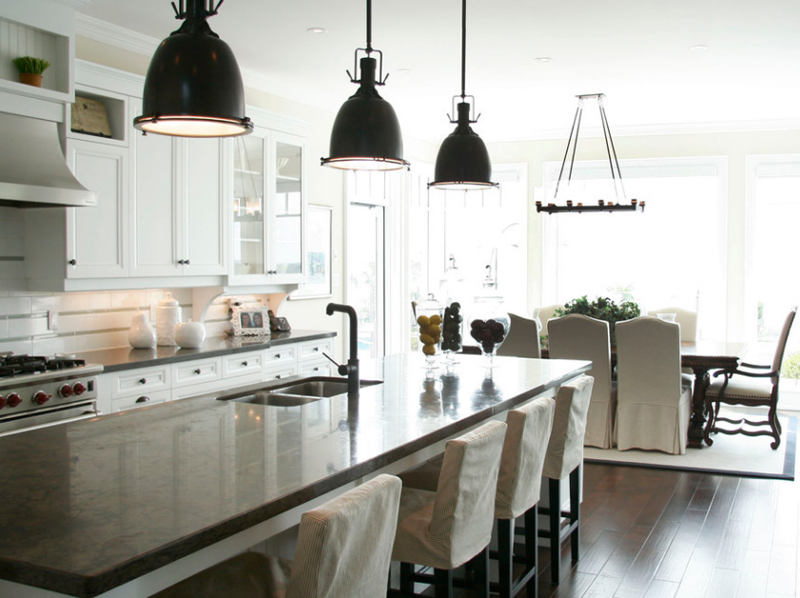 I feel like these seat covers, both for the kitchen stools and the dining room chairs are like the white linens people place over their furniture or whatnot when they actually leave their houses for a long time.
16. Menlo Park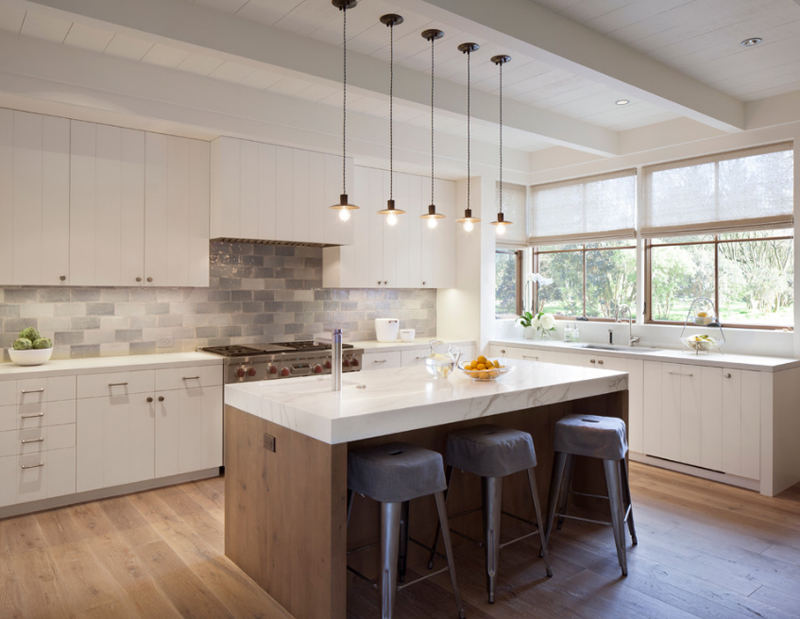 Now this one I had to really include in this list because of the fact that plastic stools like these ones are covered in seat covers too. If you might have noticed, everything (except this one, I think) are wooden stools covered with fabric; but look at this mid-century stool which is plastic and used a seat cover. How about that?
17. St. Helena II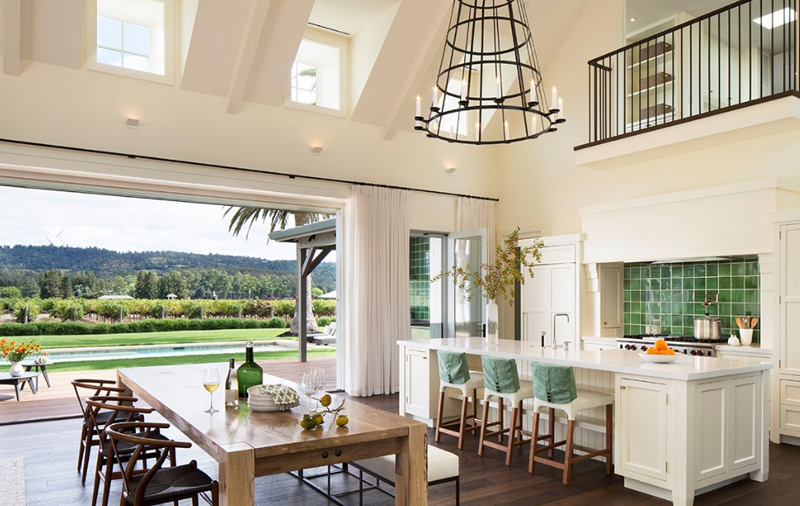 When I saw this photo I got too excited with the view of the outdoors! Was it the first thing you actually noticed when you saw this photo? I know I did! I didn't even care for the cool looking chandelier and the high ceiling. Seriously! What do you think about this space?
18. Watch Hill Beach House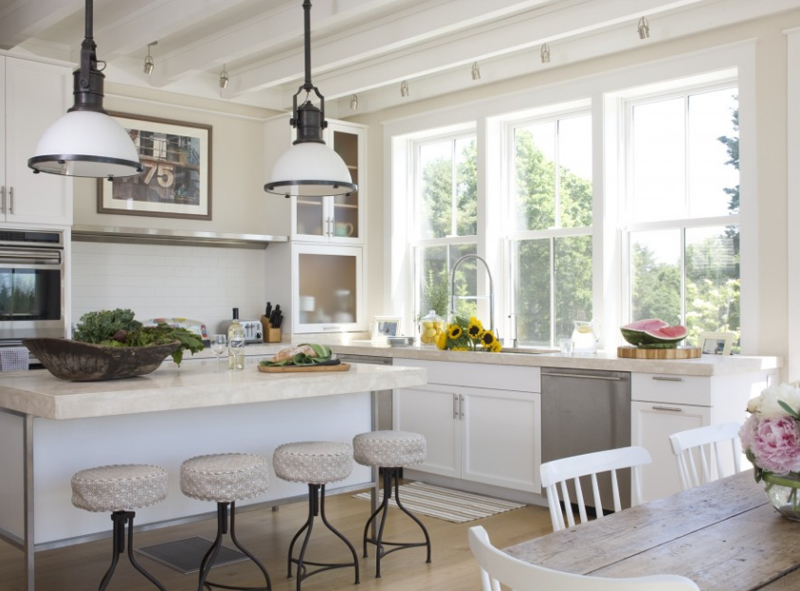 This kitchen is real cute. I don't know why I said that but in general, I think that everything in this kitchen is just so charming and feminine – even the large pendant lamps above the kitchen island. The chairs are really nice and cool – even the white fabric; and that is because of the visible texture there is.
19. Historic Decatur Whole House Renovation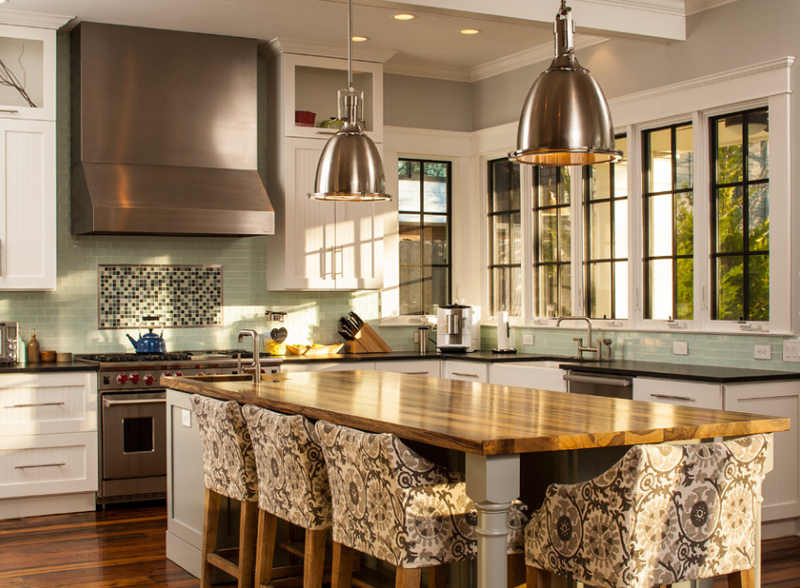 The kitchen island that serves as a nook is pretty awesome too! But, what do you think about the fabric used on the seat covers though? Are they something you'd consider or not? I mean I'm sure that the homeowners change it up every now and then. Of course things like this is most likely specially done by order or something.
20. Boman Remodel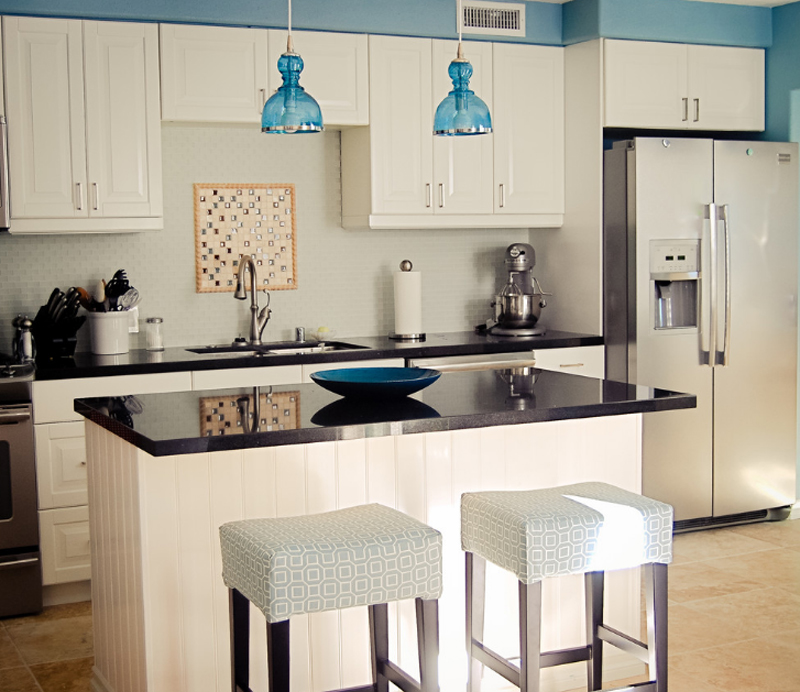 Last but not the least, of course is a cute and contemporary kitchen which you can usually see in ready-built homes – it's pretty much made from standard and made for the heck of it; of course we do not mind stuff like these especially when we really need a new place with a decent kitchen space.
If you ask me, I think that the only time that I'd be using seat covers for my chairs – whether it is in the living room, dining room, bedroom or in the kitchen, would be when my entire space does not go well with the color of my current furniture and I think that the easiest solution would be to use one, then that's the time that I'd be using one. Well, that's me of course. Do check out seat covers in the dining area and share them on your social media platforms! More lists coming your way guys, only here on Home Design Lover!