20 Assorted Dining Room Seat Covers
Time and time again, we try to determine new ways in re-creating or re-designing spaces in our house – most often than not, it may cost a lot, of course depending on the changes that we actually want to make; do we want new partitions, new doors or windows, new paint, new cabinets – say it and we professionals or even you can personally check on the prices of the materials and labor that you think you will need.
Today, you will be seeing options wherein you can save a lot through seat covers! That's right! If you are looking to update the look in your dining room or kitchen, using seat covers can save you a lot of money! It may be a small change in your space per se, but choosing the right fabric and making sure that it fits will definitely make a change you didn't quite expect. Check the picture below for you to see what I mean.
1. Atlanta Kitchen and Dining Room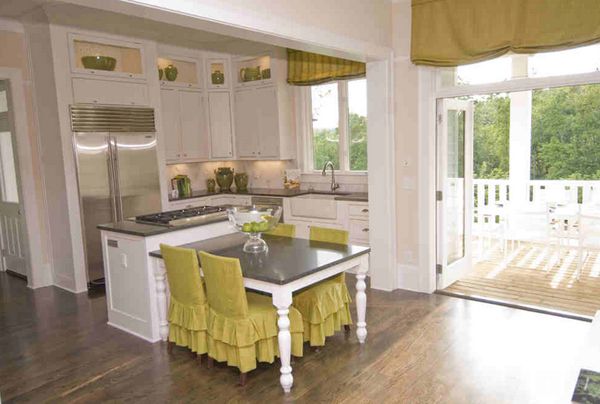 Not everyone is a fan of ruffles and mustard yellow, but I guess any color for the seat covers will suit this kitchen very well.
2. Boca De Canon House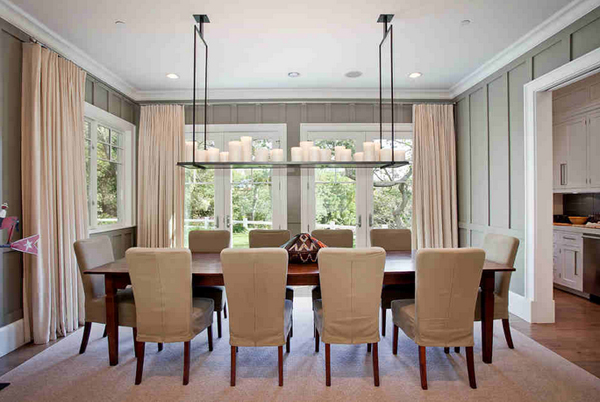 This lovely breakfast room, overlooking the garden, is an inviting place to start your day lingering over Sunday morning coffee.
3. Black Dining Chair Covers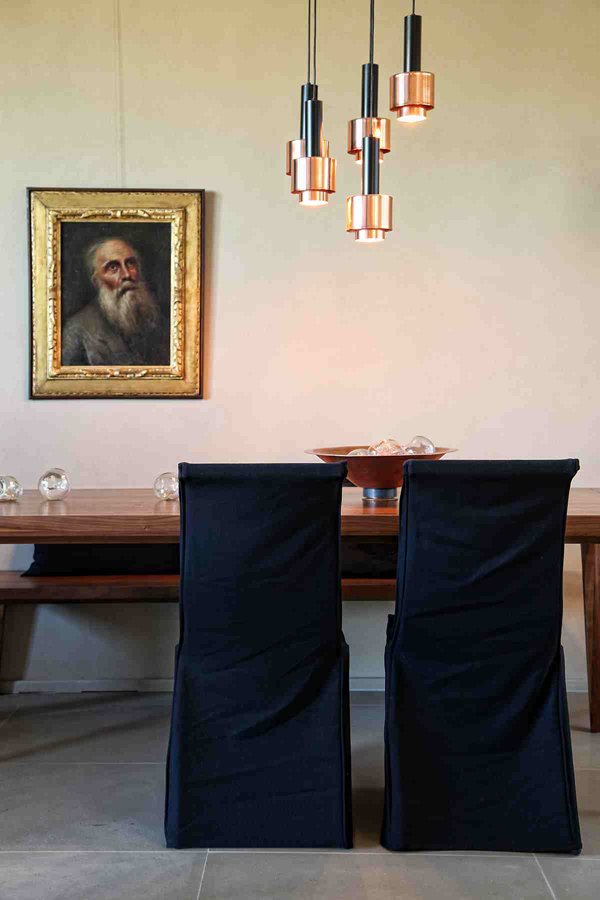 This dining room chair seat cover sure is simple and elegant. Note the pendants too! They're gorgeous.
4. Chelsea Dining Room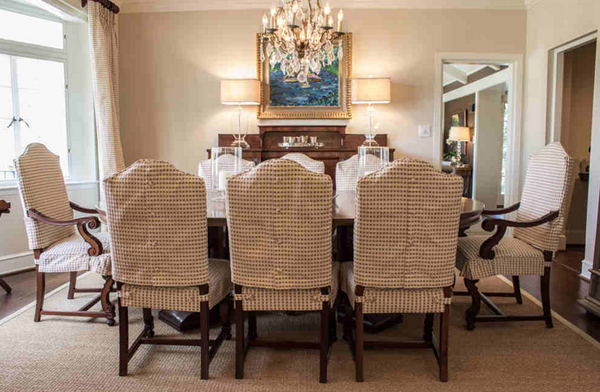 Slipcovers on chairs can be used to update antique chairs and is a cheaper alternative than buying new chairs.
5. Chicago New Construction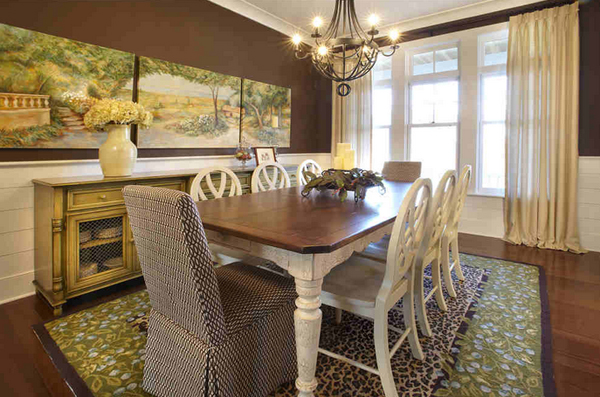 Horizontal wainscoting in this dining room helps to stretch the space visually – it feels larger than it is. It also lays a foundation for the creamy tones of the chairs, table and draperies.
6. Henriksdal Dining Room Chair Slipcover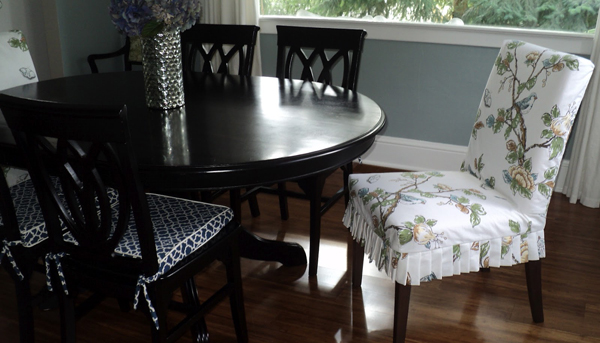 Adding florals in a room seems to add more happiness into the space.
7. Eclectic Custom Slipcovers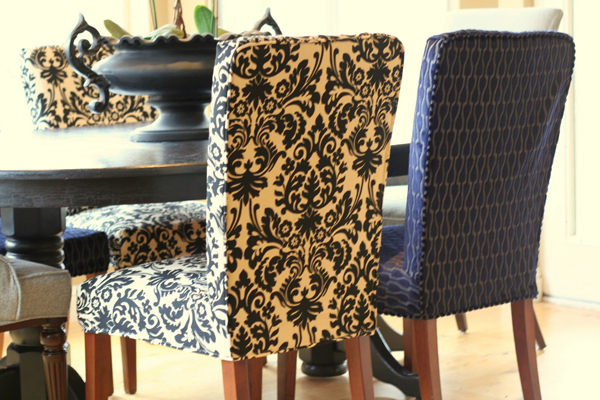 Who said that you can't combine different fabrics for the seats – individually? This is one example where three unique fabrics were used to create individuality to the chairs.
8. Fitzroy Development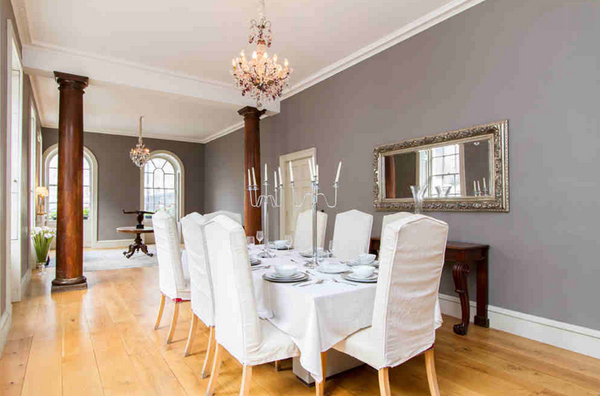 Reminds me of old lounge! I really like the color, maybe on the fireplace wall with cream roman matching color Roman blinds with cream edge.
9. French Country Dining Room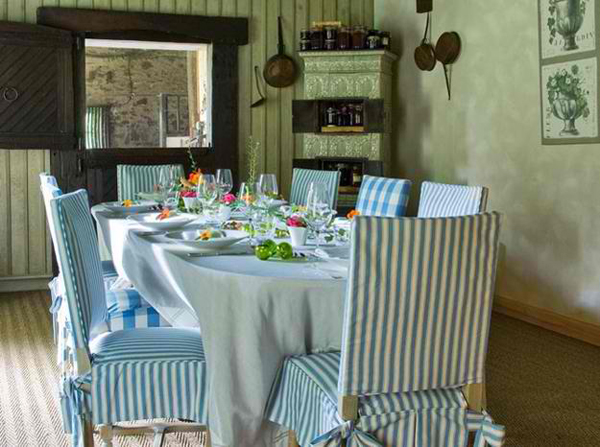 This is actually a remodel using existing furniture with new slipcovers, paint, and flooring. The blue striped slipcovers complement well with all the neutrals.
10. Lido Island I
Nice rustic yet elegant iron pendants that go well with the lighter colored table and chair slipcovers.
11. Los Angeles Farmhouse Dining Room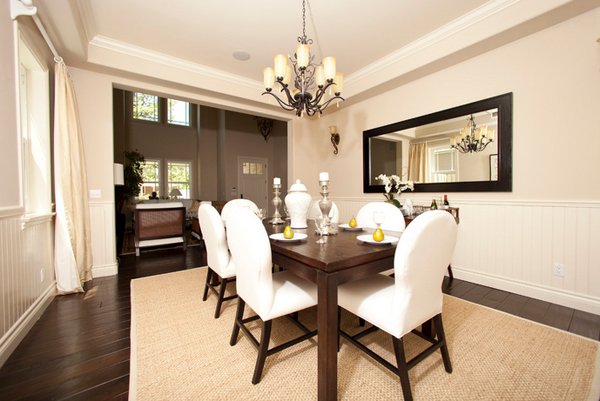 Lots of white on white really brightens up any space. Start by whitewashing all your walls and furniture. Then layer white textiles, plates, linens and seat covers.
12. Muskoka Cottage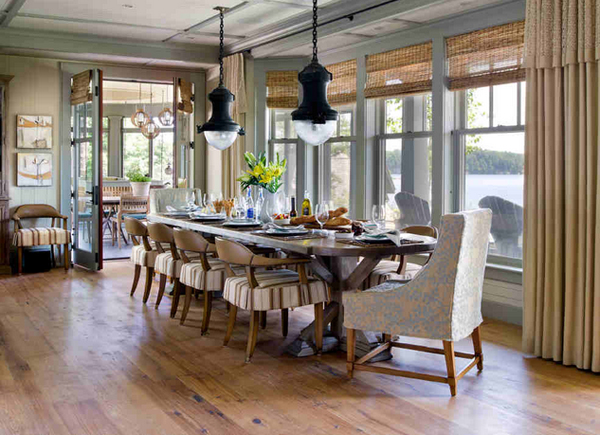 The ceiling pattern of this space reminds us of a loft – with rustic pendants. Simple floral print on the main dining room chair slipcover and stripes for the rest.
13. Neutral Slipcover Dining Room Chair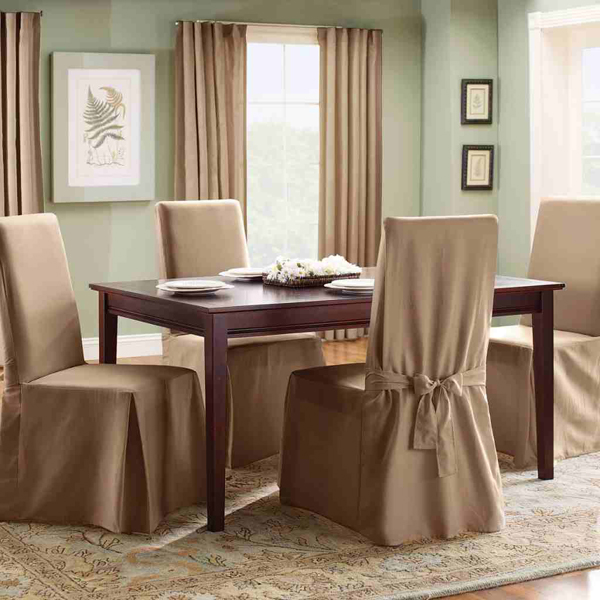 Neutrals like these makes chairs look elegant and expensive – of course choosing the right color for your space is always something to be careful about to avoid making your dining space tacky.
14. Nice Pink Dining Room Cover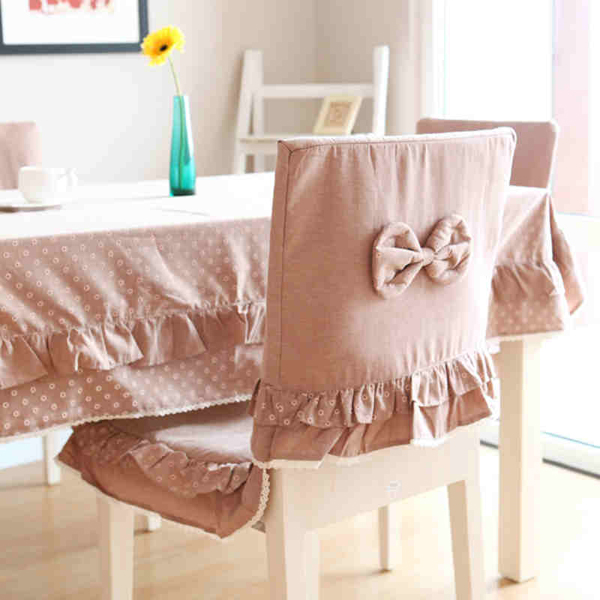 This cute pink slipcovers with polka dots and bows sure is something I will love to have at home just for the fun of it!
15. Pink Dining Room Chair Slipcover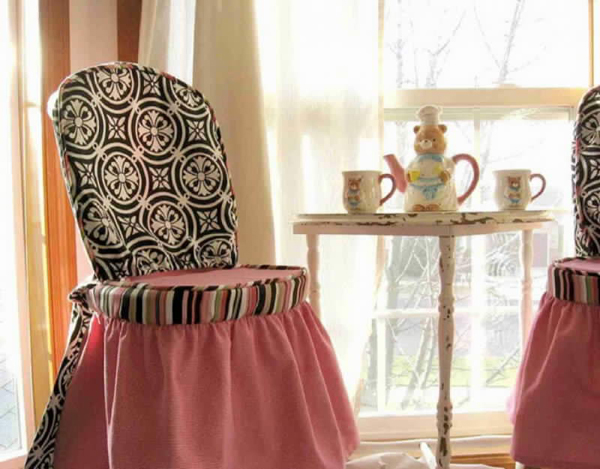 Combination of prints in one slipcover can be tricky – but looking at this one seems to make me think that this was done maybe by the homeowner, but it's pretty, right?
16. Red & Grey Dining Room Seat Covers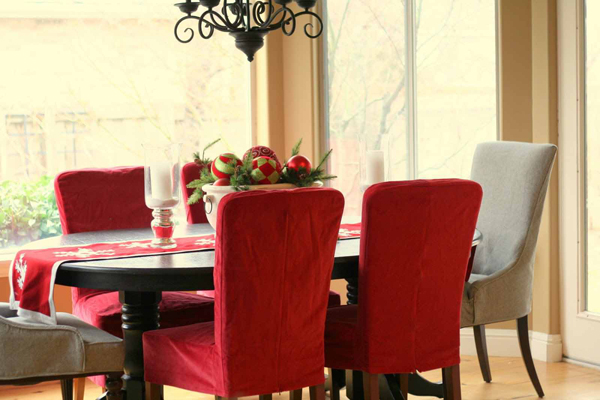 Neptune Fulham has a distinct taste when it comes to home designs but take a look at this simple slipcovers that does not have to fight for attention in this space.
17. Seat Covers with Leaf Pattern Cover Chair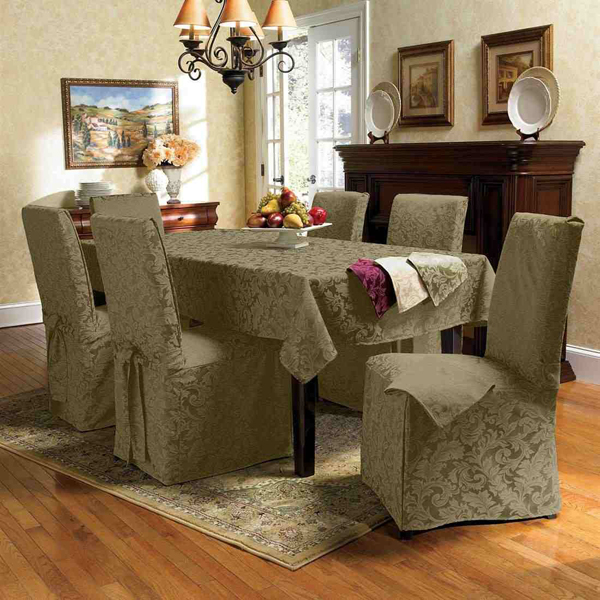 Using printed fabrics for the slipcovers you have to be careful not to overpower the entire design of the space.
18. Society Hill Renovation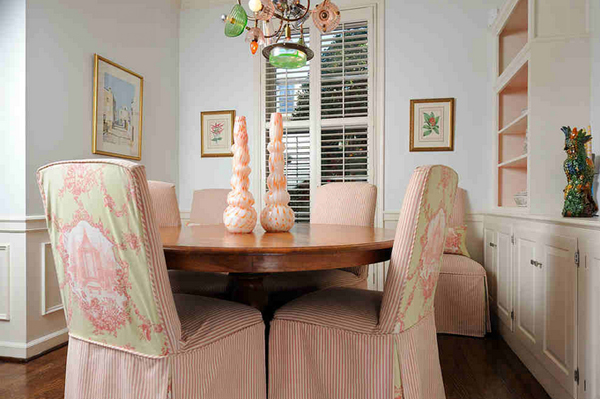 Toile and striped fabrics on the parson's chairs are a nod to traditional townhouse style; the colors of the chandelier inspired the pink and green color palette.
19. United States Dining Room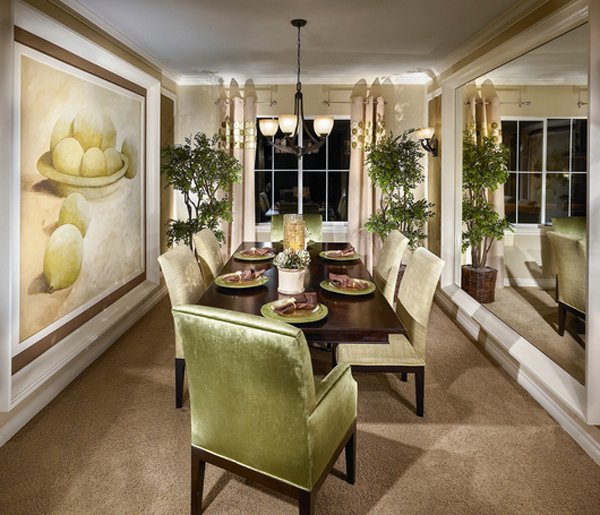 In this image from Behr, you can see that although Ocean Liner is quite vibrant, it has a slightly muted quality that allows it to be featured on all four walls in a room without overwhelming the space with color.
20. Verona Short Dining Chair Slipcover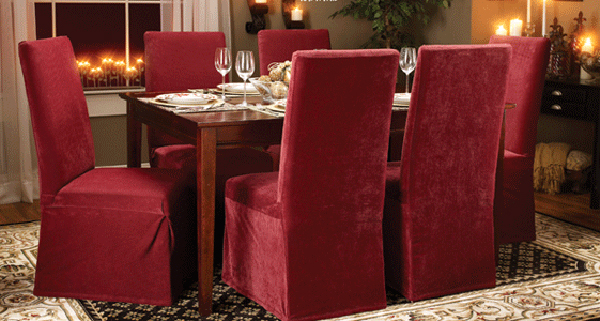 This dining room seat covers remind us of how elegant the color red actually is. With all the ambience lighting in this room, who's to say that it's not romantic?
And there you have it ladies and gentlemen – an option you can always opt to when deciding to make a few changes with your dining space – the answer to someone's prayer out there – seat covers or slipcovers! These covers are usually seen in beach themed dining areas but in other interiors as well. More to come on Home Design Lover!