15 Ideas for a Mid-Century Modern Dining Room Design
We sure hope that you are not yet tired of all the long list of styles that you can find because today we will feature another interior design style for you. This is called Mid-century Modern design which was further developed from Frank Lloyd Wright's principles of organic architecture combined with many elements reflected in the Bauhaus movement which is the creative center of modernism. It is organic in form that is why you will see wood all around and other natural materials. It is also characterized by clean simplicity.
Dining rooms with mid-century modern designs have ample windows and open floor plans. It brings the outdoors inside by opening up interior spaces and letting natural light in. Most of these spaces also use glass as walls. Take a look at what we have collated for you with this design so you can get ideas on how you can work on your own Mid-century Modern dining room.
St. Mary's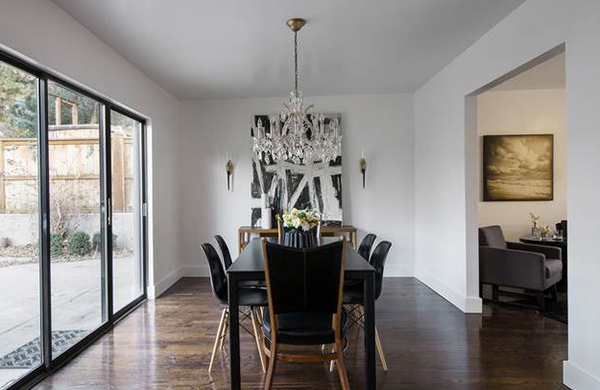 A clean looking dining area in black and white with a dramatic chandelier made from crystal.
Bull Mountain Residence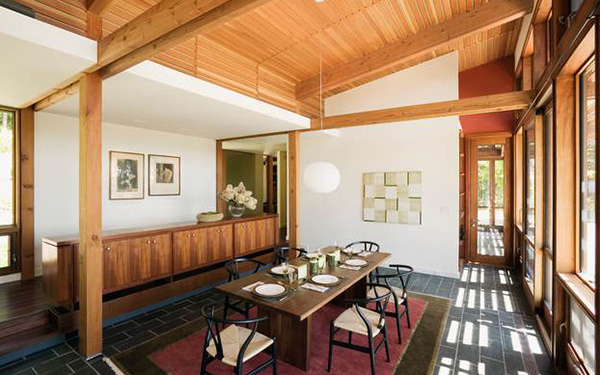 Sloped ceiling adds a different appeal and approach to space in this dining area that has warm tones from its wooden elements.
Madison Park Mid-Century Modern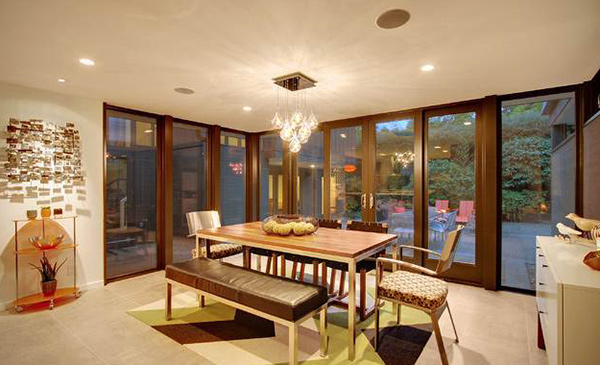 Glass surrounds this dining space with colors from brown to beige in it.
KW House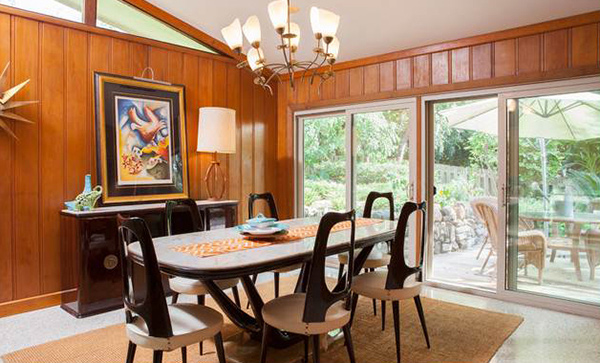 Sleek curves in the chairs fitted this room with some art deco accents in it.
Jill's Modern Berkeley Bungalow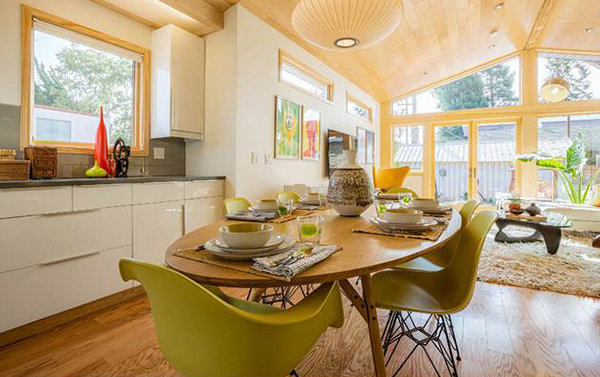 We are sure you'd love the lime green chairs that surround the oval wooden dining table. This is one lovely home interior!
Tyler Lake-house- Dining Room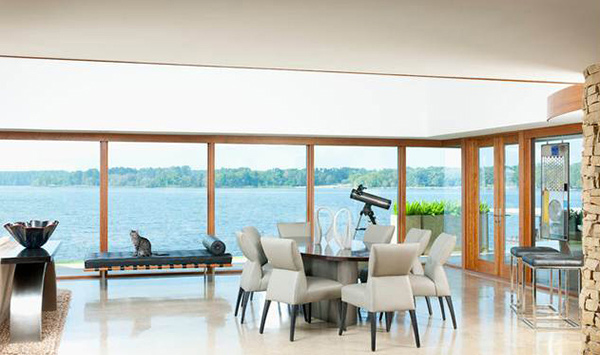 Aside from the perfect view of the beach, you can also see here beautifully designed chairs around a glass top table.
Abbie Way, Costa Mesa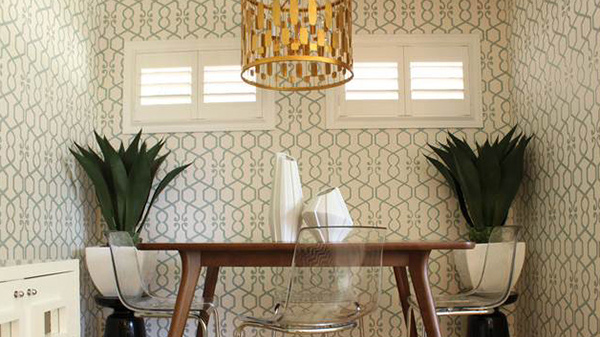 Patterned walls did not dwarf this space that has transparent chairs and a stunning gold lighting.
Tarrytown Residence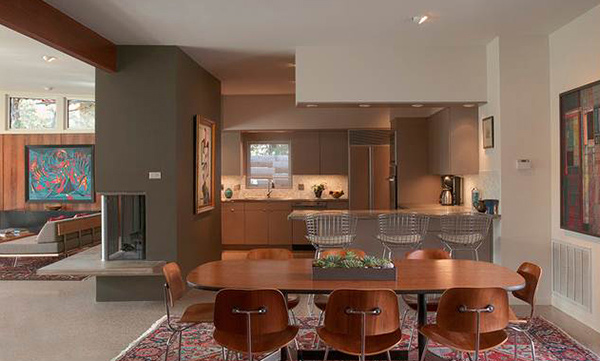 Wooden chairs and tables seem to shout Mid-century as it seat on top of intricately designed area rug.
Brentwood – Sullivan Canyon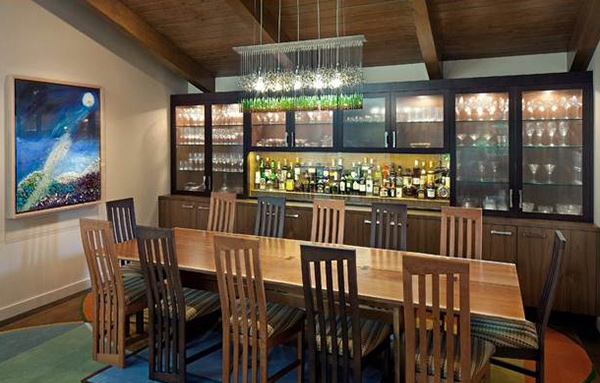 The wines and wine glasses behind this dining set, reflects a lovely background that seems to play with light.
Mid-Century Remodel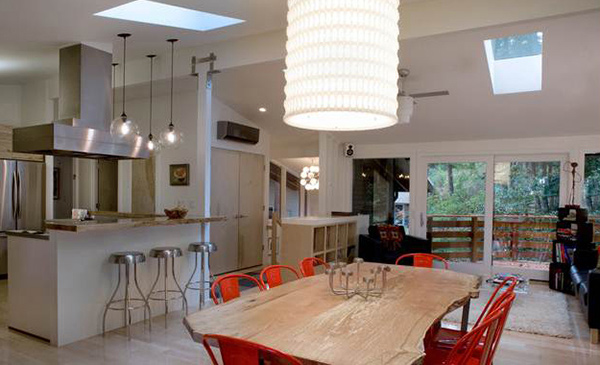 Orange chairs, natural wooden table and a white pendant light- what could be lovelier than this?
Hollywood Regency, Montecito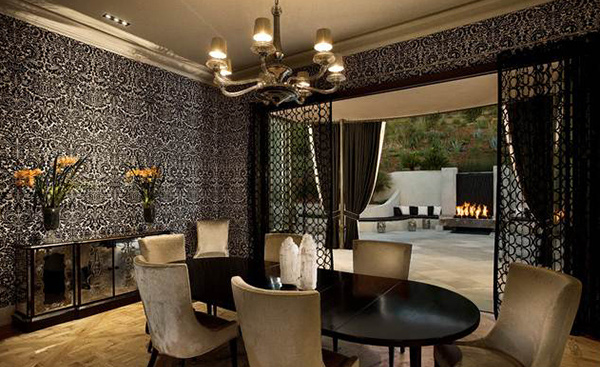 Damask patterns on the wall and its black colors everywhere are just some of the nice features of this Mid-century dining room.
Miami Townhouse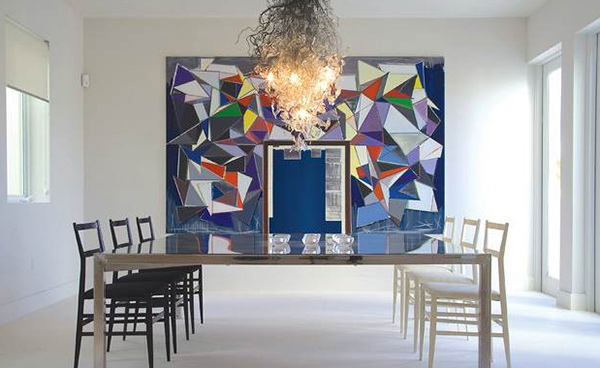 Beautiful wall art stands as a perfect background to the glossy dining set.
Caterpillar House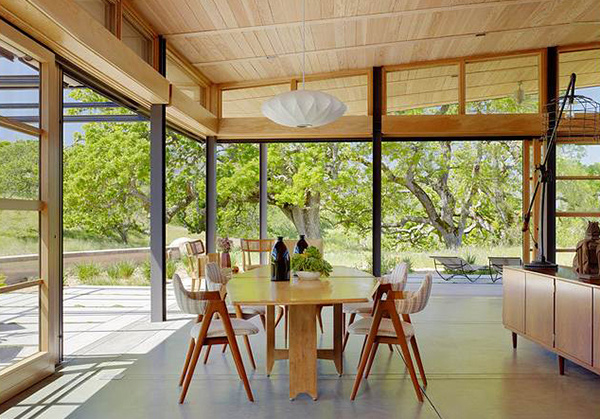 You'd feel like dining in an open space in this dining area with glass all around it.
Carmel Mid-Century LEED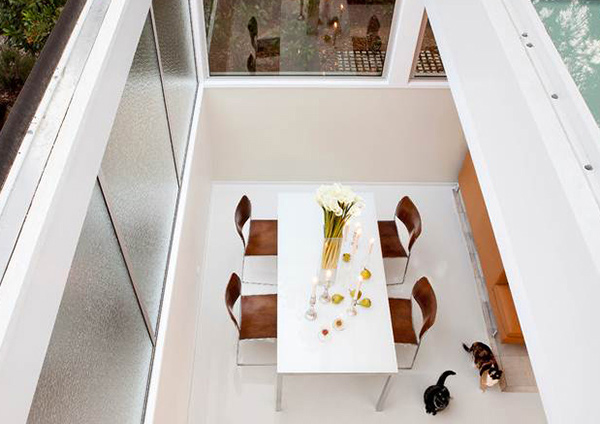 We find the cats cute as they looked up for a shot! But this dining space rocks too with a simple and clean look.
Kent Lake House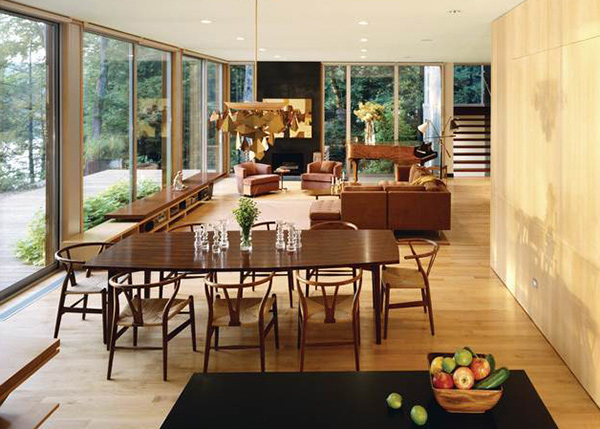 Look at all the wooden elements that looks splendid and stunning!
Now tell me what you can say about the above dining rooms. They may appear like a modern space or a contemporary one but yah, there are some unique pops in them that made them look Mid-century all throughout. We are sure you have noticed how open most of the dining areas are which one feature of Mid-century Modern interiors is. Want to see more dining room design inspirations? Be back for more here on Home Design Lover!