15 Charming Scandinavian Dining Room Design Ideas
A modern Scandinavian interior design has an interesting look as it combines the old and the new trends. It would even use distressed furniture which is commonly used for a shabby chic interior. One would get the impression of charm and comfort upon seeing a Scandinavian interior. Most of the time, it would reflect one's passion and love reflected on the items and elements in the house making it homey and captivating. It might even appear eclectic because of the mix of materials and decorations.
For an interior like this, the color palette used are white, soft dove gray, off white and some soothing tones from nature. But you will also see that some items in it would bring it pops of color from accents to decorations. Using white make the spaces appear more spacious creating a relaxing ambiance. On the white walls, artworks are being placed. Sometimes, a patterned wall will also be added as accent to these white walls. Flooring is usually wooden and would sometimes have carpets or area rugs to add a softer touch to the interior. We have gathered some dining areas with a Scandinavian look. Scroll down and get a glimpse of these charming spaces.
Coastal Modern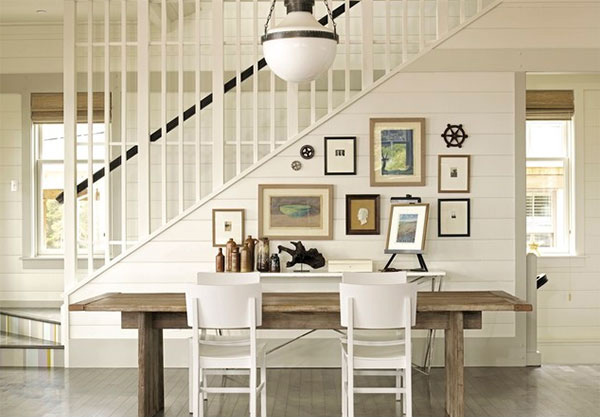 A gallery with eclectic wall decors and tabletop displays complete the look of this dining area.
Marcelo Brito & Pedro Potaris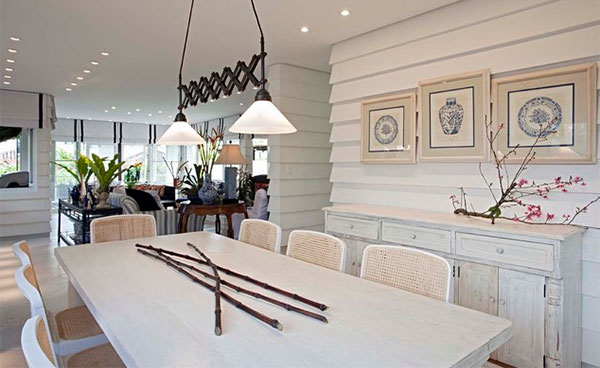 Modern dining table, industrial lighting and distressed cabinets- when you combine all that, a Scandinavian dining room like this comes out. Look at the bamboo centerpiece, it's like misplaced pieces on the table.
Residential Scandinavian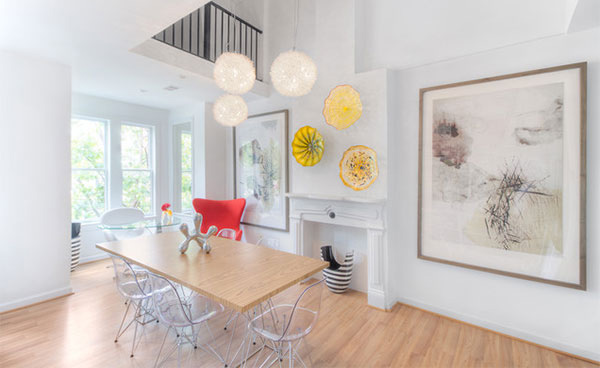 We once featured this dining area under walls with decorative plates but yes, this one has a Scandinavian interior too.
Scandinavian Renovation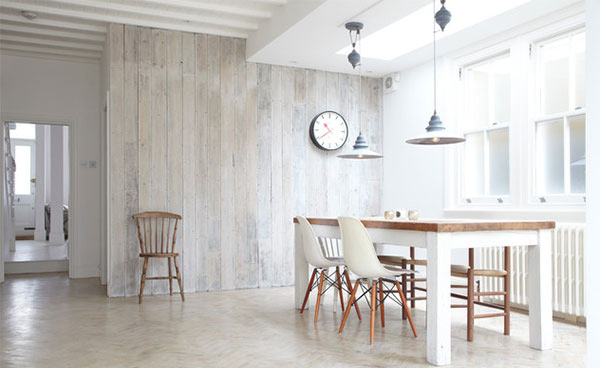 "Reclaimed herringbone parquet timber flooring which is sanded back to its original state and then applied water based white paint rolled on with a roller and then sealed with a timber floor sealer, " explained the designer on what they did with the walls. This is one lovely room indeed.
Dining Room Metro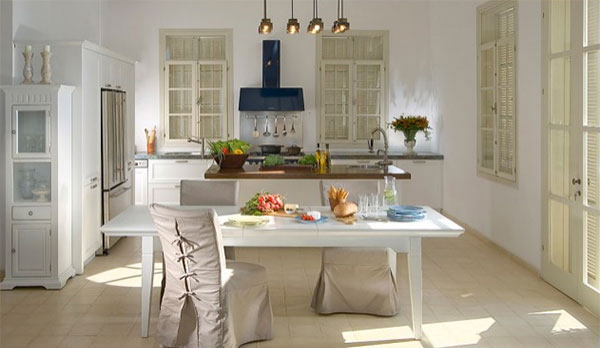 Aside from the luscious foodie on the table, this space is charming with its lights and whites.
One Bedford Condo Suite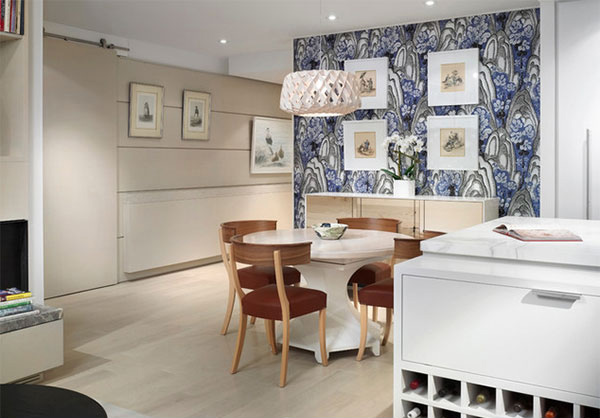 An apartment designed in a light, modern Scandinavian aesthetic having a patterned wall on one side.
Dining Area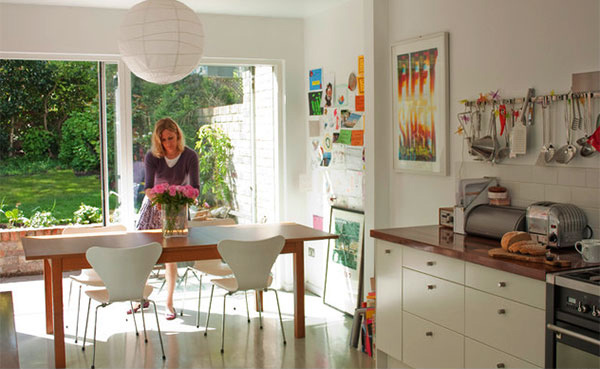 A dining area with wall decors in different colors. The furniture in it also added to its Scandinavian appeal.
Scandinavian Style on a Budget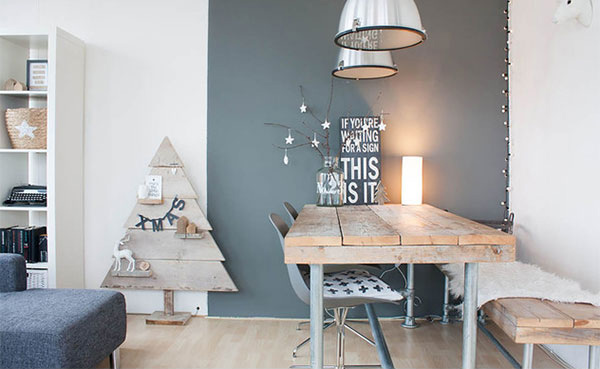 From the name itself, this dining area was designed with a minimal budget but look at how lovely it turned out to be!
The Home of Yvonne and Boris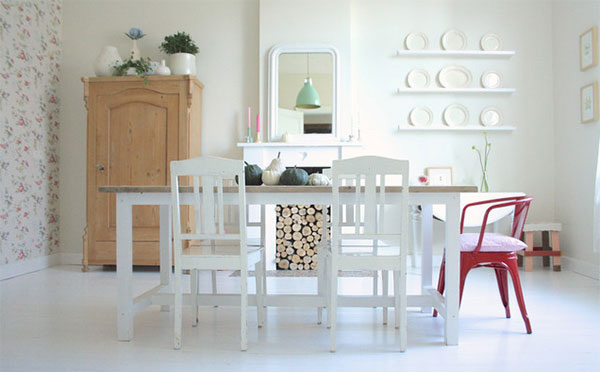 A dining room in white of mismatched chairs, floral walls and plate decors. The firewood also served as decoration for this space.
My House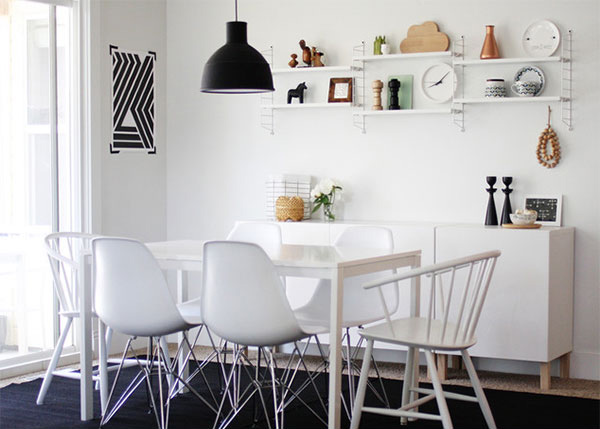 If you get a chance to see the other areas of this dining room, you will that there are black and white elements everywhere. The decor on the wall made this one appear more Scandinavian.
Madrone Condo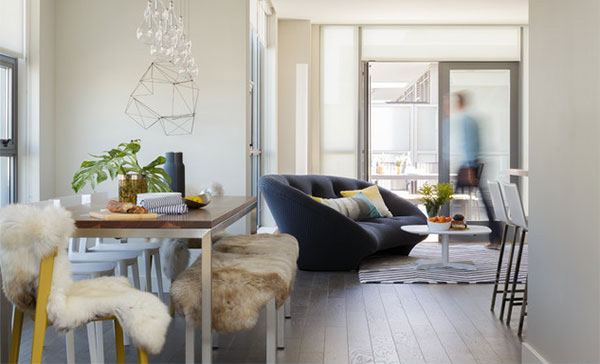 This one is constructed of brazed flooring nails, mounted to a "stem" affixed in an organic fence post base. This would look great in a rustic, eclectic or industrial interior.
Kitchen and Dining Area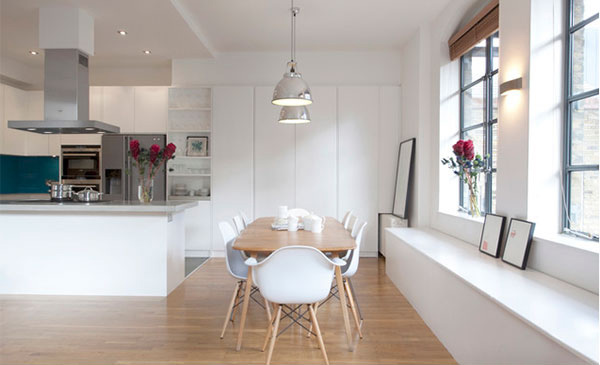 Mismatched chairs are indeed nice but with these sheepskin on top of it, this dining room looked whimsical!
Portland Modern Tudor Dining Room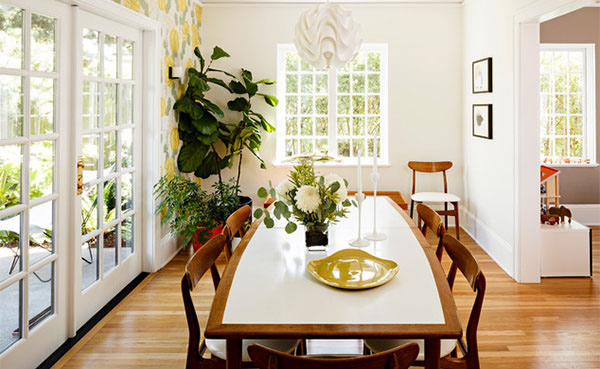 A modern Scandinavian dining room with wooden dining table and some white chairs that matched the area's motif.
San Marino Island House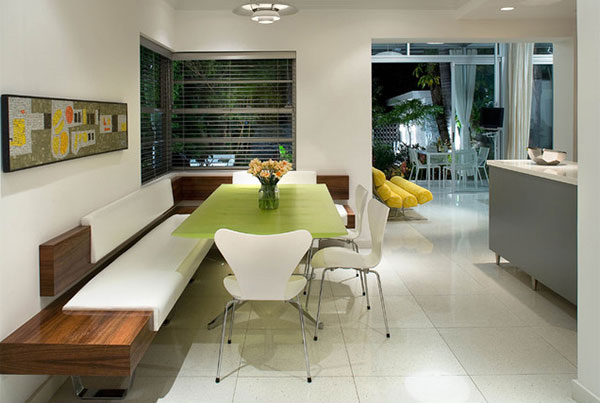 Scandinavian furniture were used here but what made it more gorgeous are the floral wallpaper and the plants in it.
Brush Prairie House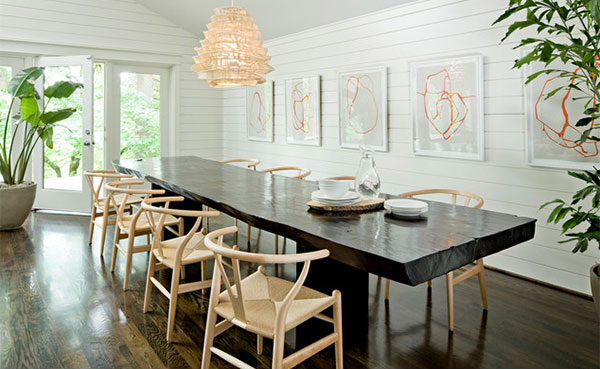 The table in apple green is a bold feature in this dining area. We like how the benches were done that it could save space and floor area.
Isn't a Scandinavian interior a charmer? Well, this is just the dining area. Look forward to the living room which would surely give you more doses of charm more than a dining room can offer! So, be back here on Home Design Lover and take a look at the upcoming round-ups we will create for you. For the mean time, you can check on some shabby chic dining area which is as charming as this collection!