25 Gorgeous Candle Chandeliers in the Dining Rooms
Wonder how a candle chandelier would look like in your dining area?
In creating this list, I was able to find a couple of different designs and types of candle chandeliers but since I was able to find more pictures of chandeliers that somehow seem to have real candles in them so I opted to choose more pictures like them for the list. I have never seen one in real life so I can't be certain of the materials used in them aside from the main frame of the chandeliers.
For today's list of 25 Gorgeous Candle Chandeliers in the Dining Rooms, I think that you will find that this chandelier-type is a nice way of lighting up your dining spaces. Before, I use to think that pendant lights or chandeliers look best in living rooms and in the kitchen, but in this pictures, I realized how relevant lights are during meal times – using awesome chandeliers is not necessary but sure makes dining seem extravagant and quite fancy, take a look guys.
1. 1296 Ski Hill Road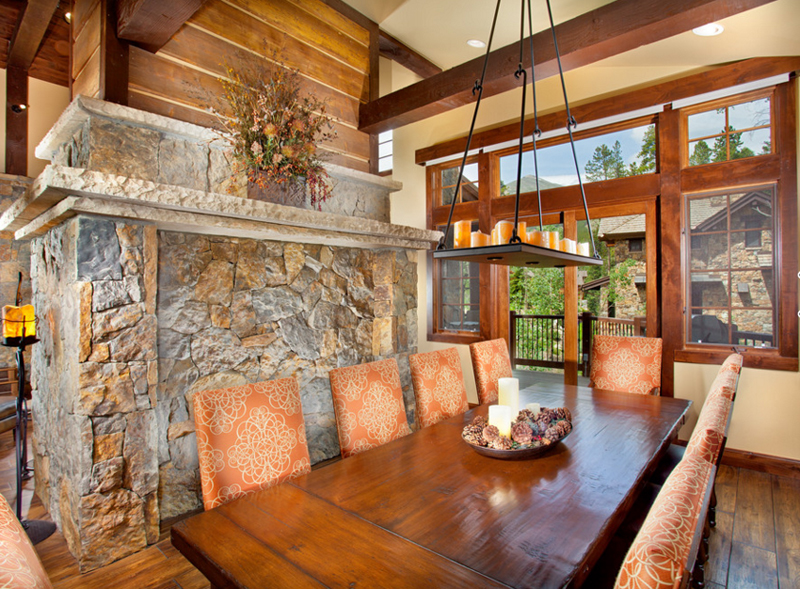 In this dining room that Pinnacle Mountain Homes designed, you can see and definitely feel the cabin-like aura to this place. From the wood used in the windows, tables and beams to the color and design of the fabric of the chairs plus the candle chandelier, this is one simple yet homey dining space.
2. Andalusian Custom Home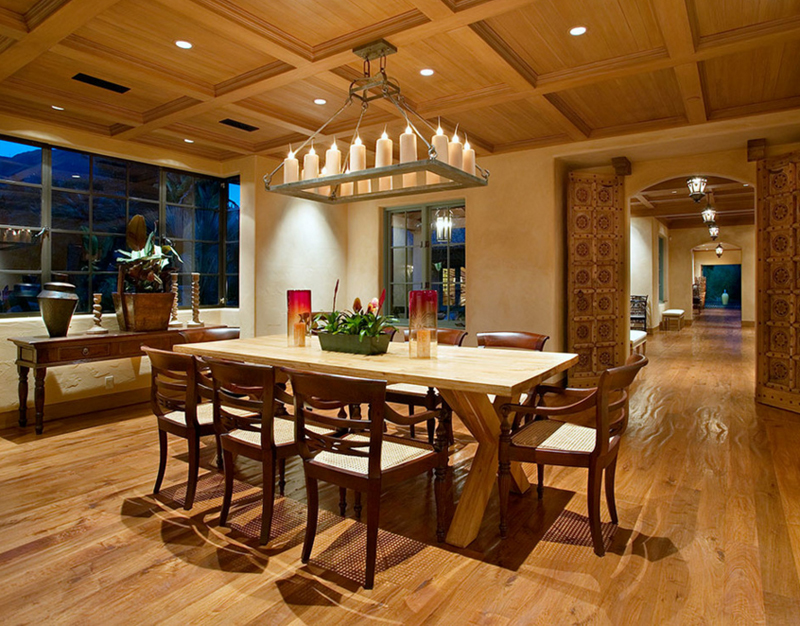 Look at that interestingly pretty candle chandelier above the table! From this angle, you can see how legit it actually looks like – and having a space designed like this one, you know how a modern day cabin would look like.
3. Arcadia French Country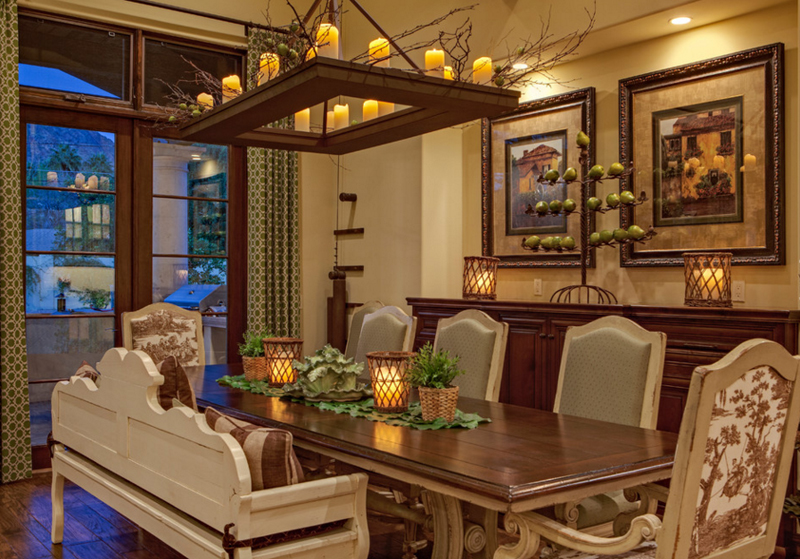 It is interesting how this candle chandelier has twigs in them – I am not sure if this is because it was designed for fall or something – but still, it looks rather appealing and it surely complements the entire dining space.
4. Aspen Way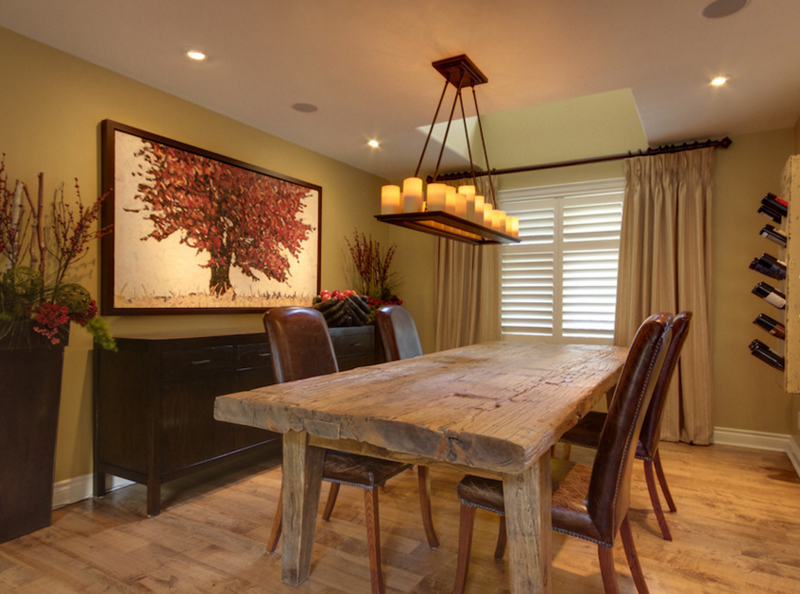 Look at that heavy duty dining table! It looks raw and recycled – which is a good thing right? The designer was able to use the wood for another purpose and made it look stunning and really earthy!
5. Belvedere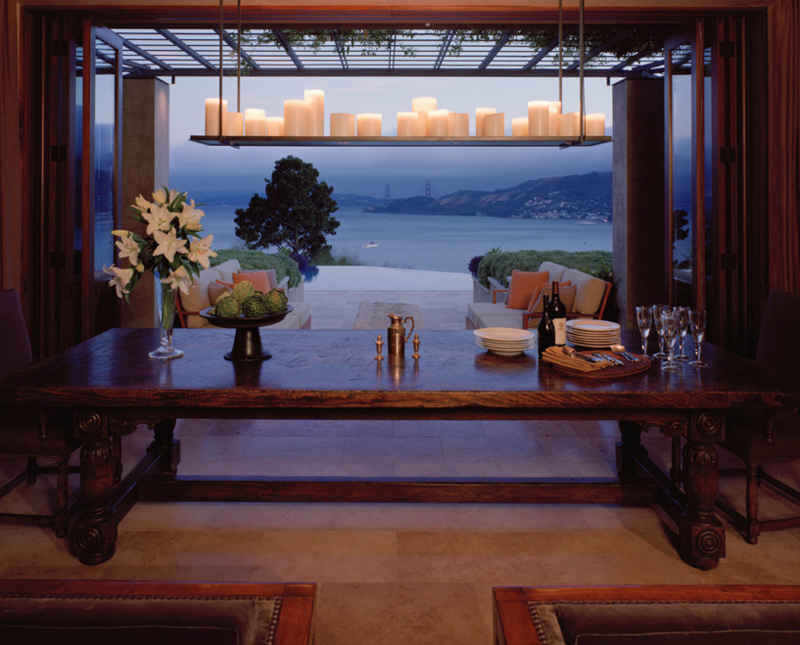 Take a look at this wonderful view! If I had a dining room with a view like this, do not know if I will still go out to actually dine out; I would consider inviting friends over to have meals with me! The candle chandelier in this dining room is just plain beautiful!
6. Bézier Penthouse 2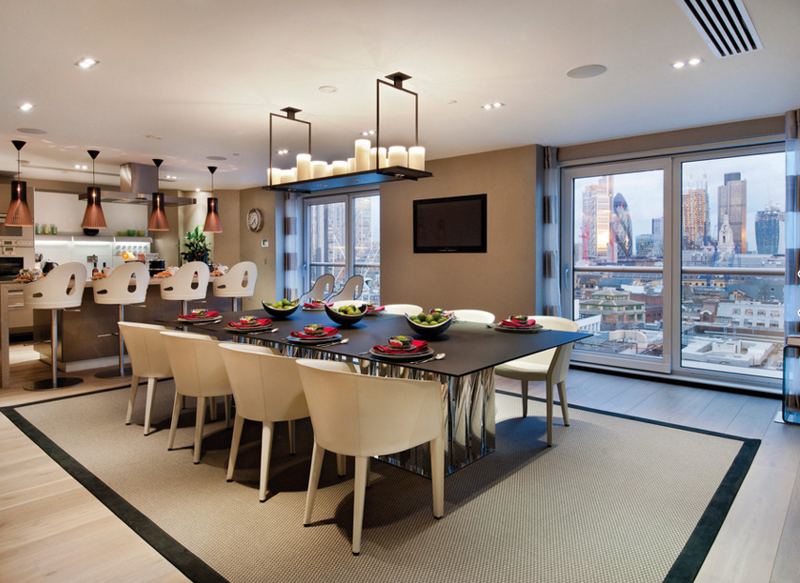 Here is a contemporary dining room with a traditional-looking candle chandelier in the center above the dining table. This penthouse seems to have the best view of the city below it! Pretty cool, right?
7. Boca De Canon House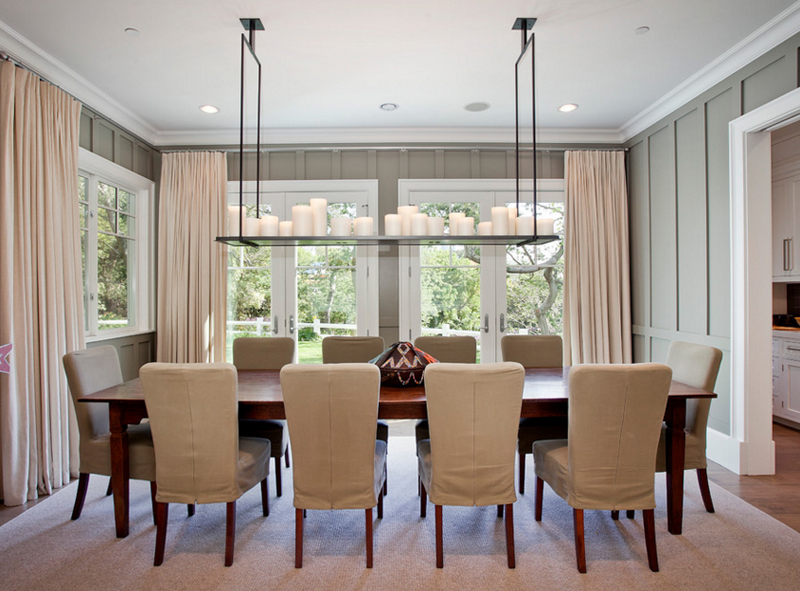 A traditional dining room with a small space but with a very homey feeling. The low-hanging candle chandelier looks really pretty against all the neutral-colored materials in this space.
8. Classic Coastal Colonial Renovation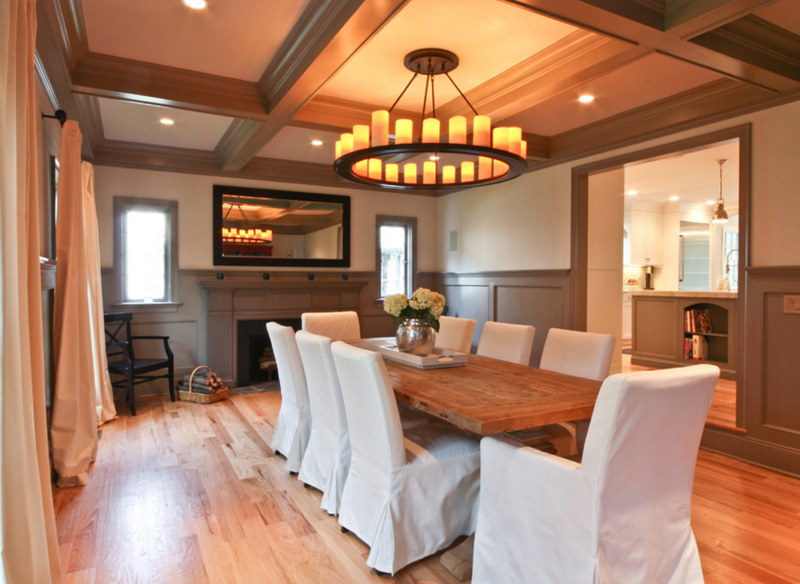 A circular candle chandelier against a rectangular long table and a rectangular space with rectangular doors, windows, recessed ceiling and a rectangular mirror; definitely contrasting but still complementing at the same time.
9. Derby Hill Farm Lyme
I like the look of the dining room set in this derby hill farm home – it seem small but it looks like people just want to make sure that they are able to talk with one another while dining. The candle chandelier also adds wonderful feeling to this space.
10. Dream Home in Minneapolis
Well you look at that glorious carpet and tell me that you love this awesome space! The contrast of the prints on the floor and the plain chairs, walls and that of the ceiling makes the space looks really pretty.
11. EG Dining Room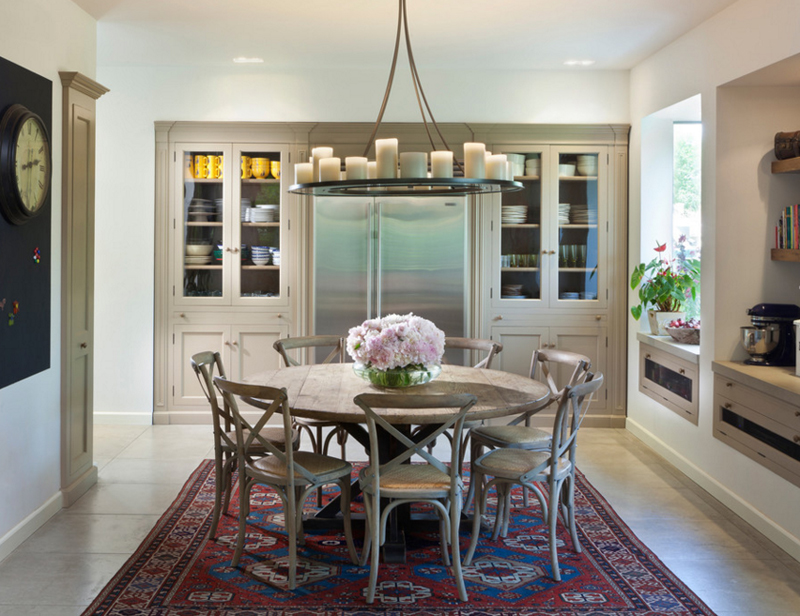 A circular candle chandelier against a circular dining room table – pretty simple but because of it, you can really feel and see how comfortable anyone would be if they were in this space.
12. Gary + Gayle: Cincinnati, Ohio
b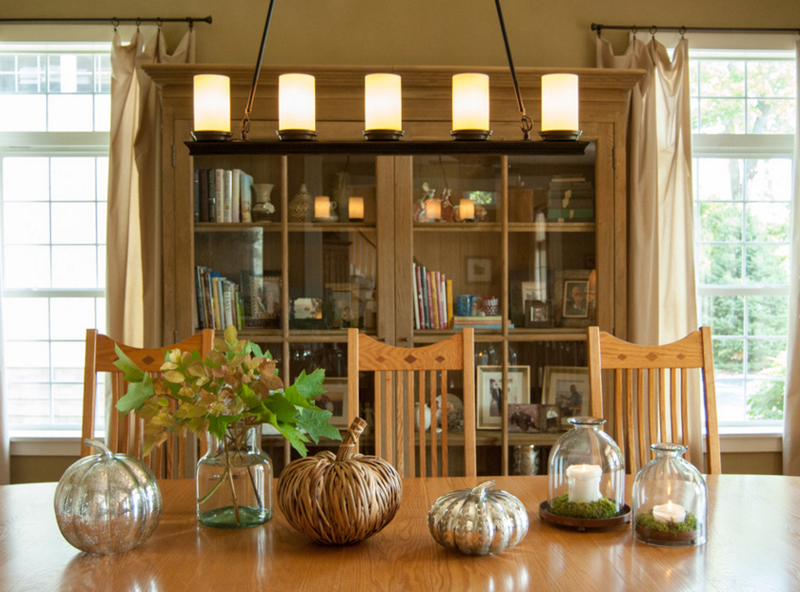 Looking at this picture, you can see a table setting ideal for fall because of the pumpkins – but what you might have failed to notice is the simple yet stunning candle chandelier above the decors; it's pretty, functional and fun!
13. Gray's Bay Luxury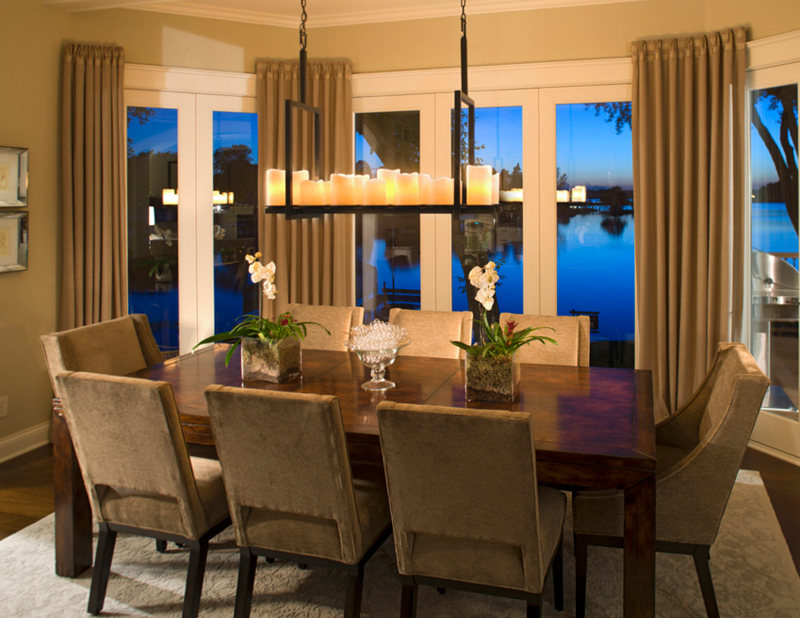 This dining room table that seats eight people in a neutral tone surely makes this space sophisticated. The use of neutral colors in spaces is just what anyone needs if you want to make your spaces simple but classy.
14. Great Ranch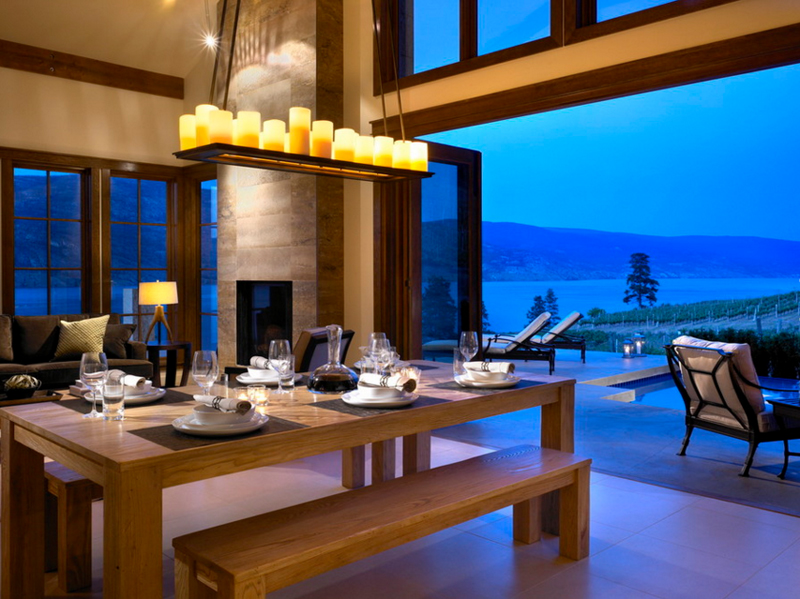 The view that we see in this picture might be enough to make this ranch home one destination! If I am not mistaken, the outside might be a swimming pool – and with that, look at the interiors and see the simple yet sophisticated arrangement in the dining table matched with a stunning candle chandelier.
15. Mayhem Ranch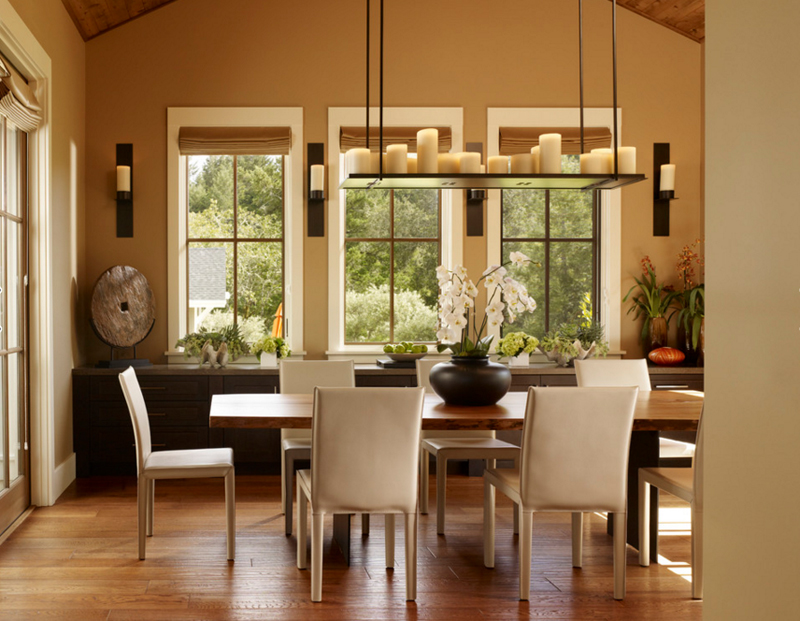 Here is another example of a ranch home with a lovely interior design – with the hints of ceramic vases and wooden artifacts, this interior might be a bit Asian in style; adding a candle chandelier created a more Mediterranean feel to it.
16. Old Greenwich Modern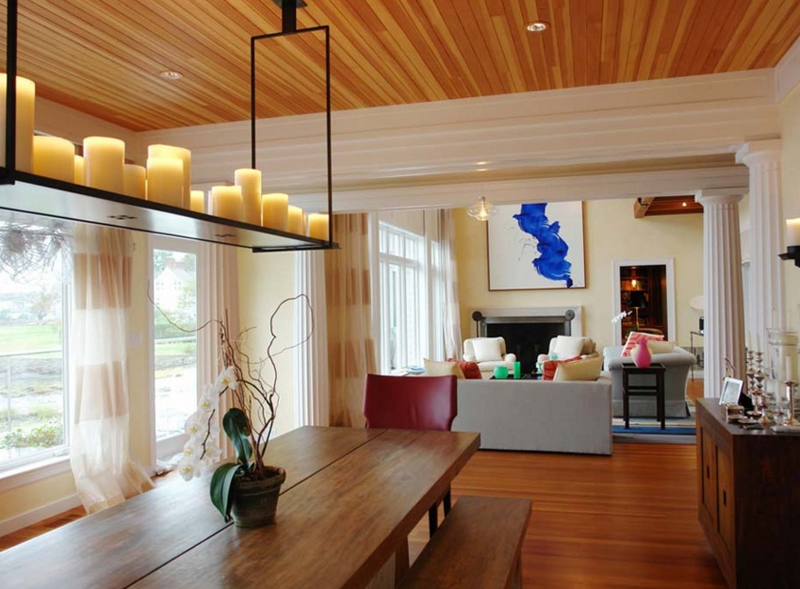 A contemporary-modern space designed by Axis Mundi – pretty straight forward – clean lines, materials and finishes. The colors used in this home is nicely chosen and done to fit the needs and wants of the owners.
17. Palmetto Bluff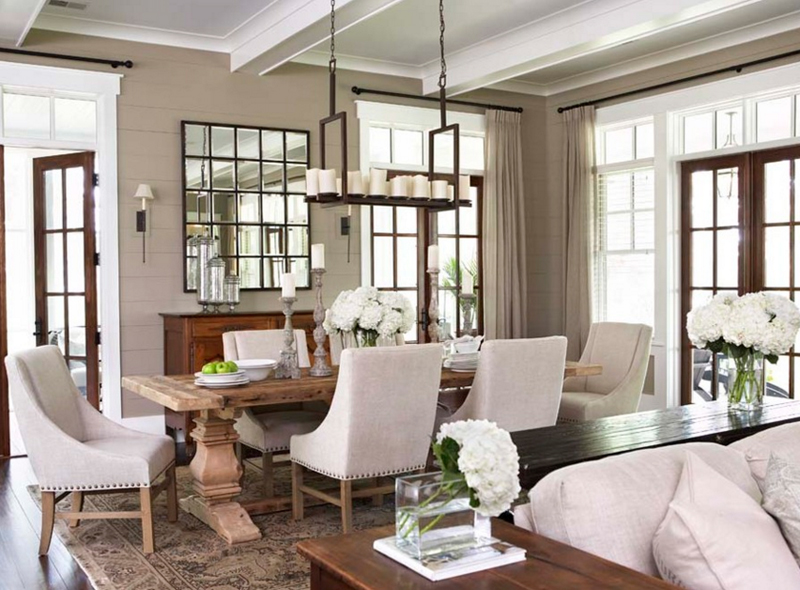 A white space accented with the color of wood is what this Linda McDougald space is all about. The colors used are clean, simple and yet maintained its homey feeling for the home owners who commissioned this creative job. Notice how the decorations and lighting fixtures are both functional and beautiful.
18. Presidential Estates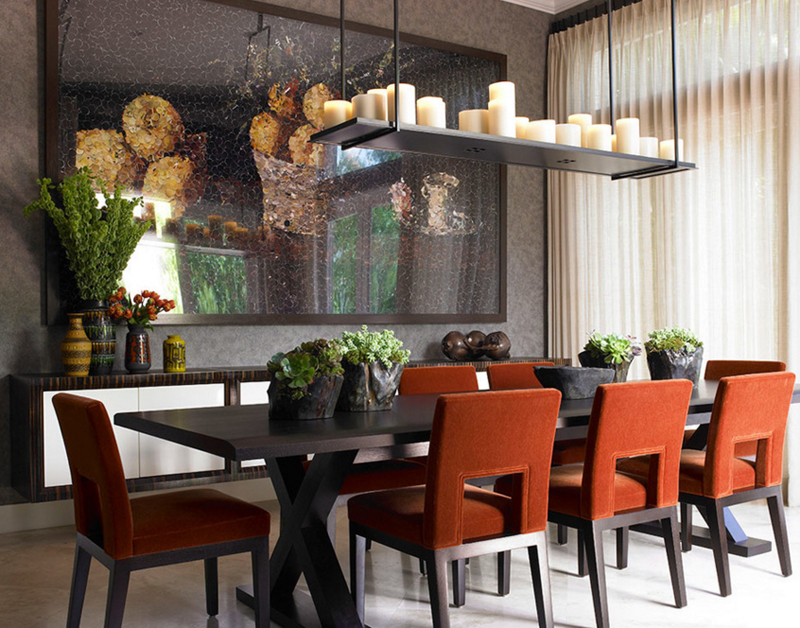 Take a look at the beautiful things you see inside this dining room – the large stunning painting, the plaints on the table, the long and awesome buffet table and the candle chandelier; when you see this space, I am sure that the first thing that you'll notice is the beautiful dining room table, right?
19. Quiet Waters Residence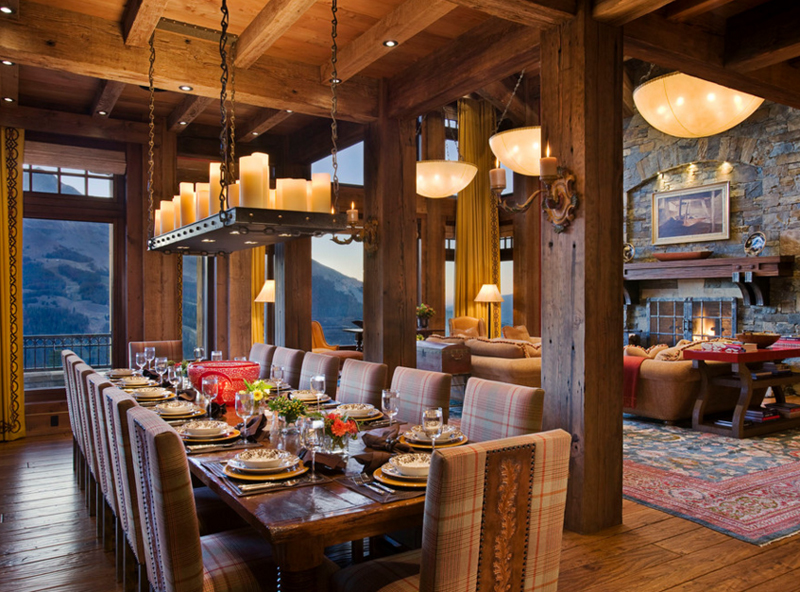 The rustic look and feel of this home sure makes me want to get some eggnog and stay by the fireplace. Though of course, this is not my house, so I can't do that. Haha! Anyway, this house sure is big and you can see how much people are expected to eat in it by the size of their dining table.
20. Real Estate in Vancouver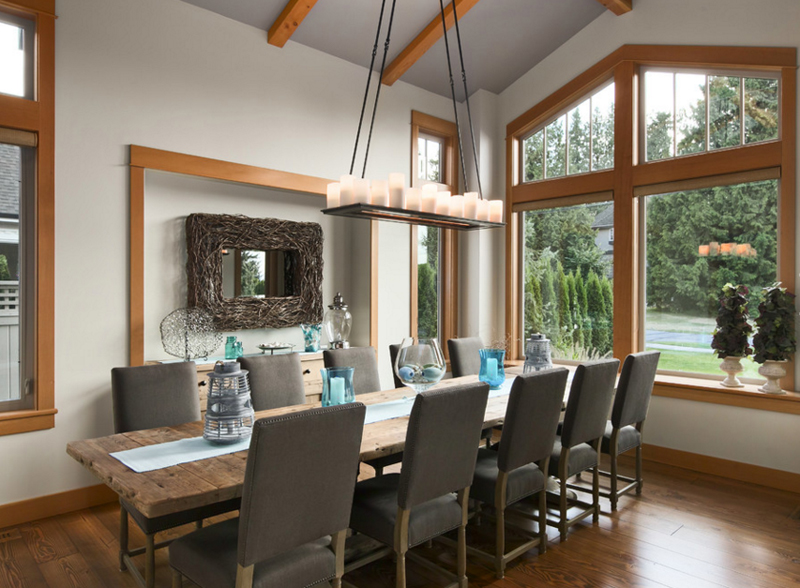 I just like the glorious repurposed table in this Vancouver home. The color of the chairs paired with the table is awesome too! If you are into wooden decorations, I think that you'll like the mirror by the buffet table too!
21. Shadow Mountain Ranch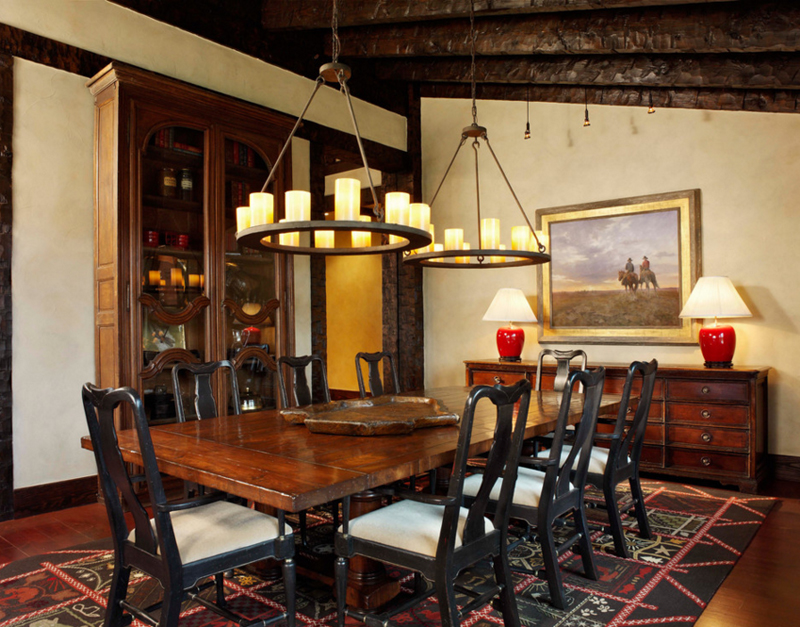 Here is another example of a ranch home that uses a candle type chandelier to accent their dining space. The way the colors in this space complement each other makes the room more homey than creepy because of its old house aura.
22. Tehama Ranch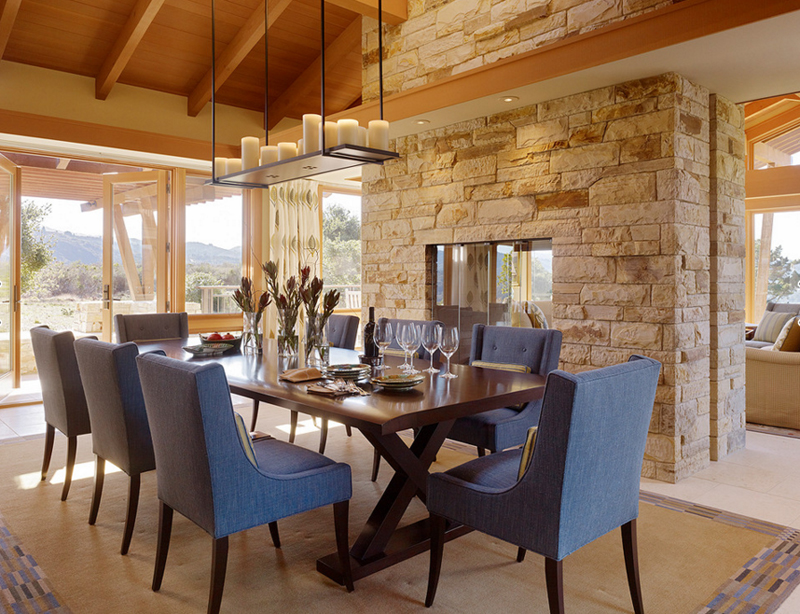 Contemporary and comfortable – this dining area set sure is stunning! The color of the chairs somehow highlights the space since it is surrounded by neutral colored walls, ceiling and flooring.
23. Timber Frame City Home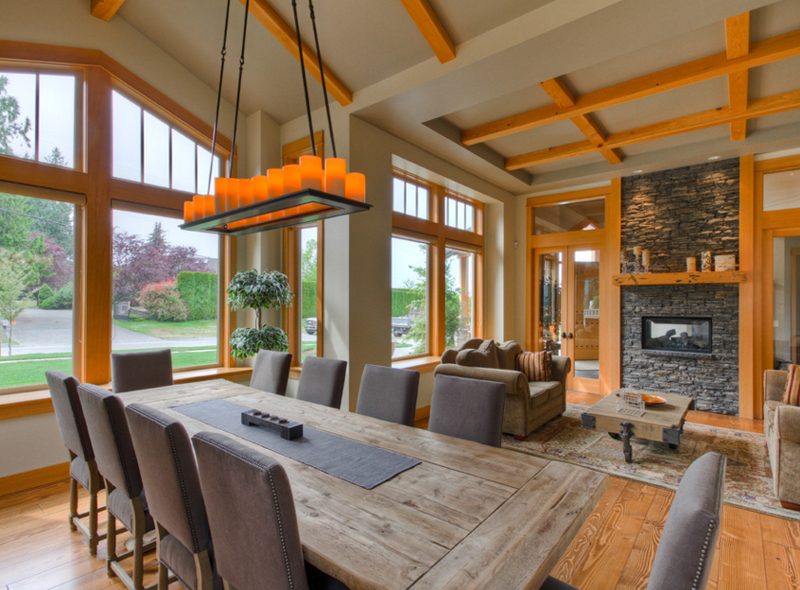 Notice how the color of the candle chandelier looks similar to the color of the window sills, beams and the door jambs? Pretty nice that it looks like that – it complements each other but at the same time it allows itself to make the space stand out.
24. Traditional Dining Room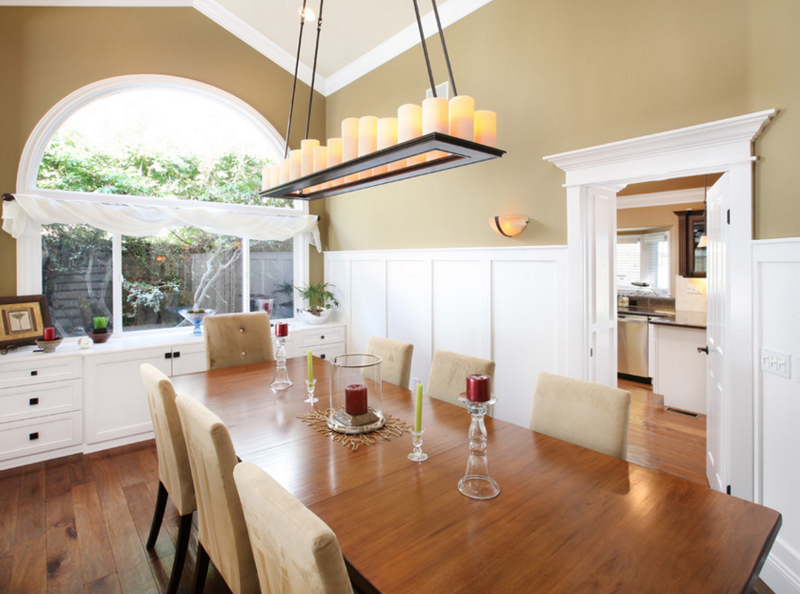 Here is one light-colored dining room that has a rectangular candle chandelier that sure is pretty and neat – ideal for this space since it has a black base, it makes the whites and the browns in this room clean.
25. Transitional Dining Room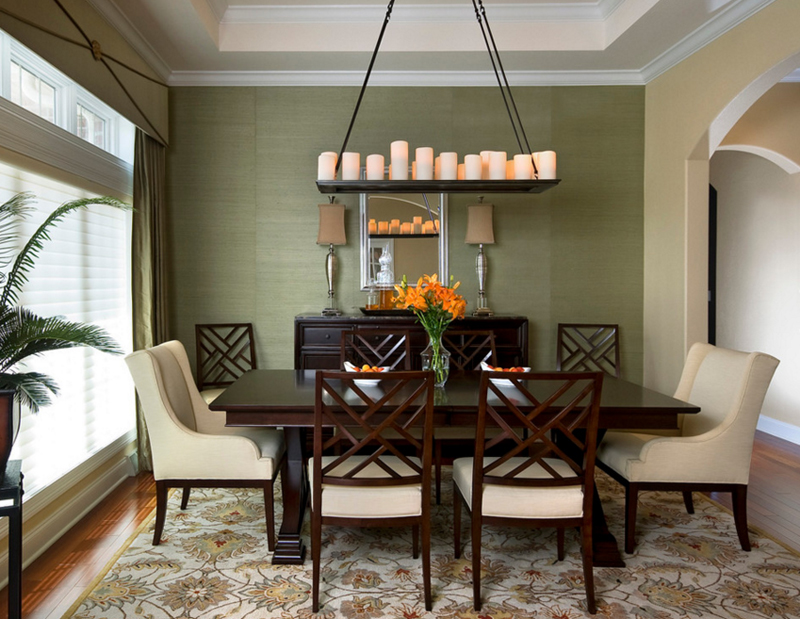 Decorating Den always has the best spaces that I personally love to take a look at for inspiration because of the different ways and styles that they present their clientele and fan base. What do you think about this transitional dining space?
That was a list worth the read, right? A list of 25 Gorgeous Candle Chandeliers in the Dining Rooms sure is a list of inspiring spaces that'll be something you'd consider if you would be purchasing a chandelier in the future. If you liked this list, you might even want to check out how these lighting fixtures look like in the living room. When you see it, send us some comments guys!