25 Beautiful Candle Chandeliers Fit for the Living Room
Candle chandeliers are not yet out of trend. Check this living rooms that don it!
Ever seen a movie with rustic or vintage-looking candle chandeliers in them? Like the ones seen in the Harry Potter series whenever they are in their dining room scene with Dumbledore announcing awards or school reminders that they need to inform the kids? Yes, that. Honestly, I am a fan and I really loved the setting that they created to give us a picture of the books that we were reading.
Anyway, below is a list that we have created about 25 Beautiful Candle Chandeliers fit for the Living Room. You will notice of course that the chandeliers in the list come in different shapes, sizes, color, design and detail. You might also notice how much the design of the chandelier complement or contrast the total set up of the living room – just check it out for yourselves.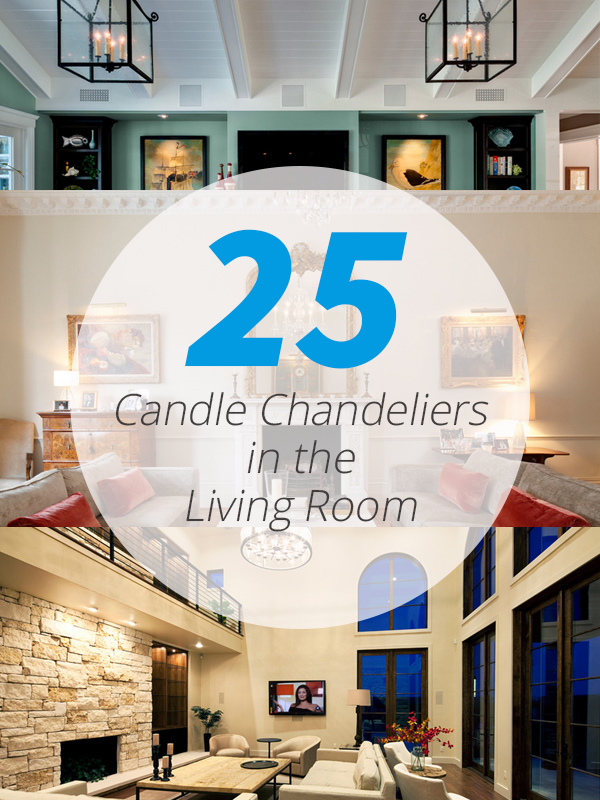 1. Ascot Drive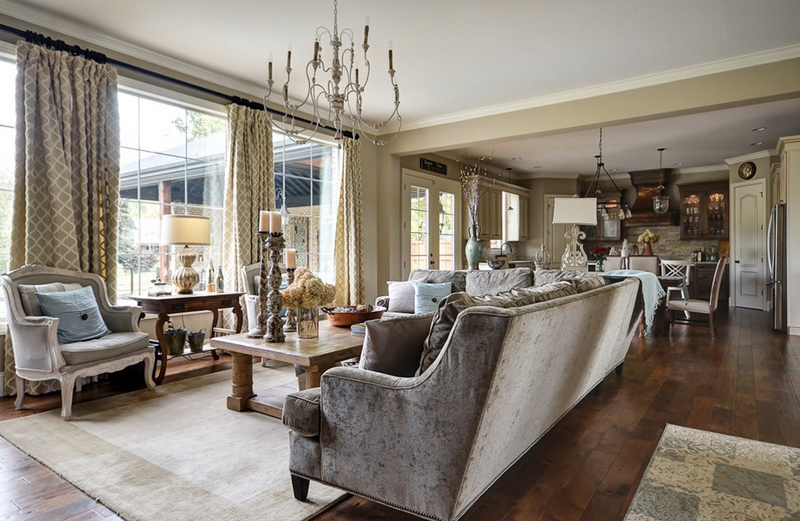 The slender style of the chandelier and its color complement the washed out color of the sofa and chairs. The same color shows a nice contrast to the dark walnut-colored floors. With all the decors in this living room (note the candlesticks and lamp among others), the minimalist style of the chandelier puts a "just right" effect.
2. Casa Blanca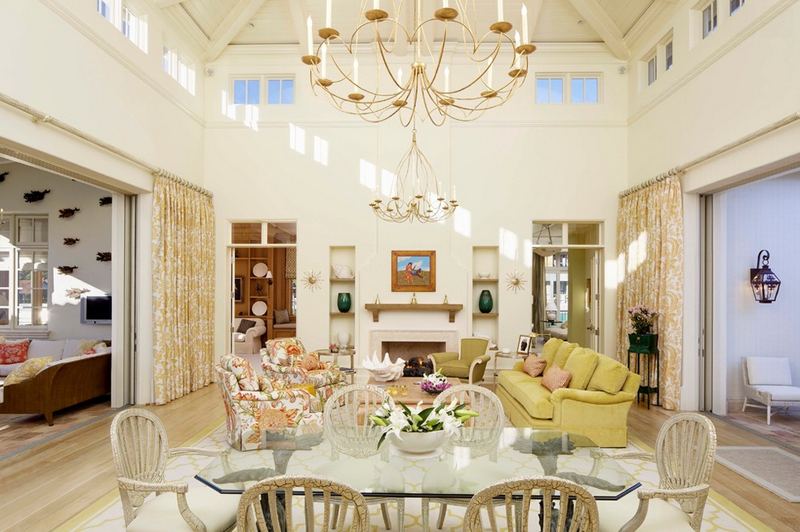 The gold and white chandelier is a good fixture to put in a wide living room like this. The decors are plenty but due to the light colors in this huge space, the high ceiling, and the windows in the ceiling, the living room remains to be wide with a very cool and well-lighted feel.
3. Cherry Hills Tudor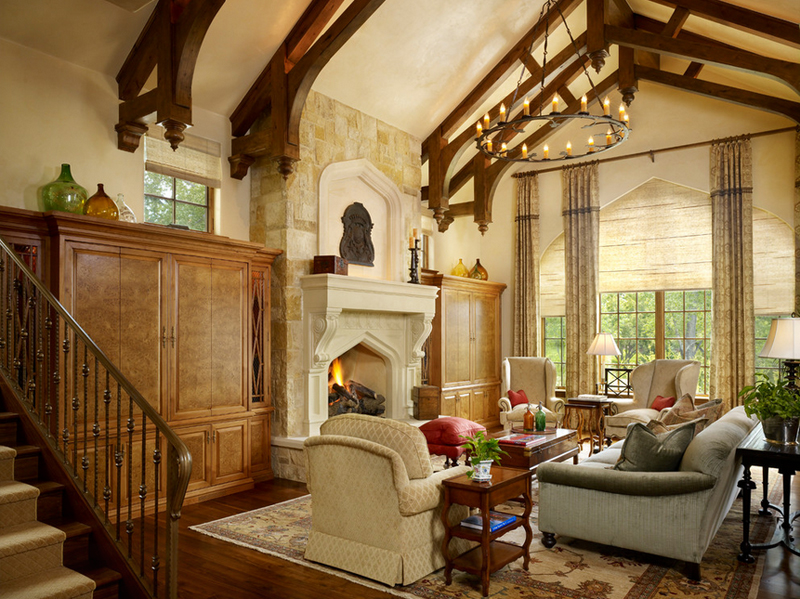 This particular chandelier reminds me of the Medieval times where round metal chandeliers are placed with candles in Europe to encourage lighting especially during big occasions.
4. Contemporary Austin Great Room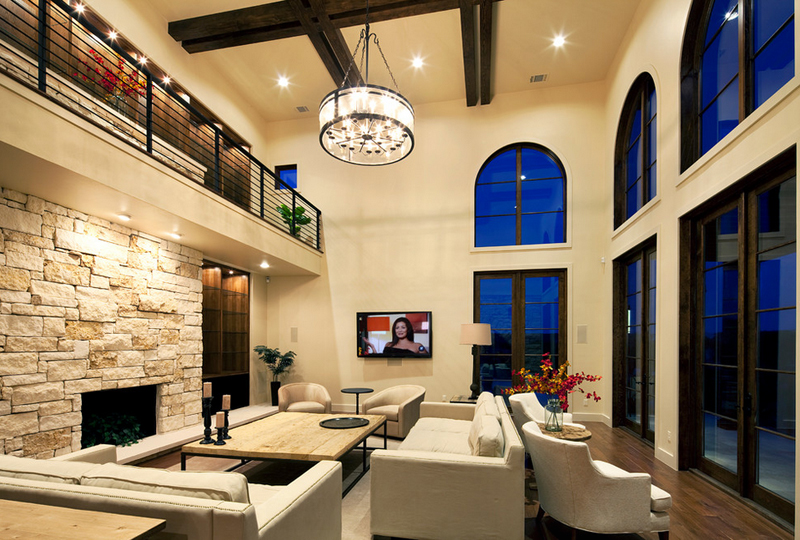 With an awesome living space like this one, I think adding that awesome candle chandelier in the center makes it a more lovely and interesting living space. The black and white combination with this one is quite a treat for the eyes.
5. Creative Tonic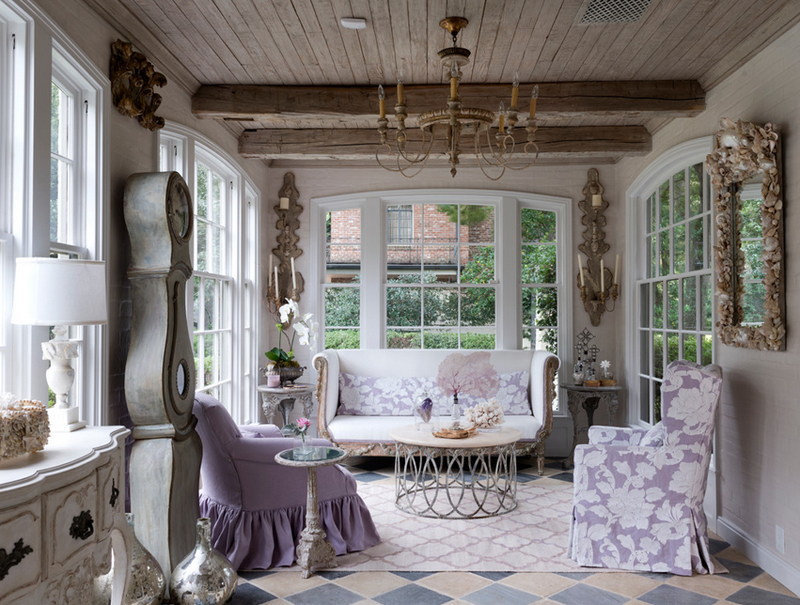 This shabby chic space is quite a cute space to be in because of the too much cuteness and shabbiness it has to offer that is something we do not necessarily see every day. If a cafe had a theme like this, I guess I'd hang out in there more.
6. Denver Mediterranean Living Room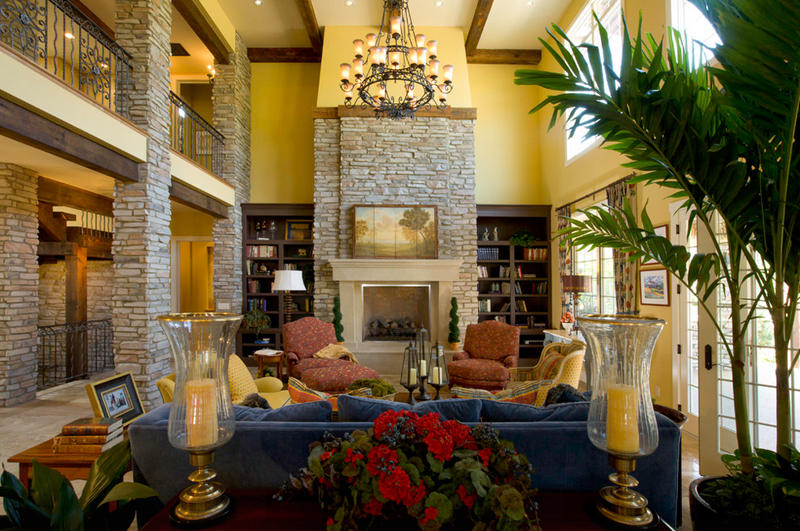 This Mediterranean living room sure is yellow! The combination of the color yellow with the stones used on the columns and the fireplace is something that does not only look great but really full of life and texture too!
7. Desert Hacienda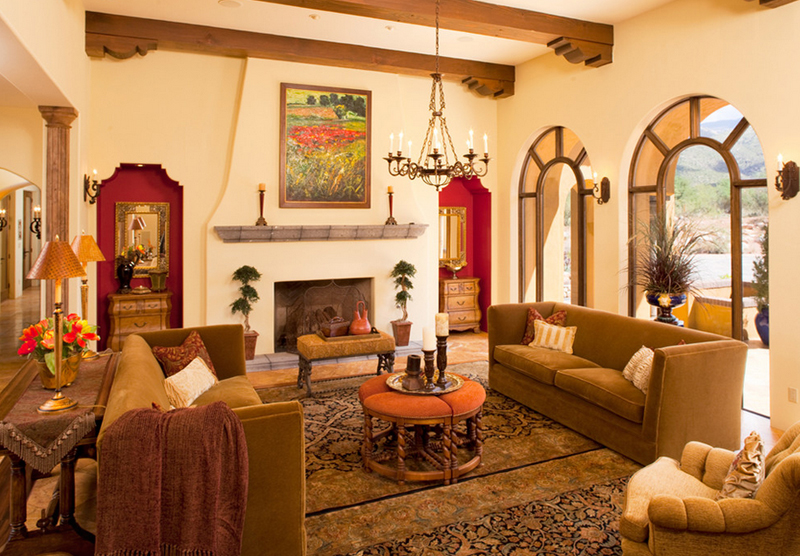 Homes like this one is not only beautiful to look at but somehow crazy historical too – I mean, if this is really a hacienda, the design and details on it will surely be lovely and well researched too! So, I'm guessing, if this one is legit, I'm sure I'll have fun learning.
8. East Slopeside Chalet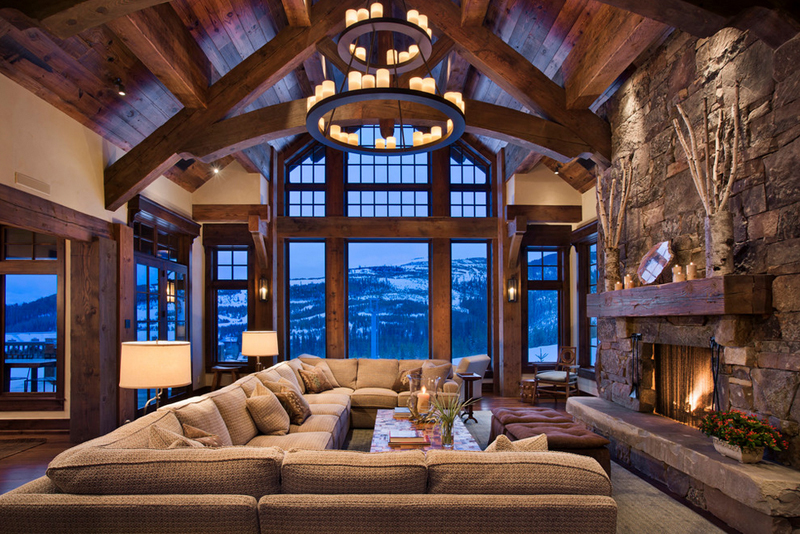 This chalet is another home in this list that is not only grandiose, but also really classy. The rustic design is something I'm really crushing on because of the cafe I wanted to open that would really mimic a rustic space people would love to hang out in!
9. Four Deer Ranch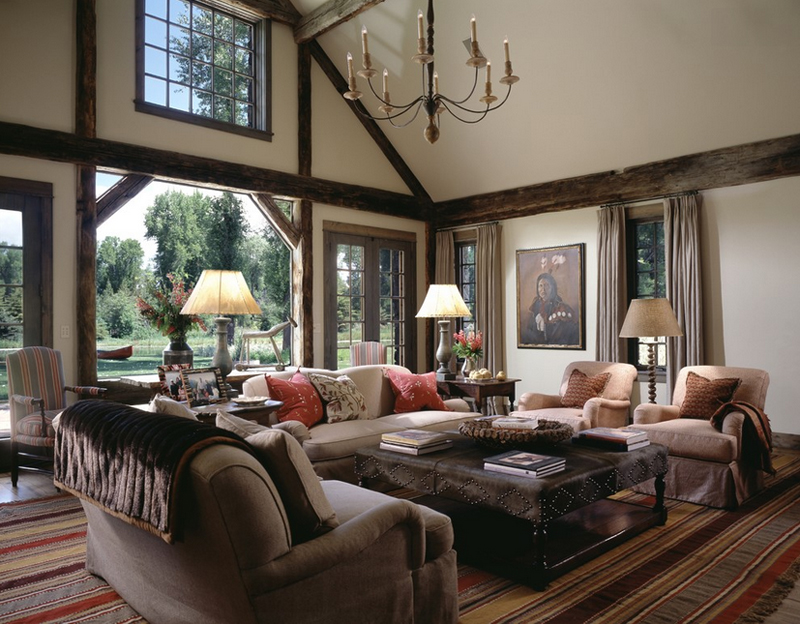 Now, this is one simple home with all the basic things one need in a living room – the color combination is quite rustic but the aura of the space is just right for me! What do you think?
10. Haverford Reserve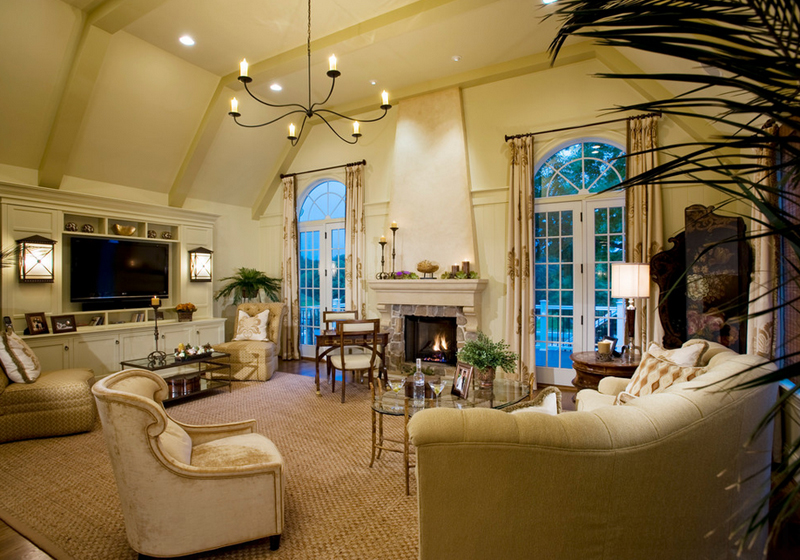 This lovely white or beige living room is actually a great space to live in because of how clean and neat it actually looks like. Of course this living room looks really pleasant but may somehow be a chore when cleaning time kicks in; but nonetheless, still one homey living space.
11. Kensington Townhouse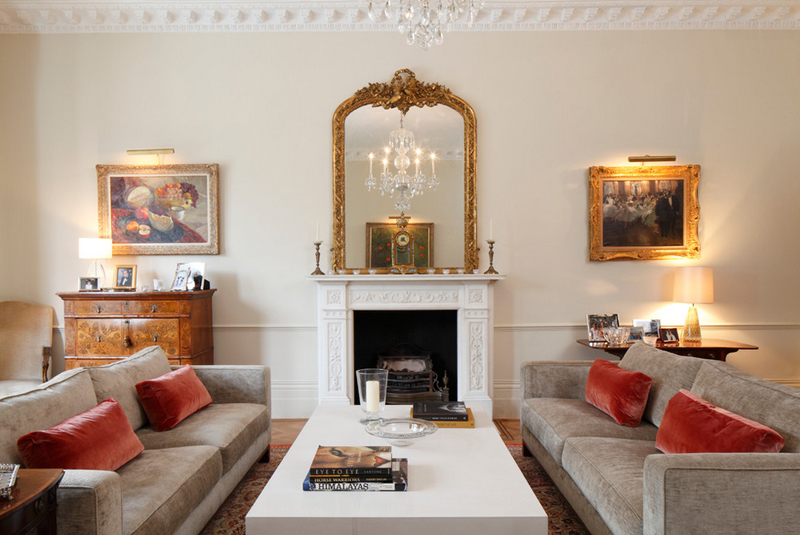 Neutral colors paired with shiny colors like gold, bronze or silver will surely be a great treat for one's eyes! As you can see in this picture above, the combination is quite simple but it sure looks rather pleasant to the eyes.
12. La Playa Residence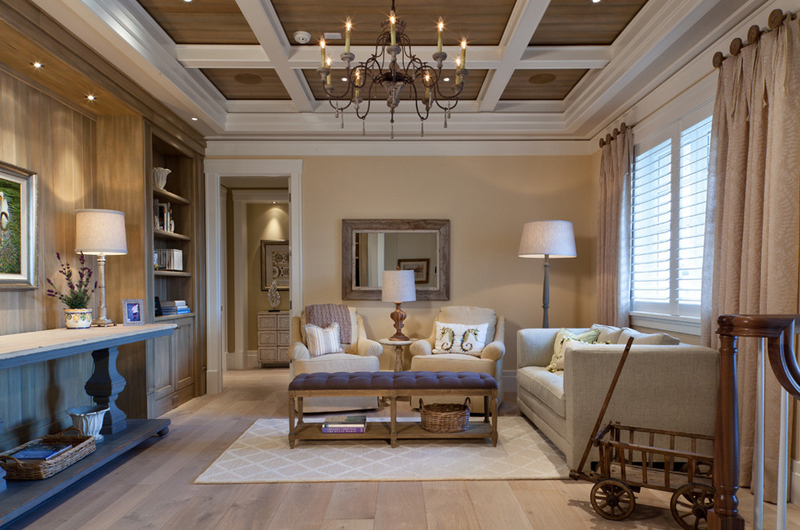 Here is another homey and pleasant looking living room! The colors used in this space are something that I'd like to have in my own home. The colors are not harsh to the eyes; they sort of allow your eyes to rest and are awesome. The candle-type chandelier added more class and drama to this space!
13. Mediterranean Living Room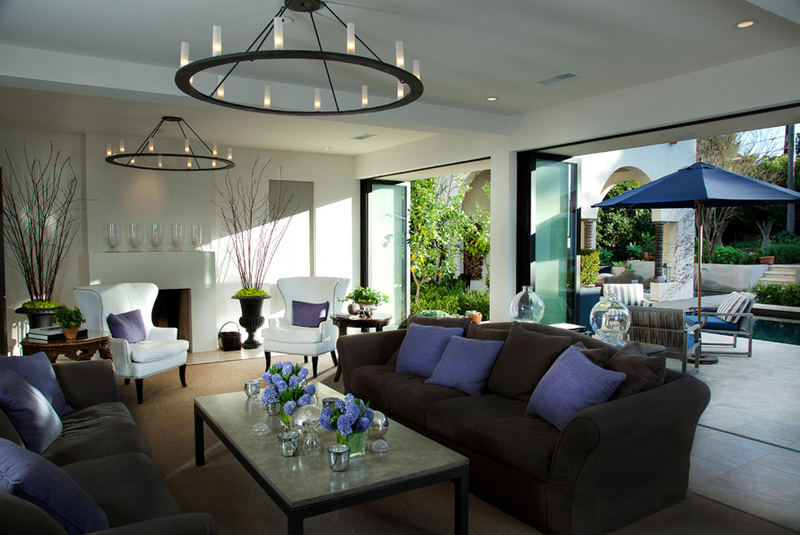 The vintage-looking candle chandeliers in this living room are quite a sight! I mean, I could actually live with them in my house! It is just so awesome to look at and something not everyone would actually go for! The chandelier being black and round makes it more legit.
14. Nashville Living Room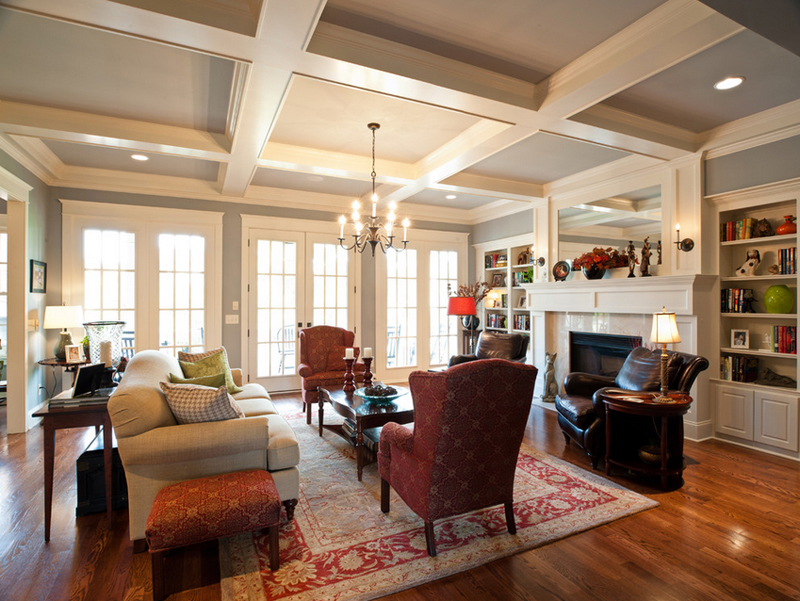 The candle chandelier may be small for this large living room, but take a look at the well-planned lighting schedule of this living room; I don't think that there will be a blind spot in this space. The multi-colored sofa and chairs in this space makes it more fun!
15. North Laguna Cottage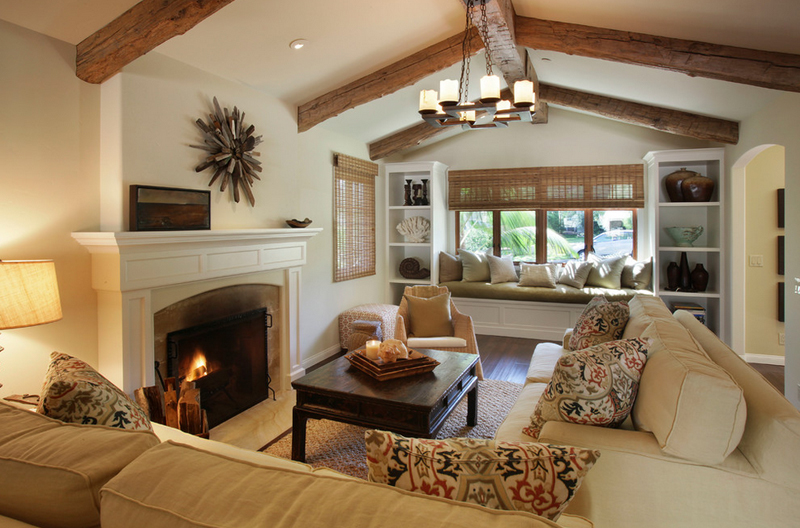 The exposed beams in this living room makes it more an interesting space because of it bringing the space to another level of rustic, traditional and homey living space. The big and comfortable seating sure makes hanging out in here cozier.
16. Organic Southwest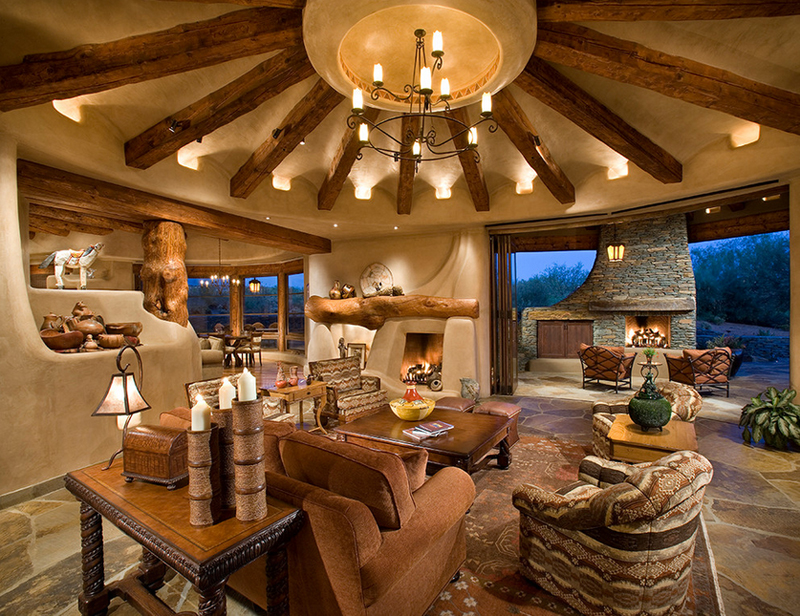 With this space's organic look and feel – I think people who loves rustic and mid-century spaces would give this space a five-star review! The design and layout is just pretty and very stunning!
17. Palos Verdes Mediterranean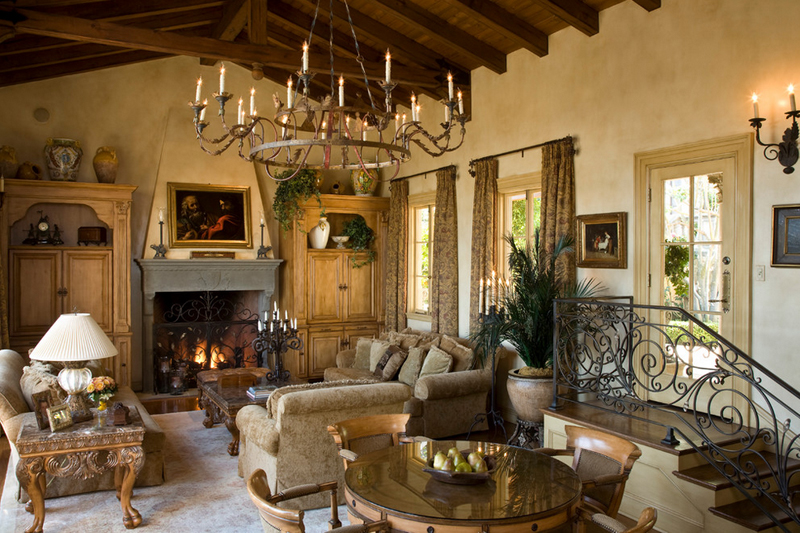 Now look at what we have here – a Mediterranean living room with a lovely set up and arrangement. The color palette used for the wall and the furniture looks really rich and somewhat expensive. The chandelier is another thing, but they sure are beautiful and a tad vintage.
18. Project Historic Renovation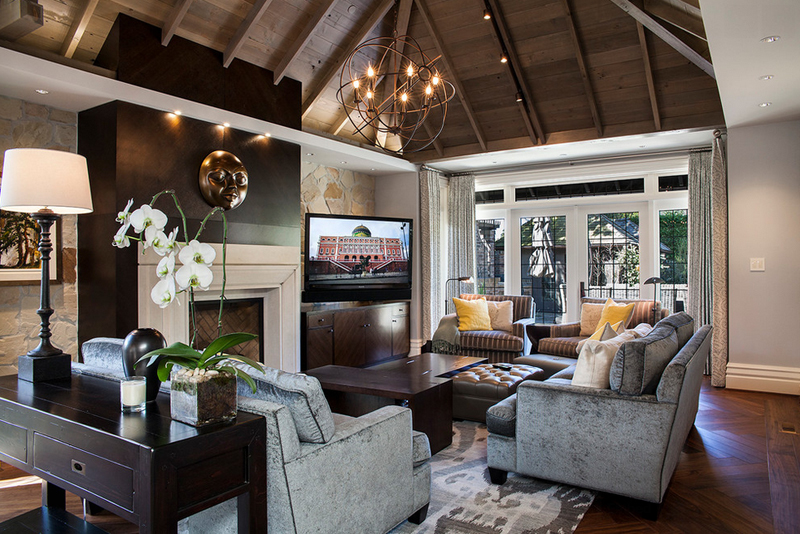 Do you notice how pretty the candle chandelier in this living room is? It looks like something you do not really see every day, right? The steel that circles the candles sure makes it prettier than normal looking chandeliers.
19. Riverfront Villa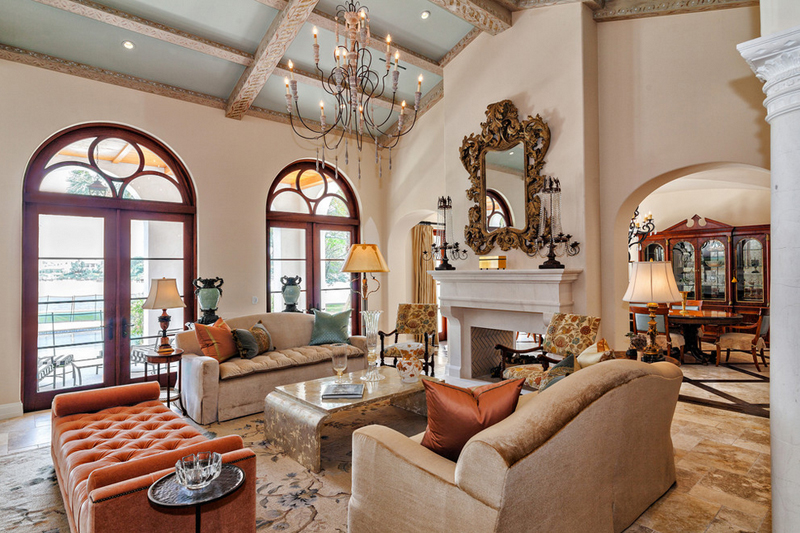 This living room on the other hand has a prettier approach to its design – it has lengthy arms that holds the candles in place and the curves make it a classic beauty. I love the design of this living room too!
20. Rustic Charm in Austin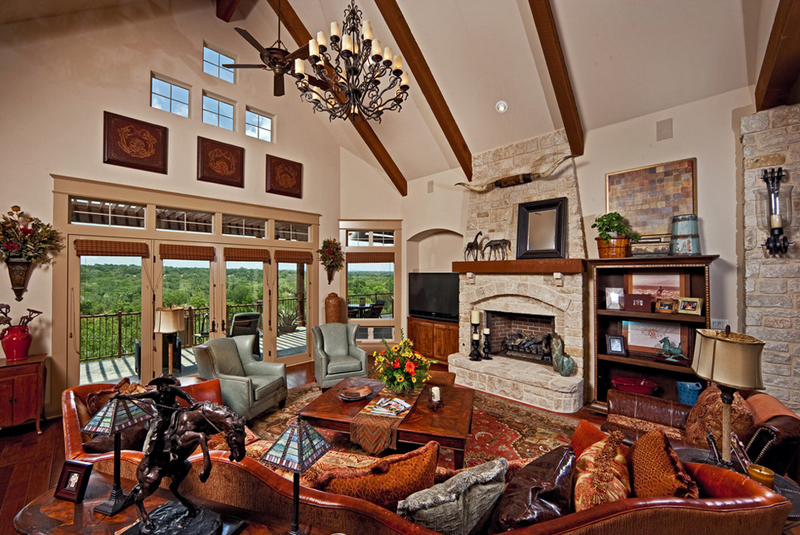 The rustic charm of this Austin home is quite a sight! I like how homey this living room looks like but it's a little cramped because of the big living room sofas and chairs – the way the arrangement is done in this one makes it a little bit too much for me.
21. San Francisco Family Room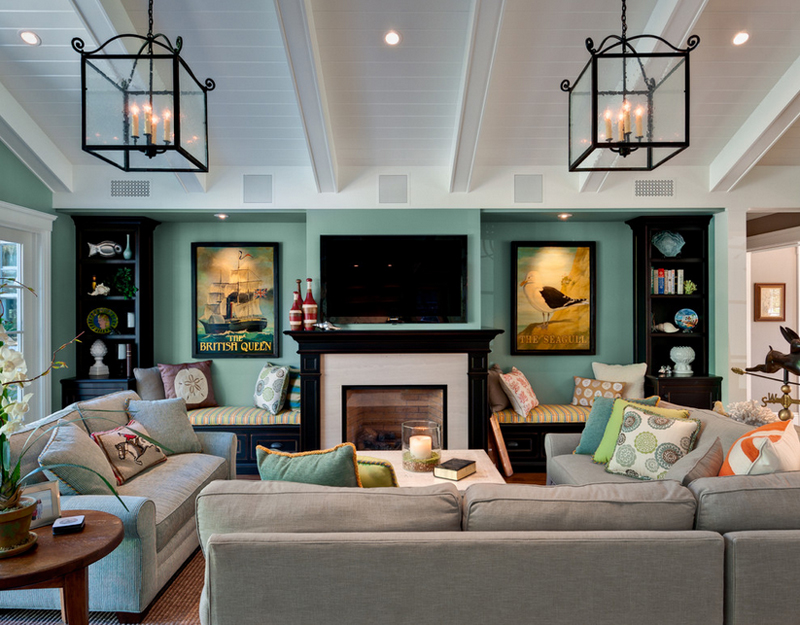 This is one contemporary living room with an awesome layout with a lovely three-toned color palette – white ceiling, turquoise accent wall and brown flooring; the grey sectional and the candle chandelier completes the look.
22. Santa Fe Residence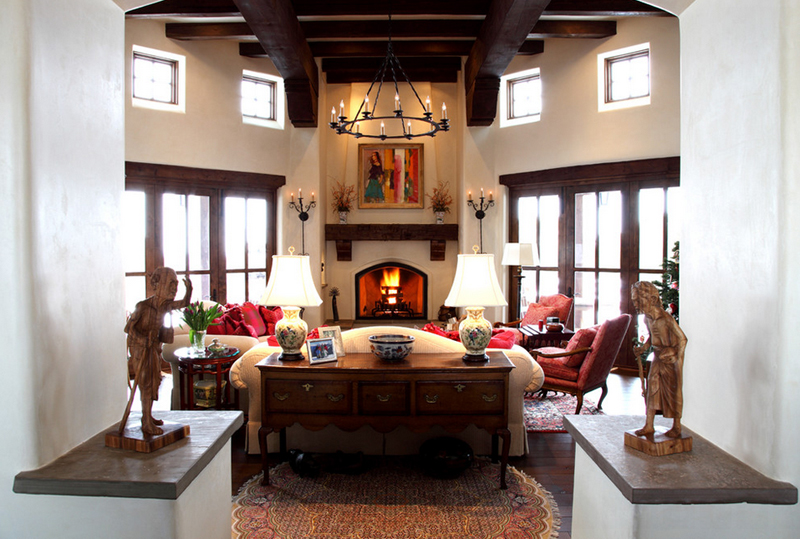 The two figures in the opening of this living room sure welcomes you to enter a completely different space from the one that you are used to. The design of the living room may be simple, but it sure looks fascinating and homey.
23. Spanish Colonial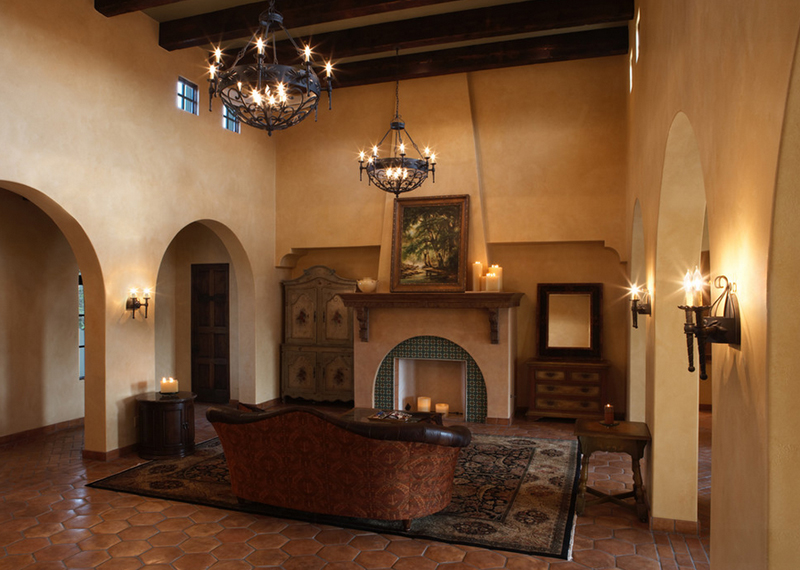 It sure looks weird because the space is quite large but there is only one sofa in it. The decoration of this living space looks really Spanish Colonial with a fabulous candle chandelier to match! It really depends on the chandelier design you choose!
24. Tuscan Flair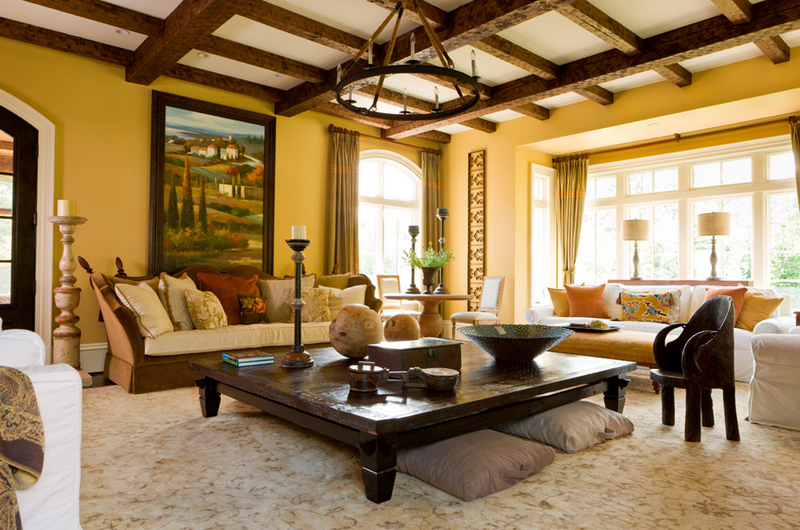 There are a couple of candle holders in this living room! The wood work done with the beams, the coffee table and the candle holders sure made this living room refreshing and lovely!
25. Wellesley Home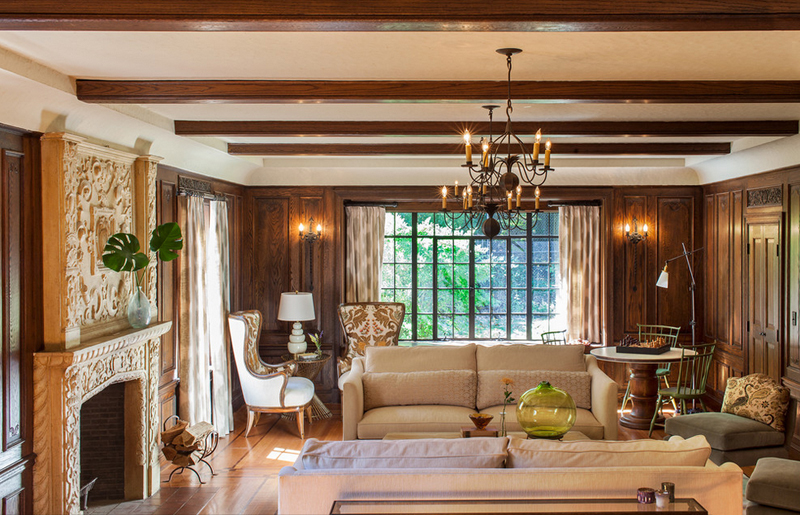 This is one beautiful living space to end this list. Aside from the vintage-looking candle chandeliers, the fireplace and mantle looks extra special adjacent the living room seating.
Now, if you liked this list of 25 Beautiful Candle Chandeliers fit for the Living Room that we have created, you might recall and associate it with the interesting designs of outdoor chandeliers that we have created way back. If you take a look at the designs on both the lists, you will notice that these are designs seen in old movies – but as you very well know that designers are now incorporating this in their contemporary or even modern designs.