20 Beautiful Living Rooms with Geometric Carpet Patterns
Love geometric prints? Add that to your living area through carpets.
In purchasing carpets for your living room, you always consider a couple of things, because obviously, you wouldn't want to just buy a certain carpet and decide to place it in your living room. We should always consider design, color, size, even the fact that would it match or complement the furniture in your space and how much your carpet choice is.
Below is a list of 20 Beautiful Living Rooms with Geometric Carpet Patterns. Some of them are common designs that I think you'd actually like – some of the colors are really nice too. Take a look at the living rooms and imagine how much similar your living room could be to one of ones in here and see what the design and color of the carpets used in them. Check out the pictures below and pick a favorite!
1. Annapolis Plan at Victoria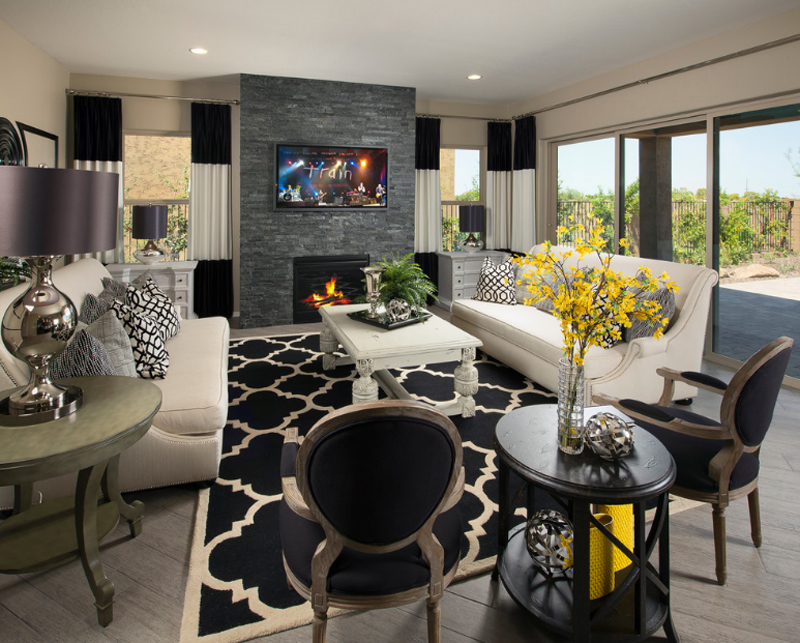 The first living room we have on this list is something from Meritage Homes. The black and white concept and color combo of this space is a classic and this living room looks really glamorous because of the beautiful carpet used in here.
2. Ballpark Condo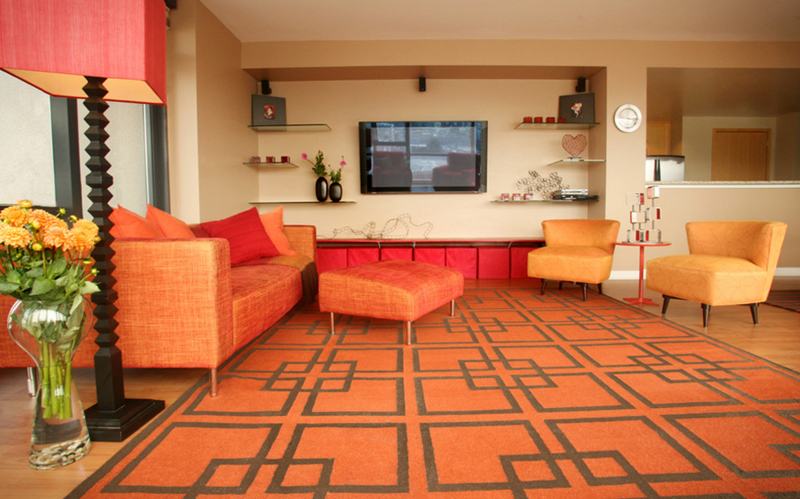 This condo sure looks orange enough that whoever loves this color would really enjoy it. I mean, it's nice to have this color in your house if you live in cold place because this color sure is warm. This color actually is ideal for fast food or restaurants because it sure stimulates appetite.
3. Belle Island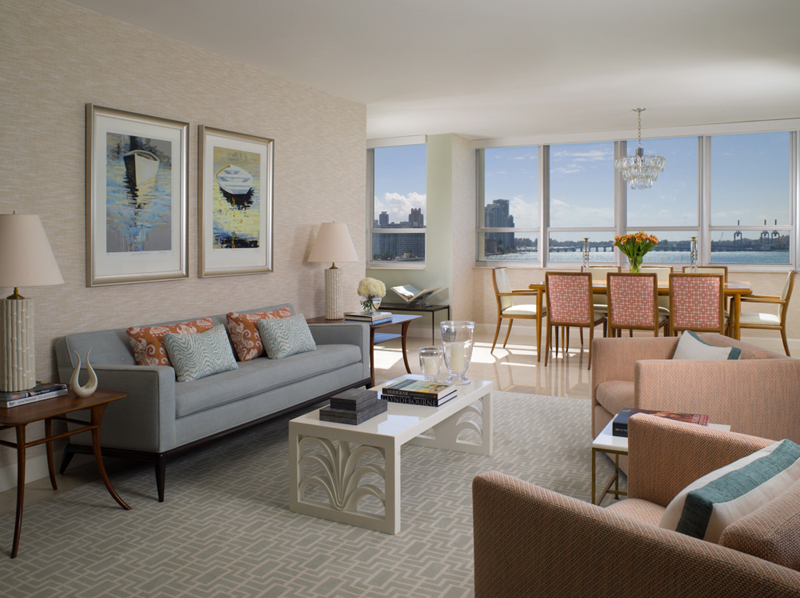 The printed design on the carpet is a bit subtle, but when you look closer, you'd see how pretty it actually is. Even when people use a light-colored carpet, maintenance is one issue to consider; but today's technology allow having appliances to help us in cleaning and maintaining the cleanliness and beauty of our homes and our carpets.
4. Blue Crush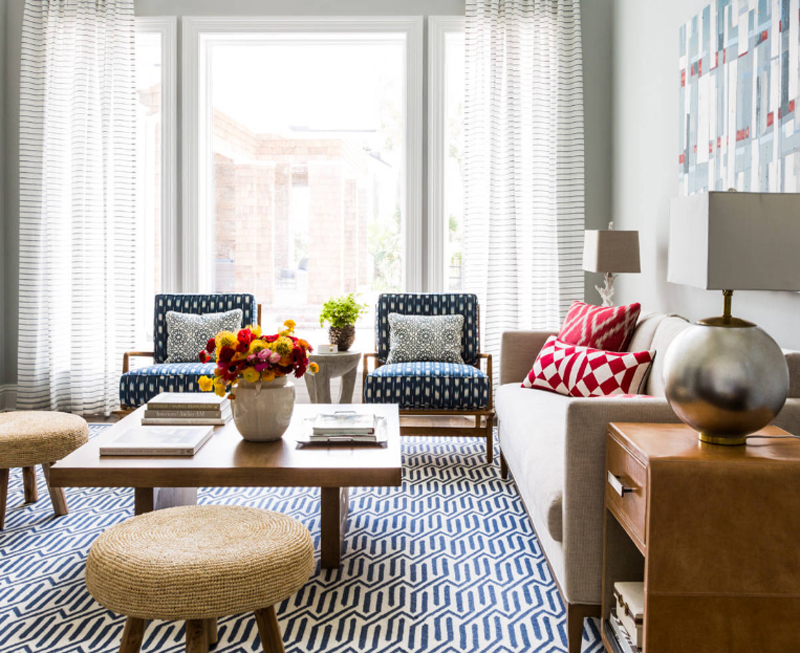 I really like how this living room is arranged. It's simple, contemporary and really appealing. The furniture choice is nice and actually beautiful – I think that staying in this living room is really relaxing and calming; the fact that this has large windows, this home can save electricity in the morning.
5. Chicago Contemporary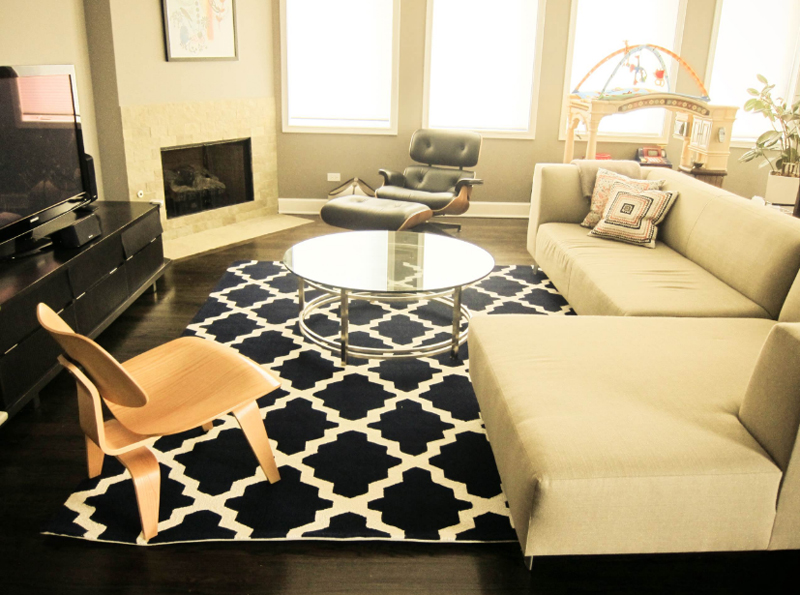 The way that this photo was taken seems a bit done with a filter but I think that it created an aura that makes this space more relaxing than it actually looks. The plain sectional contrasts with the printed carpet and it sure is lovely and perfect for this place.
6. City Living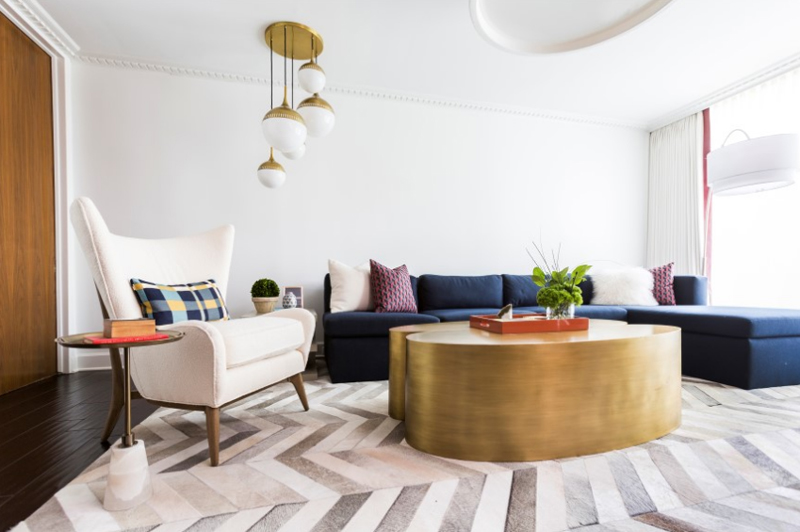 The royal blue sectional, the large white, vintage arm chair and the awesome looking center table are beautiful pieces of furniture that complement well with the design of the carpet – it's has a neutral material color which contrasts with the furniture and looks really good.
7. Contemporary Home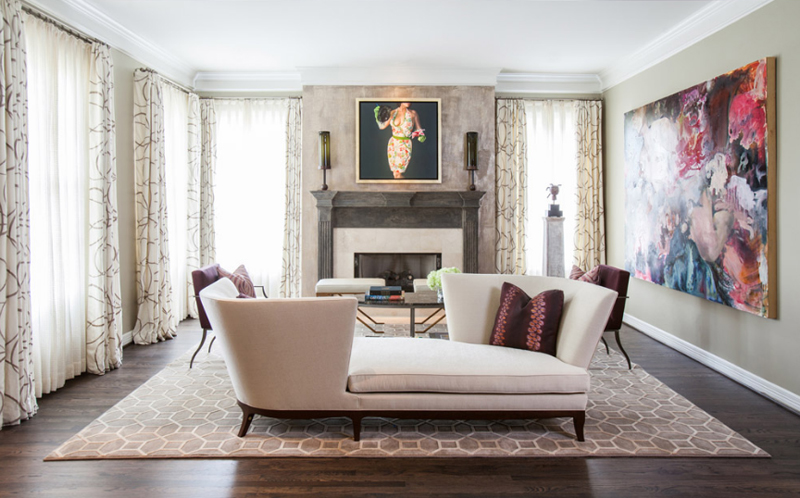 What a beautiful couch! The color complements the color of the carpet and contrasts with the color of the flooring! Take a quick look at the entire living room and tell me that this is not a stunning space, because you and I know that it actually is. There may be minimal seating, but I think it looks real nice.
8. Fine Residence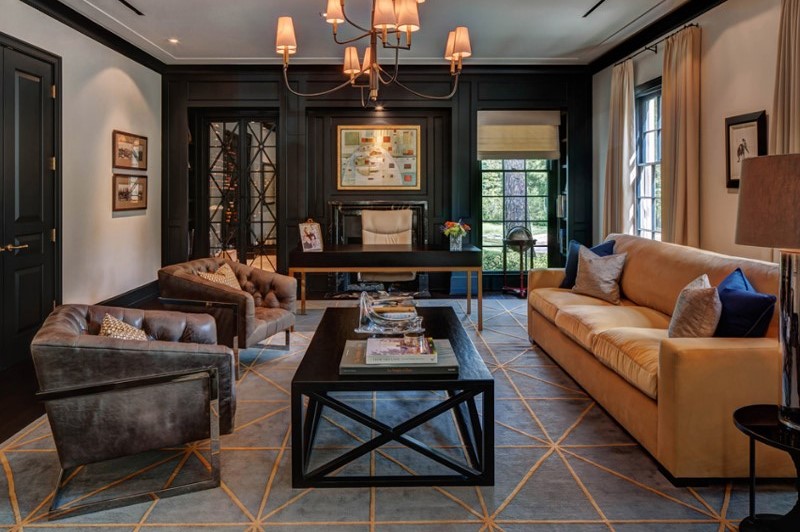 This living room sure looks fine – just like how it's actually called. The color of the couch and the arm chairs look real regal and exquisite. The color scheme is elegant and really fancy; I think that this is one example of a fascinating living room that anyone would love to hang out in.
9. Greenwich Tudor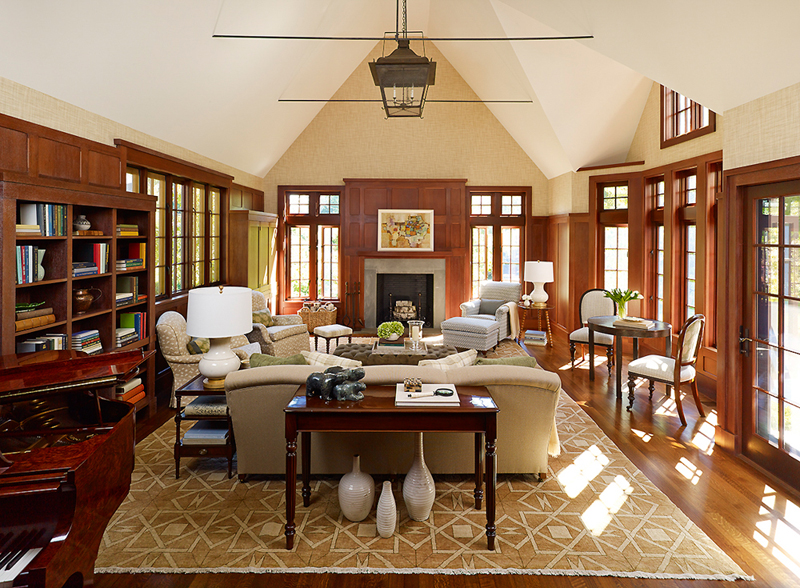 A traditionally designed home is seen in this photo. We can see the evident wood work done with the windows, door and the floor – even the furniture seen in here looks like elegant furniture; chosen and made with great care and class, who wouldn't want these types of furniture for their own homes?
10. Highland Park Residence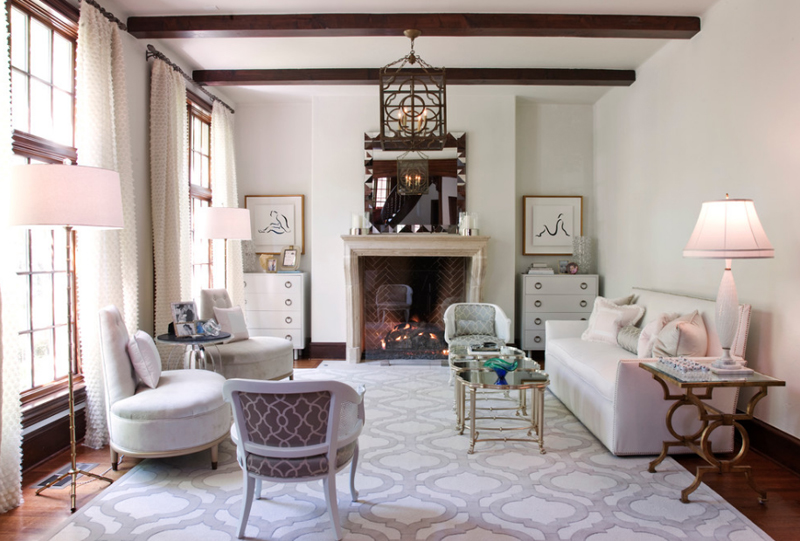 When I saw this living room, I thought to myself that this sure is one stunning space. If you notice, like this living room, most spaces which used white (or something in the white family), we usually see them as something that showcases class and luxury.
11. Houston Residence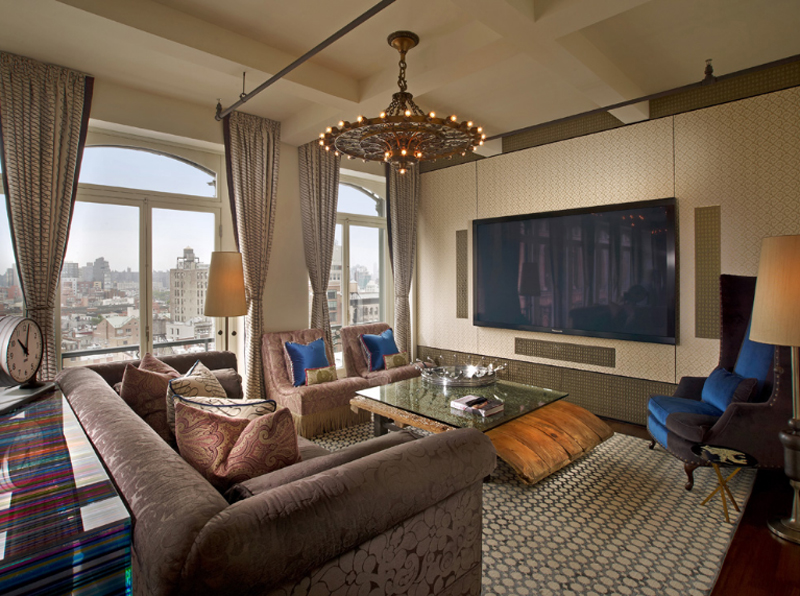 Well, that is one large television set! Hanging out in this living room sure would be fun and recreational! The large couch and arm chairs add a bit of bulk to this small living room, but then again, you'd think that if this space has smaller furniture, I think this is one large space after all.
12. Lower Fifth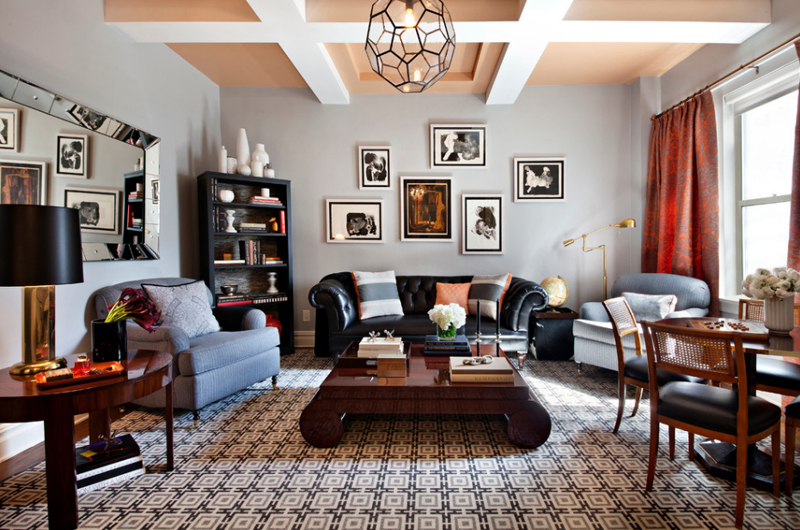 There seems to be a lot of things in this living room; seems like there are is a lot going on in here, but it still works and actually looks good. The Asian-looking coffee table has great workmanship and detail that sure is one for the books! The mirror across the window is real pretty too.
13. Marin Remodel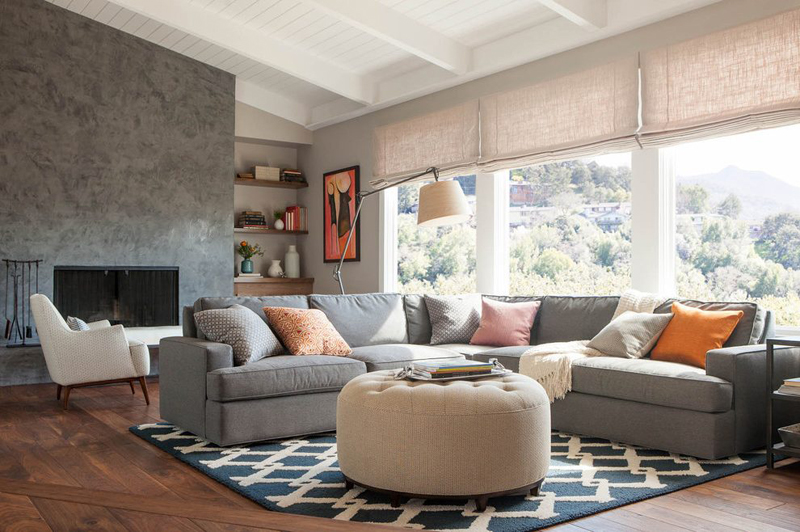 I am amazed at how stunning the view of the outdoors as seen by the window; the designer sure chose the best way to enjoy the view by using glass windows and Roman shades. If you notice, we have neutral shades seen in here – from the walls, shades, furniture and even in the choice of stand lamp!
14. Meat Packing Duplex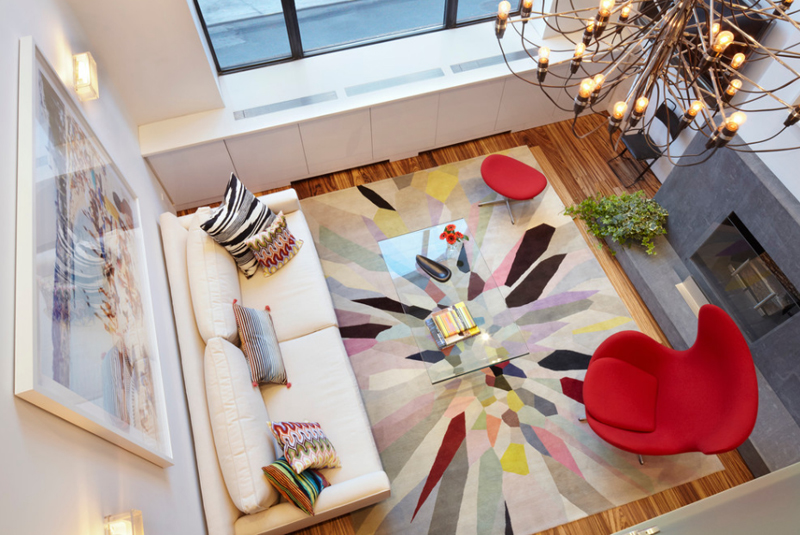 I am totally in love with this photo! The way that the carpet is seen in this photo is just remarkable, it's so pretty! It complements with the red egg chair and the neutral colored couch; using a glass rectangular coffee table made all the difference too!
15. Naylor Court Stables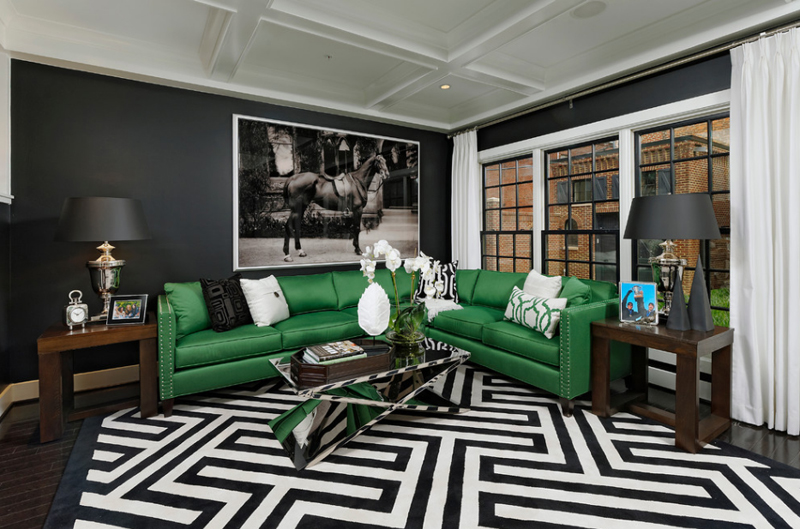 Featured this living room before and I guess, this is another chance for us to feature it because of how pretty it actually is. The color combination of this space is remarkable beautiful, not to mention the beautiful choice of area carpet that they added here; I totally love the black walls and black lamps in here too!
16. Nob Hill Penthouse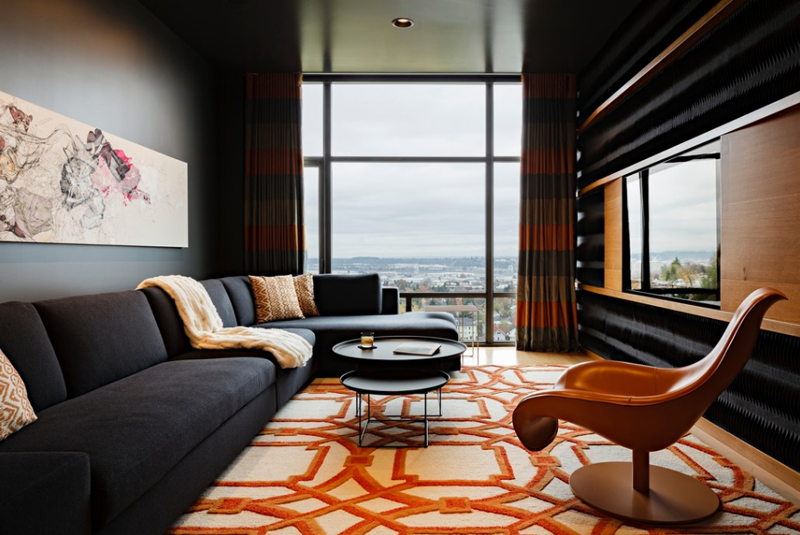 Red orange or fiery red orange, whatever the color of this area carpet is, it is really beautiful. It complements with the color of the accent chair and the black sectional. This space is quite contemporary, and I think people would really love to have or at least be in this space – the view of the city by the window is definitely perfect!
17. Richmond, 1930's Refurbishment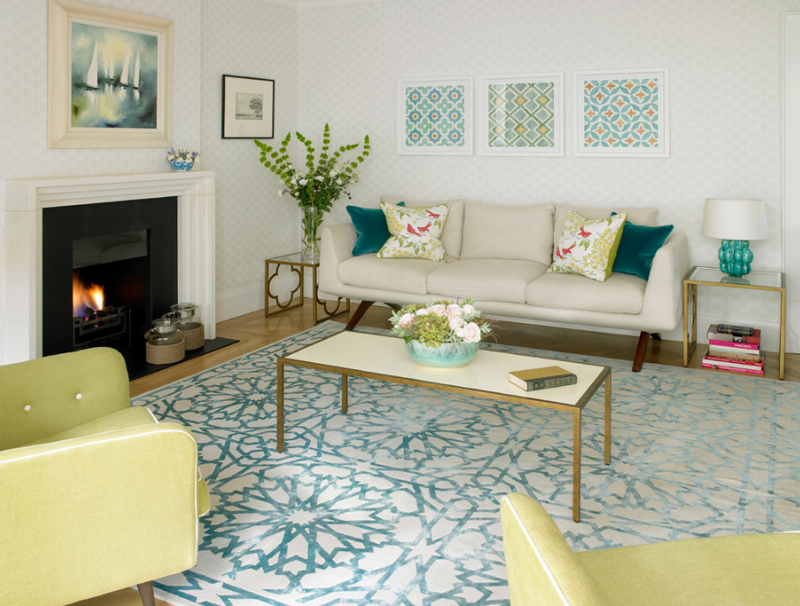 I think that the white and blue colored carpet is unique and ideal because of the decors seen on the wall that quite complements it. If you notice, the color combination of this living room is easy to beautify because of the white walls and light brown flooring.
18. Stonewood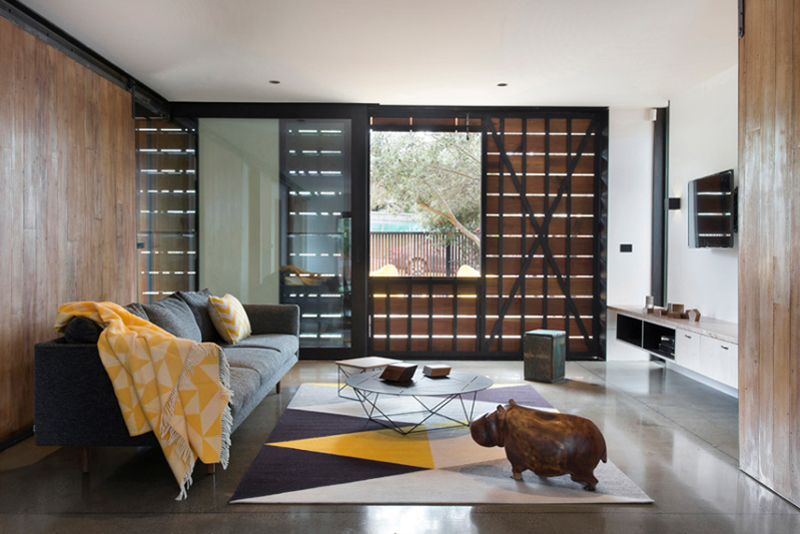 Breathe Architecture is showing us a beautiful home that has a rustic yet contemporary living space. Look at the pieces of furniture and decorations in here – very minimal but real pretty. The carpet has a nice color combo and design and they even added a wooden hippo on the side.
19. Tribeca Duplex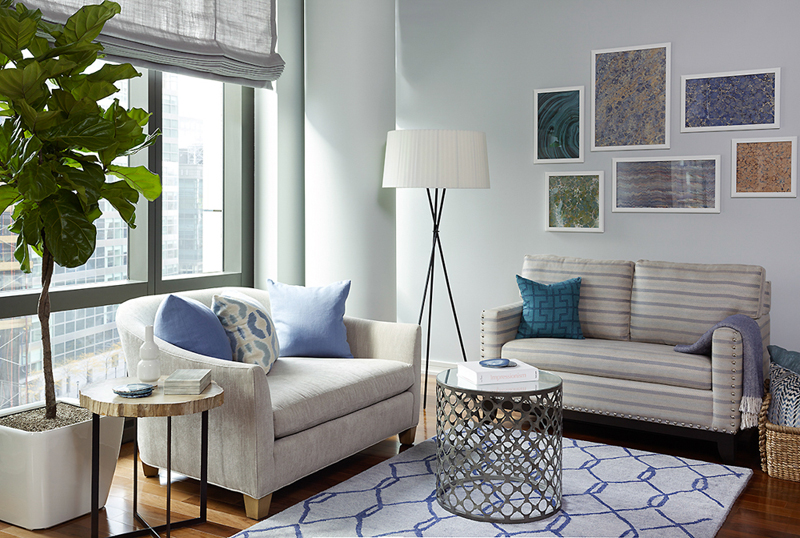 A lovely living space is seen in this photo – love seats with different prints and material was paired in here and is matched with the nice small side and coffee tables. The plain wall behind the striped love seat is adorned with nice white frames with colorful and unique prints in them, just like the area carpet.
20. Vance Lane Residence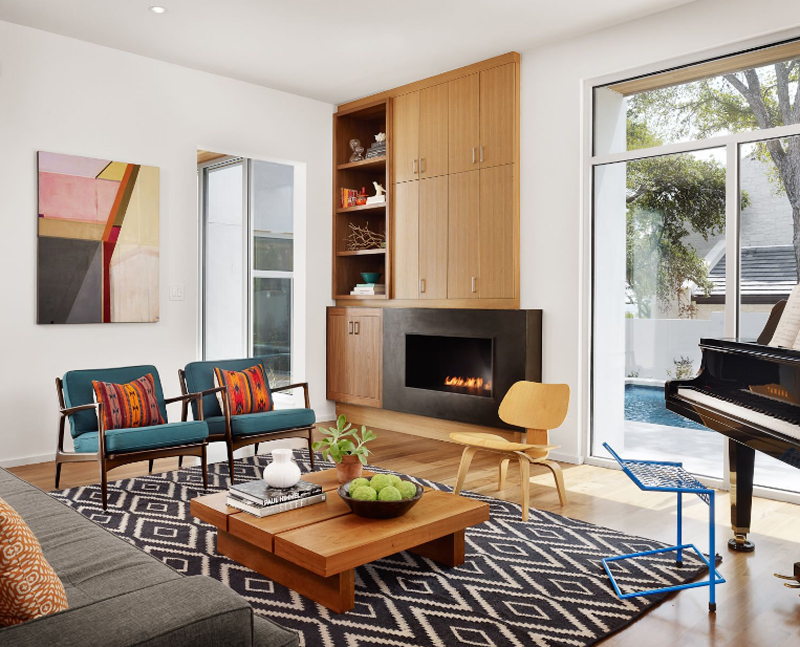 The finale to this list is one beautiful living room from Chioco Design. The mid-century look and choice of furniture in this space is something that gives this space more pizzazz and charm. Adding a grand piano meant adding class to this already sophisticated living room!
That ends our list for today; what can you say about the living rooms that we have showed you today? I think that each space in here is stunning in itself and they surely are made prettier because of the accents and decorations added to them – this is as much as the furniture is already beautiful. Check out the 15 Geometrical and Artistic Modern Round Area Rugs and share them with your friends; like this list too!