20 Wall Mounted Animal Heads in the Living Room
If you want to add an animal head decor in your living room, here are inspiring interiors for you.
In some of the ranch homes that we see in the internet or in magazines, we see animal heads as a staple decor. For some, this is something that they brag about – because they personally shot these animals dead to stuff them and display them in their houses. For some, they add this as a cute decor to emulate the process that I just discussed without the killing and the taxidermy.
So, for today, we have a list of 20 Wall Mounted Animal Heads in the Living Room that are not only pretty but really fascinating. In this list, we see the real deal (which I can't personally say which ones) and then the ones you can easily buy in the mall. Check out the list below and decide if you'd actually want to get one – or more for your own homes!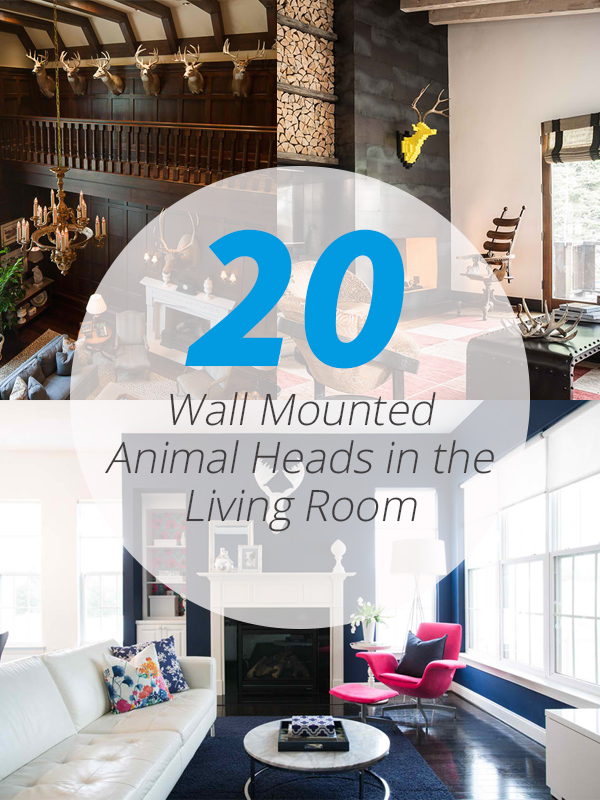 1. Breezy Oceano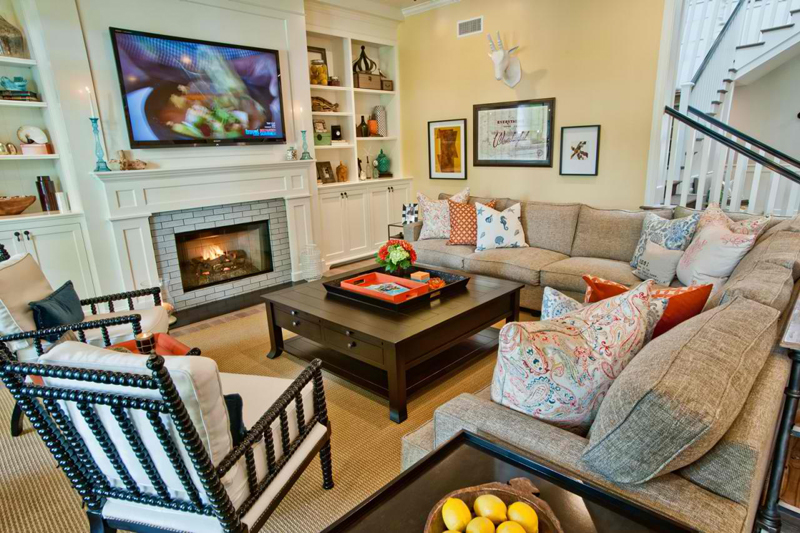 Let us begin with a comfortable and really homey living room from Jill Wolff. This living room has been featured here in some other list, and today, we are enjoying it again because of the animal head decor that this space have. See that white animal head on the wall? It surely complements the peach wall with frames below it.
2. Casa Espanola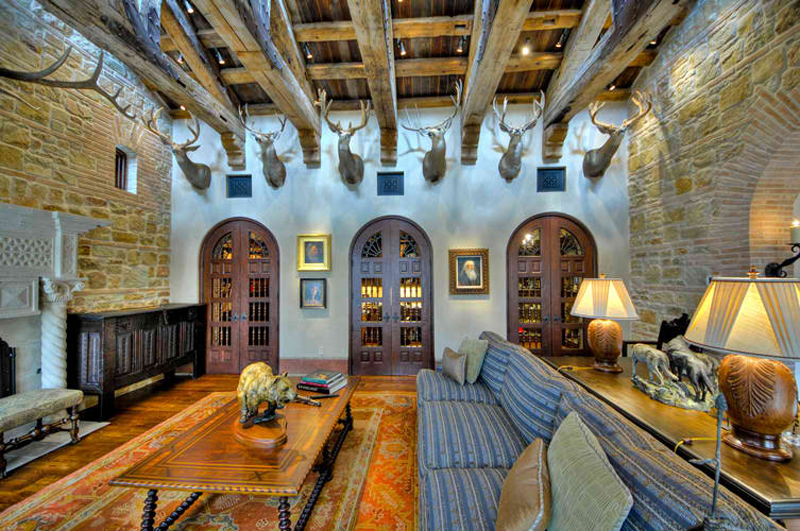 Well, I can say for sure that the home owner does love animal heads as seen in this photo. It is possible though that these heads are actually the real deal – like taxidermy stuff. From the aura of this living room to the materials actually used in here – esta casa rocas!
3. Martin's Tahoe Retreat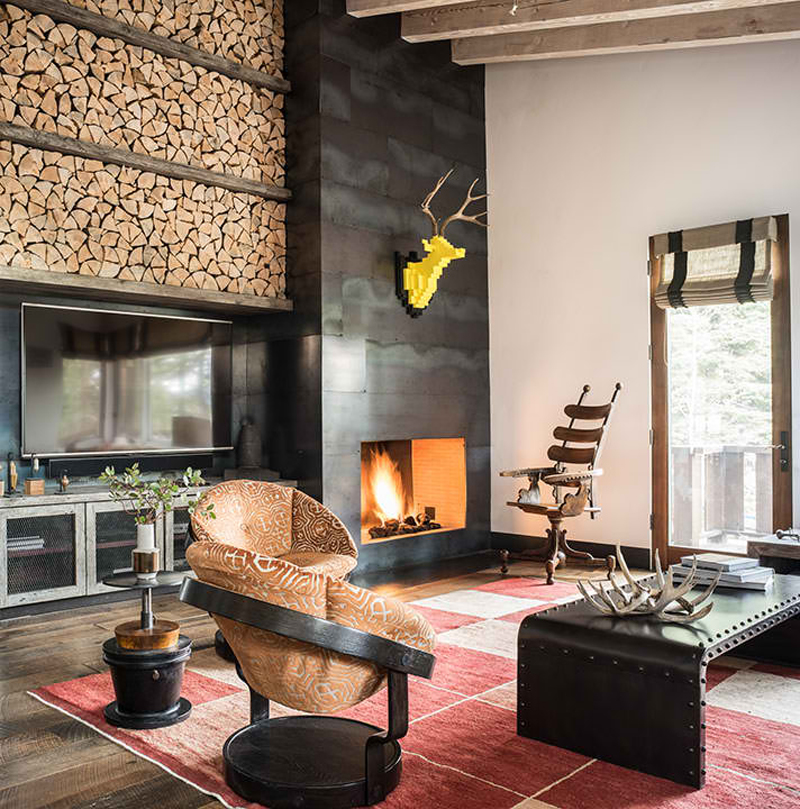 Even when this animal head looks pretty weird, I think we can agree to disagree that this is one cool artifact too! People who would be seeing this would find it not only interesting, but also something to be envious about – it's both contemporary and eclectic!
4. Newport Beach Project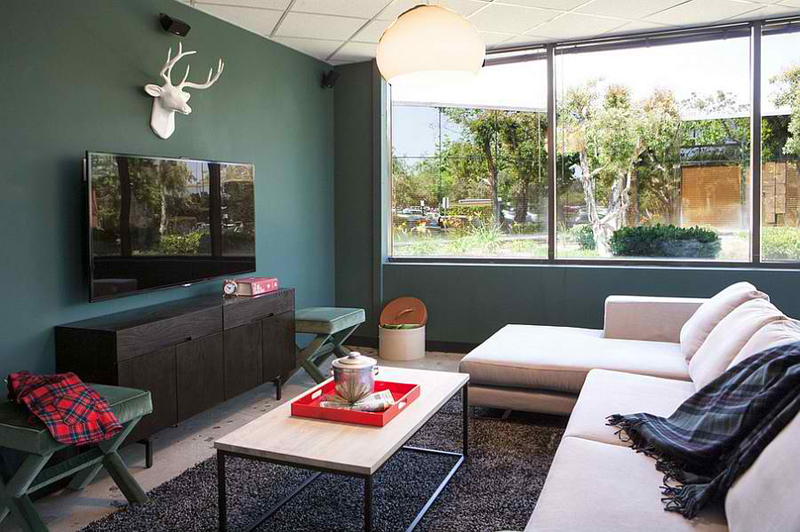 If you or your designer went for a darker colored wall, choosing a white animal head could be just for you. You'd definitely see these in your local malls, although if you don't, you can always scour the internet to do the purchase! I think the color of walls here is pretty nice and the contrast on the furniture is evident – I love it!
5. Queenscorp Condo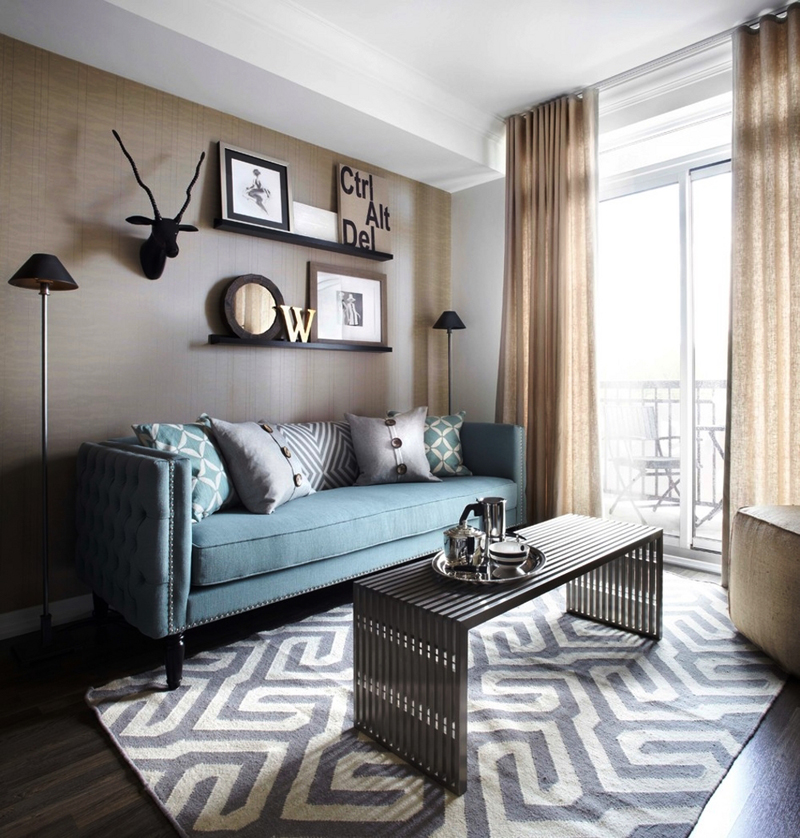 When I got to seeing this living room, I got amazed that no matter how small your spaces at home are, you could always make them look real cute like this one. The wall decors are few but really nicely done, the small black animal head on the wall is pretty interesting too, and the mini stand lamps are tiny but neat too!
6. Tahoe Retreat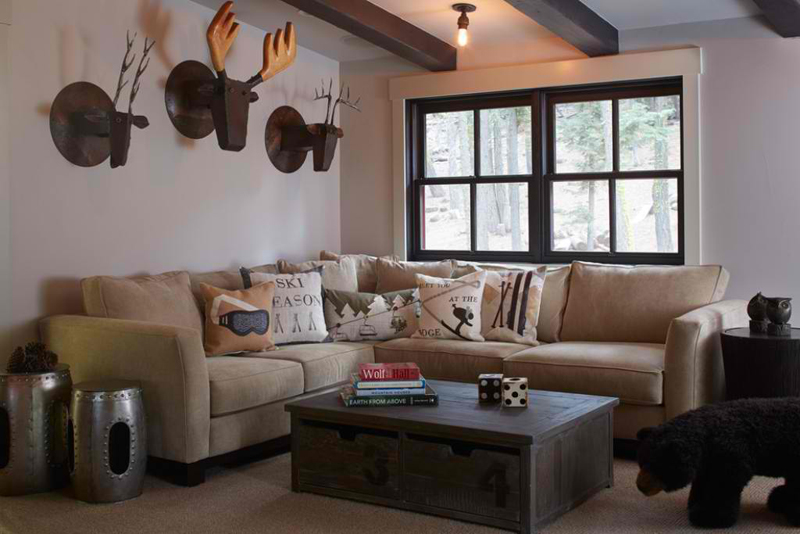 What do you think about the cool animal heads present on the wall? I think they could be made of wood, but then again, it could be made from steel and still look really awesome. The dark color resemble the animal heads that were preserved and it contrasts with the color of the wall and the sectional in here.
7. Trophy Cottage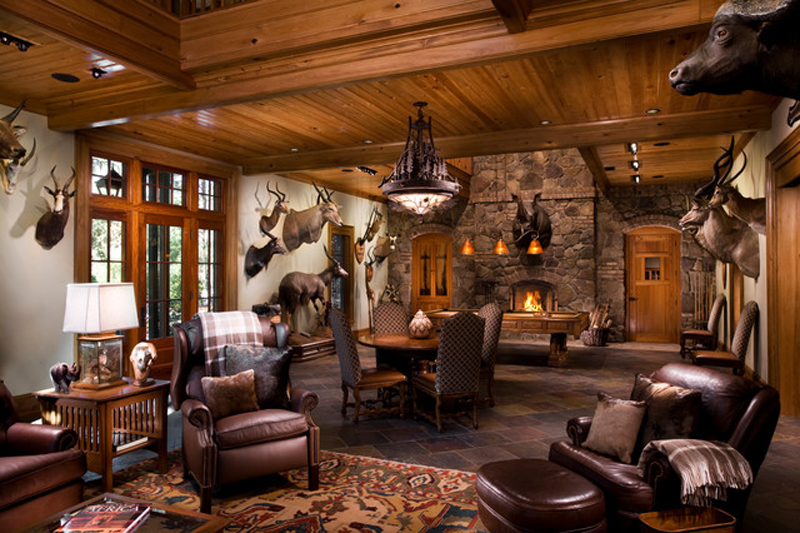 This is one large home and from the name of this place and the look of the surroundings, this kind of looks like someone is actually showing off all the heads displayed in here – interesting and at the same time, creepy; but in general, this space is real nice to live in and the aura is just so much that of a castle.
8. Vancouver Contemporary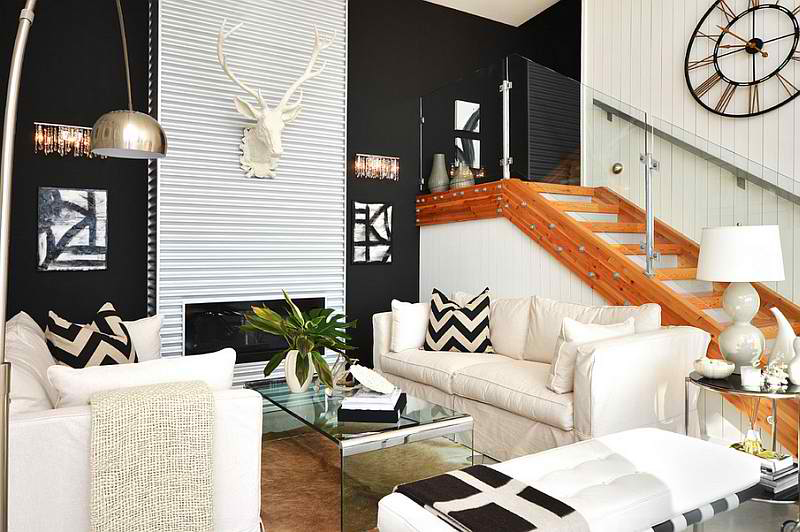 I've been fascinated with this living space for a long time. Dawna Jones did a really great job in creating a space that somehow has that feel of a beach home but at the same time contemporary enough to really look this stunning for people who are into contemporary, beautiful things. The black and white combo never grows old on me.
9. Desert Dream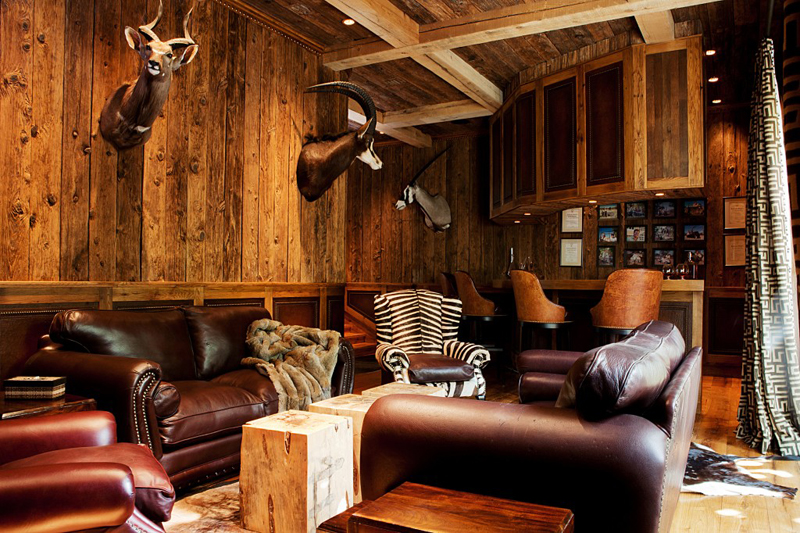 I thought two heads are better than one, but in this case, I think that three is not that bad either. This Dubai home is definitely a desert dream – homey and comfortable – two things we actually hope that our homes would always be; this could be something that the desert can't offer for the most part, but this space is real decent, people will surely love this!
10. English Manor House 2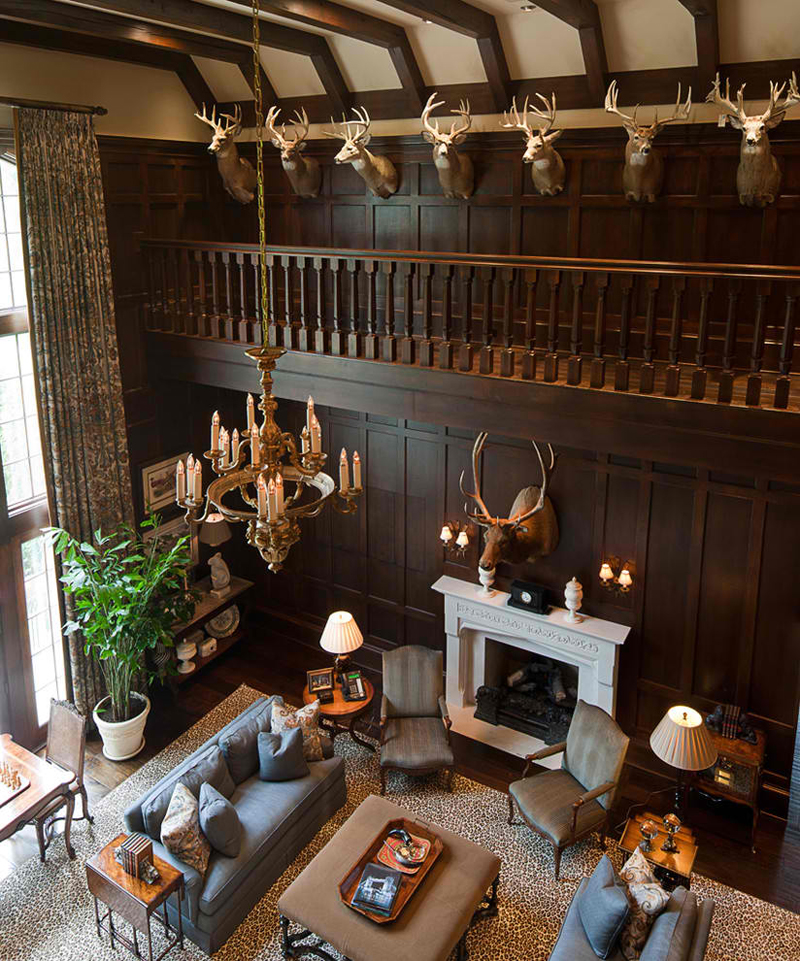 I am very much amazed with how much heads this manor actually has. I mean, because this place is so huge, a single animal head would be so lonely. The largest animal head is strategically placed in the center of the room above the mantle – it sure is masculine enough to actually dominate the entire wall.
11. 35th Avenue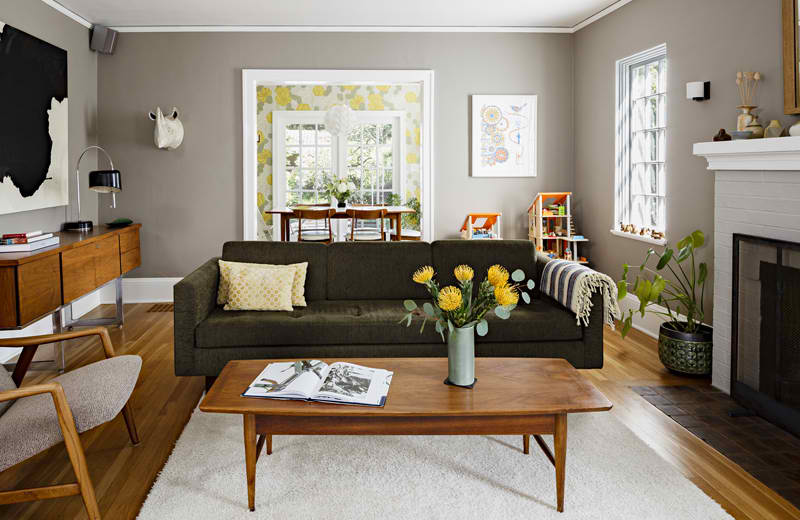 I have always been a fan of symmetry in design – both in the interiors and the exteriors of houses. In here, we are seeing a hint of the symmetry as seen on the arch that opens to the dining area, but aside from that, nothing else is – but still, I think this is one comfortable and beautiful 35th Avenue home.
12. Bennett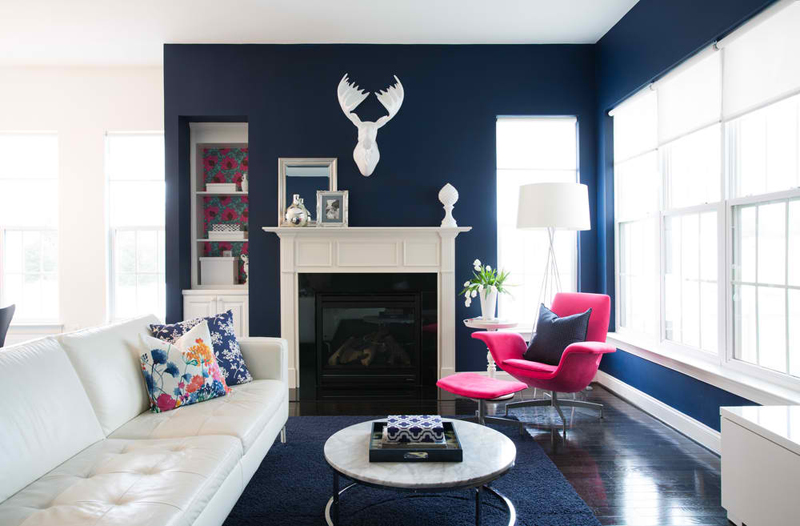 Here is another living room with that dark colored walls and a stunning white animal head on the wall! If you notice, the blue and white combo sure fits perfectly! This color combo actually looks like something a beach house could have but only it isn't and this is one awesome contemporary home that anyone would be envious of.
13. Transitional Family Home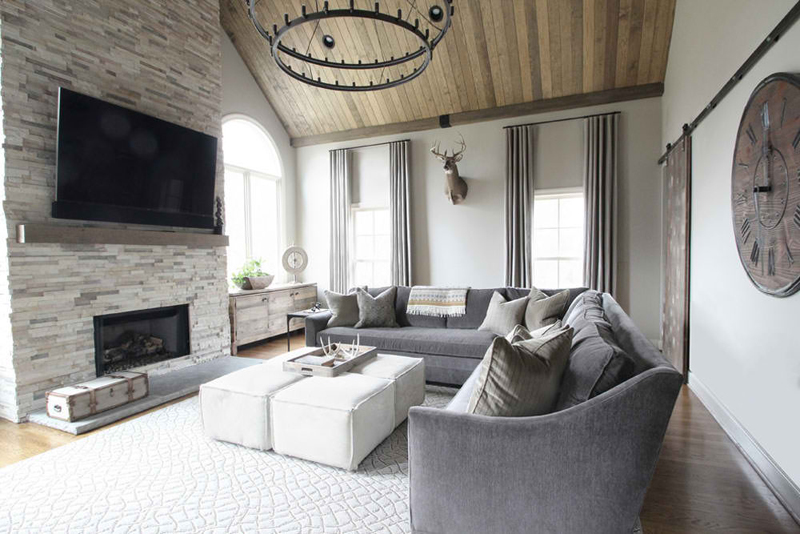 I think that this living room has too much lighting and I think they showcased this living space this way because of the photo shoot itself. I like how this space has minimal things in it – just the basics and it still looks fabulous!
14. Orangeries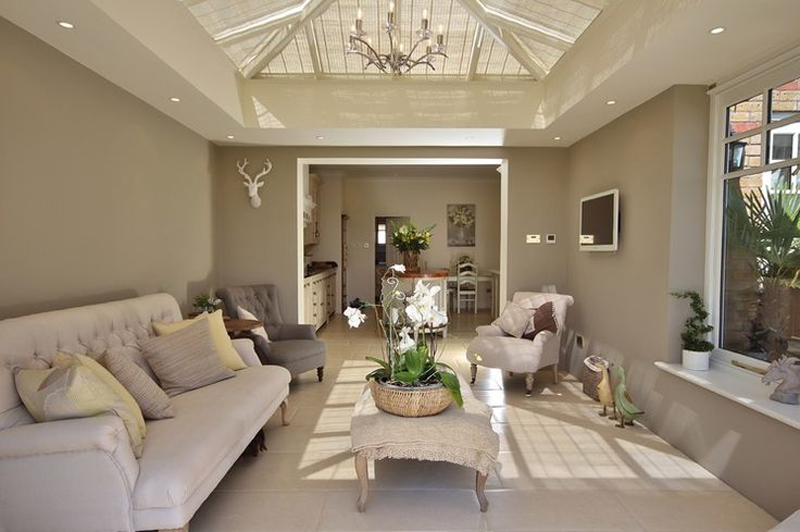 This is one awesome living space that has a skylight in the middle of the room and somehow reminds me of malls – houses that usually have skylights have them on the sides and not really in the roof; but all in all, I think this space is real cozy and wonderful.
15. Cedar Bluff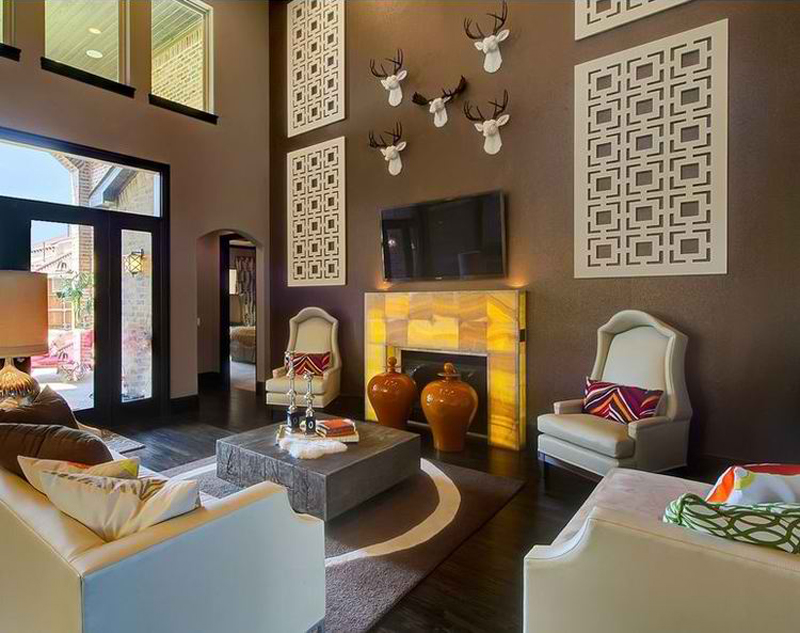 These are the first white animal heads that I've seen that have black antlers – it's pretty cool that they are that way because they surely give people some perspective about how cool having animal heads on your walls. I love the symmetry done in here and I think that you do too.
16. Living in a Vignette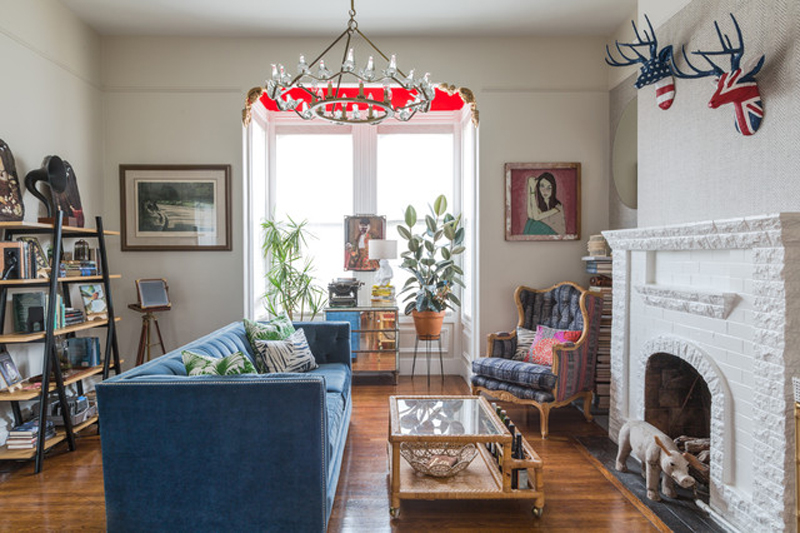 Here is a cool way of showing your love for your country and animal heads! Getting them in the color and design of your flags! This living room is is very pop culture, I love it!
17. Red Oak Circle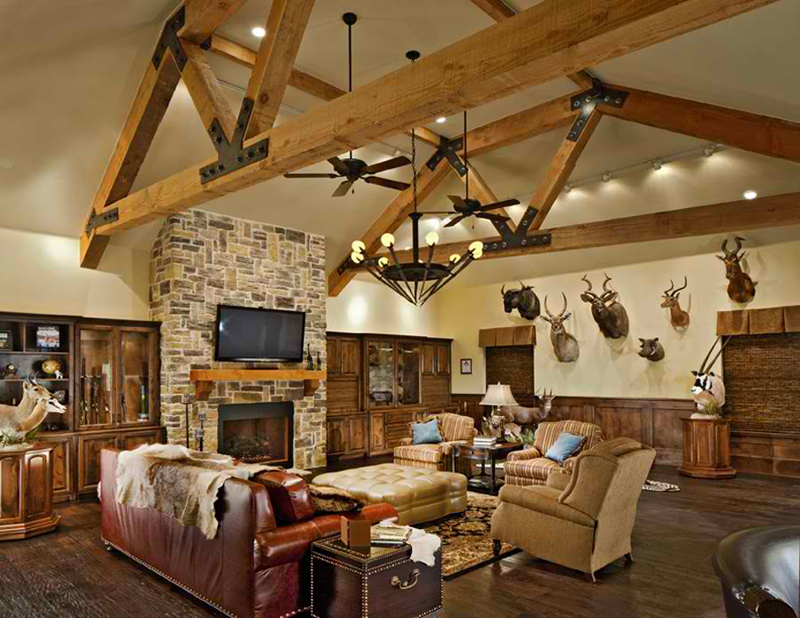 This home has too much story waiting for them to be told. The choice of exposed king post, the unique chandelier in the middle of the ceiling and the animal heads on the wall is just fascinating. I even am fond of the cowhide draped on the couch and that stunning side table that looks like a mini treasure chest!
18. Fly-in Fly-Out Frame Lodge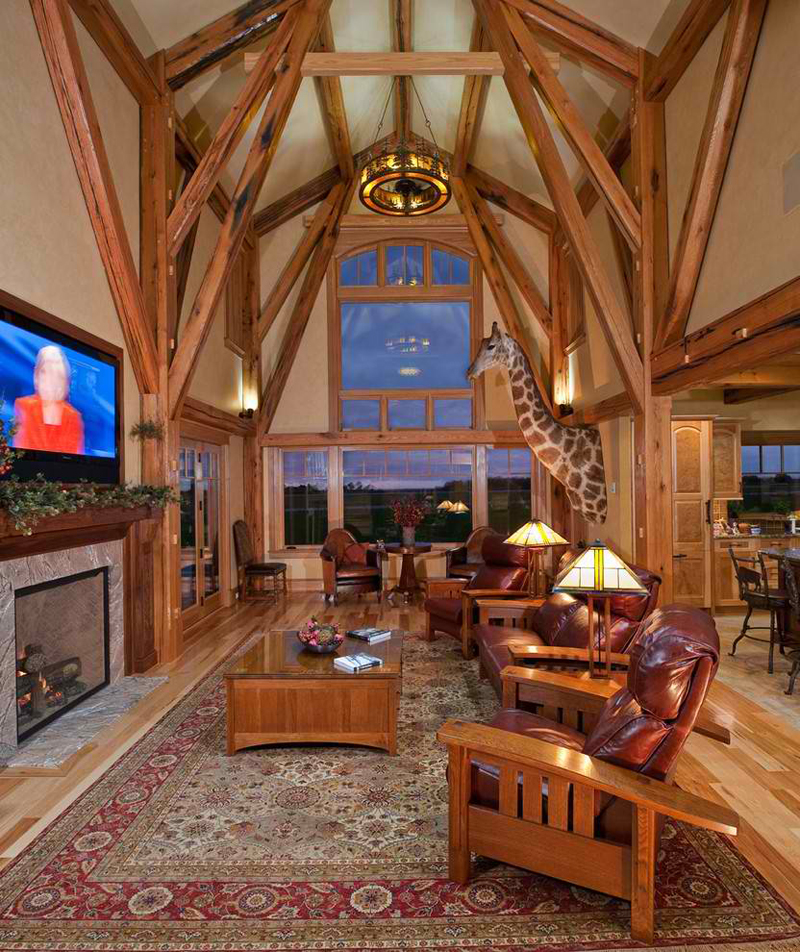 I know this is off key – but what can you say about getting a giraffe's head for your home decor? Pretty much out of the box but very cool! It's not every day that we actually see something like this. If you have kids around, I think they'd ask you where the body's at!
19. Alpine Chalet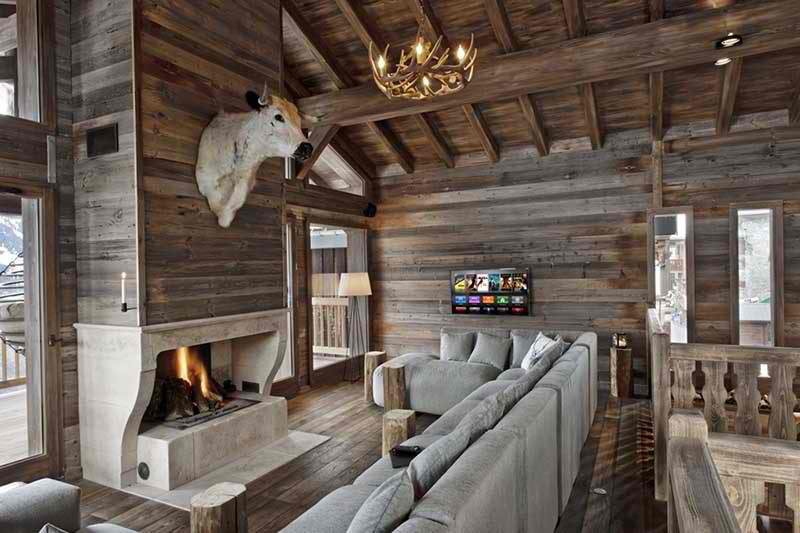 This chalet just looks incredible! All the woodwork done in here – the unique and somehow old school fireplace and that cow? I think this living room is just waiting for a party to happen in here! If party is not an option, whisky and cigar should be okay.
20. San Francisco Mid-Century Mix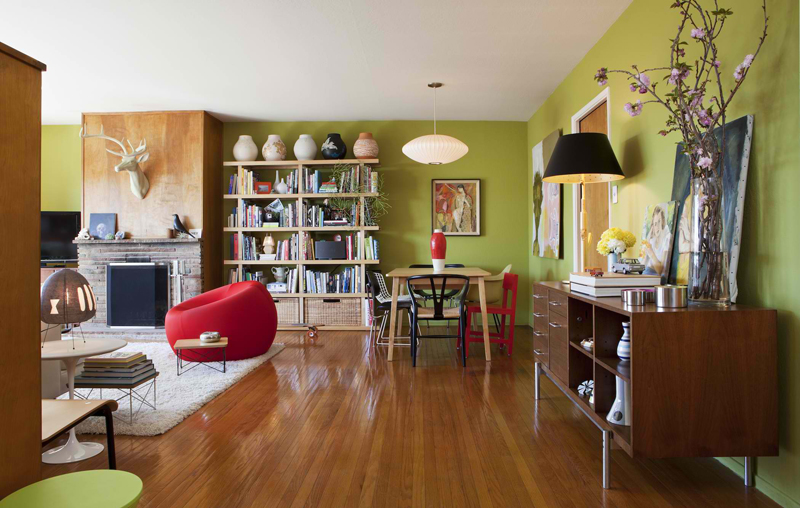 The final space in this list is the wonderful home from Janel Holiday. I know that we only see a portion of the living room, but I really wanted you see the bookcase on the wall that is close to the dining area. The colors in here is just fun and wonderful.
If you have read the 20 Bedrooms Decorated with Wall Mounted Animal Heads my colleague wrote before, you know you'd want one for your living room too! So I think that this list is just the one that you're looking for. I sure hope that you picked favorites in this list because I think that there are some really cool rooms in this list that you can easily share with your friends!