20 Fascinating Swing Chairs in the Living Room
Add a fun furniture in our living room to create more inviting aura.
As a child, I doubt that you have not loved being in the park and playing in swing sets or seesaws. If you are fortunate enough, your parents would have bought one and placed it in the backyard for you to invite your friends over and play there. In today's furniture design, you would be surprised with the technologies that they have which we surely enjoy today.
Below is a list of 20 Fascinating Swing Chairs in the Living Room which I think are really pretty..interesting and fun! The designs of the said swings come in different materials, shapes and sizes and I think that you'd totally love how the living rooms look so much prettier because of the swing that was added in them. Take a look and enjoy guys!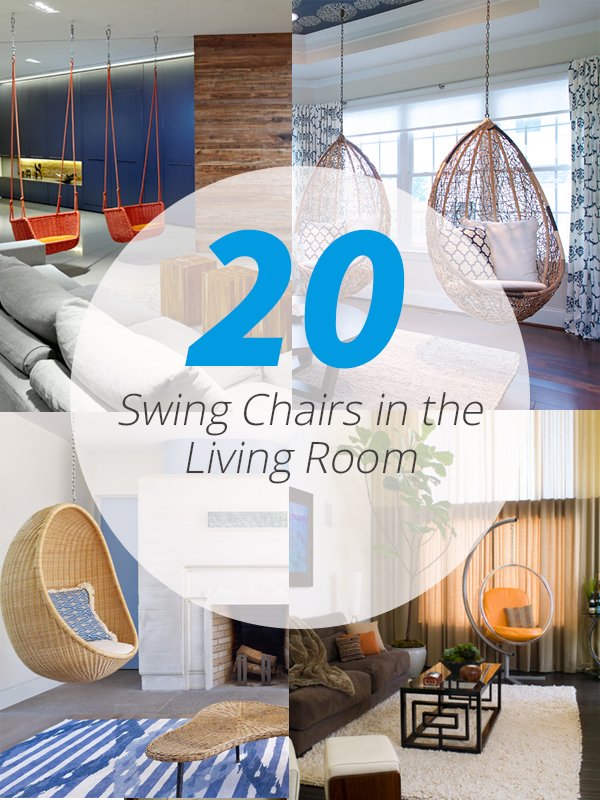 1. Modern Bright and Unique Sunroom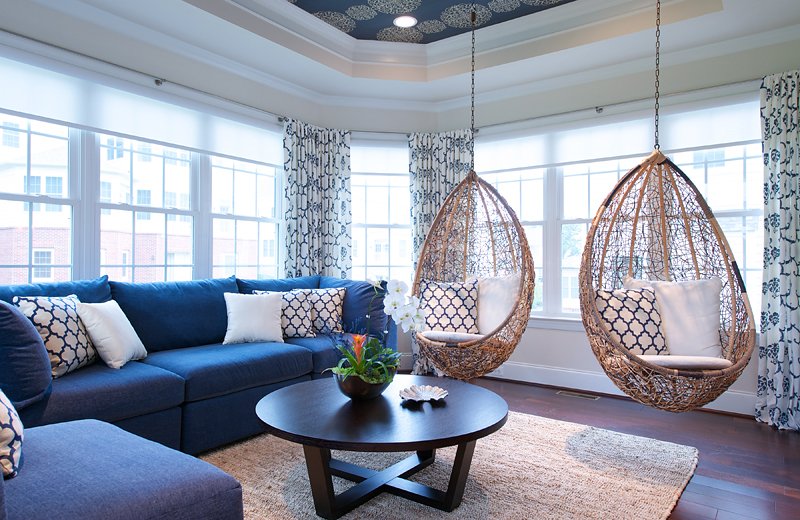 The two charming swings in here sure look like an egg chair of some sort. What I personally love about them are the material used with it – very Earth-friendly with a neat design; it complements with the colors seen in this living room, and with those cute pillows, I sure would love to post a photo of this space in Instagram.
2. Mill Valley Hillside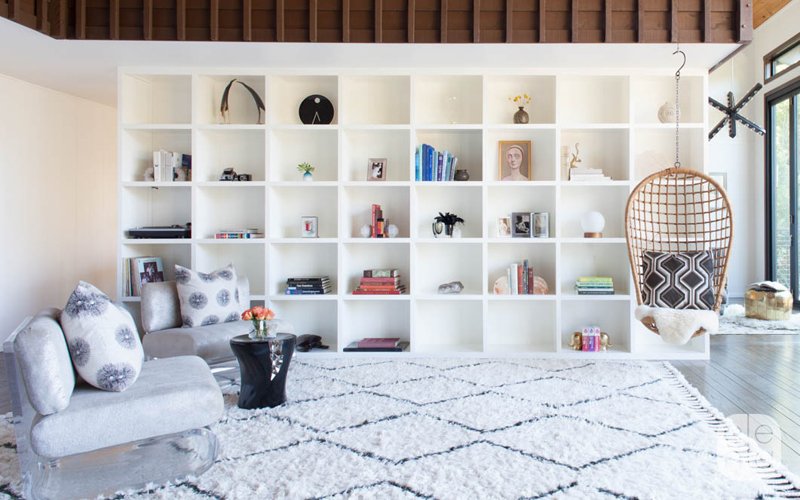 The cubby hole wall in this living space is quite fun and interesting. This is something I would really love to have in my bedroom – for me to be able to display the things that are most important to me. Notice the swing on the right? Pretty comfortable-looking right?
3. Caroline + Jayden's Bungalow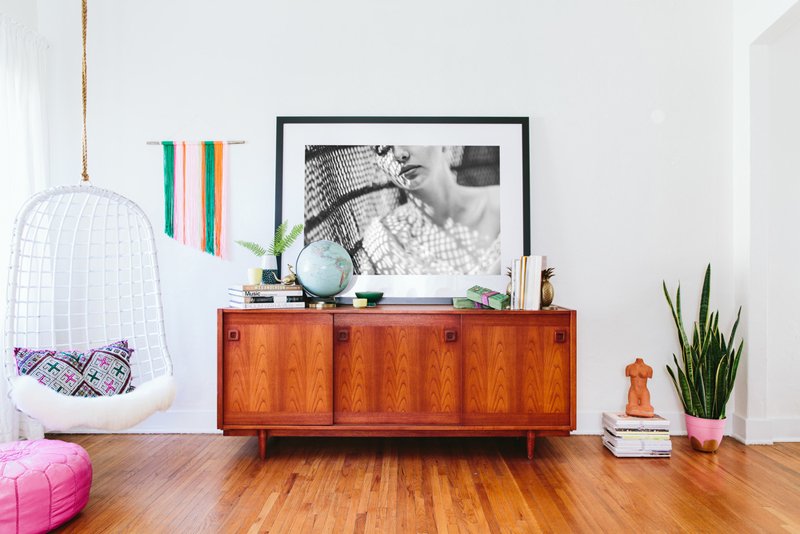 This small living area which connects to the main living room sure is simple but very ravishing. The color of the swing is in white and I think that it looks really good; it may have a similar color with the walls but it sure contrasts with the buffet table and the floor.
4. Modern Farmhouse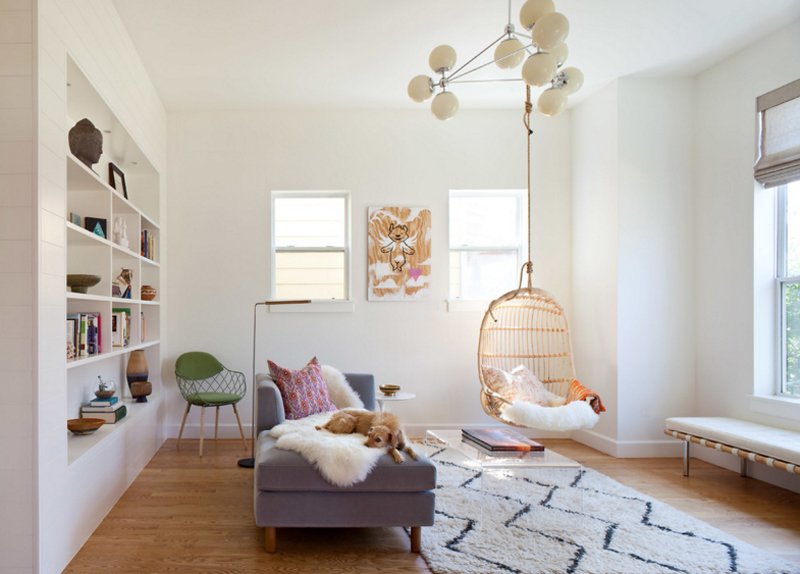 A white living room with very few furniture but sure looks stunning! For me though, not having as much seating as most homes considers having is not necessary especially if your friends or visitors coming over are okay with seating on the floor. Having carpets and pillows, even poufs or bean bags would be alright.
5. Modern Summer House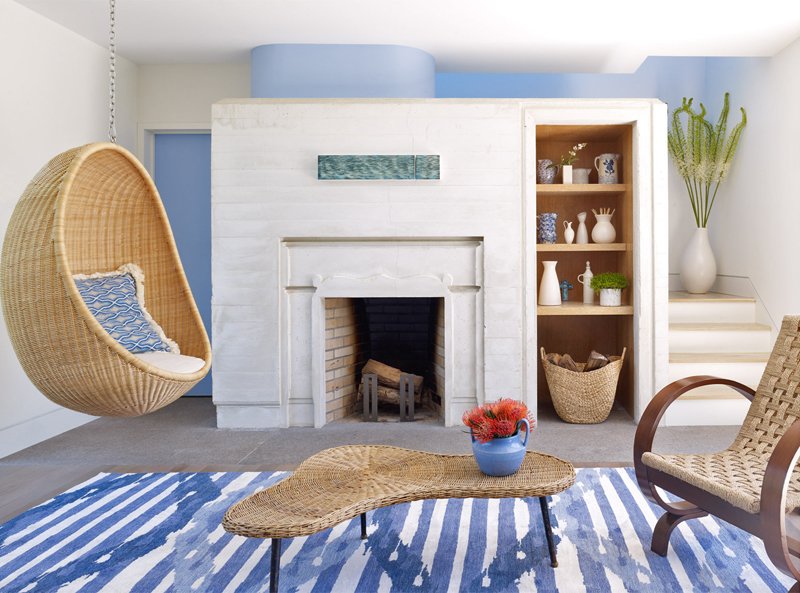 What do you think about the design and theme of this summer home? Looking at the color palette – it feels or seems like being closest to the beach or in Santorini (because of the white and blue combo, actually). I think that the furniture in here is perfect – just perfect.
6. Soho Loft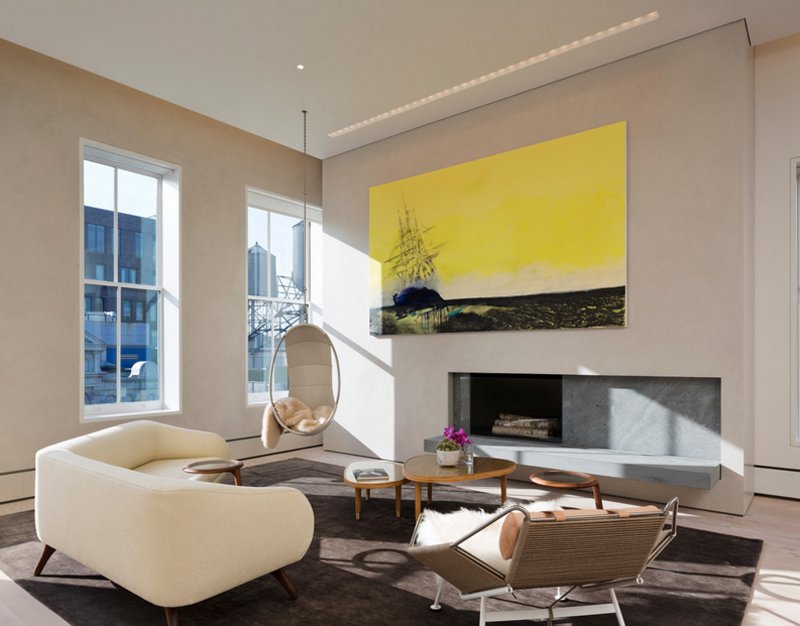 The oval swing chair in this living room sure blends well with the color of the furniture – neutral and lovely! I find the picture on the wall interesting because of the feeling it somehow exudes. The color of the picture makes this living room a bit better because it breaks the feeling of subtleness.
7. Sonoma Coast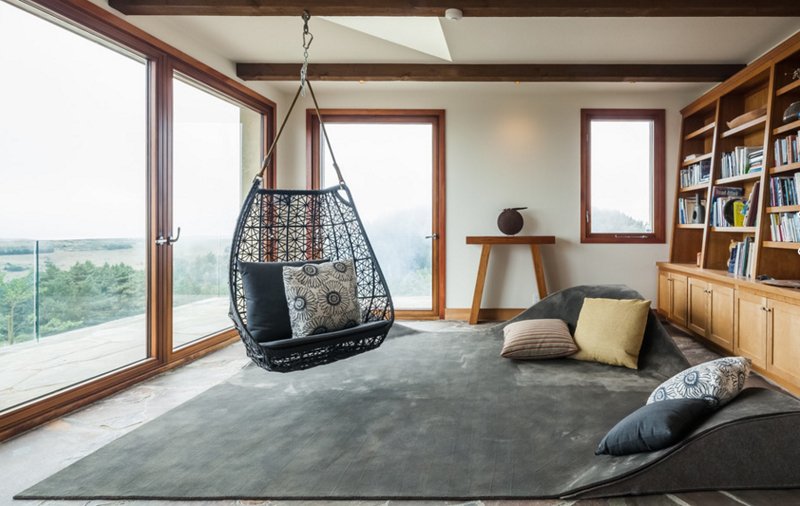 The grey swing chair surely blends well with the mat seen in this living space. This is what I was talking about a while ago when I said that having less or no furniture is okay so long as the area has a carpet or seating mat and some pillows.
8. Writer's Studio Barn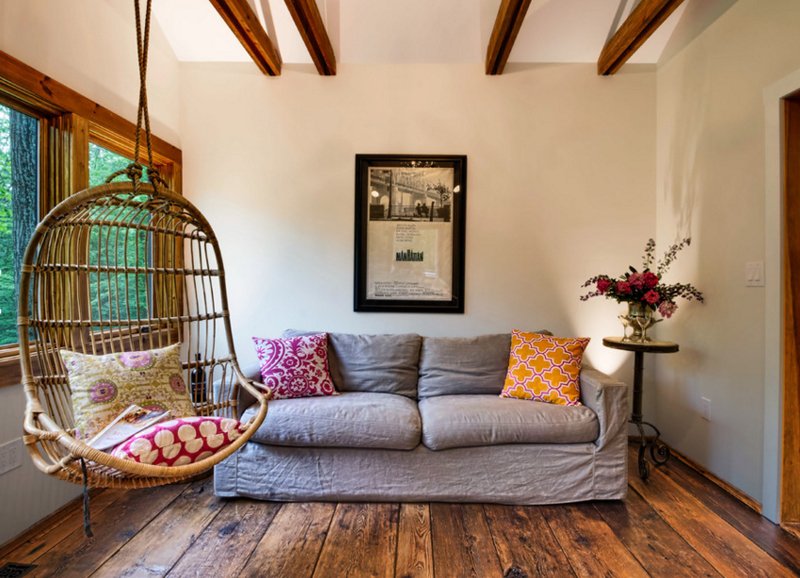 With wood being one of the main building materials in this home, I can totally say that the choice of the swing chair in this situation is just perfect. It complements well with the flooring, the beams and the window and door sills. Swings like this one creates aura of hominess and comfort.
9. Brentwood – Sullivan Canyon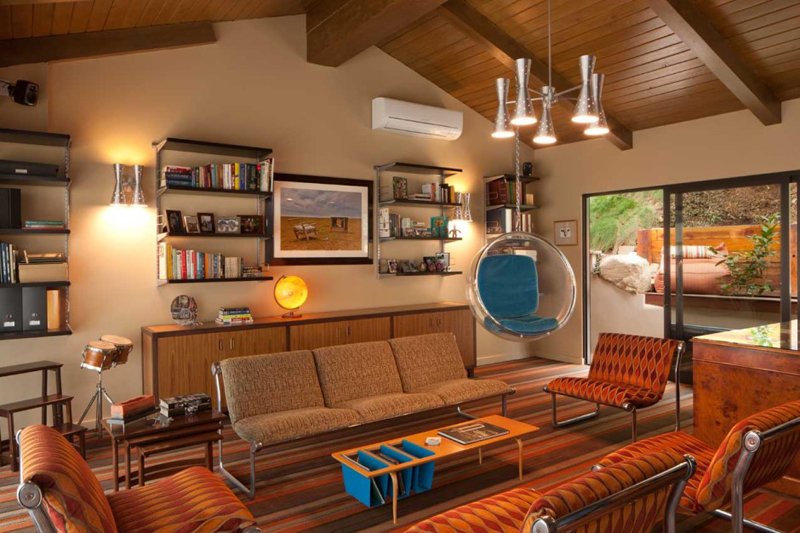 I do not really understand why the swing chair in here is in blue. I mean, the swing in itself is a clear material – but seeing the magazine holders on the coffee table makes a whole lot sense. The browns and oranges in here is a little overwhelming for me; it totally goes with anything, but I think that aside from the blues in here – this space needs a bit more color.
10. Century City Chic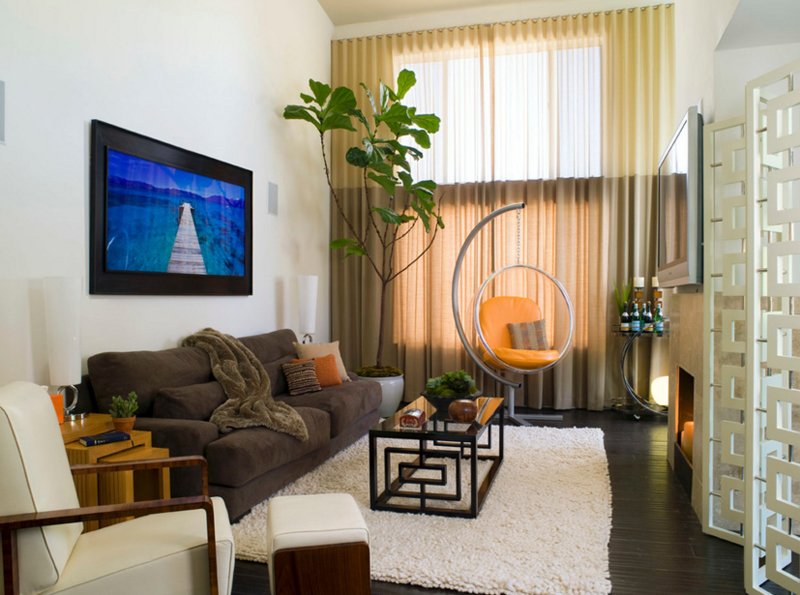 With the previous swing, this one is a bit similar – in shape and material, only that this one has a holder of its own, unlike the other one that is directly connected to a beam on the ceiling. The color orange that was used for the cushion on the swing is pretty eye-catching.
11. Desert Mountain Retreat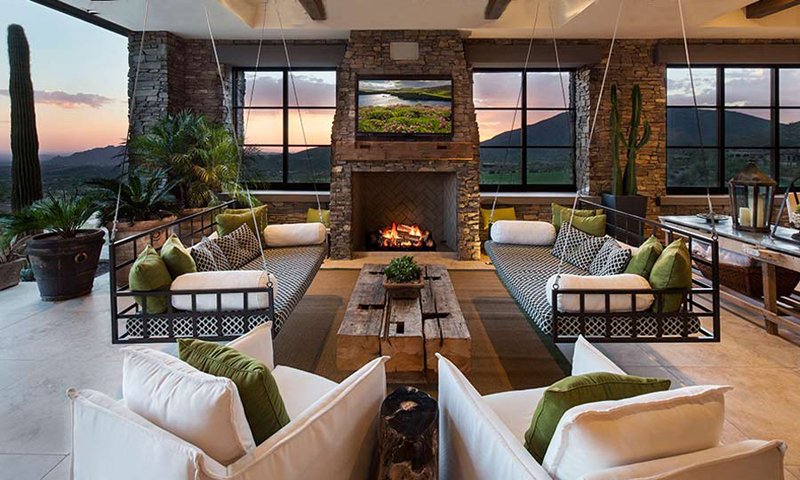 Why have a sofa-like swing when you can have two! Just like what we are seeing in this Desert Mountain living room. The color combination on the cushion and the pillows is cute, I totally dig it. Especially that this space is surrounded by outstanding mountains and all that green!
12. Entertainment Haven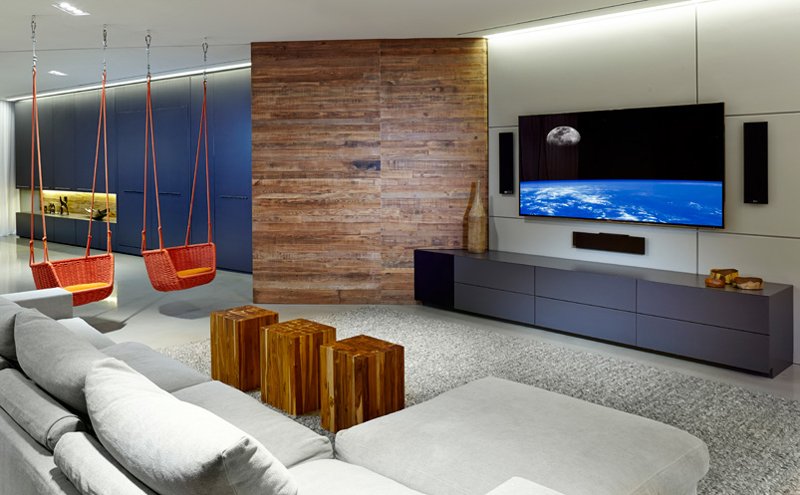 The orange swings on the side somehow looks like something from a park – only a bit more sophisticated and expensive. The color I don't really get, but of course it looks super good; with all the other colors around it, the swing chairs really have the 'it' factor to really stand out!
13. Lytton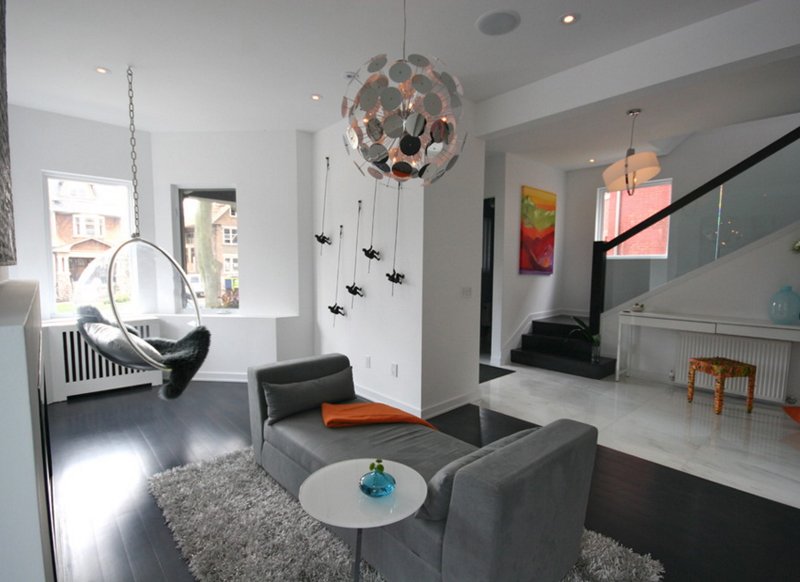 A ghost swing chair design that blends just right with the colors in this living room. White and grey is actually a great combo – if you want to live a bit more sophisticated than when your house has too much colors. Like a black and white combination, this one is definitely a go-to and a classic.
14. Malibu Beach House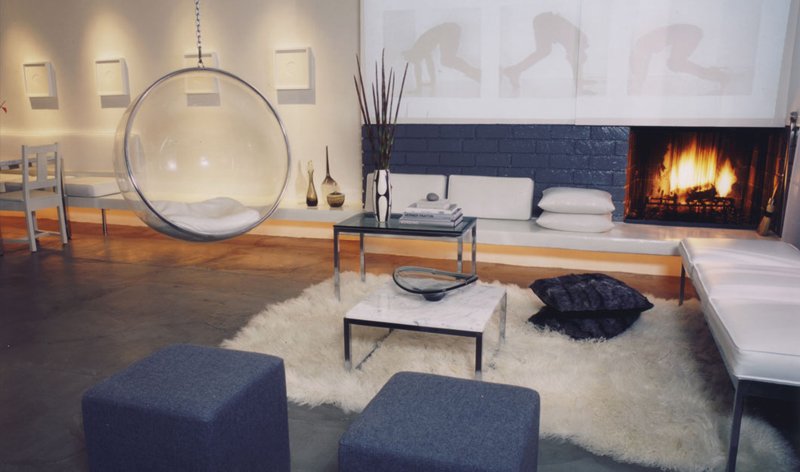 Another ghost swing chair in a rather sophisticated and alluring set-up. This living room arrangement may not necessarily look as comfortable as much as we would wish it to be – but I'm sure this space beautiful and cozy; especially that we have a stunning fireplace on the side too. Cold nights will never be an issue in this space.
15. Market Street Penthouse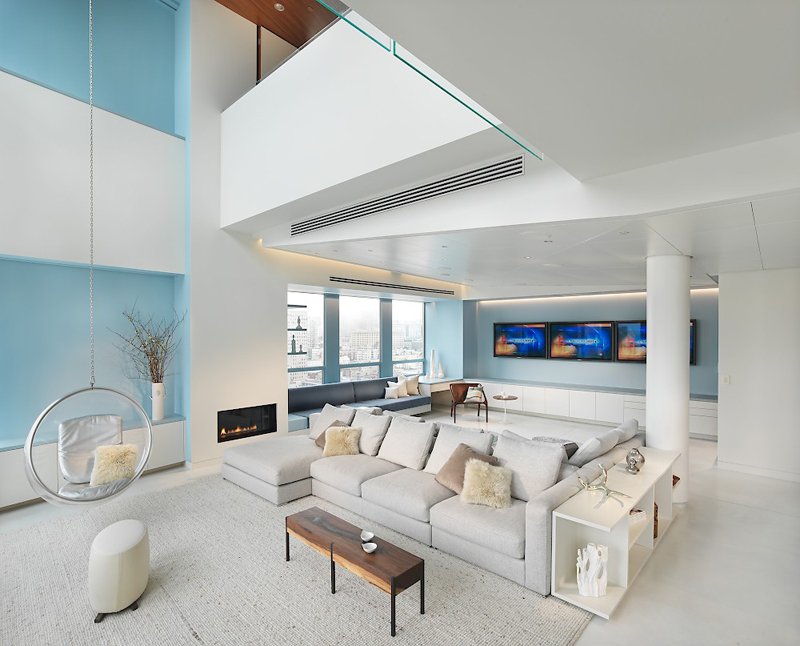 What a nice home to begin with! The white and baby blue combination is such a light and fun treat – not only for the home owners but for people who would be looking at this space and the ones who would be coming over for a visit.
16. Moorestown Residence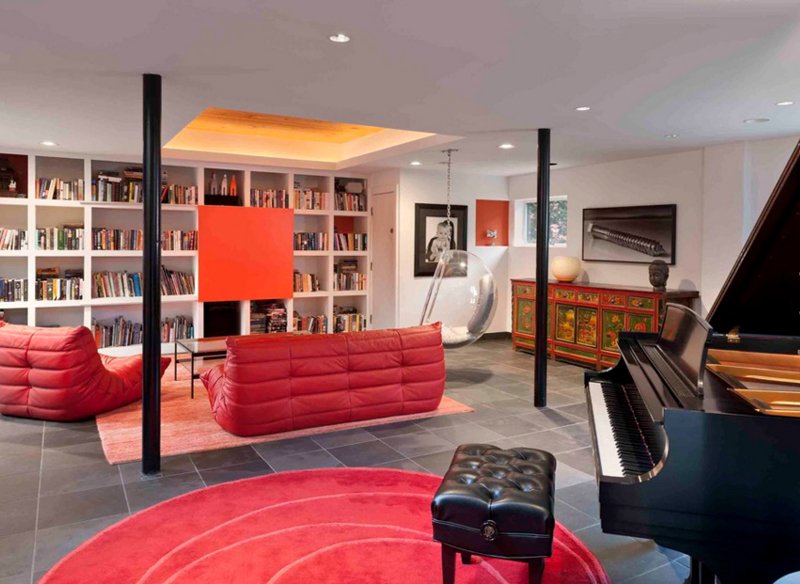 There it is again! The cubby holes as a divider! Totally charming and functional. For the most part, we know that designers used to practice the use of normal walls as dividers to cut cost, but for walls like this one – it may cost a bit more, but it sure is functional; and most home owners nowadays prefer function because it's the most practical thing to do – in the long run. Am I right?
17. Ocean Guest House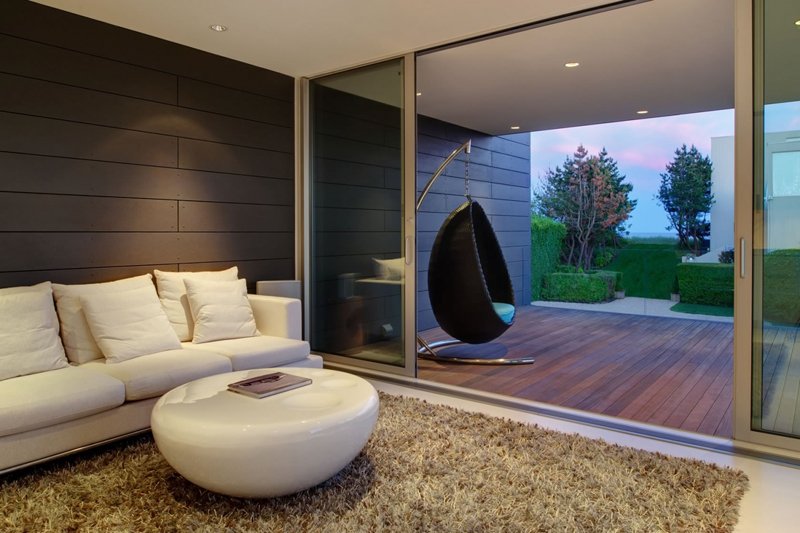 I know that the swing chair is basically beyond the glass walls that connect the living area with the lanai and then the outdoors, but we all know that we could easily transfer this swing chair inside, right? So, I think it counts for something. What do you think about the black and white combo of the furniture?
18. Seattle Element 3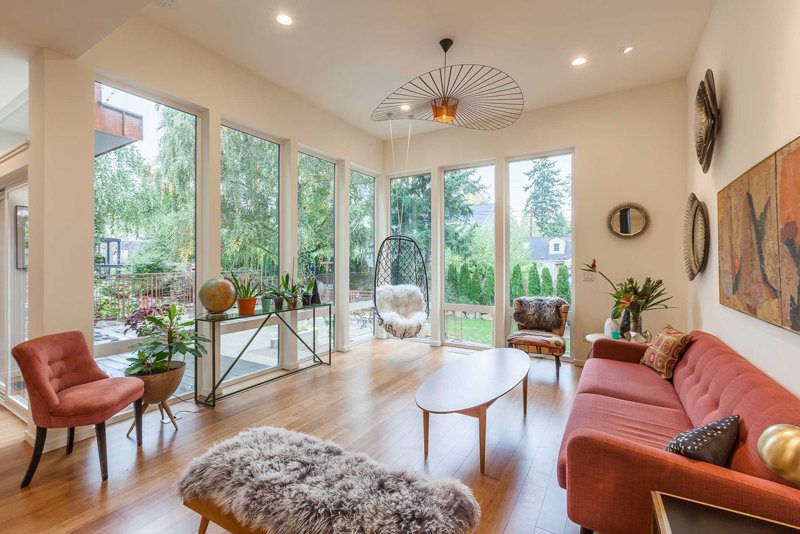 Oh I just love corner windows! This living room has that and it looks really pretty! I remember one time when I was watching a home makeover show on TV and the designers insisted in placing the tub close to the window – I forgot the reason why they did it, but by placing the swing like in this living room, I think it made room for a creative and dreamy set up. I just wish it doesn't turn out to be too sunny in there.
19. Third Ward Condo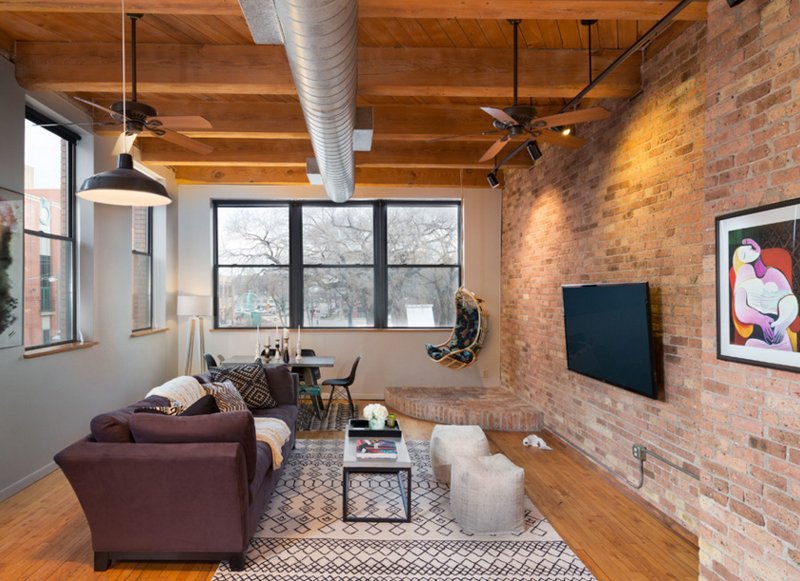 A condo with that cool vibe of a loft is seen in this photo and it just looks really sweet and simple. A couch is facing the TV with a coffee table in between (aside from the poufs), lamps and a ceiling fan and a cute and comfortable swing at the corner of the living room.
20. Westover Road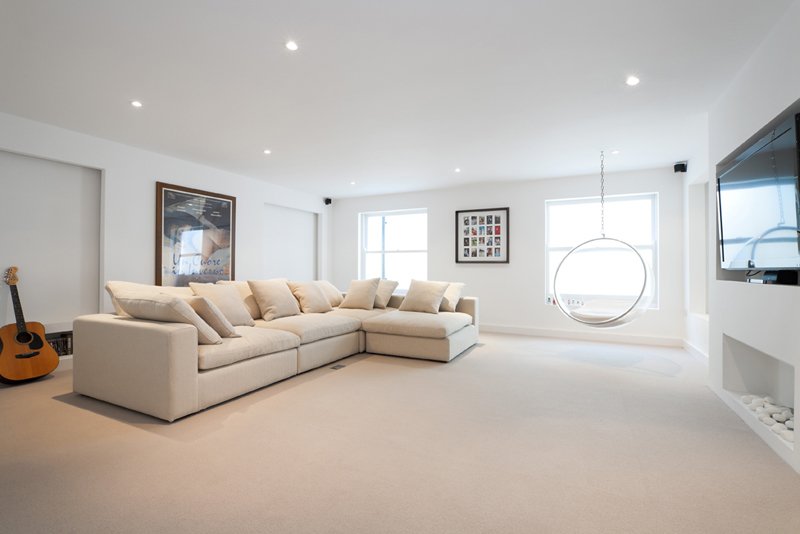 With a room like this one – very subtle on the colors and too much light from the windows – I think that there would be times that you won't be able to notice the ghost egg swing chair. Do you agree? The glare just makes me want to look at the sofa or the guitar on the side.
Now, I know that it was one cool list and I'm just wondering how on Earth have I not chosen to create a list like this one? I mean, I did make one before, the 15 Stunning Bedrooms with Swing Chairs and I think it was just as wonderful as this one. So, go ahead and share this one with your friends!