15 Homey Country Cottage Decorating Ideas for Living Rooms
Whenever we are in the midst of a renovation crisis, we usually end up creating a homier space than we intended to do. Usually resulting to a more comfy place we can stay in and invite our family and friends over. Country life is pretty much the coveted life any person wants, especially when they feel so strained from too much city life and tons of work.
So, today, we will be helping you in checking out a few photos we have collected for you; these are about 15 Homey Country Cottage Decorating Ideas for Living Rooms. These are mere samples of how the clients wanted to recreate a space they may have had in their minds way back when lives were simpler and when life seemed to be more slow-paced than it is now. With that, take a look at the photos we have prepared below.
Adobe Ranch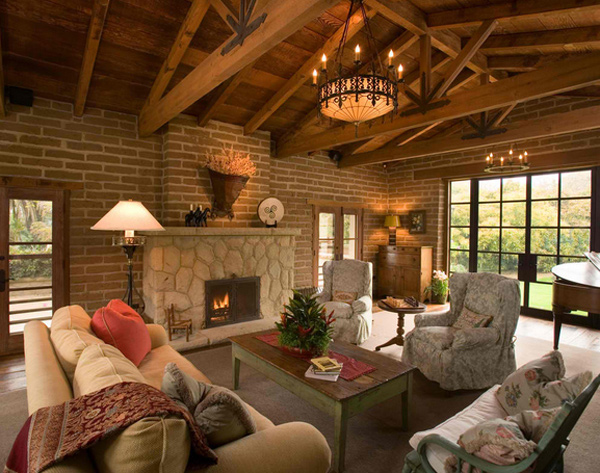 The beautiful antique lighting is from Santa Barbara Lights which makes the entire space light up and be prettier than it already is.
SC Plantation Home Renovation
The garage's second floor is a large guest suite complete with a kitchenette and wood-burning fireplace. But looking at this beautiful living room, with all the earth tones that were used, we can say that the color palette for this space is stunning.
Mendham Cottage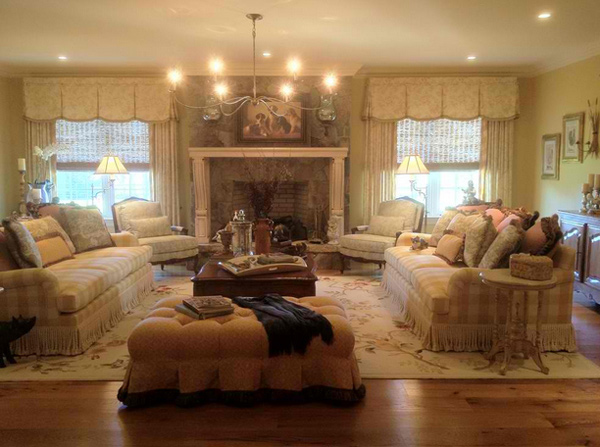 Pictures of spaces like this remind us of the homes our Grandparents used to live. Pretty neutral colors were used which is illuminated with a lovely chandelier.
Montreal Cozy Cottage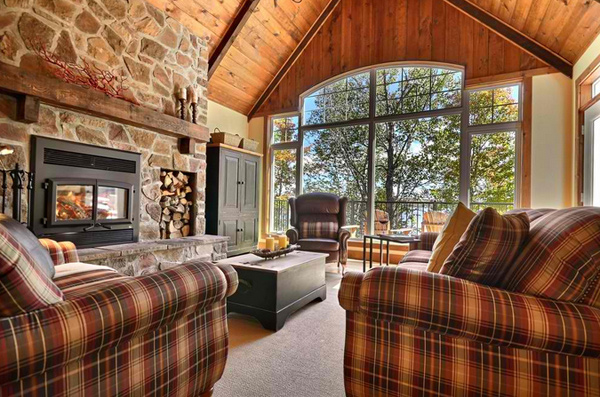 The cozy colors used for this Montreal cottage is pretty inviting. The wood and bricks used complement well with the plaid seating and antique furniture and furnishings.
New Home Build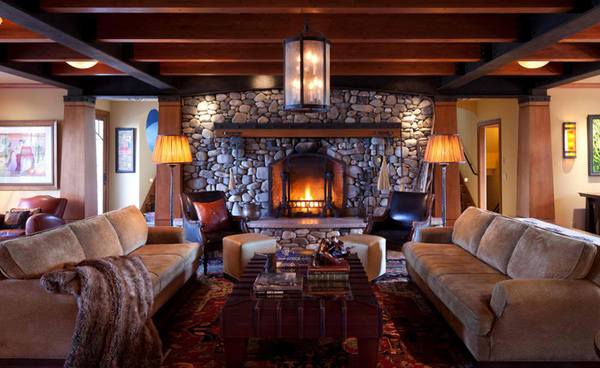 Don't you just the fireplace of this traditional living room? It wide and pretty and the combination of the different rock sizes is somehow interesting.
Pennsylvania Farm House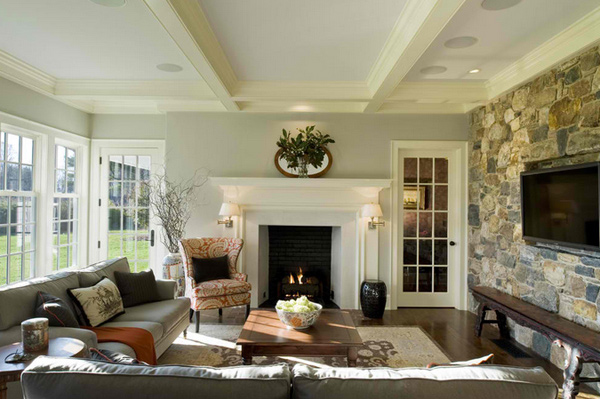 This farm house is pretty in white. Although country cottage home designs are associated with whites and mostly browns, we can say that this space is really homey and somewhat contemporary.
Vintage Bay View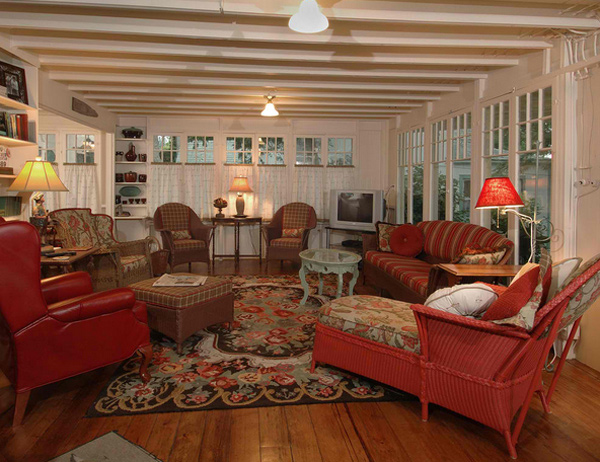 This home is super adorable and really comfy-looking. The reds complement the white walls and ceiling. Note the pretty coffee tables scattered around the room.
Walnut Creek Farmhouse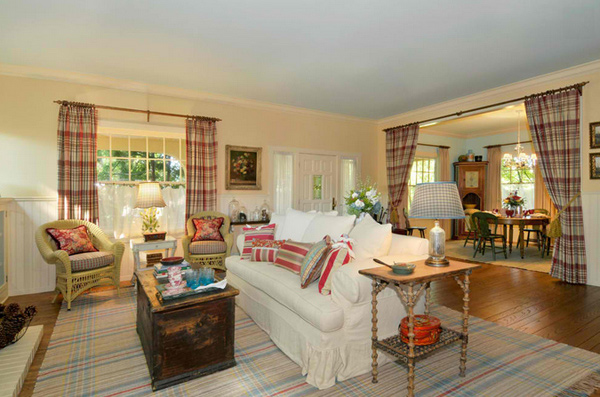 The placement of the furniture in this living room in San Francisco is quite inviting. White sofa, and single seating chairs in rattan is accented with the antique trunk as the coffee table.
Braxton Home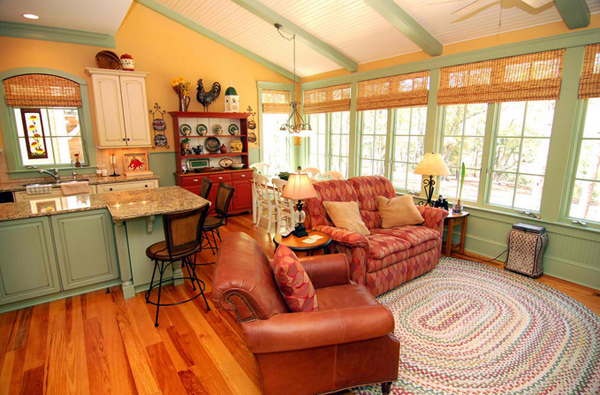 Don't you just love the color scheme for his Raleigh home? The colors are pretty bright but not painful to eye which is always a good thing. The green-yellow combo is just perfect.
Lily Pad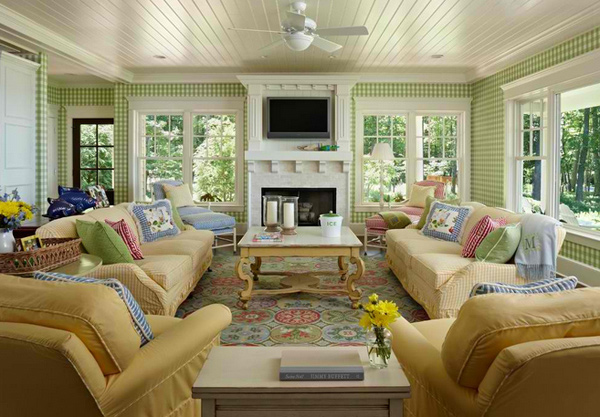 Lily Pad seems really clean and bright. This space makes us feel like it's always summer or spring time. The cute throw pillows complement well with the neutral-colored sofa.
New Country French Cottage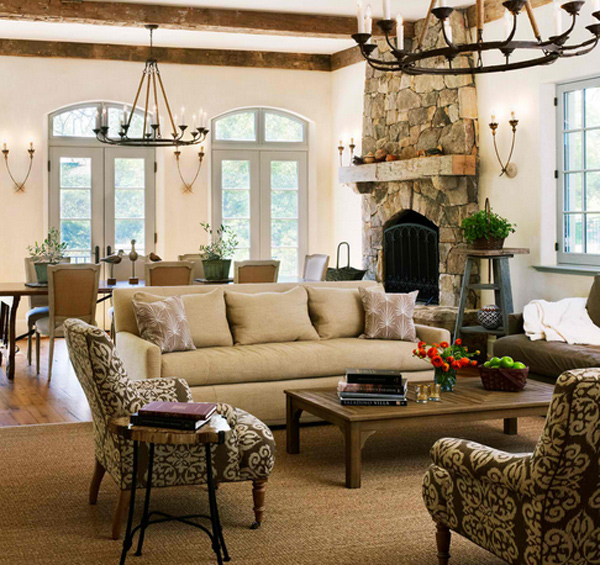 Transition on ceiling rips the boards down on the sides to look like they are inset. Note the color scheme used for this Mediterranean home.
New York Country Home
If you prefer your logs a bit more hidden, create a niche between the hearth and the floor. The floor underneath should be stone; we like it when it's the same stone used on the hearth.
Alpharetta Residence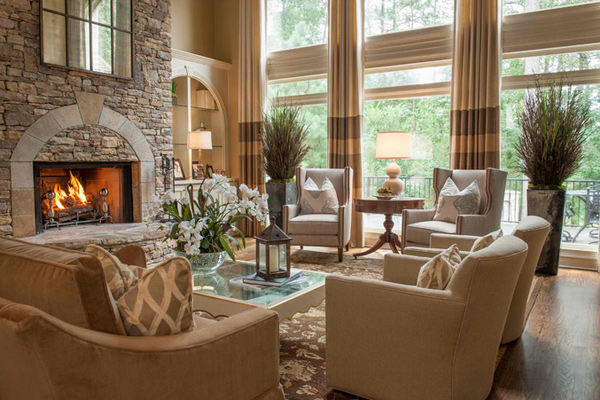 Bringing the attention down. High windows can make a space feel cavernous. Adding detailing in a contrasting fabric that relates to the lower part of the room can help bring the focus down and make things cozier.
Jack Marchant Homes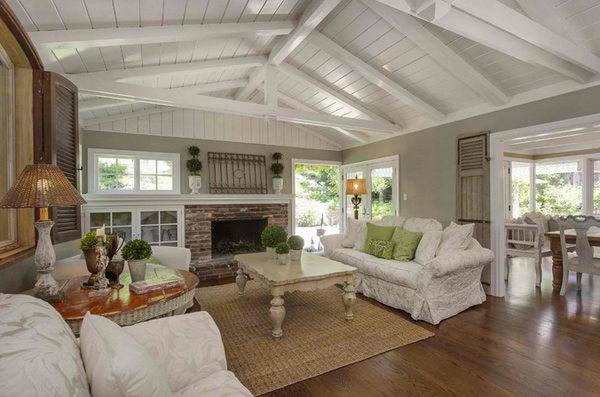 We like the fireplace and the cabinet. And of course the vaulted ceiling with tongue and groove. Don't forget those cool shutters on the inside of the house. But it is a bit frilly. Needs some more rustic touches.
Writers' Cottage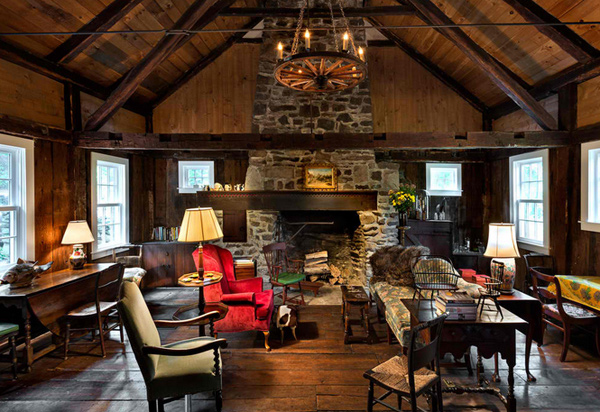 When we envision a place for rest and comfort, we can slightly imagine a fireplace and those stand lamps near a side table with your cookies and your tea. If this space had more windows, it would be more perfect!
There you have it, the 15 Homey Country Cottage Decorating Ideas for Living Rooms which pretty much sums up what our retirement homes would look and feel like. Honestly speaking, if retirement homes looked more like that than hospitals, our old folks might even volunteer in living there. But more than that, we think that the homes we have shown above are great samples of how spaces can be made cozier and comfortable than how we imagine it. For more inspiration, check out the 15 Warm Craftsman Living Room Designs. Happy reading!