20 Wooden Floating Shelves in the Living Room
Want to display items in the living room? Why not use floating shelves!
Displaying your most priced decorations or even just some books could mean that you actually have to put shelves on your walls – of course, you could opt for a book case or something to do that, but for convenience, you could also add a floating shelf! From the name itself, you know that this is something that you could easily do by yourself.
Below is a list that we have created for you to actually check out – a list of 20 Wooden Floating Shelves in the Living Room that surely is neat and pretty easy to do. If you are in the mood for some DIY decoration at home in the weekend, you can go to a local home depot and get some materials you can use. Better check out the list so you can go ahead and some crafting!
1. Addison Residence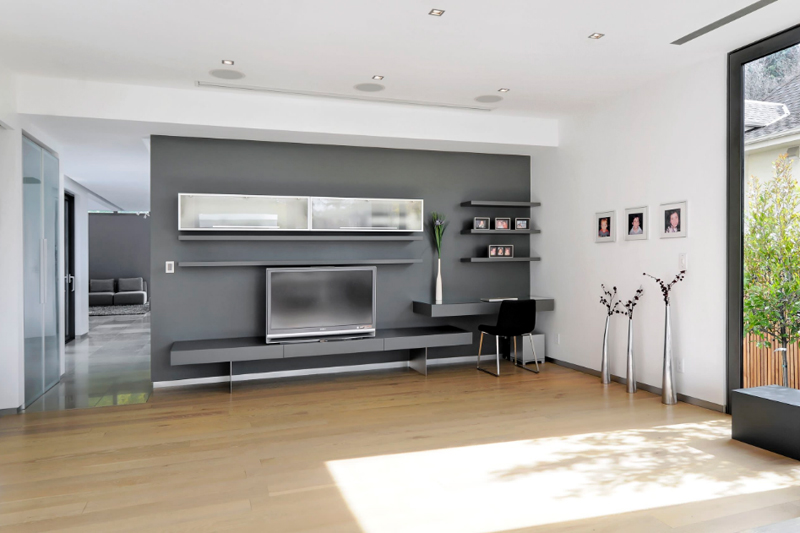 First on the list is this wonderful space that – well, while the furniture are missing, you can see the wall where the television goes as well as some decorations in top of the shelves. I personally like the color of this wall that also serves as the accent wall in this area; the way that they added the shelves sure are neat and simple.
2. Apart J&J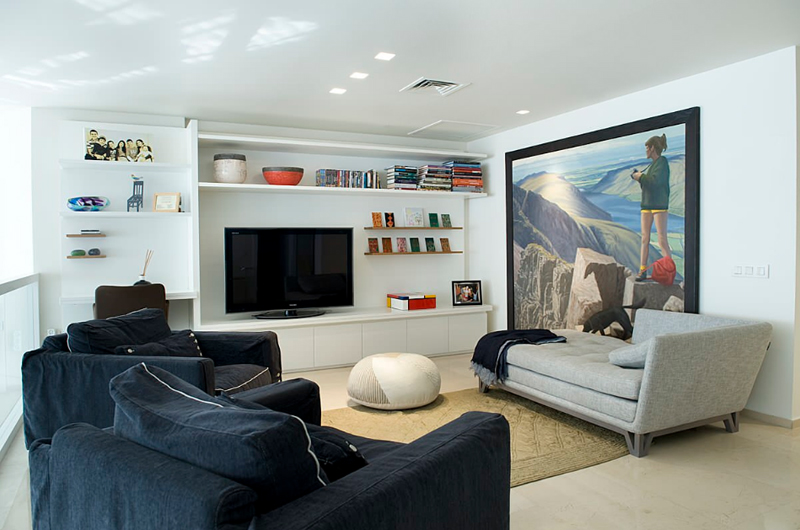 Here is another wall where the television is placed – and like the photo before this, we see minimal shelving which is fine, because this means that this house could have a lot of storage somewhere or they prefer minimal display on their wall to let the focus remain with the television or that painting on the other side of the wall.
3. Banana Island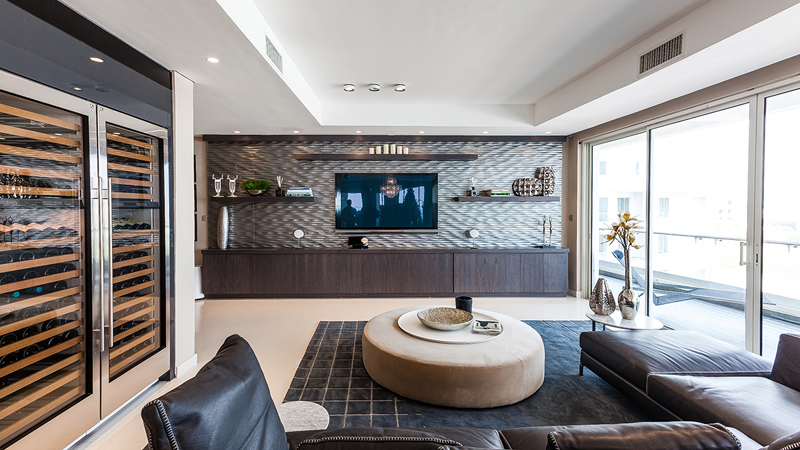 Here is a stunning contemporary living room with a clear view of the outdoors – thanks to the glass sliding doors and this sure have stunning furniture; but notice that they have like three floating shelves! Pretty minimal, but still eye-catching!
4. Broadmoor Project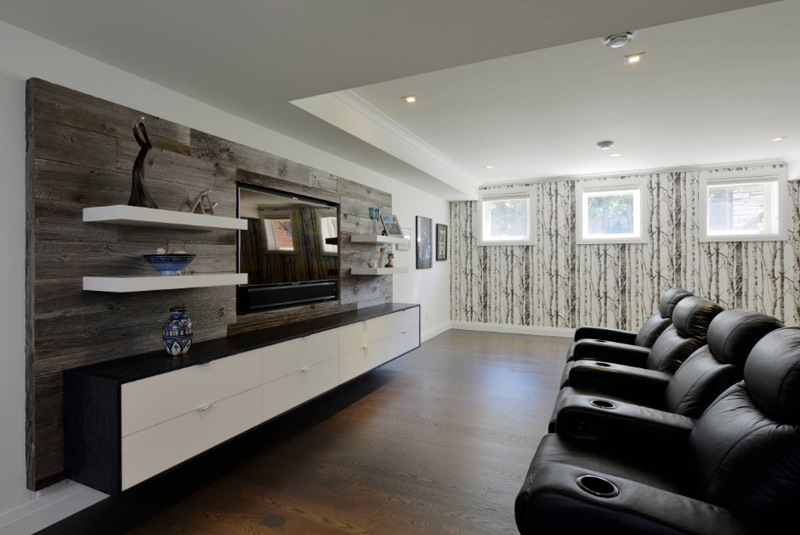 This living space sure looks like some entertainment space for the family. They have these awesome chairs that sure look comfy and really ideal for watching movies on large TV screens. The wall decals by the windows are nice and the wood panel behind the TV sure looks pretty.
5. Buccaneer Palms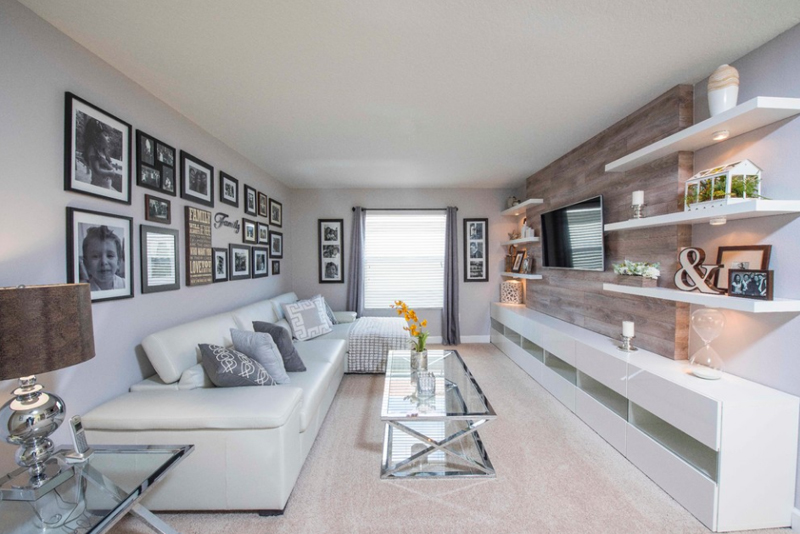 Talk about a wonderful yet small living space? This longitudinal living room is quite charming, it has a very limited space but the designer made sure that this space would look incredible! We see decorations on each side of the walls facing each other and I think it looks fun!
6. Ethridge Residence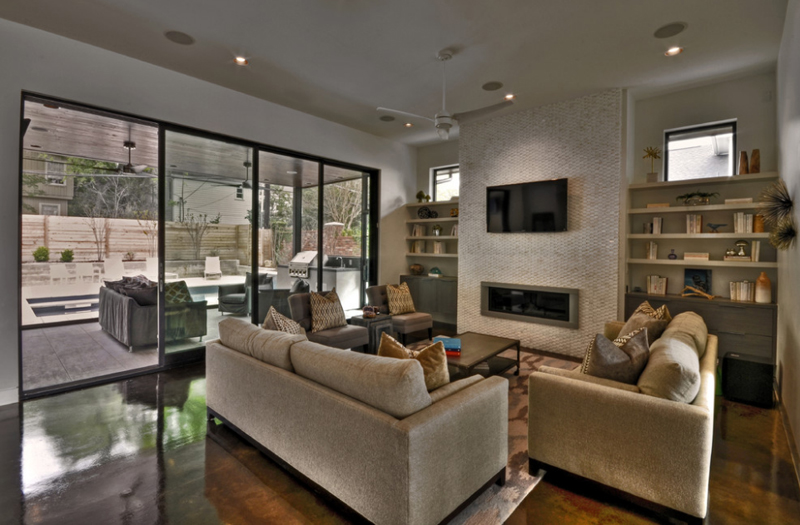 If you may have noticed, in living rooms – floating shelves are usually beside the television and it has been the same for all the photos before this. I guess we can assume that the next ones could be similar. Fancy the color palette of this living space? Because I know I did.
7. Florian Condo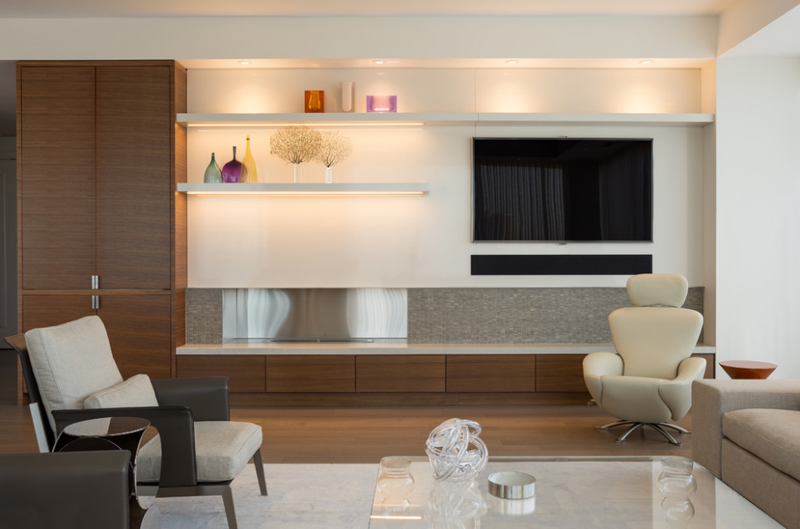 I totally love the neutral color scheme that this Florian condo has. The furniture is limited which could mean that there a few people who live in this place or that they have a minimal space; whatever the reason maybe though, I think that the shelves in here looks sweet – even when simple.
8. Fort Lauderdale, Florida Residence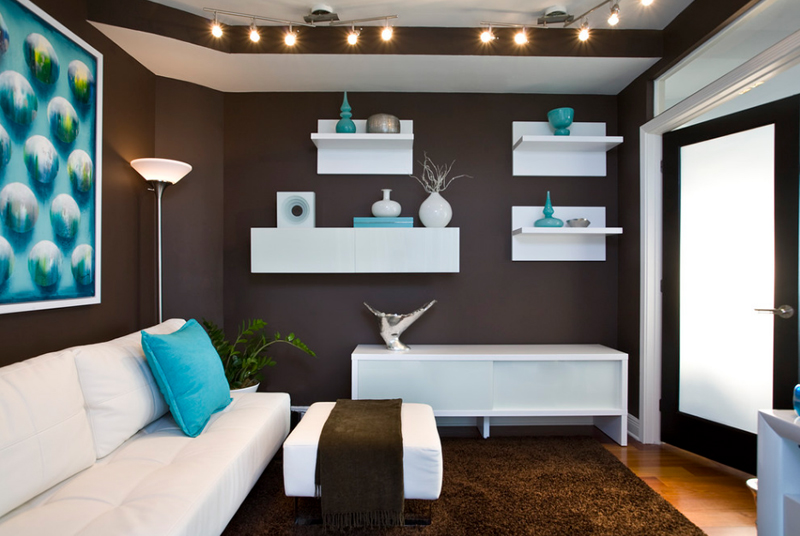 I love what they did with the floating shelves – the color combination because of the contrast on the wall and the white shelves, I think it worked really well for this cute living room. This color combo that we see in here seems a great one to do to one of your spaces at home – what do you think?
9. Fort Lauderdale Condo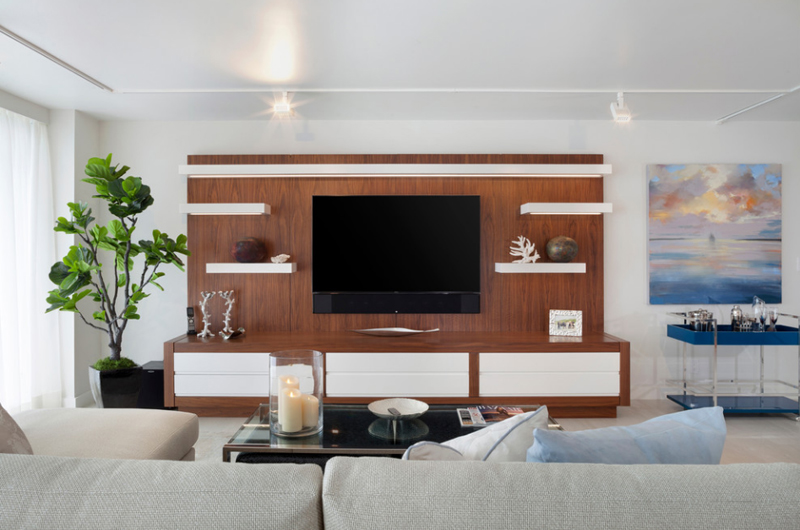 White shelving is prettier when it is in fact paired with a darker colored wall. I like the idea of getting a modular console to fit your space because aside from looking put together, I think it just looks really pretty.
10. Horse Ranch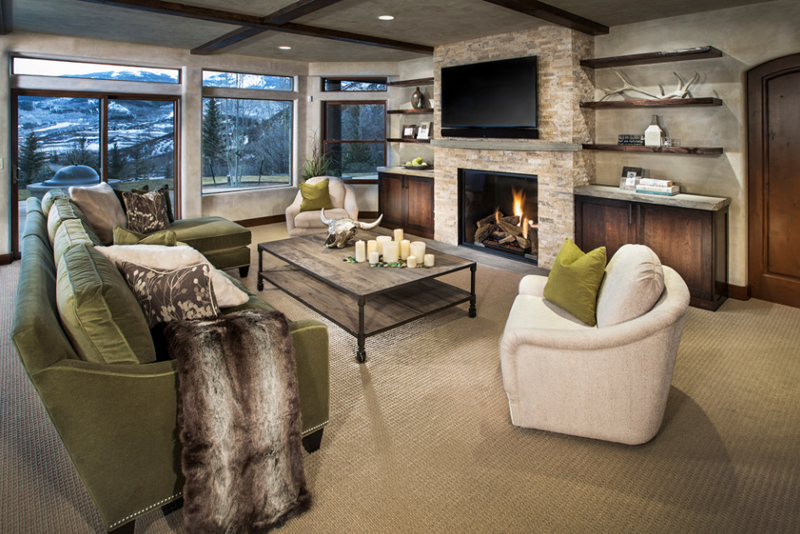 This space looks incredible! The rustic feel to it is just wonderful and if you come from a place with very few rustic spaces, this is something of a cool experience you should have. It's like being inside a cabin in the woods, which could just be like it actually is.
11. Lawrence Park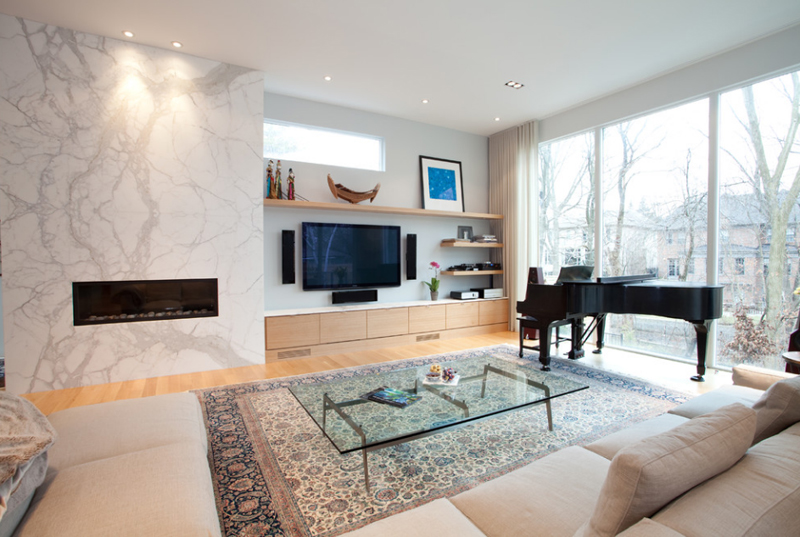 For a more lively space, I think this Lawrence Park home is just it – it looks really lively – not because it's filled with colors, but because of how bright this place actually looks. The color of the walls, the furniture and with the amount of light coming in, I think this place is just wonderful.
12. Midland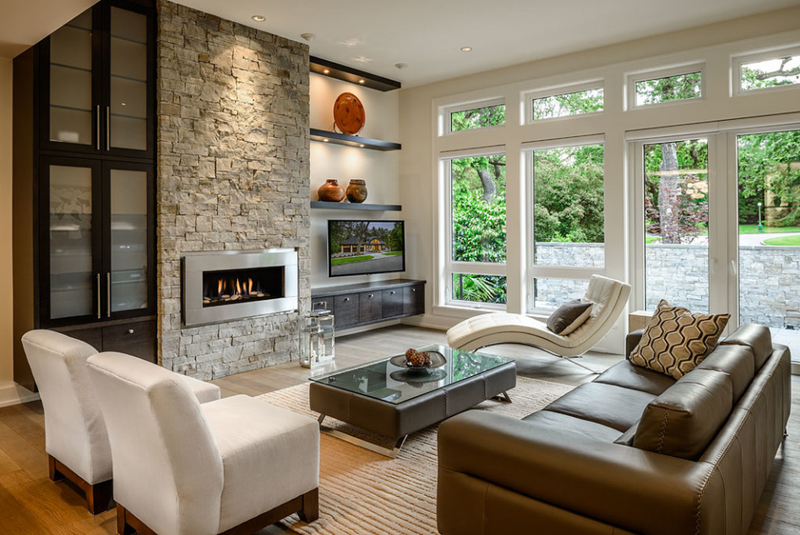 Two floating shelves and a stunning lounge chair, I think this living room is just fabulous! The white and browns, wood and stone combo that this living room has is just something you'd love to come home to every single day.
13. Northbrook House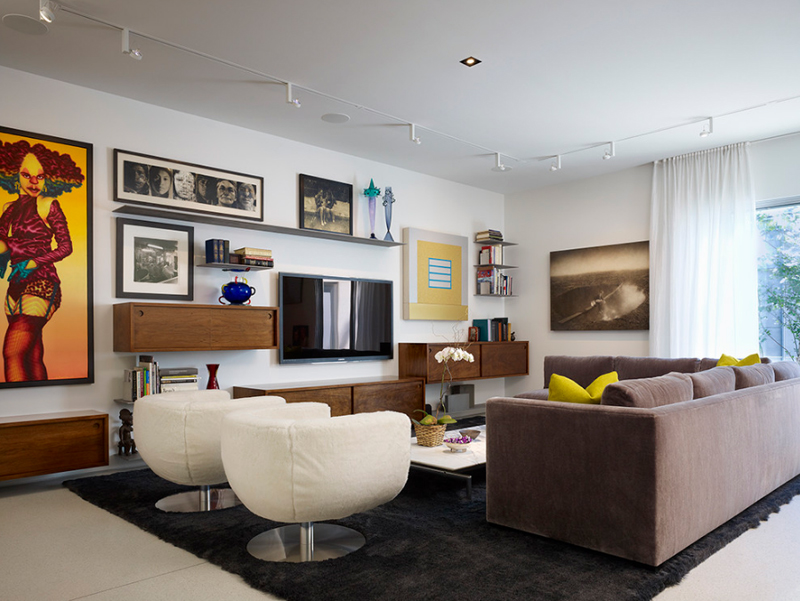 I got attracted with the cute, white arm chairs in here – and then I saw the painting that looks like a clown-ish girl and I thought that this place couldn't be more interesting. This Northbrook home is just fascinating as interesting as the pictures in this list. If you fancy and eclectic take on your living room, I think that this is one cool way of achieving it.
14. Northshore Residence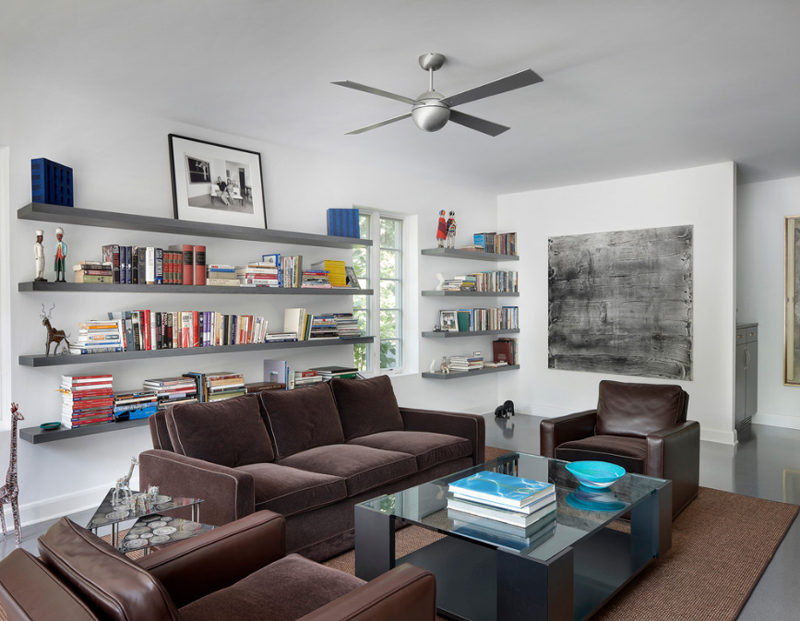 The floating shelves in here were used as book shelves and I think it's the usual take people do – especially if you're in to reading and collecting books. I love that they have a couple of shelves in here that maximized the entire wall and I think that it's looking really good.
15. Northwest Hills Remodel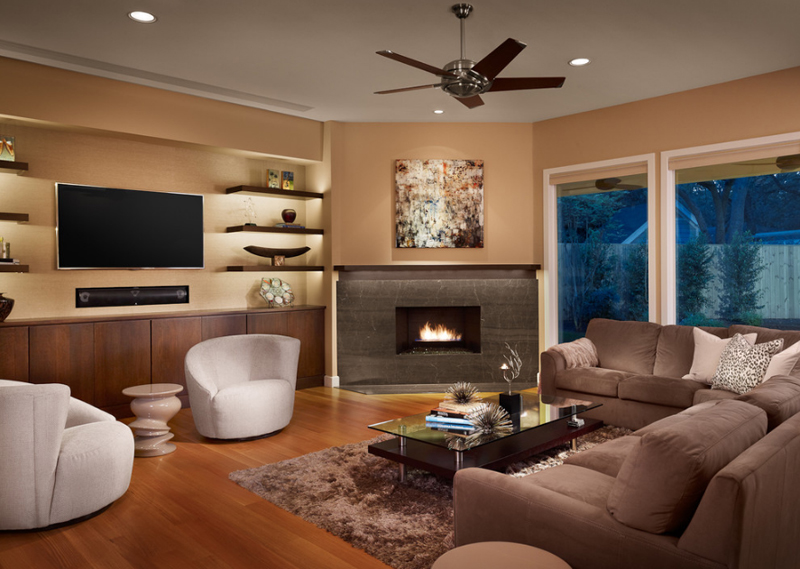 Whether your house has a minimalistic look or something more crowded or whatnot, floating shelves usually are great things you can do for your space. They create movement for your walls which makes it prettier and does not necessarily mean plain. Beside the television are shelves that are holding a few pieces of decor and they're gorgeous.
16. Organic Modern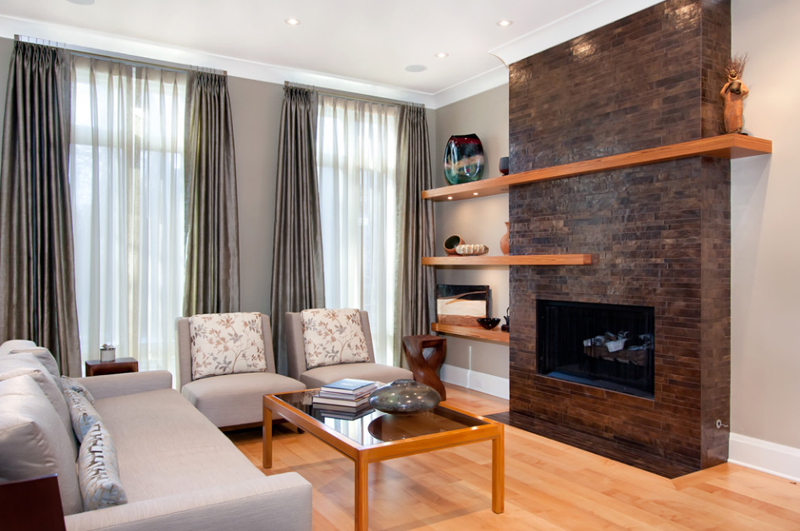 Look at the way that the shelves are arranged in here; you would think that these are basically not floating since they are connected with the fireplace but the, looking closely, you'd see that the wood was actually somehow glued to the fireplace and not really within it – so I think that it still counts as floating shelving, especially the most bottom one.
17. Seamless Connections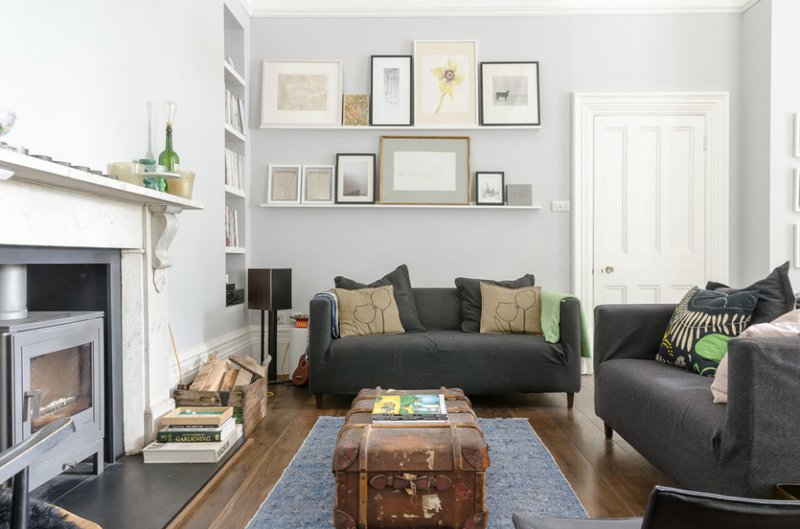 The frames with different frames on the floating shelves are really pretty – I like how they actually adorn the walls and make it more interesting and pretty. The most eye-catching for me though is the chest in the center of the room that serves as a coffee table.
18. The Pearl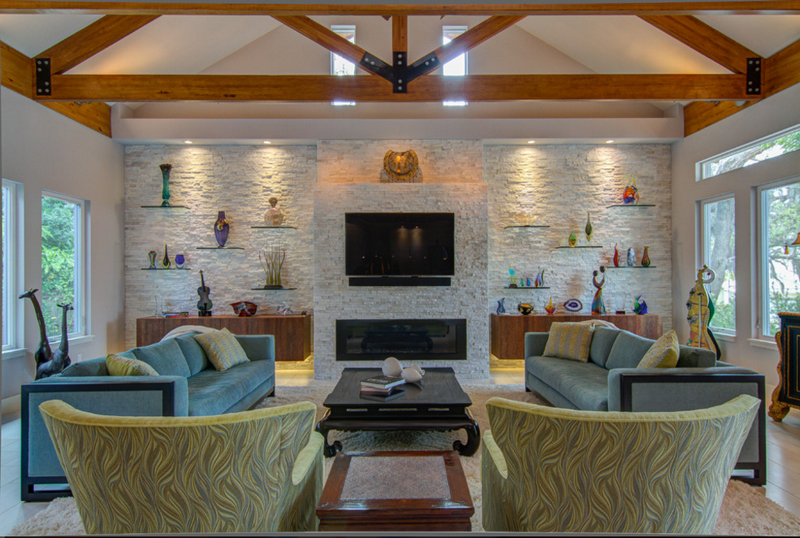 The texture of the wall where the floating shelves are, along with the fireplace and the television is quite neat – it says a lot about the character of the house – it's simple but really pretty and somehow the center of this entire room. Check out the print on the arm chairs, pretty close to that of the accent wall.
19. Trousdale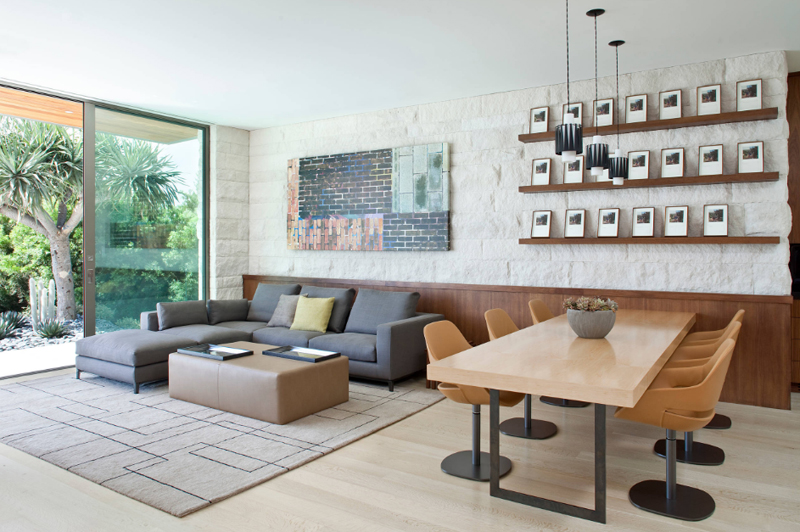 So, the floating shelves are not exactly in the living space, but since this an open space that puts the living and dining space together, I think it's safe to say that the shelves are in the living space. Anyway, what do you think does those frames contain? They're pretty similar from one another and I think it looks great!
20. Weyand Residence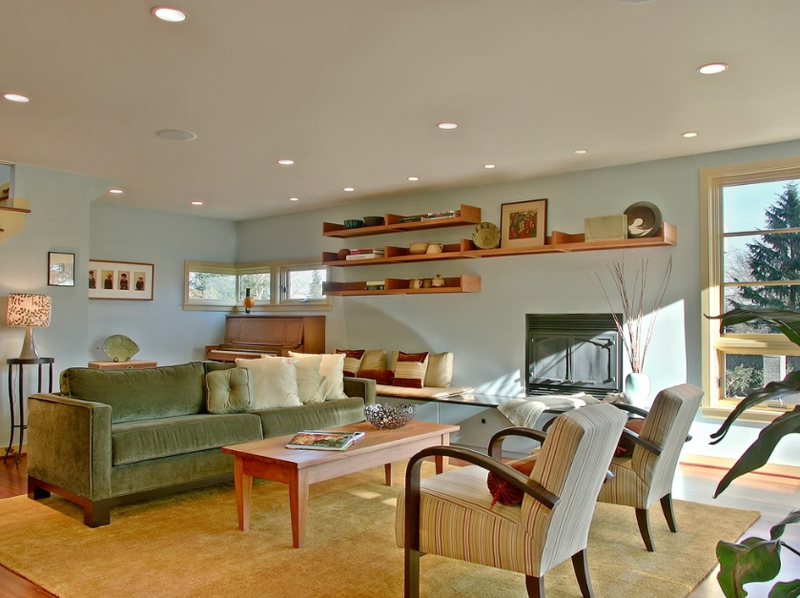 This last photo sure has fun shelving on it – notice how this is the only one that actually have divisions on it? Unlike all the other shelves on this list, this one sure looks cool and pretty organized.
I was mentioning a while back about the fact that you can actually do a DIY project in the weekend, and this list could be a great way for you to do just that and if you already have great shelving in your living rooms, maybe something for another space in the house could be cool too – click on here and check out the 20 Contemporary Floating Shelves in the Kitchen and create something for the kitchen.