22 Copper Fireplaces to Add Appeal to Your Living Room
Copper changes color through time and it could be a stunning material for the living room's fireplace.
One of the highlights of a living room is the fireplace. These come in different sizes and shapes. There are also various types of fireplaces too. The finish of the fireplaces could also be made of different materials too. Some would have a wooden facade, stone, bricks, cement finish, metal, and others. The look and visual appeal has a great effect to your entire interior. I guess you will agree with me especially if you have seen other designs of fireplaces using materials of various types.
Today, we have collated living rooms that has copper fireplaces. Well, it doesn't mean that the entire fireplace is made from copper- only the front design has copper details or copper designs on it. The look gives the living areas a subtle luxurious appeal as well as some interesting warmth and accent. Each fireplace has a different design too that were custom made for every space. I'm sure, if you are planning to use copper, you will be inspired with this list we will share to you today.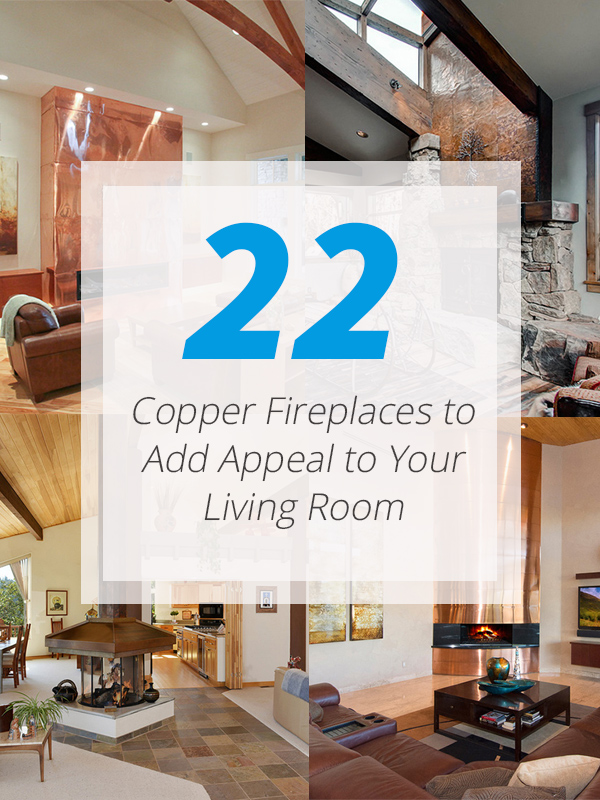 1. Green Gambrel Living Room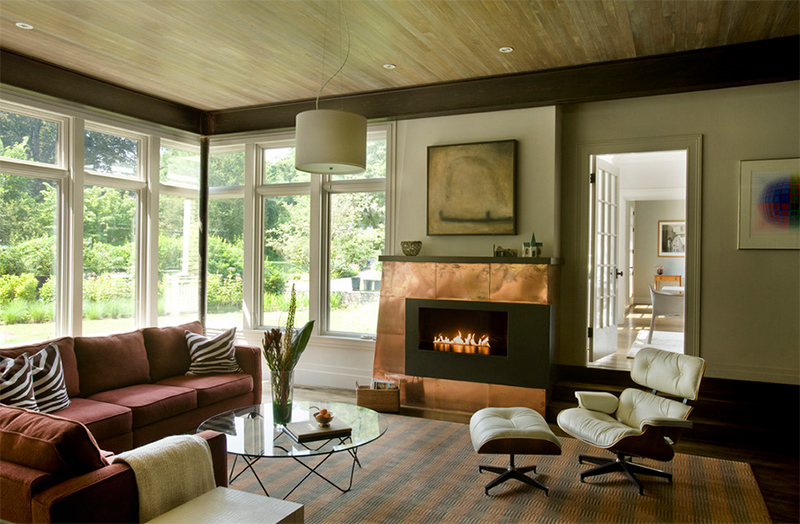 The owner of this house loves copper in almost any application, but they think that its especially slick on a fireplace like what we can see here. One of the great attributes of copper is the way its finish changes over time.
2. Stonehedge Exteriors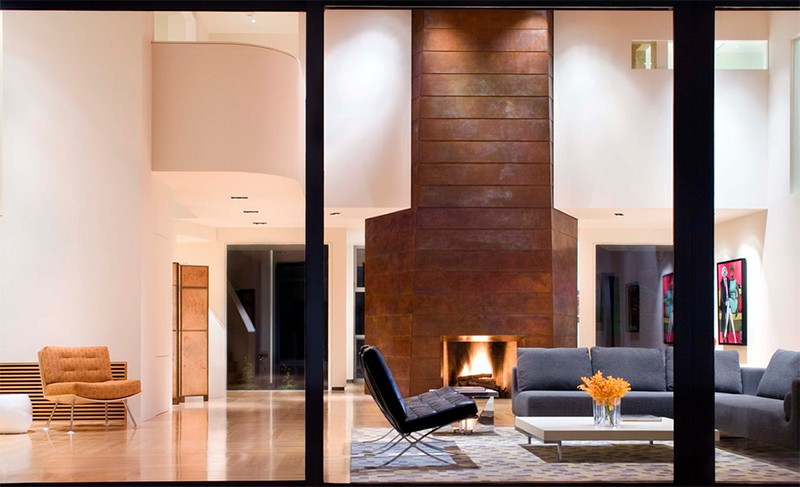 A tall fireplace is clad in copper dominating the room. It balanced the high ceilings, glass and light walls.
3. 747 Wing House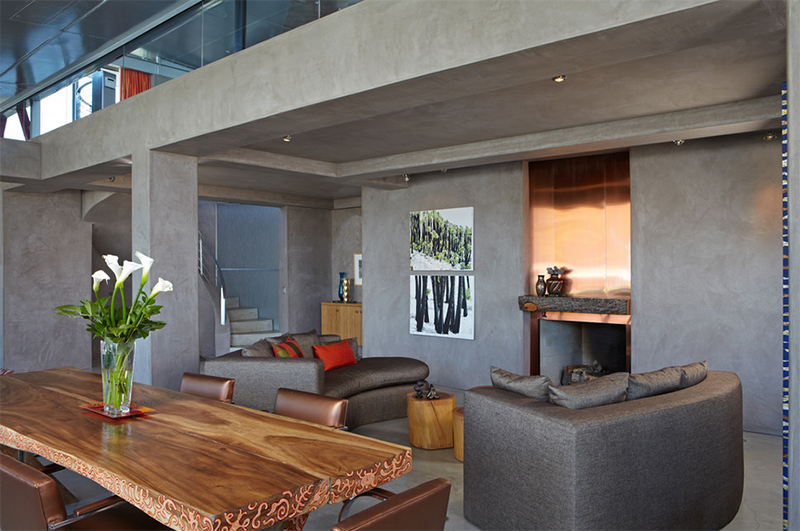 This might be a small space but it has everything we need for a living room and dining room. Aside from the copper fireplace, notice that itching on the wooden dining table.
4. Santa Rosa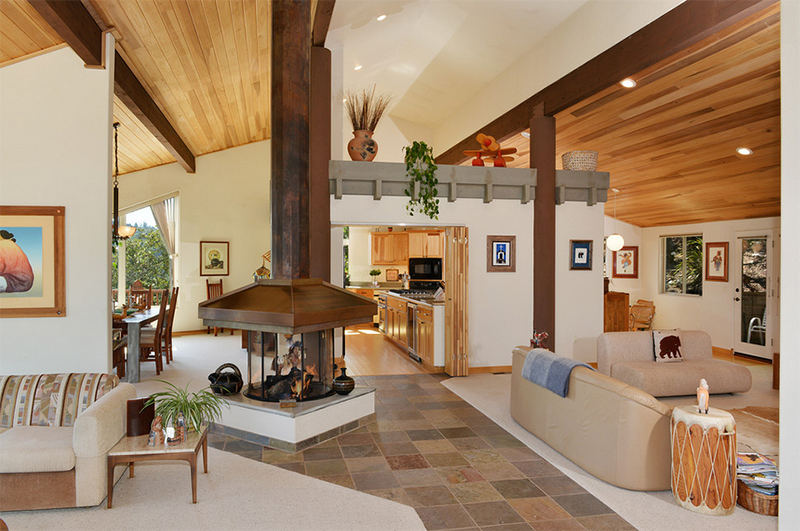 A free standing fireplace has glass around it while it is extended from the ceiling with copper.
5. Rockcliff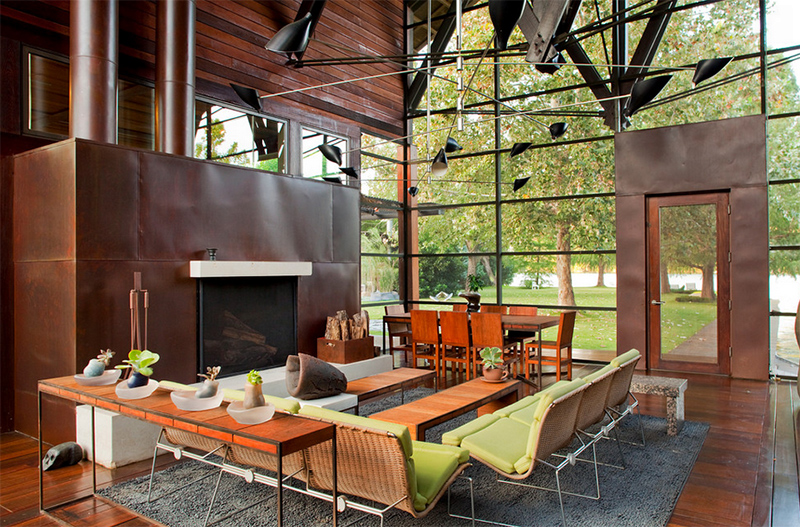 There are so many copper elements in this interior from the fireplace to the doors. The wooden elements here are lovely too especially that green cushions were added.
6. Contemporary Residential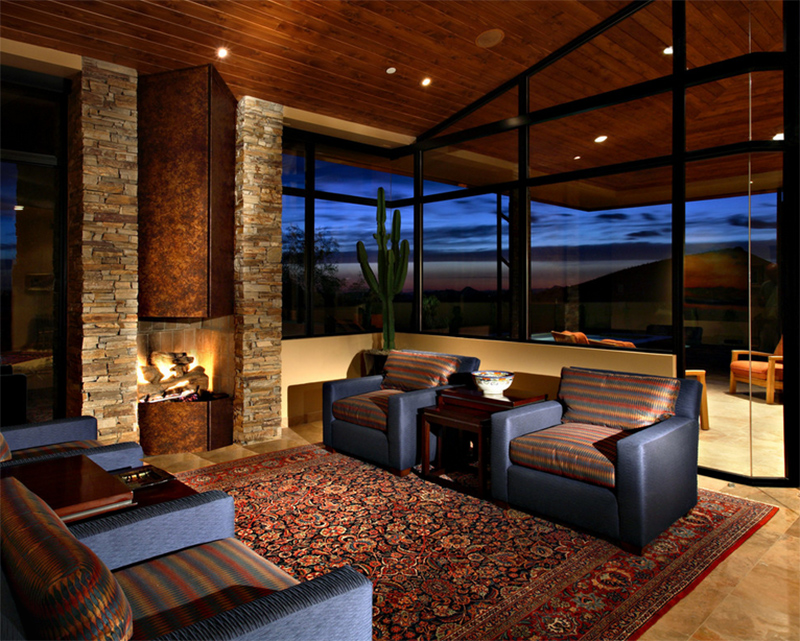 A contemporary home has a dramatic appeal with a copper fireplace in between stone columns.
7. Modern Elegance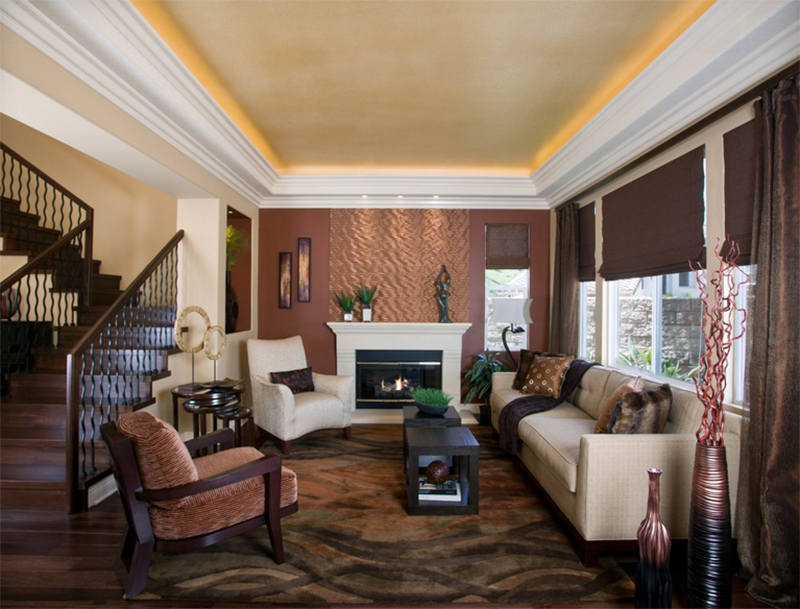 For this one, copper was added on top of the fireplace. Notice copper colors in the living room too.
8. Finchley North London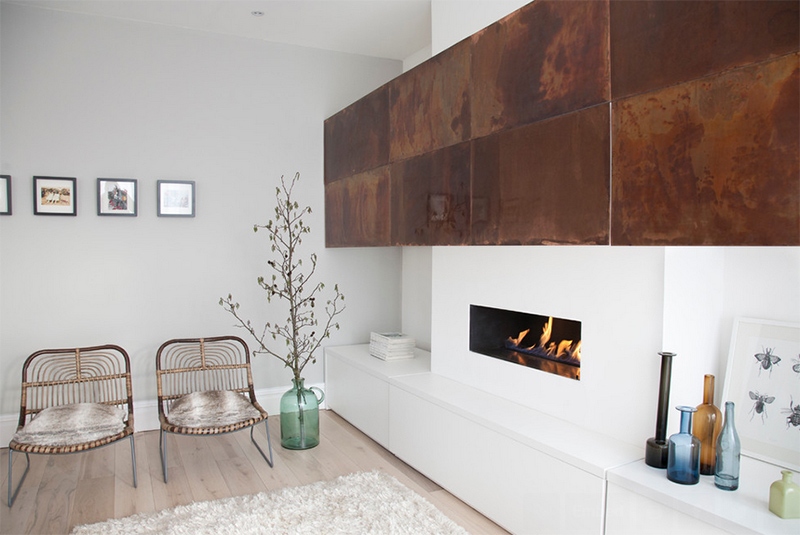 A modern living area has a white modern fireplace with a copper panel on top of it. The set up has a Scandinavian appeal.
9. Sefcovic Residence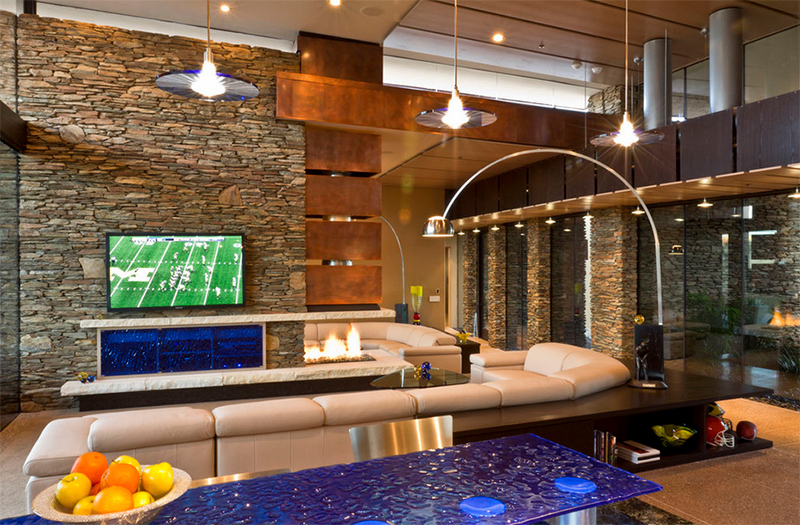 Such a luxurious living area with various textures because of the materials it used from glass to stone and of course, copper.
10. The Light House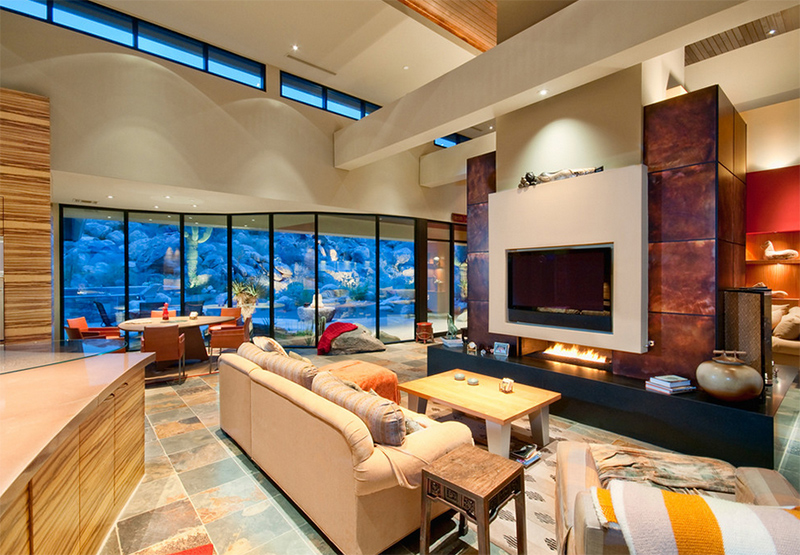 Look at that outdoor beauty! It is indeed a lovely view from the living area. Let us take a look at the living space with eclectic mix of furniture and that copper fireplace.
11. Paradise Valley Modern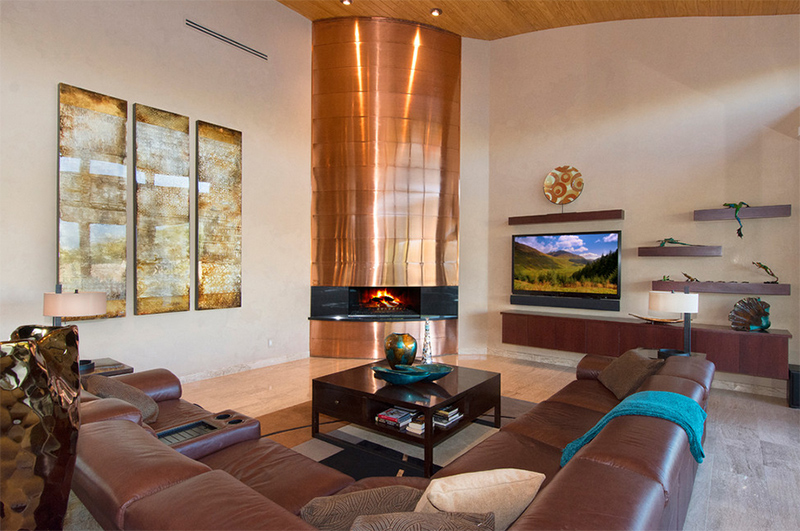 This living room has a shiny copper for its curvy fireplace. It sure is a sophisticated accent in the area.
12. 19 Peak Eight Circle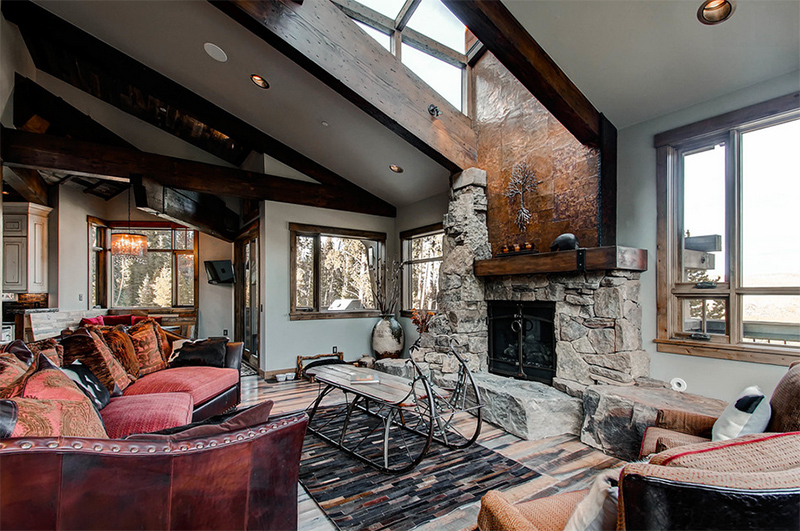 I love the aura of this living room! It's like oozing with a holiday feel every day. Notice the variety of textures in here too.
13. Pass Residence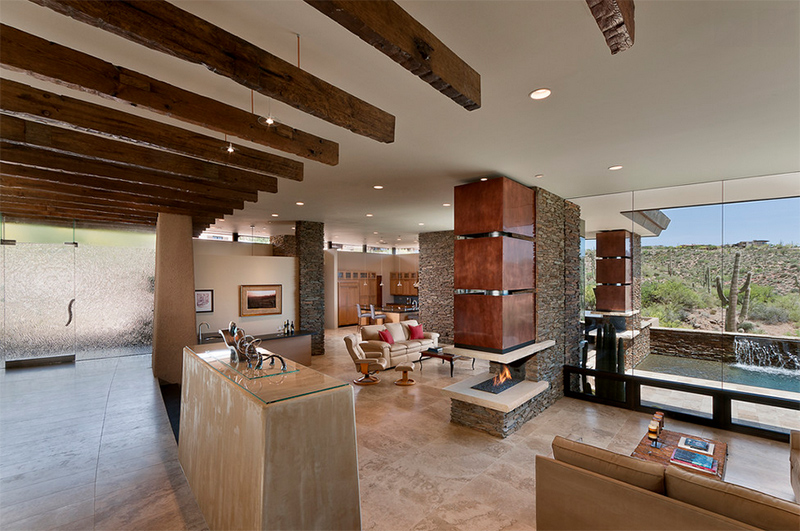 That modern fireplace looked even more gorgeous with that copper box additions on top of it.
14. Sonoma Residence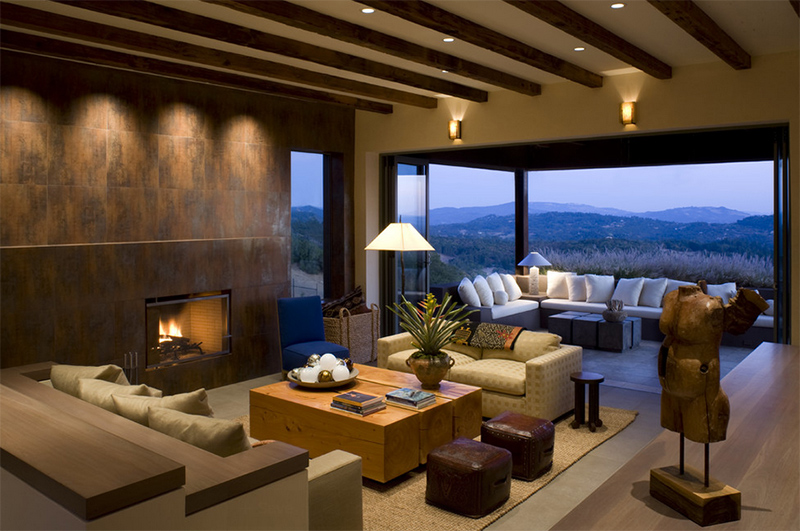 The copper wall also covers the fireplace in this modern residence. I like that corner seating area surrounded with glass.
15. A House With Zip!
On the way to the bedroom from the living area, one would pass by this modern fireplace that is floating from the floor and a copper finish that reaches the ceiling.
16. Transitional Open Floor plan Remodel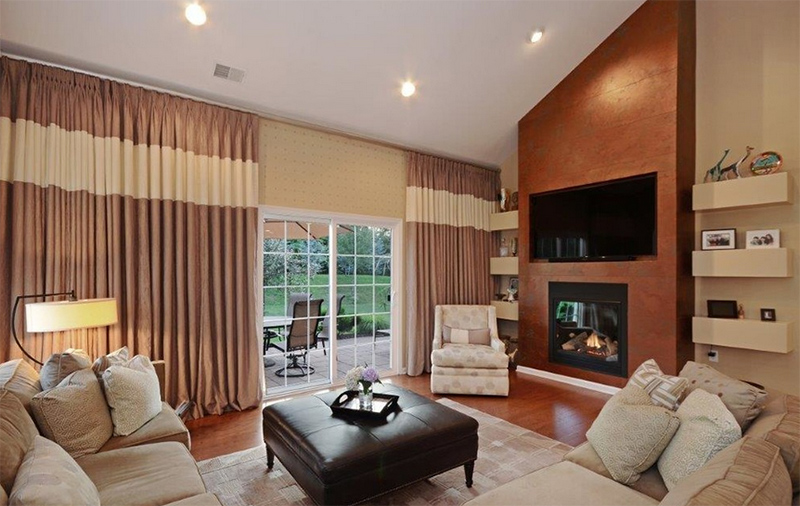 Beautiful fireplace containing the television and a fireplace for a transitional living area.
17. Valley View Customs LLC – Custom Home New Construction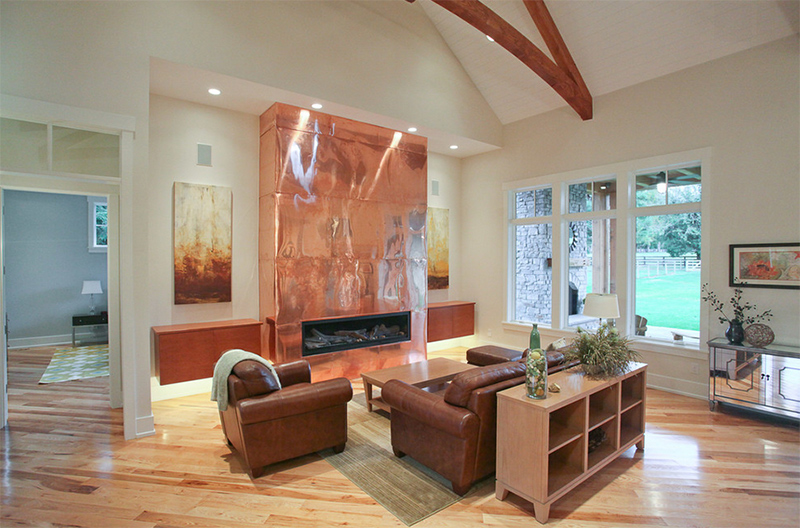 Another living area with a shiny copper fireplace- it sure is a head turner! Simple furniture were added here without crowding the small space.
18. Various Client Projects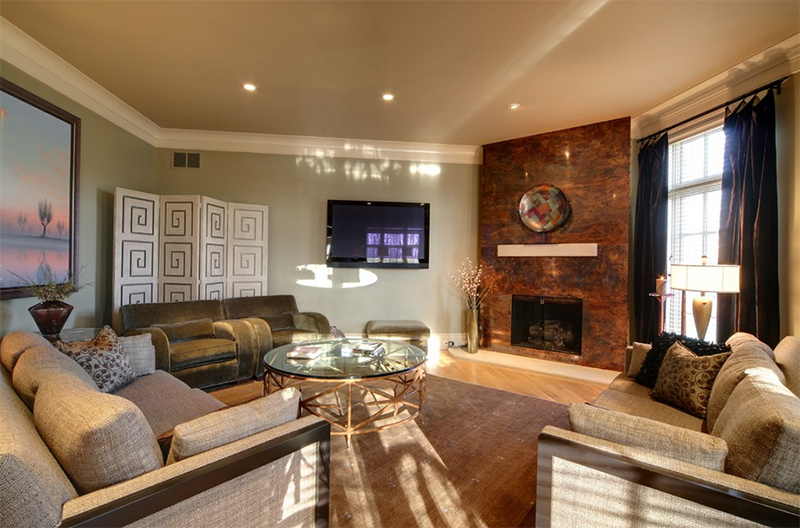 A corner fireplace looked even more beautiful with that copper finish. I also like that standing divider which was used as a backdrop for the two chairs.
19. Central Park South Residence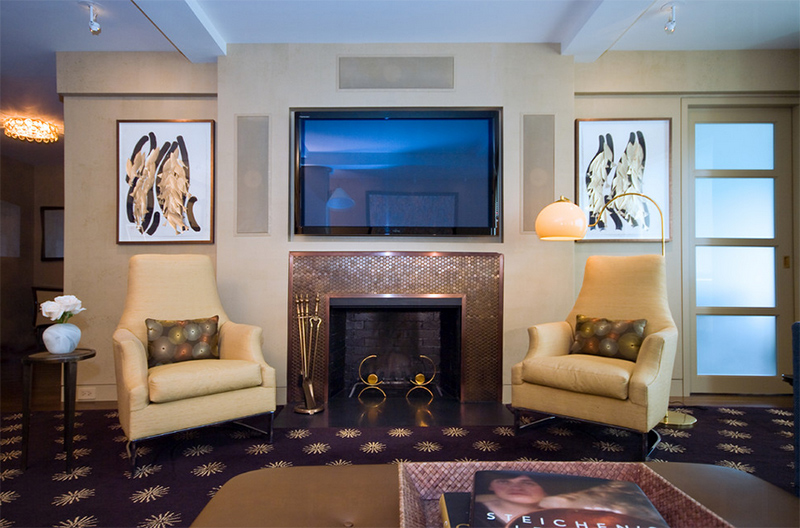 You can also do it this way too for a contemporary appeal. If I am not mistaken, copper screens like this can be purchased readymade and can also be customized too.
20. Venice Transformation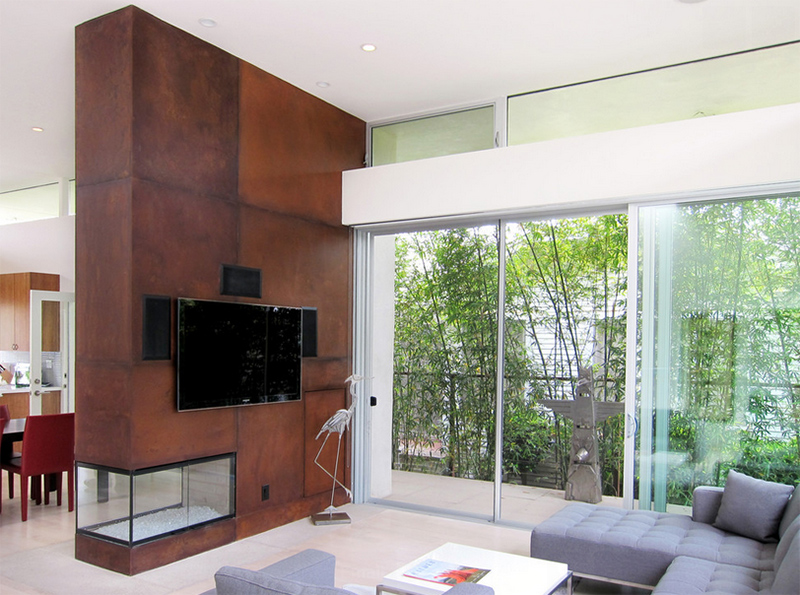 A very relaxing living area because of its white color as well as the sliding glass opening that allows natural light into it. On the copper fireplace, you can also see the television installed on it.
21. House Duk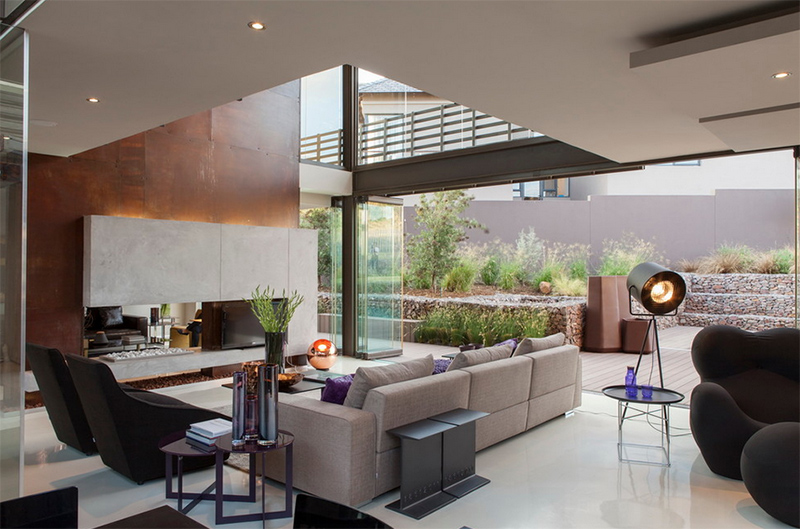 Nothing beats a living room that is seamlessly connected to the outdoor area! This one has a tall copper wall where the fireplace is also located.
22. Contemporary Home Renovation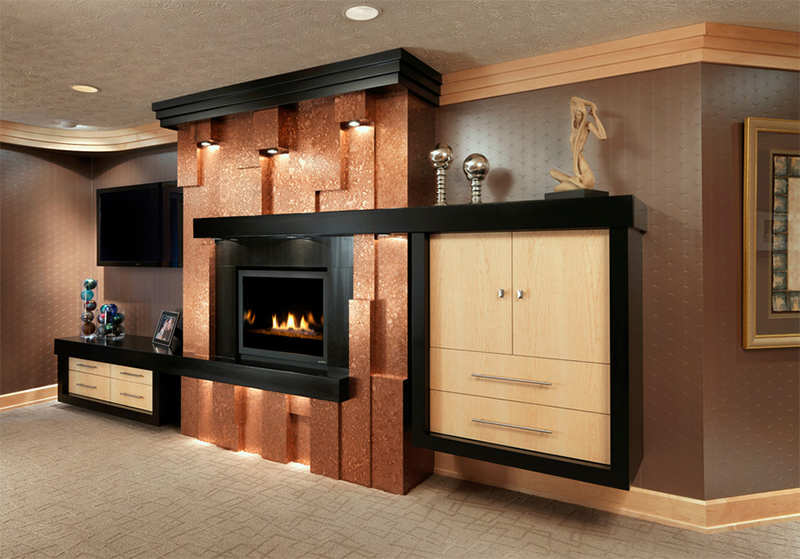 And if you are looking for a creative fireplace design, this would be a good inspiration!
Well, whatever it is that you will use for your fireplace, for sure it will look beautiful as long as you choose a design that will fit your home, your needs and your style. For the above photos, you have seen how copper was used for the fireplaces adding some sheen and appeal to the home spaces. For sure, you will agree with me that all these look really nice and would even inspire you to use this material for your own home. Can you tell me which of the above fireplaces is your favorite?