Style Guide on How to Achieve a Contemporary Living Room
Getting your own contemporary space is quick and easy with this guide.
There a lot of ways on how we would like to design our living room. Some would prefer the traditional way, others the current approach. But one trendy style today is the contemporary design. But here is the dilemma; the word "contemporary" design is often confused with the word "modern" designing. Believe it or not those are two different words. Yes! That's true. However, I don't want to sound confusing for you so let's talk more about contemporary designing.
So, what do you understand when you came across with the word "contemporary design"?
When we say contemporary design we are talking about the fashion of today – exactly what is popular and used by now at this point in time. Unlike modern design, it is not iconic and historic since it is very innovative and reflective from time to time. Contemporary design has a very distinct type of colors, materials, and layout used.
What composes a contemporary designed living room?
I tell you that having this kind of design is not that hard to complete. Well, basically a contemporary living room needs a bright and airy open-floor plan. Then introduce the area to clean-line furnishings. Use organic materials that have new sense such as wood, rocks, teak and other good-looking textile. And also adorn the area with everything you see that is new and unique from furniture to accessories.
Here are some ways to bring a contemporary feel in your living room.
1. Incorporate clean lines.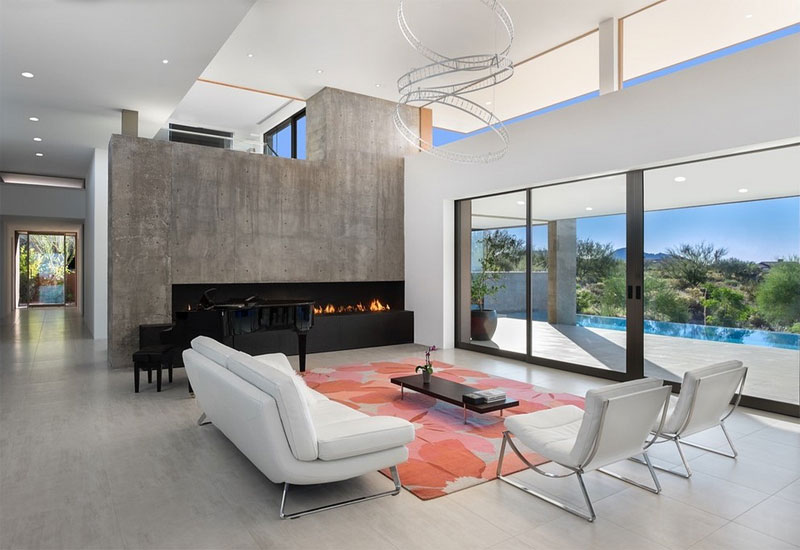 Contemporary design is greatly defined by clean lines and simple geometric shape which means that the area can be bare or bold. On this take, it is important that you should incorporate furniture and accessories that has clean and straight lines, solid and symmetrical shapes. This type of interior design really offers a very casual atmosphere which is perfect for relaxation.
2. Achieve an open layout and high ceiling.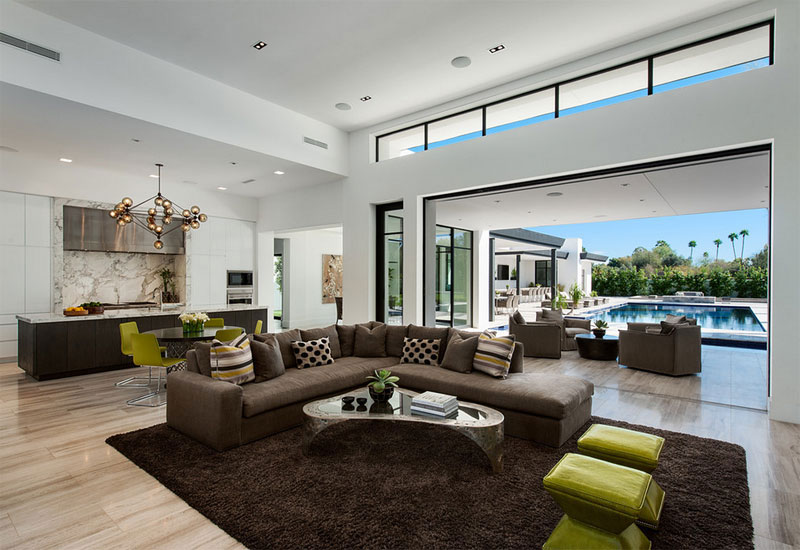 When you are gifted with a have a spacious interior, maximize it. Make the space as open as possible wherein there is a seamless connection between the indoor and outdoor. On this case, it offers more legroom where everybody can move freely. On the other side, high ceilings can make the area look bigger and can offer a grand and luxurious look. Additionally, the higher the ceiling, the more natural light can brighten the area.
3. Bring in natural light with glass doors and windows.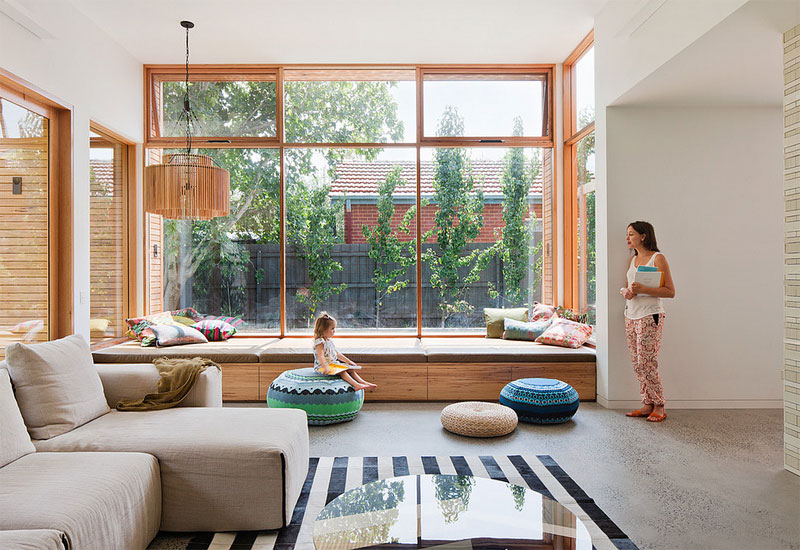 Soaring windows, big doors and glass walls have been a trademark for contemporary designing. Using glass gives an amazing effect to the area. Aside from the fact that it brings in more natural light (which could also lesser electric consumption during the day); its transparency is such a great contribution to the design. I just can imagine how it feels like living in an airy and calming abode.
4. Pick smooth flooring materials.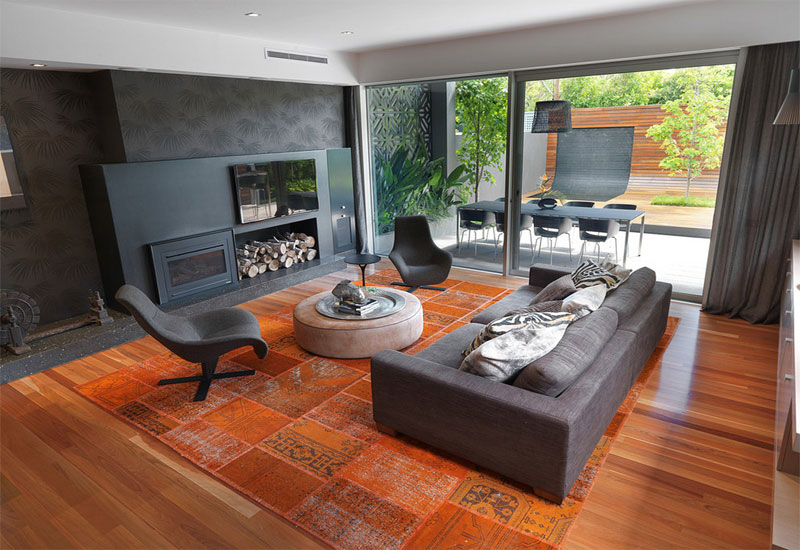 Achieving a contemporary design also depends on the material you use for your flooring. Floors for a contemporary home must be smooth using materials like nude tile, wood or vinyl. But if ever you wanted a more textured floor you can add rugs and carpets, however picking the perfect design for it would somehow be critical so always remember to pick what's ideal for the flooring.
5. Stick with idyllic colors.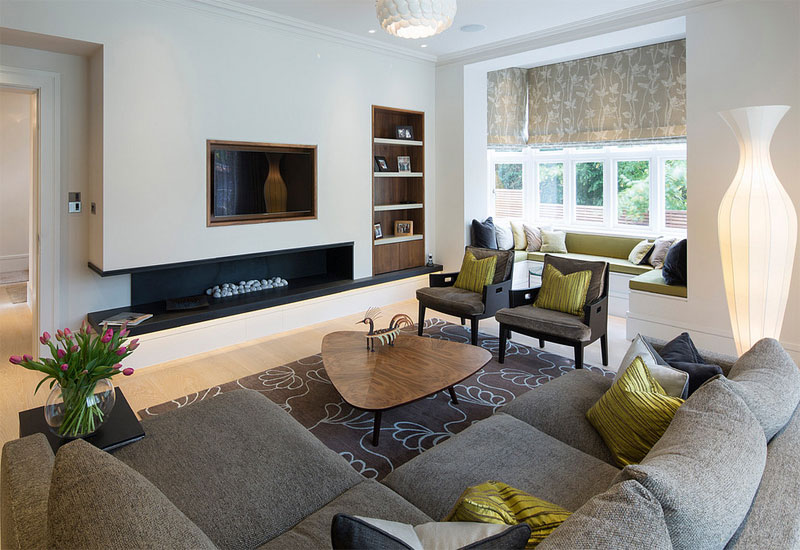 Commonly, the color of a contemporary home from the walls to furniture to accessories revolves around on black, white and neutral shades. Your walls could be white or cream or if this looks so bare for you then you can use stones to add texture. Bricks, stone blocks and woods are ideal materials that give neutral shades. If you choose white for walls, use darker colors for fabrics and furniture. Balancing the use of colors has a great effect on your interior. But this doesn't mean that the color usage is limited to natural colors. You can always combine bright and bold colors too.
6. Opt for trendy lighting.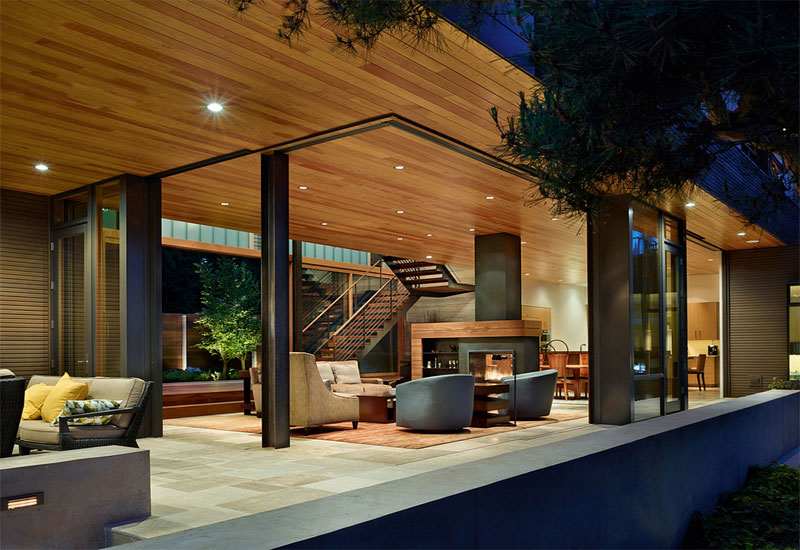 Contemporary lightings is very different nowadays, LED's are already out on the market and there some innovative lightings which are made for today's trend. One trendy way to install lightings is through accent lights. The lights are hidden at the unfilled edges of plain and clean looking ceilings. Its purpose is to highlight a specific spot in that room. Through this approach it gives a dramatic feel to your living room. Another fashionable way is by installing recessed lightings. It is also termed as "downlight" or "can light", a lighting fixture which is fitted into a hollow opening in a ceiling. Its appearance when set up is very hip and fashionable; wherein the light is concentrated to shine in a downward direction.
7. Add framed decors on the wall.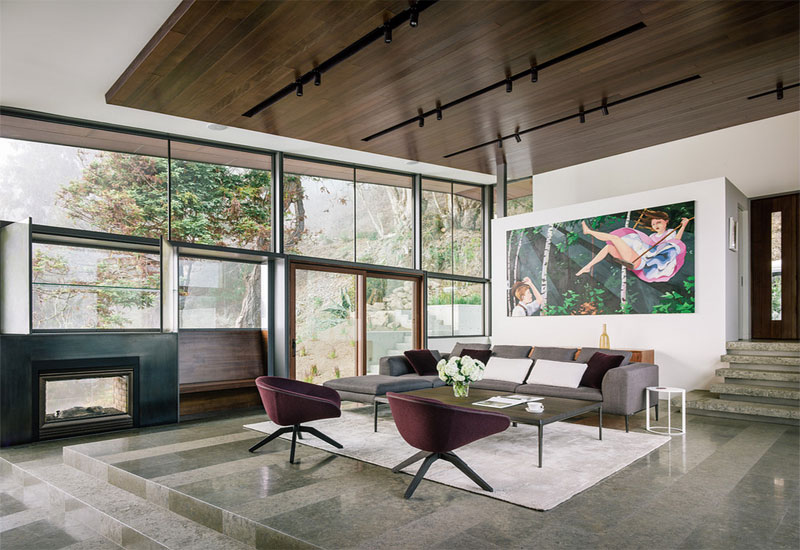 Some would prefer to have a decorative wall. There are many ways to attain that and one way is putting up paintings or framed photos on the wall. Although contemporary designing is defined as a clean style, paintings can still maintain the seemliness. Paintings or any framed abstract pictures can create humor and add style to your living room.
8. Install a modern appliance and fire place.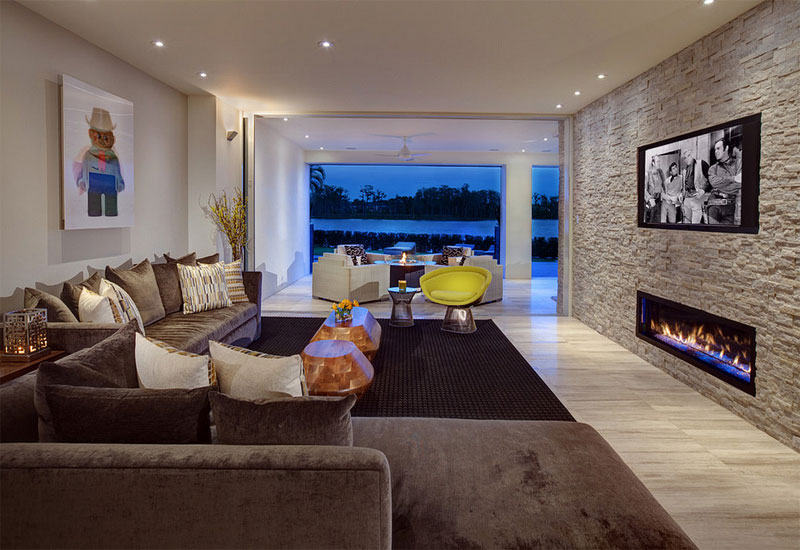 A living room is also considered as a space for entertainment and console. Therefore installing a TV set can make the space more convenient. But this choice varies for every home owner because others would rather install fire place that gives off heat during colder season. You may also want to add both the TV set and fire place which could be an asset. So installing it together would be a brilliant idea!
9. Use contemporary furniture.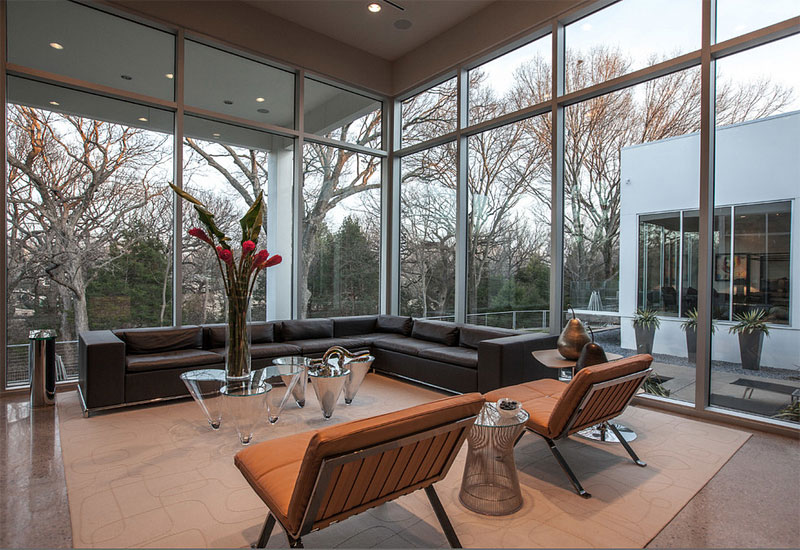 Obviously, the polishing pieces for your contemporary living room would be to incorporate it with contemporary designed furniture. These are very important elements that must not be missed during decoration for it will define the whole outcome of the design. For a comfortable sitting, start by choosing the perfect sectional upholstered sofa cushions. Next would be a unique well-designed coffee table. Lastly, add a chic accent table and chairs.
10. Achieve a sleek and uncluttered look.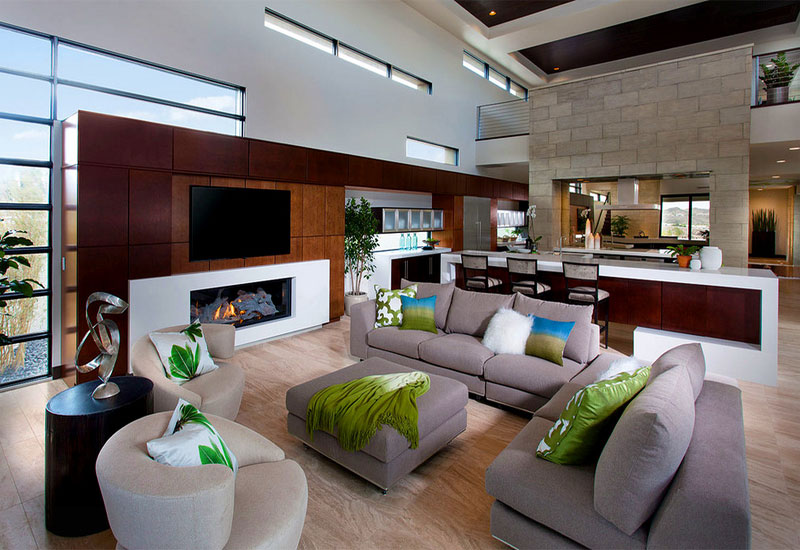 I know that it is inevitable to integrate lots of appliances and accessories after all we only want the best design for our interiors. But it is also important that we should know how to arrange them accordingly and decorate appropriately. It is really a smart idea to add cabinets or storage boxes that can hold other important things. Maintaining an uncluttered look and sleek design must be the main concern in decorating your living room for it enhances the totality of your interior.
So there, did I make it easy for you? Attaining a contemporary living room can be very quick and easy with this guide. Always make sure that this kind of fashion sense would fit your lifestyle. And the important thing to remember is that the beauty of a home is not based on how cheap or expensive is the appliance and furniture that you will be using. What is more important is its simplicity and uniqueness!