20 Square Coffee Table Ottomans in the Living Room
You can also use ottomans as coffee tables too!
Ottomans are one of the few furniture pieces that I think home owners would really love to have in their own spaces – like most furniture out there, we can basically add an ottoman in any part of the house and it makes it more cool and a bit fancy. If you know what I'm talking about, you should comment below and tell us your ottoman stories!
Check out the list of 20 Square Ottomans in the Living Room that we have collected for you guys. We actually have a couple of lists in here that revolve around ottomans and they're so fun to really complete because ottomans in general is nice to look at and they're real sweet – they come in different style, material and shapes – although we'll have to focus on the squares on this list, check it out!
1. Meatpacking Loft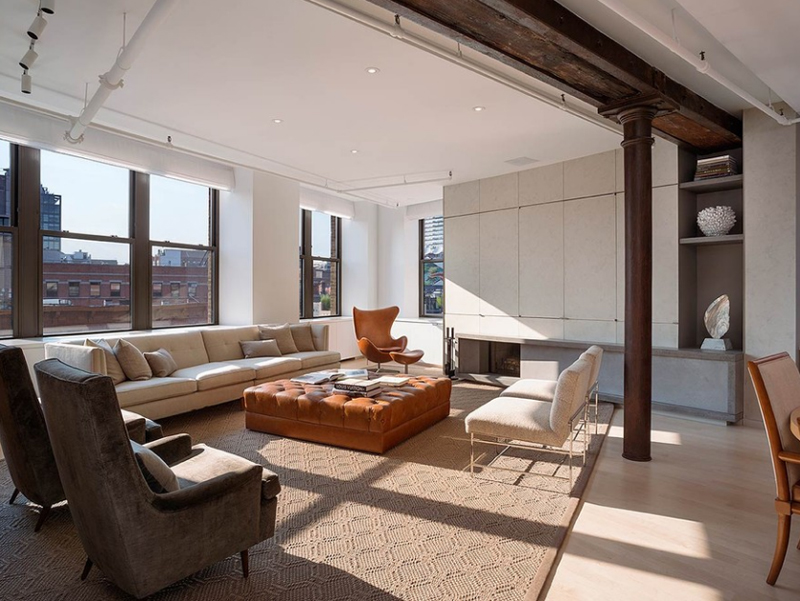 First on this list is one awesome ottoman – one which is large and in brown leather. I am amazed that this space is actually called a meatpacking loft, but then again, because of the growing population, there are a lot of commercial spaces that are converted to residential to accommodate more families and even single people.
2. The Thomas Pheasant Collection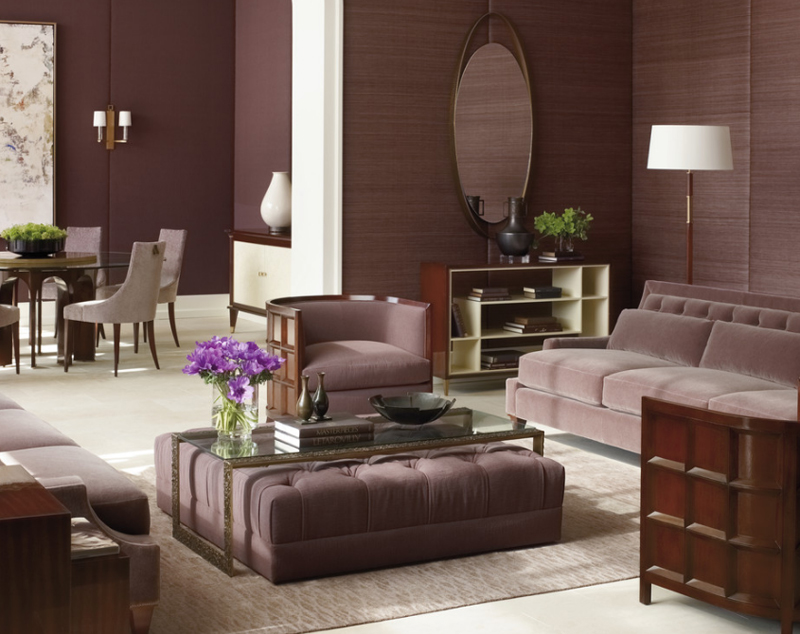 This Thomas Pheasant collection from Baker Furniture is basically covering an entire living room and it's just real fancy and expensive. This color is almost neutral that people consider this nowadays because not only is it easier to maintain, but we all know that this is a color used by the royals.
3. Montage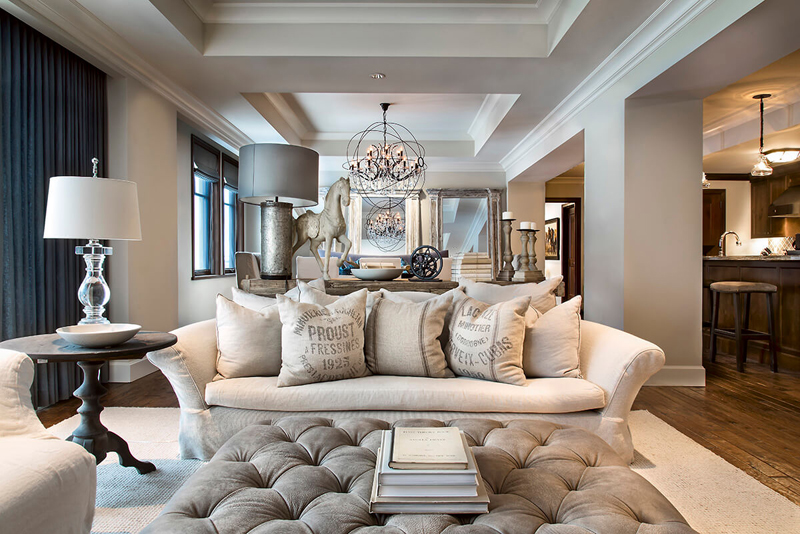 A grey tufted ottoman is seen in the middle of the room. It almost blends with the color of the sofa and the area carpet but since it has so much going on, it still stands out! If you also notice, there are a couple of lighting fixtures in here that are unique and wonderfully chosen. Do you agree?
4. Vail Residence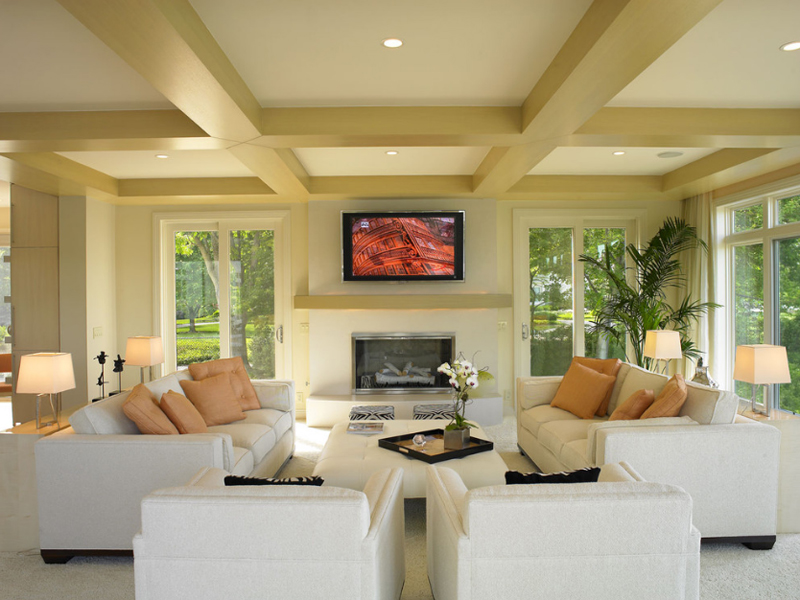 A basic white living room surrounded by light yellows and peaches. The thought of the glass windows and doors allow for more of a nature feeling, ventilation and light; and the fact that they added a live plant inside the house made a lot of difference.
5. Camelia Court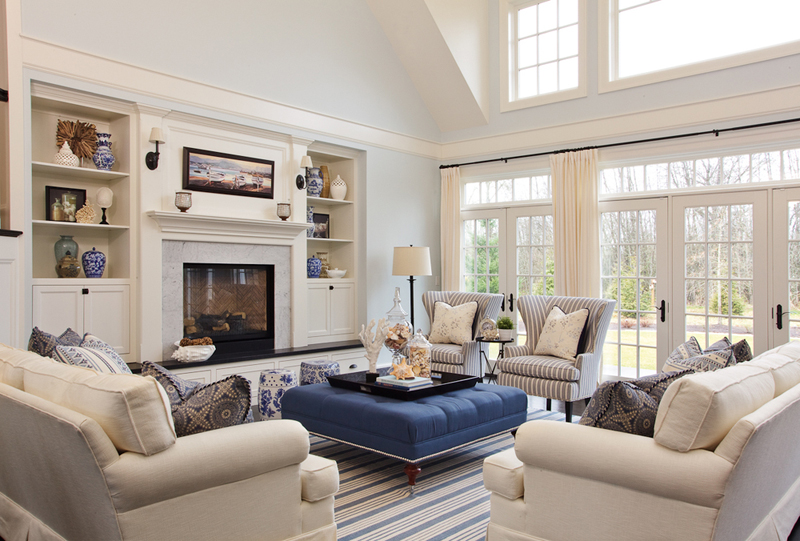 I am not so sure if we have already featured this space in here, but I think that this living room is just a wonderful space to be in. The blue ottoman in the middle of the room surely the center of attention (literally) and a conversation starter. This is definitely because of the white and neutral palette used in here.
6. Copperhead Home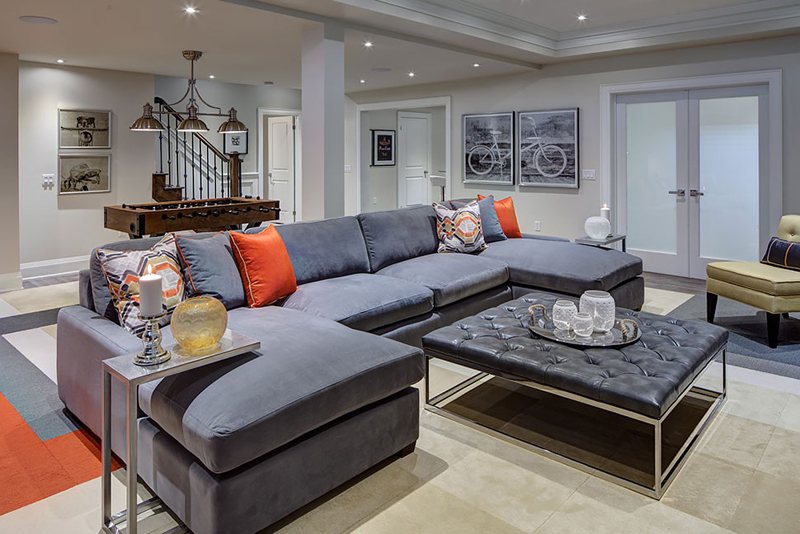 A grey sectional against a dark grey ottoman. We see that this ottoman is like a normal coffee table with the legs; most ottoman I see are a covered in fabric unlike this one; though I think this is surely an ottoman, I think it's nice that we share this photo in this list for us to see some variety.
7. Long Island Mansion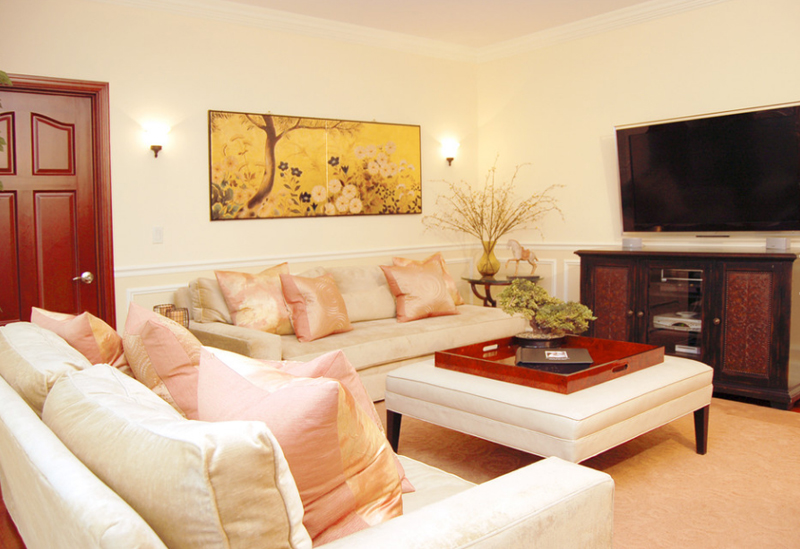 A very pasty-looking living room – believe me I didn't think we can use that word for a space because I thought it's just used for people. As much as there are a couple of colors in here, since white and beiges are the majority in here, I feel it lack more color – I'm not so sure.
8. Kleinberg
Jane Lockhart sure did a great job in maximizing colors in one space. The blues, greens and hints of yellow in the armchair foot rest combo on the side makes a more interesting space than it actually is. The printed area carpet looks fun too! I think this living room has much to offer.
9. Boulevard Place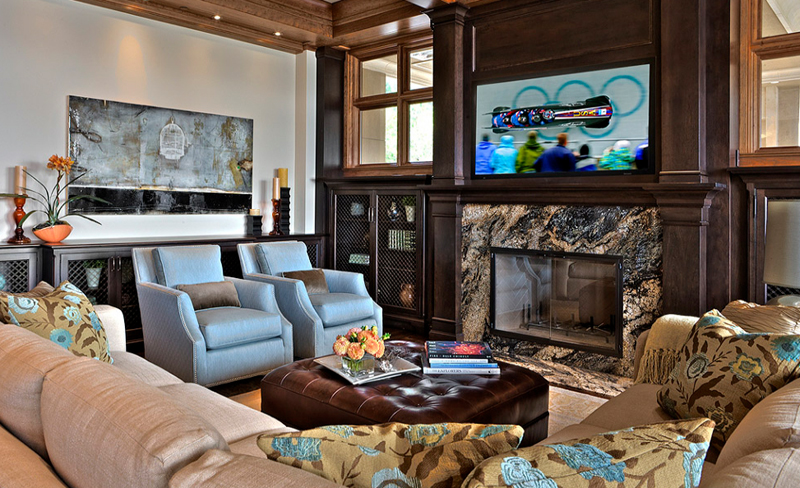 Ottomans are very reliable and definitely versatile. Take a look at this ottoman in a number shade of brown. It matches the fireplace but gives a good contrast to the rest of the light colors in the room such as the couches and decor. The choice of color combinations might not be my favorite in this spacious living room, but to be fair, you have to love those wide glass windows and that big, comfy couch.
10. Pacific Heights Residence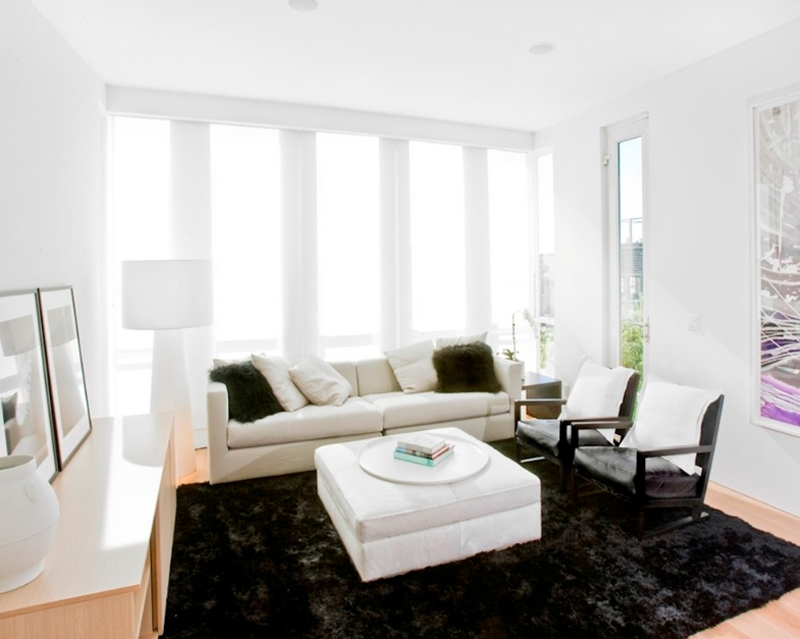 I really do love nice contrasts in monochrome. When colors are muted, the effect becomes minimalistic and appears clean and to an extent, calming. The white ottoman in this minimalistic living room provides a good center to the space. The monochromatic effect might be too simple or bland for some but often times, less is more.
11. Carmel Retreat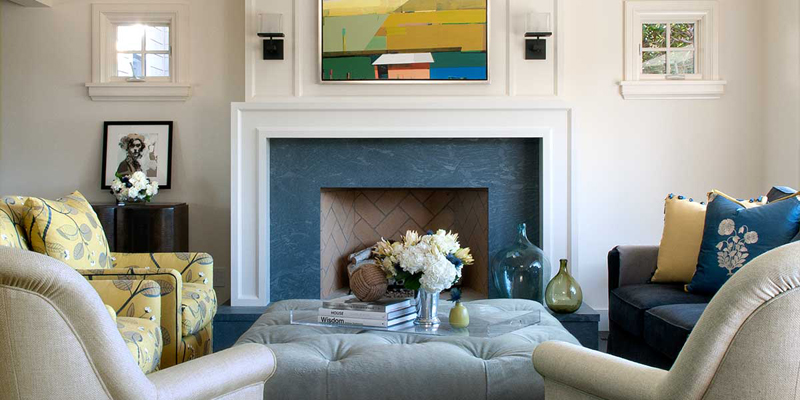 This living room will make intimate get-togethers even cozier. The choice of colors are enough–not too loud nor muted. The tone choices in the form of the fireplace accent, the painting, the armchairs, as well as in the throw pillows are a good and comfortable match. The ottoman gives a neutral effect to these colors and the decors placed in this simple yet pretty.
12. Cherry Hills Remodel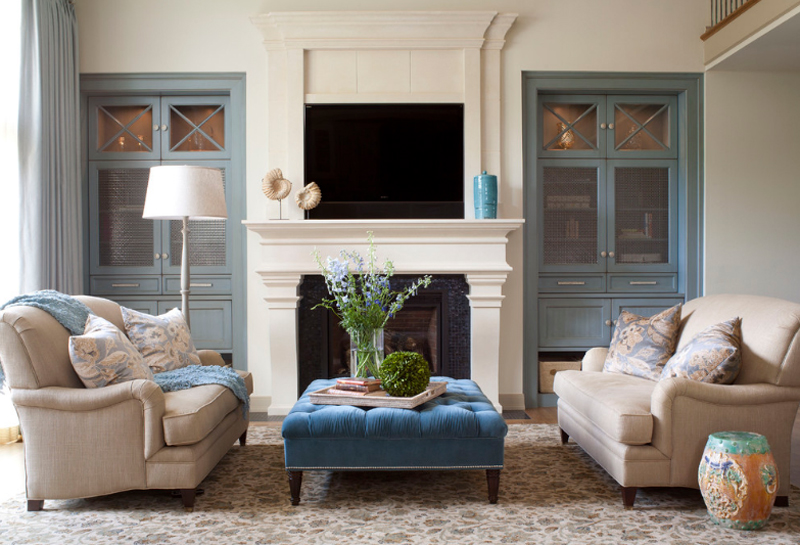 I love it when there are live plants in a "living" room. It makes a small space more vibrant and cozy. The couches in this living room are very comfy-looking. The ottoman's color is a very nice shade of blue and very relaxing, which is to my liking. It matches the color accents in the living room. I like how even small details or small blue accents are incorporated in the whole ensemble.
13. Colorful NW Contemporary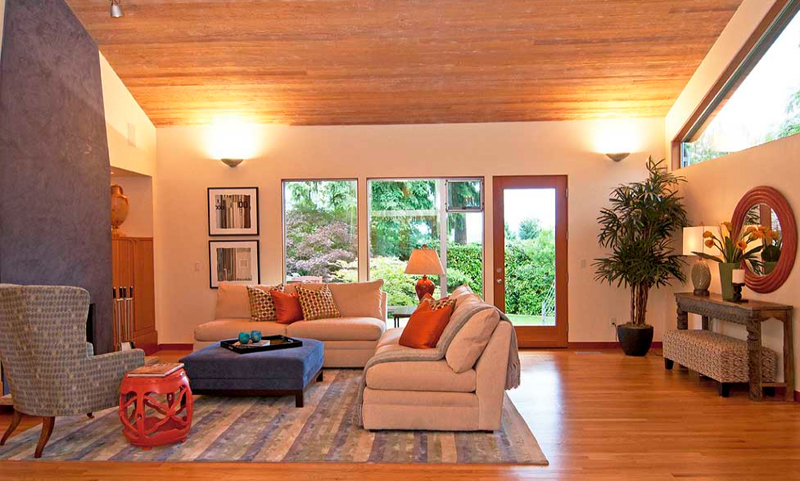 The big, long couches and the carpet serve as good dividers and space partitions. In this way, the wide space can still have a comfortable living room area and the door is not directly towards the living space. Here in this room are blue and orange color accents as seen in the pillows, ottoman, and decor which are given a fuller effect by the lighting and the wooden floors and ceiling.
14. Cozy Family Home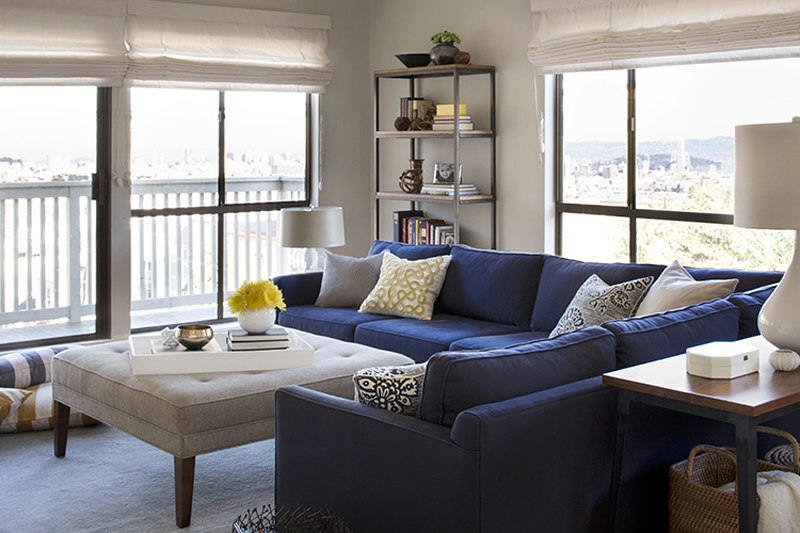 I really love big, wide glass windows. They give you that kind of effect of lightness and calm. Although too much light might be a problem for some, the blinds are there to do the trick. This living room gives off a very serene feel. The color choices are nice contrasts between the beiges and the blues. The ottoman matches the rest of the room while the couch definitely adds oomph in a calm, sort of way.
15. EGR Spring Parade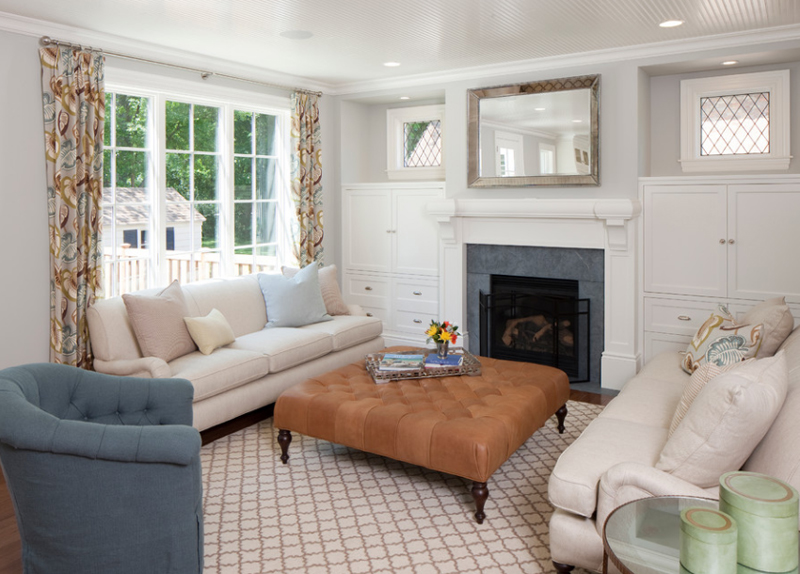 This ottoman right here has a really nice shade. It is what is unique in this room. It might be a tad different from the accent choices in this room, which seems minimal by the way, but it definitely is opposite to an "eye sore". It gives a classic effect to this modern and pasty room. I like the detail of the matching armchair and fireplace too.
16. Hollywood Hills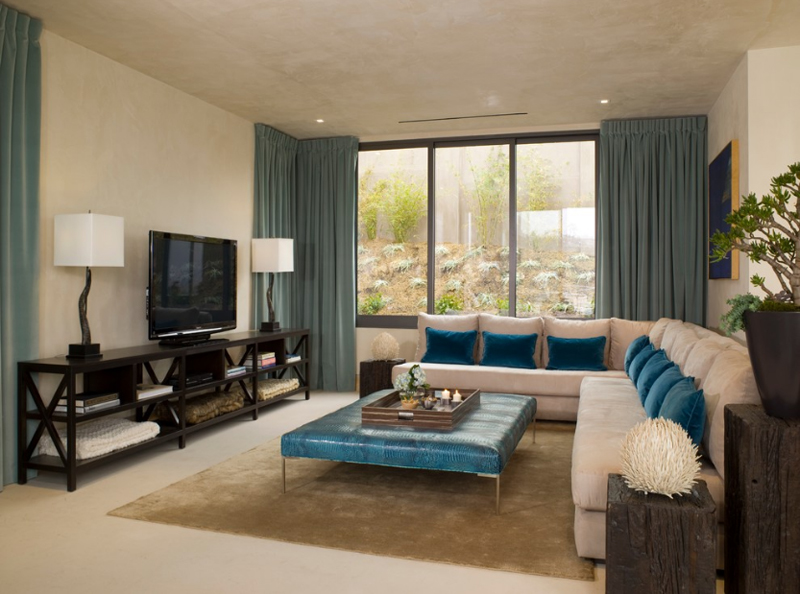 The colors and accents in this living room are safe and complementary to an extent. The pillows and the ottoman, as well as the curtain are matching however, something doesn't quite work in my opinion. Perhaps the carpet might not be the best color option or perhaps a change in wall color? Not quite sure to be honest.
17. Lakeview Pied-a-Terre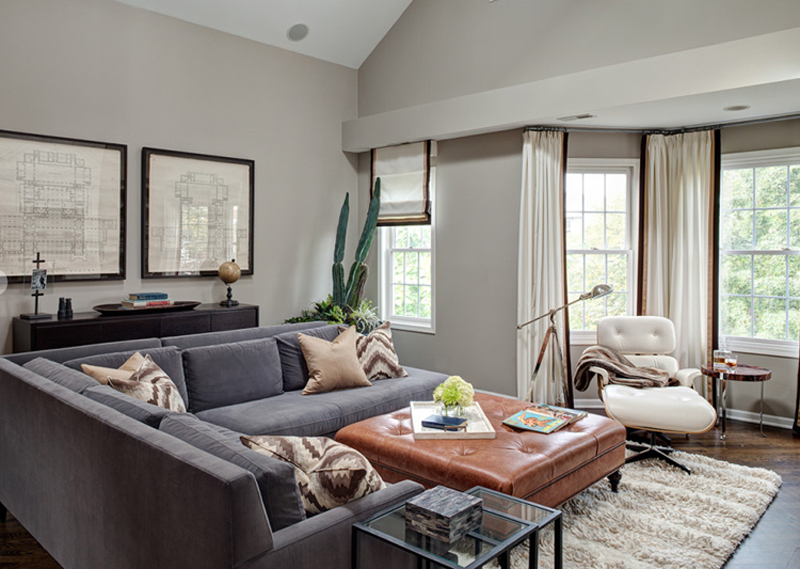 The muted color of the wall and the couch has an effect on the attractiveness of this living room. How I wish there are more accents or decors that might complement the cinnamon brownness of the ottoman or maybe vice versa. In all fairness the throw pillows and wood frames are there to kick it a notch but perhaps just a little more push in that direction.
18. Modern Loft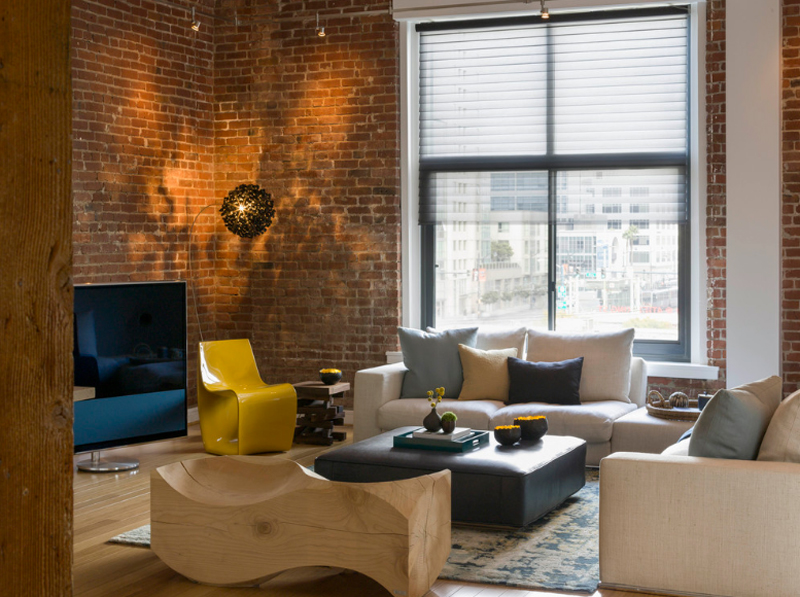 Putting decor or furniture is a great deal of work but this modern loft here has definitely that kick. The tones are not too much but the sure work together. The choice of couch and pillows and even the ottoman are perfect for a living space with a brick wall. Again, here's another big glass window. And can I just compliment that wooden bench and yellow chair that give that cool, modern vibe to this whole place.
19. Portola Valley Courtyard House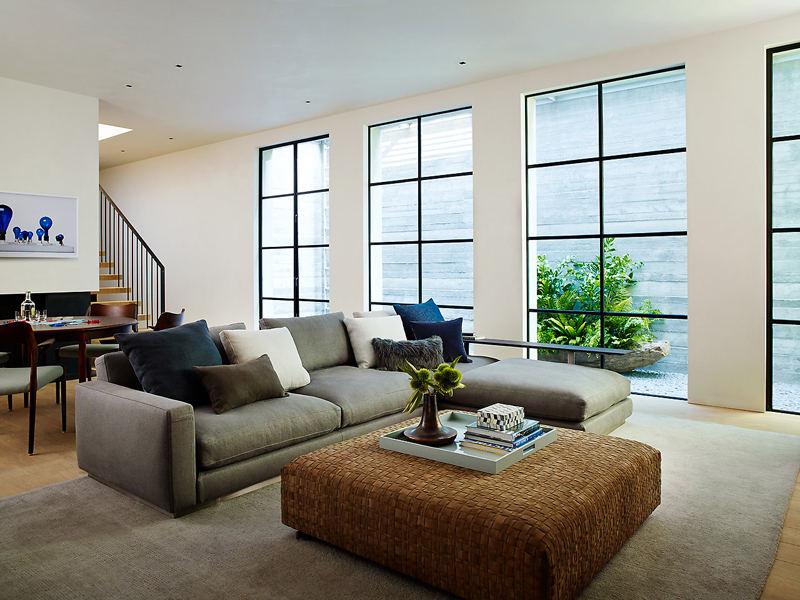 I do like grays and blues and this living room definitely has them. The sectional reminds me of naval colors because of the color combinations. The ottoman's jute-ish style makes the space more earthy which interestingly works out just fine in this room. These wide windows are perfect for making enough light come through thus making the living room even brighter.
20. Private Residence in Phoenix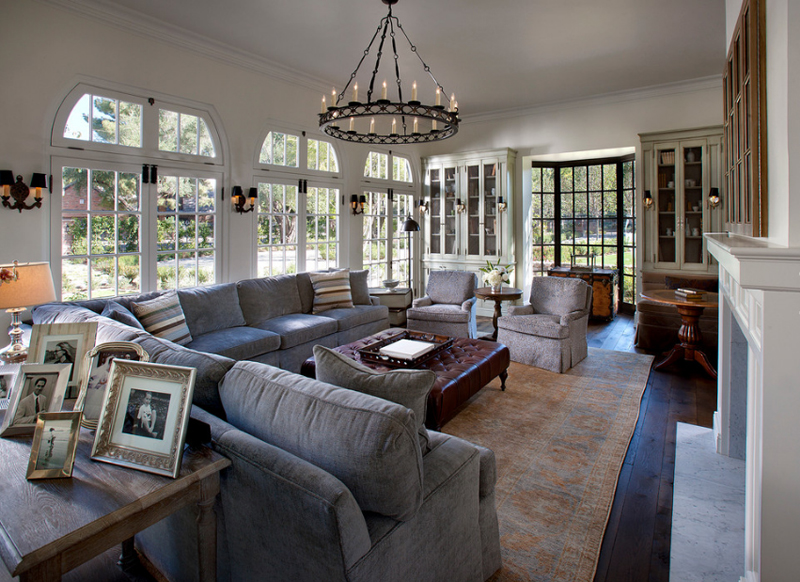 Maybe it's the chandelier or the cabinets, or maybe the farther window, but this living room sure takes me back in time to the 5th century or even farther. The dark shade of the ottoman adds to that effect and contradicts the modern styles in the room such as this extra-long sectional and some of the decor. Although this living room is too big a space for my own taste, it sure has unique choice of colors and decor.
I hope that you had a good glimpse of possible ottoman sizes or colors that you might consider putting in your own respective living rooms. You might want it big or medium sized, a nude color, or maybe a dark shade of brown. Whatever it is, I do wish you best of luck in picking your decor and the accents to make everything work out in your living room. After all, who would not want a merger of comfort and style? For more ottoman ideas, check out these coffee tables with pull-out ottomans.20 Charming Coffee Table with Pull-Out Ottomans