25 Inspiring Images of Gray Living Room Couch Designs
A gray couch can be a lovely addition to your living room. Check this list for inspiration.
One important item in the house is the furniture because aside from its function, its design has also a big impact to the look and aura of your space. Hence, it is a significant step to get a furniture that looks perfect in your space may it be in the living room, bedroom or other areas of the house. When it comes to living room furniture, we see to it that we get the sofa or couch, chairs and coffee table that will come together really well. A couch comes in various styles and colors but in modern homes, those with neutral colors are commonly used.
And when we speak of neutral colored couches, gray is one option that will work well in whatever color scheme you have in the interior. But of course, aside from the color, you also have to choose a design that fits your space. Also, you have to check it isn't too big or too small for your area. You may want to look into the materials too as well as its price. Now, if you are thinking of getting a gray living room couch, you can take a look at the images below for some inspiration.
1. Eclectic Amsterdam Apartment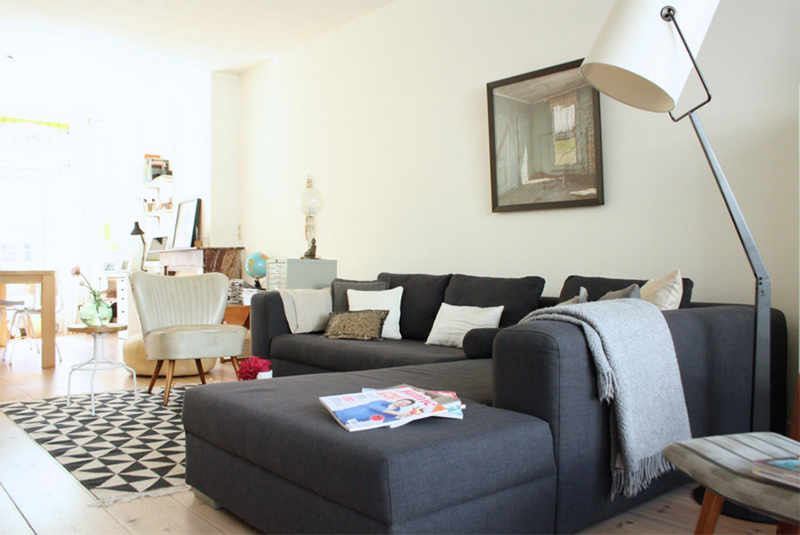 Dark gray sectional sofa is used in this living area wherein a geometric black and white area rug is added. I like that chair and side table too.
2. Greenwich Village Loft Living Room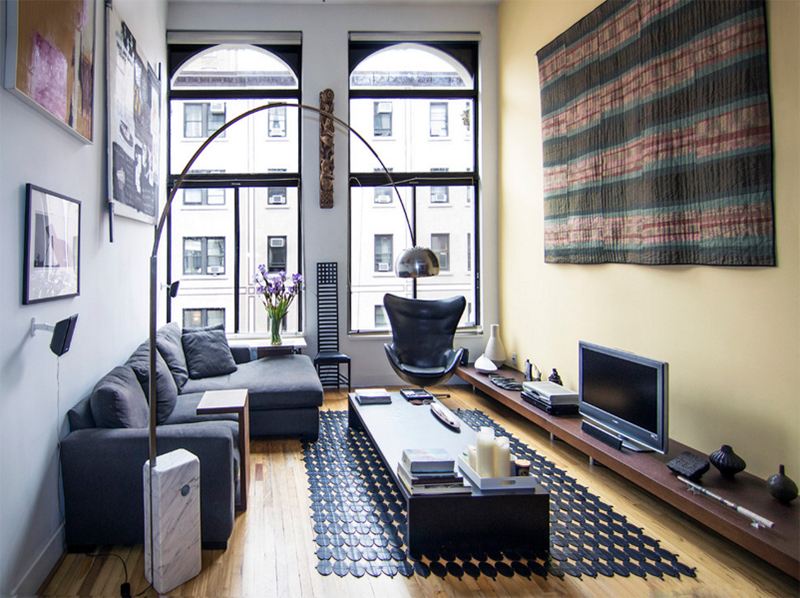 A long and narrow living area has a couch on the other side and a television in front of it. What added appeal to the space are the floor lamp and other details like the area rug.
3. Living Room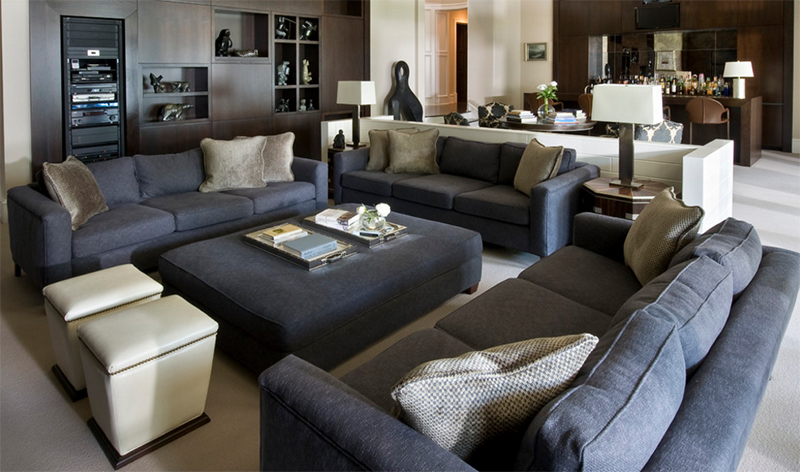 For this one, three gray couch were used here while an ottoman adds contrast to it.
4. Bucktown Modern
With a glass floor to ceiling window, natural light enters the living room with light gray couch and a yellow ottoman. One can also get a good view of the garden from here.
5. Living Room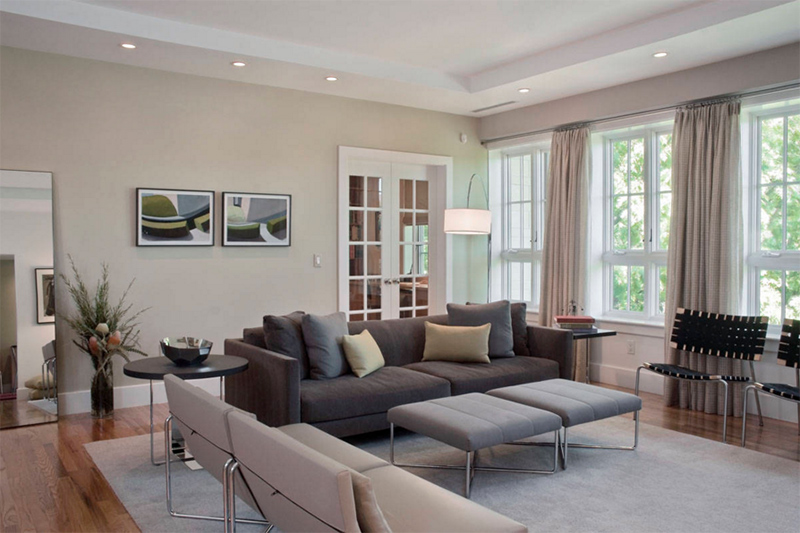 This living room has gray colors too on varying tones. Maybe it would look livelier if colorful throw pillows were added.
6. Living Room and Sunroom Combo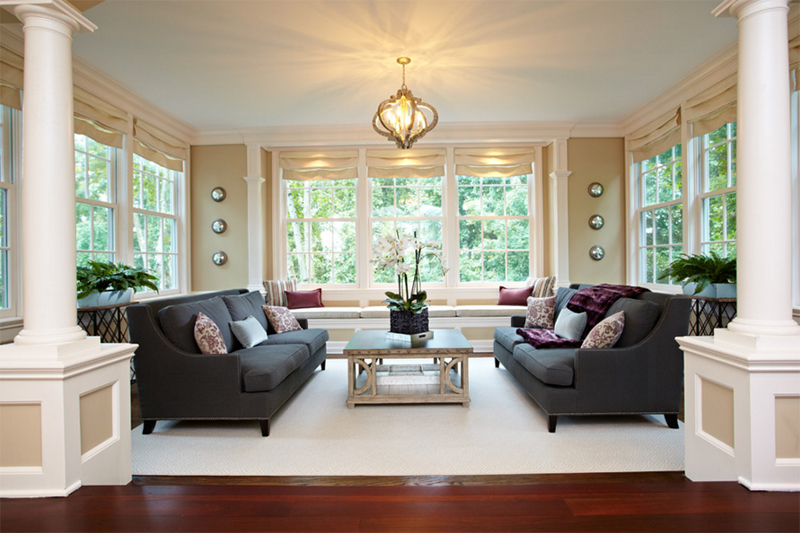 A lovely gray couch has different throw pillows with prints which is a good way to compliment the plain colored sofa.
7. Marin Remodel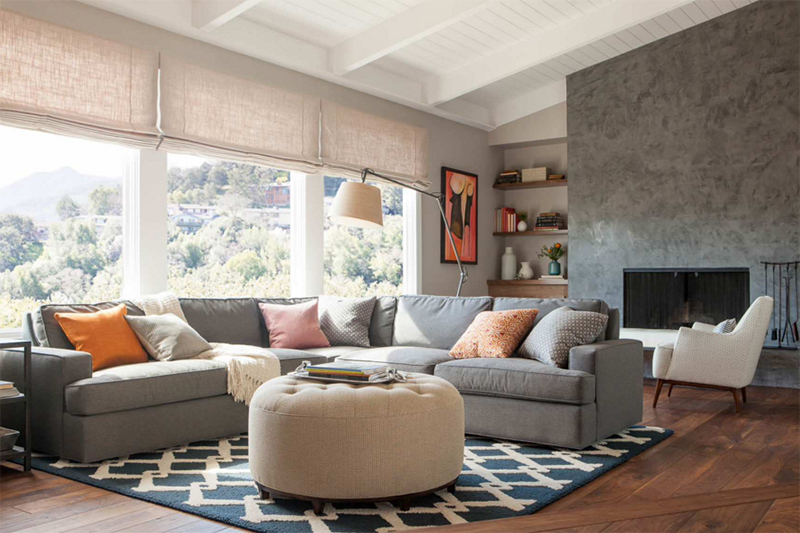 I like what they did here because they used different colors for the cushions while a geometric area rug sits under it.
8. Contemporary Condo Living Room in Chicago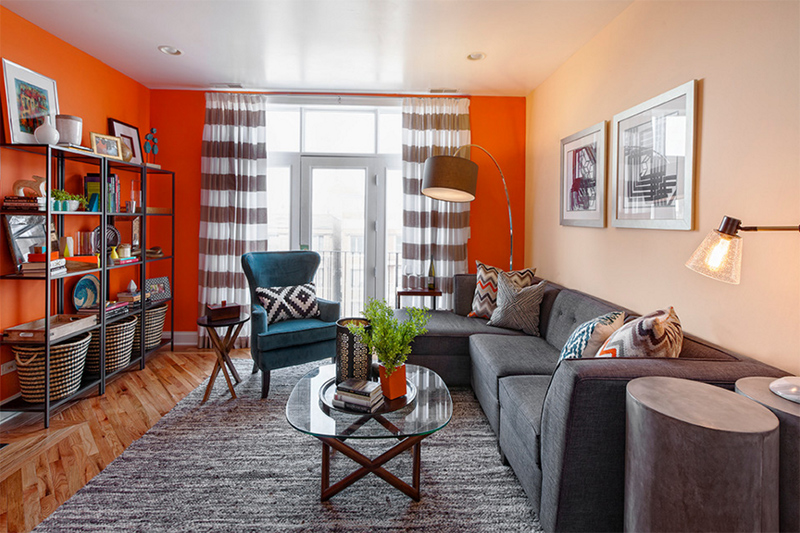 The gray couch looks nice with the orange walls. The manner of arrangement is a good way to create good traffic in the living area.
9. House Mosi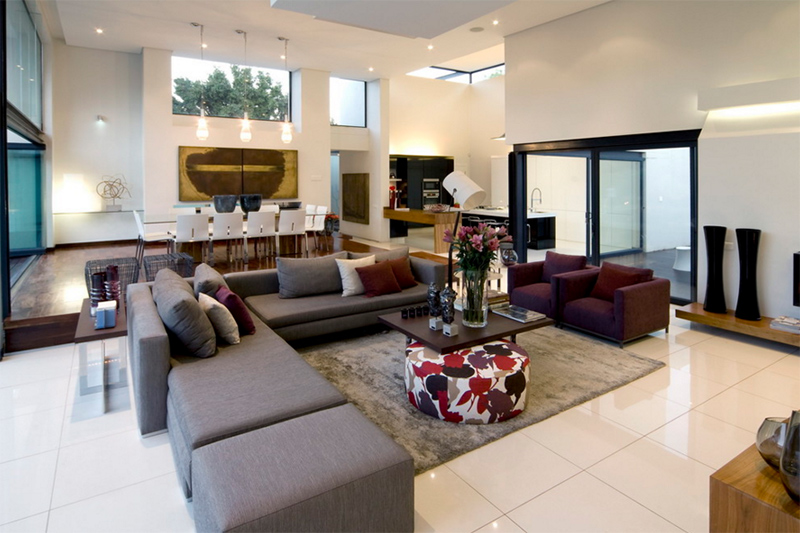 A gray sectional sofa is paired with purple chairs that have a similar design to it. A printed ottoman completes the look.
10. Pasquella Living Room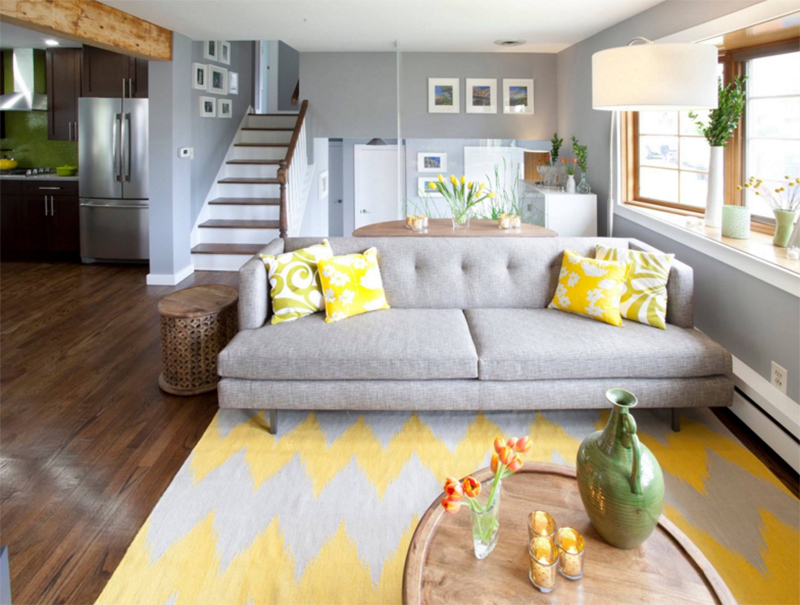 If you are not aware of how lovely gray and yellow colors look like when combined, you can see that in this living area. Notice the combination of patterns too.
11. Leach Residence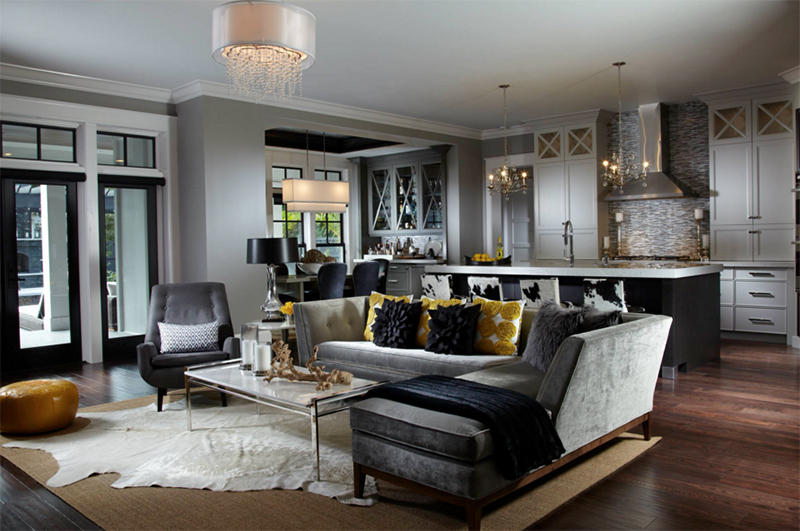 The living room has a hint of class and luxury in it. Aside from that, I also love the design of the throw pillows it. It is a good idea for a DIY.
12. Pint-Size Playfulness in Vancouver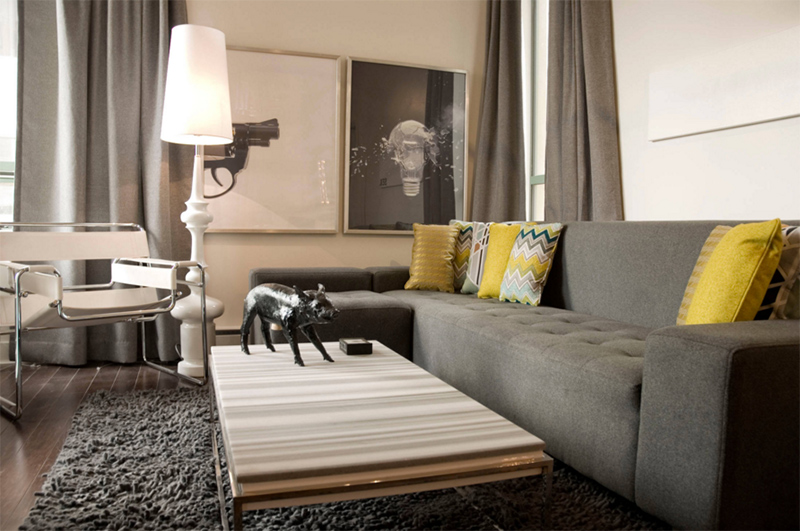 What caught my attention when I first saw this is the pig on the table. LOL. My little girl asked if it is alive or not. But then, it sure is an interesting addition to this living room with gray colors and some pops of yellow.
13. Ferndale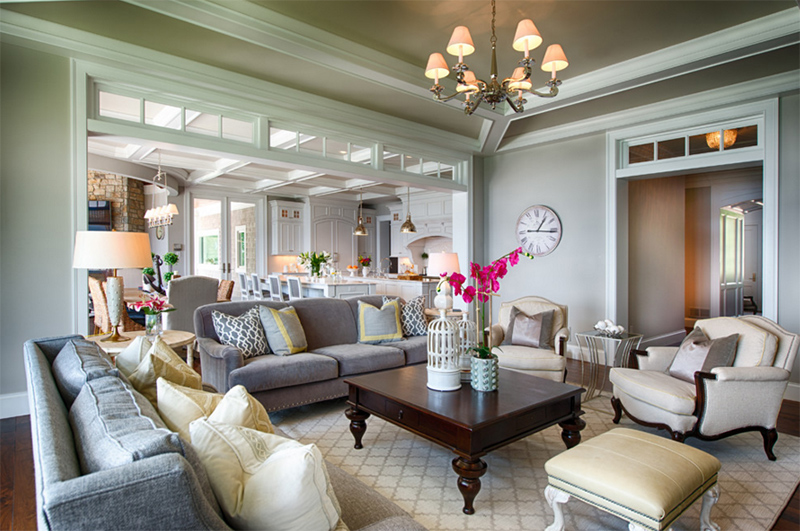 A living room with an eclectic mix of furniture but it used gray couch in here. The centerpiece here looks really nice too especially with the added flower.
14. North Toronto Living Room/Dining Room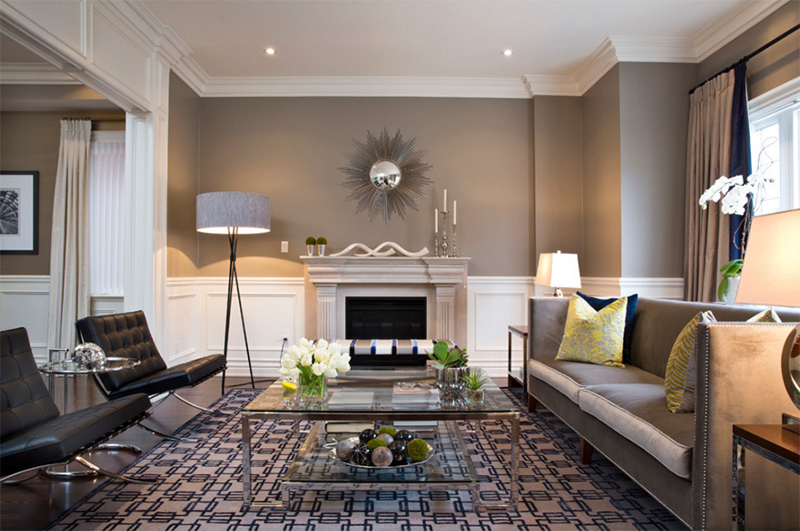 The fireplace is the highlight of the living room. The area rug brings some creative touch into it. Look into the details of the space and you'll get to appreciate it even more.
15. The home of Karlijn and Pieter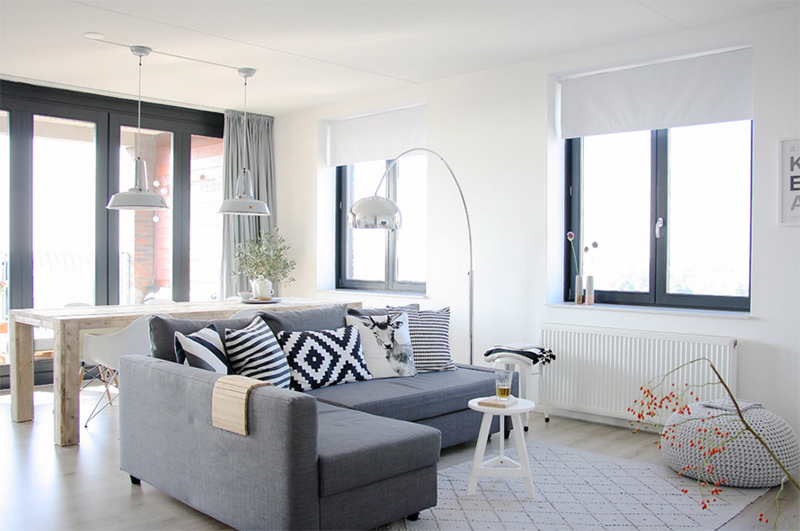 You can still have a beautiful space even if you have a minimal decor. Merely adding a mix of various throw pillows did the job.
16. Suburban Contemporary Family Room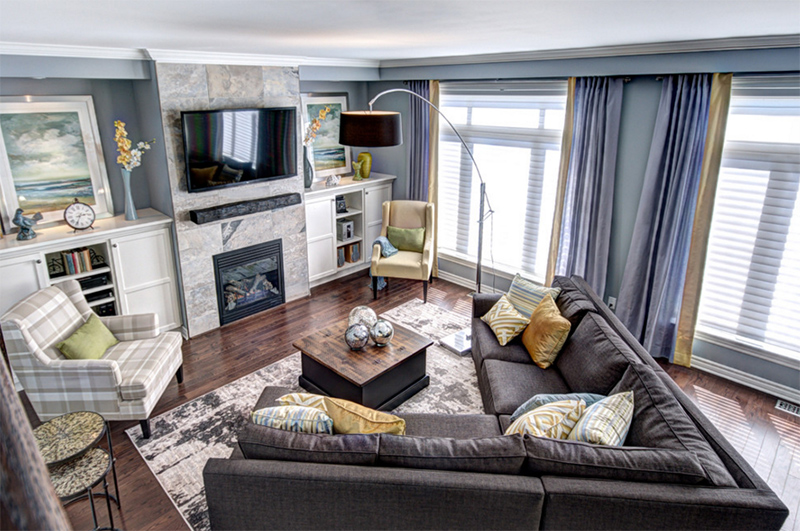 This living room used a custom made Barn board and pine coffee table, reclaimed barn wood mantel, and custom drapes with gorgeous porcelain tile on the fireplace. It has a light cheerful palette of gray, green, blue, and yellow.
17. Silverleaf, Lot 1137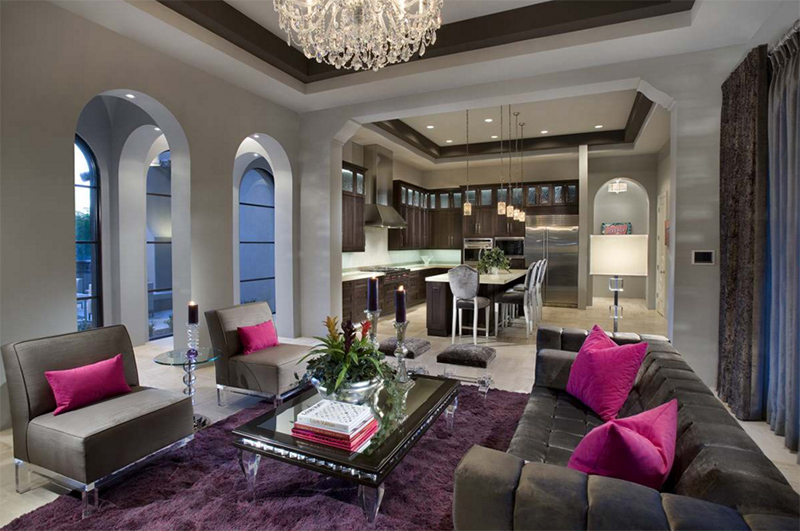 A sophisticated living room with gray furniture and pink cushions that added some chic touch to it.
18. New French Country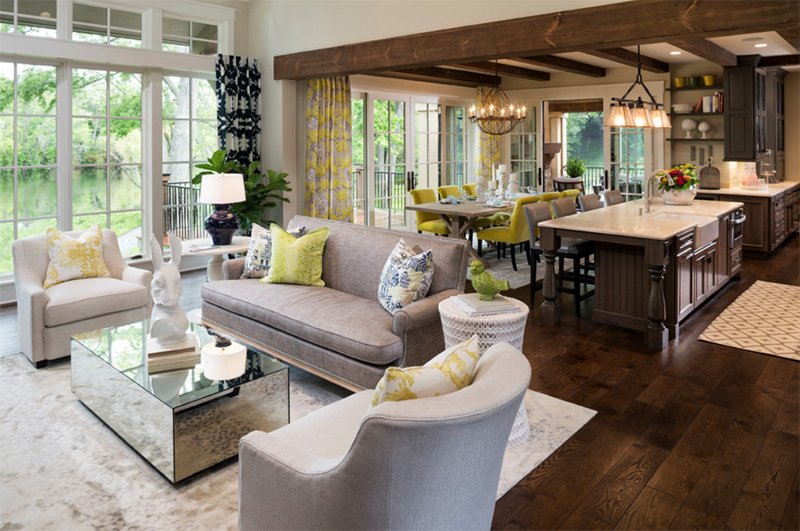 The mirrored coffee table looks really nice since it seem to help give glamour to the space. You can also notice that it used a gray couch with a darker shade than that of the chairs.
19. Hush Homes – Oakville Model Home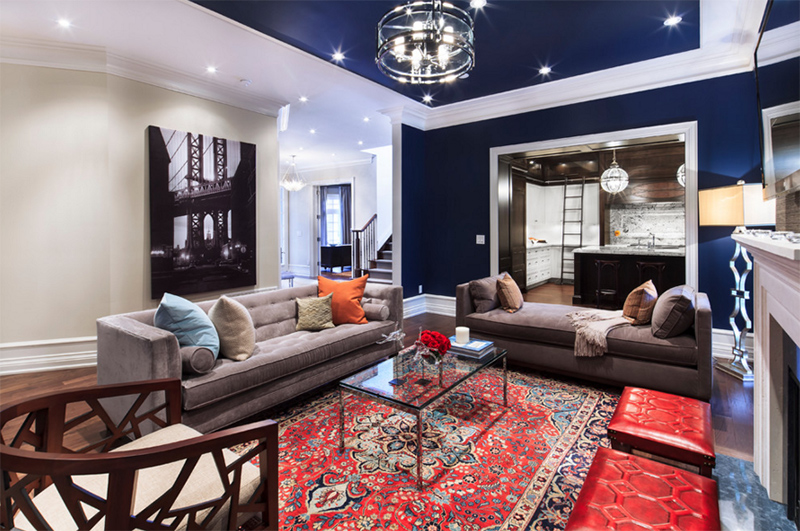 An eclectic mix of traditional design & modern details are seen here. It has a beautiful antique Persian Carpet which creates the color scheme of the space.
20. Knightsbridge House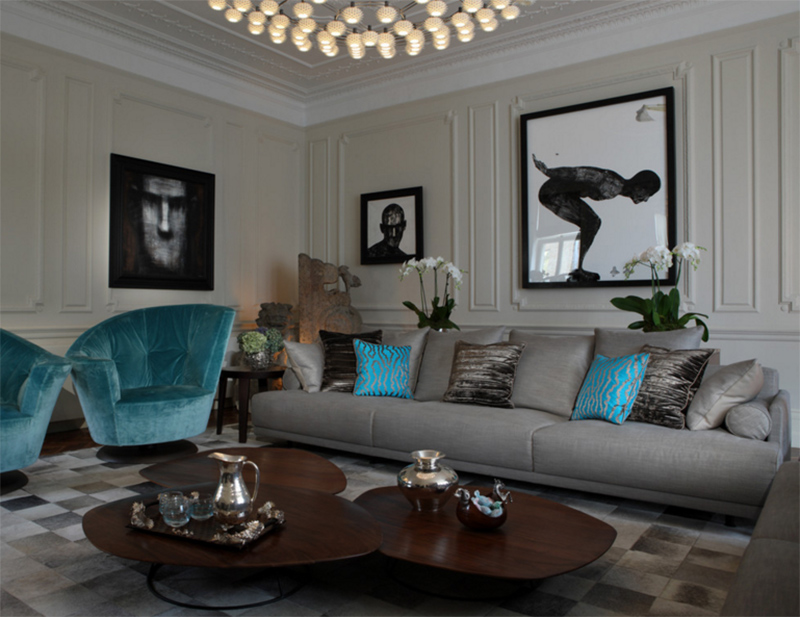 Although the combination of green and gray doesn't look really appealing, the living room still looked nice because of the added accessories.
21. Woolloowin Residence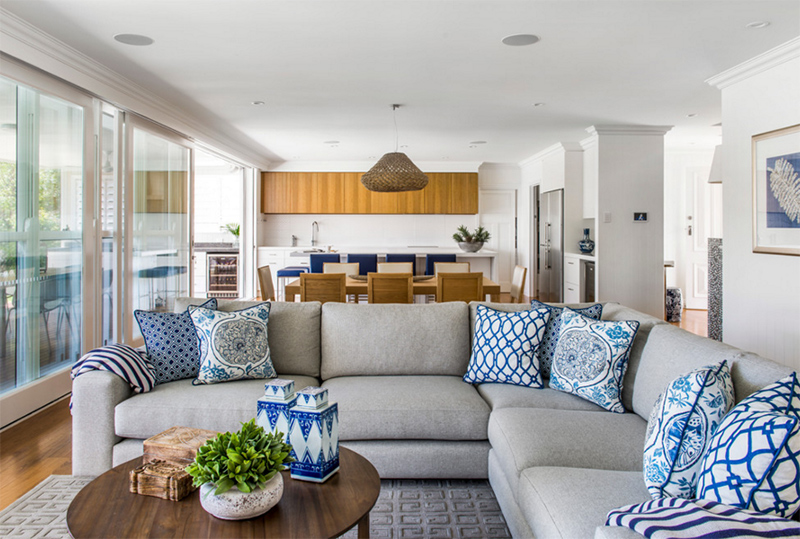 This living room shows us that when it comes to combining patterns, you should not be hesitant because it would turn out lovely when done well.
22. Modern Home In The Middle Of St. John's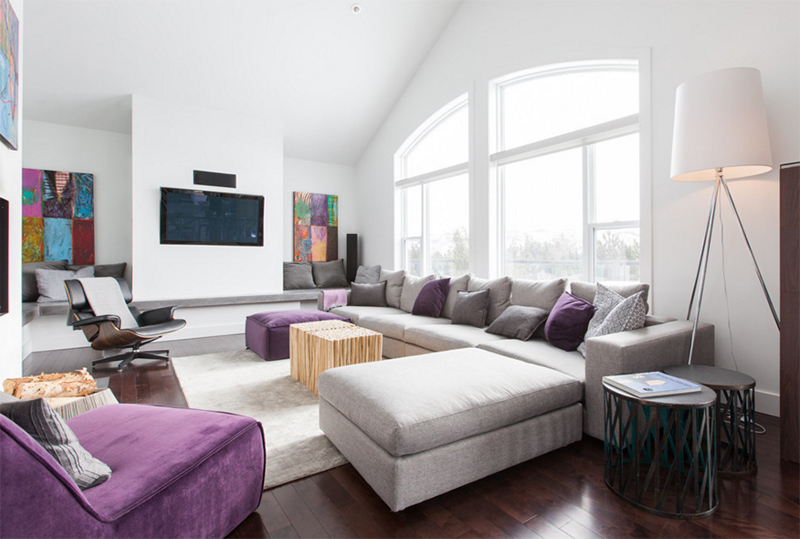 A purple and gray space with some pops of colors from the wall art. The large window made it appear even lovelier.
23. Andy Berman Residence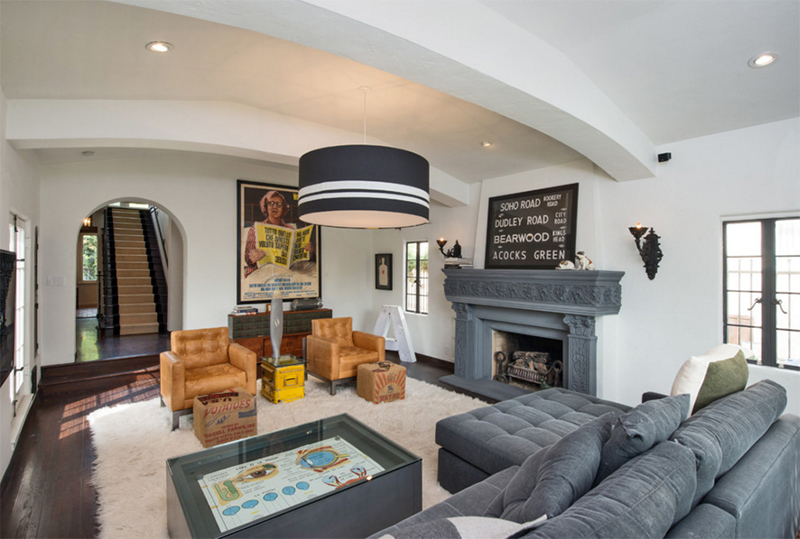 I can tell that this space is a remodel because of the vintage fireplace that was painted gray. It looks nice though and compliments with the furniture.
24. O Residence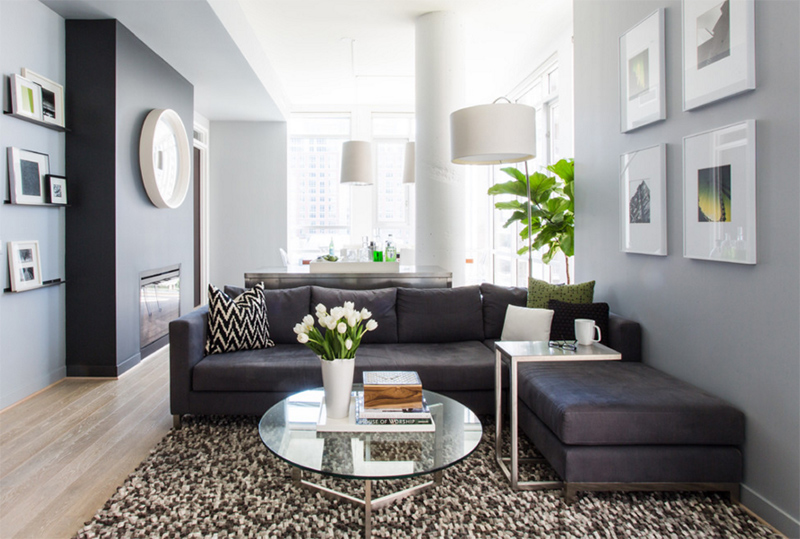 The living area has a modern gray sofa with a nice table that can be easily moved from one place to another! Like the area rug too and the plants added in it.
25. Sample Images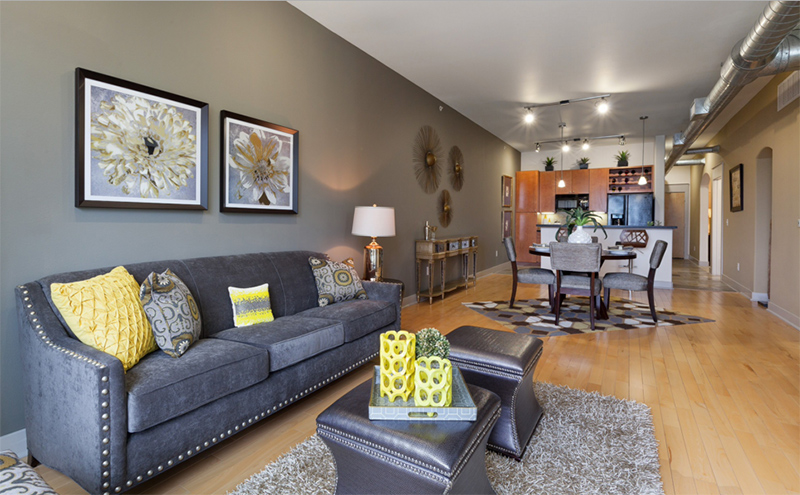 This one has yellow and gray too with interesting decors and elements.
So, if you are planning to use gray living room couch for your home, you already have a source for ideas. You might get a couch that has a similar design to the ones above, at least you already know which is best for your space. But of course, you can try other colors for the sofa too if you want something with more pops of color or you can even try those with patterns and prints. Also, choose various designs for your sofa as well. We hope you found this post helpful in designing your living spaces.