20 Knockout Black Accent Wall in the Living Room
Add a black accent wall to your living room for a beautiful dark contrast.
A beautiful black accent wall says so much about how one space would actually turn out. As much as an accent wall adds drama and beauty to our spaces, if they are overdone or underdone – things would look different. This actually applies to any color or wallpaper that you use as an accent wall.
Today, you will be seeing a list of 20 Knockout Black Accent Wall in the Living Room that I'm sure you'd love. Some of the spaces in here have a black accent wall which is actually very minimal, while others cover an entire wall. Check out the photos bellows and see which ones could actually work well for your spaces.
1. 12th South Redesign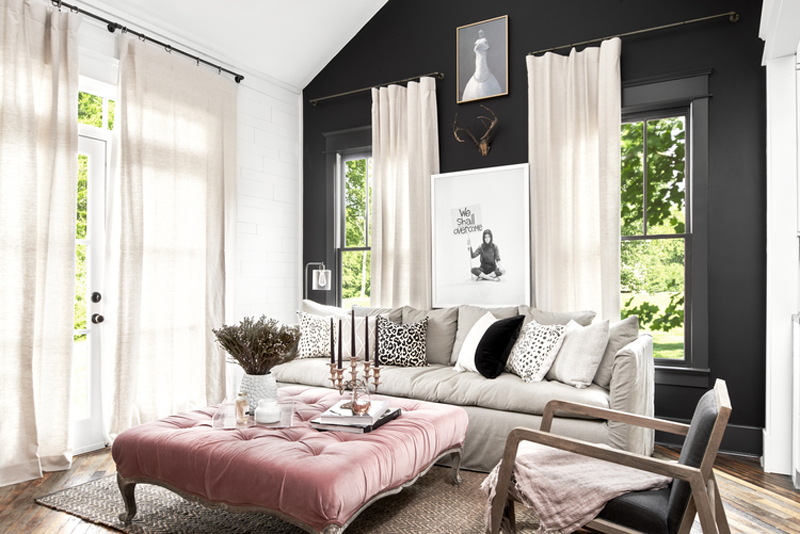 First on our list is a cute living room with a stunning black accent wall that actually completes the entire look of this space. The grey couch match well with the pink ottoman and unique arm chair that is placed on the earthy area carpet.
2. 544 Union Brooklyn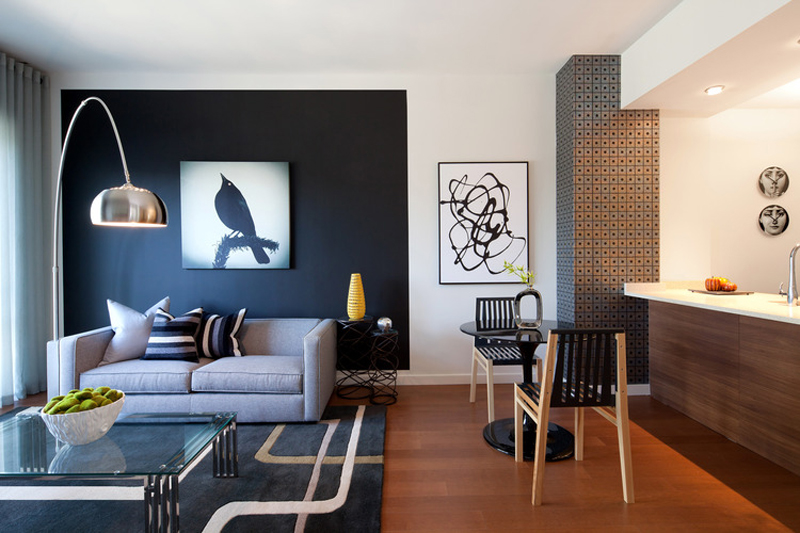 Here is one accent wall that is not covering an entire side of the wall. It actually looks real nice because at this angle, it somehow looks like a chalk board or something. It's nice how it does not over power the room and how much it complements with the art works added to it.
3. Evandale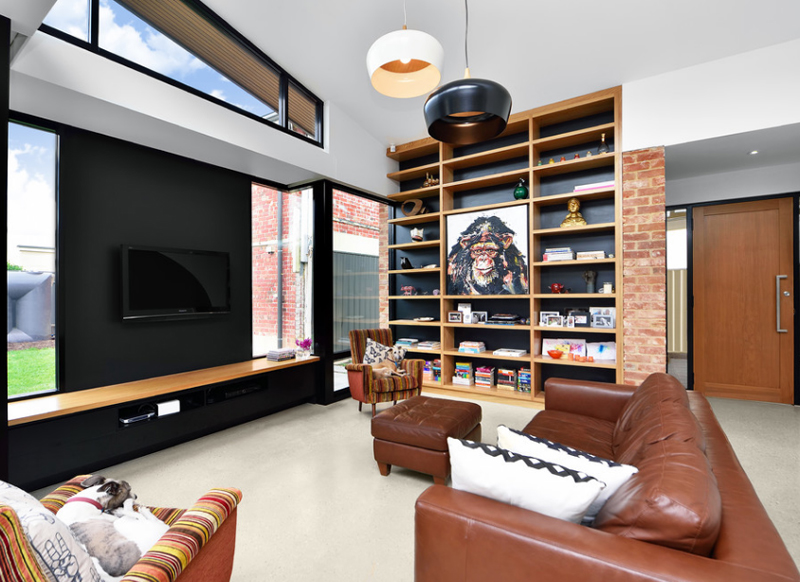 This space looks a bit mid-century to me because of the choice of furniture and decorations they added here. I like how there seems to have two accent black walls in here with a hint of brick post on the side; also, I love the black and white pendant lights above the furniture.
4. Kirkland Traditional Residence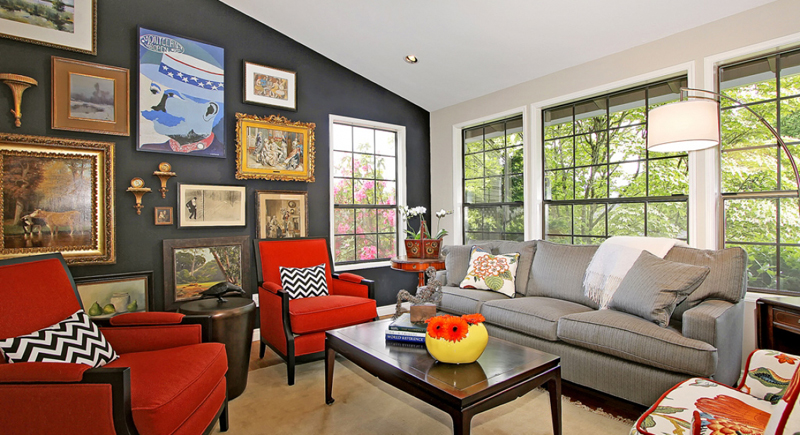 I like how some walls like this looks busy because of all the frames or decors in it and still look fabulous! We see so much colors in here and I think because the colors do not over power one another, things in here just work out – easy, breezy.
5. Post Alexander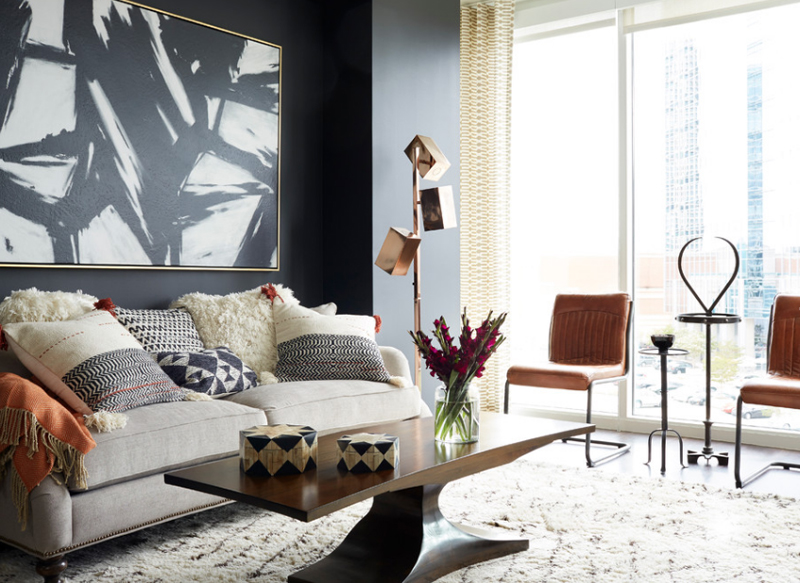 Would you agree with me if I say that this is one charming living room? The furniture pieces are just wonderful – they are unique, almost vintage and quite an eye candy; also, the decorations in here actually looks really amusing for me – they look really special and nice.
6. Tuscany 1967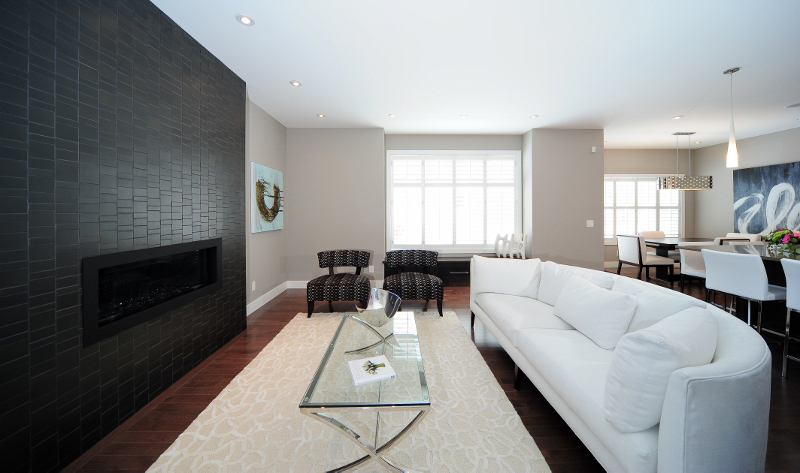 The wall that has the fireplace in it, looks really appealing because of the texture that it has. It contrasts with the colors of the other sides of the walls, the flooring, the carpet and the white couch and it totally looks ravishing and stunning.
7. Villa Nirvana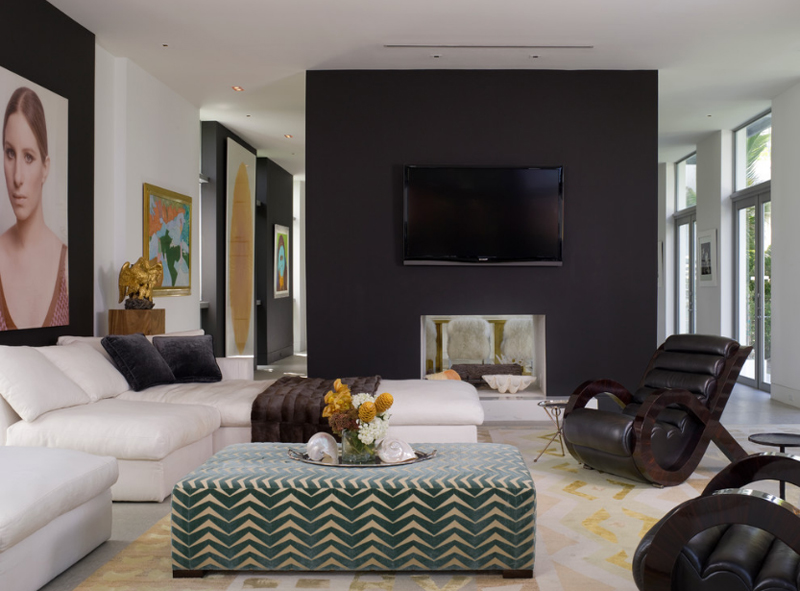 The woman looking at us sure makes this living room rather appealing. Notice how much almost everything in here is plain except from the carpet and the rectangular ottoman. This is one simple yet awesome living space!
8. West Austin House on the Hill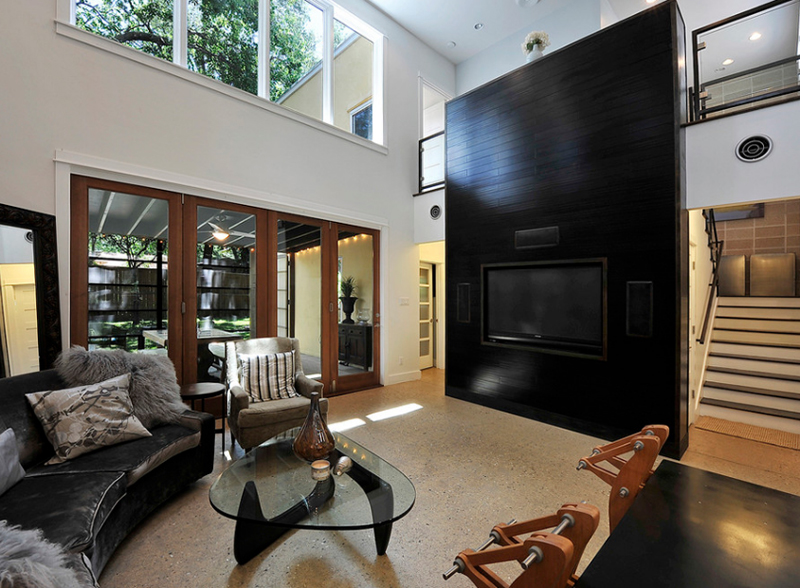 What do you think about the wooden black accent wall that actually reaches the second floor of the house? It match with the color of the couch and the coffee table's legs and I think it sure looks fancy and real neat!
9. Westchester Showhouse 2011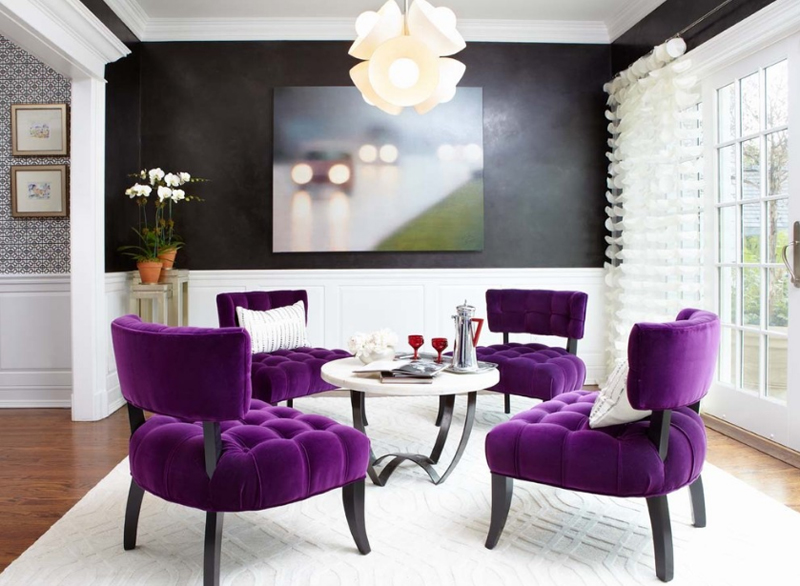 So, this accent wall covers almost half of the wall – this is nice because it actually makes the space prettier because of the white molding. This space is not really a living room but a seating area wherein people usually would have tea or coffee in the afternoons. The color of the chairs in here is really beautiful and neat.
10. Seattle Home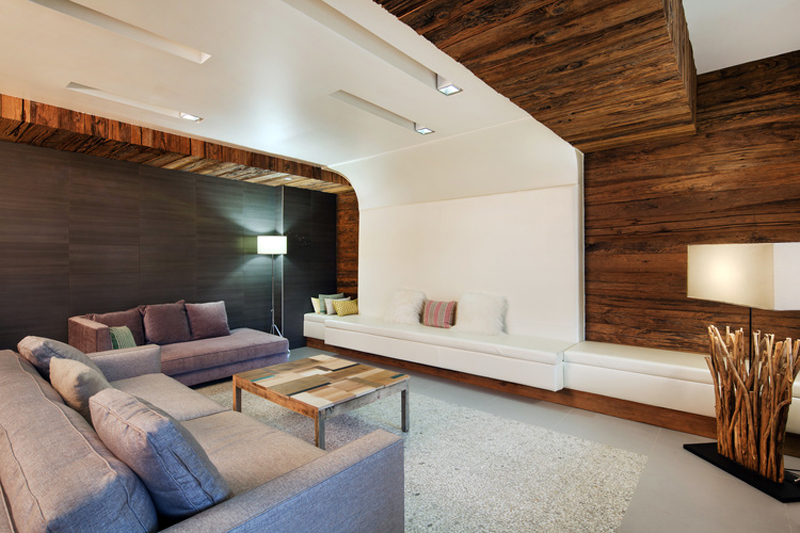 Travis Mark sure made this living room look real ravishing. The different materials seen in here just make this space real interesting – we see wood, we see concrete, and we see fabric – all at the same time, altogether. Real neat.
11. Mirror Lake Shingle Style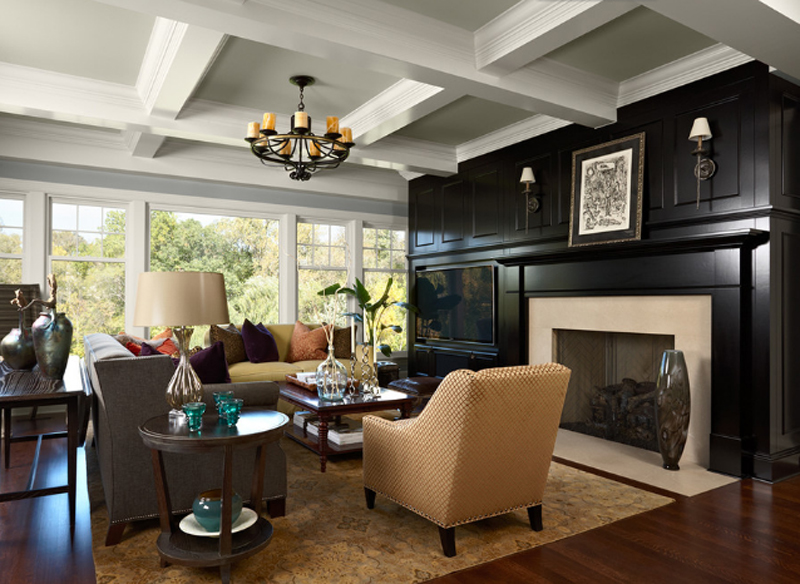 I somehow feel like this living room is a bit small – but then again, most houses that are usually large have a couple of living areas around the house. The thing about this space though is that the furniture look real comfortable and pretty.
12. Second Street Green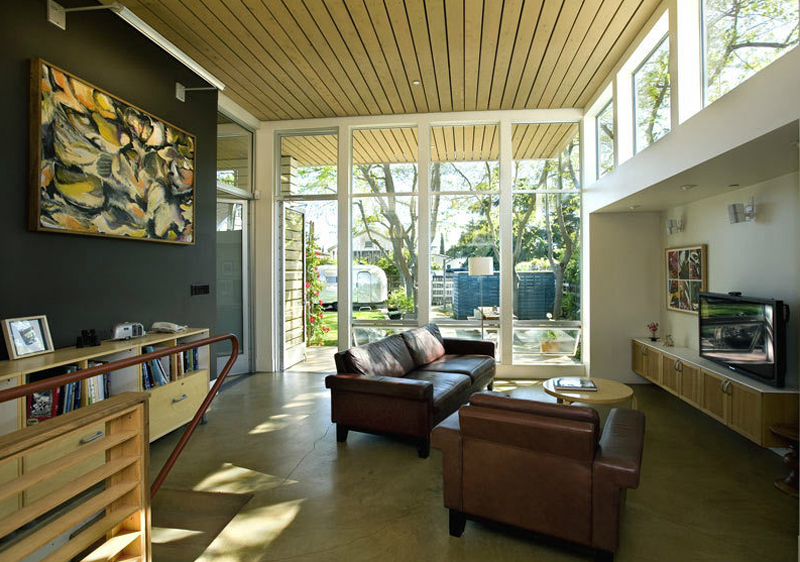 I admire homes that apply Green Architecture in their homes – the use of skylights, large glass windows and doors like this one allows enough light and air to enter the house to let the home really save in energy and in the long term help Mother Earth.
13. West 3rd Residence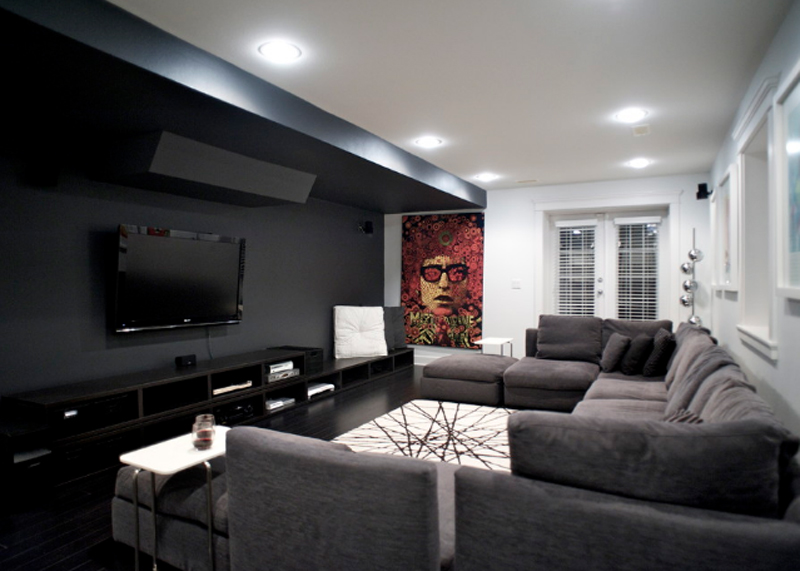 This living space is just real comfortable – not only because I think that it actually is but because of how well it actually looks like. The colors in here is a classic choice for a contemporary space and it just makes it real fabulous and fancy – also, it shows a hint of fun in it because of the photo on the wall.
14. Downs Path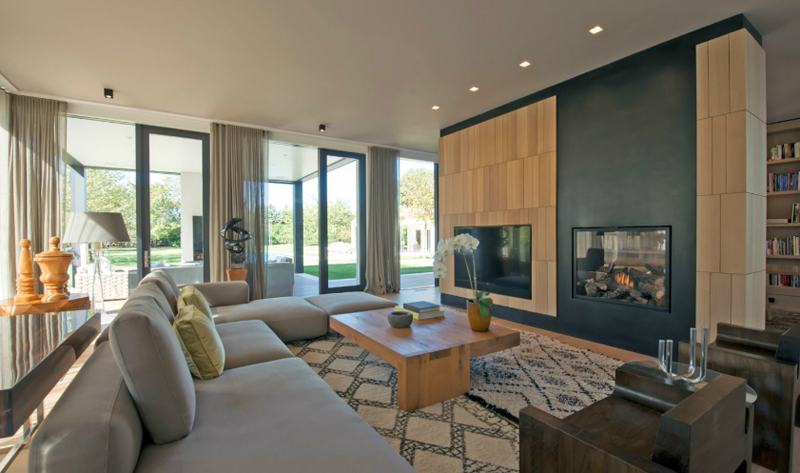 This living room just seems welcoming and warm. The design and arrangement of the furniture, the windows and doors has this welcoming feel to it. The space looks refreshing, clean and awesome! We all want that, right?
15. Idaho Residence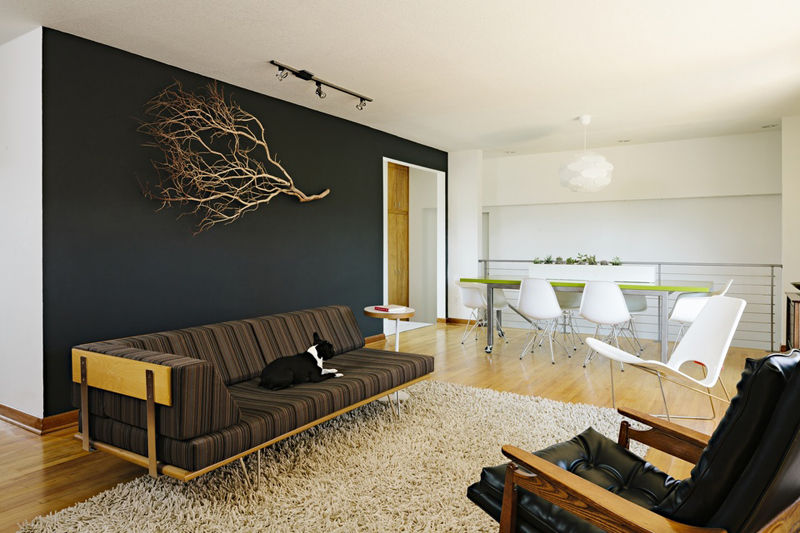 What an interesting way of adding a dried plant or twig in your house as a decorative feature! The black accent wall is a great break from the white walls and ceiling – and well, the furniture! The way that they used unique and different pieces of chairs and couch in here made this space rather cool.
16. Georgian Townhouse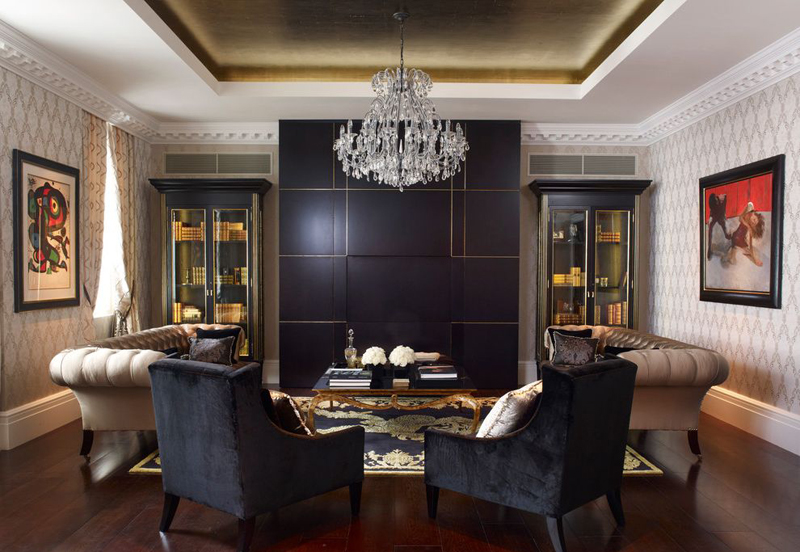 The chandelier in the middle of the room is quite a treat! It holds together the look that this living space is trying to achieve – a glamorous and sophisticated living room with all the right elements to it. I wouldn't be shocked if people would love this living room photo.
17. Sacramento Modern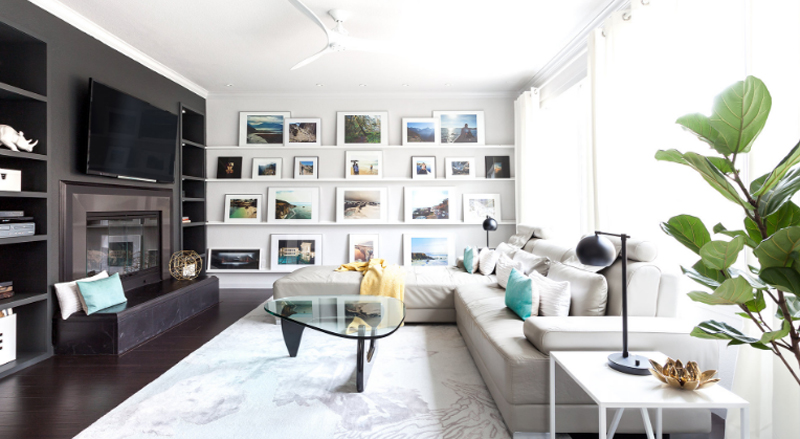 If this is how much light that comes into the house every day, I think that getting a thick and dark set of drapes would be needed too, especially during those days that you just want to sulk in to the couch and do a marathon of your favorite TV series or just a movie or two.
18. 2010 HHL Great Room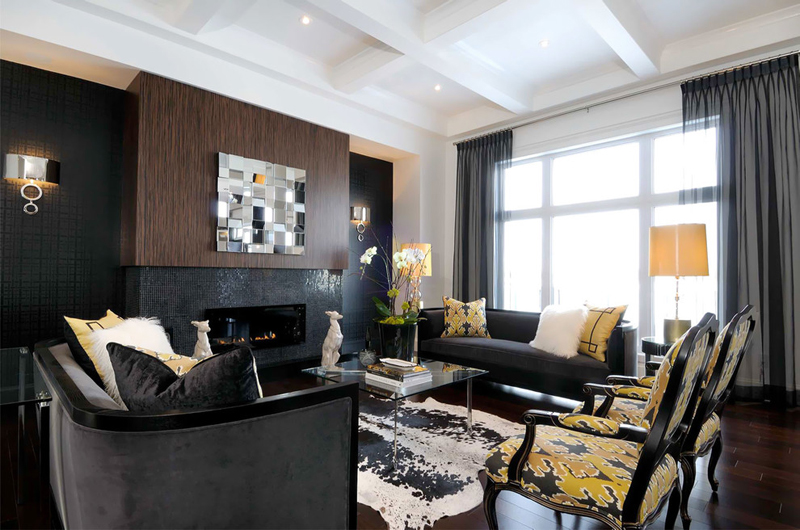 If you try to really see the textures present on the black walls, you'll see how pretty they are as is; I'm sure that they'd look great if they were plain walls, but because there is texture in them, they look prettier than usual and they give more depth and interest to the entire living room as a whole.
19. Old Town Remodel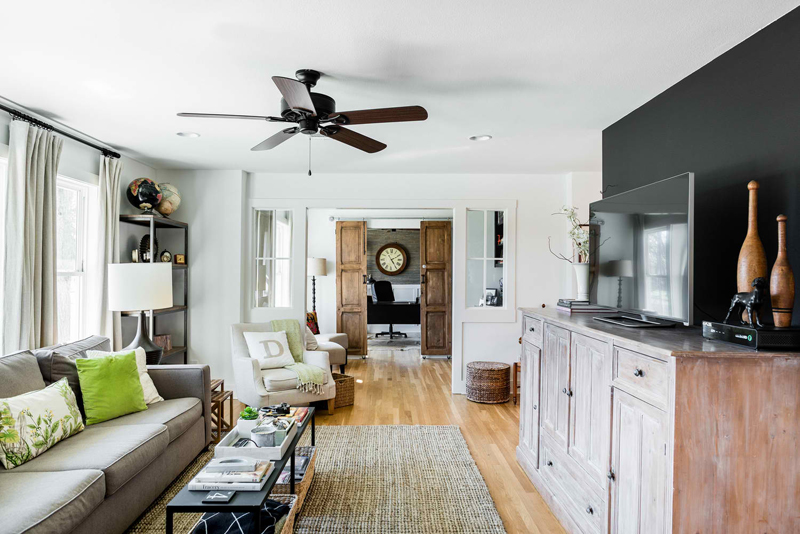 Well, this living room quite has this airy feeling to it. Living rooms with white walls usually creates this feeling of cleanliness and light and I think this living room does just that. I totally think that this place is wonderful.
20. Rocky Ledge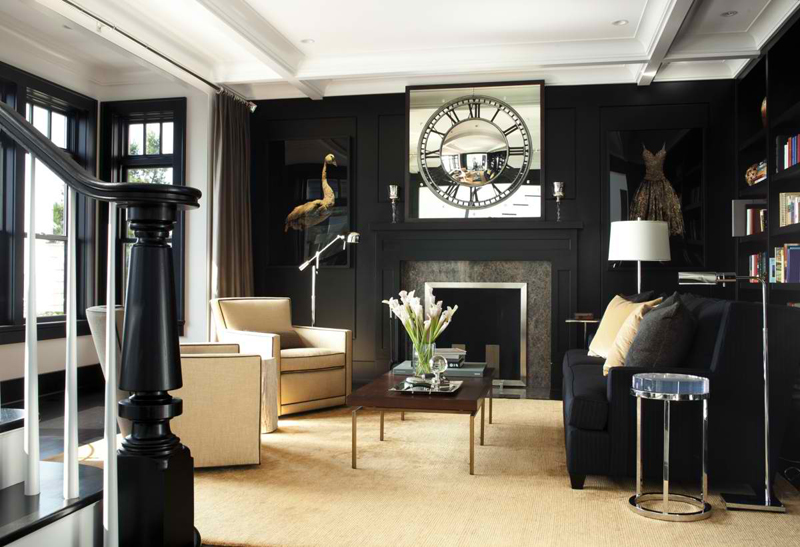 This living room has quite a lot of black in it – I feel that this space is quite masculine because of all the black it has to it and the fact that the only feminine in here is that dress photo on the wall and the flowers on the coffee table. Well, I got lost in there.
Whether you are planning on having an accent wall or not, I think that checking out photos with accents walls might change your mind. There are tons of samples here in Home Design Lover which I think you'd really love – check them out and share them with your friends! Also, you can always check the 20 Beautiful Black Accent Walls in Different Bedrooms and say yes to actually having an accent wall in your house!