20 Zebra Print Accent Chair That Will Liven Up Your Living Room
If you are into zebra prints, for sure you will love this list!
It is certainly easy to attain a comfortable and chic living room with the help of a fully functional furniture, some playful prints, and of course the perfectly charming colors.
Adding a zebra print furniture as an accent to it could give it a stylish flare. Think about your living room furniture, all of it are of course, so comforting for you yet, you are so used to it that all you can see is the furniture being so familiar and well, let us admit it kind of boring. Why zebra print? Simply because it is bold and adventurous. It gives an exotic and luxurious feel to any space. It makes any room pop with style and elegance and most of all it is easy to find and comes in different colors and awesome designs.
Today I will show you 20 Zebra print accent chair and how you can mix and match it with the living room furnitures you have.
Here you can get some ideas on how you can give your living room an instant makeover by adding this beautifully inspired animal hide accent chair and where you can place it. A little change in furniture arrangement can go far. So take chances and be edgy by adding an absolute stunner. Keep on scrolling down for more ideas and fabulous layout for your living room.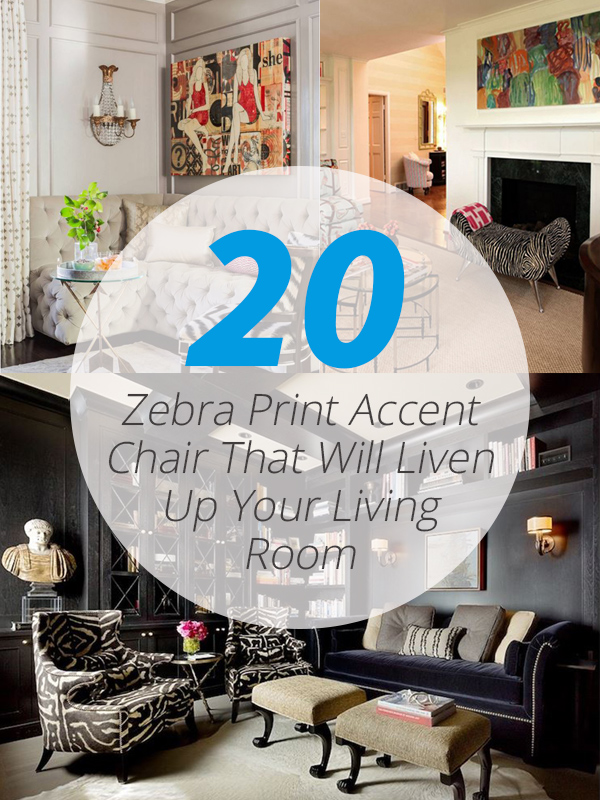 1. Candace Cavanaugh Interiors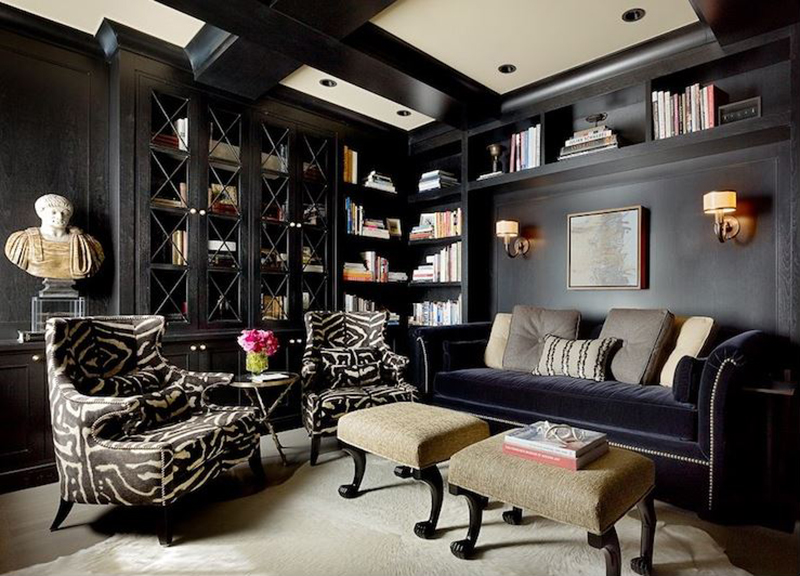 This living room is full of drama and character. The pair of zebra printed wingback chairs add elegance and style to this already regal space.
2. Massoud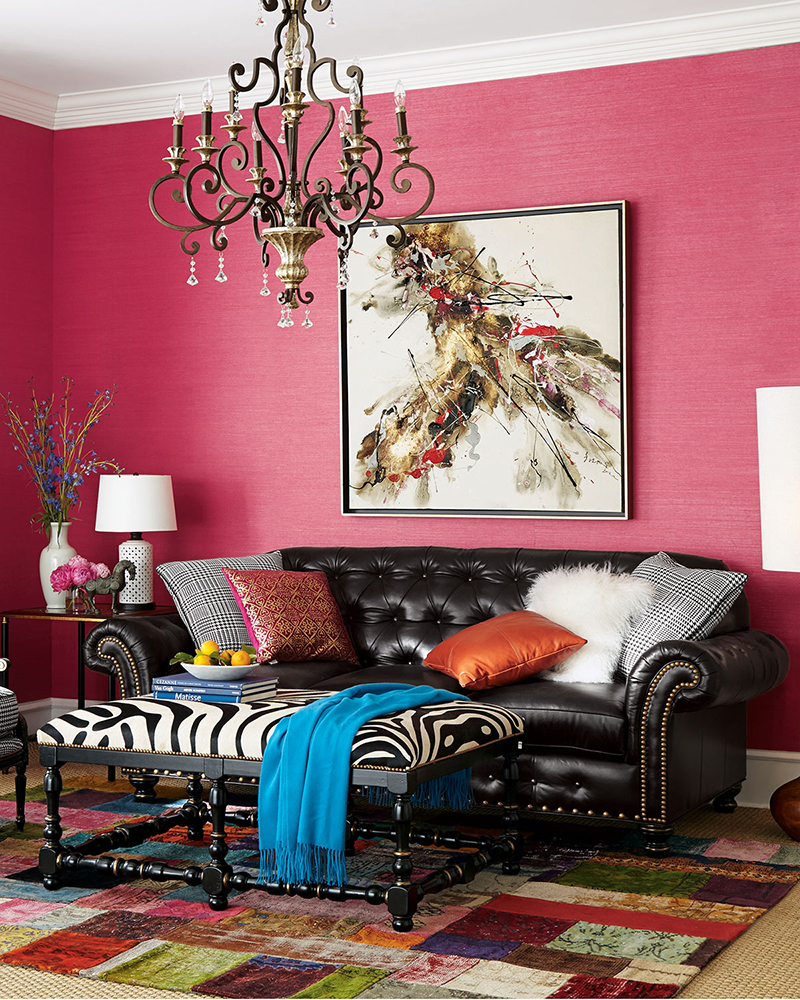 This gorgeous bench features spindle legs and stretchers that give its unique and sophisticated look. It has a leather upholstery that makes it versatile, whether you use it as a center table in your living room or as it is in your entryway, this gorgeous bench will make your space sassy.
3. Modern Classic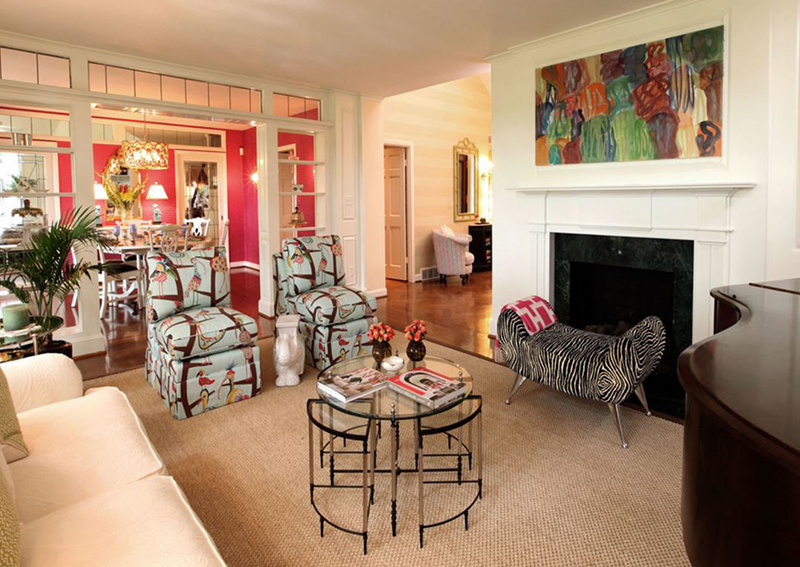 Look at how the traditional look in this living room was made fresh and bold with the addition of the zebra-printed bench in front of the fireplace. It brings modern sophistication and beauty as it gives off a punch of character and exotic flair to the space.
4. Rachel Reider Interiors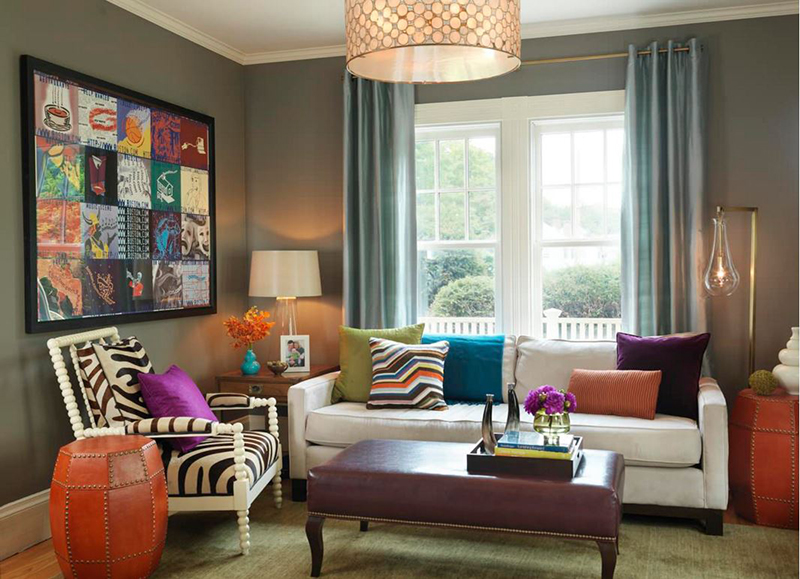 This lovely eclectic mix is full of personality and fun colors that are not overwhelming or overpowering. The amount of lively colors, playful patterns and texture is simply remarkable.
5. Heritage Luxury Builders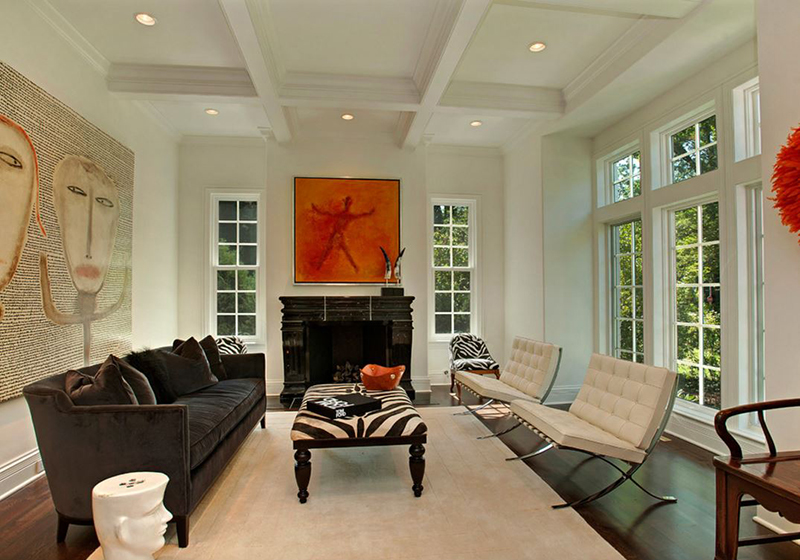 The colors scheme in this living room got its inspiration from the over-sized wall art. The modern contrast of black and white and the hint of orange is what make this space standout. The contemporary look was made more appealing with the addition of playful patterns (zebra prints) on the chairs and ottoman.
6. Heather Garett Design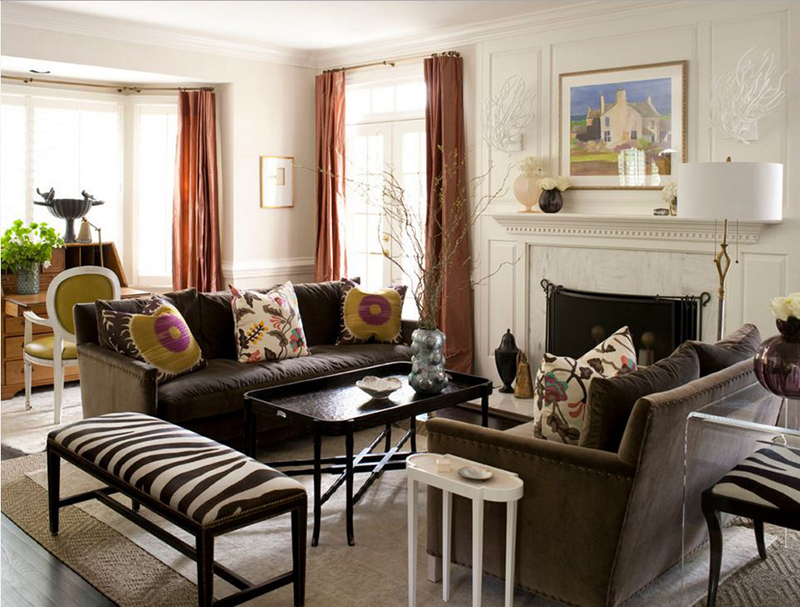 This living room is filled with feminine touch. I love the colors and the exciting patterns on the pillows and seats. The zebra bench brings a striking statement to this space, making it even more stylish and mod.
7. D.A.S. Custom Builders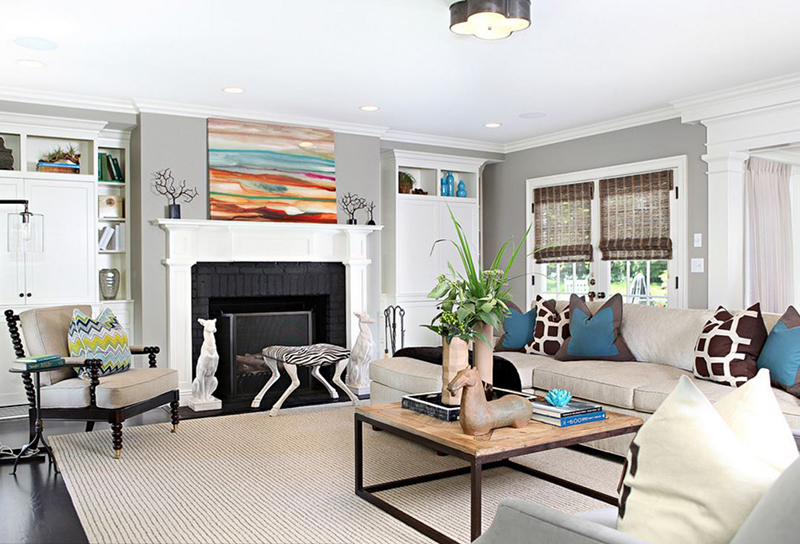 Bright and airy is what this living room is all about. The mix of different textures and style works very well. The fun patterns and colors bring this room to life. The unique zebra bench creates a bold and exotic accent in this space.
8. Judith Balis Interiors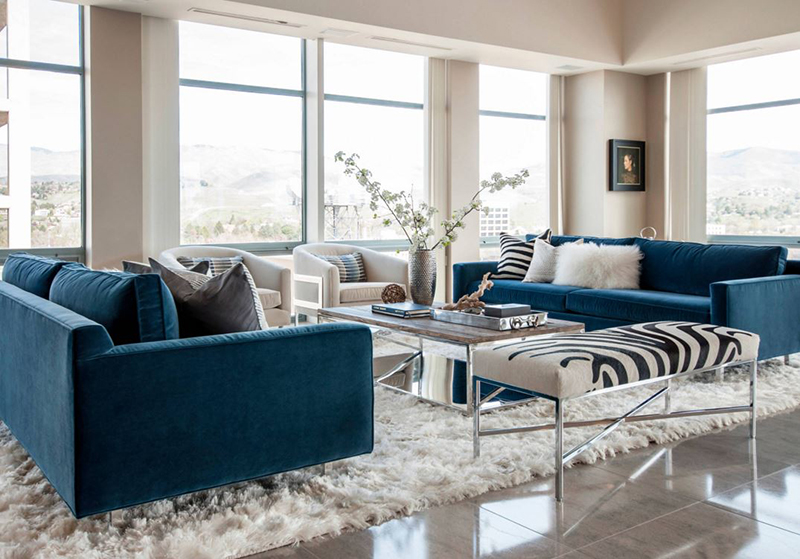 This is one fancy and refreshing style for a living room. The faux fur area rug brings softness to the whole scheme as it ties the whole look. The chrome legs of the bench, coffee table, and sofa bring modern elegance the space.
9.Lee Ann Thorton Interiors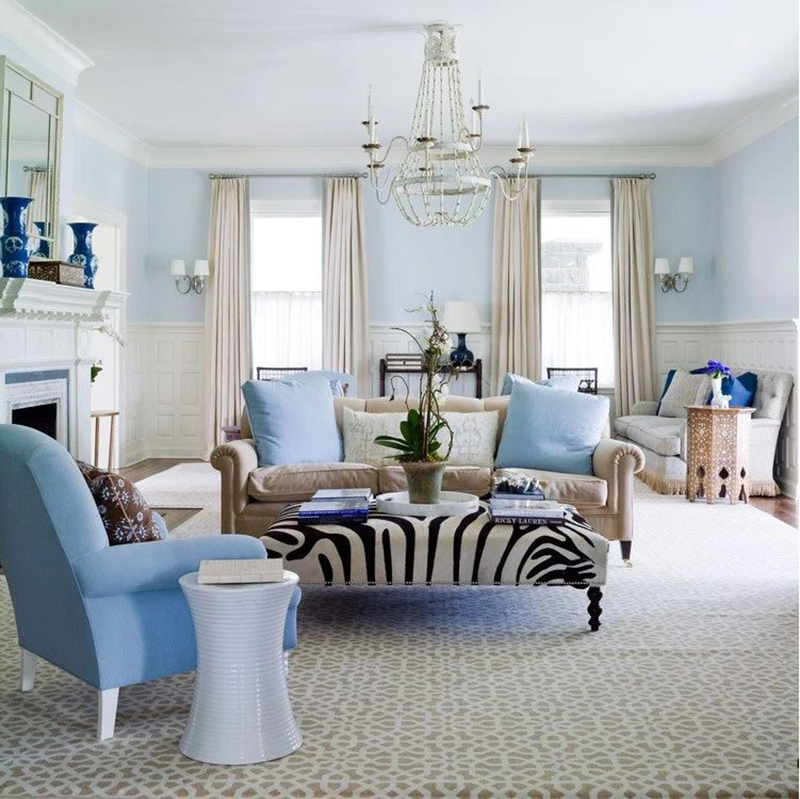 This is one stylish and inviting living room. The soothing colors and the right amount of patterns and texture exude the calming atmosphere in this space. The zebra bench turned ottoman provides the sophistication and modern touch to it.
10. Mindy Day Designs, LLC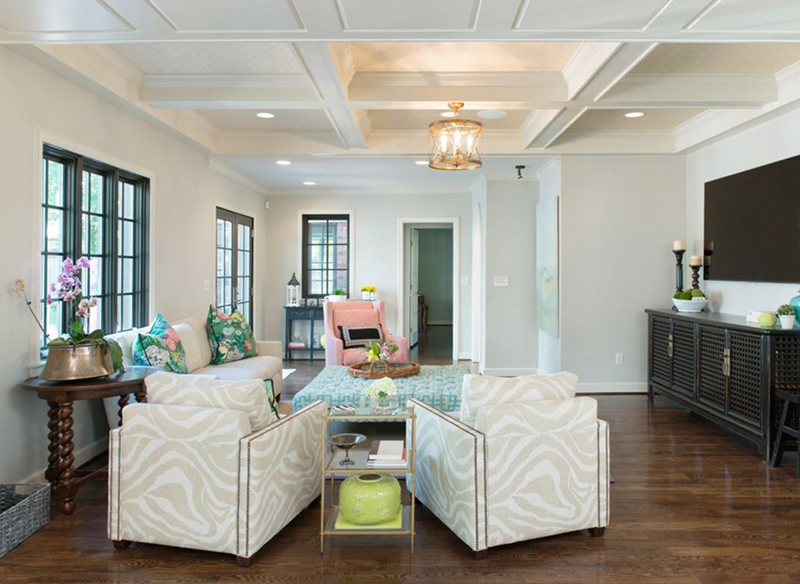 This traditional living room was made mod and stylish with the help of sweet pastels and fun patterns.
11. Robin Gannon Interiors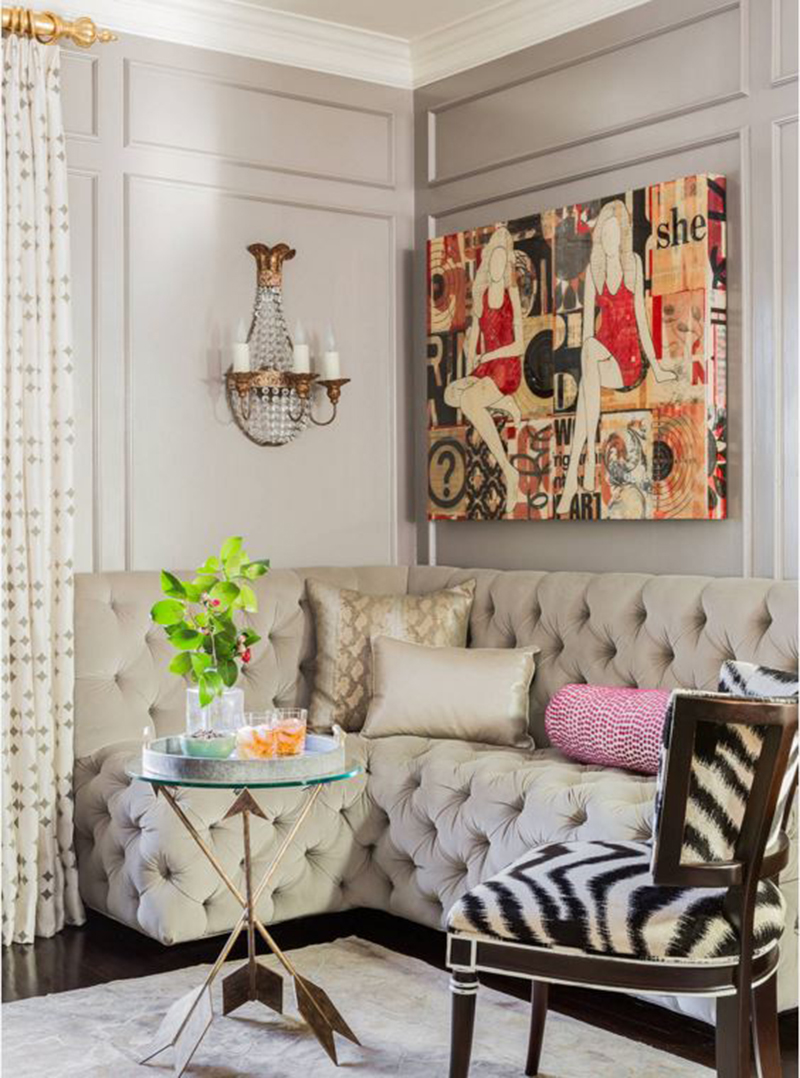 This zebra accent chair can be paired with anything and will still manage to standout. In this small living room setup, this accent chair pop in class and elegance. It makes this small space look absolutely fabulous.
12. Eric Trabert And Associates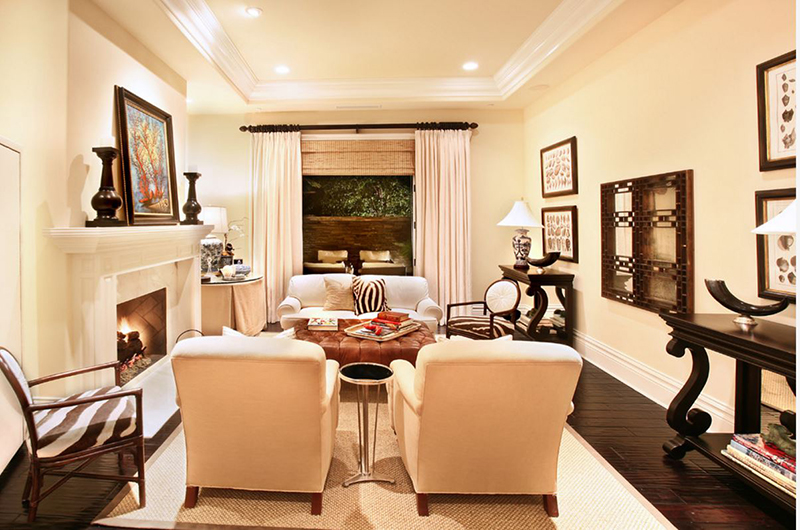 This almost-all-white living room is accentuated with zebra accent chairs, giving it a youthful flair and a more fashionable nod.
13. The Renovated Home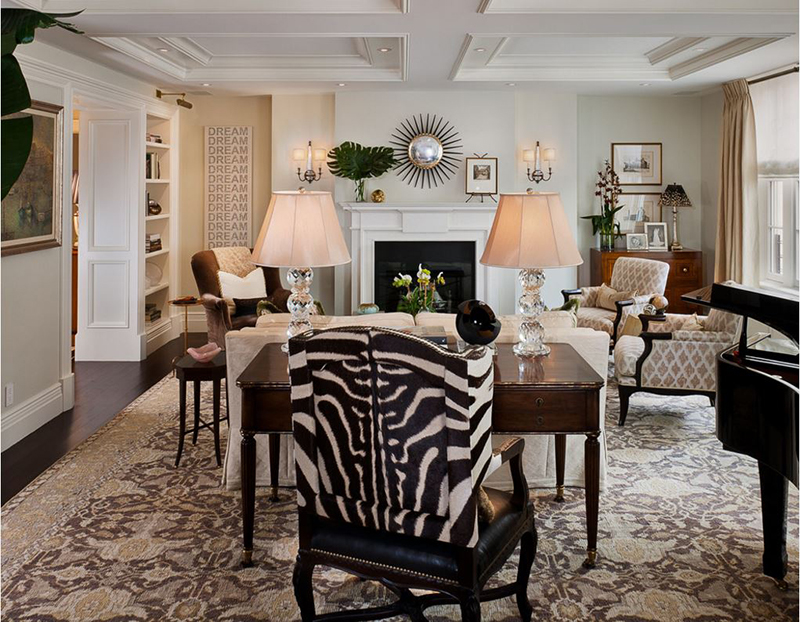 Bring a sophisticated touch of style to your living room with this winged-back zebra accent chairs. You can add it to your usual living room layout to give a fresh look or try the one above, by placing it in front of a console or high table for an instant office spot.
14.Black And White Home Project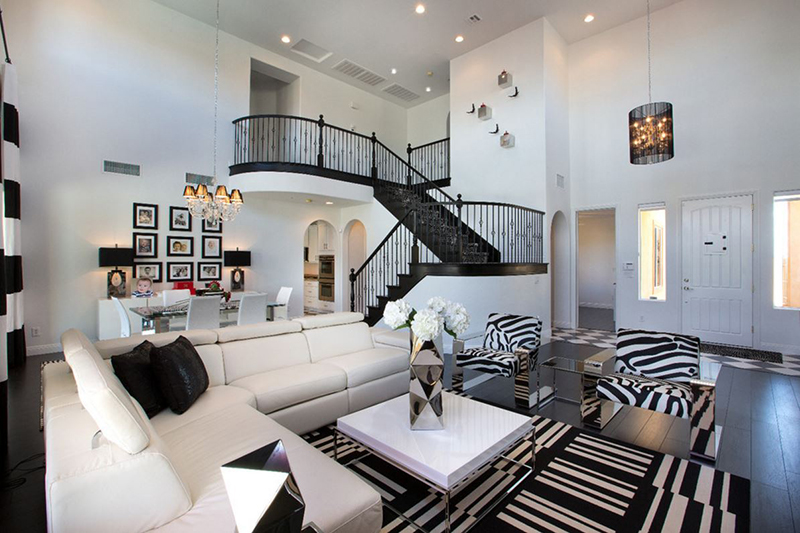 The classic color scheme of black and white will never go out of style. This contemporary living room is such a lovely scene to see. The zebra printed modern chairs give a fashionable modern touch complementing the white sofa, while the black and white area rug ties the whole look.
15. Kristen Rivoli Interior Design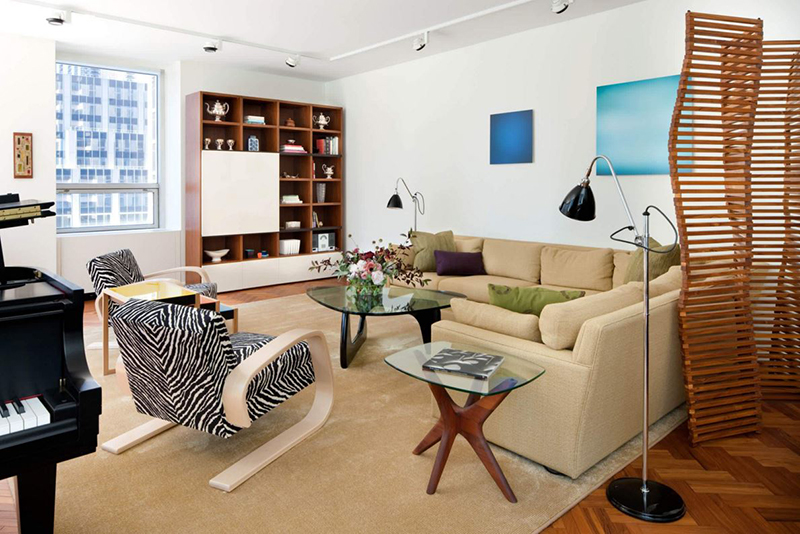 This living room is a perfect example of mixing old and new furniture creating a comfortable setup that is charming, elegant, functional and livable.
16. Heather Garett Design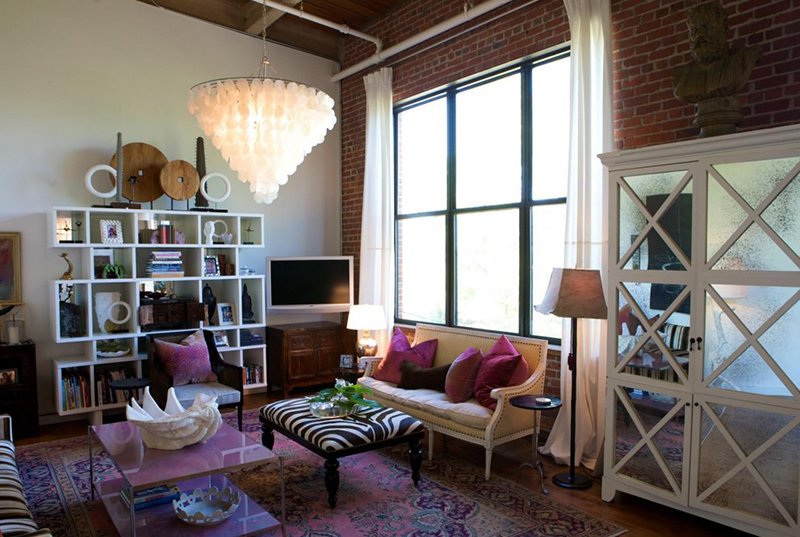 I love how the living room design softens the exposed brick wall and use it as a beautiful backdrop. The pops of purple on the pillows and area rug bring feminine touch while the sophisticated pattern on the zebra bench turned ottoman, gives off a sexy vibe to the space.
17. Carney Logan Burke Architects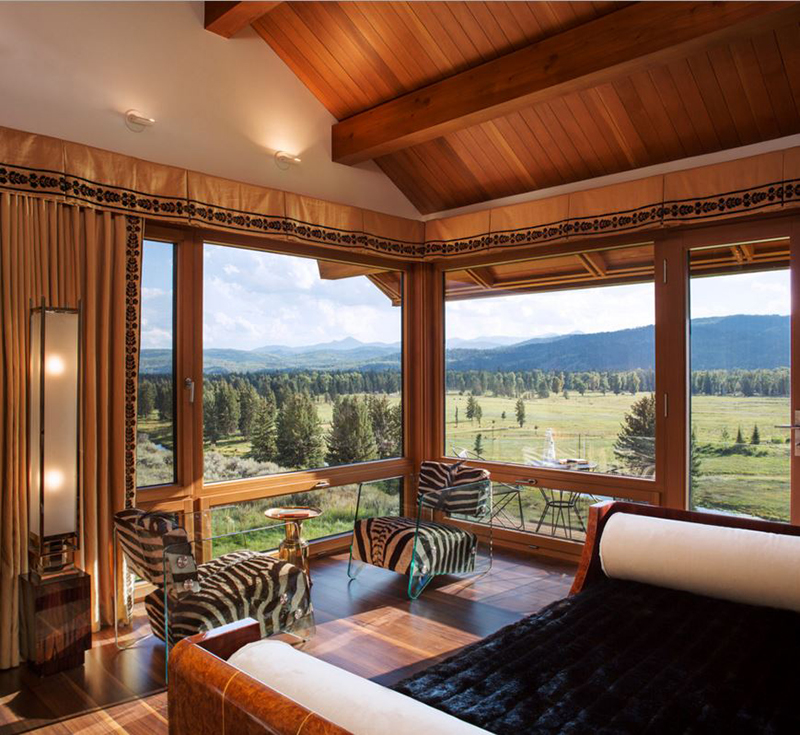 Bring in the modern vibe by adding these beautiful zebra chairs to your living room! Its unique design is sure to create an impressive statement to your space.
18. Colorful Elegance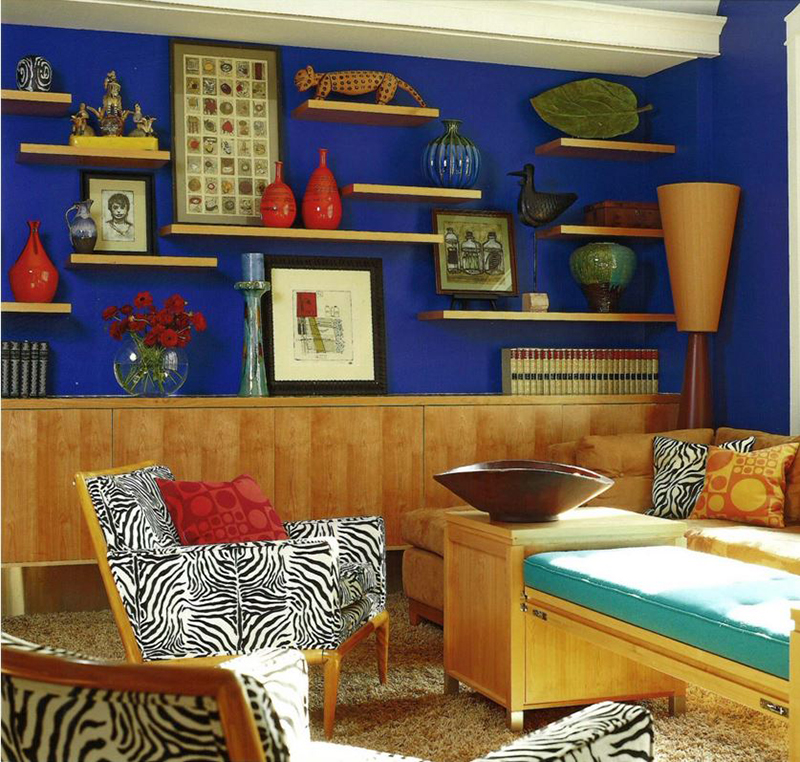 Look at how bold the colors are in this living room come together and manage to keep it as inviting and livable as it is comfortable and stylish.
19. Dara Rosenfeld Design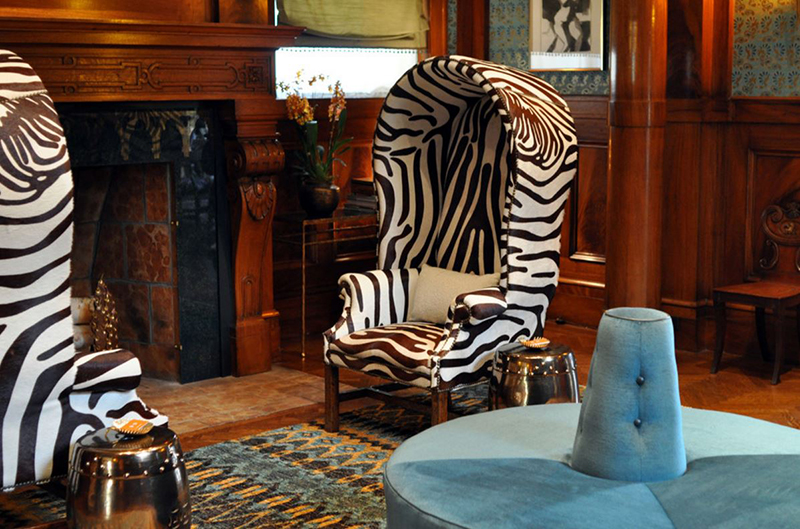 Take this gorgeous zebra accent chair to your living room and see it transform glamorously in an instant!
20. DTM Interiors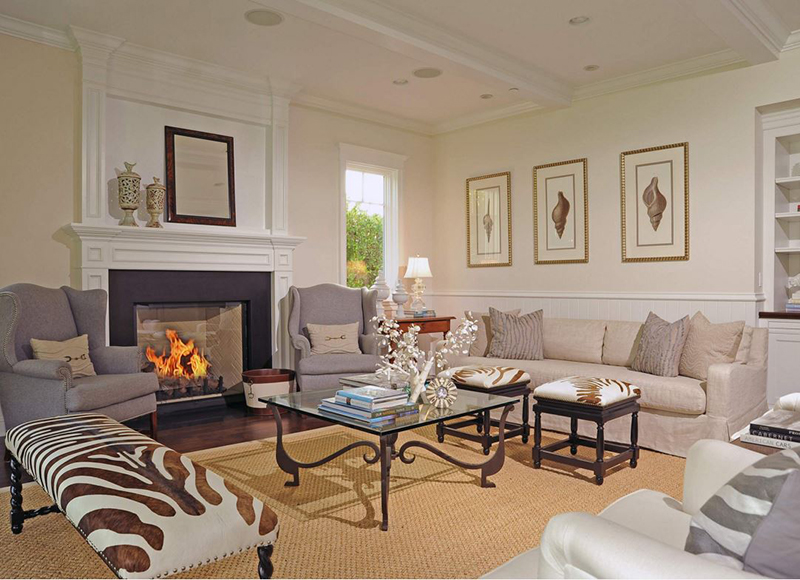 If you are getting a little bored with the black and white zebra print, you may go with the lighter and a much subtle version of this lovely print – brown and white zebra stripes. Like its black and white version it can go with about just any style of furniture you have and still get the same charming and sophisticated appeal.
All of these Zebra accent chairs are so stylish and charming to look at. It makes any space pop with personality and elegance. A simple addition of a chair or two with those playful and exotic print can jazz up a drab room. There are really a lot of ways to recreate a mood or look in your living room whenever you feel like the setup that you have is not working for you anymore. Adding fun prints and pops of bold colors are the easiest way to make any space interesting and lively. Using a Zebra accent chair, bench or ottoman to do the job is pretty much a no-brainer. It will make any living room, sophisticated, glam and fashionable.