20 Gutsy Modern Living Room Furniture for Your Condo
There are many sleek furniture ideas for a condo's living room and we have them on this list.
City life has never been easy with the arising of condominiums. It is practically everywhere around the city. Nowadays it has become more popular and well a lot more practical because of its good locations and accessibility to workplaces, schools, shopping malls and hospitals. It makes life for urban people easier and a lot more convenient. As good as it sounds, some may still find it challenging to decorate or style their condo units because of its limited space, although some may perhaps have a spacious one in which case space is not an issue, standard layouts and finishes that may not in favor to their tastes. Those are just some of the issues some people who are thinking of living in a condo encounters.
The first thing you need to do is to check the place before moving in. Make sure that the furniture or the things that you have will fit in and the style that you like will be achieved. In a condo unit the very first spot that you are going to decorate is the living room. If it is an open plan, visualize where you want to set your living room, then the dining room because the rest of the rooms are already defined. It can get a bit challenging if you are constrained with limited space and rental rules, however, look at it as an opportunity to show your creativity and make the most out of it- make it your home. So to help you in deciding on which furniture to use browse through our 20 gutsy modern living room furniture for your condo and get that avant-garde look that is sure to wow your family and guests.
1. Icon Brickell, Tower 1 – Private Residence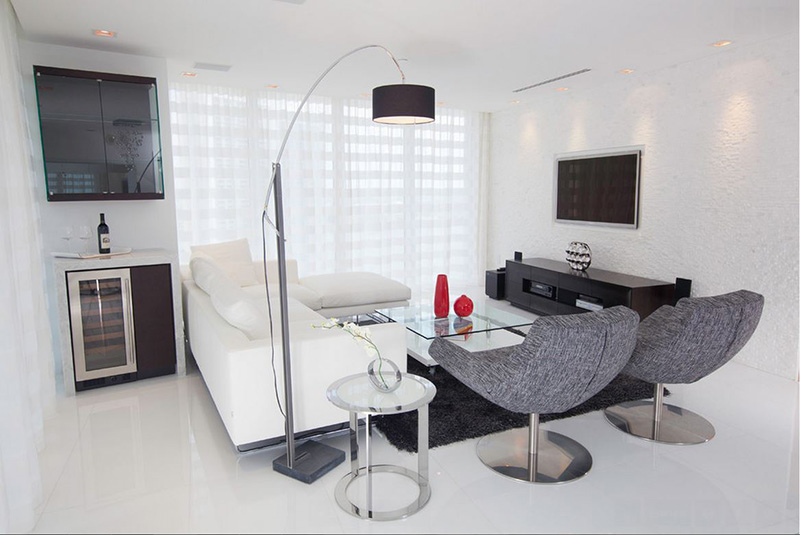 To get a modern look and feel keep the colors on neutrals like this living room design. This setup will fit even in a small space condo. It has clean lines with the right amount of texture and is bright and airy.
2. Living Room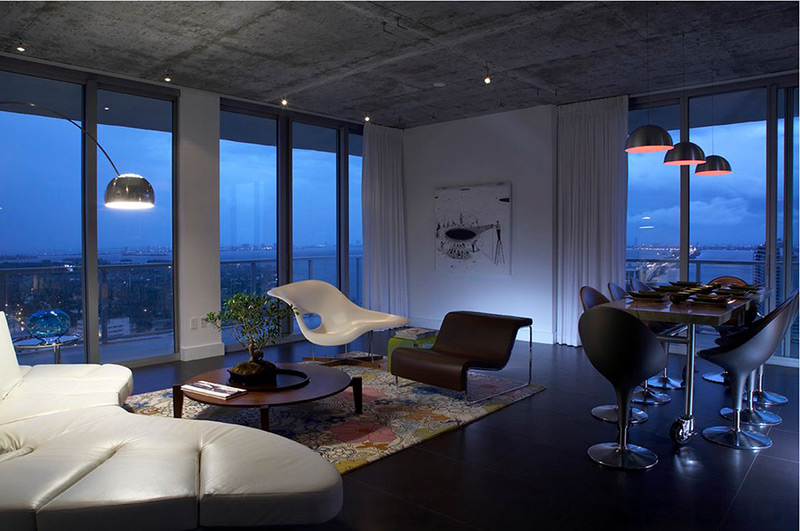 For a unique appeal, look for bizarre shaped furniture and mismatch it. It will look sophisticated and is sure to bring modern elegance to your interiors.
3. Dallas, TX: Brian and Katherine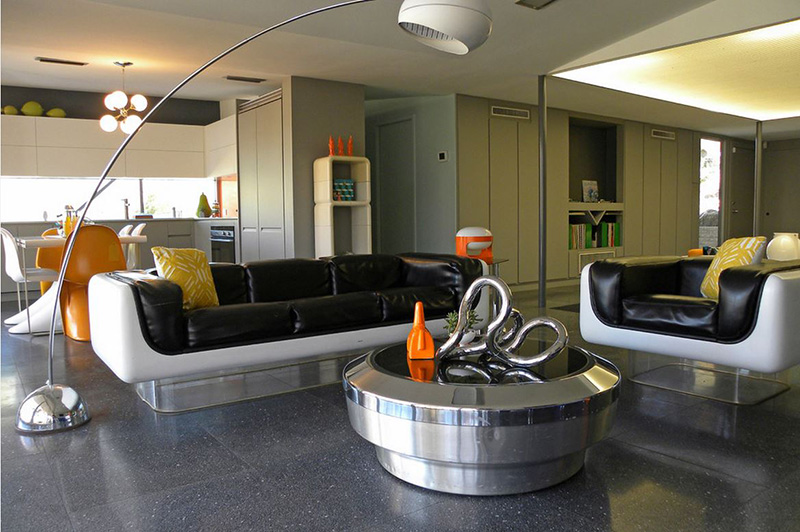 Go futuristic with this cool set for your living room space! Bring that levitating illusion with these black leather sofas on its acrylic base that makes it look like floating. The chrome table matches the futuristic appeal together with the floor lamp. This living room furniture is sure to grab everyone's attention!
4. Time Square Pied-a-Terre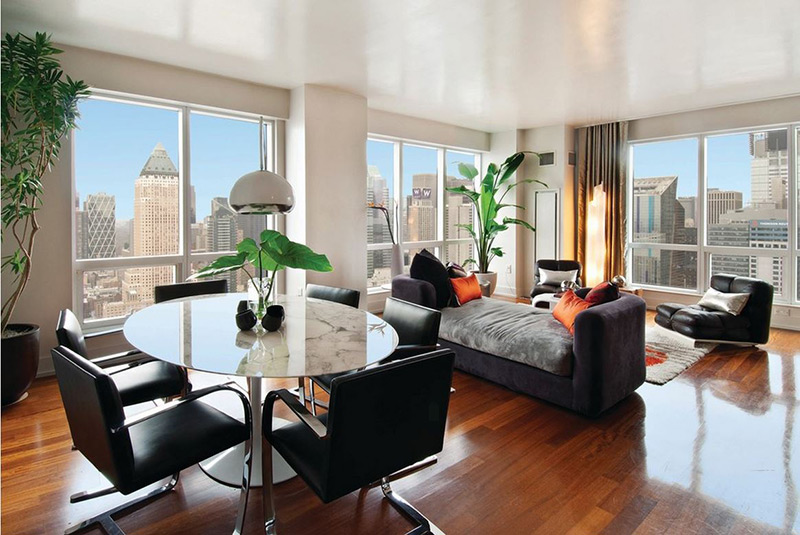 A sophisticated way to create a cozy living room in your condo unit is to add a day bed and pair it with modular chairs. In this sea of black upholstery bringing some green – houseplants is a very welcoming touch. It gives a soothing vibe from nature; a perfect escape from the busy city life.
5. Modern High-Rise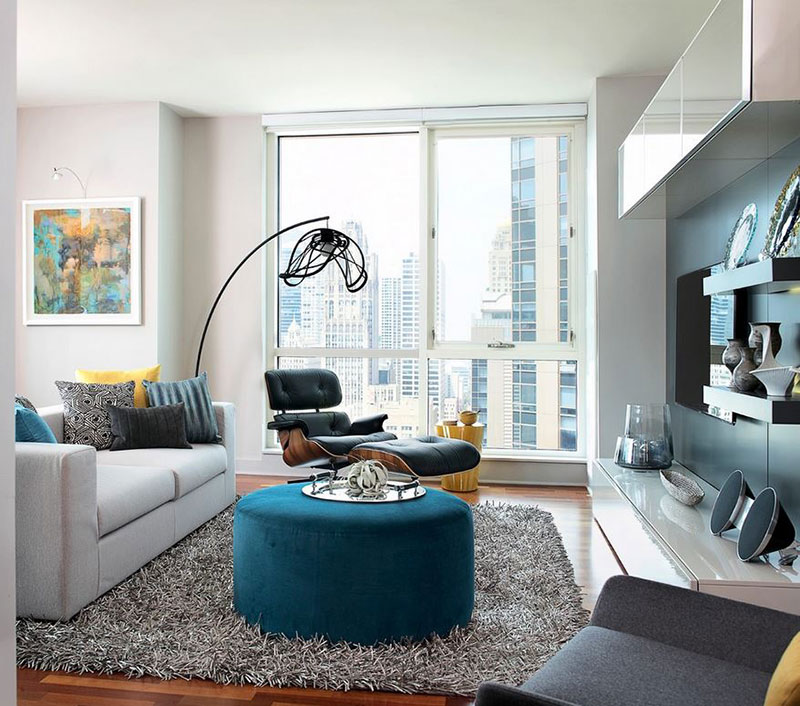 I love the grays and the cool peacock-green tones in this living room! It creates a fun yet relaxing feel to the whole space. The addition of the Eames Lounge Chair and ottoman to the whole scheme breaks the soft hues . The shag rug brings lovely texture, contrasting beautifully against the smoothness around.
6. Living Room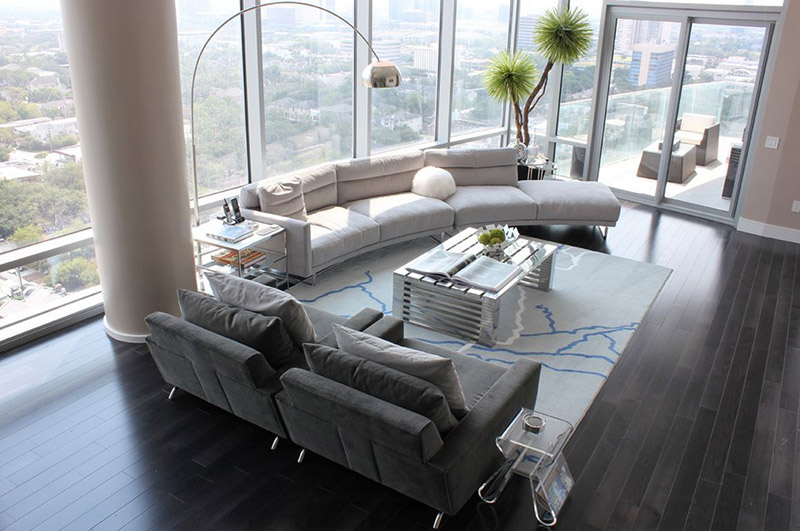 If you have a spacious condo, you may cop this living room design. Make use of your space and get huge sofa or other living room furniture for this matter, like those on the picture above. The neutrals work well with the area rug and the hint of green coming from the plant creates a daub of color that is much needed for this modern space. The chrome floor lamp adds to the modern vibe of the whole space.
7. Buckinghamshire Residence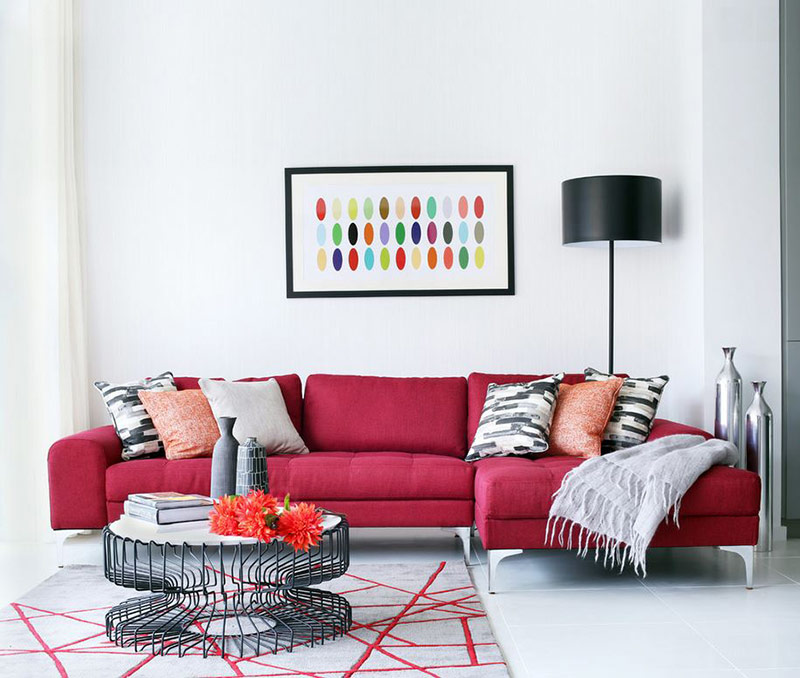 If you have white walls and you would love to add some color to your space, adding a striking-colored-furniture is the best way to go. A bold, red sofa, paired with gray and red area rug and colorful artwork make a chic and stylish living room.
8. Silo Point Luxury Waterfront Condos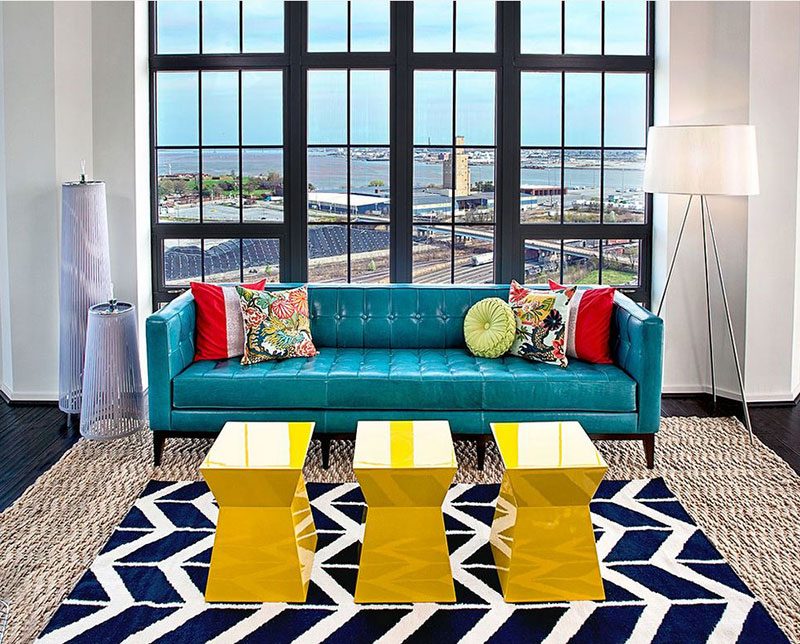 Go funky and fun with these bold and daring colorful furniture! This is perfect for those with limited space. Layering area rugs create interest and texture to the whole space. The patterns on the area rugs and on the pillows are just the right blend. Teal, blue and yellow are beautiful hues that give an exquisite contrast and still pull a cohesive overall look.
9. Feels Like Home 2 Me -Home Staging in Toronto West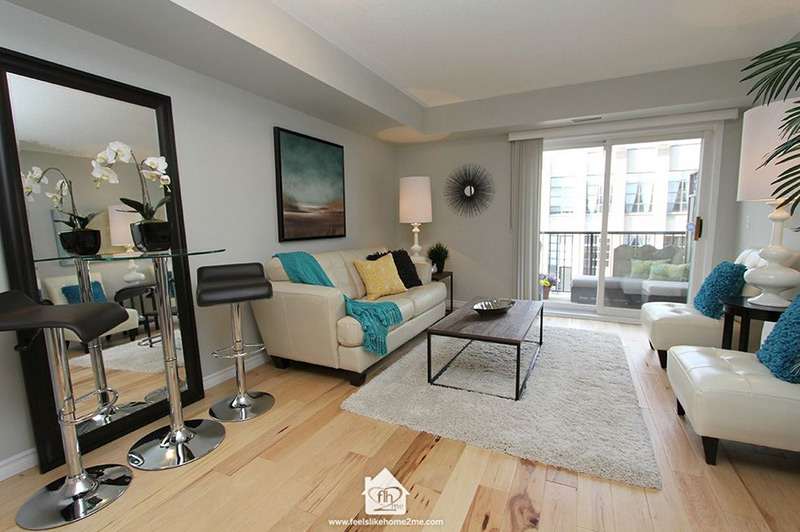 For those with small or limited space, use wall mirrors to create a dimension. It will give you depth and an illusion of a bigger space, plus it reflects light that will make your space a lot brighter.
10. Malcolm Duffin Design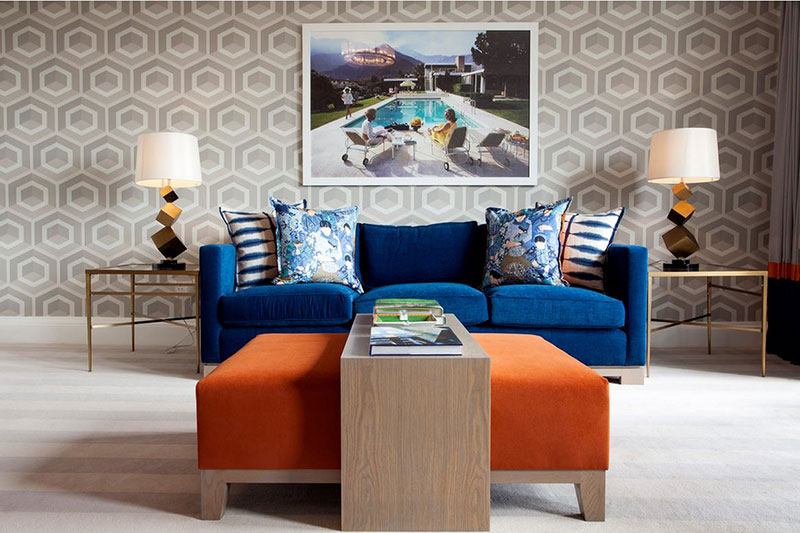 A sure way to add a unique touch to your living room is to choose art-inspired decor. The abstract table lamps create interest and intrigue while the block colors on the sofa and table add drama to the whole neutral backdrop. The geometric patterns on the wallpaper and pillow break the look a little, creating balance .
11. IKEA- Storage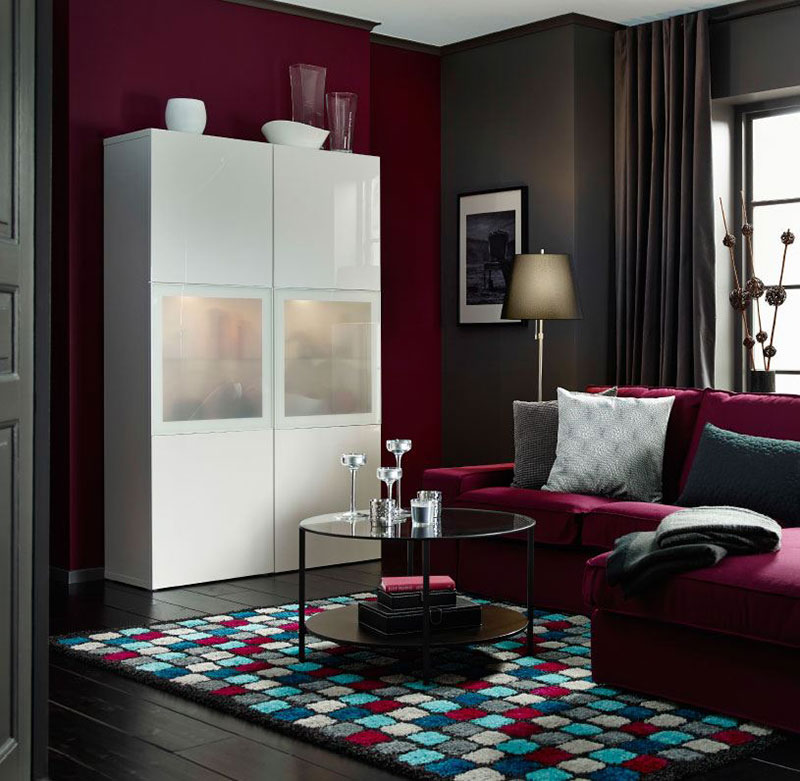 Choosing a sleek storage that can keep you clutter-free and at the same time can save you space is a big help if you have small space to decorate. This storage from IKEA has a glass door that can fit to your modern interiors without compromising your stylish home.
12. High Rise Condo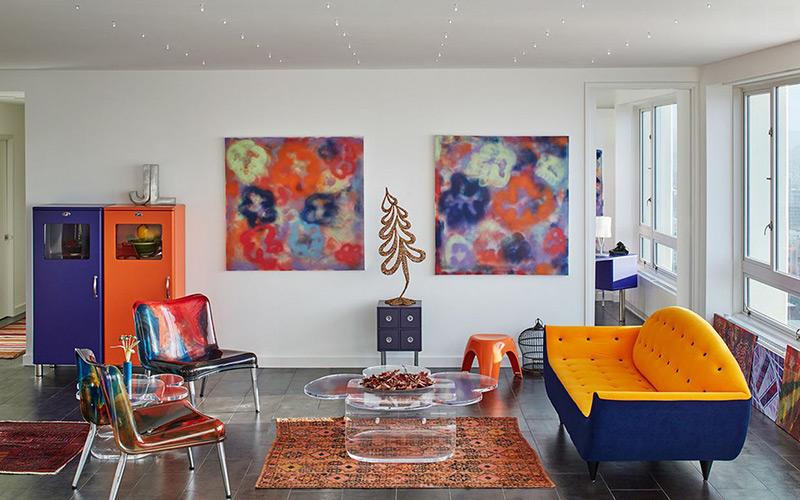 I love all the beautiful, fun and bold colors in this living room design! The modular yellow and blue sofa matched with acrylic tables and colorful chairs bring a daring vibe. The colorful paintings on the wall tie the whole space together creating a unified and happy look.
13. IKEA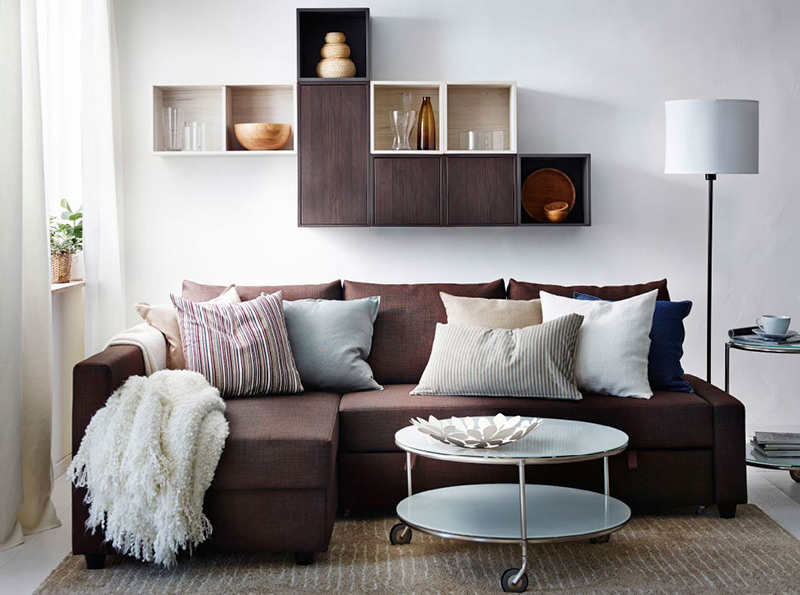 Another way to save up your condo space is by using wall cabinets. You can arrange it in any way you want. Let out the artist in you and style your home with hanging cabinets for a tidy and stylish modern living room look.
14. Colorful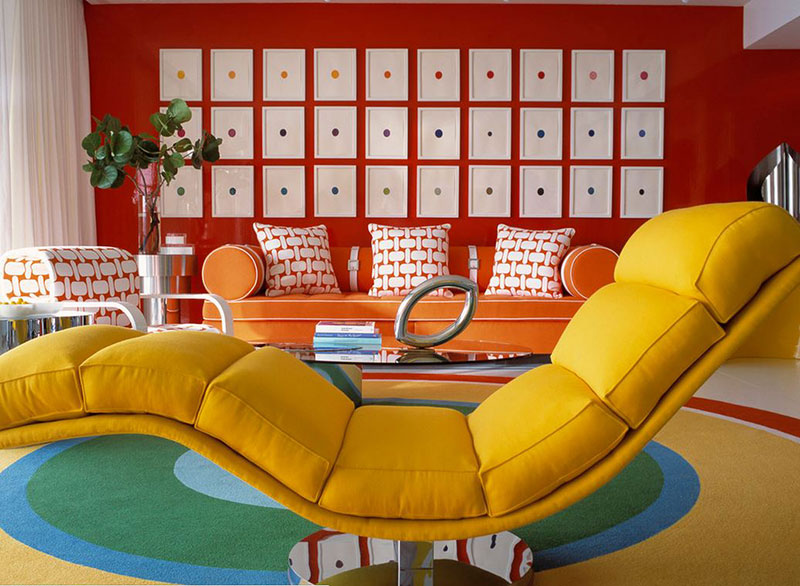 This room is bursting with strong colors! This one is not for fainthearted, but if you are in for fun and bold punch for your living room then go for strong colors on your modular furniture, decor and walls. All you have to do is to add a mixture of patterns to break it and small visual echoes so it will not get too overpowering and will lend a harmonious look.
15. One Bedford Condo Suite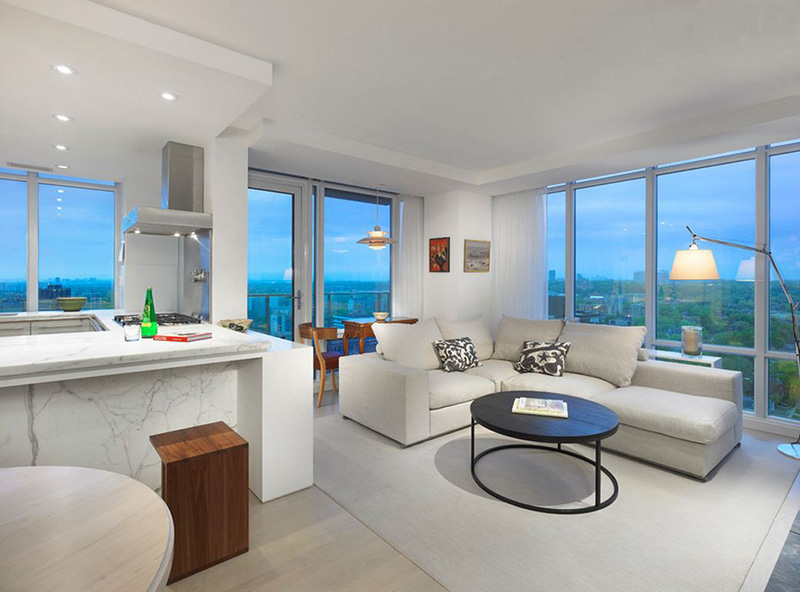 One modern sectional sofa is a good option for those who are working on a limited space. Add an eye-catching floor lamp for a stylish accent and throw pillows with exciting patterns for some finishing touch.
16. Online Design: Coxford Condo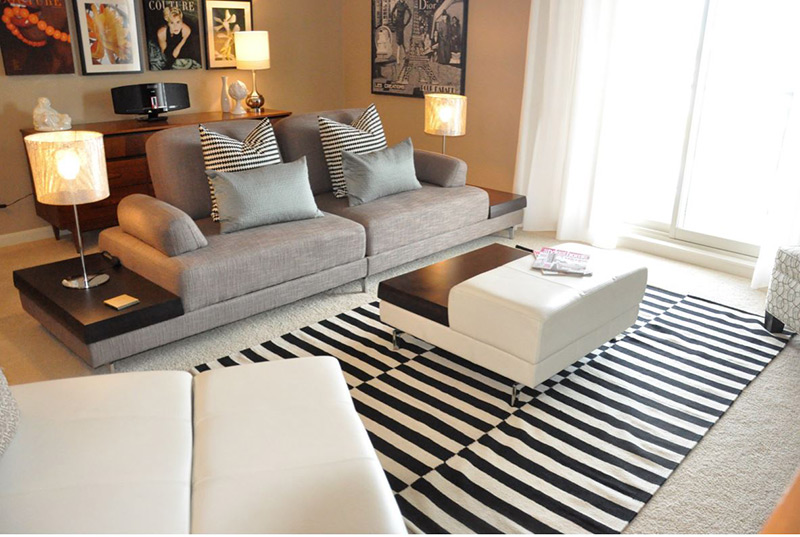 Creating a gallery is a great way to liven up blank walls. A furniture that is multi-functional is also a good choice for those with small space to work on, like this sofa with built-in end tables.
17. IKEA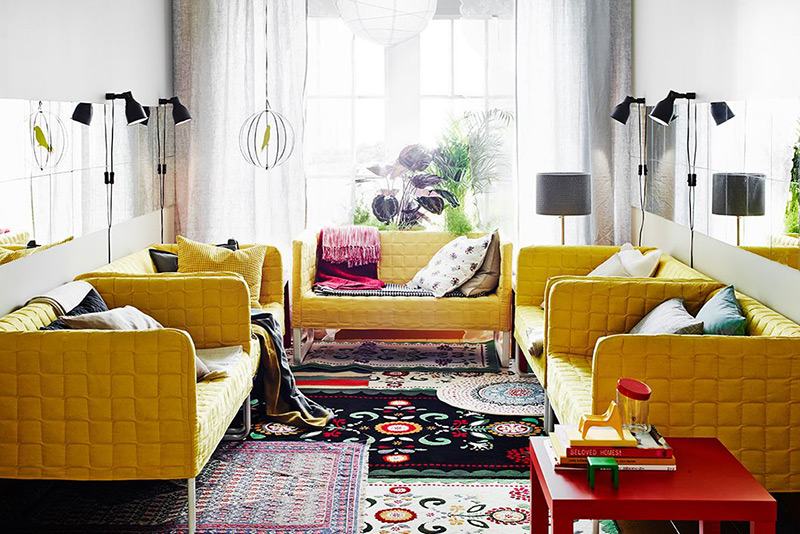 This living room layout is great for small spaces who love to accommodate a lot of guests. It offers a lot of seat, to socialize and have fun! So go and get stunning modern sofas like the one above and place it against three walls of your space or just copy this layout and make sure that the sofas are on a U-shape formation to get the overflowing conversation started.
18. Upper Kirby Highrise Condo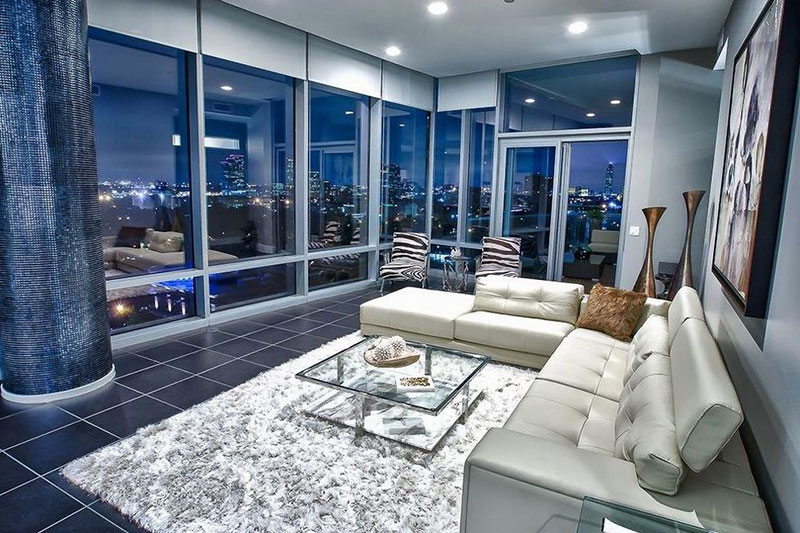 This is so luxurious and glam. The modern sectional sofa is matched with a glass and chrome coffee table and faux fur area rug that makes it so chic and stylish. Two zebra-printed chairs and table near the floor to ceiling windows make a stunning statement.
19. Mandarin Oriental Unit 4307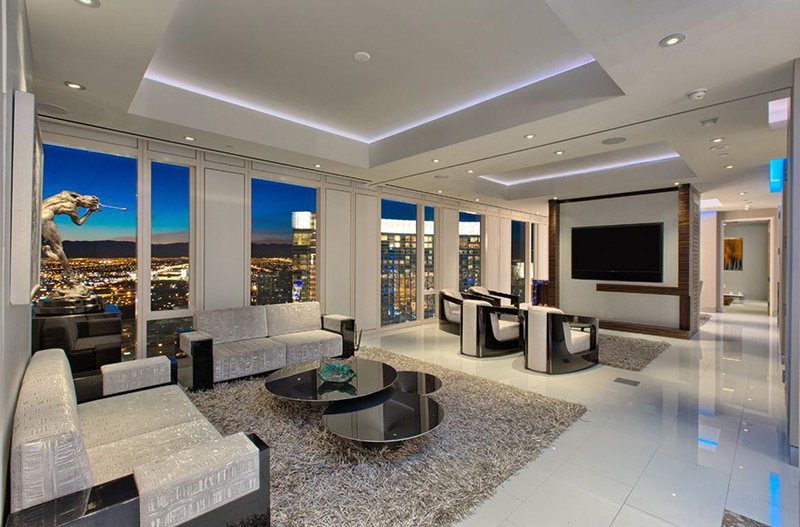 Another elegant and stylish living room layout and furniture for a spacious condo. I love the sleekness and glitter from the two sets of living room furniture. It gives a luxurious vibe with a stunning harmony in color and style.
20. Rittenhouse Square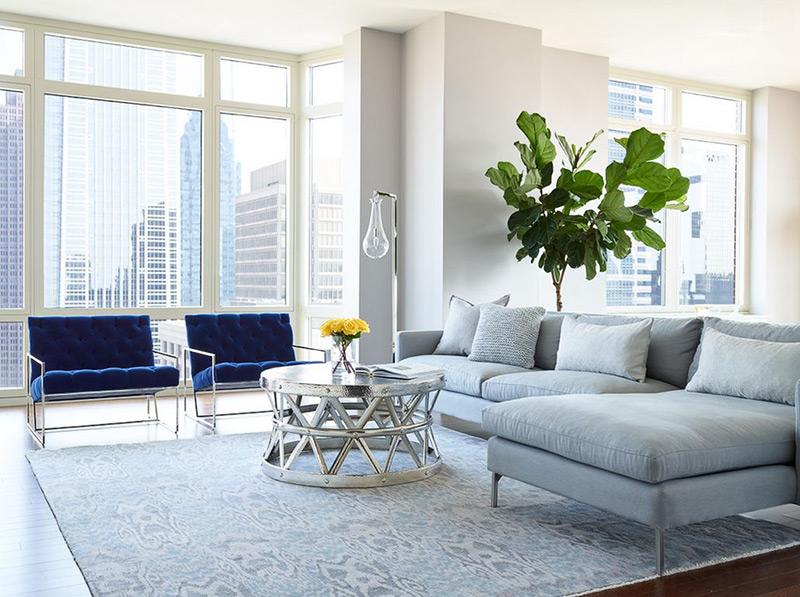 So chic and refreshing! The colors are so inviting and the furniture contrasts exquisitely. The royal blue chairs bring a bold and elegant flair to the bluish-gray modular sofa. The area rug echoes the color of the modular sofa while the chrome coffee table bring a striking pop that brings modern vibe.
Modern condo living room furniture are not hard to find. The only thing you need to do is to know what style and color will suit your place and of course your taste. Your furniture will say a lot about you, so just be yourself and have fun. Make sure to ask for the rental rules before decorating. It is best to know what is allowed and those that are not. However, if the condo unit is yours, feel free to decorate it with the ideas that you get here or your own. Although modern colors stick with the neutrals, usually white, black, gray, a little bit of brown and beige, you can also go for vibrant colors that may also lend some retro feel. Do not be afraid to use bold colors, even if you have a small space, strong and high-spirited hues can jazz it up. Use playful patterns and rich texture to add character and personality. Bring houseplants to add natural greens and a more inviting ambiance. I hope you learn from the list I got for you. This is not limited to condo people only, you can also apply the tips and ideas here to your own home.