Effective Condo Kitchen Remodel Tips and Ideas 2020
Are you planning to update your condo's kitchen? You'll surely make use of these tips and ideas!
Condo living is a trend these days. Many choose to stay in a condo because of its strategic location from work and school. With the increasing number of people who are interested to reside in condominiums, more and more buildings are being built containing residential units.
For some, it would be challenging to live in a small space. But for many, it is actually a good thing for them. In fact, there are families who could live in tiny homes while still enjoying modern technology! See? Living in a place with a tiny floor area is not a hindrance to have a happy and fulfilled life!
So what is the secret?
It totally depends on how adaptable you are and also your mindset and perspective. You can actually enjoy living in a condominium and you can even redecorate it if you want to!
Yes, you can definitely do that! One space that is usually updated is the heart of the home- the kitchen.
So, if you are living in a condominium and you are thinking of renovating your kitchen, you are on the right page! We will help you decide if you'll proceed with the remodel as we present to you the pros and cons of updating a kitchen as well as the budget for the project.
Read on and allow us to give you some condo kitchen remodel tips and ideas.
When is the right time to remodel an existing condo kitchen?
There are certain considerations that you need to make before you remodel your condo kitchen. Of course, the first thing that you have to look into is the climate and season. Since your kitchen is an indoor project, you can actually do it any time of the year. But ideally, early summer and late spring is the building season since the weather is good.
Aside from the climate, you also need to look into the schedule of the family. Make sure to schedule the job during times when there are lesser activities for everyone. We have to bear in mind that the kitchen is the busiest place in the house since we prepare food there. Since it will be remodeled, you won't be able to use it. Hence, you should plan everything well.
That is why summer is the ideal time for a construction project since it is least disruptive the everyday schedule of the household. Others prefer to go on a vacation while the remodeling is on-going to avoid distractions to the project. There might also be family members who are allergic to dust. That is why it is recommended that they stay away from the house during construction.
However, costs are higher during these times because of the high demand for construction services resulting in the busy schedule of contractors. During wintertime, many contractors don't have projects and the costs could be lower.
What are the Pros & Cons?
Although remodeling your kitchen will indeed make a huge impact on your home, it can actually become frustrating if things go wrong. In fact, it can be expensive if you will not make a good decision. Hence, it is important that you understand both the pros and cons before starting the project.
Let us look into it.
Pros
Apparently, the new look of your kitchen is one of the advantages that you can get after a remodel. You could also perform your tasks well with an improved layout and a better placement of appliances and other kitchen items. Aside from being proud of your kitchen's upgraded look, this will also increase the value of your home.
A beautiful kitchen is one thing that buyers look for in a house. So, if you are planning to sell your home in the future, this will be a big plus factor for attracting potential buyers. What does this mean? Well, you can actually get a return on investment for all your expenditures in remodeling your space once you sold your space.
Cons
One of the obvious downsides of transforming your kitchen is the huge amount of money that you need to spend. Due to the upfront cost required to renovate a kitchen, you have to make sure that the project is worth it. Aside from that, it would be time-consuming especially if you have a large kitchen. This means that you have to look for other ways in order to prepare food.
Estimate Costs for Remodeling a Condo Kitchen
There are many factors that could affect the cost of a kitchen remodel. Of course, it depends on the size of your space, your location, the design you need, the finishes you choose and the scope of work for the entire project. Usually, a mid-grade finish will cost from $25,000 to $30,000. But if you are eyeing for a high-end look, then it would cost about $50,000 to $100,000. Always add 20 percent more to your budget to make sure that you will not run short of money which will delay the project.
This also depends if you need a new countertop, new lavatory, new cabinets, and kitchen appliances. If you will merely repaint the walls and upgrade the cabinets, then you will spend lesser.
But what if you are in a budget?
There are ways to save on kitchen remodeling. If you are handy, you can do some work to lessen labor cost. Instead of replacing the cabinets, you can just have them refaced. Or you can just repaint them and change the hardware to give it a new look. You can also opt for lower grade granite for your countertops instead of buying the grade 5 ones which are very expensive.
Condo Kitchen Remodel Ideas
Have you decided to remodel your condo's kitchen?
Well, if you did, we have collated some kitchen ideas for you. You will see how the space looked like before the renovation and how it beautiful it is after the transformation.
The condo kitchen remodel ideas we collated for you will no doubt help you decide if you really want to upgrade your existing kitchen or not.
Take a look at the spaces below and compare the before and after images
Small Condo
Well, most condominiums have limited spaces which also means that there is only a small portion allocated for a kitchen. But that won't stop you from getting a beautiful and trendy cooking area!
If you have a small condo kitchen, the transformations below will surely inspire you! Come take a look!
Small Condo Remodel Reveal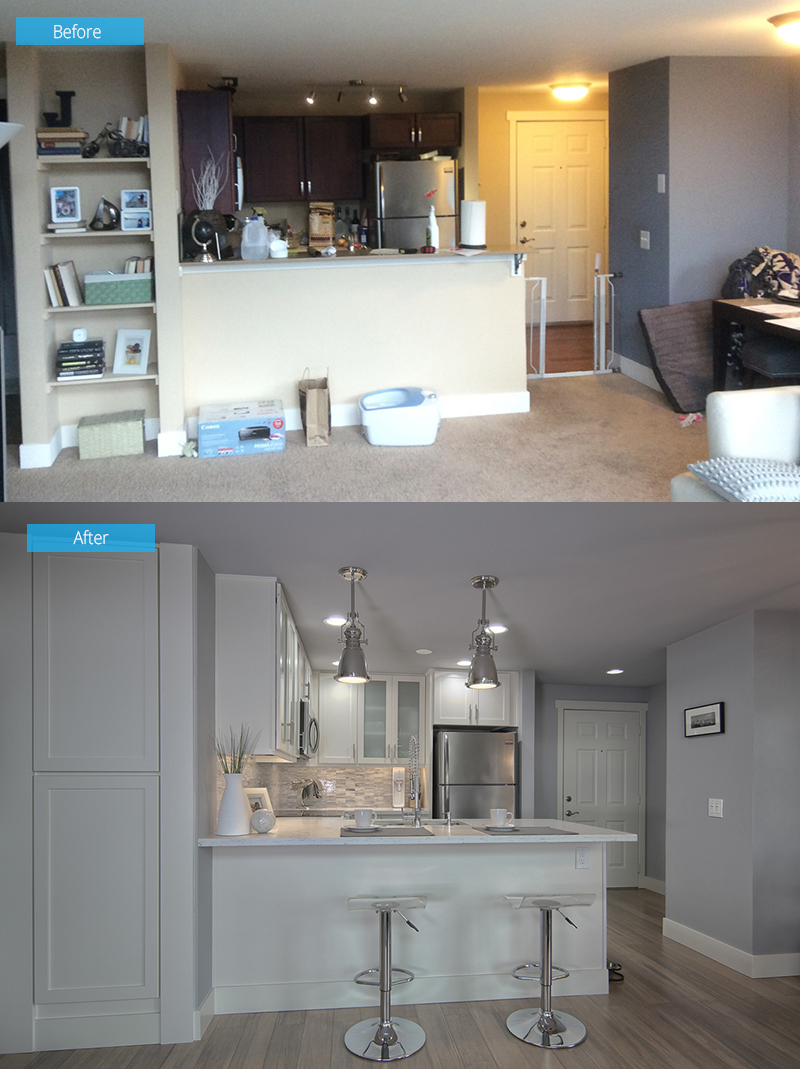 New white custom cabinets, linear tile backsplash, stainless steel appliances, and quartz countertops were added to this project. The raised kitchen island breakfast bar of their old space was removed and the countertops are now in all one level. Don't be afraid to use white in most areas of your kitchen. It will actually look amazing just like this one!
2. Small Kitchen Remodel in Los Angeles Condo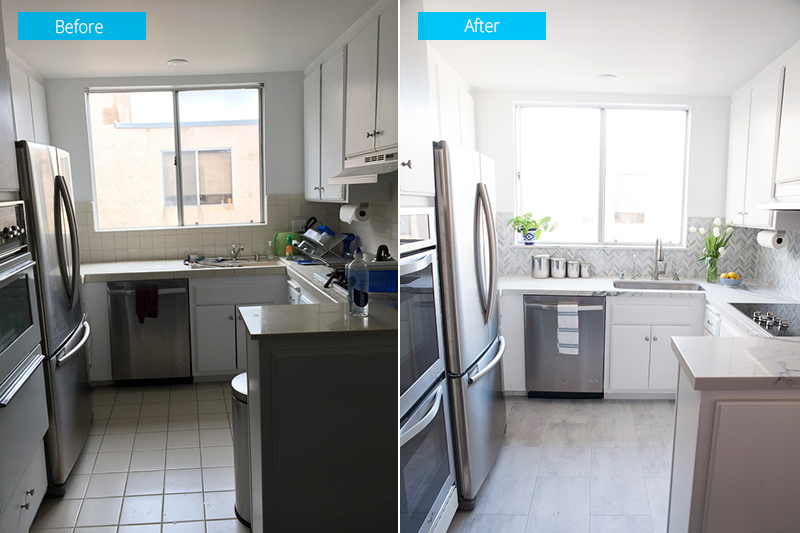 You deserve something better no matter how small your kitchen is. New tiles for the kitchen backsplash and an updated countertop will give your space a new look.
3. Kitchen Remodel – 6101 N Sheridan, Chicago, IL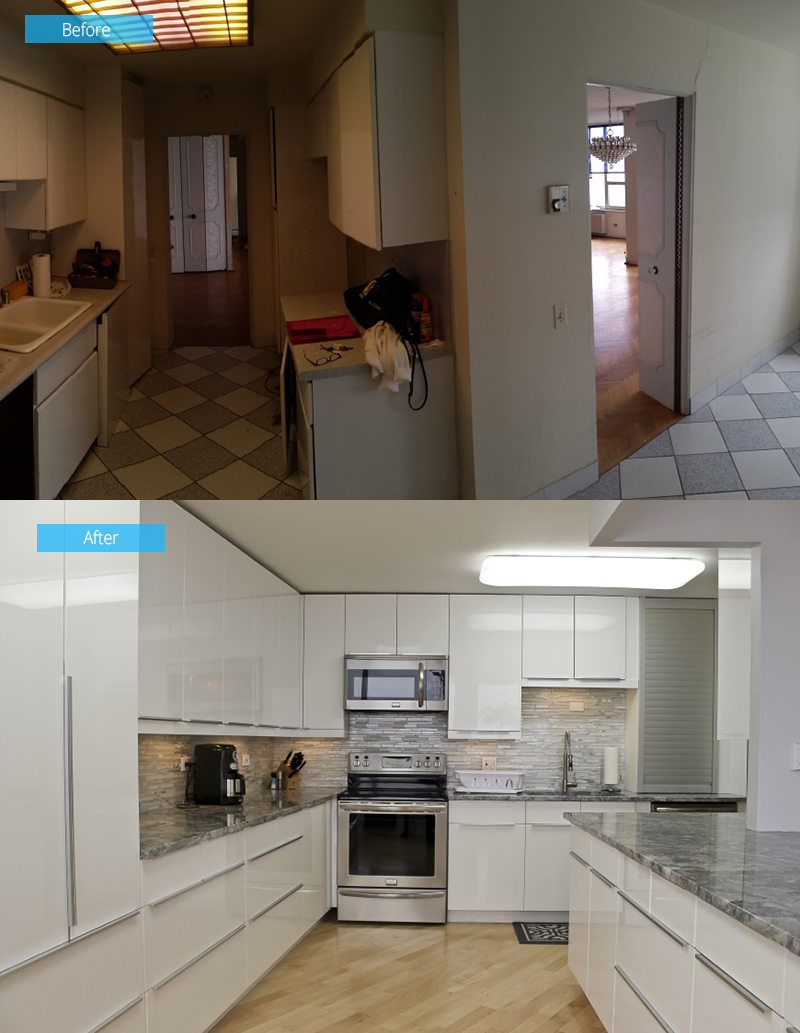 From an ordinary small condo kitchen, this one now has a larger space after the wall was removed to connect the kitchen and dining room. A granite top island now sites in lieu of the wall.
4. Kitchen Renovation Before & After Photos West Hollywood Condo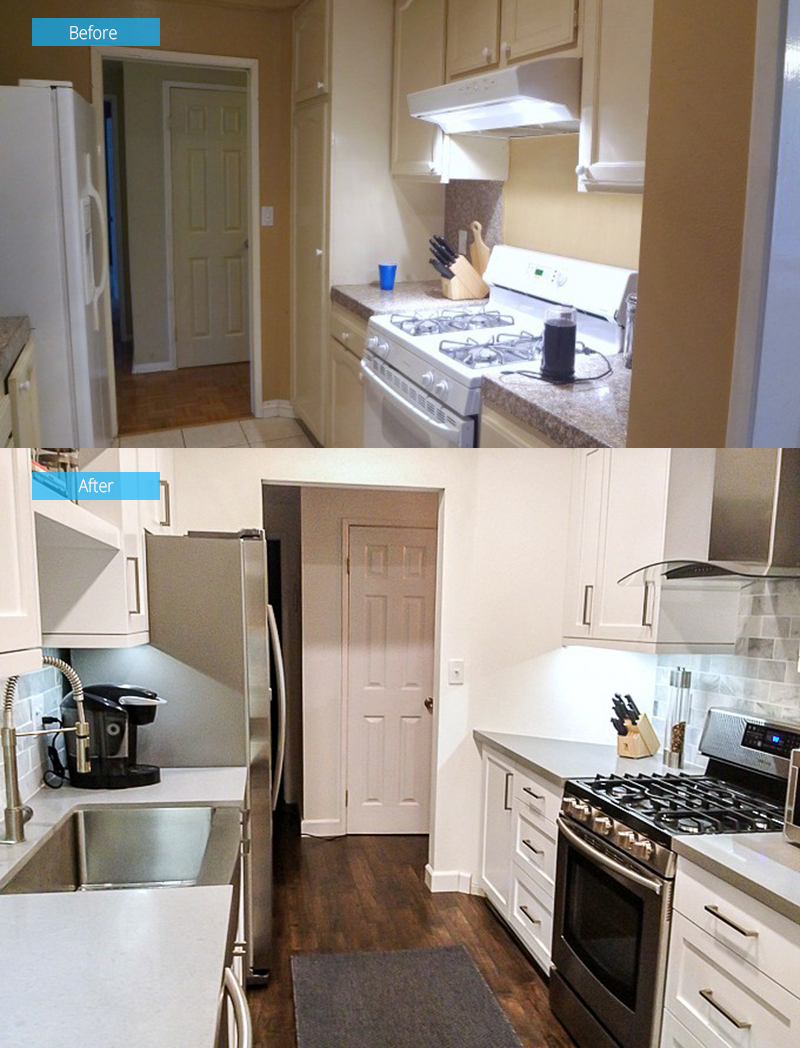 Apart from a new countertop, the owner of this space also opted to change the tile floor. The cabinets were painted off-white and new faucet, dishwasher and farmhouse sink were added. The pocket door was also removed to give this kitchen more space.
5. Kitchen Remodel – 819 Forest Ave, Evanston, IL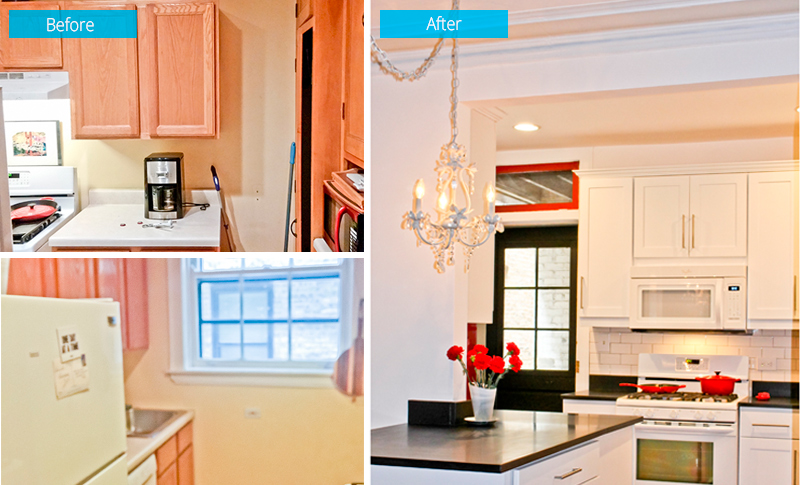 Although the wooden cabinets are not that bad, it looked a lot better with a black and white color combination. A dividing wall was also removed to make the space more functional and usable. Notice also that there are pops of red in the kitchen which could give us an idea that we can actually buy kitchen items of the same color to achieve something like this.
6. Condo Kitchen Remodel – 21 West Goethe Street, Chicago, IL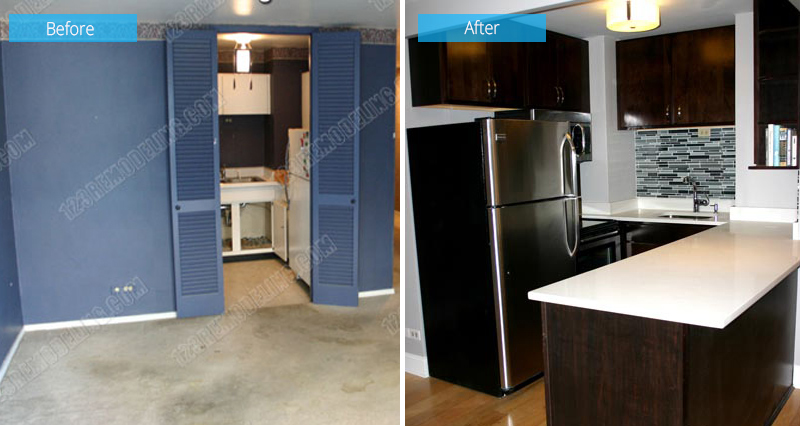 The kitchen is pretty small but the designers managed to maximize the overall available space by incorporating appliances, counter, and cabinets. You can also notice that the cabinets and flooring were updated.
7. Kitchen Condo Remodel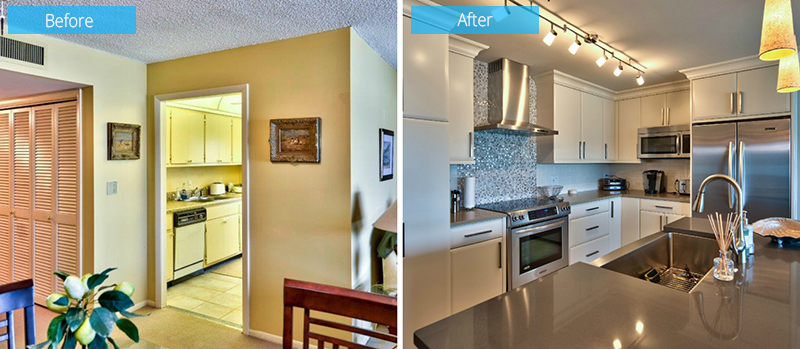 A once closed kitchen is now more beautiful and brighter with an open layout. The cabinets and countertops were also updated with added lightings. Notice that lighting has a great impact on the area's overall look.
8. Remodeling a Suburban Condominium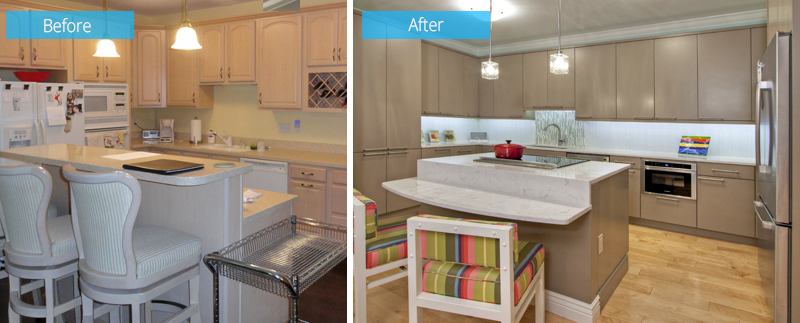 The new owner of this condominium wanted to have a home that will reflect her open and vibrant personality. Hence, the designers came up with this lovely kitchen. Yes, don't be afraid to add colors to your space. It will do wonders to it!
9. Kitchen Remodel – 1030 N State St, Chicago, IL (Gold Coast)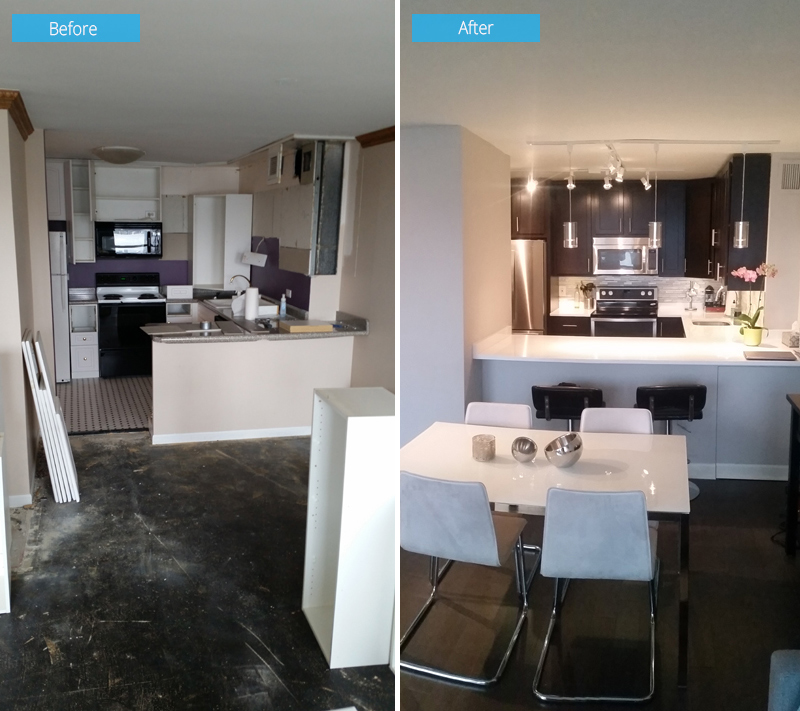 No matter how small your kitchen is, it can definitely look beautiful with proper lighting and updated finishes.
10. Before and After: Small 1940s Condo Remodel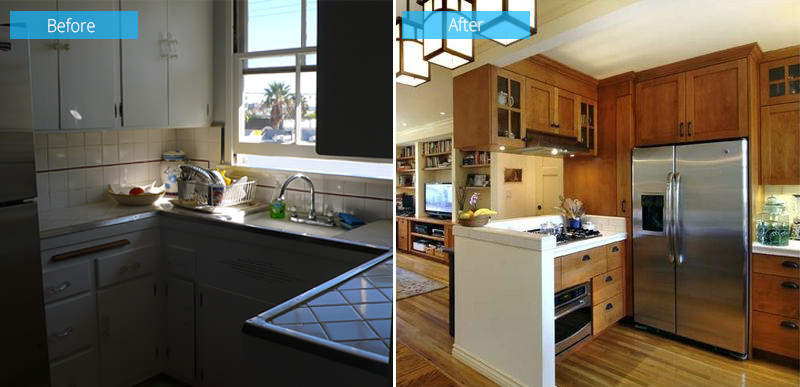 Before the renovation, the kitchen of this condo is so tiny and it has no storage. There is also a lack of connection between the kitchen, dining and living room. Hence, everything was resolved with a better layout and new cabinets for more storage.
Beach
Most kitchens with a beach or coastal theme are those in homes that are near the beach. But others are simply lovers of the bright and airy appeal of a beach style space. Usually, it is a combination of white colors and wooden features. This style also has some traditional and contemporary elements in it.
Want to see beach style condo kitchens? We have some below:
11. 30-year-old Condo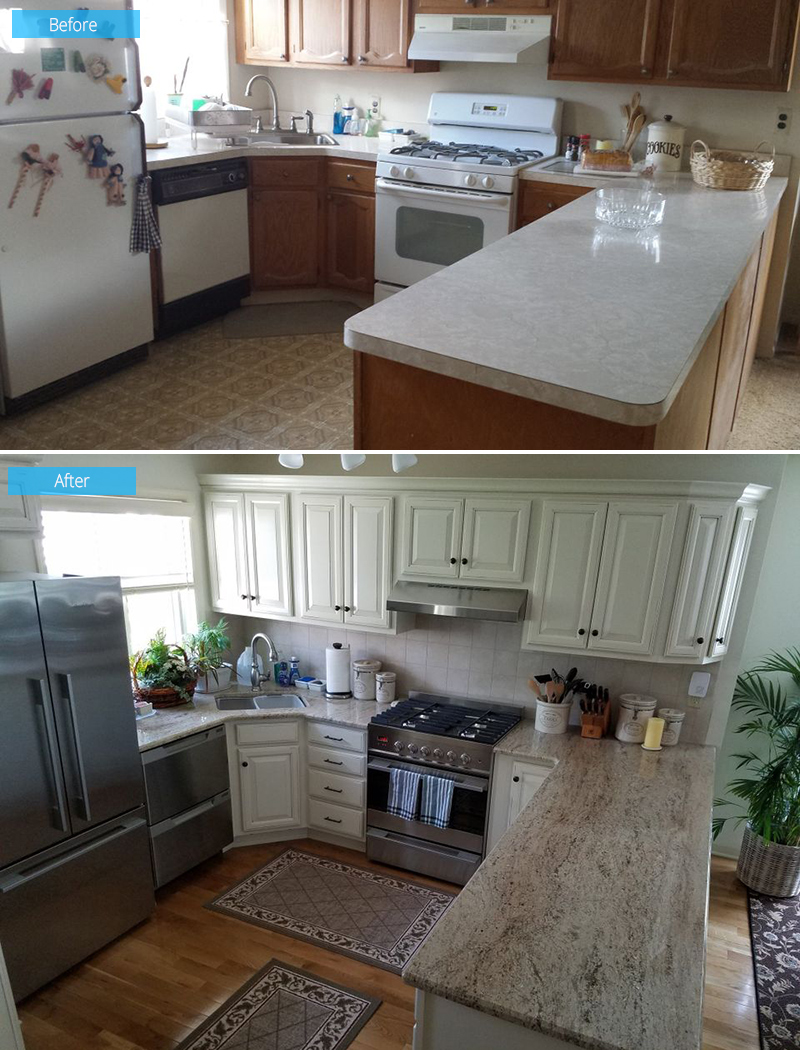 Although the layout is still the same, there are changes in the kitchen just from the cream-colored maple cabinets with a mocha wash to the new white oak flooring. Don't forget to add indoor plants too! If you are unsure about adding plants, you can read more about the importance of indoor plants.
12. Park Shore Tower Condo Kitchen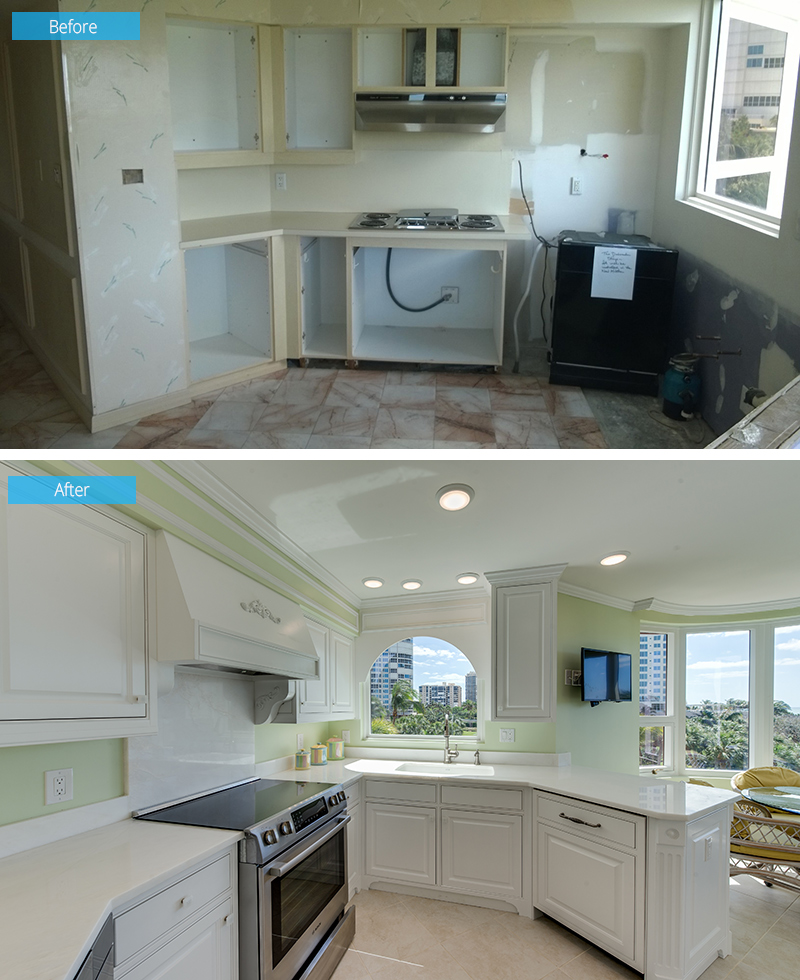 This 40-year-old condominium is located next to the Gulf of Mexico. No wonder why it has some coastal touches in it with white shaker cabinets and subtle traditional detailing.
13. Sterling Oaks Living Room Kitchen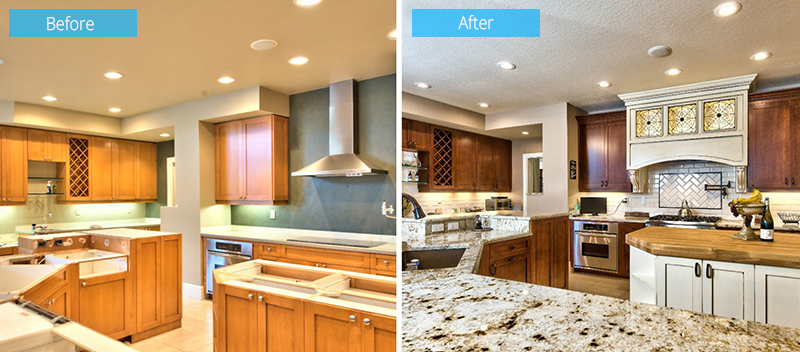 A contemporary kitchen is transformed into this beach style kitchen. Notice the mosaic glass in the range hood which gives this space a Tuscan touch.
14. Kitchen Remodel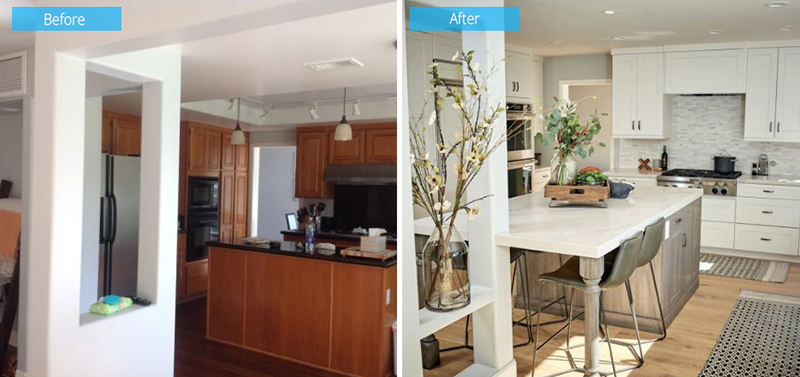 Love this transformation! It looks more spacious and it is definitely brighter with white colors and light wood flooring. The plants and flowers also made it look even nicer.
15. Kitchen Condo Remodel Palm Aire Country Club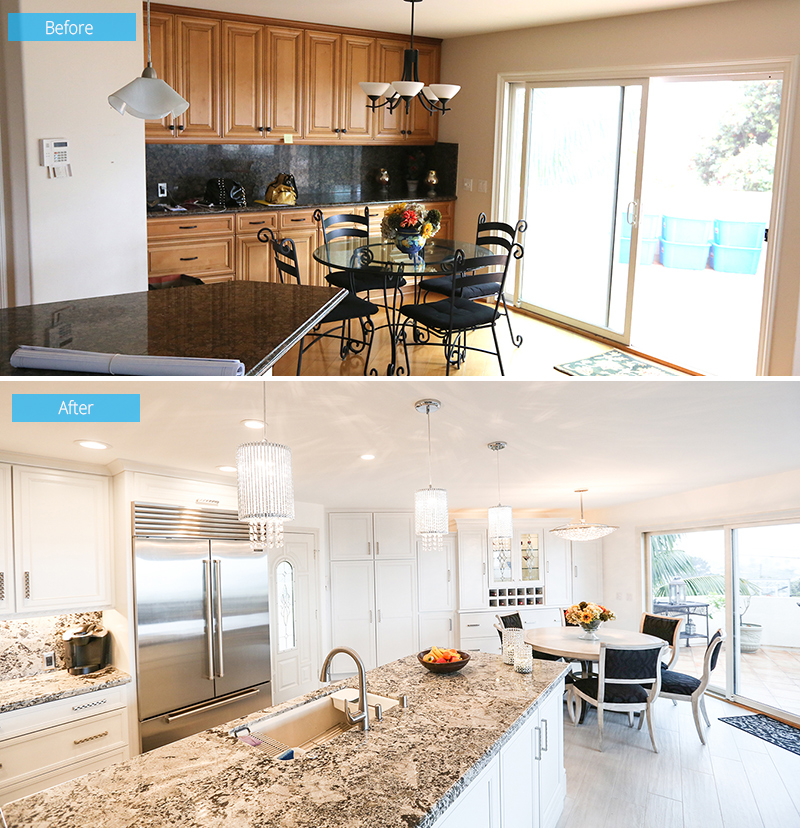 The updated kitchen looks more sophisticated! The cabinets, hardware and even the crystal pendant lights are all so charming. With the looks of it, it appears as this area leads to a porch that overlooks the ocean.
16. My Finished Kitchen Remodel! (Before & After)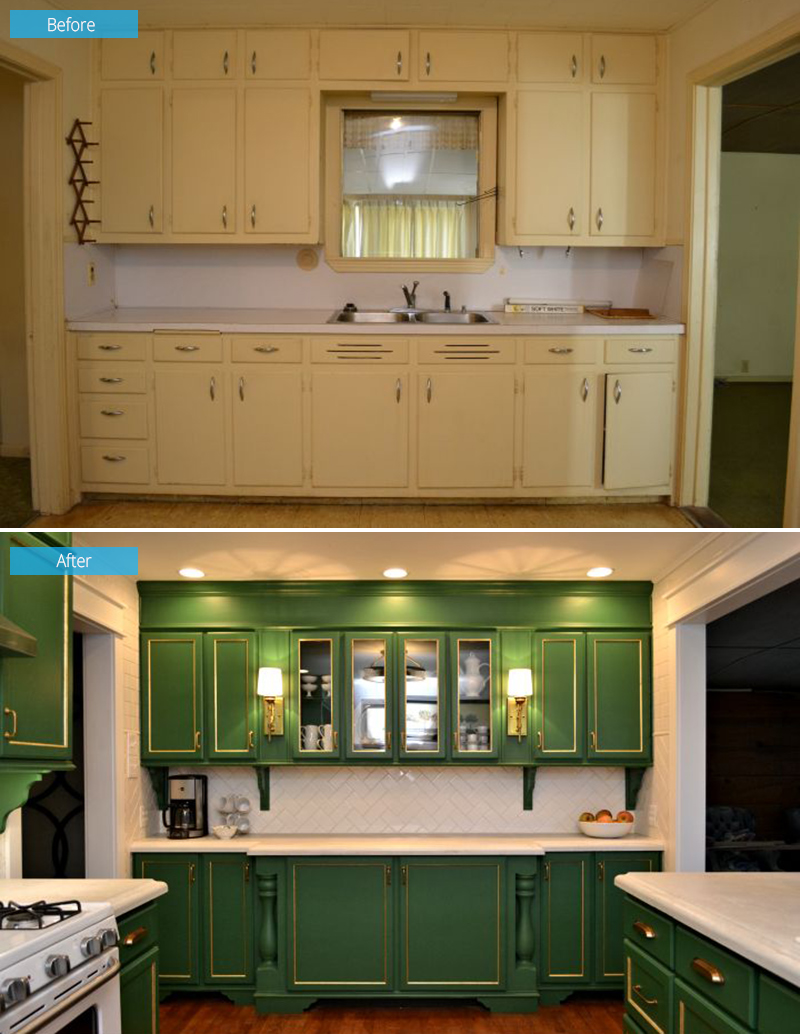 From dull cream cabinets to green ones with gold trimmings. The use of green, white and wood mirrors the beauty of nature. It is also interesting to note that they added sconces on the cabinets.
17. Kitchen Remodeling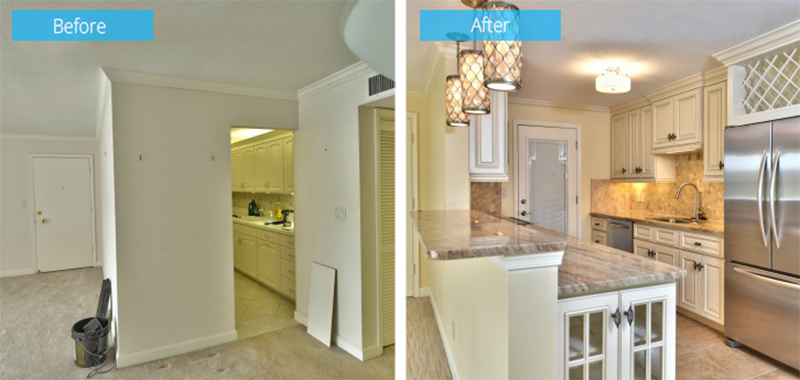 Updated cabinets and countertops look really gorgeous in this kitchen which is now open instead of being enclosed in a room. Those shell pendant lights bring some coastal touch to the space.
18. Donovan Kitchen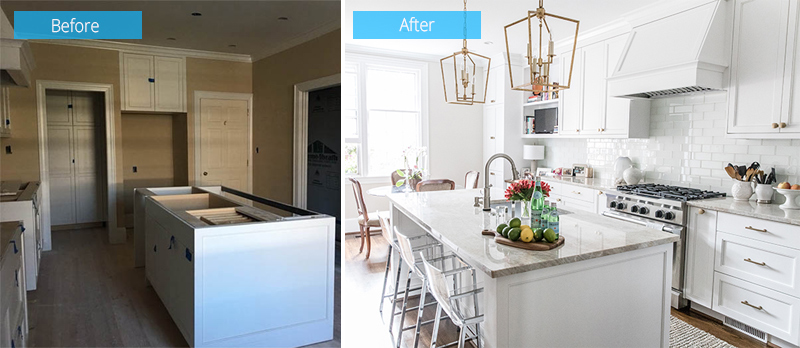 Isn't this a beautiful kitchen? No wonder why the owner loves it so much! You can get that Scandinavian feel while looking at this photo but you can also get hints of a beach style as it used subway tiles for the backsplash, wooden flooring and white colors all over the place.
19. Chicago Kitchen Remodel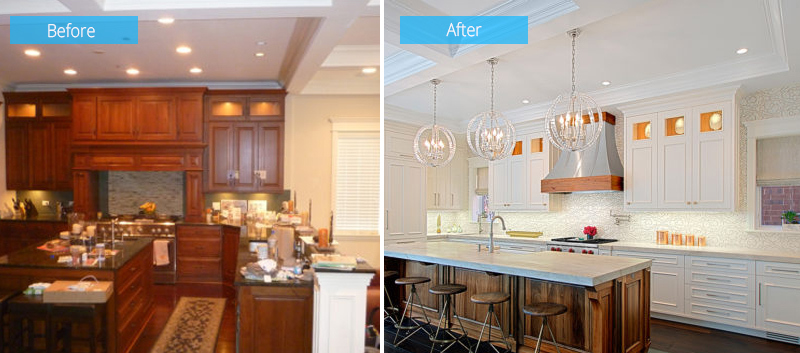 The new kitchen was actually relocated which allowed it to have an 11 feet long island. Looking at the old kitchen, I could say that this is a lovely makeover! Don't you just love those pendant lights which somehow remind me of mermaid-inspired hair accessories!
20. La Fuente Band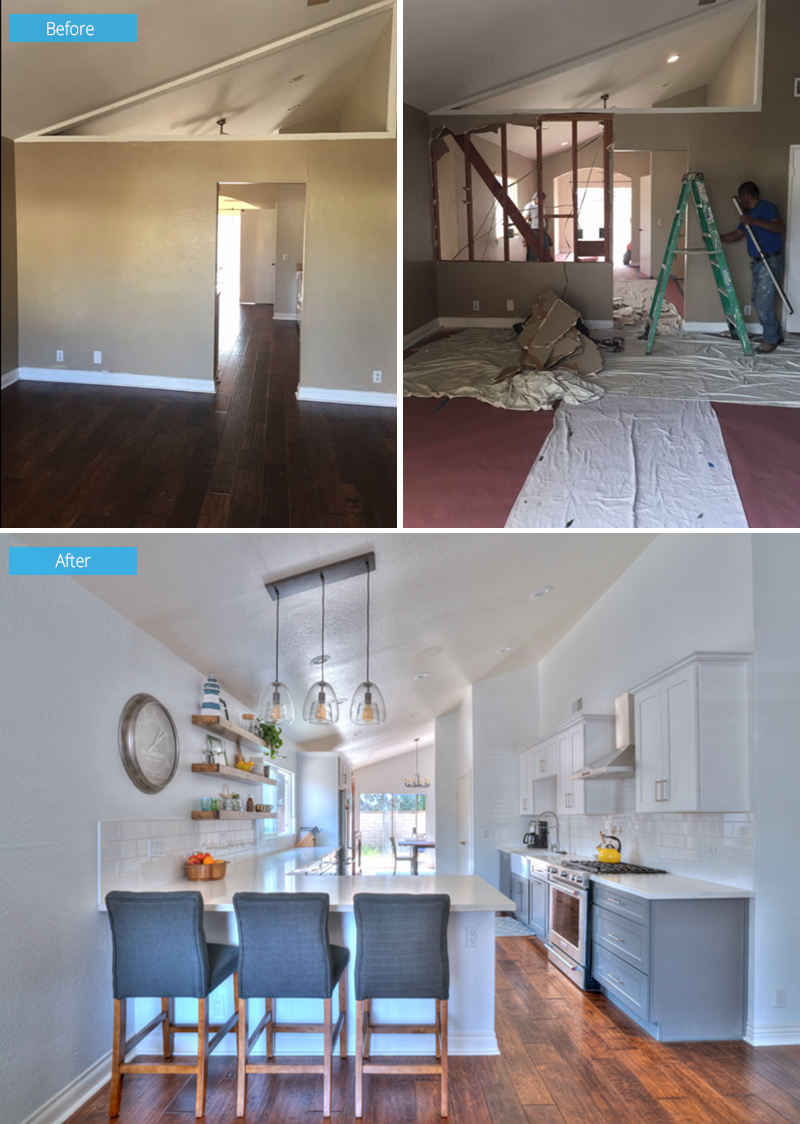 An open space definitely looks better than a closed one! Just look at how bright and airy this kitchen is. Add a little rustic touch with wooden shelves and an industrial twist with these pendant lights. The overall look is a perfect beach style kitchen!
Minimal
Modern and minimalist spaces focus more on function instead of aesthetics. But because of their simple and edgy look, they would appear sophisticated. A range of materials and colors can be used here but most of the time, neutral colors can be seen in minimalist kitchens.
Don't waste your time going over the internet for more kitchen condo remodel ideas, scroll down below and feast your eyes on minimal kitchen spaces! You can also take a look at our construction guide in creating a minimalist kitchen.
21. Linear Feat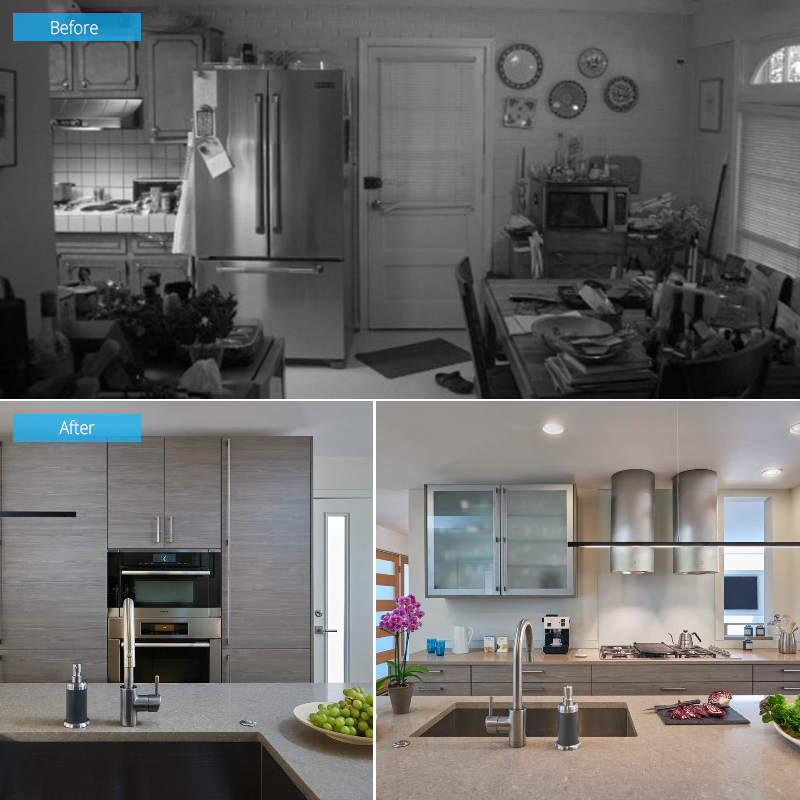 Who would recognize their kitchen if the transformation is this beautiful? From a crowded and unorganized space, it turned into a beautiful modern minimalist kitchen. With these so many changes, I'd say this is one costly transformation.
22. Palm Aire Kitchen Remodel Gallery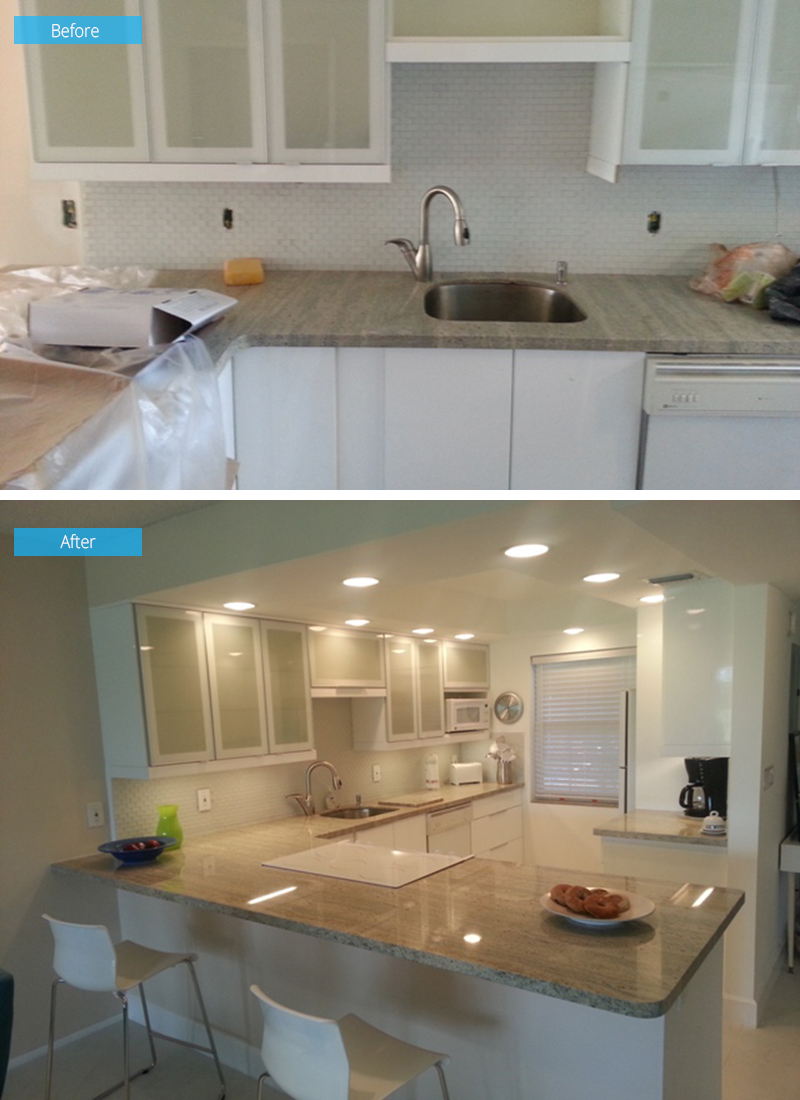 The color white never fails to impress just like what you can see in this kitchen. I can see that there were only a few changes but the renovated one looks awesome especially because of its lighting.
23. Kitchen Before and After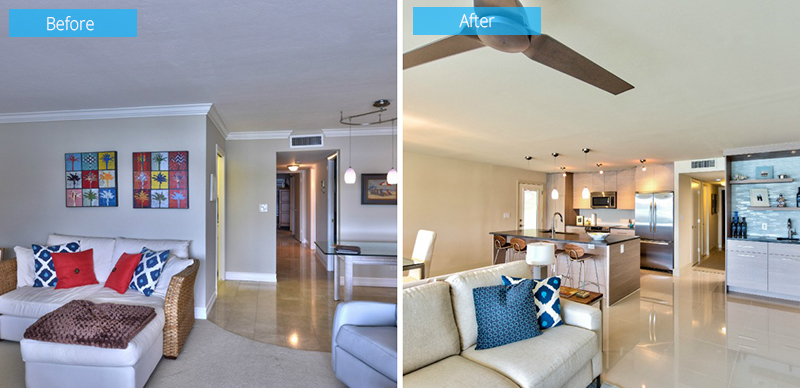 The kitchen was located inside a closed room prior to the renovation. Now, it is finally out and it sure is something that the homeowners can brag about!
24. Boston South End Condo Kitchen Remodel – Before & After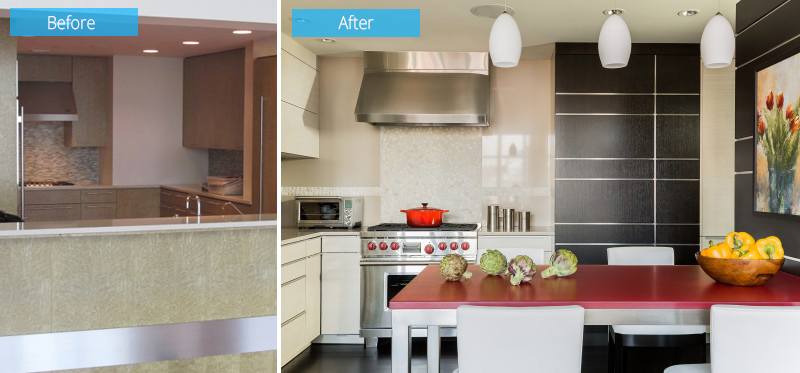 Although the kitchen doesn't look that bad, it lacked flow, comfort and aesthetic appeal. Hence, the cramped layout was changed with new cabinets and better lighting.
25. $35,000 Kitchen Remodel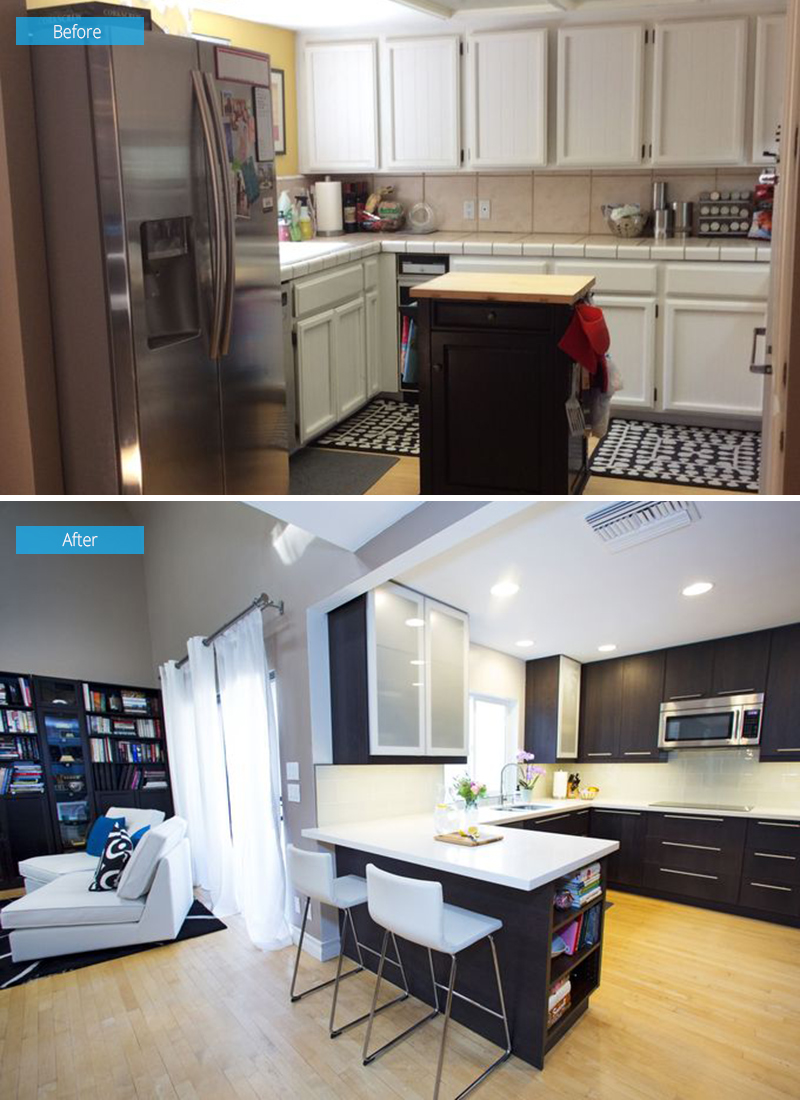 Updated cabinets in dark gray and white improved the overall visual appeal of this kitchen. It is also nice to add kitchen chairs on the small counter which can be a perfect spot to eat snacks or have a chitchat with the person cooking in the kitchen.
26. Chicago Kitchen Remodel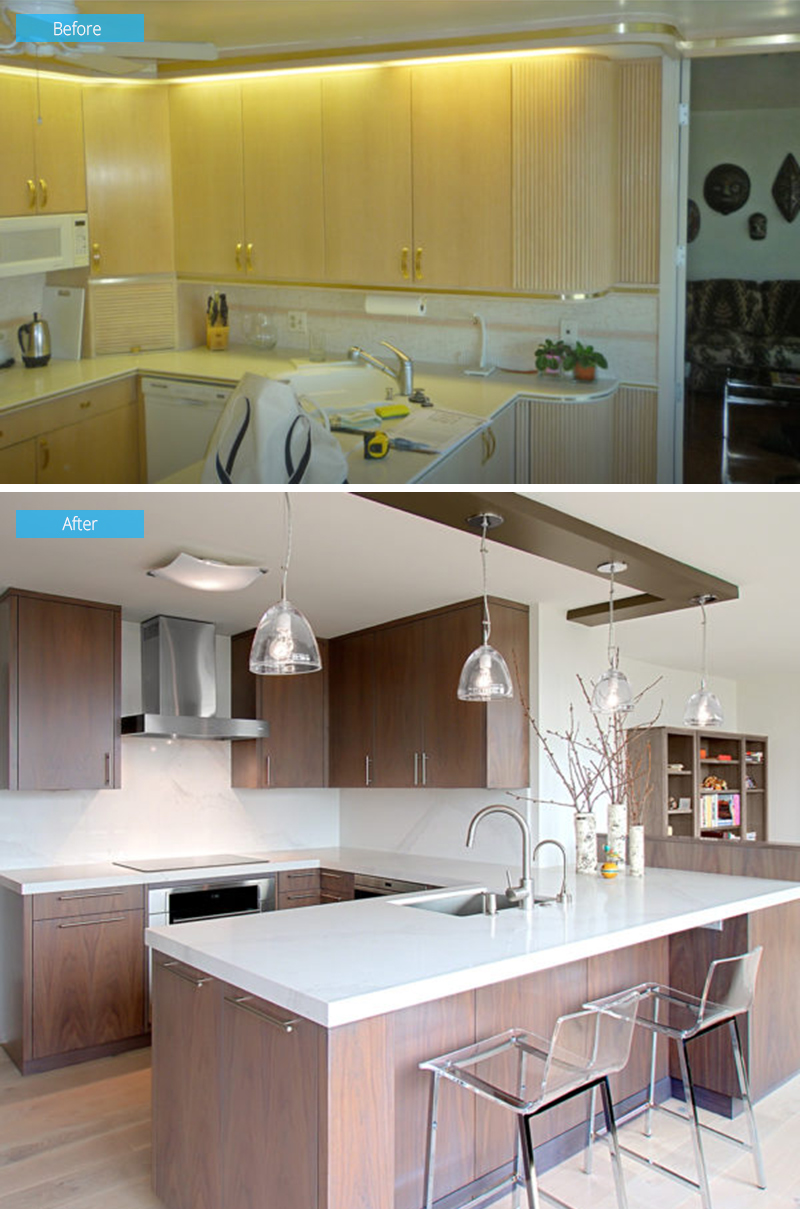 The custom-built cabinetry seen here is of the highest quality compared to the old one. The good thing about this kitchen isn't just its looks but it is also highly functional with many storage spaces despite the small condo.
27. Kitchen Before and After Close Up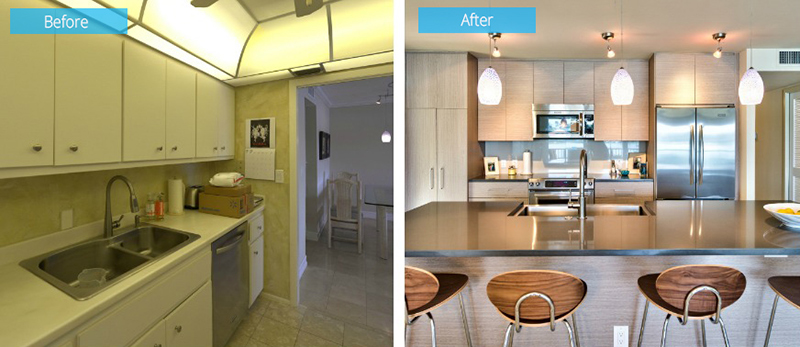 This kitchen had its cabinet and countertops updated. I'd say it was nicely done plus the addition of the wooden counter-height chairs.
28. Contemporary Kitchen Remodel- Lincoln Park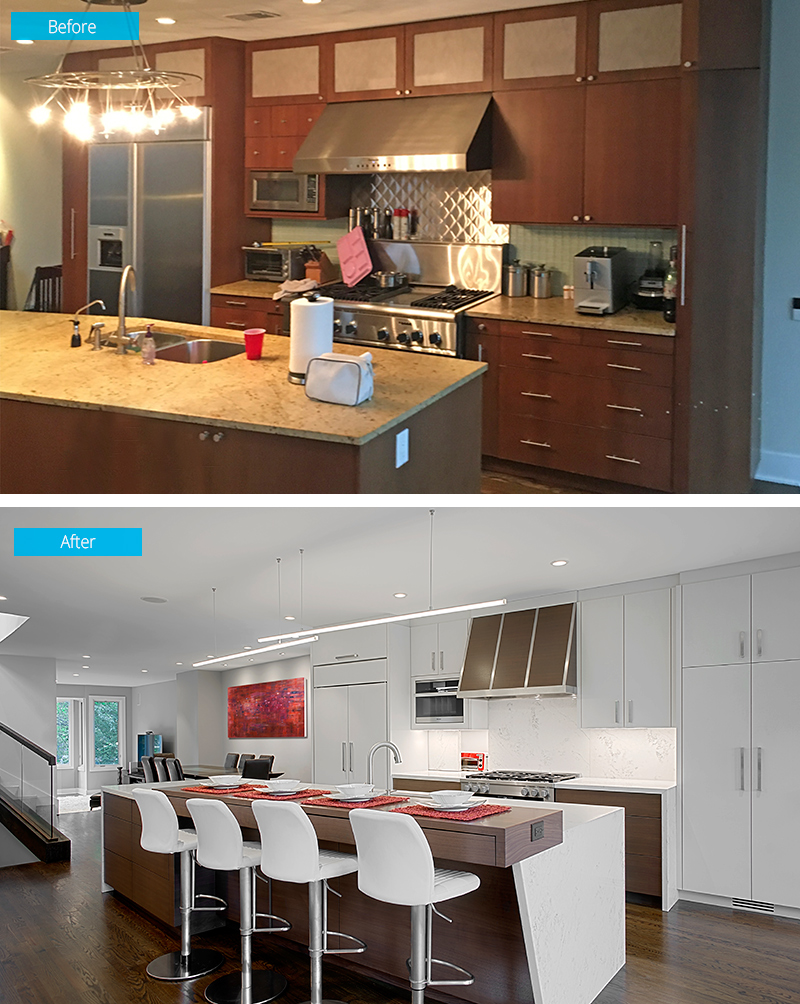 You can see the huge difference between the before photo and after the transformation. Now it looks lighter and brighter because of the white paint and the added lights.
29. Condo Kitchen Remodel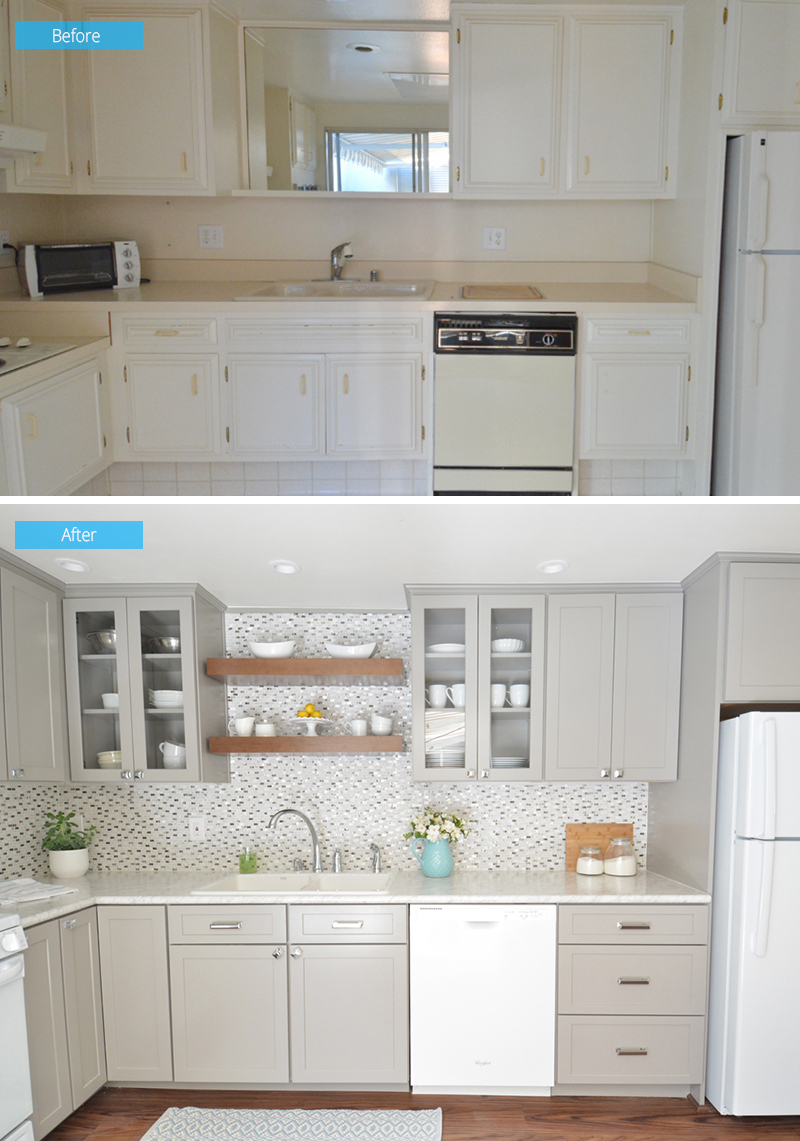 Are you tired of your boring kitchen wall? Update it to give your space a fresh look. Add glass to the face of your cabinets to make it visually larger. A touch of wood will also make it look more beautiful.
30. Before After Photos Kitchen Renovation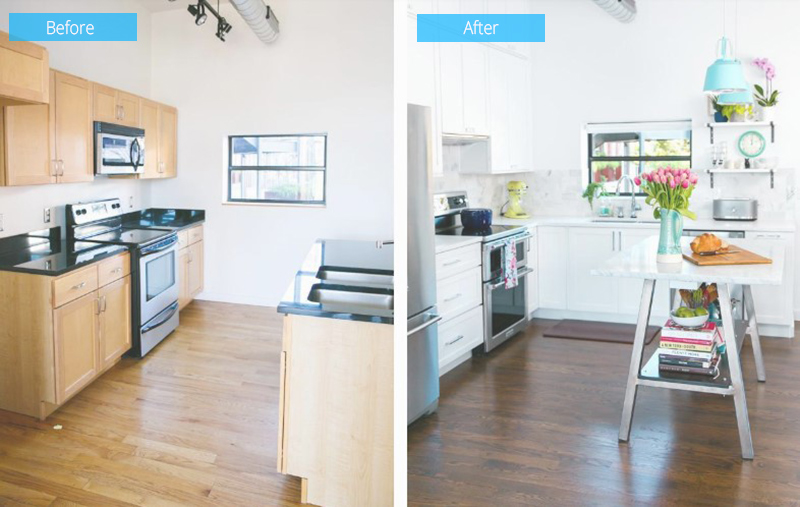 Wood is nice but white looks nicer if you opt for a minimalist appearance just like this. And oh, adding some greens and flowers will give your space a more refreshing appeal!
These are all nice kitchens, right? So if you are currently living in a condominium, the above kitchen condo remodels might inspire you to transform your space into something that looks totally new and that would work better for you. Of course, it is up to you if you will go for a minimalist look or something with a little traditional touch. Whatever you choose, make sure that you have made a firm decision before starting the project so that you won't waste your money. Also, make sure that you hire the right professionals to work on your dream kitchen this 2019!
Bonus Video: Kitchen Transformation