20 Crisp Modern Condo Bedroom Furniture for Uncluttered Look
Do you live in a condo? Here are modern bedroom furniture ideas you'd love to add in your space.
In condominiums, bedrooms may have limited space to style with but there are also other condos that offer an enormous space for a bedroom, which comes with an expensive price, of course. More often than not, condo bedroom interiors are all ready dressed in modern design. Sometimes, if you are lucky the bedroom comes with a built-in closet or wardrobe which comes in handy for those who are working on a budget. But for those who are not that fortunate and have to buy and get all of the necessary furniture, you might want to consider getting furnishings with modern design elements. Clean straight lines, sleek, heavy duty and space-savers are the best picks. In decorating modern interiors, getting modern-inspired furniture is the perfect match to get a unified look.
Modern bedroom furniture is streamlined with reflective and smooth surfaces. The styles are simple, mostly geometric, uncluttered and are functional. It increases space and creates an illusion of a larger space, making it great for condos or apartment and those with small spaces. What makes it appealing to people nowadays, aside from its stylish and unique look is that it is easier to maintain and kept clean. It is because of its minimalist nature that does not welcome decorative ornaments or knick knacks that makes it suitable for young professionals and busy people alike. Browse through our 20 modern condo furniture to help you with styling your home.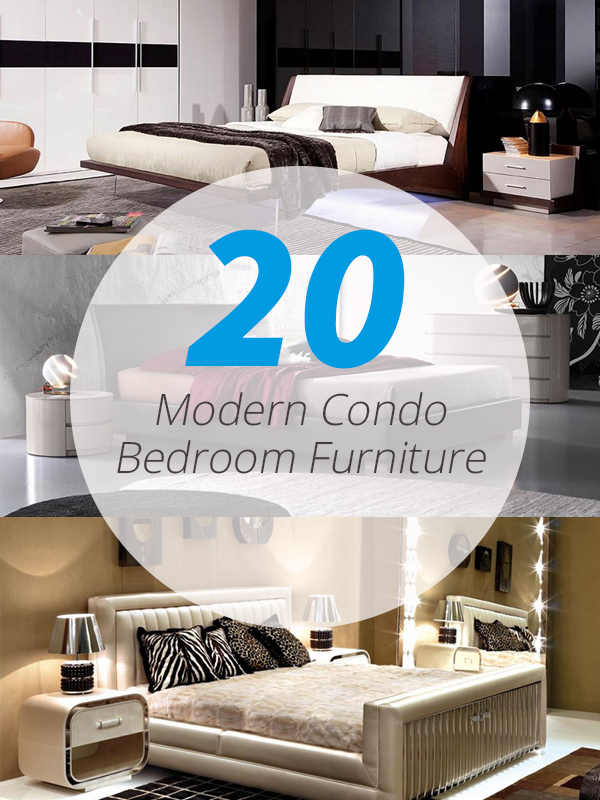 1. SMA Mobili Spa, Italy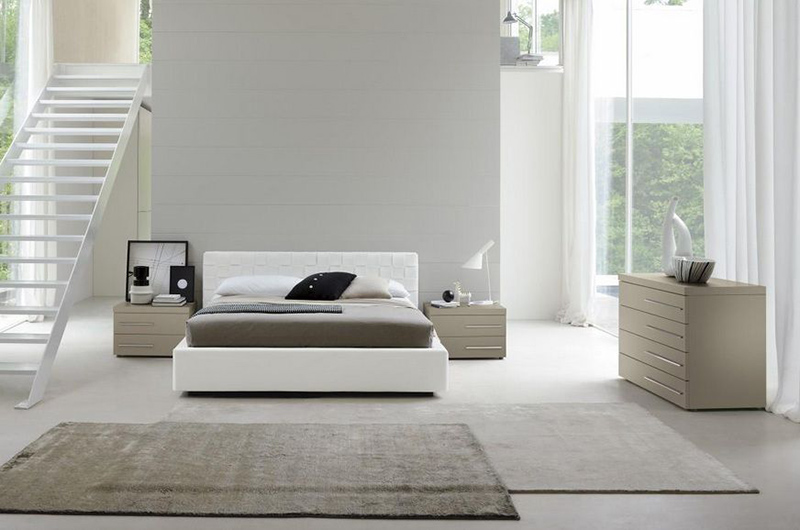 This is a stylish, modern Italian bedroom set perfect in giving out comfortable relaxation and luxury. The geometrical accent on its headboard brings texture and chic pattern, enough to make it a statement. The night stands and dresser in dark dove mat lacquer add softness and elegance to the whole set.
2. GH Modern 18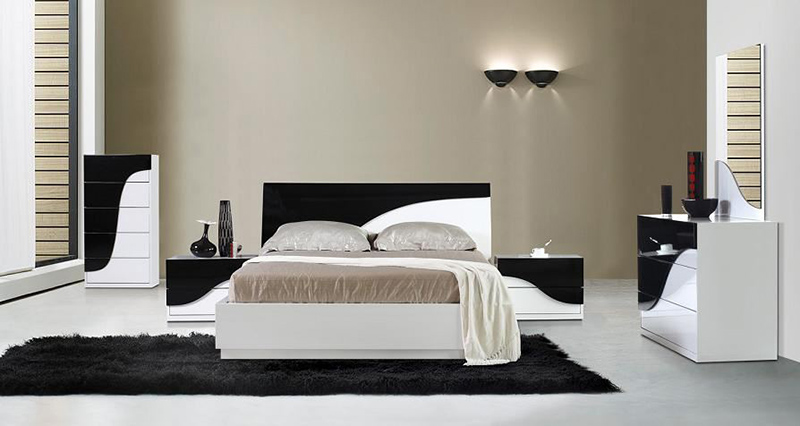 This black and white bedroom set with night tables, dresser, mirror and chest is sure to bring sleekness, clean lines and reflective surfaces that give off a chic and stylish modern vibe.
3. Volterra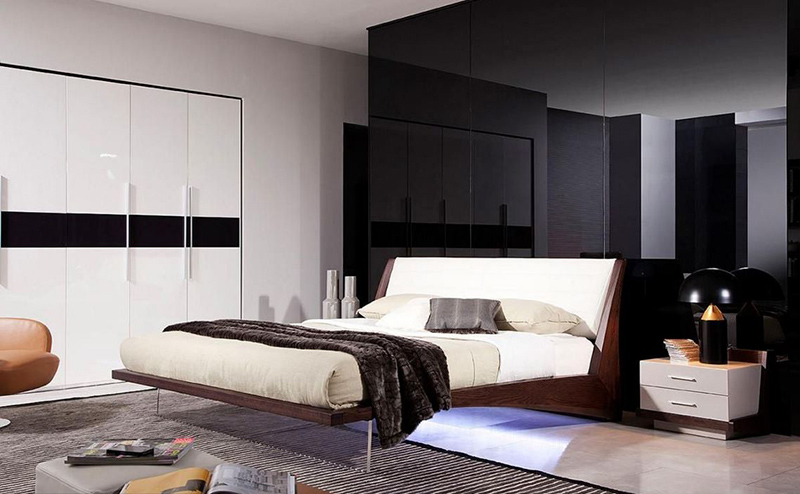 Create the illusion of a floating bed with this beautiful Volterra bed. It has transparent acrylic legs and LED lights on the bottom to give a stylish ambient glow giving its floating-like appearance. This bed is perfect to match any modern or contemporary condo interiors.
4. BB 02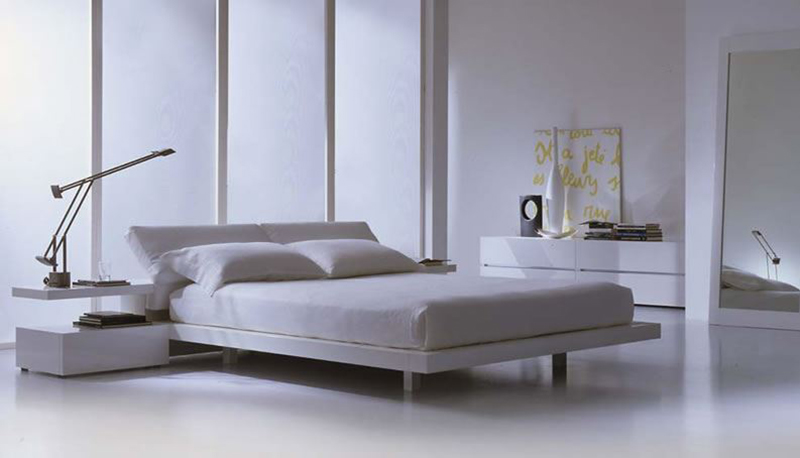 Match your white bedroom interiors with white furniture and create a dreamy space with nothing but clean lines and clutter-free look. This beautiful high gloss lacquered bed is equipped with leather adjustable headboard and side shelves, creating the illusion of having floating shelves beside the bed.
5. Design Within Reach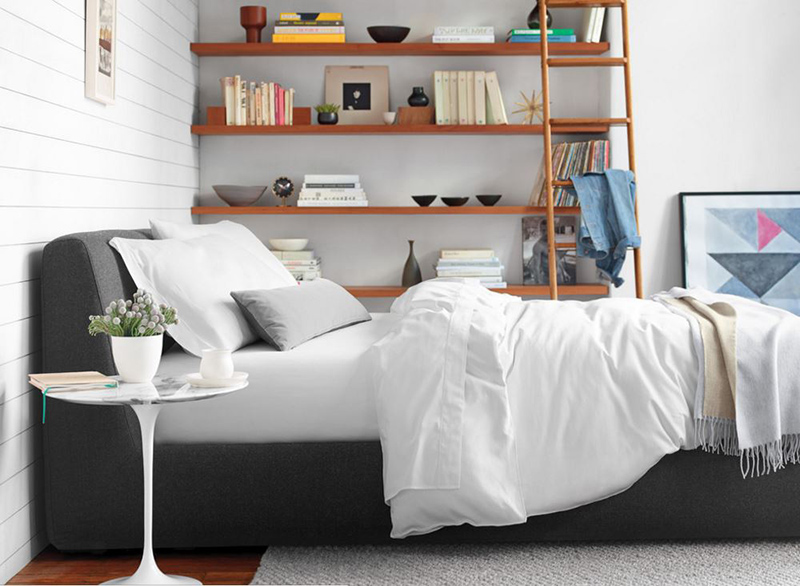 Open shelving or hanging shelves will definitely work in limited spaces. It brings an open and airy feeling giving a more spacious appeal. A bulky modern bed in gray adds coziness and softness breaking the all-white interiors.
6. Made In Italy Quality Luxury Elite Bedroom Furniture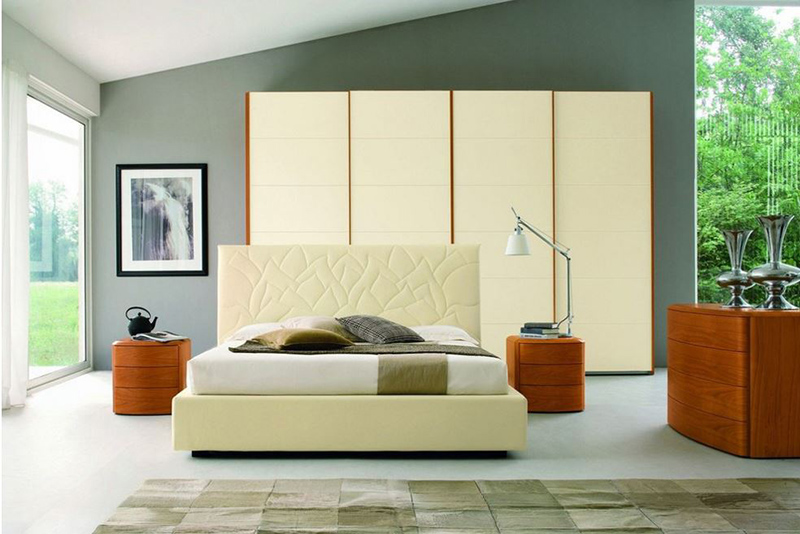 This Cherry Italian bedroom furniture gives out a Zen and relaxing appeal. The beige and rich wood note is a great combination that will bring comfort and soothing effect to your interiors that is both contemporary and modern.
7. Modern Bed With Storage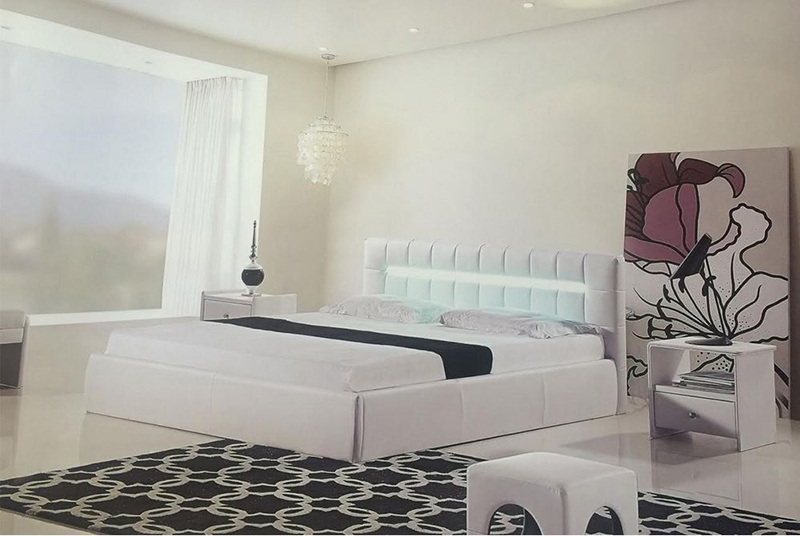 Bring that modern vibe in your condo bedroom interiors with this amazing leatherette bed with led lights on the headboard and storage underneath. You will be awed with its stylish appeal while giving you so many saving.
8. Daisy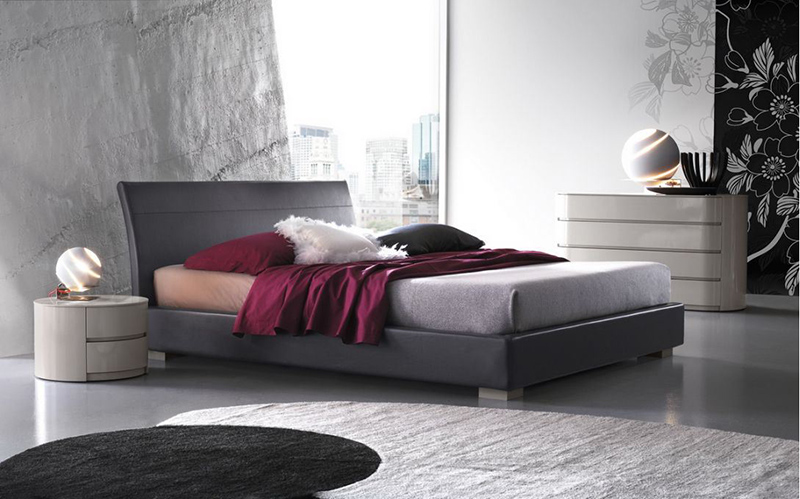 Give your bedroom an edgy and stylish statement with this chic bed. It has a spacious storage to keep your personal possessions; a great solution for small spaces.
9. Loto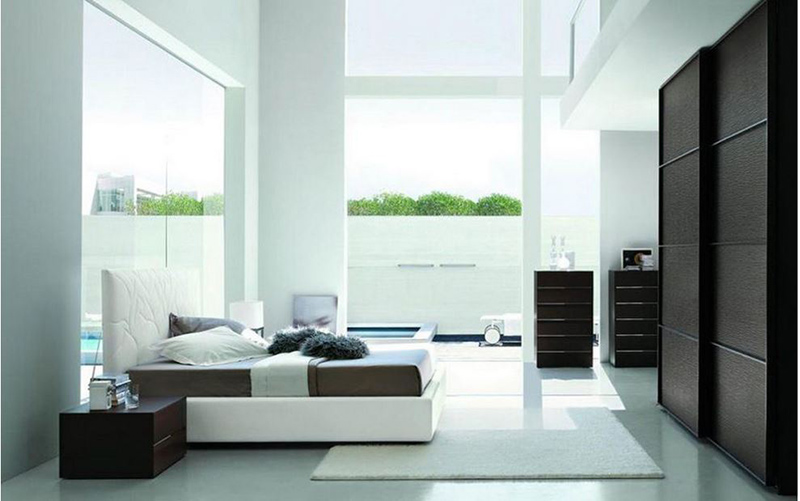 Let your headboard take the center stage with this beautiful white eco-leather bed. Its unique accent is sure to give your bedroom a sense of modern luxury. Pair it with a modern wardrobe cabinet in dark color to bring contrast or use the same one as that of the bed to create a unified look.
10. Portofino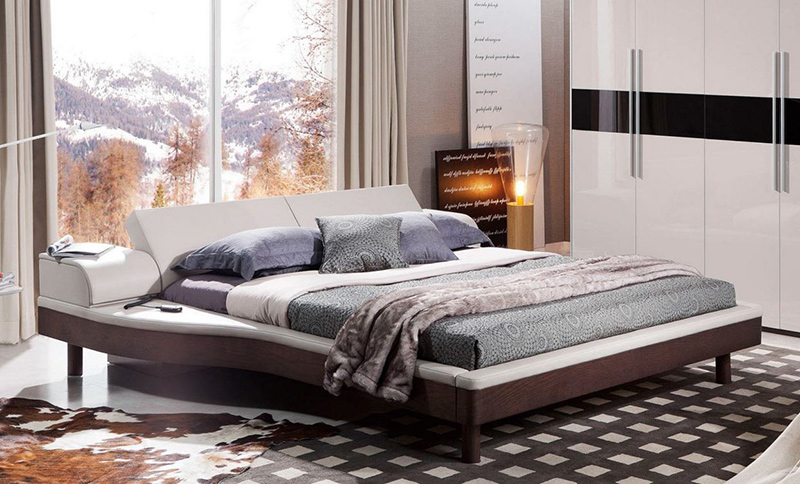 Get a smart bed for your modern interiors to match that minimalist look you are eyeing for. This leatherette bed has a remote controlled headboard that you can adjust to a position you want. It has also built-in nightstands that have a flip open design with three compartments to keep your precious belongings within easy reach.
11. Dupen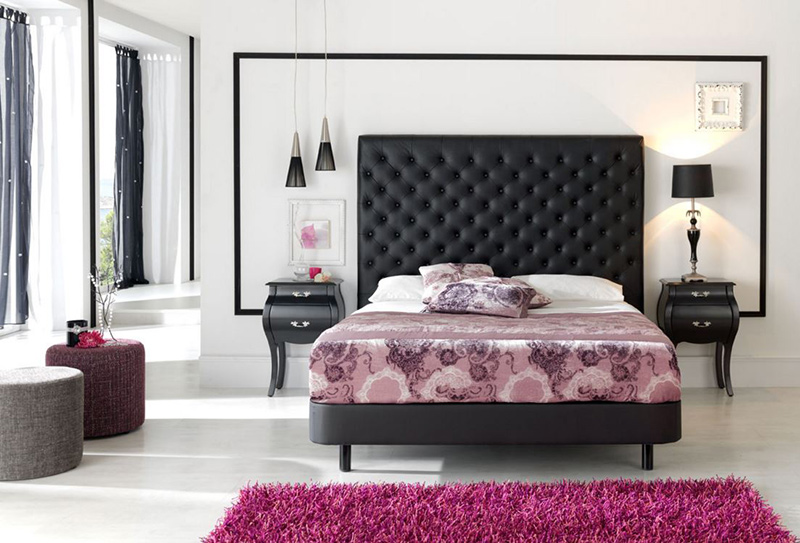 This black bed with its large-scale headboard brings so much character and drama to a space. Use black bedroom furniture to lend contrast and accent against your white walls.
12. Gracia Bed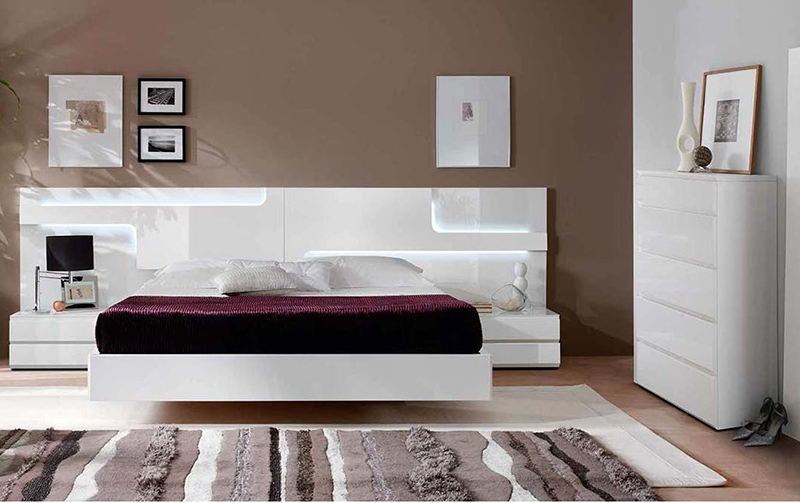 This stylish bedroom set will definitely give you that modern vibe you desire. Its geometric-inspired headboard is a statement on its own while the nightstands and chest with clean straight lines, slat design and high gloss finish will bring chic and sleek flair to your space.
13. Turin Bedroom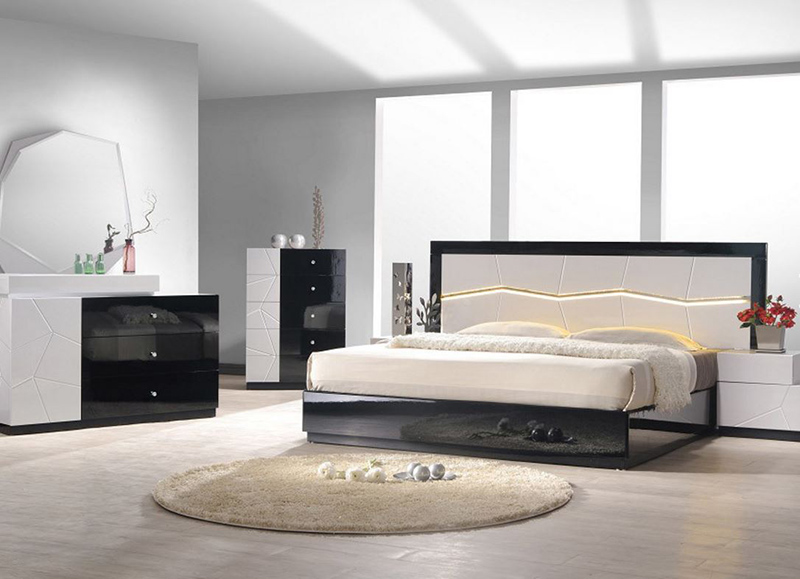 Add a sophisticated, modern elegance to your bedroom with these stunning pieces! The bed is sure to take the spotlight with its striking headboard that has unique geometric accent and led lighting and its light gray and black lacquer finish will match any modern designed space.
14. Wanderer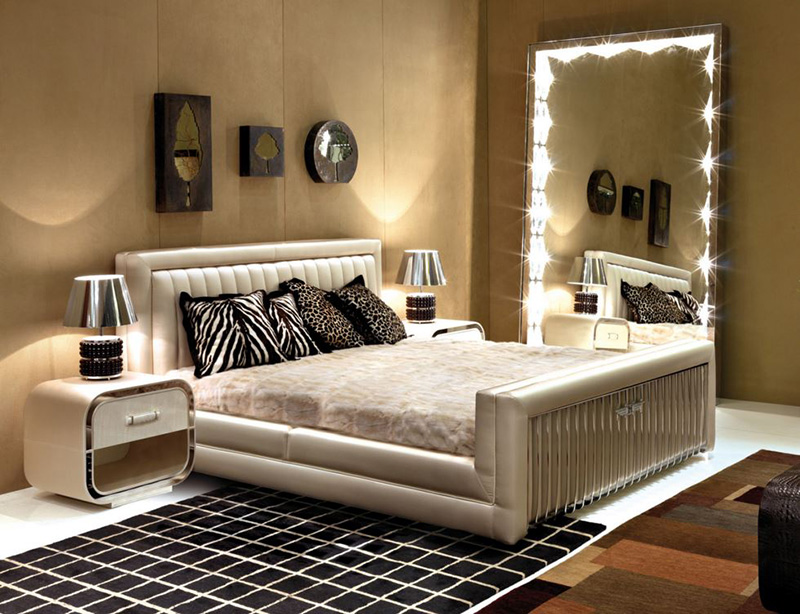 Aside from getting a luxurious-looking bed in all its modern elegance, pieces with reflective surfaces and smooth finish will also add glam to your space. An over-sized mirror will bring depth and a visual illusion of a larger room. Place it against a wall to get the illusion of having extra floor space or across a window for it to reflect the natural light coming from it.
15. Lidia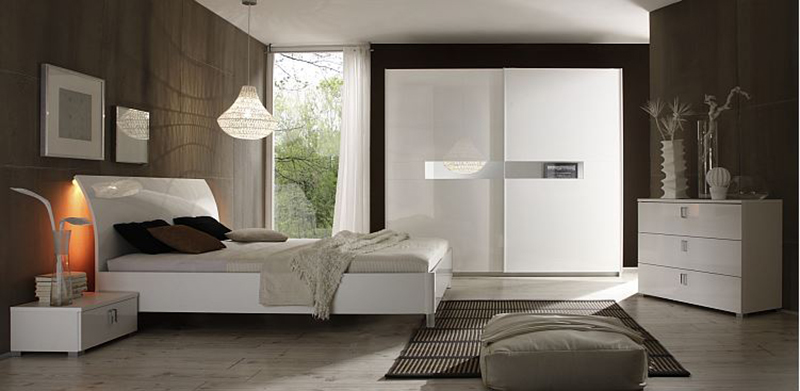 Get a minimalist look in your bedroom by going all white on your furniture. Straight, clean lines, crisp white and glossy finish will do the trick in giving the modern vibe you desire.
16. Arctic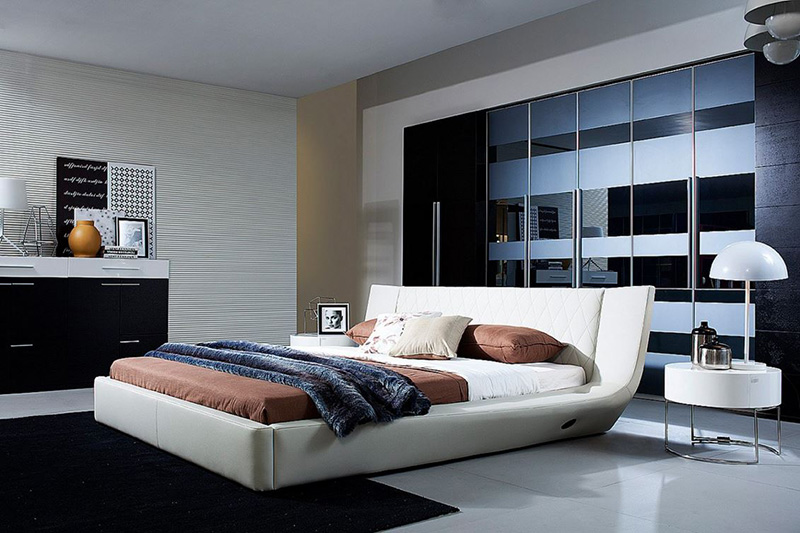 A combination of black and white furniture is a surefire in making your condo bedroom interior classy and modern. The black wardrobe makes a stunning backdrop to this beautiful, modern white bed. It gives contrast, interest and a bit of drama in the room.
17. Enterprise
A bedroom like no other is what these remarkable pieces will give to your space! Its unique look and geometric-inspired design will lend modern elegance and luxury to any home.
18. Lucca Bedroom Set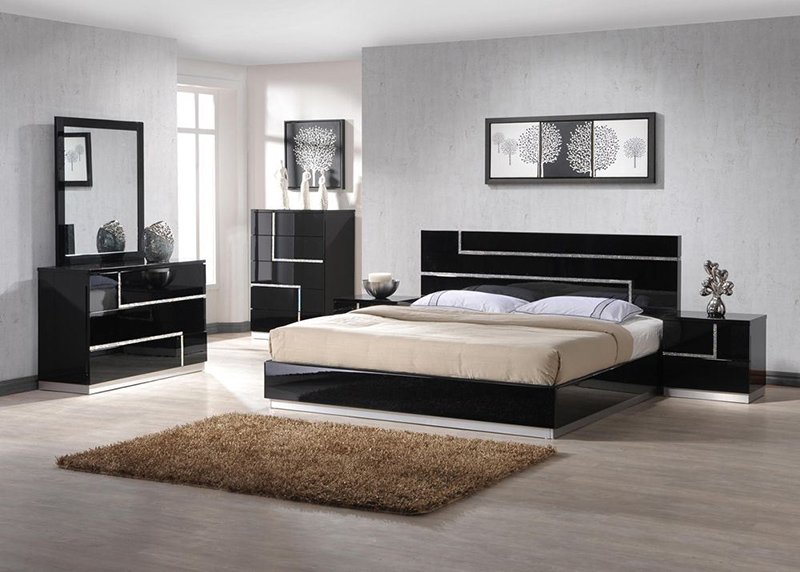 Black lacquered furniture like these with a touch of crystal will lend style and modern glam in any interior. Its unique look and sleek appeal is charming and striking that any of these pieces can stand out as a statement on its own.
19. Ponte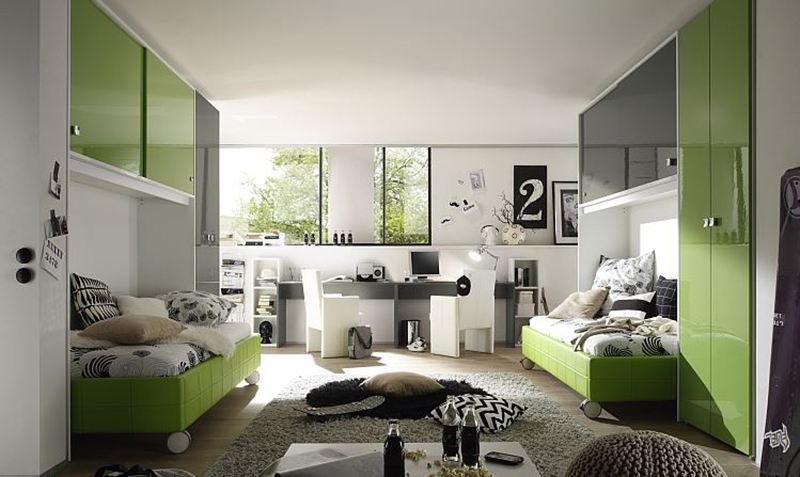 Modern is also about bold block colors. Using bright hues on the furniture is a great way to bring color in your space. Keeping your walls on neutral would give a beautiful contrast, adding fun and spirit to your space.
20. Lanai Modern Bed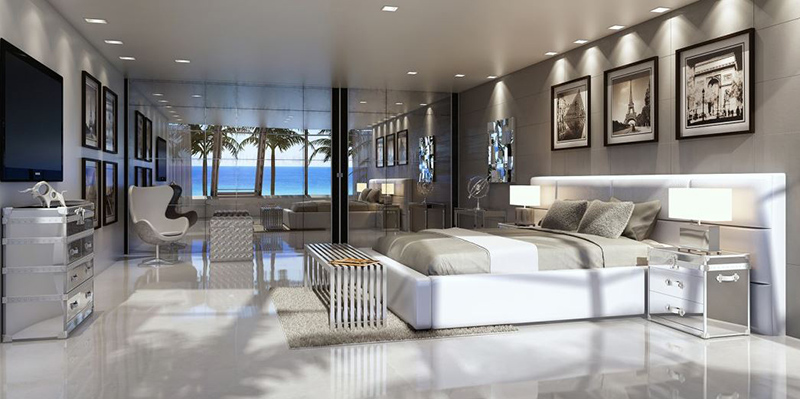 Live the urban life in elegance with these modern furnishings! Chrome furniture paired with a stylish bed with an over-sized headboard is sure to give your space a luxurious and comfortable feel.
A modern bedroom is not that hard to achieve as long as you have modern furniture to fill your space. You have seen those remarkable modern bedroom furniture on our list that is sure to give your condo space a fresh and stylish look. For those with small bedroom space, make sure to pick furniture that will help you save space. Choose wardrobe with sliding doors that goes up to the ceiling to maximize your space. An innovative bed with a lot of functionalities will not only help you save space, but it will also help you save more money as well. Getting a complete bedroom set is a good way to keep a well-coordinated look, and maintain the minimalist allure. A well-placed large-scale mirror will not only give your room depth, but it will also give your space an illusion of a larger and extended space. Lastly, make your room cozy by choosing the right lighting fixture, those with dimmer will work wonderfully in creating an inviting and relaxing ambiance that all bedrooms should have.