15 Outstanding Moroccan Living Room Designs
An instant way to create authenticity to your Moroccan-inspired living room is to add kilim rugs and pillows. The wool and flat weave method means that these textiles are sturdy enough for high traffic as well as indoor and outdoor exposure. They would make the perfect addition for a sunroom. If you're interested to discover more about what we are talking about, check out the list that we have for you today.
We will be showing you 15 Outstanding Moroccan Living Room Designs that will catch your breath. And if you think white seems too stark, punch up the color factor by adding a touch of Morocco or Mexico. Natural medium-toned woods mixed with the red, rust, and gold patterns found on the pillows and rug provides a foil for the bright walls. Just like the photos we have below, let us go ahead and take a look at them so you will know more of what we are talking about.
Detroit Living Room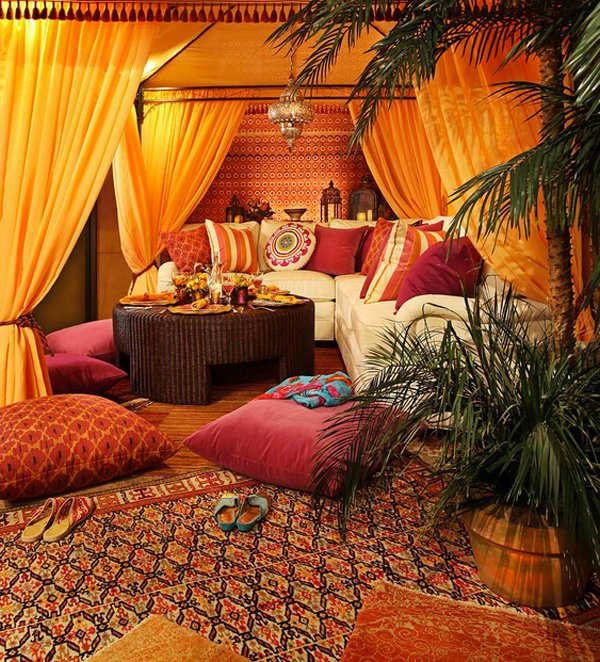 The color choices for this room is very vibrant – something one happy person would love to use for their homes.
Hermosa Beach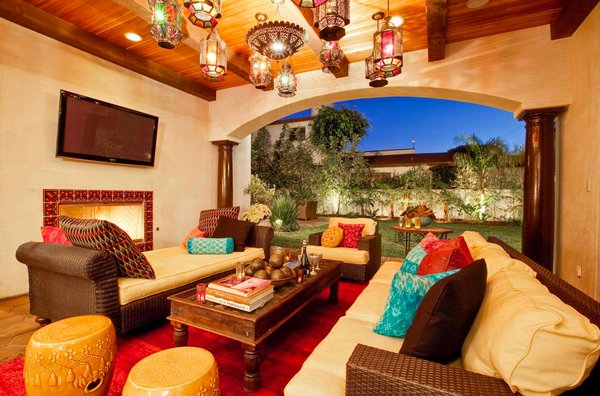 Wood ceiling, open to the outdoors, the furniture, warmth and did we mention the lamp collection that just looks about right?
Highland Beach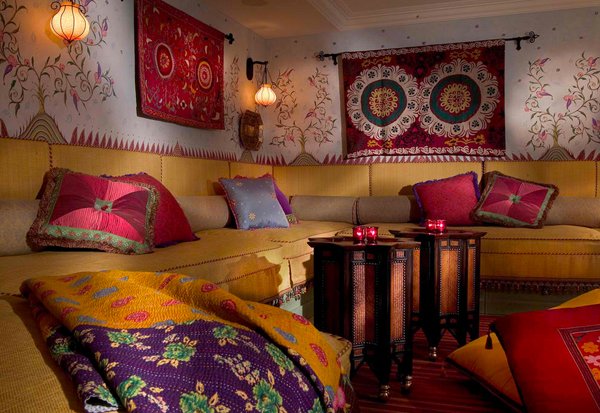 These pillows were custom made by Gil Walsh Interiors; so if you love them, you can always check on the designers to be able to get lovely pillows like these.
Hyde Park Brownstone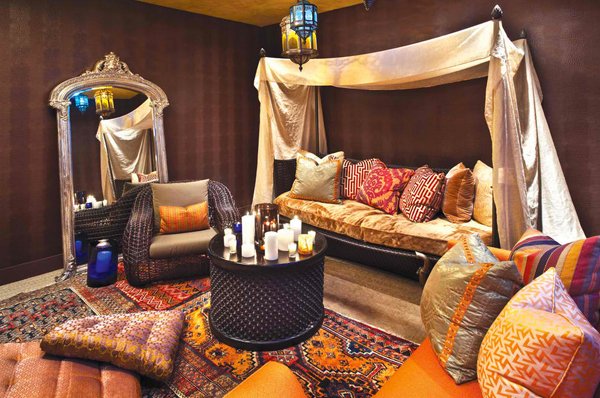 The cushions may be the most interesting part of a Moroccan-designed space. One look and we can assume Chinese because of the reds, but with the lamps and the carpet – we can tell otherwise.
Malibu Family Room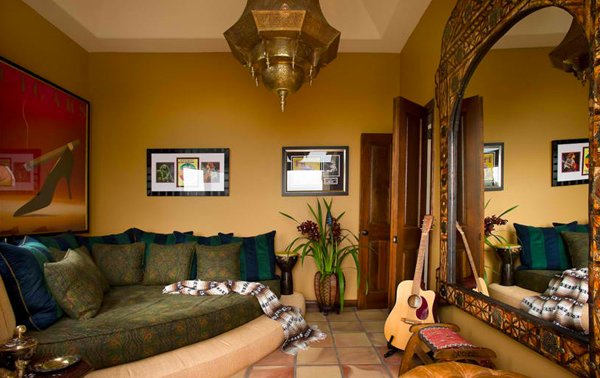 We love the colors of the walls. It's simple, it's neutral and it complements the blues and the greens just right.
Moroccan Living Room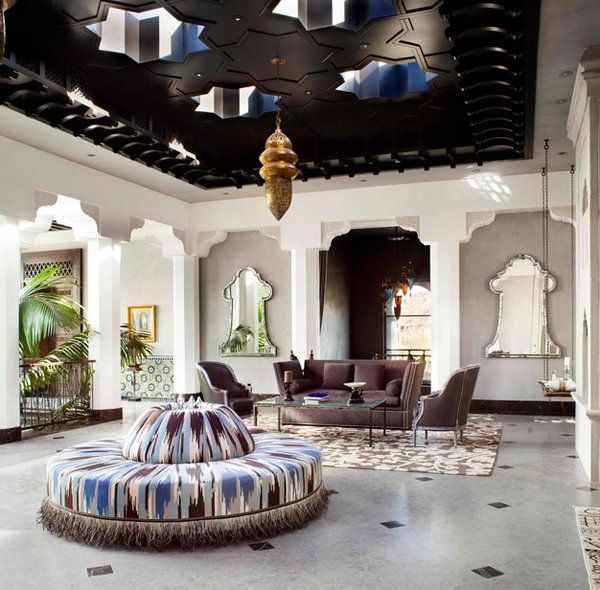 The shaped entryway and mirrors to echo that theme completes the look and the beauty of this home.
Moroccan Lounge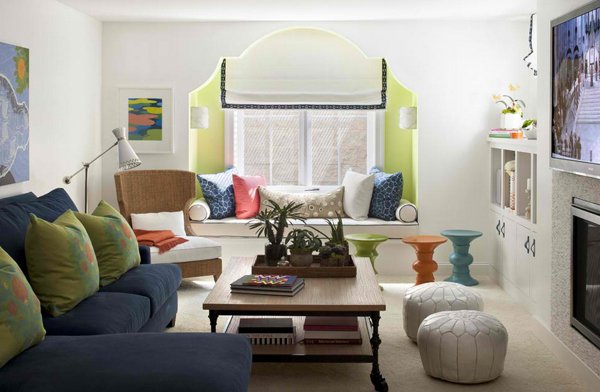 Minimalist Moroccan does exist! This neutral space is cranked up a notch with colorful accents and an inspired napping window.
Parkview Residence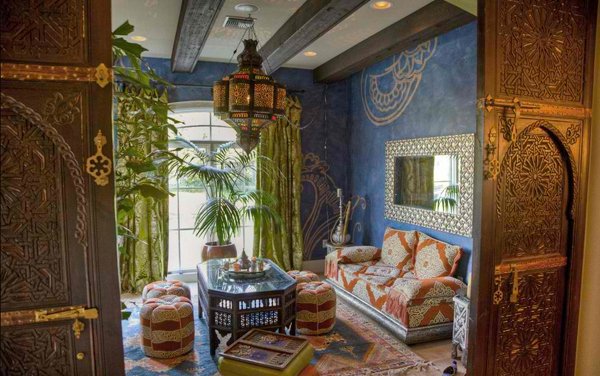 This room was designed to bring the homeowner's back to a time and place they enjoyed from a trip to Europe. Authentic furniture, rugs and accessories make this space truly magical and give you the feeling you are relaxing in the heart of Morocco sipping tea.
Phoenix Transitional Home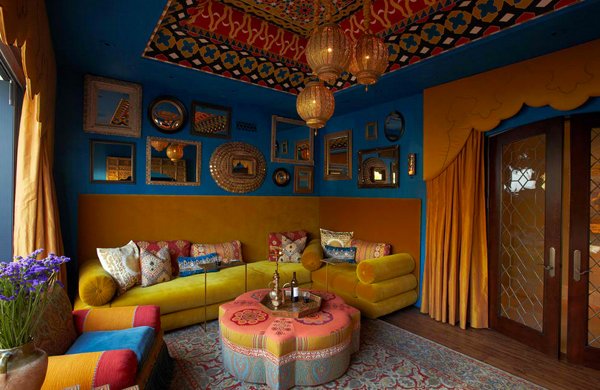 Vibrant Moroccan-inspired lounge/tea room. The colors are just enticing and fascinating. The mirrors on the walls remind us of Snow White, don't you think?
South Hampton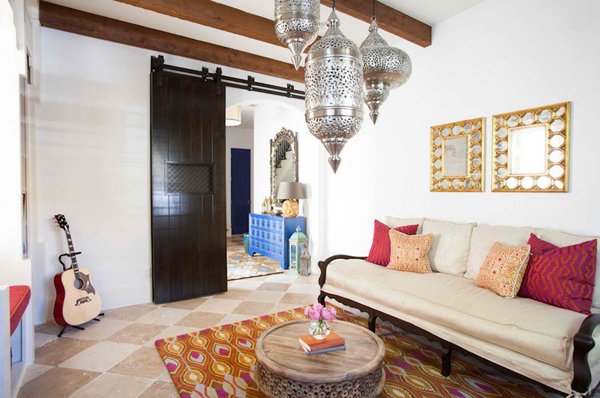 This formerly dark study off the foyer is now a light and colorful space that inspires one of the owners, who spends her days writing.
Southampton Moroccan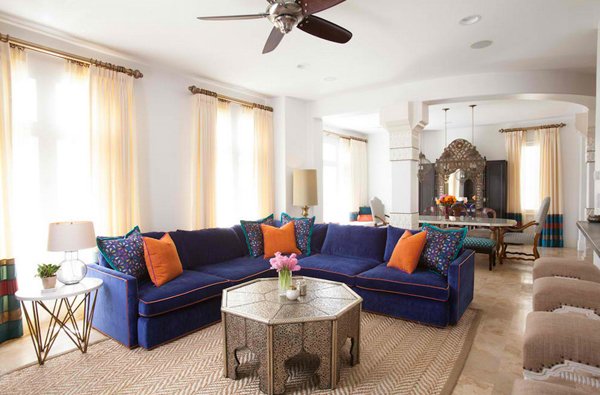 "Our client requested a blue sofa – it was at the very top of her list," Umansky says. "It made it very easy for us to inject color into the home. She had no fear of vibrant hues whatsoever!"
St. Simons Island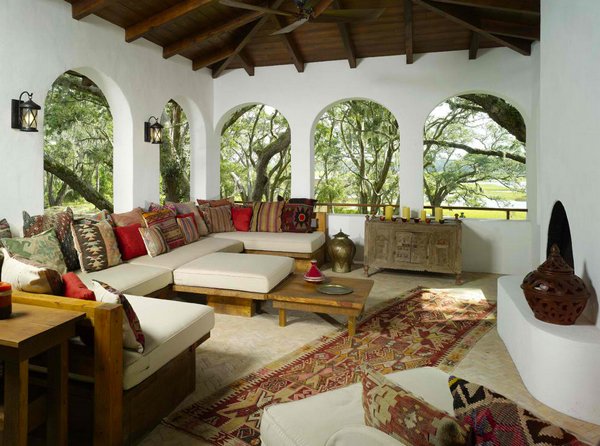 While the colors and patterns in this mix are very diverse, most of the pillows are kilim, which ties the large group of them together.
Tampa Moroccan Home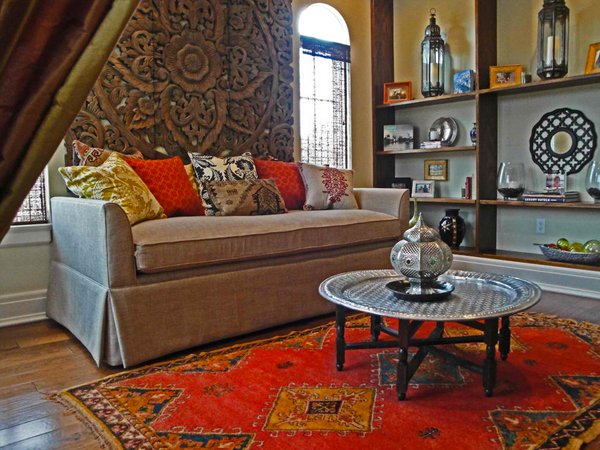 This space is located just outside the master bedroom and is used as a "reading nook" and a place to relax. The rug, lanterns and tea table are all authentic Moroccan accents.
Toronto Moroccan Lounge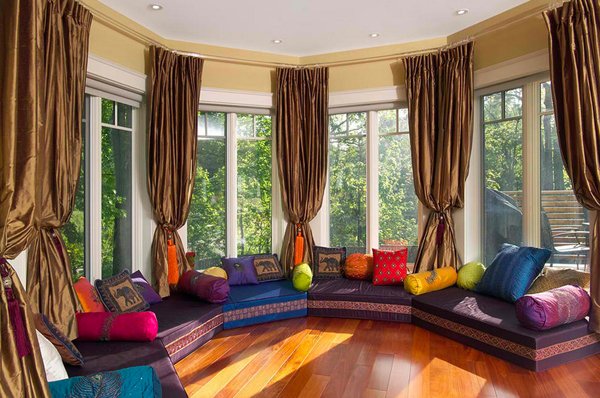 This space is one enticing lounge for entertaining guests.
Tribeca Loft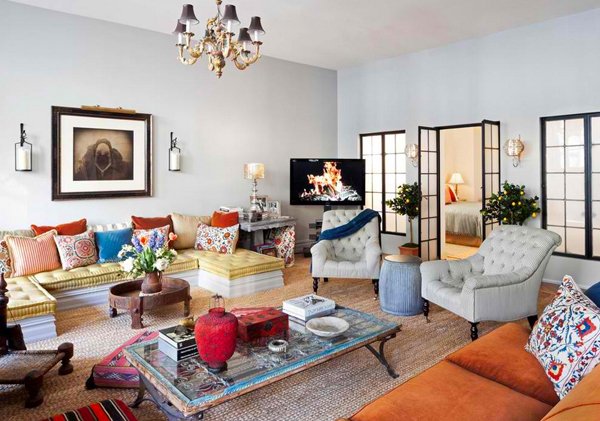 Looks like it has taken years to accumulate the items in this room. Comfy, cozy, beautiful.
If you love kilim, you aren't limited to only rugs and pillows. An ordinary ottoman or footstool can be transformed by wrapping it or reupholstering it with a kilim weaving, just like with some of the examples we have above with the 15 Outstanding Moroccan Living Room Designs. Of course, there are more to Moroccan designs than kilim, but if you the photos above, check out the 15 Scandinavian Living Room Designs and share this to your friends!