15 Beautiful Traditional Coffered Ceiling Living Rooms
Interior designs with a traditional look would most of the time adapt coffered ceilings especially for the living room. They do that in order to add formality to the space. Well, it sure does look formal! Coffered ceilings are comprised of a series of sunken panels with some molding around it. It may come in rectangles, curves, circles and other designs.
We have gathered some living rooms with coffered ceilings for today's post. But these living rooms were designed to get a traditional interior which we will see from its usage of materials, furniture and decoration. Now, why don't you scroll down and check out what we have collated for this round-up.
Irvine Terrace
Custom glazed stain finished paint was used for the ceiling adding some sheen to it.
Surf Road House 11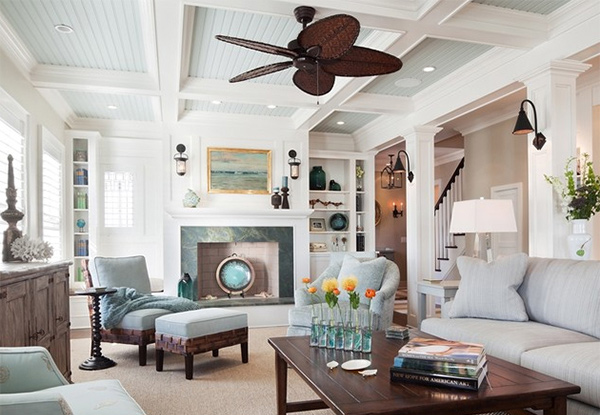 Furnishings from Point Beach Interiors in Point Pleasant Beach, NJ fitted well in this living room with white coffered ceiling.
Game Room
Patterns are everywhere in this room. Note the coffered ceiling that has is not as sunk as other ceiling designs.
Marco Island Condo Living Room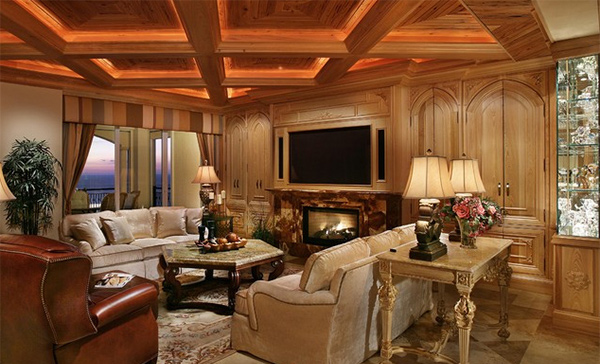 This is certainly a traditional space from ceiling to furnishings! Note the design of the ceiling that adapted to shape of the area.
Quinlan Residence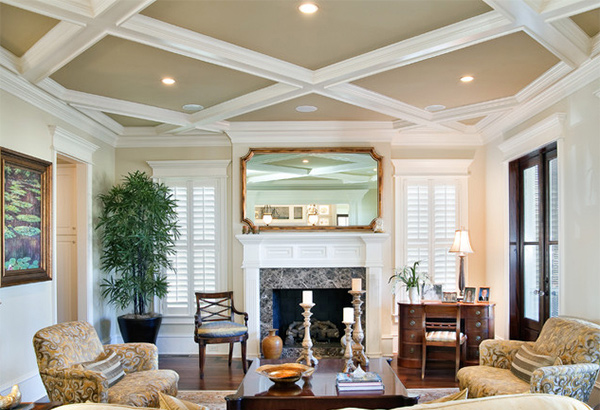 Adding this ceiling design to the living room with 10-feet high ceiling bring in intimacy and acoustics to it.
Living Room Minneapolis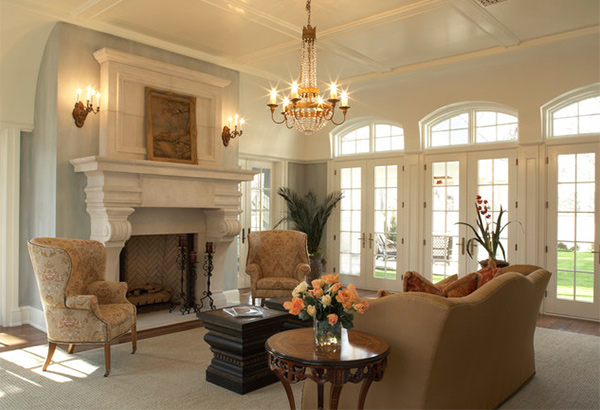 Paint used for the ceiling is Benjamin Moore HC-145 with their Metallic Glaze over the top to give it a bit more sheen.
Kiawah Flyway Oceanfront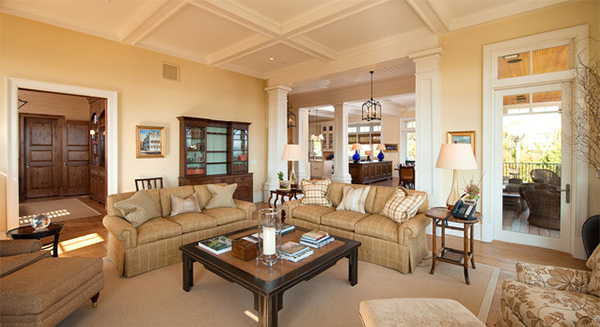 A spacious living room with white coffered ceiling and columns.
Kate Marker Interiors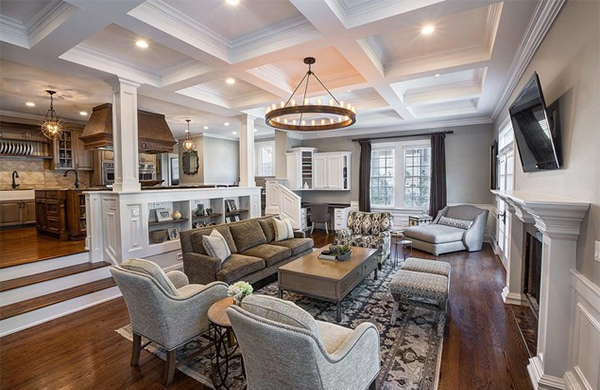 Lovely furnishings for a living room that has printed carpet.
Seaside Escape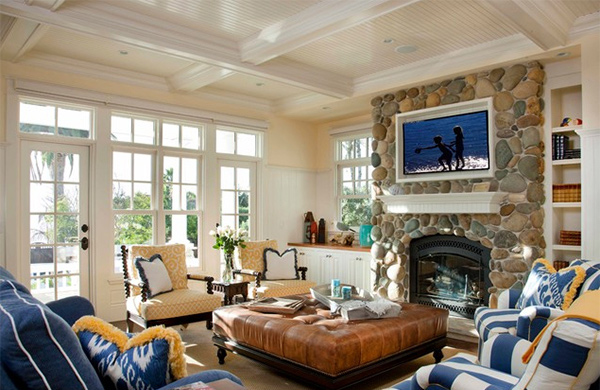 Striped chairs are Lee Industry piped in a yellow Sunbrella- this is one item in the living room that looks attractive aside from the stoned wall and ceiling.
Amalfi I
A luxurious space with browns and whites all around it and some comfy sophisticated furniture.
Lot 855 @ Norton Commons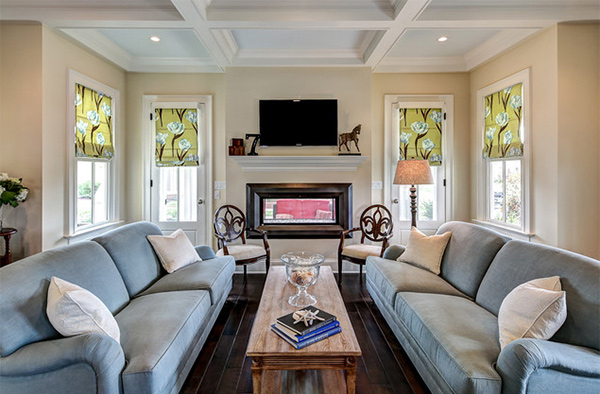 Floral shades in the windows are added beauty to this living room as well as the wooden chairs at the end.
Oceanfront Residence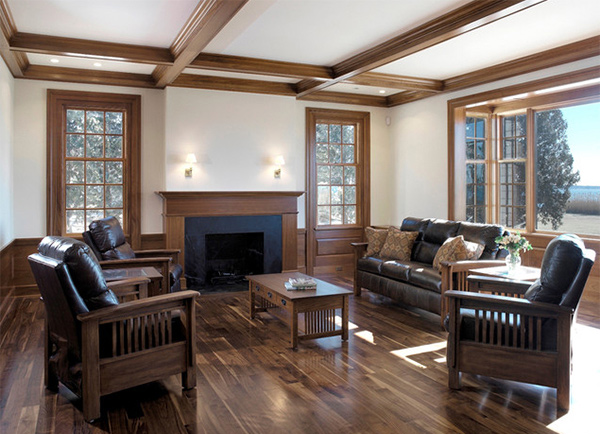 Coffered ceiling in Arts & Crafts style with much wood all around.
Great Room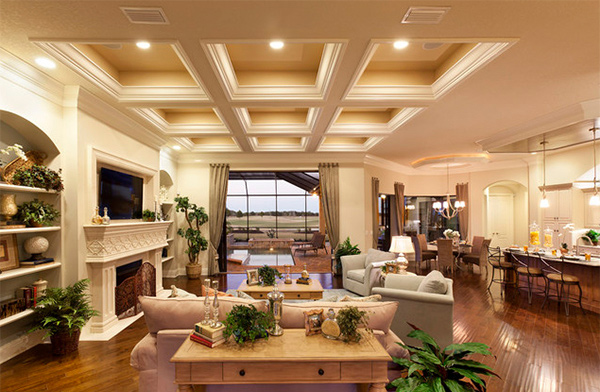 A 16″ deep ceiling framed in and dry walled to create the 9 squares. Each square has a recessed can light and an accent painted interior.
Caruth Home – Fall 2012/Winter 2013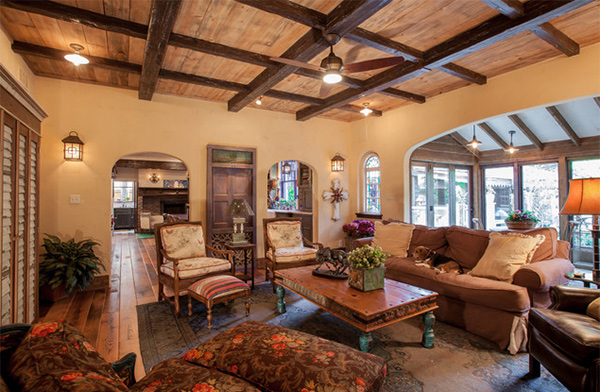 Who says a rustic living room cannot get a rustic coffered ceiling?
LuAnn Development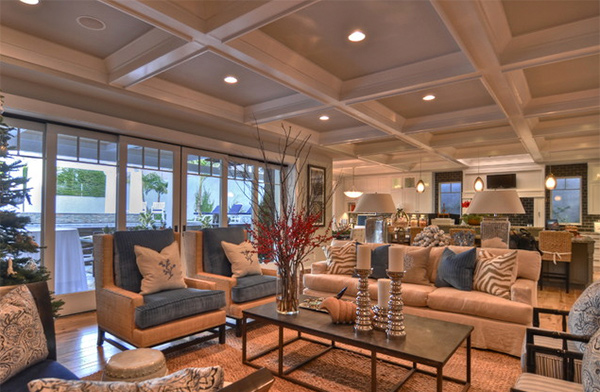 A contemporary traditional space with pops of blue in it.
The traditional living rooms above sure are beautiful especially with the coffered ceiling. Aside from this list, we also have collected images of contemporary living rooms with coffered ceilings. Go ahead and check it out so you get more ideas on what to do with your space. Come back for more inspiration here on Home Design Lover!