20 Chalkboard Walls and Decors in the Living Room
Add a fun feature in the living room through chalk boards.
For most of us, chalkboards are used in school but it can also actually be used as a home decor. Many home interiors are being decorated with such. Most of the time, it is used in the dining room or kitchen to write reminders like grocery lists or even recipes. But others would have it in the living room or bedroom and this becomes an exciting element in the interior especially for the kids.
But not just kids love this because even adults who like to draw also love it too. What is good about chalkboards is that you can change the drawings on it anytime you like and whenever you add a new drawing, it is like you are updating the design of your space. Cool, right? Now, we have collated 20 living rooms that have chalkboard walls or have chalkboard decors in it. For sure, you will end up inspired after seeing this list. Scroll down and take a look.
1. West Austin Residence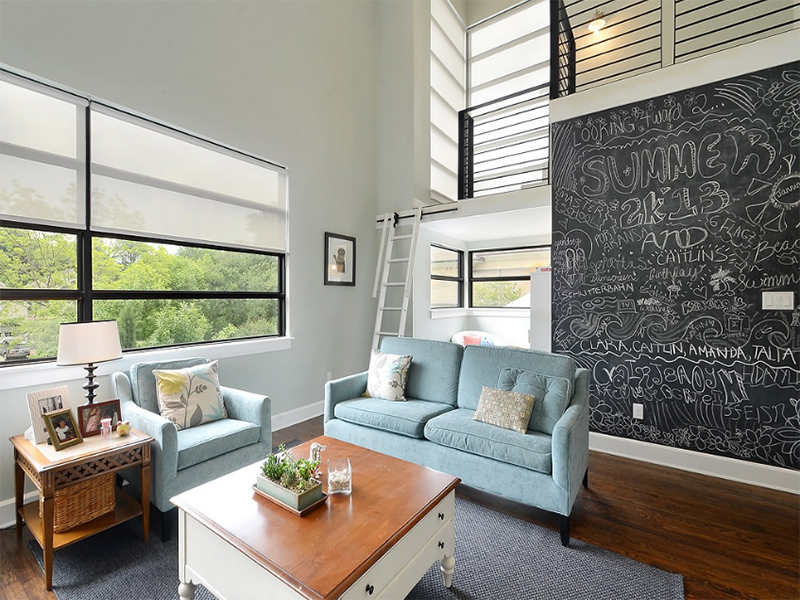 This contemporary living area looks even more beautiful with the artwork done on the chalkboard on its side.
2. SAN CLEMENTE interiors – Room renovation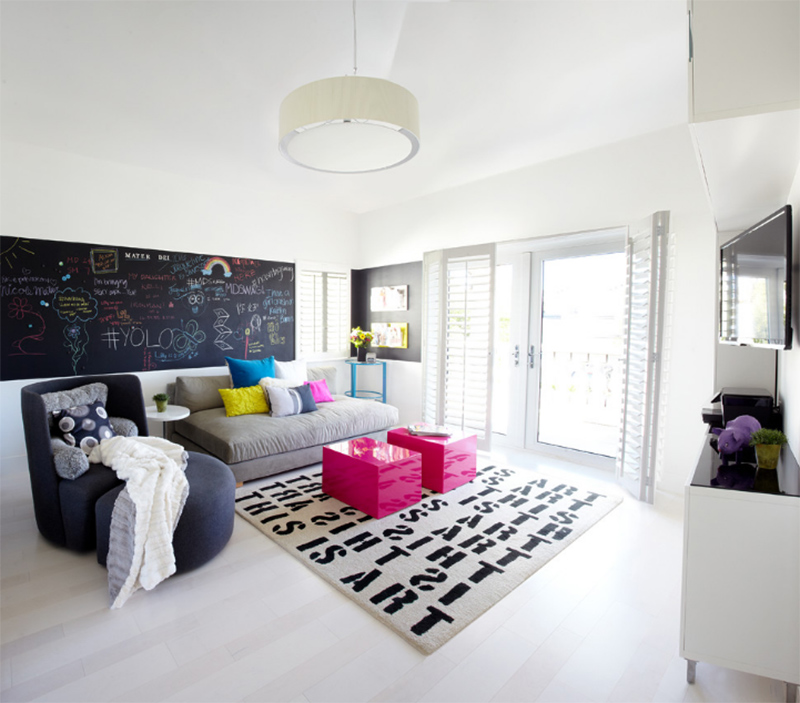 A modern space with many interesting features in it like the area rug with stenciled letters, the pink ottomans and of course, the wall of chalkboard paint with random letterings and drawings.
3. Santa Teresita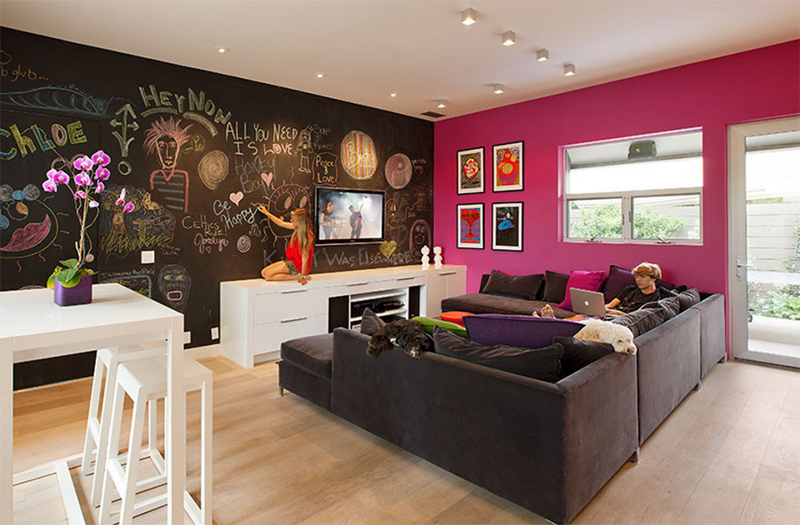 If someone in the house has a talent in drawing and lettering, then you will be blessed with a beautiful wall art. It could bring a different appeal to your living area just like this one.
4. Family Room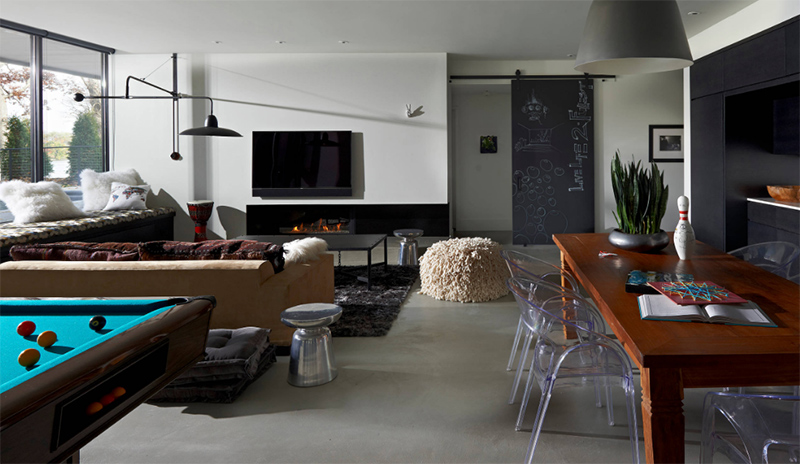 In this family room, it used a barn door to access a certain area in the house and it was painted with chalkboard paint. Notice its impact to the space.
5. Mary Prince Photography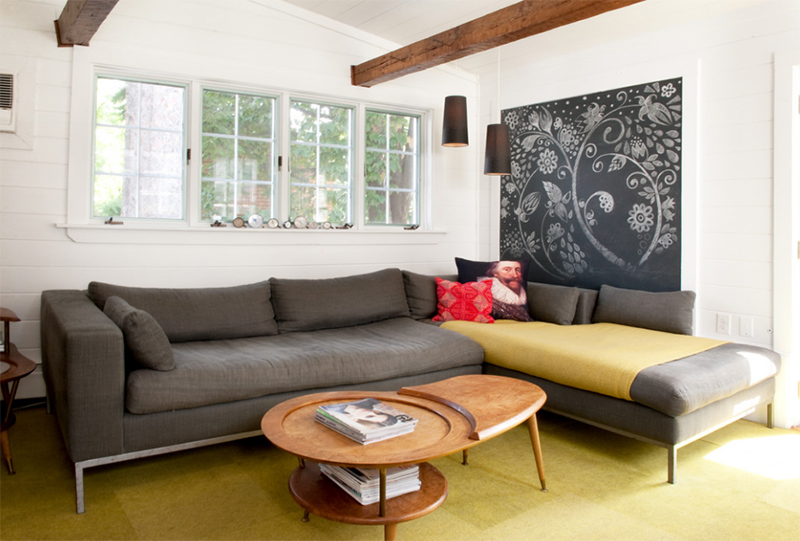 You can also just put a chalkboard like this on the wall and then draw something nice like the floral swirls on it for a home decor.
6. Tarrytown Remodel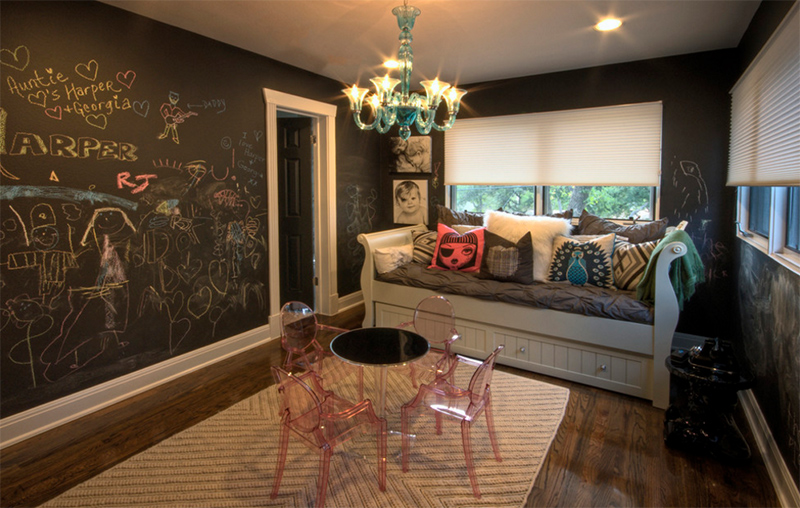 A Goth themed living room has walls painted in chalkboard paint and apparently, the kids had a great time drawing on it. Aside from that, I also like the different designs of the throw pillows here.
7. Diva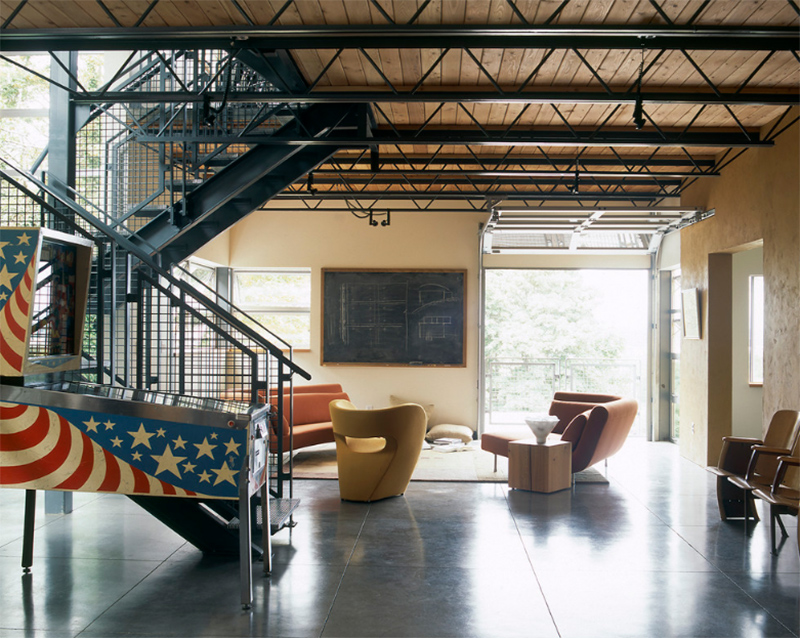 This industrial living room has some exciting decors in it that added a cheerful vibe to the area despite its expose steel everywhere.
8. Ryland Homes Pioneer Ridge Models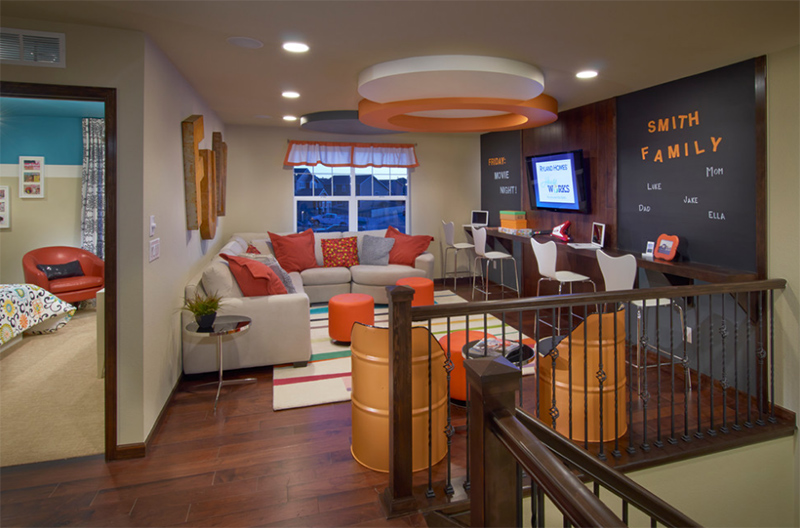 This space is perfect for family movie night featuring ceiling details, a chalkboard wall and chairs that are made from up cycled oil barrels that give this loft fun character!
9. 25,000 SF of Luxury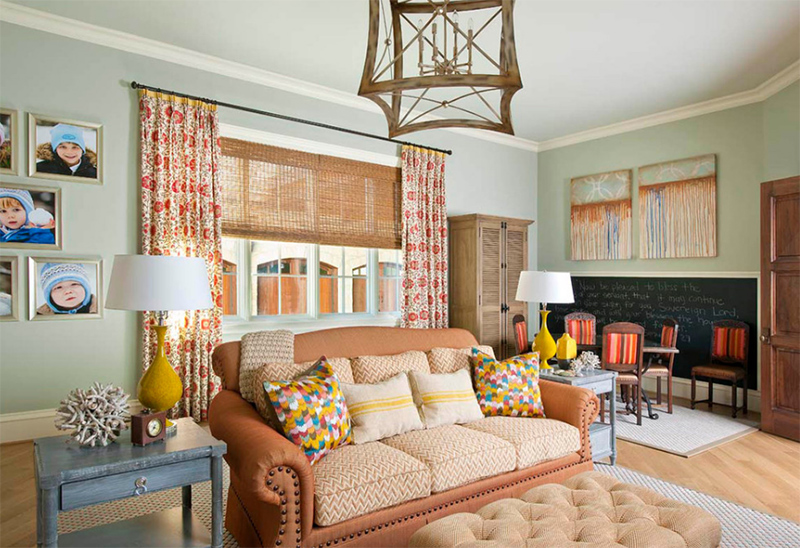 I like this traditional bedroom with the tufted ottoman and the patterns on the couch. On its far end, you can see a chalkboard but we do not know what is written in there.
10. NYC Fashion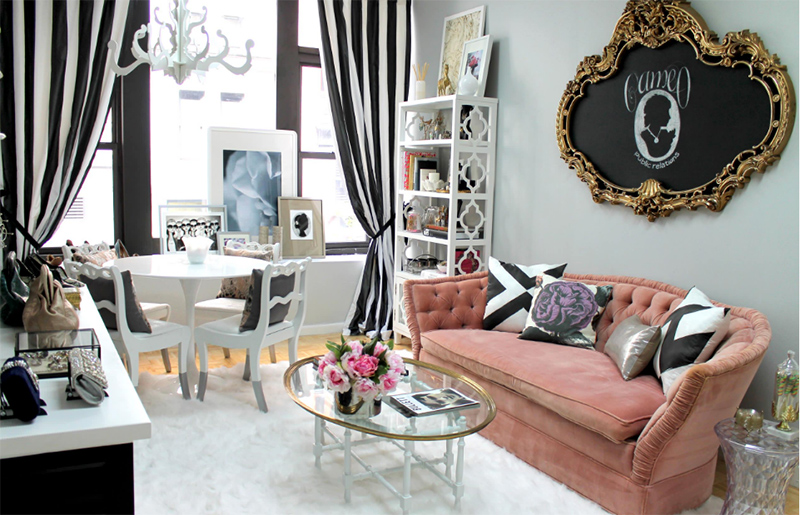 This is an award winning space and we can see why. It is very beautiful with all the chic details on it including that framed chalkboard above the sofa.
11. Bohdan Townhouse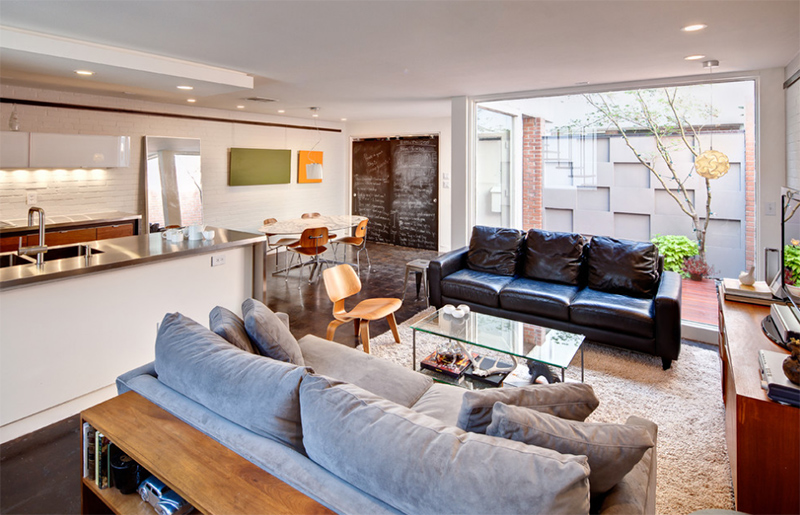 Love this space! I like the mix of furniture in it and its open plan wherein everything is just in one open area and yes, there is a chalkboard wall.
12. Early Eichler Expansion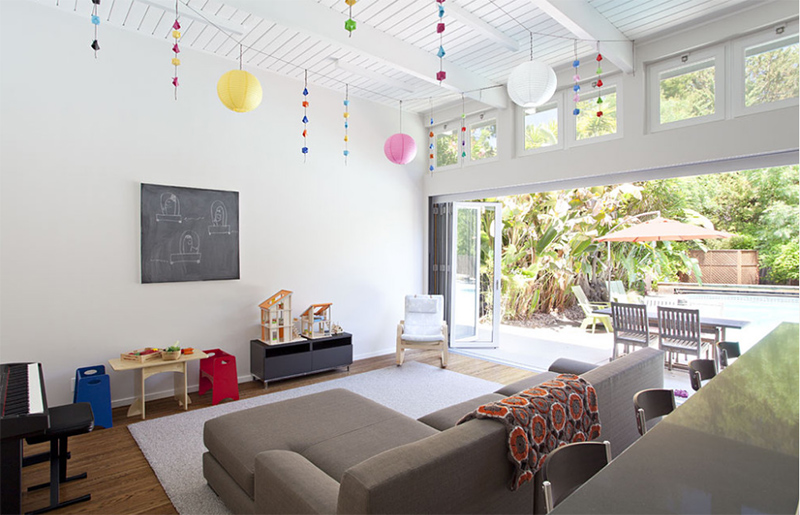 In the living area of this house, there is also a spot allocated for the kids wherein you can see kid's furniture and a chalkboard on the wall.
13. Park Slope, Brooklyn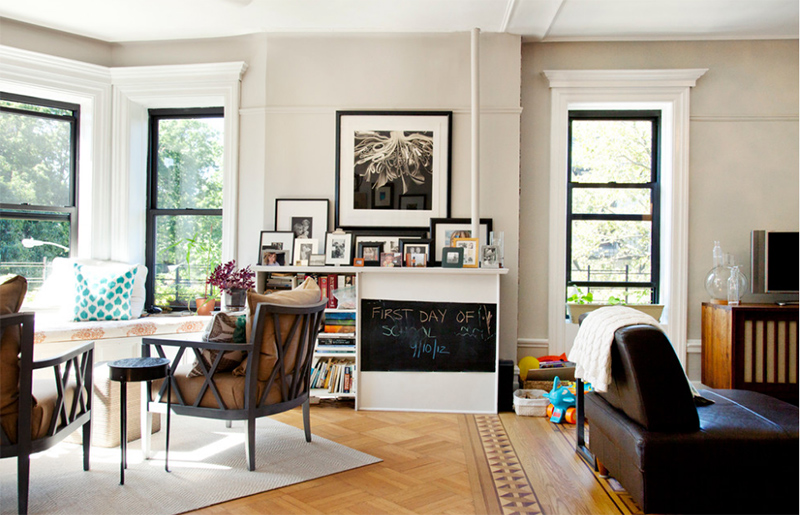 A beautiful contemporary living area with an eclectic mix of furniture. The chalkboard was added to the shelf where the books are kept and some framed photos were displayed.
14. Scandinavian Living Place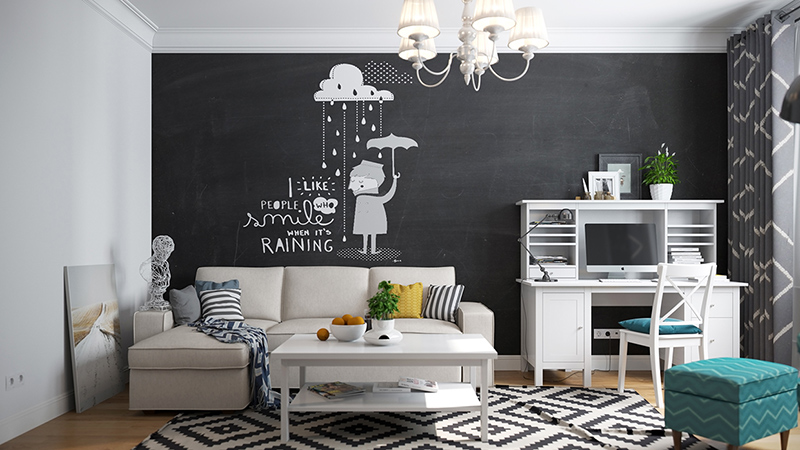 There is something about Scandinavian design that makes us fall in love with it just like this living area with all the pretty decors in it and I so love what they did to that chalkboard wall.
15. Tribeca Loft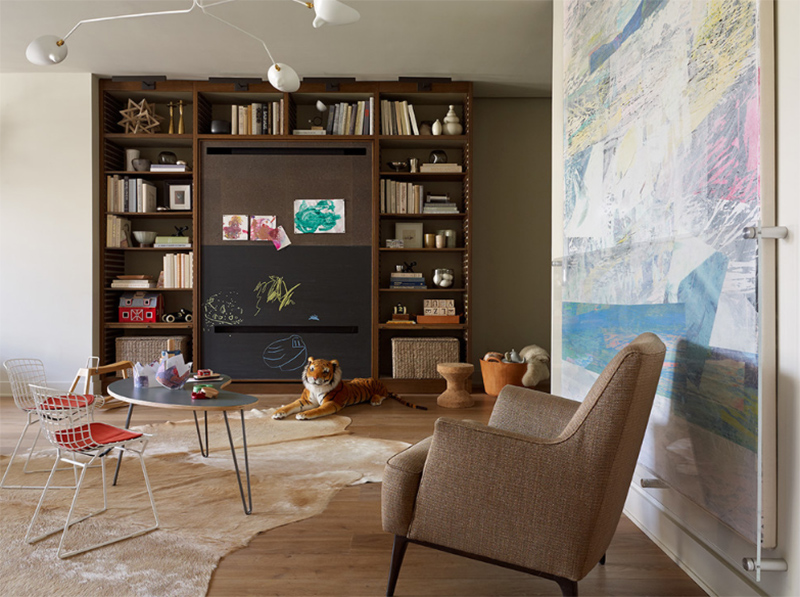 To add a more exciting accent to this living room, where apparently there are kids, a part of the tall shelf was painted with chalkboard paint.
16. Interiors in Los Angeles. Photography by Roberto Garcia
Lovely! This is a very gorgeous eclectic living room with a mix of different furniture and decors in it. One side of the wall has chalkboard paint and obviously, the kids enjoyed scribbling on it.
17. Modern Living Room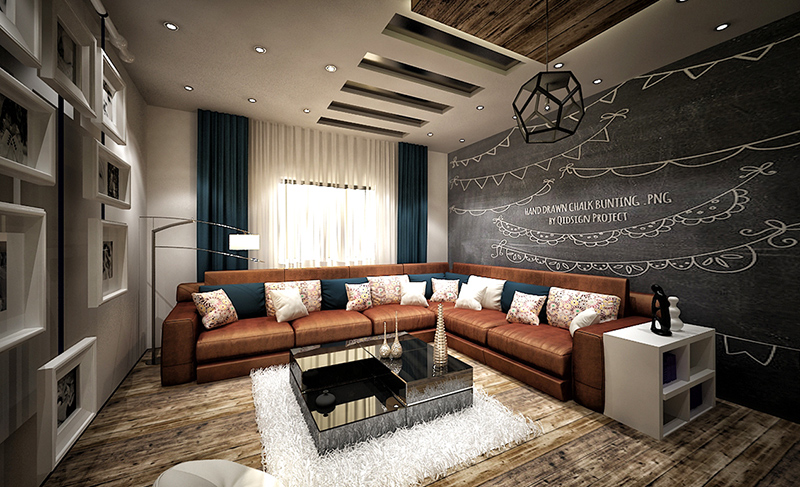 There is a brown leather sofa in this living room wherein you'll see a bunch of throw pillows on it. The area rug adds a soft appeal to the space. It is nice to see a fun addition to the area through that wall.
18. College Station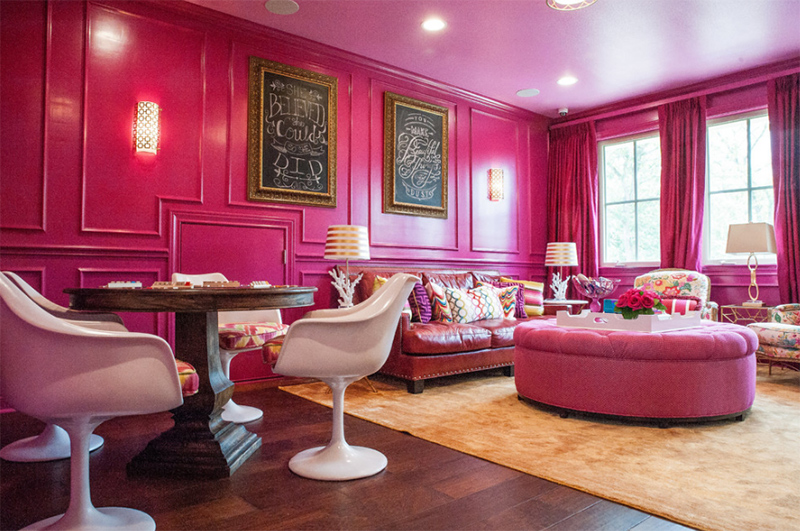 Talk about a girly and chic space a pink wall! But what we are trying to show you here are the wall decors that are made from chalkboard with beautiful typography design.
19. Ski Lodge themed room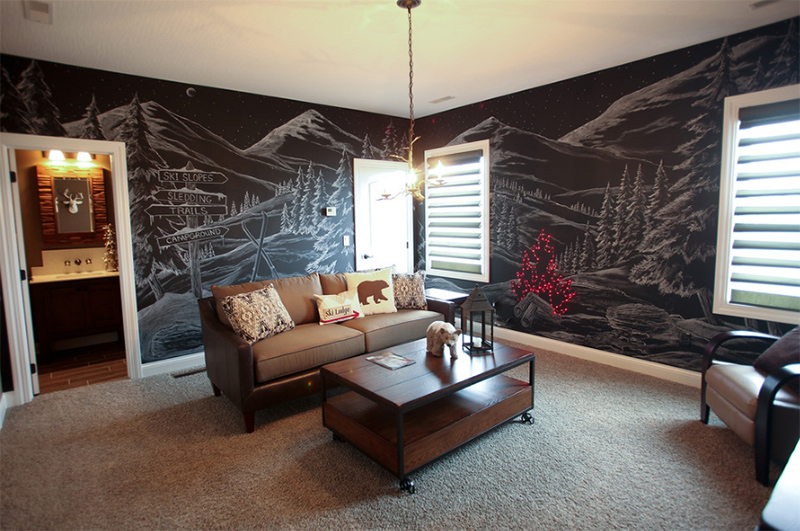 Now this is very awesome! The drawing on the walls is just perfect because this is a ski lodge. This will make you feel like you are living outdoors even if you are actually inside. Totally cool!
20. Toll Brothers Plano, TX Model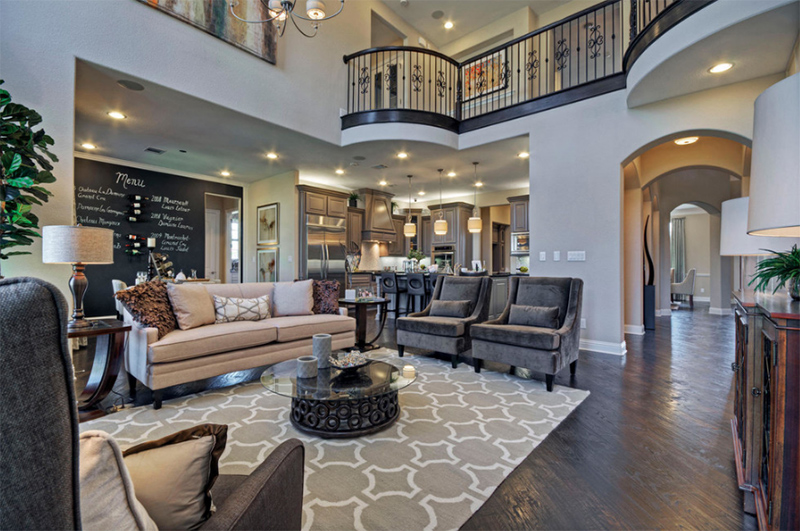 With the design of this living room, I could say that the rest of the house is as luxurious as this but what toned down its sophistication is that chalkboard wall on the backdrop of the chairs.
These are all cute, right? Well, there are different ways that you can use a chalkboard wall for your home and adding it in the living room is just one way to do it. What is good about using chalkboards is that you can change what is written on it from time to time and this will be very useful especially for special occasions. I like most of the living rooms above but of all, I find the Scandinavian living room really nice. How about you? Pick a favorite and tell us about it in the comment section below.