20 Modern Farmhouse Living Room Designs
Do you love a modern farmhouse interior?
This style obviously combines the beauty of modern interior and the usage of wooden features to achieve a farmhouse home. With the marriage of the two styles, you can achieve a beautiful home.
But we're not through yet.
There is more to what we have mentioned above. And you can only appreciate a modern farmhouse interior once you see actual images of homes that used it.
Are you ready for this?
Well, you should be. So, scroll down and check out 20 living rooms with a modern farmhouse style. For sure, you will love this look after you see this roundup!
1. Meridian, Idaho Clark Falls Modern Farmhouse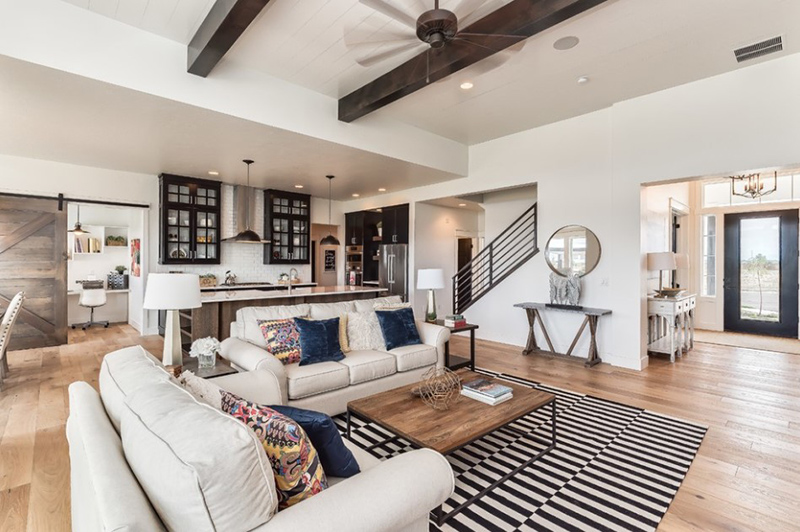 Light hardwood floors flow from room to room on the first level of this house. You can also see that it used oil-rubbed bronze light fixtures that add a sense of eclectic elegance to the farmhouse setting.
2. Altadore Showhome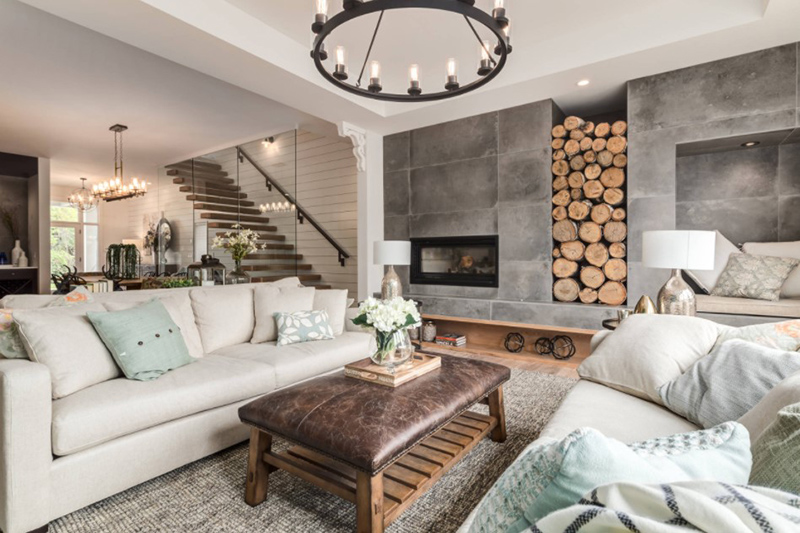 A large farmhouse living room with white walls, light wood floors, and a concrete fireplace surround. The wooden coffee table, as well as the chandelier, brought some farmhouse appeal to the space.
3. Pennsylvania Modern Farmhouse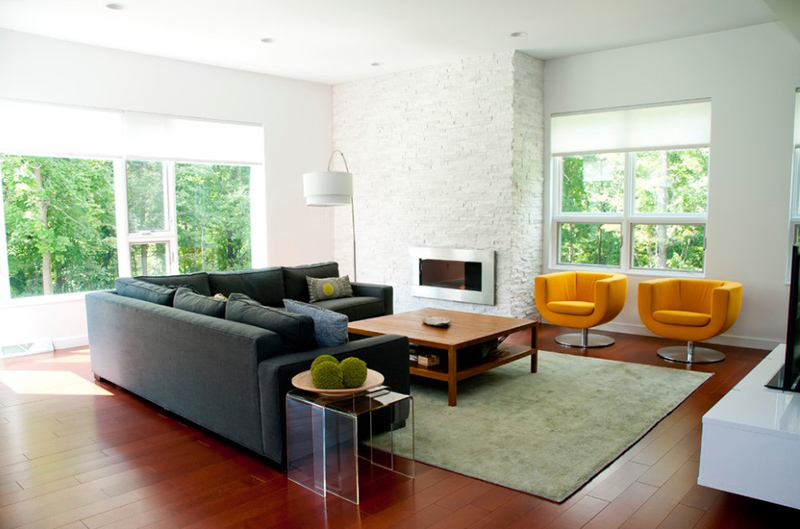 At first look, you will just see a modern living room but as you spot the natural elements in it like the stone walls and the wooden coffee table, you can see the farmhouse features in it too.
4. Modern Farmhouse in Dallas, Texas
This living room made use of limestone fireplace and ebonized oak cabinetry. Love how this interior turned out with different colors in it!
5. Modern farmhouse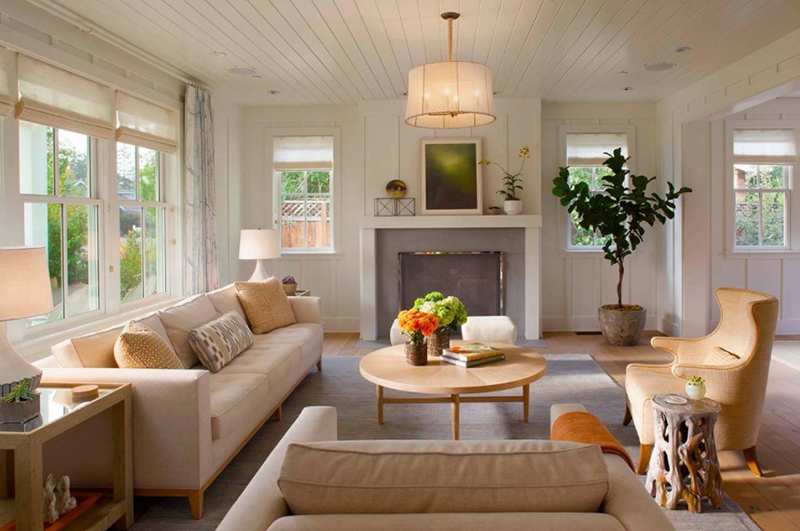 The wall color embraces the modern-meets-country living room. This space has more farmhouse features than modern ones. But all in all, it does look nice!
6. Bundy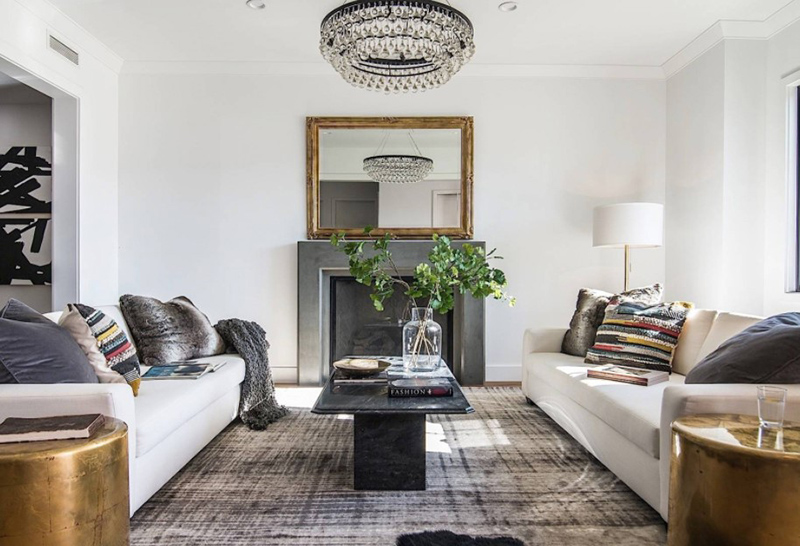 The modern classic look of this living space blends between the modern farmhouse and modern organic look. It mixed a custom table with an antique mirror and contrasting pieces.
7. Audubon Square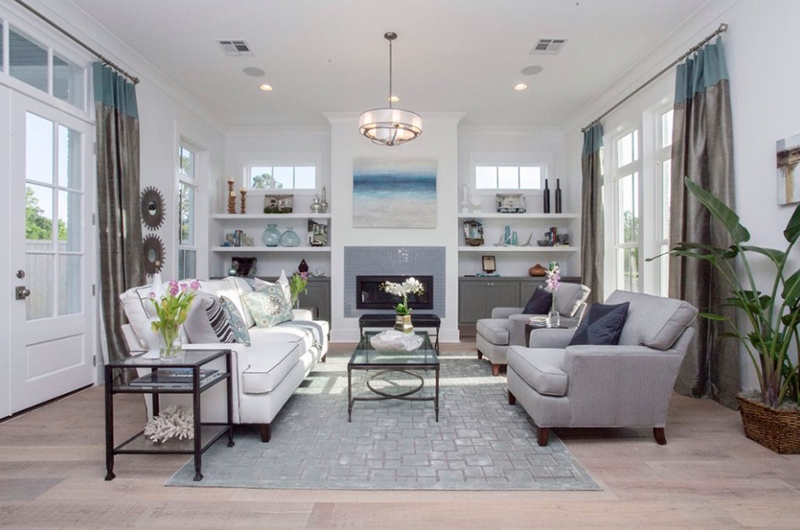 The colors in this living room are very relaxing and inviting at the same time. It is a good idea to add plants in here which gives it a refreshing feel.
8. Arroyo Grande Modern Farmhouse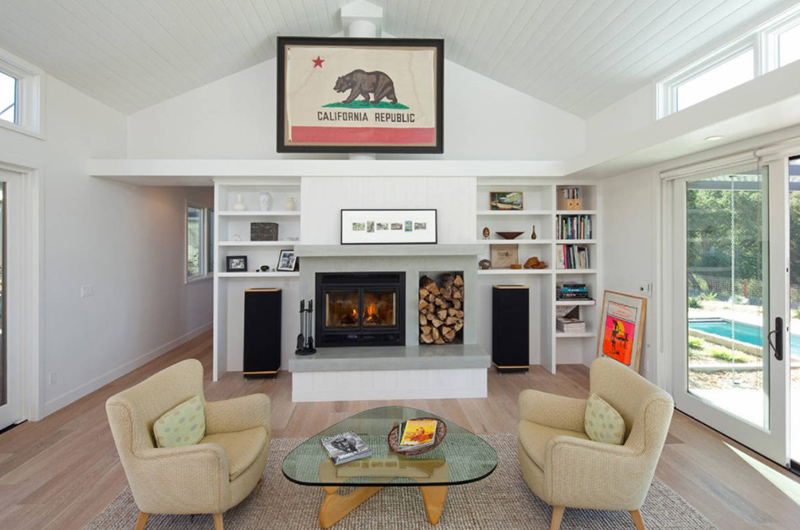 Although based on a classic concept, the home has a clear modern bent. It features the vintage California linen flag, framed postcards on the mantel are from a memorable trip, open shelves, and a triangular coffee table.
9. Living Room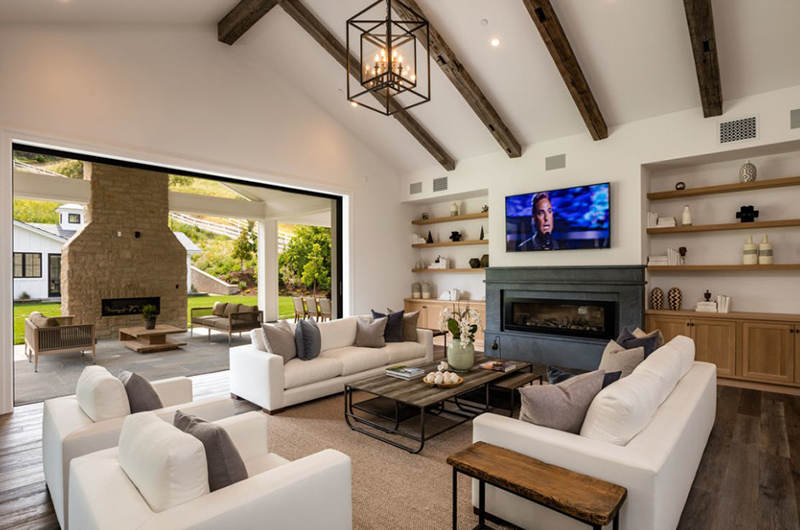 The wooden beams bring a farmhouse style to the home. But the modern couches add simplicity to the space. Also notice the light fixture, the end table, and the open shelves.
10. Farmhouse Living Room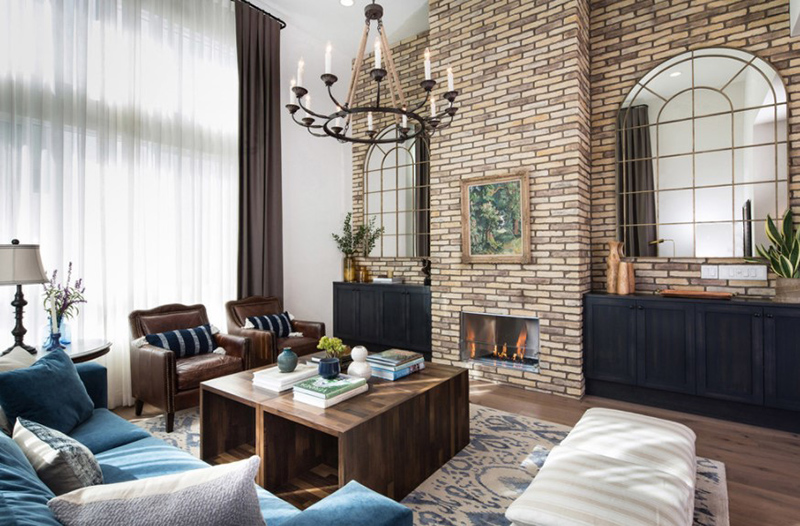 The living room's high ceilings and exposed brick bring beauty to the space. You can also see that it has arc windows on both sides giving it a subtle classic touch.
11. Old Westmoor Farm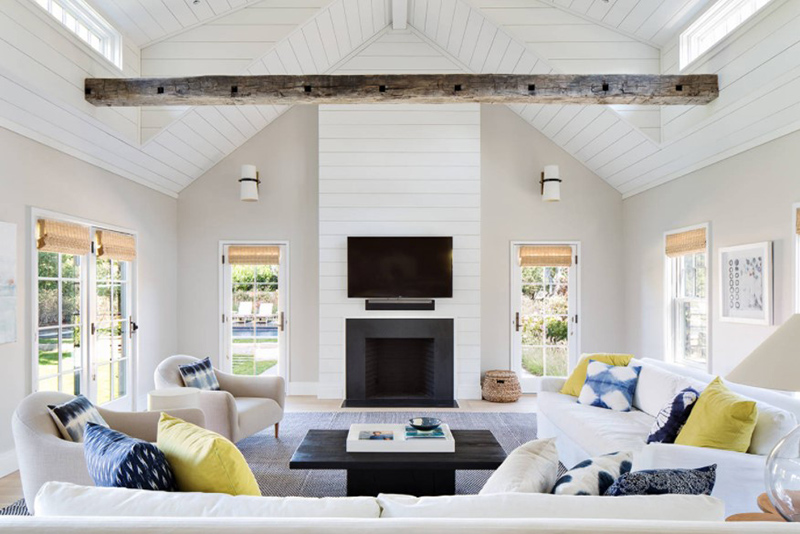 This modern farmhouse living room used a mix of pale oak walls, white shiplap ceiling and rustic beam with a black contrast. Love the colors of the throw pillow covers in here!
12. Builder Magazines 2016 International Builders Show Home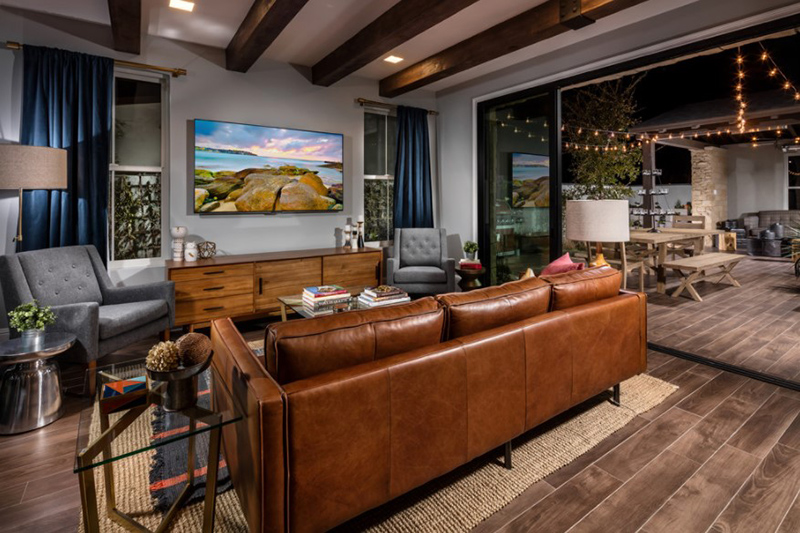 With one look, you can get the farmhouse feel from its beams and that leather sofa. And of course, there are many modern items in here which made it cozier.
13. Inverness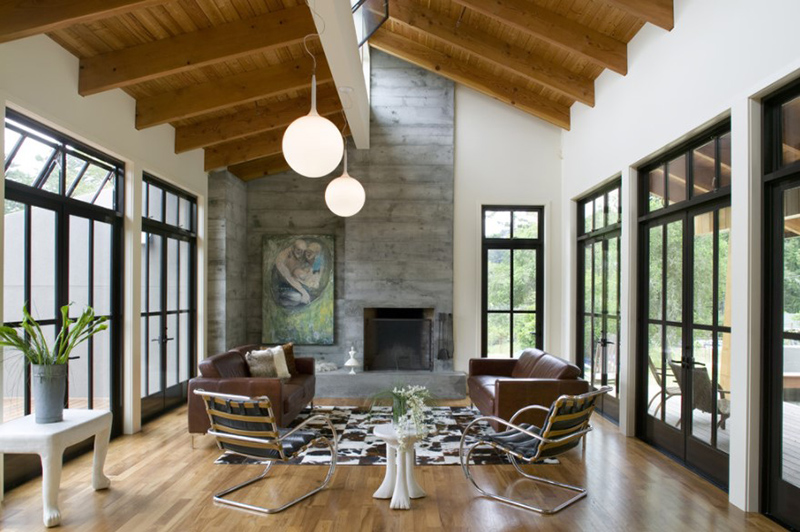 A large trendy formal open concept living room with a concrete fireplace surround, white walls, and medium tone wood floors. All around it is French windows that allow the entry of natural light into it.
14. Schoolhouse Renovation to Modern Farmhouse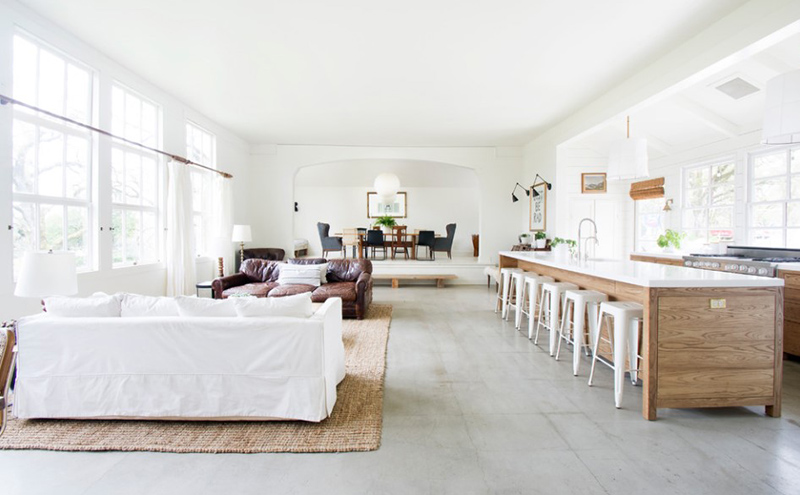 Seen here is a large modern farmhouse living room with white walls and concrete floors. It used a combination of white and wooden elements. Isn't it nice that the space house the kitchen and living area in one?
15. Hamptons Modern Farmhouse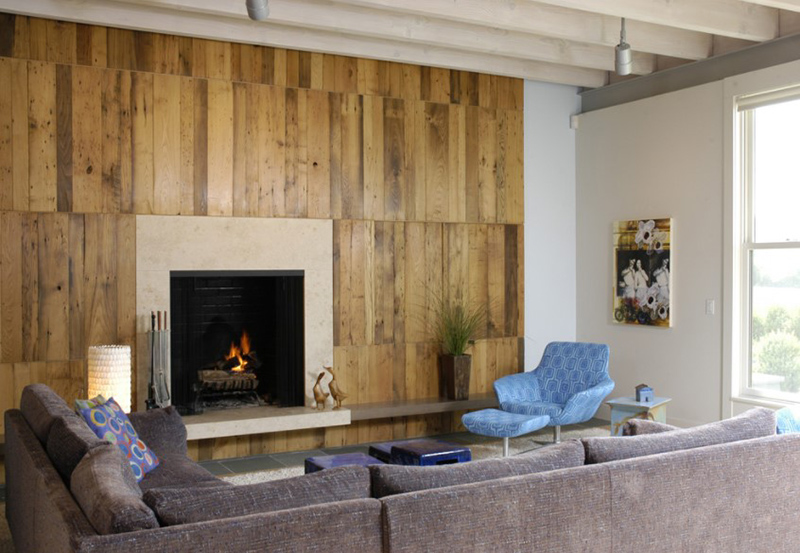 This living room has a wooden wall and an industrial farmhouse feel. But there are also modern features in it like the chair with geometric patterns.
16. Modern Farmhouse Living Room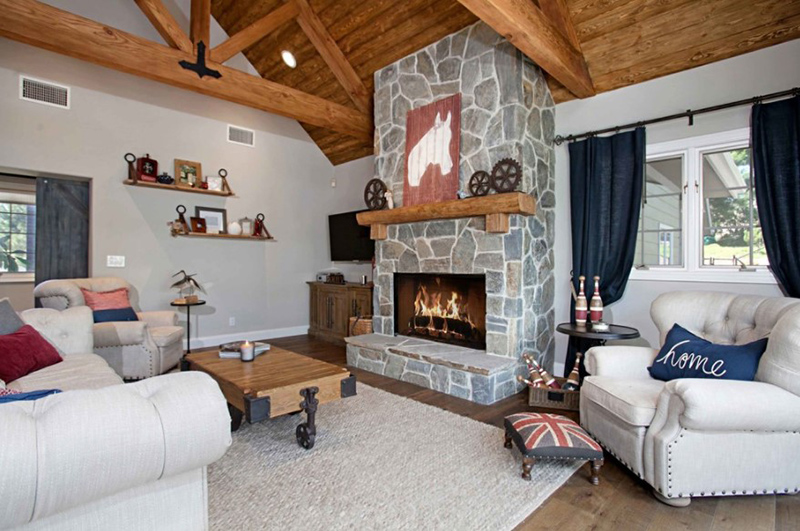 This space also has a country feel with gray walls, dark wood floors, a standard fireplace and a stone fireplace surround.
17. Healdsburg Residence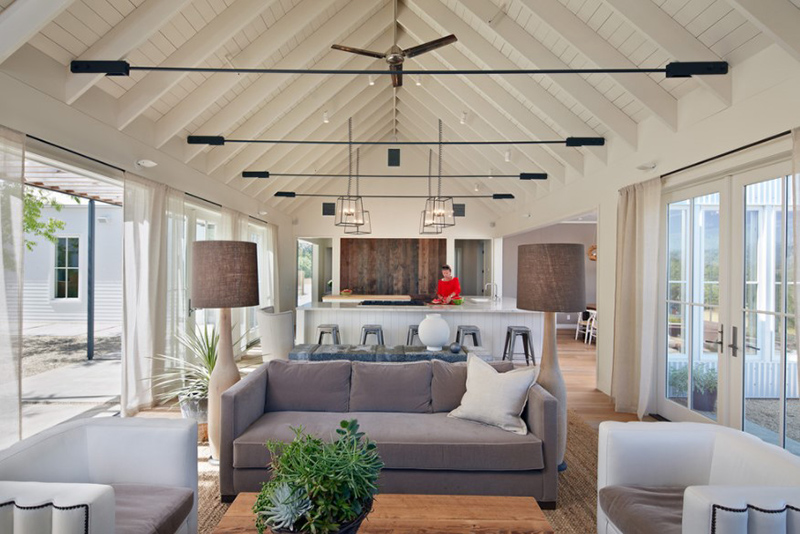 The owners of this house were looking for something more than a modern farmhouse. They wanted to add touches of glamour and industrial design. With that, the architect let black metal tie rods visible as a functional and decorative detail.
18. Rustic Modern Farmhouse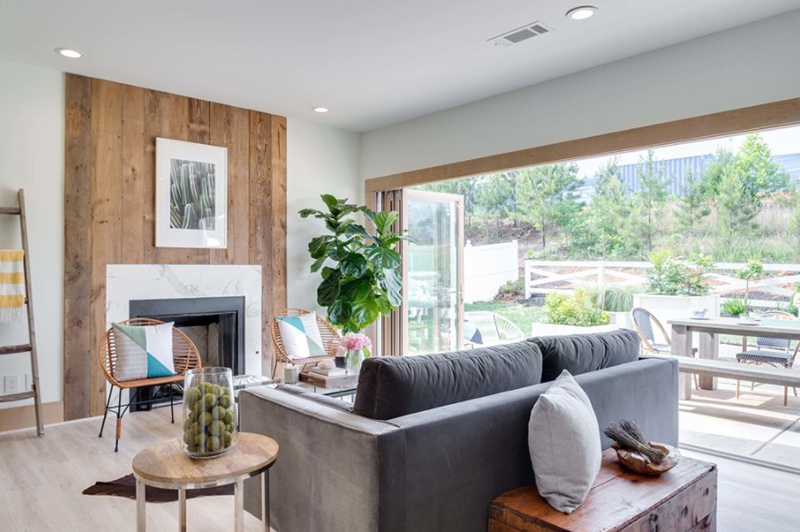 Bi-folding glass doors open up to bring the outdoors into this formal open concept living room. The wooden wall around the fireplace is a nice farmhouse element in this home.
19. Modern Farmhouse Seattle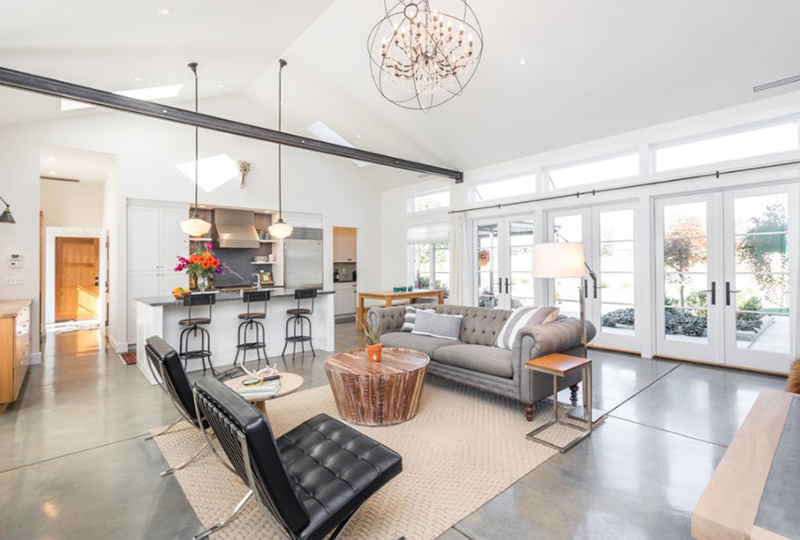 That table brings in a strong farmhouse feel in the living area with modern furniture. The area is defined with an area rug with natural color which is a good contrast with the dark colored chairs.
20. Westover Residence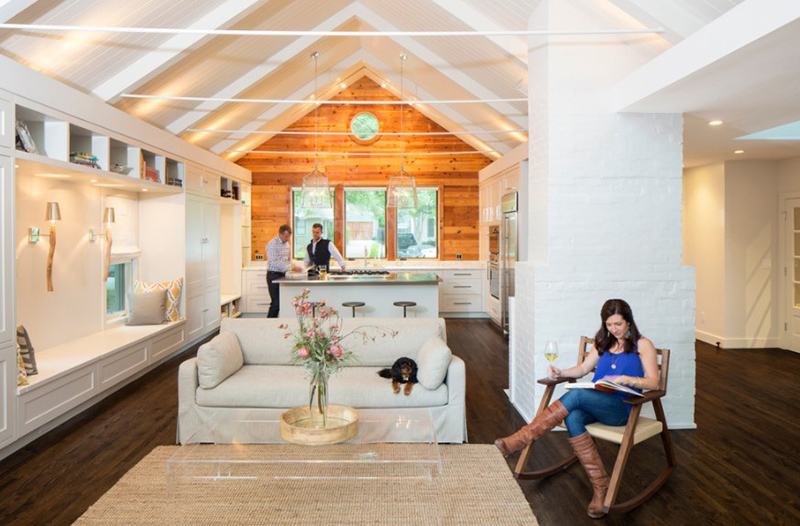 A newly raised ceiling adds a sense of volume to the home. You can see that it used exposed tie rods which adds architectural interest to the space.
You would surely agree with me that this interior design style is very beautiful! A farmhouse style has rustic touches in it while being light and relaxed instead of heavily using wood. It also makes use of cozy fabrics and even a classic fireplace. But since the interiors above combine's farmhouse with a modern style, we seldom saw a classic fireplace. However, we can really sense the farmhouse feel in each of them. Can you tell me which of the above living rooms do you like the most? Would you use a modern farmhouse style for your interior? Tell us in the comment section below.