An Eclectic Stylish Apartment Design in Ukraine
The design of this eclectic apartment was done based on the desire of the owner. Well, most the time, that would be the case because the owner is the one who occupies it. So, the designer has to make sure that the design will fit the lifestyle and preference of the owner. Initially the apartment is a two-room loft with a living room combined with the kitchen, the bedroom combined with the study and a generously-sized bathroom. This apartment located in Dnepropetrovsk, Ukraine is designed by SVOYA Studio
The designer has something to say about the interior: "High ceilings have a major impact on making the 56 square meter apartment in Dnepropetrovsk, Ukraine look bigger. The color spectrum plays both an aesthetic and a formative role. Ceiling, walls and floor finishes add elegance, particularly the white painted MDF panels, mirrors and herringbone parquetry. The lighting scheme was just as important." They "weren't limited neither by diameter nor by height, thus they could fit in luxurious and austere lighting objects Zonca and De Majo. The reflection in mirror panels creates additional depth and specific effects". So, that is what they did to the apartment and you will see their work below.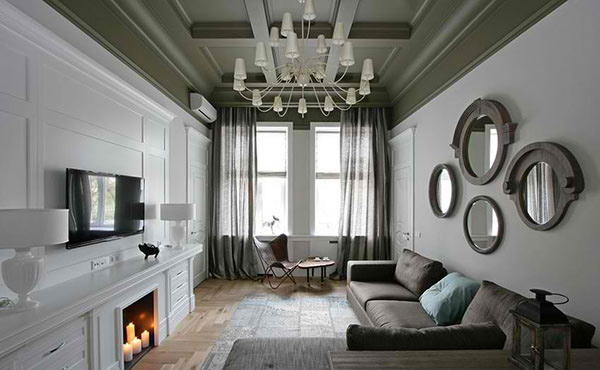 The interior has high ceilings that made it appear visually larger.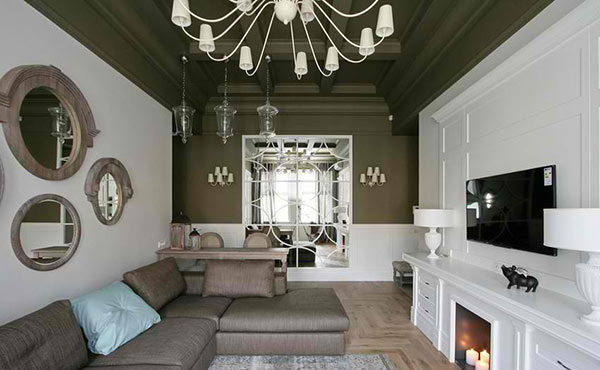 From the ceilings, lovely lighting was hanged just like this dramatic white chandelier.
A white fireplace also contains a television. We are not sure if the fireplace is used as its function but when not in use, candles sit there for decoration.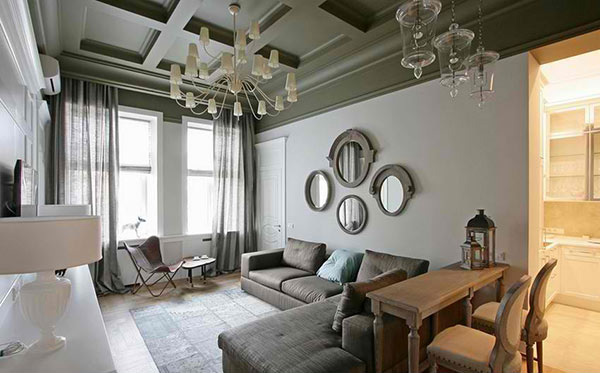 The circular mirrors on the wall are eye-candies and they also contribute in making the place appear more spacious.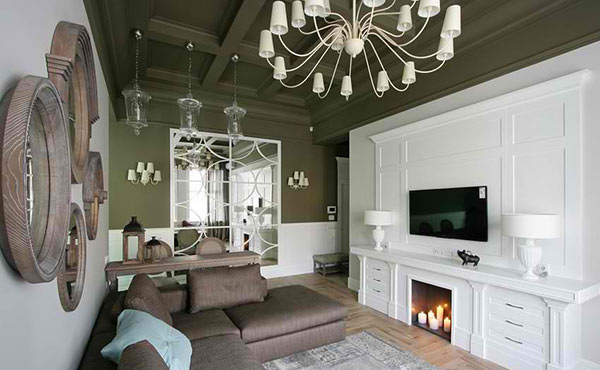 You can another mirror on the other end with rectangular shape and some intricate designs on it.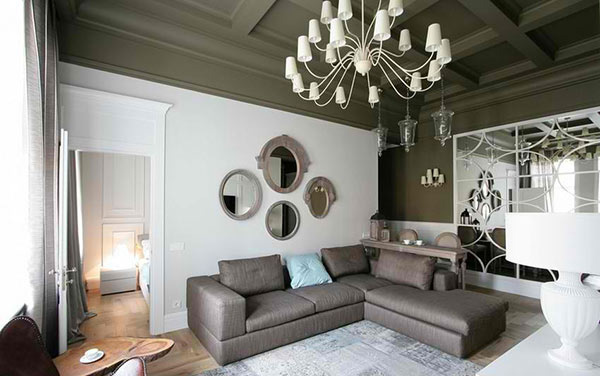 The L-shaped sofa fits perfectly into the space especially with its limit in floor area.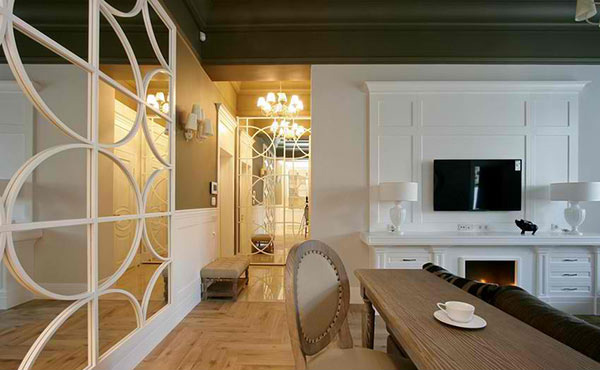 This area here is a long table in the living room which can be perfect for snacks or coffee breaks.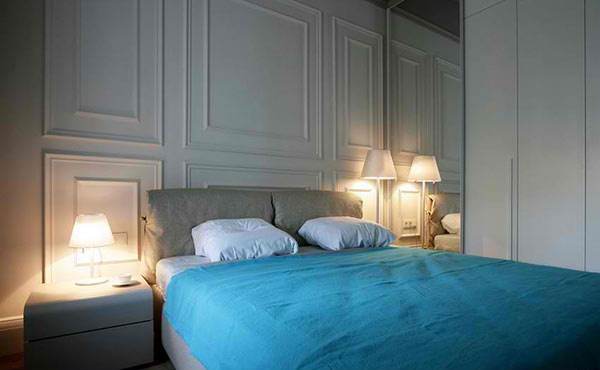 We did not expect that the bedroom is this simple but we love the lights in it.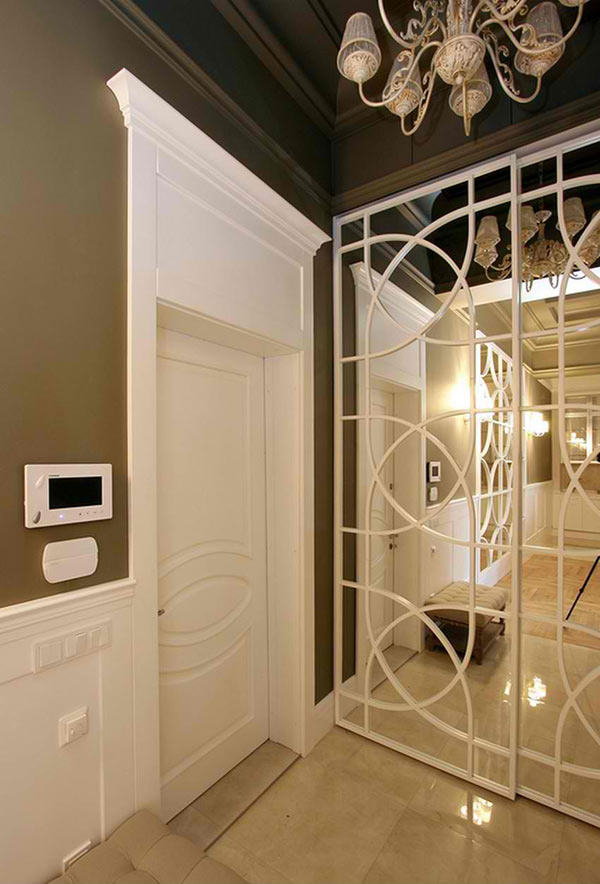 Get a closer look at the mirrored wall that is seen in the apartment.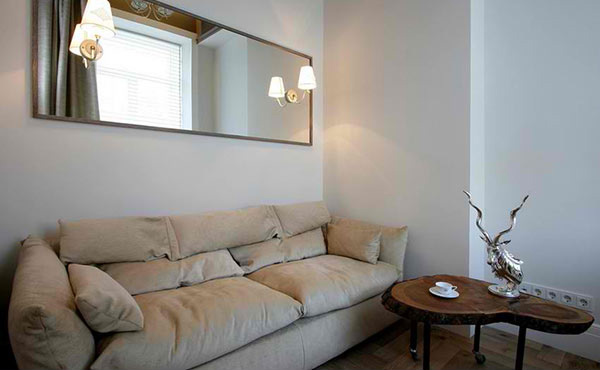 One area in the house with comfy seating and natural coffee table.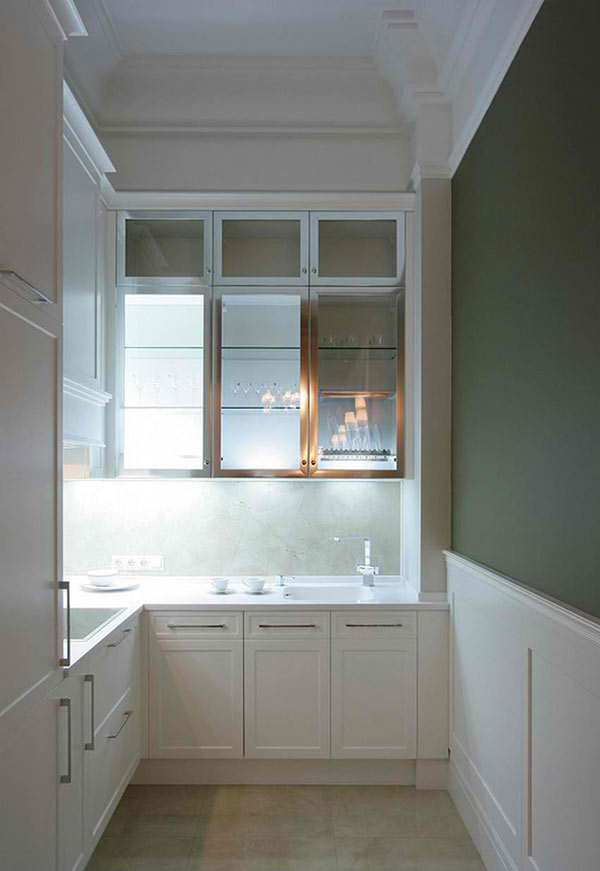 It is a good idea to use glass for the kitchen cabinets to allow light to bounce.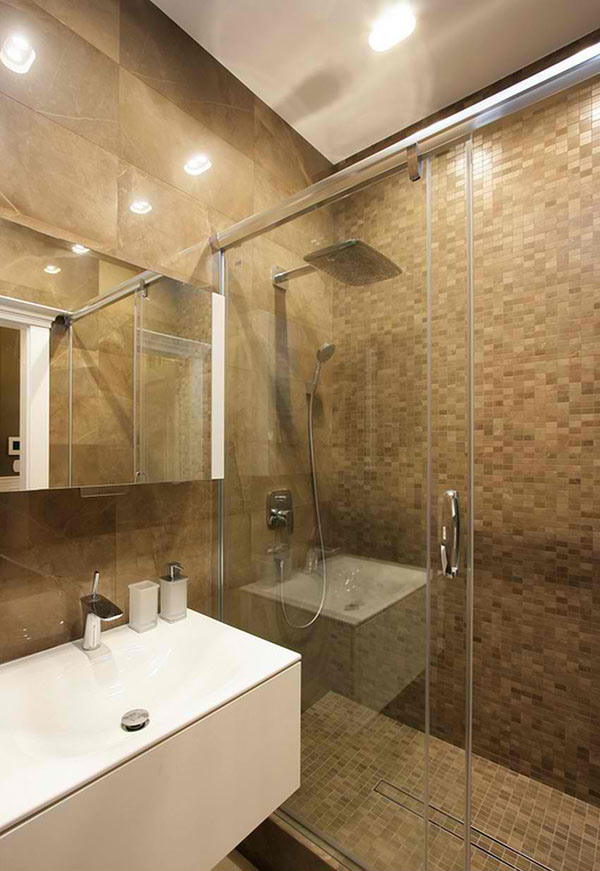 And finally, the bathroom. The mosaic wall still looks good despite its being monochromatic.
Aside from the desires of the owner, the home's look was also affected by the cultural heritage of the historic building in which the apartment is located. The apartment may be small but despite being small, it could still offer the comforts of a home. Apart from what is mentioned above, the Svoya studio also mentioned that there is "a compact pseudo-fireplace, wooden coffee table with fold leather arm-chairs and a vintage bar counter contribute to the eclectic feel of this stylish Ukrainian apartment."