Before and After: Sandunsky Loft Gets a Beautiful Renovation
Sometimes, there are life detours that we need to take in order that are unexpected. It could be an additional family member coming, a new job, or even a new home. For most of us, moving to a new home could be very challenging and life changing but in the long run, it could be enjoyable too. Couple Nikki Lloyd and Ryan Whaley didn't plan to move back to their hometown in Sandunsky, Ohio. But while visiting their family, they feel that they wanted to be part of the community. And so they moved to a lakeside town in a dilapidated late-1800s building. Do you think, they left it that way? Of course not.
Self-taught designer Lloyd exerted her efforts to redesign and renovate the building especially the interior. The 1500 square foot loft plus 750-square-foot office and a 750-square-foot cocktail bar with two bedrooms and two bathrooms turned into a stunning home after the renovation. You will see how they house was improved in the images that we will show you below. Well, they sure did a lot of work to it but it was all worth it!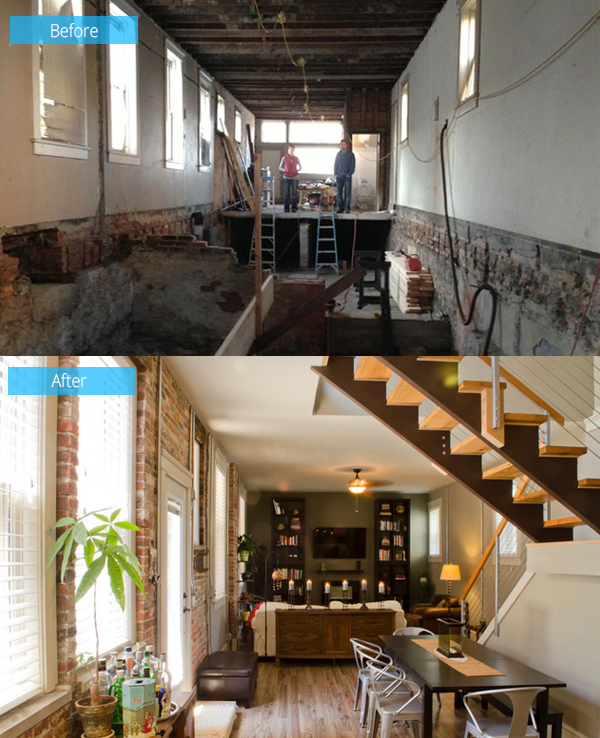 Seen here is the couple checking the house. It really needs a lot of repair of course. They replaced the floor, doors, trim and plaster. The living room now looks beautiful with high ceilings and dramatic bookcase display.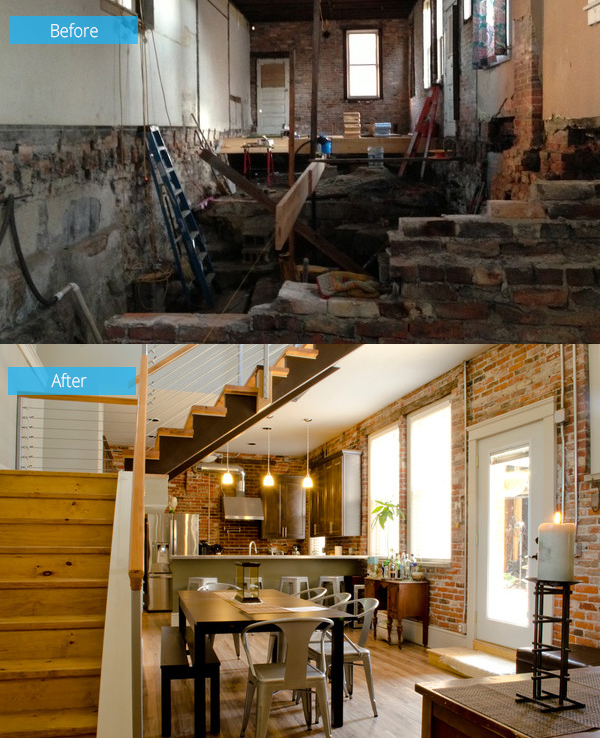 Upstairs, seven rooms with closets and two bathrooms; downstairs, five rooms and one bathroom were demolished. Beneath the stairs is a dining area with metal chairs and bench that made it look formal even for hosting dinners.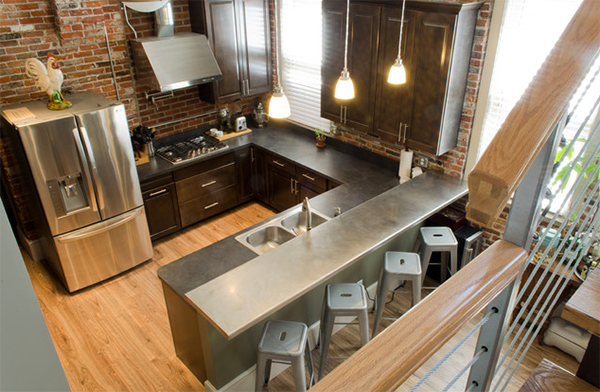 Since they spend most of the time in the kitchen, they splurged in the space with a custom cabinetry, stainless steel bar top, gas cook top, double oven, pot filler, LG appliances and stainless hood.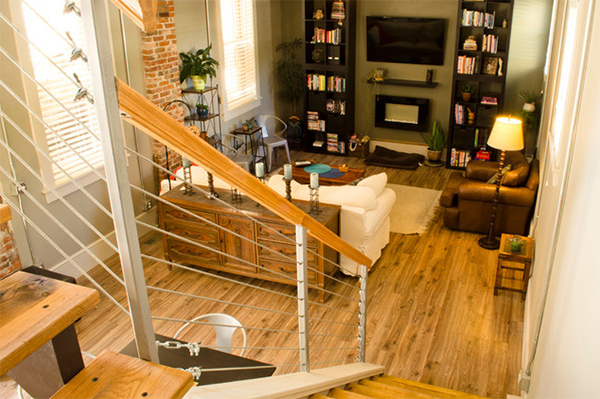 One of the main focal points of the house is the staircase wherein the treads are made from a 300-year-old barn that was torn down.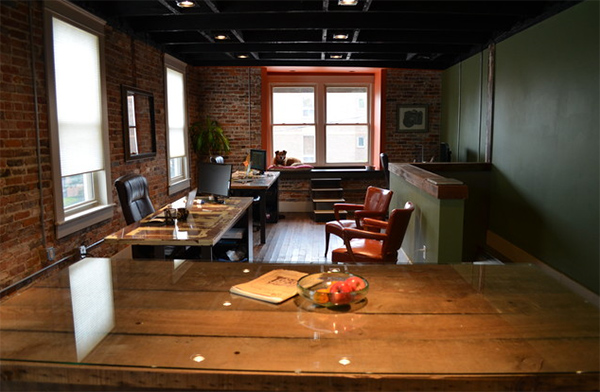 "We wanted an office that you would feel like hanging out in at any time of the day, and everyone was welcome," says Lloyd. And this is what they got!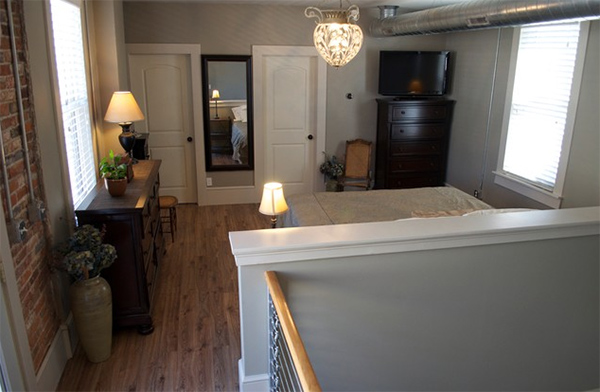 The house has an open loft that looked even lovelier with the urbanesque brick walls. Since the building was only 15 feet wide, with no load-bearing walls, the loft was completely left open.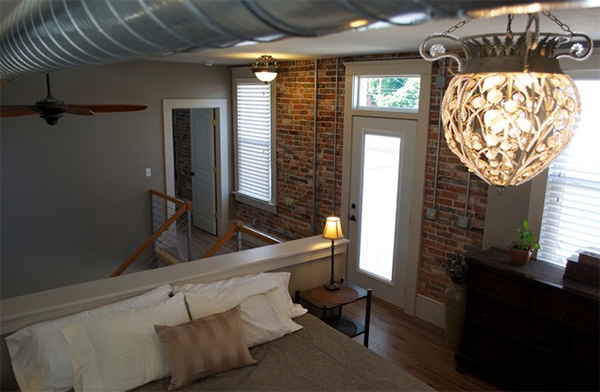 This is their master bedroom in the loft. Because it is an open space, they have to make their bed and pick dirty clothes everyday!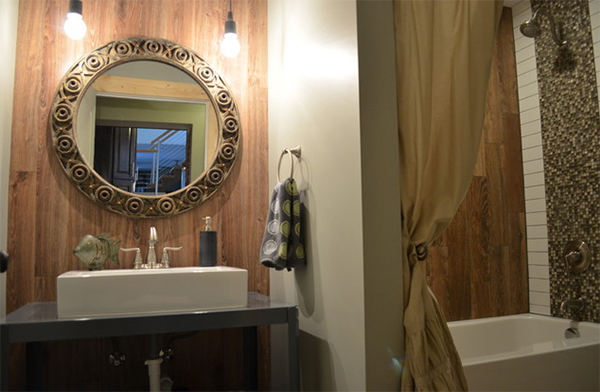 This is the laundry room and guest bathroom addition, with a gray metal workbench from Home Depot that they used with a vessel sink for the main vanity.
You can also find an expansive second-story deck that connects the loft and the office doors.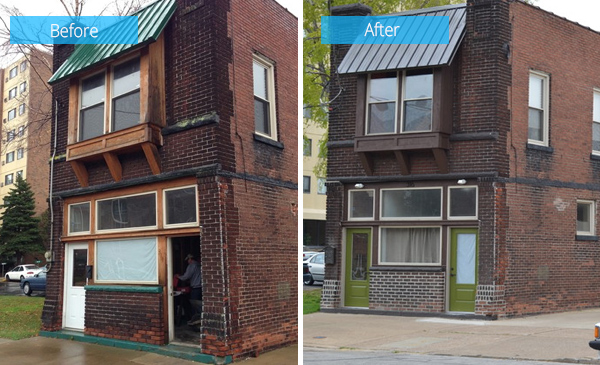 For the exterior, they wanted the building intact merely adding two new doors and resealed the windows. It took a lot of vision to see any future for the relic, but Lloyd and a close team of family and local contractors spent a year gutting the 3,300-square-foot structure, restoring it to a multifunctional building. Whaley's media company occupies a 750-square-foot upstairs office space. There's a 1,500-square-foot, two-bedroom, two-bathroom loft, and along the street-facing front a small, pre-Prohibition craft cocktail bar aptly named The Volstead is set to open in late 2013.
It wasn't easy to put the house together and turn it into a beautiful home. It look a lot of vision and they spent a year to finish the 3,000 square foot house to make it functional and cozy to live in. For sure, this Ohio Loft will give us inspiration that no matter how depilated or old a building is if you want to renovate it and upgrade the look, nothing is impossible. Did you find the before and after photos inspiring? We are sure you did!