20 Beautiful Living Rooms with Blue, Red and White Accents
You'd love these living rooms with blue, red and white colors! Take a look!
Most often than not, when we see spaces with the blue, red and white combination, we are reminded of flags. As a person from a country with these colors found in ours, I also am reminded of the flag of the United States. The colors are not common, rather, they are special; this is because these colors are used to represent something – to remind people of the things that our forefathers have fought for and what they actually believe in.
With that in mind, I would like to present you with living room spaces that have these colors (blue, red and white) – it might just be one table lamp, a pillow or even a simple carpet – but I bet that you'd like how the designers have used ratio to make the spaces stand out as much as they can with the accents that they have used in each space – take a look at the 20 Beautiful Living Rooms with Blue, Red and White Accents below and tell us what you actually think about them.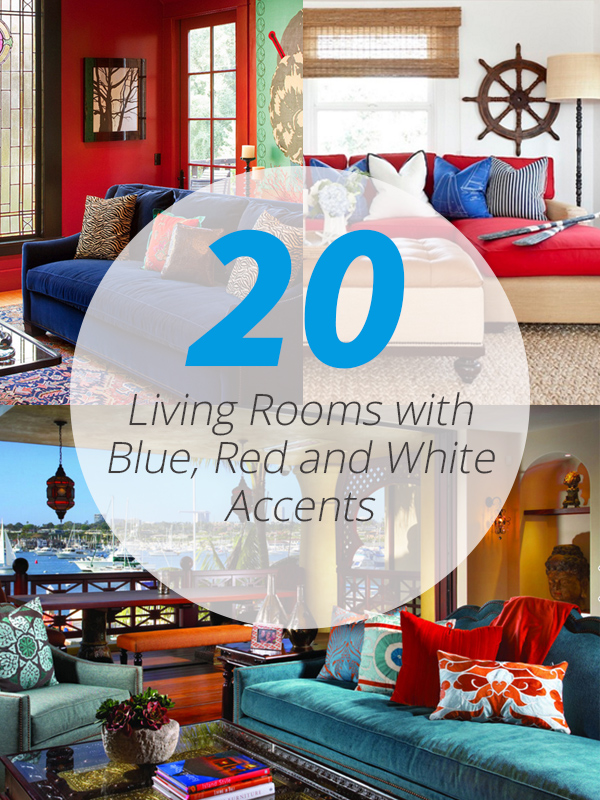 1. 221 East Bay Front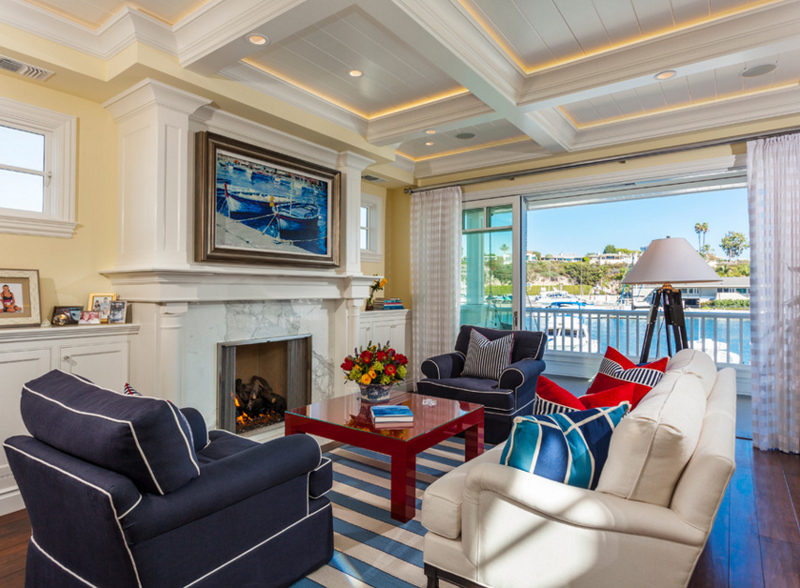 The first picture in our list today is this living room from E Bay. A wonderful escape from the city life that people would definitely enjoy as a treat for themselves for a job well done or a leave approved by their bosses! With a living room like this one, I think that R&R is a must.
2. Atomic Ranch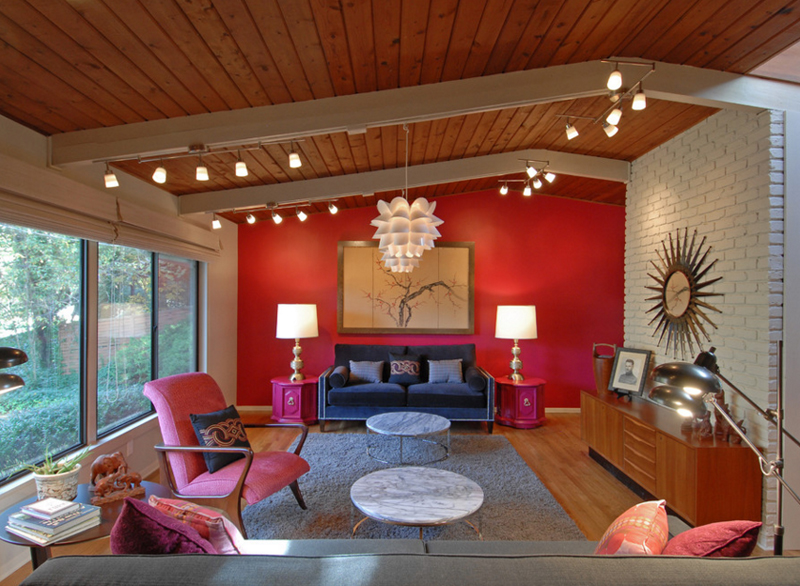 This fancy living room does not entirely say 'ranch' in it, right? The colors, furniture and materials or decorations seen in here is something most ranches do not really consider. When we see other ranch homes, you know that tons of wood is used and the colors are most likely just browns and whites; but not with this one.
3. Barclay Butera Living on the Coast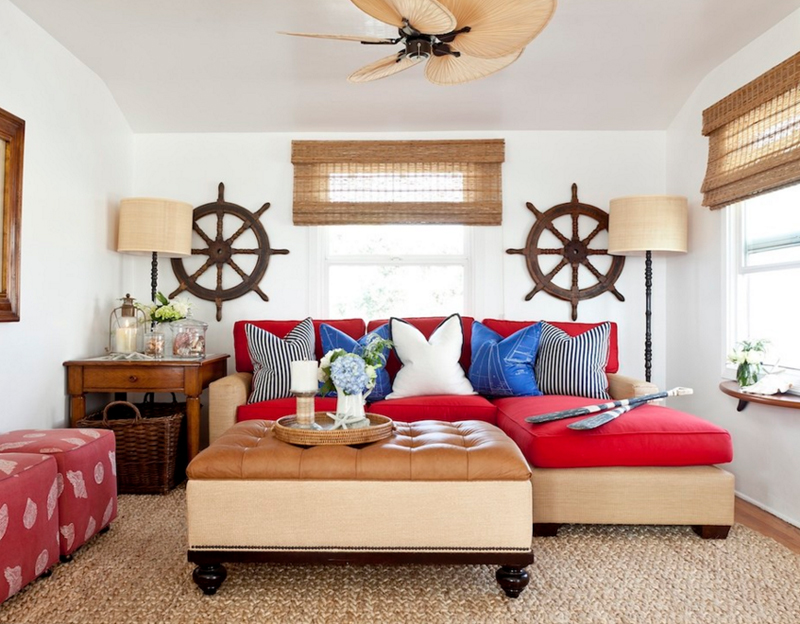 This nautical-themed living room sure has the entire needed requirement fit for this list. The blues are present, the reds too and most especially the whites! I also think that the natural materials used in this living room are wonderful and that they are nicely paired with all the other colors in here.
4. Bayfront House 1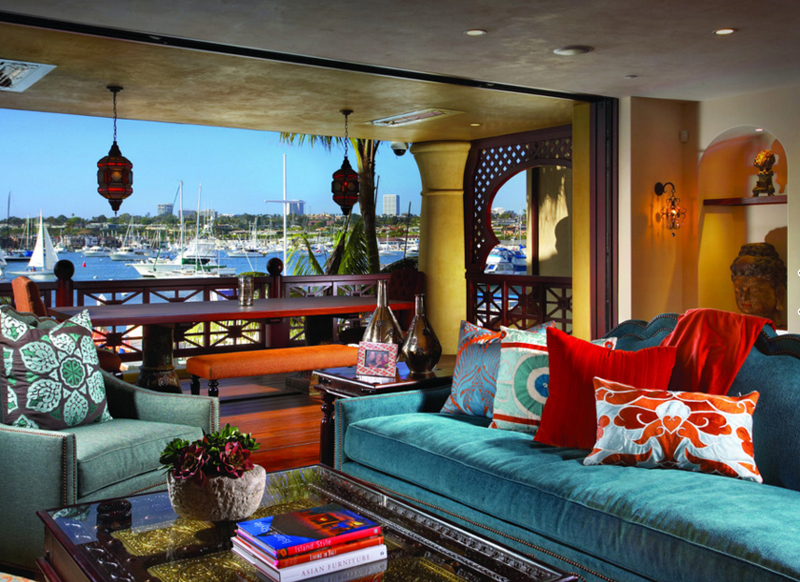 I love the Moroccan feel to this living room; the view of the bay is just wonderful that I think people living in homes like this one is happier because of their location. They get to watch boats or yachts roam the area and enjoy the fact that they are close to the beach – more than other people wanting to be in one!
5. Blue Crush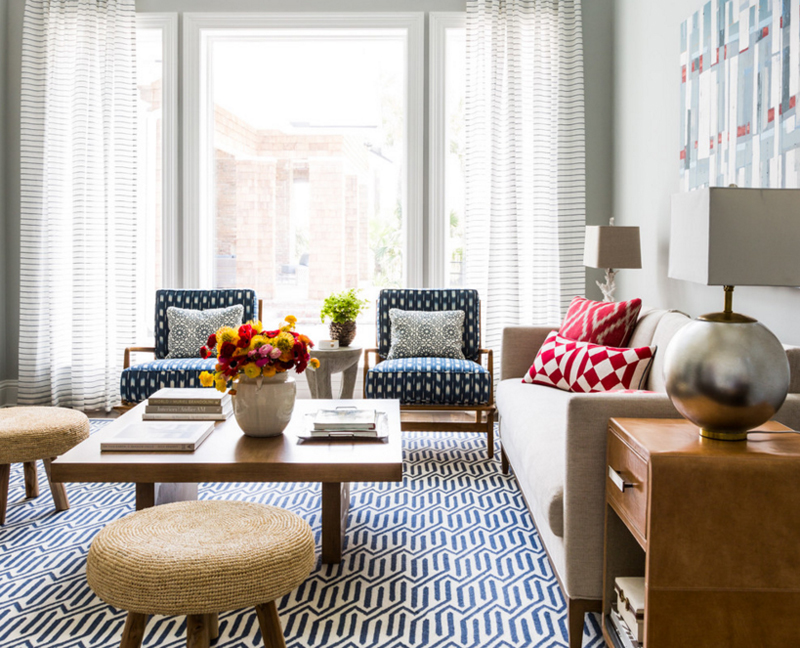 Blue printed arm chairs with red printed throw pillows – this living room sure is worth its name – blue crush. Look at the painting on the right side of the wall and the stunning area carpet – all these crushing makes me really blue. Didn't quite get what I meant by those! All in all though, I think that this living room space is worth your time.
6. Diamond Avenue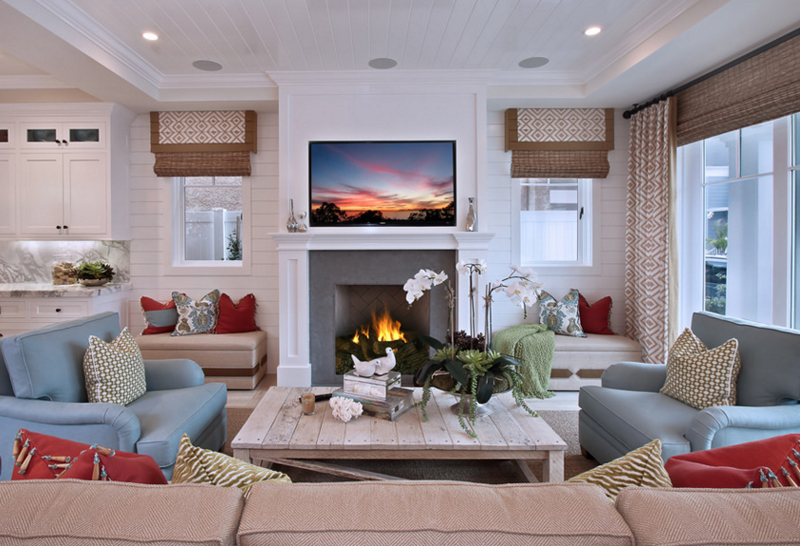 There might be minimal blues in here (because we have light blues in here) but we see the cute reds in the form of the throw pillows in the couches and chairs all around the room. The white walls, mantle and even cabinets to the left sure looks fascinatingly clean!
7. Edgartown Village Home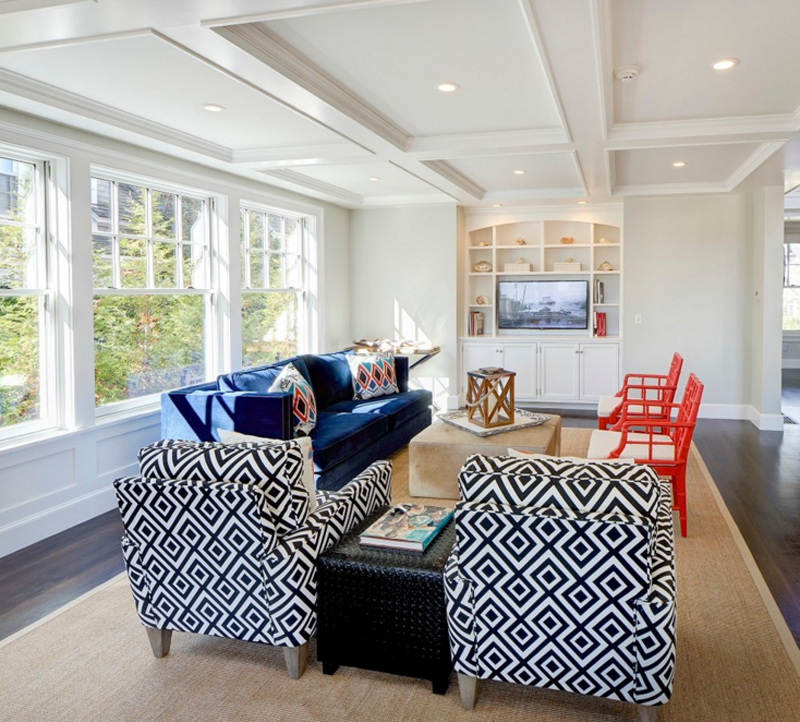 This is one adorable living room – with a blue couch and red chairs and cool prints seen in the other two arm chairs and in the pillows; this white living room sure is something worth the brag – not only to your friends (if this was your living room), and in social media sites as well.
8. Henlopen Acres III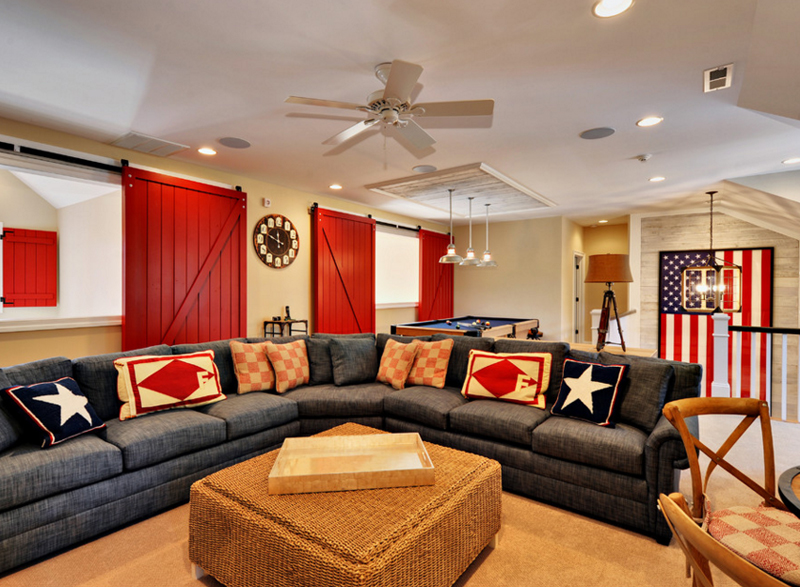 A wonderful expression of patriotism is to post a flag inside your house – whether or not it is displayed in the middle of the room or in a pedestal, the mere fact that you placed one at home makes me believe that you love your country and want to show that off.
9. Historic Swiss Hiking Lodge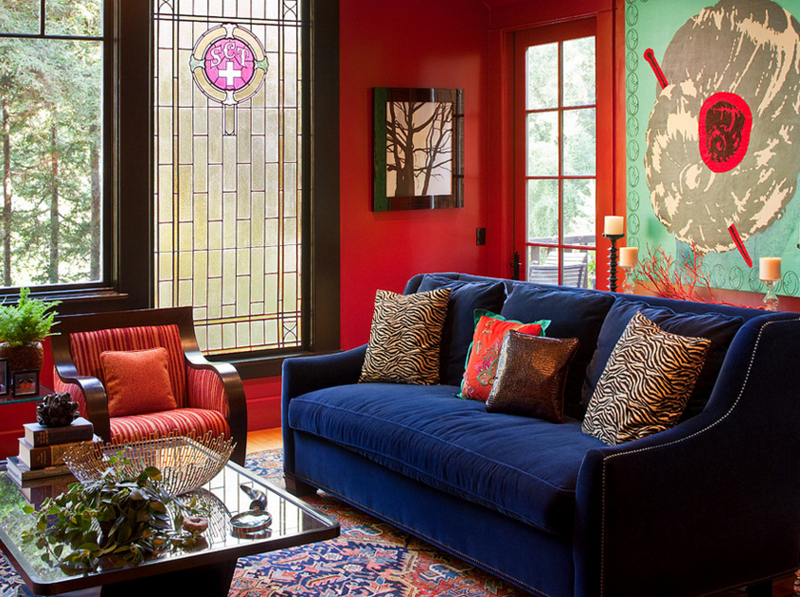 Well, from the looks of this living room, I can say that it has a hint of Asian in it because of the red walls, but because of the name of this space, I would have to retract that. Notice the crucifix on the glass window? Pretty intriguing, right?
10. Hulbert Avenue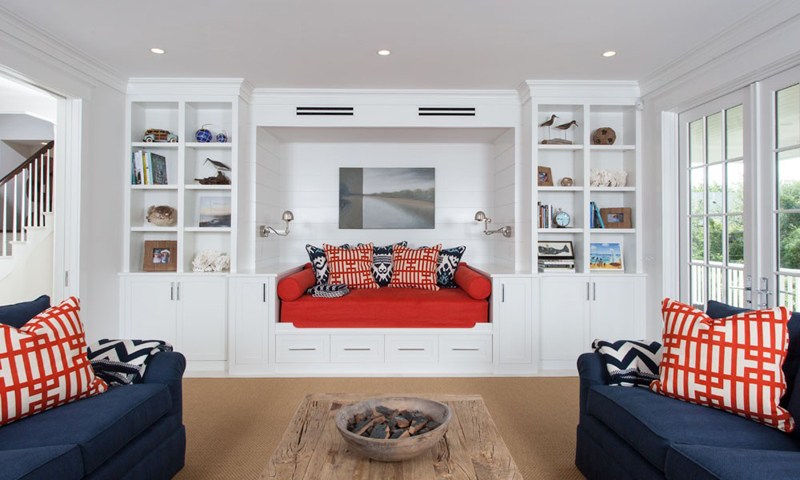 I think that the chair recessed on the wall is just too cool and cute! Choosing red made a lot of difference since it somehow is the accent color inside this living room. Aside from the fact that it's the center of attraction in here, it sure is a conversation starter too! It's not every day that you see a chair in the middle of the console, right?
11. Juniper Avenue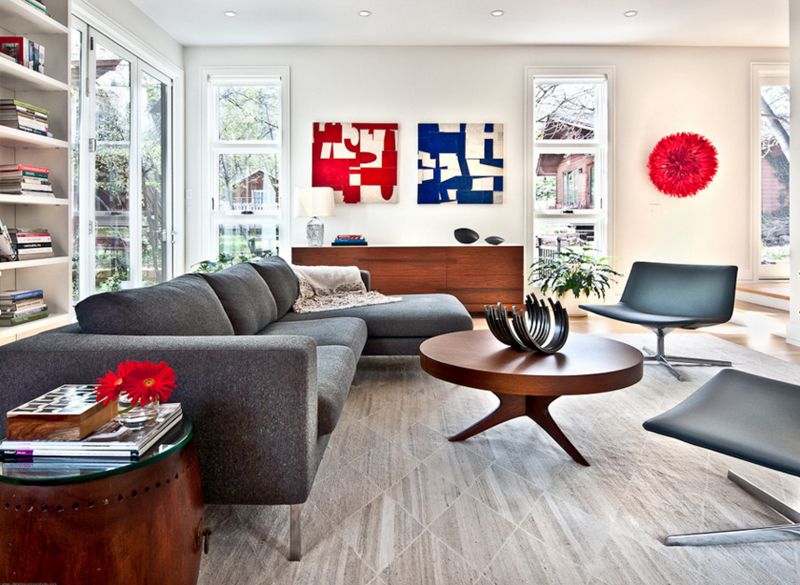 There might be very minimal red and blue in here but you definitely see and feel them in the interior itself. The paintings and decorations in one's house is as important as the furniture in it – because if you don't have even one tiny bit of decoration in one space – it looks kind of boring – especially if you chose colors that are too dull or too plain.
12. Lakeside Living Room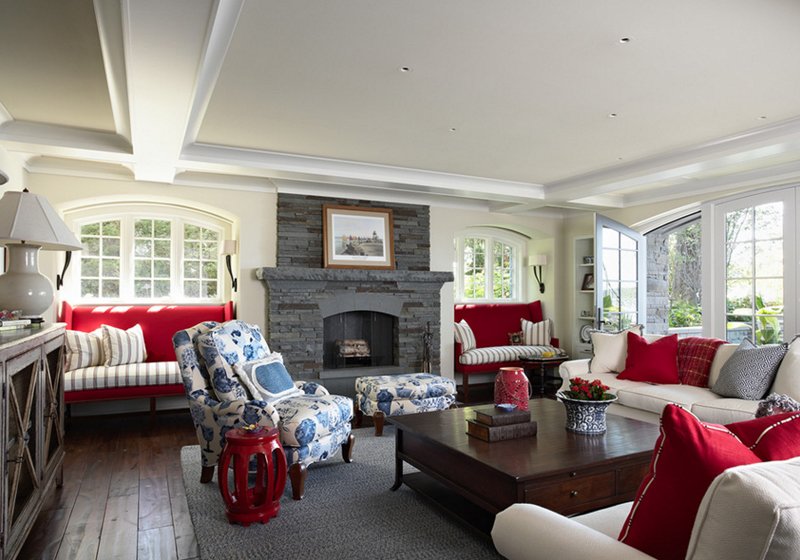 A traditional living room with the most comfortable-looking furniture and pillows! The colors seen in this living room is quite cute and this somehow reminds me of how my grandparents' house be like – having large, comfortable chairs and colorful pillows with floral prints in them and somehow the house smelling like cookies and bread.
13. Modern Ranch House in Studio City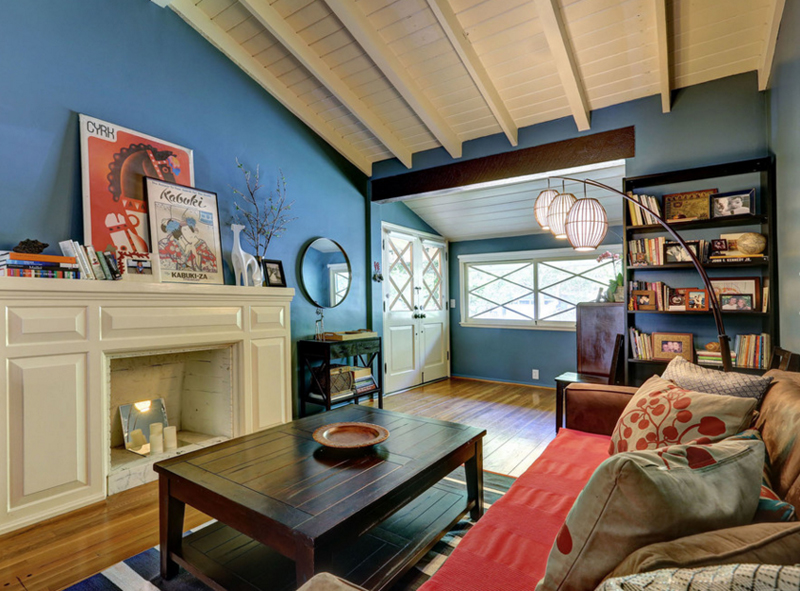 From time to time, I would like to think that I'm a fan of trinkets that you can add in your mantles, coffee tables or shelves. Honestly, these small things becomes a lot of things that sometimes are hard to maintain, clean or even notice; like in this photo, we see a lot of small things in it – they're nice to look at, but they're merely decoration, and I think that if you're lazy in cleaning up, you should not be buying these things.
14. Palm Beach Ocean View Apartment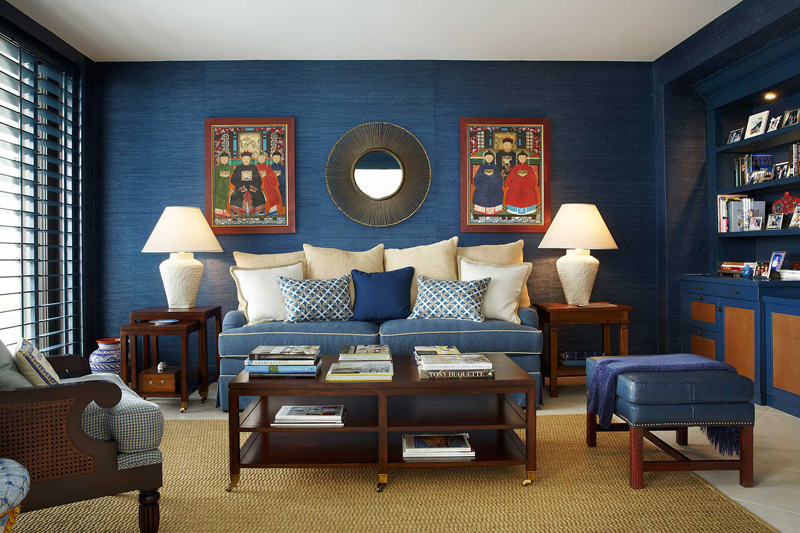 Bits of red are seen in the painting, and I think that it is as relevant as the other photos in this list because as you can see, this living room sure is mostly blue – so, most definitely the reds and white in here are very much appreciated and admired; especially that the paintings are really interesting.
15. Ridgewood Residence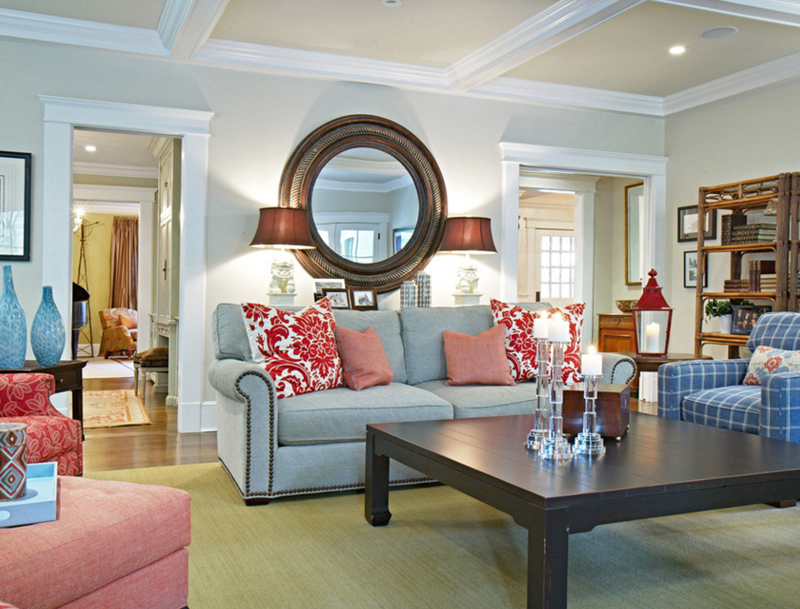 A play on different shades of blue and red floral and prints are displayed in this home. As much as this living room is traditional as seen on the designs of the couches and chairs, I think that this space still has that modern approach that would definitely appeal to new home owners.
16. Rough Yet Refined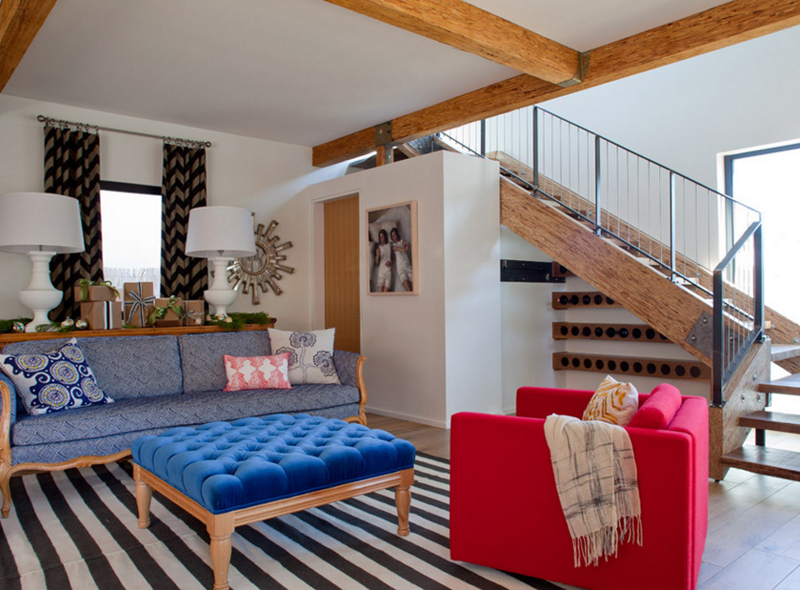 The designer of this space sure made sure to add the best furniture to this living room – the combination of the colors in here sure makes it a livelier living room – the colors are bright too which makes it more fascinating; I personally think that aside from the red couch, I think that the blue ottoman/coffee table is the conversational piece in this space.
17. Southern Americana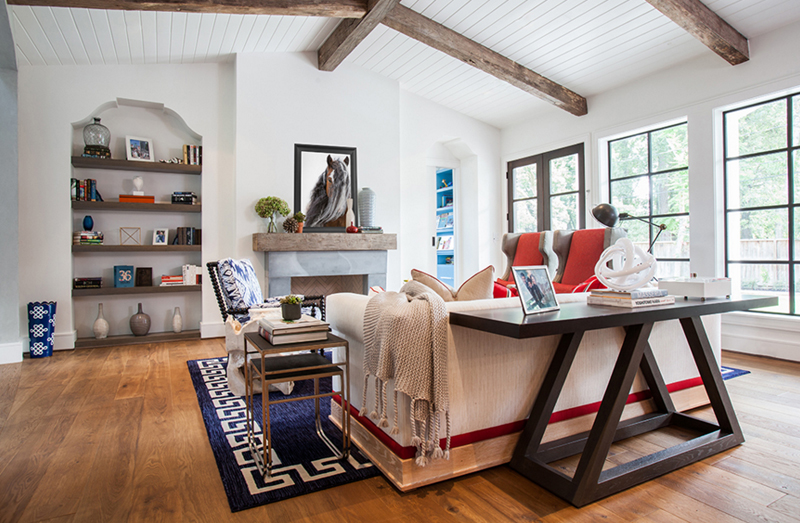 I have seen a couple of shows in the television that showcases Americana design – in painting and even home decors – honestly, I don't have much idea about it – but with this living room, you can see details that makes it a legit Americana space.
18. The Redfield Home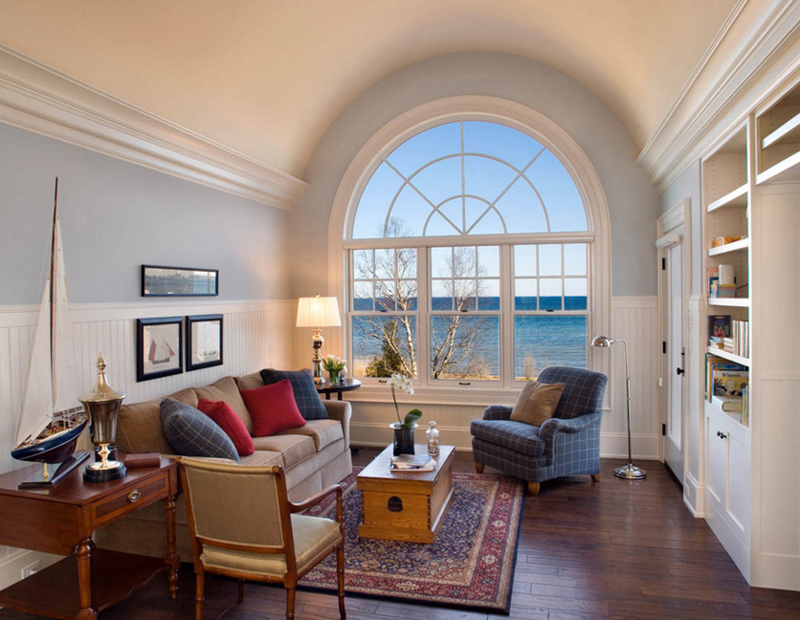 A white-dome living space with the tiniest bit of red and blue in it and you know how much it actually works. I mean, any color can look great in here – but since this home is close to the beach, the colors sure make it a more stunning space than it already is.
19. Victorian House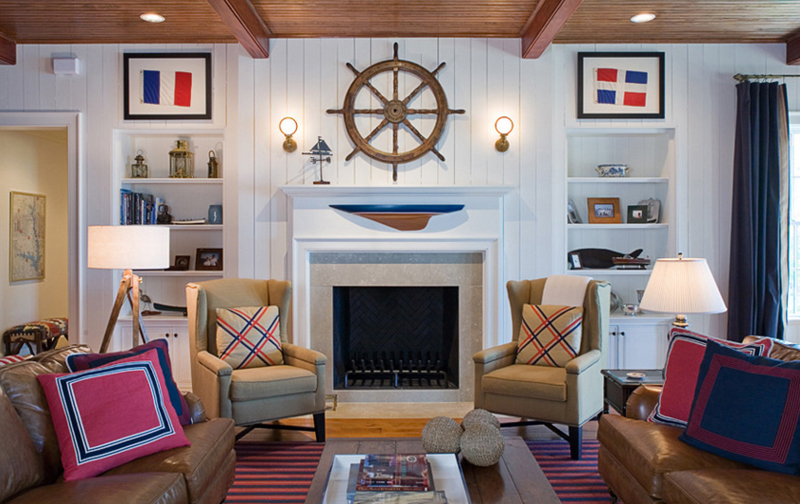 Earlier in this list, we have mentioned flags and how much the colors blue, red and white is common in flag designs, but if you actually look closely at this photo, aside from the flags, a naval themed space would definitely have these colors featured in them and it's really fabulous!
20. Yosemite Residence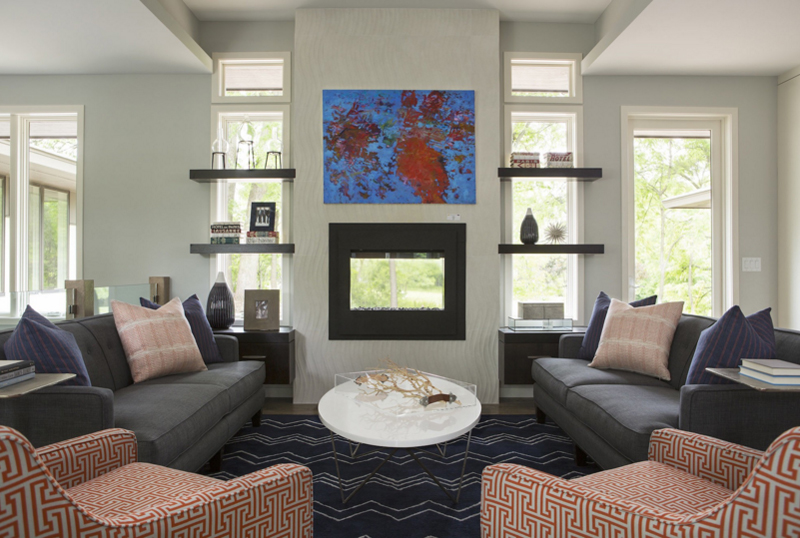 If you have enjoyed each of the photos before this, I think that you'd think that this last photo has very minimal blue in it – even the color white, but if you see how the designer instinctively added the painting above the fireplace, you know that they actually wanted to really show off the painting and the color blue!
Do you remember the list about the list featuring bedrooms of this color combination? Obviously, this is the list wherein we derived this list from. There might have been a few people who got to see it, but I think with this new list of 20 Beautiful Living Rooms with Blue, Red and White Accents, you might want to double check on that other list and be inspired with the works of the designers we featured in each of the lists. More to come in Home Design Lover! Hope you loved the lists that we have created for you guys!