20 Living Room Mantles with Gorgeous Fall Decors
One part of the house where we can recreate every time there is an upcoming holiday is the fireplace mantle. Whether or not the fireplace that you have is functional or decorative, beautifying your mantle is one way to make yourself busy and at the same time to let your create juices out for practice.
Today we have a list fit for those looking for inspiration with what they can do with their mantles at home. Design ideas below are interesting because they come in different forms – contemporary, traditional and even cottage! Check out the awesome designs of living room mantles fit for fall!
1. Fall Mantle Decor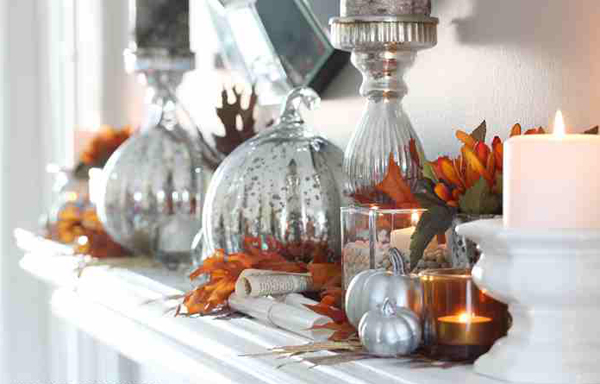 Silver is something people love to wear – why not place them in your mantle right? Silver pumpkins – large and small, and silver candle holders look great because it complements well with the oranges and browns we have in this palette.
2. Great Fall Mantle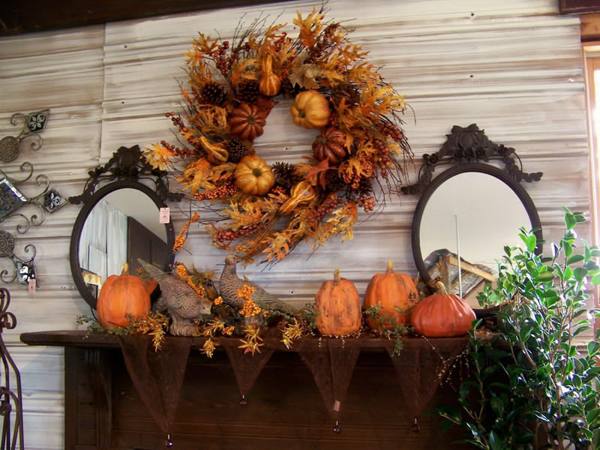 Here is one mantle that can be done indoors or outdoors! The pumpkins looks like the owner just picked them from the garden for display!
3. Friendly Fall Mantle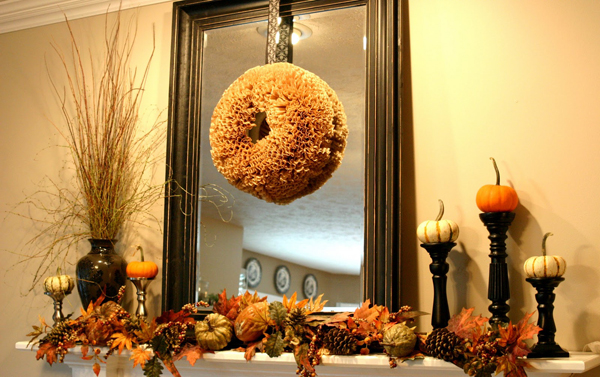 Look at the spongy wreath added on the mirror for a bit of drama. This color combination of browns, oranges and whites is a common thing for fall.
4. Fall Mantle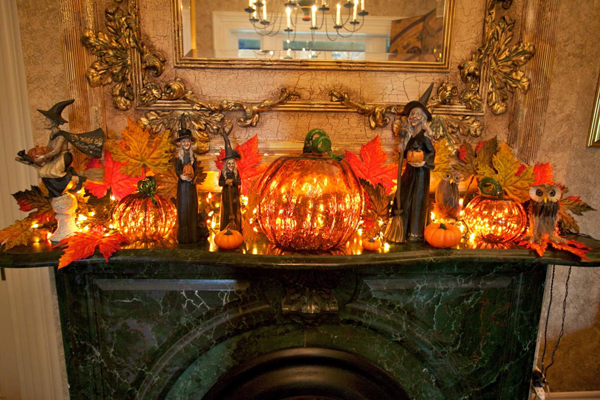 I like how the owner of this home added lights on the decoration they made for their mantle. The added witches is a plus point for this one too!
5. Fall Harvest Mantle Decoration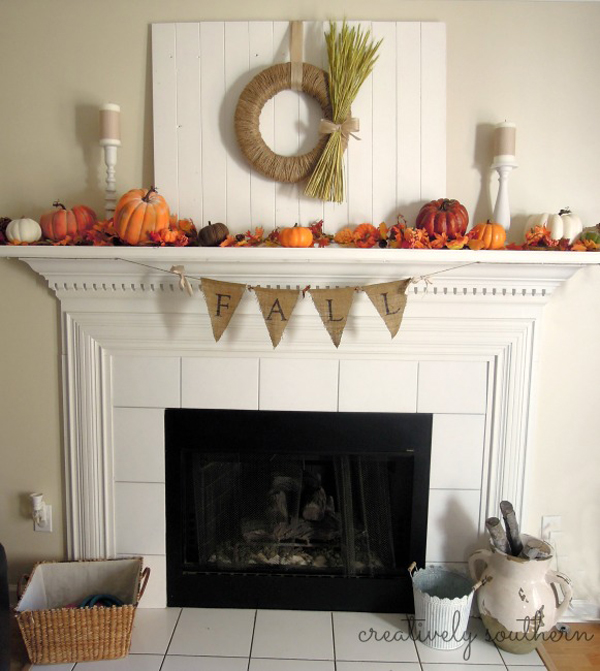 Wreaths, pumpkins and candles make this mantle pretty in white.
6. Fall Mantle Decoration Fireplace Ideas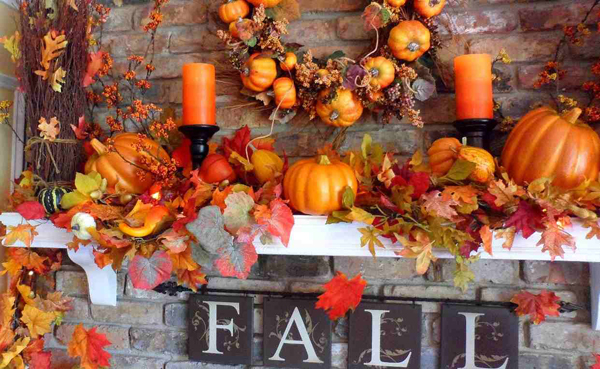 Tons of orange for this space! The combination is pretty stunning.
7. Delightful Fall Mantle Decorations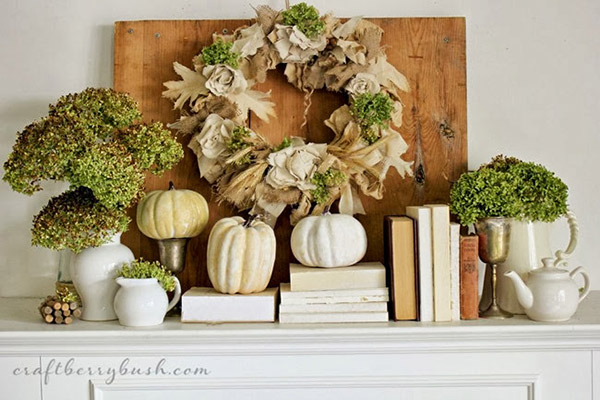 This is one easy to do fall mantle with muted colors, lovely DIY wreath and of course, white pumpkins.
8. Fall Mantle Inspiration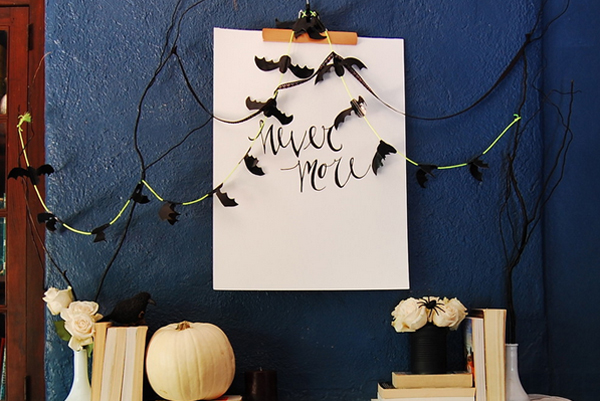 Who said using an illustration is a no-no when decorating? Look at this one used for this mantle. Simple, effective and pretty much a cheap way to decorate.
9. Fall Mantle Touch Ups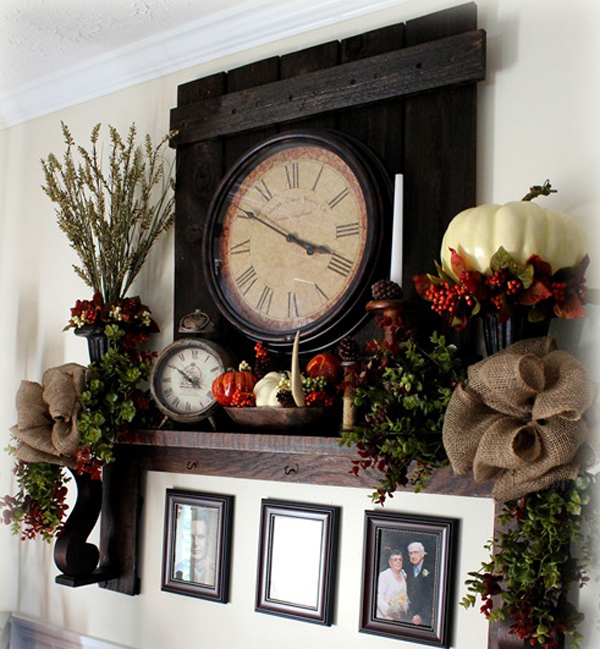 This set up looks like you can use it until Christmas, you just have to remove the white pumpkin.
10. Fall Mantle Vignette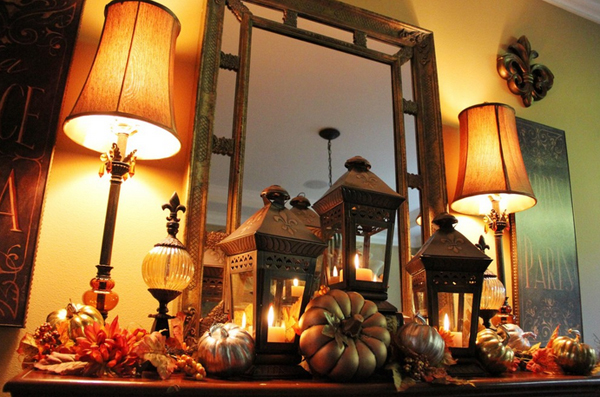 Fall decor makes this mantle a design masterpiece!
11. I Spy an Owl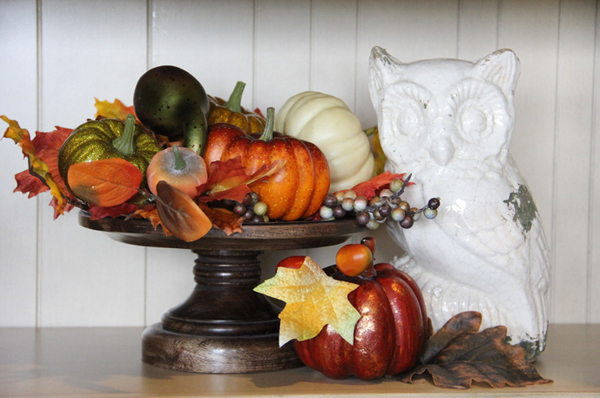 This set up was created by the designer for the shelf in her own home – their family room. Pretty awesome with the owl as a statement decor.
12. Living Room Ready for Fall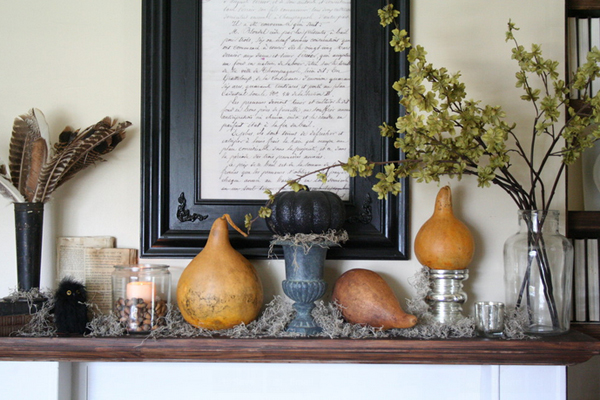 We often see oranges, yellows, and browns too during fall, adding the black accents in this mantle made it more interesting.
13. Living Room Fall Mantle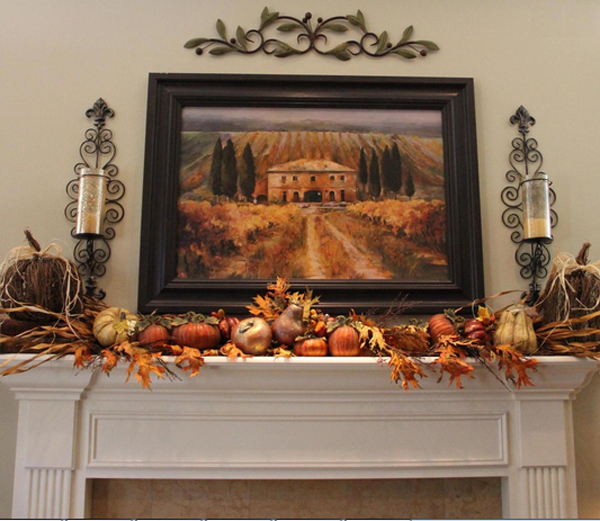 Adding a painting as the center piece in this mantle made it more stunning with all the lovely colors used in the palette.
14. Mantle Classic White Pumpkins Pedestal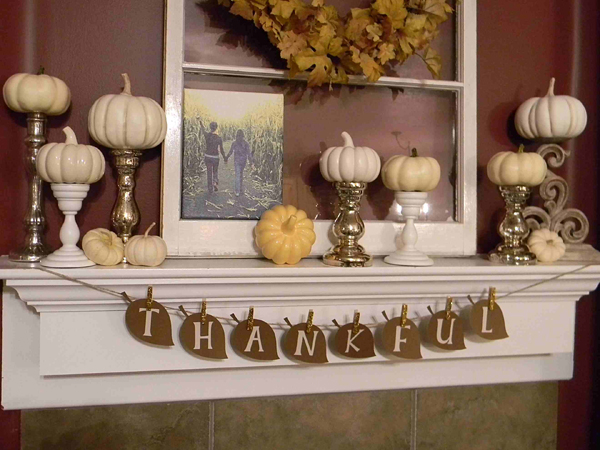 The faded look of the pumpkins remind me of the garlic we use in cooking – only bigger. I like the hanging message in leaves.
15. Mediterranean Style/Fall Mantle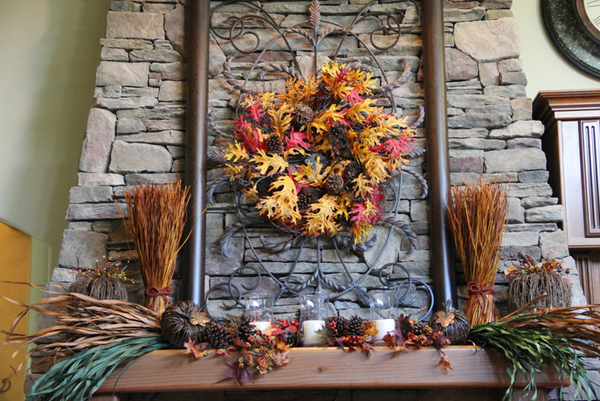 I love the wreath made from leaves right here. Simple but lovely.
16. San Francisco Rustic Mantle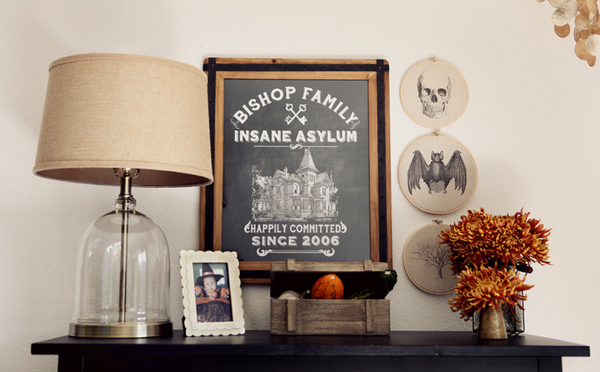 Clipart printed on linen fabric and inserted into embroidery hoops makes for a fun and easy fall project. This customized spooky art was the perfect backdrop for this Halloween ensemble.
17. Seattle Fall Decor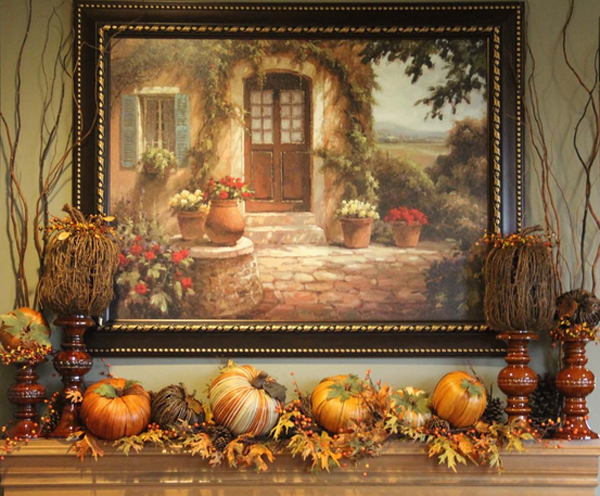 Placing a painting above a mantle instead of a wreath or a mirror is one classy way to do it. Choosing the right painting is key though.
18. Beautiful Fall Mantle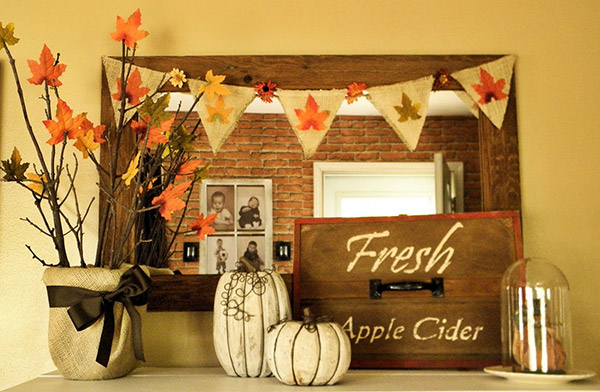 This is a cute mantle decorated with a burlap bunting with silk leaves.
19. Strictly Simple Style for Fall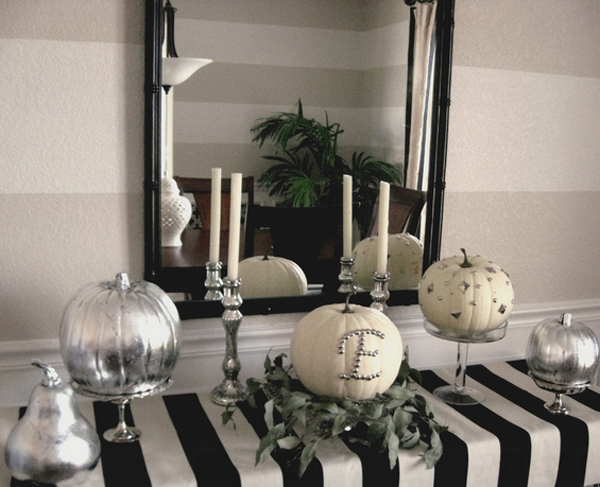 Silver pumpkins shine in this cool display, but that's not the only idea here. Try embellishing a painted or unpainted pumpkin with nail heads – used here as a monogram – or dotting it with metal studs.
20. Traditional Fireplace Mantle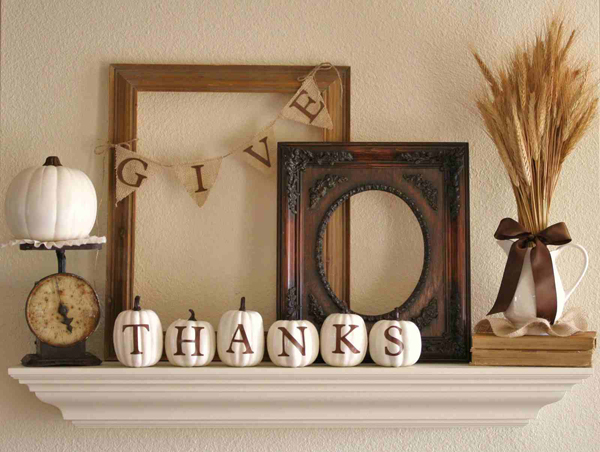 This is one way of making your mantle look classy and traditional and minimalistic. I personally love this one.
We do not have a mantle at home but I have seen a friend of mine who has one in her house – I was very much enthralled to see how pretty her mantle was. She is an Interior Design student in college so it was her project to beautify her home. If you have one at home take some time to decorate them for Halloween and Christmas! It sure is fun to decorate with pumpkins. Agree?