20 Unique Living Room Wall Decors
When we look on the walls we have at home, whichever part of the house it may be – if we are not mistaken, the first decor we see are photo frames we have with pictures of our family members. But of course, if you are just like us and some other decor and Architecture buffs, we enjoy adding wall decors that come in different shapes, sizes, materials and colors that not only interest us, but our house guests as well.
For today, we have a list that might interest you into adding a few trinkets that may look like the photos we will be showing you, or some other random item you see in one of those favorite Sunday thrifting or bazaars you come across; especially that it's the holiday season, we believe there are more interesting things than in any season of the year. Time to show off the 20 Unique Living Room Wall Decors we have collated which pretty much caught our attention, we hope it will be the same for you, check it out!
Annie Kelly Beach Home
Eva Heller, author of The Psychology of Color, states that next to red, orange is the color most popular for extroverts, and is a symbol of activity. Its use in this room feels modern, fun and energetic – great for a lively young family.
Barclay Butera Living on The Coast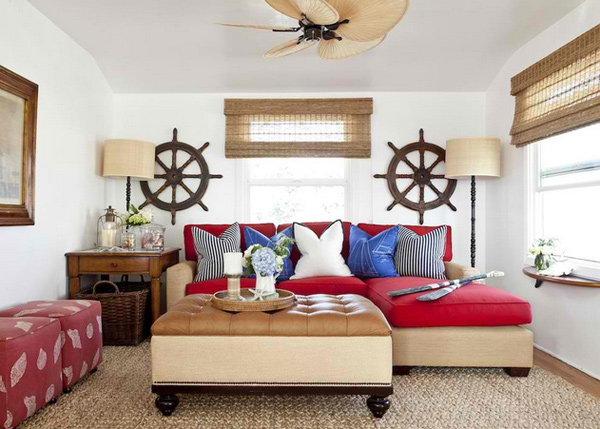 Interior designer Barclay Butera is never afraid to fully embrace American style, especially when decorating seaside cottages. Instead of the wheels being the focal point, they embellish the centered window.
Bruce Lietzke Interior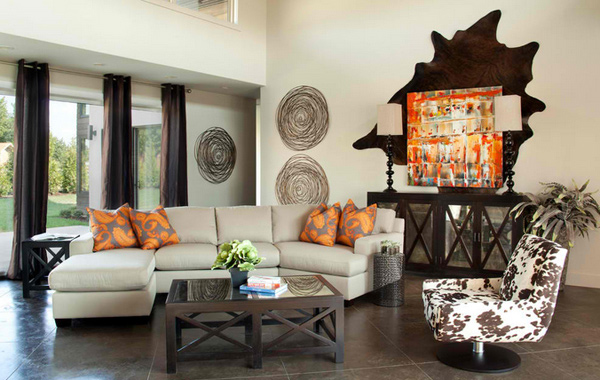 Adding your cowhide as a wall decor may puncture or damage it if you are not careful of the way you attach it to the wall, the pelt on this picture was placed on the wall for the pictorial, but believe us, it is still best to use it as an area rug!
Central Park West Residence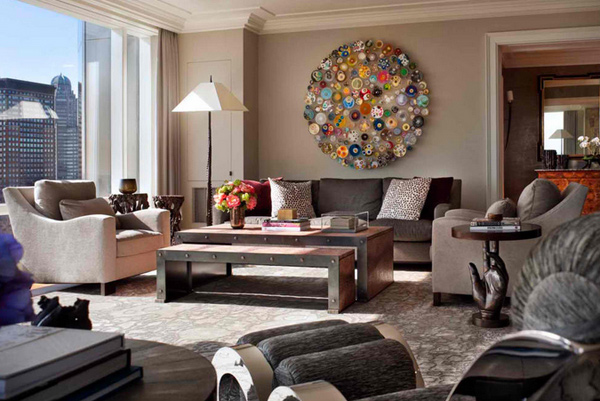 The oversized wall art we have in this picture sure is a stunner. We are not sure of the make of this beautiful piece, but who cares? We love it!
Chicago Living Room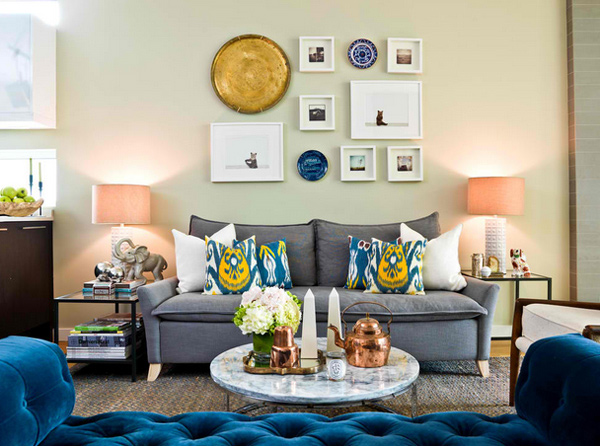 Adding frames to the walls is basic, but choosing the pictures to show off is a different thing! The use of different sizes and shapes of frames of decors on the wall usually does the trick in making one's space fun.
Eclectic Family Room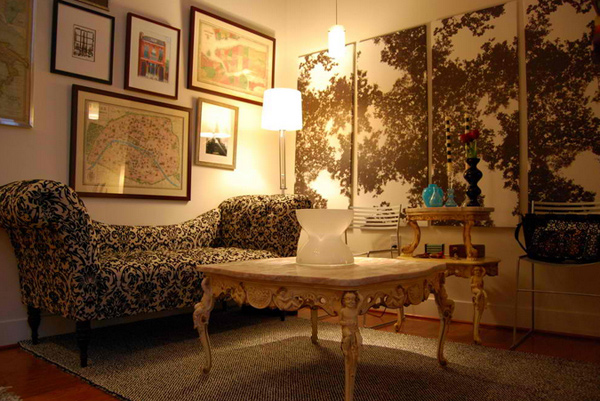 The black and white panels used to cover the wall are just lovely! It almost matches the settee which is just below frames of wonderful pictures.
Frisco European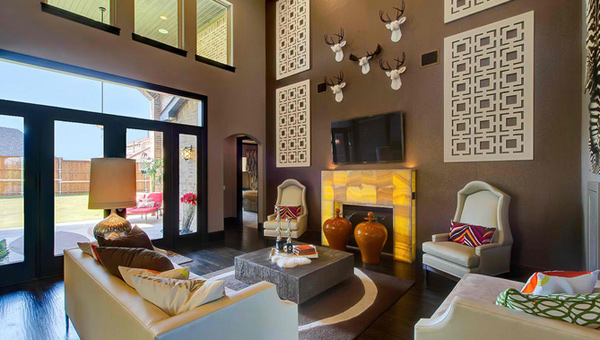 According to the designers, the featured wall is covered in shimmery bronze wallpaper that surrounds a fireplace highlighted with Pineapple Onyx tile. The Onyx tiles are back lit with LED strip lighting. Above the fireplace are an LED television and a grouping of decorative deer heads painted white with black antlers.
Grimaldi Residence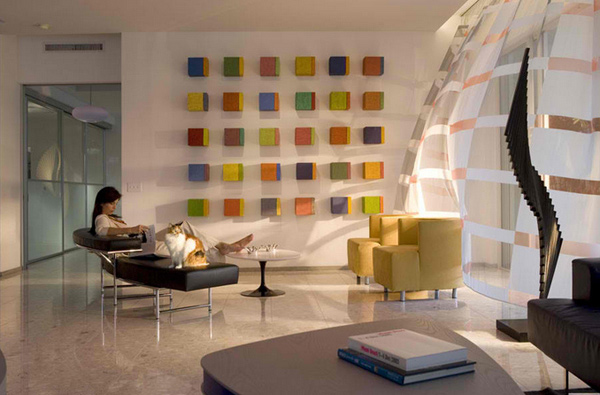 Modern homes sometimes seem cold because of the minimalist feel it usually have and the lack of color – but check out how the wall for this living room was lightened up because of the colored boxes spread across the white wall.
Horchow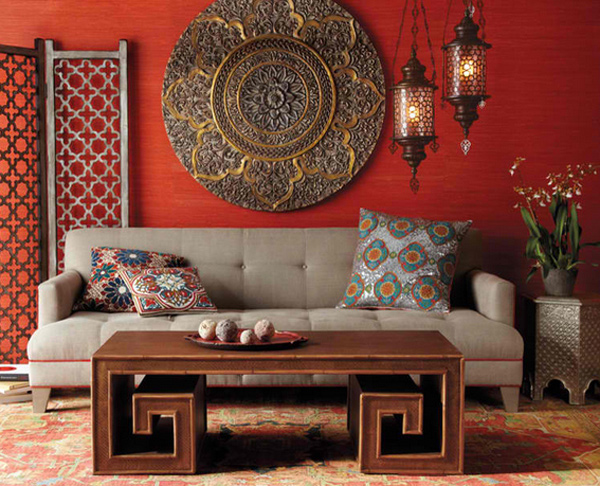 This eclectic living room may be more Asian than anything else, but we all know how fun and stunning Asian decoration are – the screen, the lamps and the round wall decor just makes us speechless.
Houston Contemporary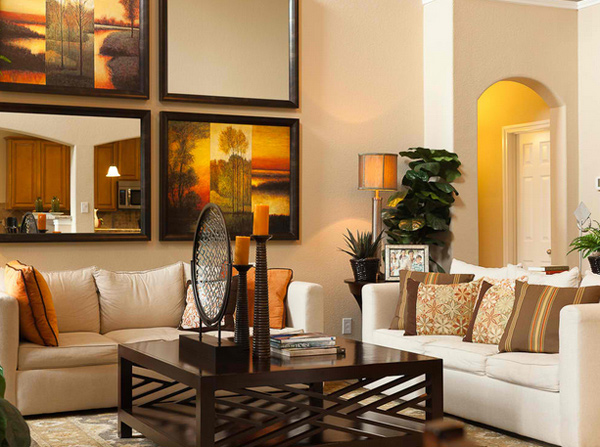 Artwork in warm hues, earth-toned throw pillows and clusters of candles can be budget friendly and temporary ways to spice up an all-white room for the season. Notice how this room's designer used neutral colors and classic pieces for the big-ticket items and seasonal colors for accents that can be switched out with ease.
Idaho Residence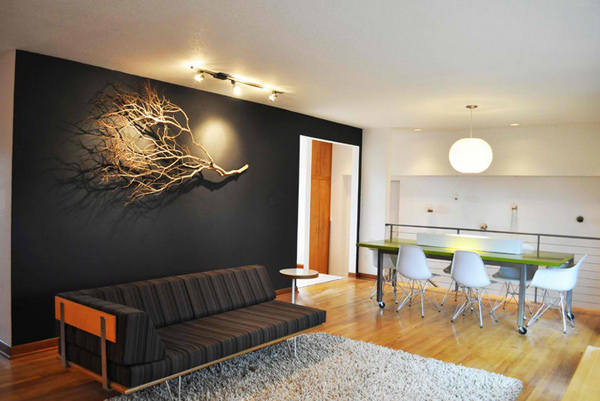 Don't you just love the sandblasted Manzanita branch? Black wall accented by this stunning branch!
SVOYA Interior Design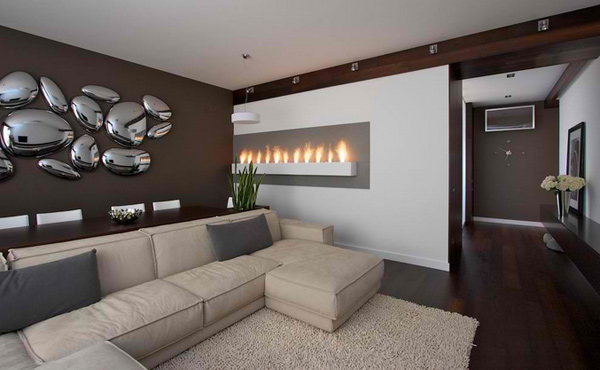 The huge pebbles' wall art is just perfect! It brings beauty to the plain wall by the dining area just behind the living area! Contemporary design at its best!
LA Contemporary Living Room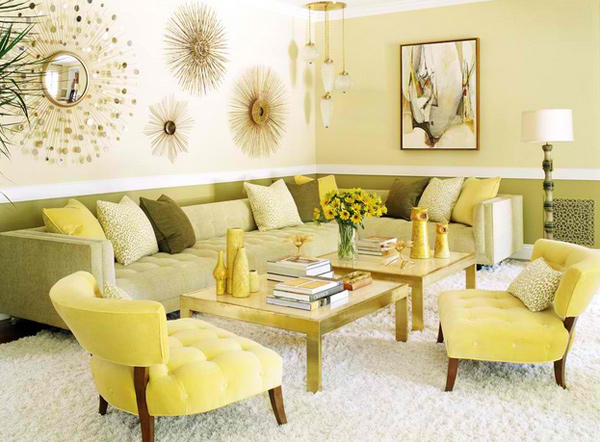 The wonderful mirrors behind the sectionals area not only lovely but also unique from one another – something anyone would want.
Miami Contemporary Living Room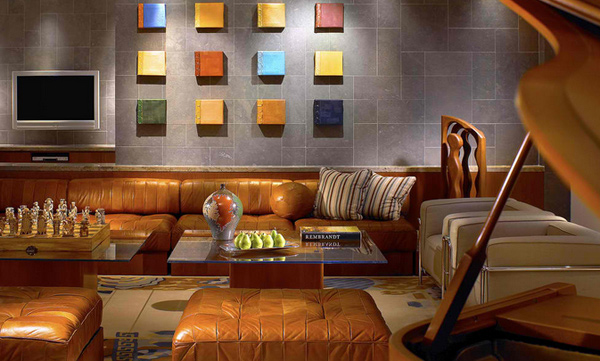 Using tiles for the walls of the living room maybe the wall decor in itself, but since the color is a bit cold – adding colorful cubes like the other picture we have above is just a work of art!
Moroccan Modern Living Room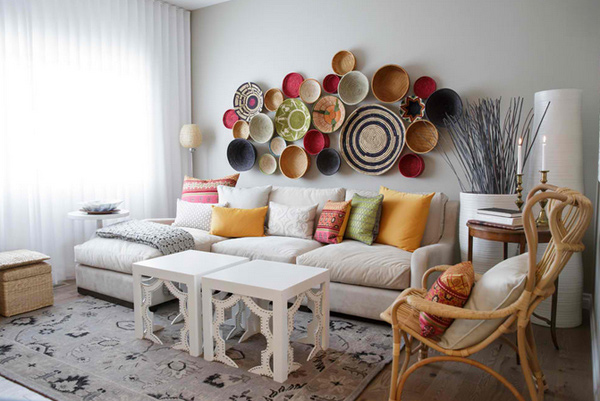 We love how the colorful woven baskets added color and funk to this almost-all-white living room! We believe you can either make these yourselves or buy them separately and hang them on your walls!
Orinda Family Fun Room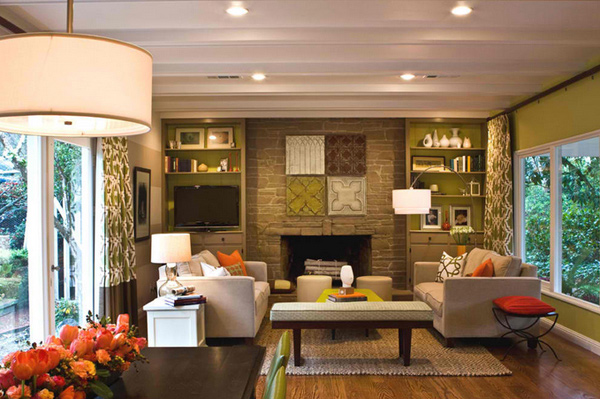 When a room needs to serve both as a place to socialize and get a little screen time, a corner media center is great way to go. Put the TV on an adjustable arm or swivel stand extends the view to both sofas and the dining room table.
SD House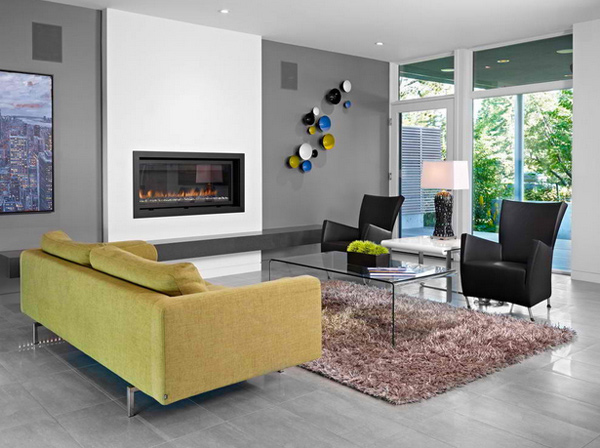 Unlike the woven baskets above this picture, the wall art we have here are actually bowls in different colors! Maybe we can use plates next time!
Small Coastal Home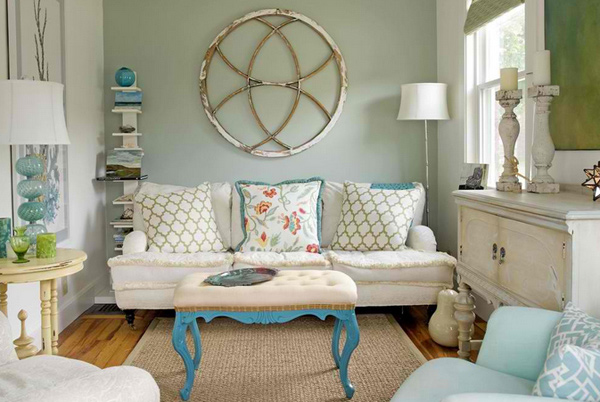 This space is both chic and homey. Coastal homes are lovely and pretty awesome. Decors like this one on the wall is obviously repurposed and vintage!
Street of Dreams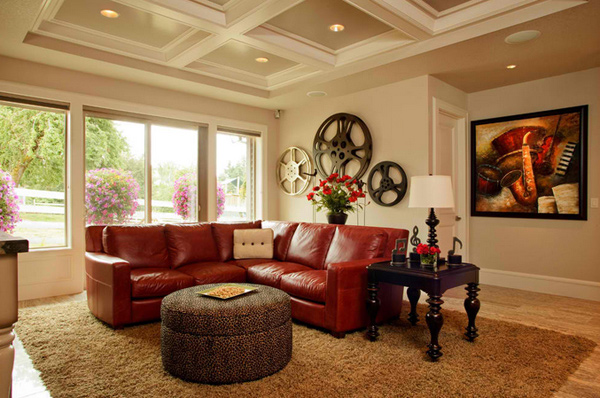 The large film reels are a great touch for this simple and traditional Portland home. The colors of the reels complement well with the walls.
The Olivers House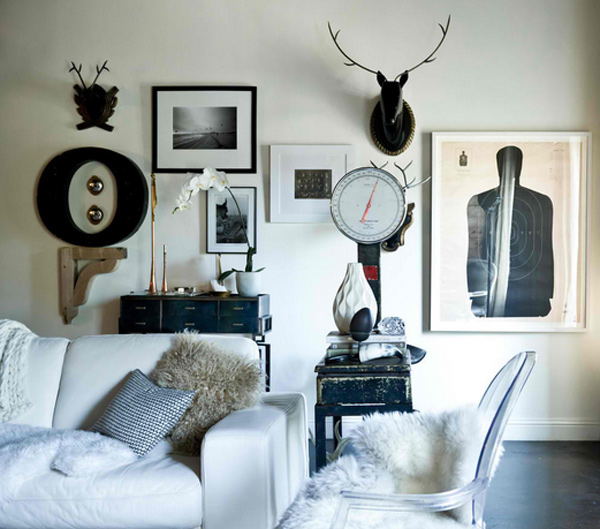 If you saw all of the pieces in this room piled in a warehouse, you'd think it was wacky. However, the way they are arranged – keeping the color palette to almost all black and white and paired with sophisticated furniture – adds glamour. Especially that furry pillow and that sheepskin throw! This is not easy to pull off.
Always be open to surprise. When an everyday object is taken out of context and treated as a work of art, it can take on special significance. The only limit is your imagination. Believe us, the wall decors we have just seen above are beyond anyone's imagination. There may only be 20 pictures, but we believe they can serve as wonderful inspiration for you guys! Hoped you like the 20 Unique Living Room Wall Decors and check out the other list we have of dining room walls decorated with plates which is just as stunning!