23 Green Accent Chairs in Living Room for a Refreshing Touch
Love green? Why not drag a lovely accent chair in that color for your living room?
They said that if you want to feel relaxed and you want to calm your mind, look at something green- which would of course be better if you are actually look at the trees or the grass. Some theories also say that if you want to be smarter or feel smarter, read a book or study while looking at something with a green color. I don't know if it's true but I agree that green is indeed refreshing and could totally make you feel relaxed and calm. So, aside from adding plants in your home, you could also add some decors or furniture with colors. If you don't want to overdo it, it would work well as an accent furniture.
Since we are talking about the color green, we are going to show you a roundup of living rooms which has green accent furniture. It could be an ottoman, a pair of chairs and other type of seating added in the living area. With this, you will be able to see how it looks like when accent chairs pop some color in the space. Also, notice that the living rooms below vary in style and theme and the accent chairs also come in different colors. Scroll down and get some ideas below.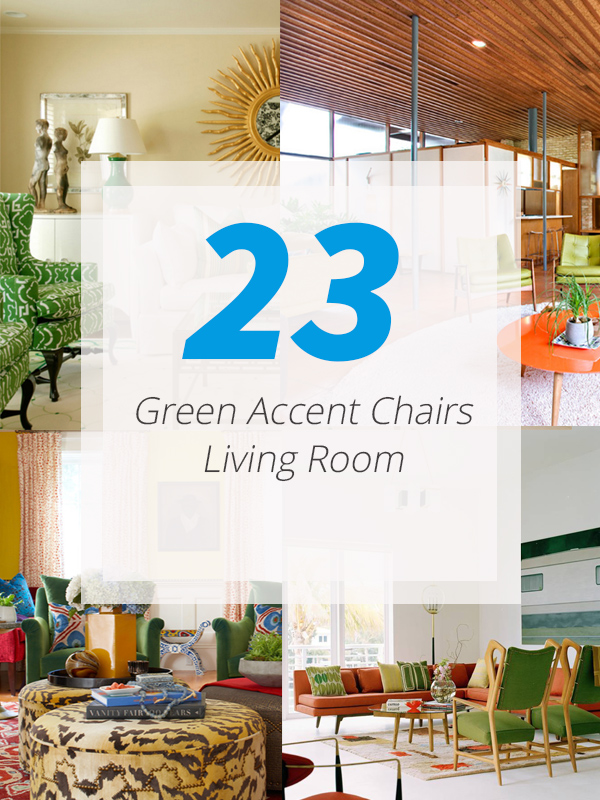 1. Bel Air House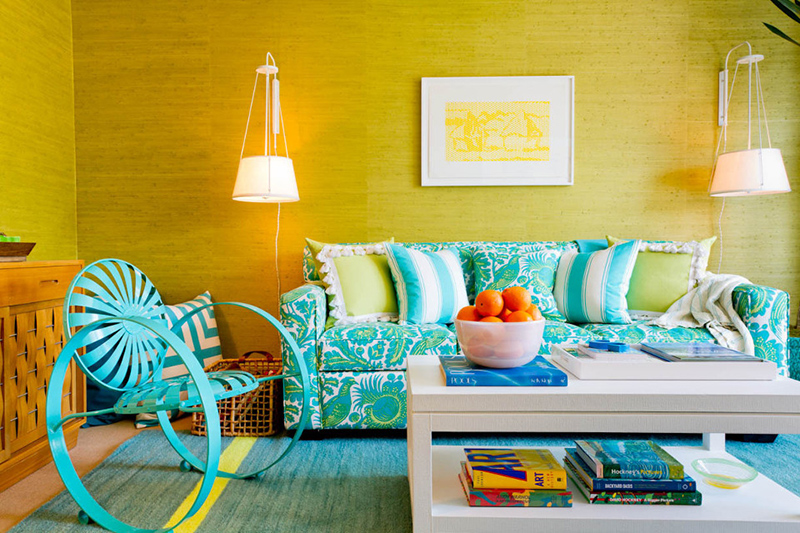 I like the color of this living room. It has patterns everywhere and that metal accent chairs sure is a charmer!
2. Funky and Fun Living Room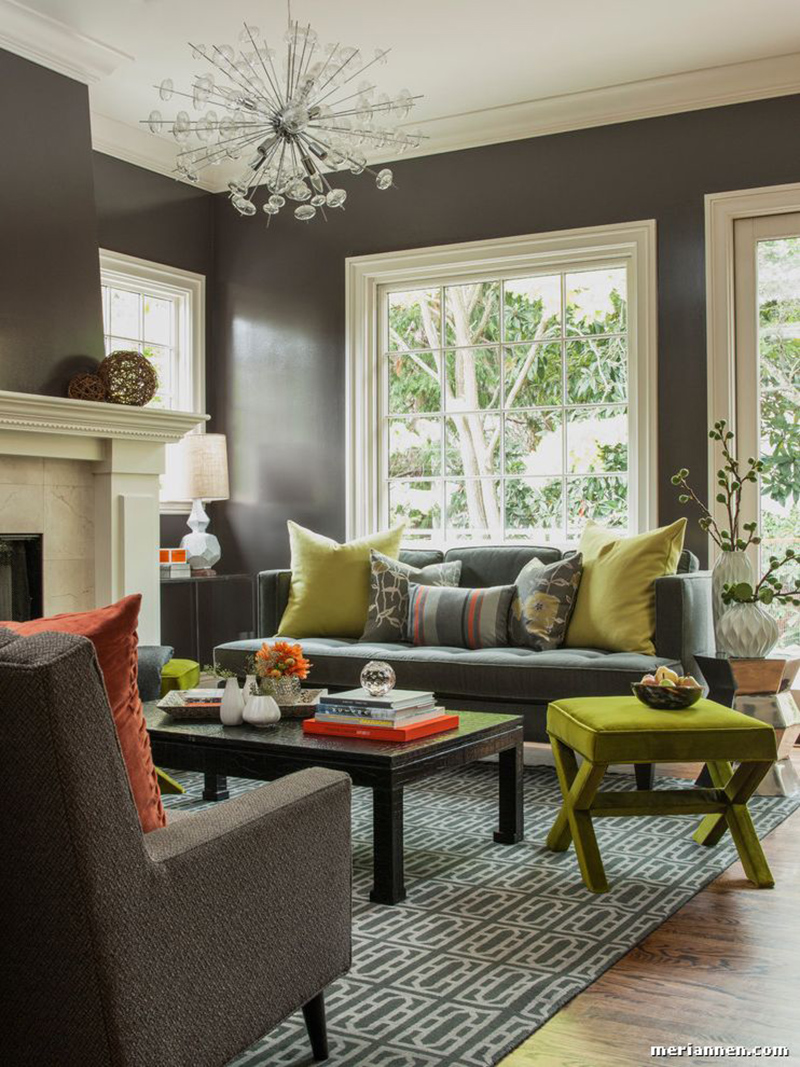 For a gray living room, it would be nice to add an ottoman with a green color for some refreshing appeal.
3. Inverness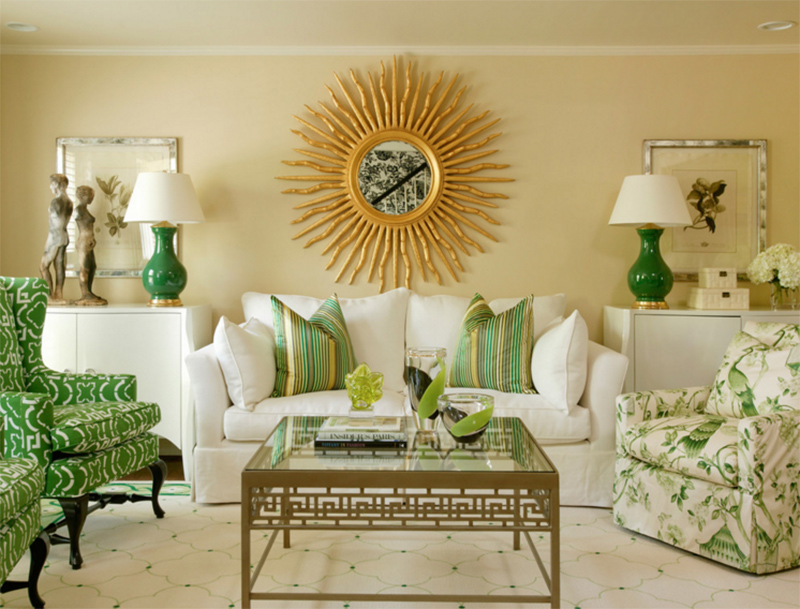 You can see a lot of patterns in here as well as the green color from the chairs to the lamp as well as on the throw pillows. I like that there are golden accents in here too.
4. MelodyLane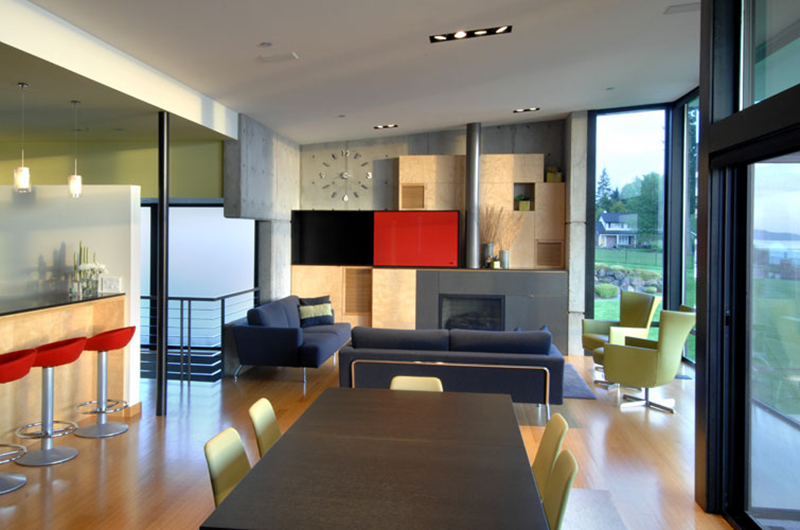 For a modern living room, a pair of sleek modern green chair would definitely be appropriate. It sure pops in this space.
5. Project 2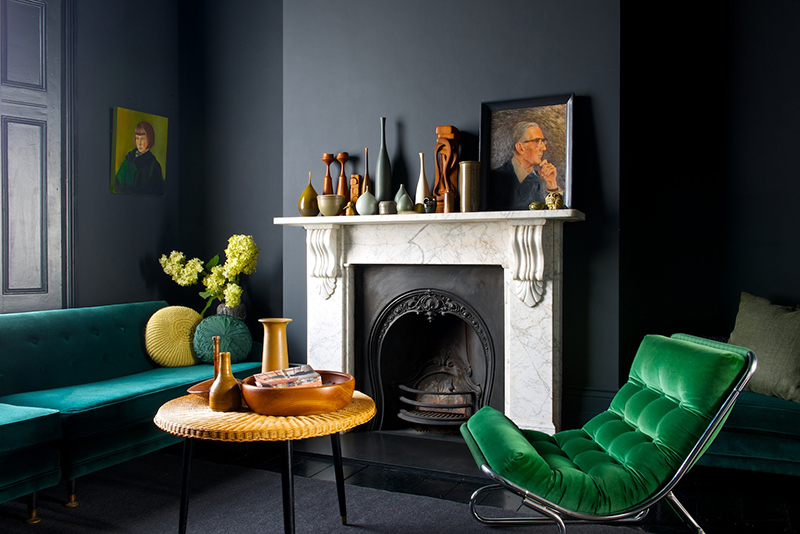 An eclectic living room has dark colors in it and it never failed to add a green chair to bring some life into it as well as a yellow round table.
6. Weho Condo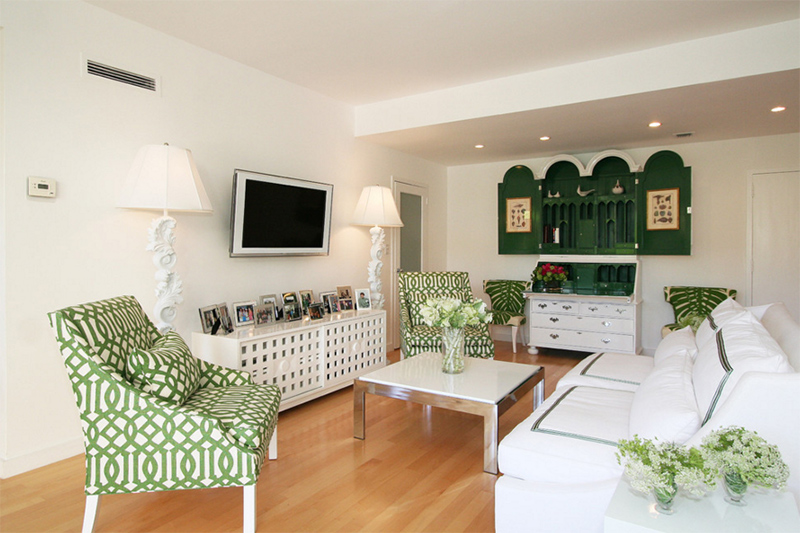 You will see green colors in many areas of this living room and of course, the chairs were able to bring some creative flare into it.
7. Modern minimalistic Living room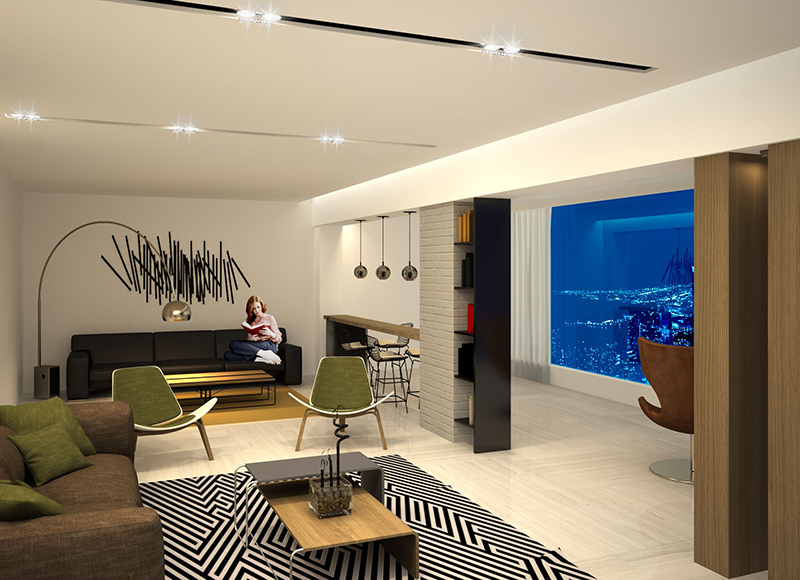 A modern interior using modern colors and a muted green tone to match with the contrasting black and white scheme.
8. Luxury Living Room – Interior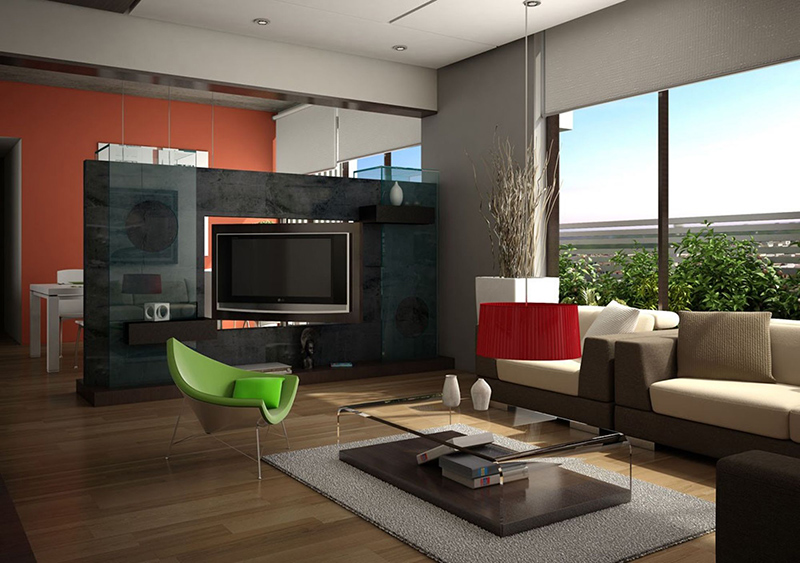 This green chair is indeed unexpected in a living room like this but it sure is a lovely item in the area which is flooded with natural light.
9. Colorful modern living room.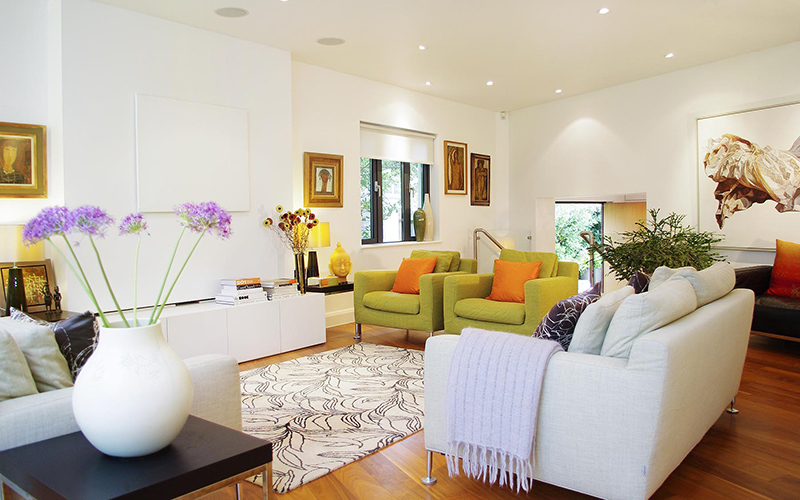 I love the subtle sophistication of this living room as well as the variation of decors in it from a black and white printed area tug to the Asian themed displays.
10. Casa Nido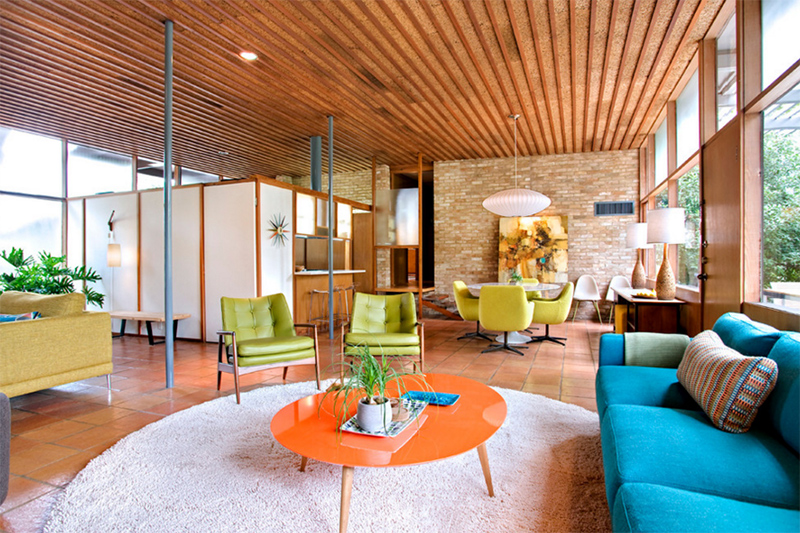 I guess you have seen this area before but I can't help but include this in our list since it has lovely leather green chairs in it which complements with the wooden materials everywhere in the house.
11. Living room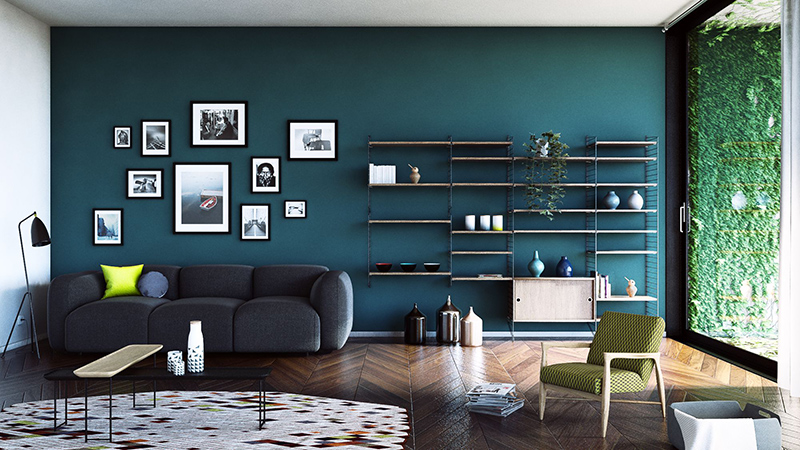 What caught my attention here at first glance is the green living wall outside but of course, draw your attention to the interior with a gallery wall in dark blue green and that humble printed green chair.
12. Filbert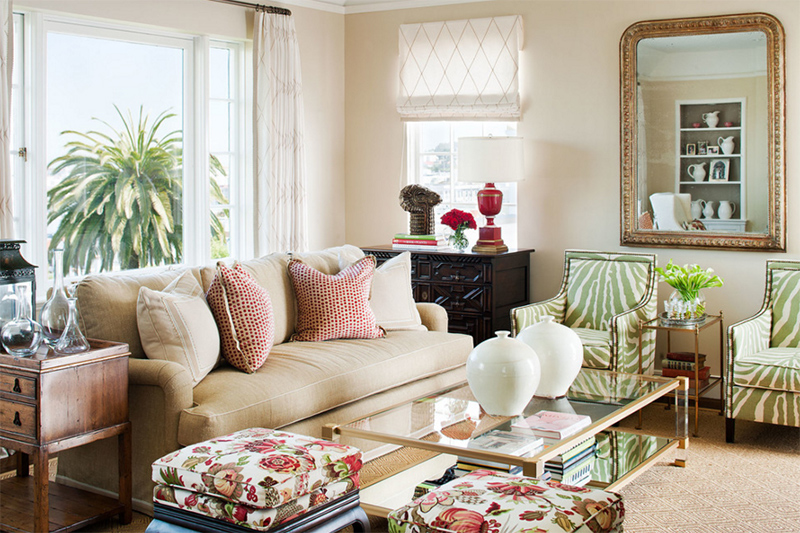 Add a green zebra printed chair in your living room like this one. It looks lovely, right?
13. Living Room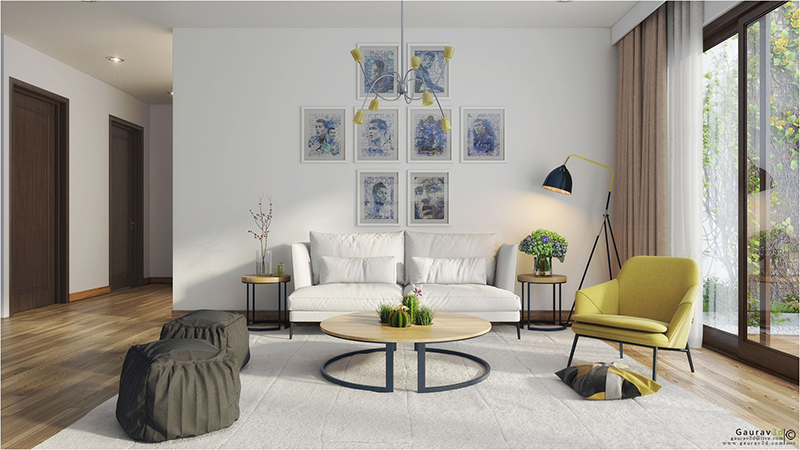 A living room with a Scandinavian flare was graced with a mid-century modern chair in green.
14. Sweeney Lake House
Another living room with patterns in it as well as a nice balance of dark and light colors. The patter of the green accent chair was also used for the throw pillows.
15. Cambridge Residence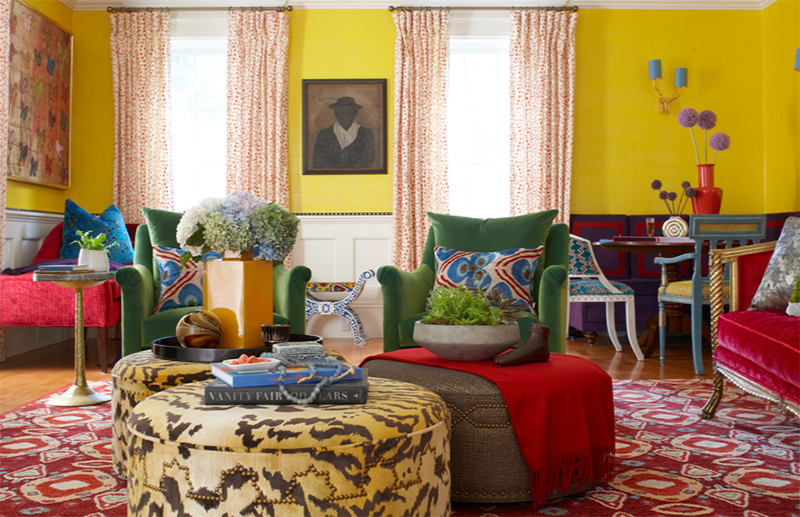 Now this one is indeed full of patterns! For a living room like this, it would be nice to add plain colored chairs to balance the look.
16. Miami Townhouse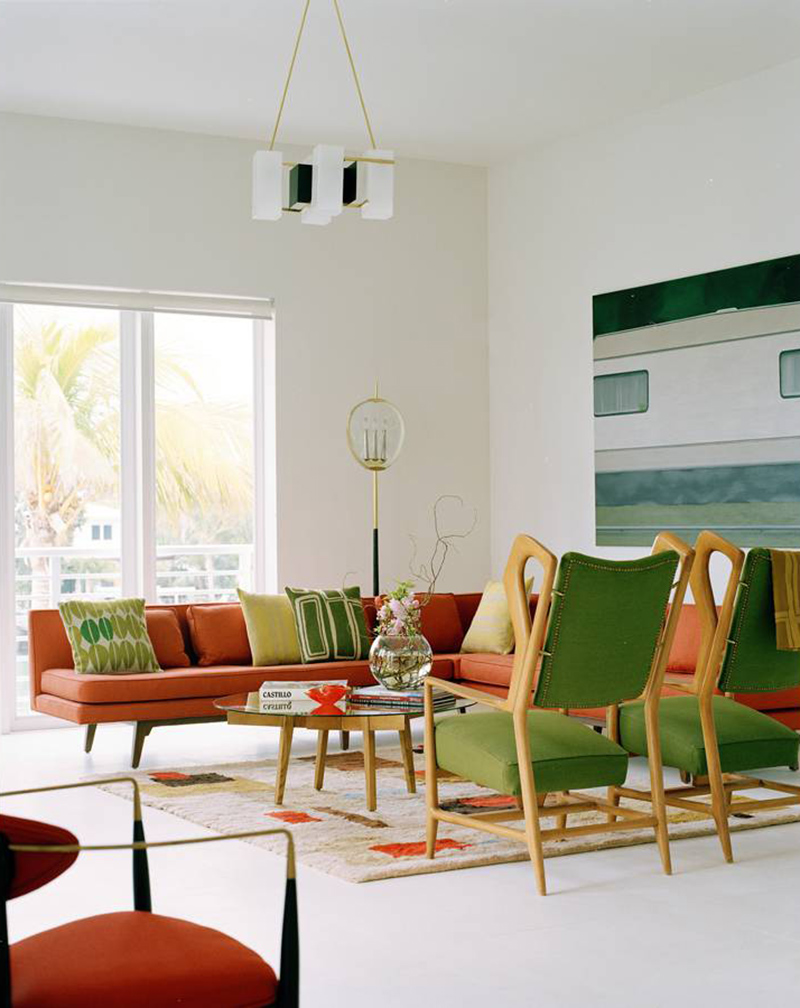 I have seen in other spaces too that orange and green looks great together like what they did to this living room.
17. Beach House Bridgehampton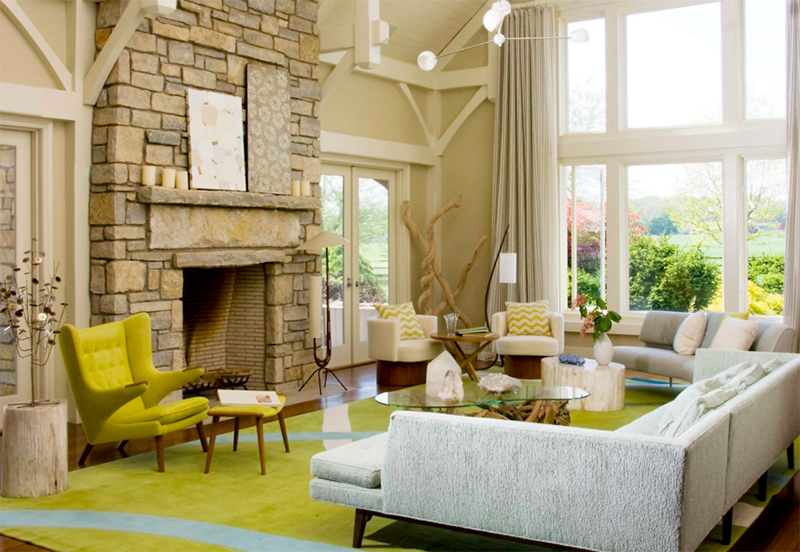 A lime green chair with ottoman was brought into this living space with double height ceilings and stone finished fireplace. You will also see some green colors on the area rug as well.
18. Wentworth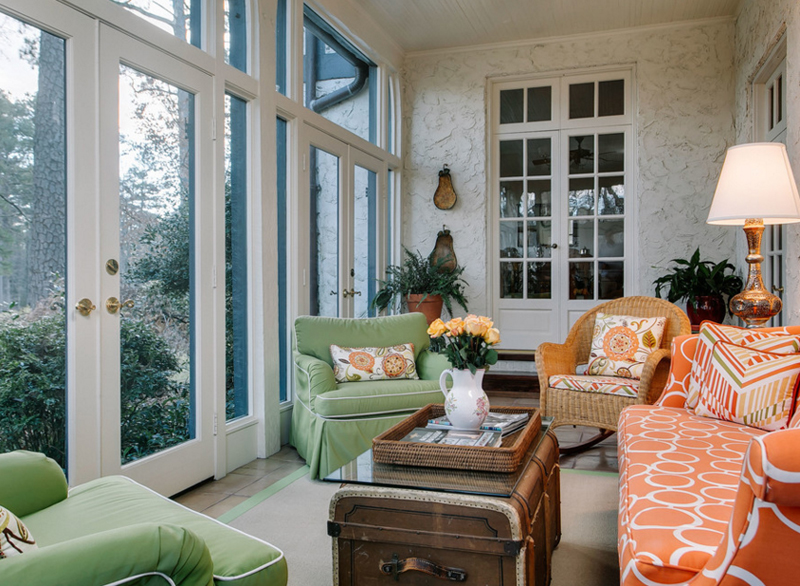 Another living area in orange and green. The pair of green comfy chairs looks really nice in the area which has a good view of the trees.
19. New Single Family Residence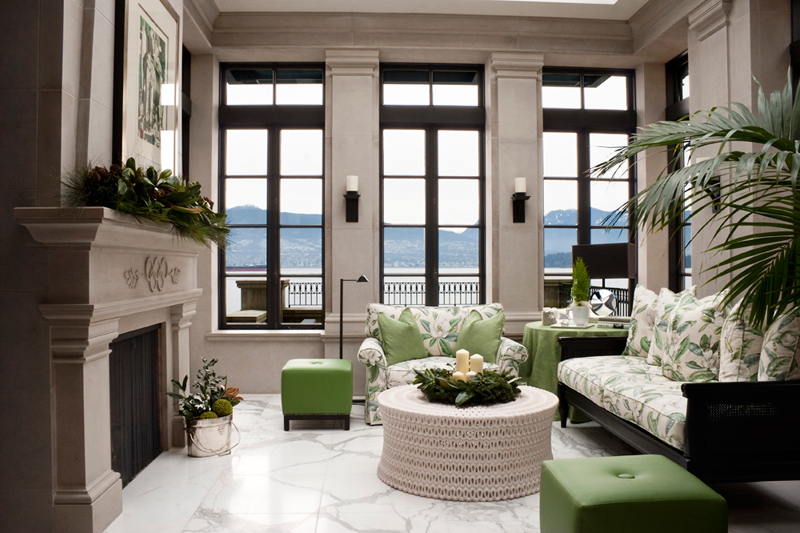 The printed chairs look nice with the added green throw pillows and ottoman.
20. Mullet House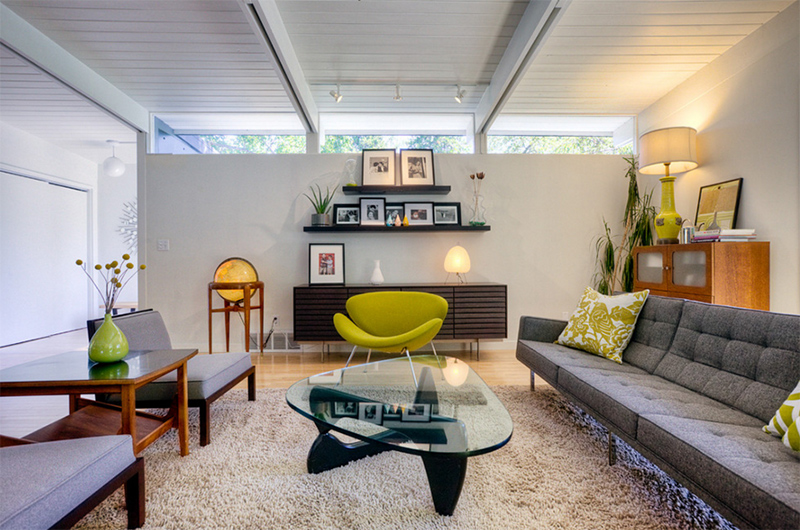 A mid-century modern interior which features various shapes for the furniture just like that green accent chair and triangular glass table.
21. East Hampton Retreat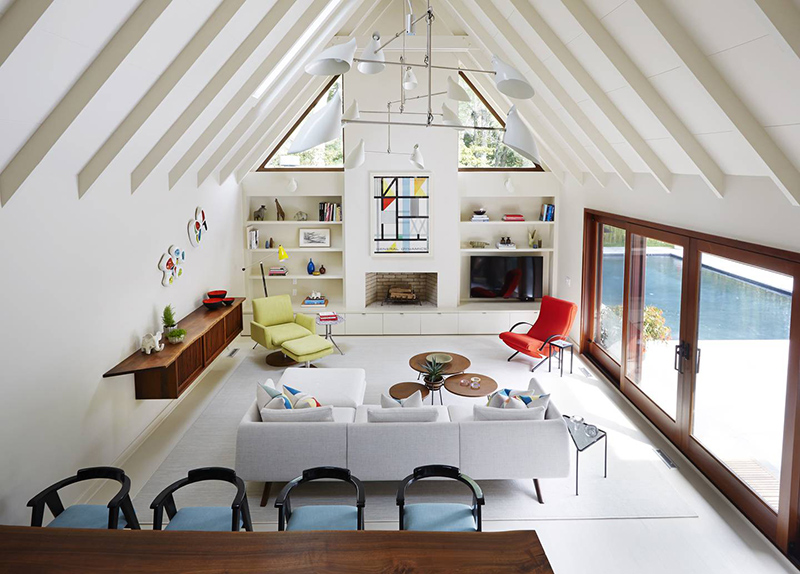 A living room with a tall pitched ceiling has lovely modern items in it including a light green lounge chair.
22. Ulrich Franzen "Castle House"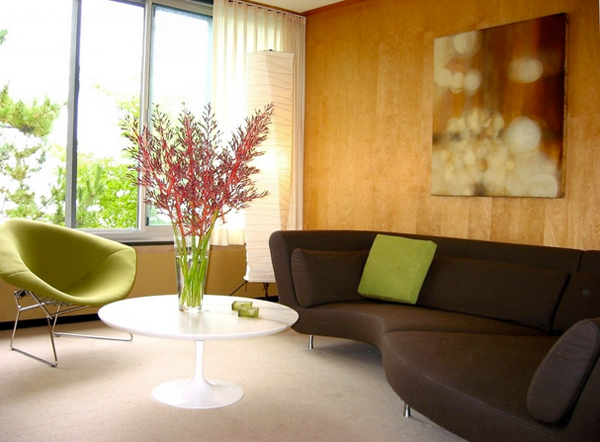 A serene living space with plenty of natural light as well as some earth colors seen in the area.
23. River Road Renovation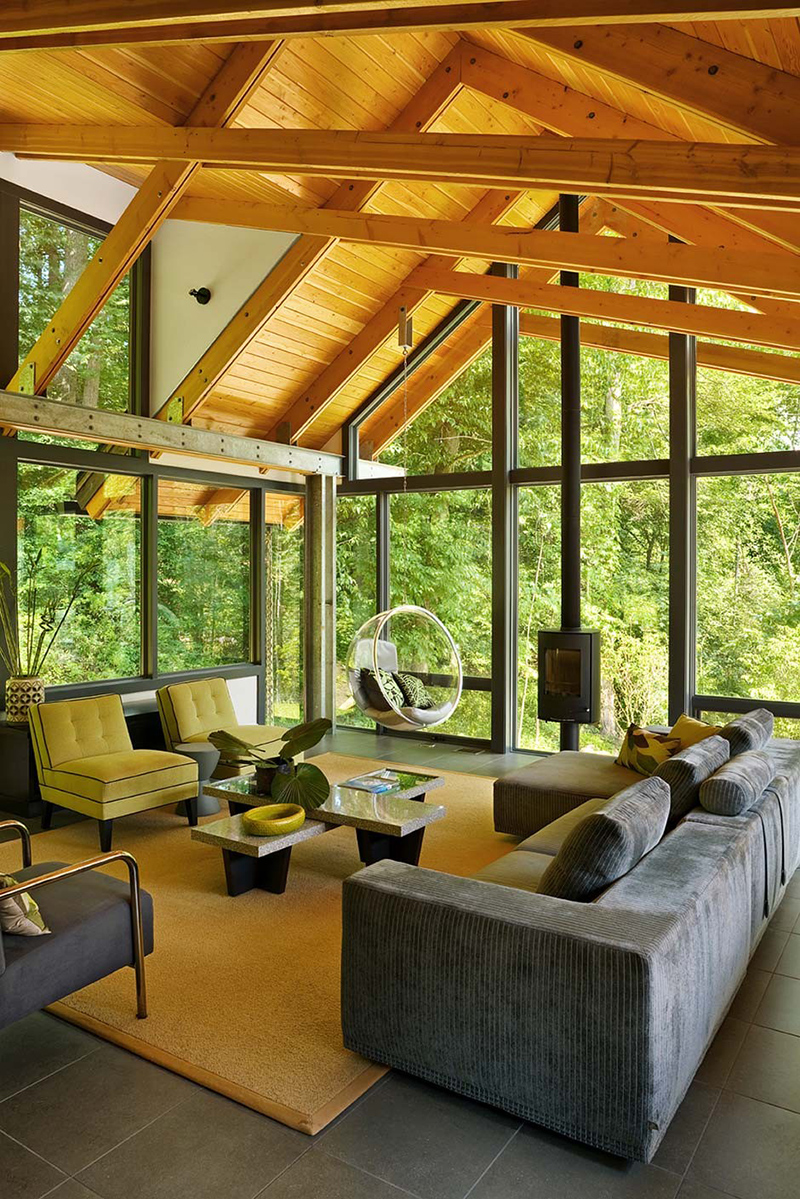 That swing chair looks so cute! Aside from that, it also has other chair types like the pair of green comfy ones and a sofa in this living area which has a 360 degrees view of nature.
So, if green is your favorite color, then you would love to know that you can actually add furniture or two that has that color as an accent to your living room. That is, if you don't want to use green as the primary color for your furniture or walls. But if you choose a lighter green, then it would actually work well. At least, you have seen how it looks like when you drag a green chair into the living room as an accent. Not bad after all, right? It can actually enhance the space!