20 Gray L-Shaped Sofa for the Living Room
A living room looks empty without a sofa. It is one of the living room essentials that one needs to have.
But when you are buying a sofa, there are many things that you need to consider.
Yes, you can't just pick one and buy it at once.
One thing that you need to consider is the size of the sofa as well as the shape. Make sure that it isn't too big or too small for your space.
But that's not all!
The color will also matter. Most homeowners choose neutral colored ones like white but you can also opt for colored ones like red, blue and others. There are even some that have prints on it.
But whatever you choose, make sure that you pick the perfect sofa which isn't just aesthetically appealing but also comfortable to use.
Today, we are going to show you a collection of gray L-shaped sofa in the living room. This will give you ideas on how you can place your furniture in the living space.
Here we go:
1. Gut Renovation of Midtown Apartment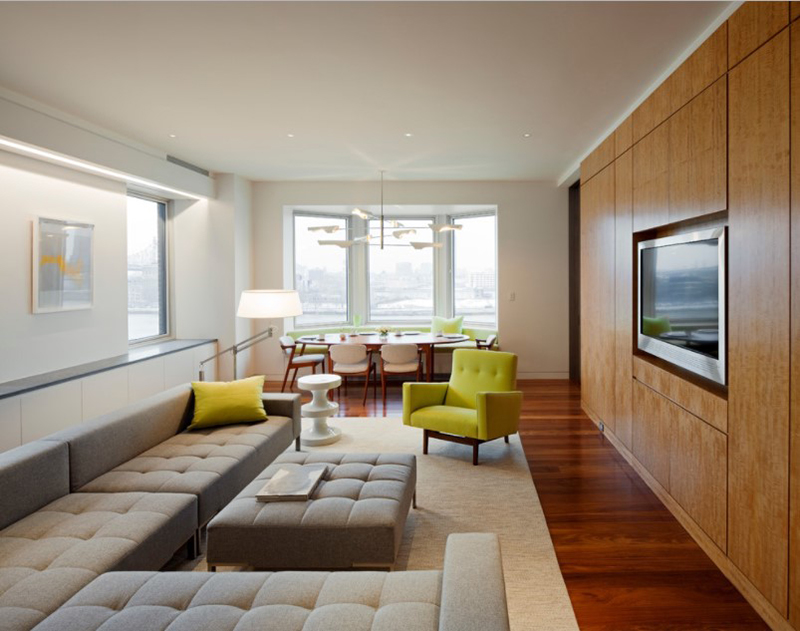 Isn't this a nice sofa? It looks good in this living room but what made it look even nicer are the green accents in it that we can see in the chair and throw pillows.
2. Balham, SW12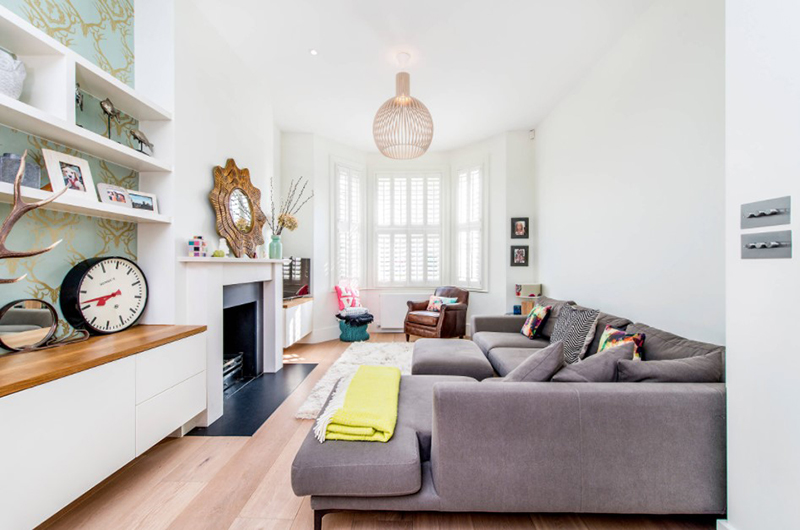 There are many lovely decors in this room which added to its appeal. But what will get your attention are the sofa and the fireplace. The combination of light wood flooring and white walls look really bright.
3. Penthouse -Notting Hill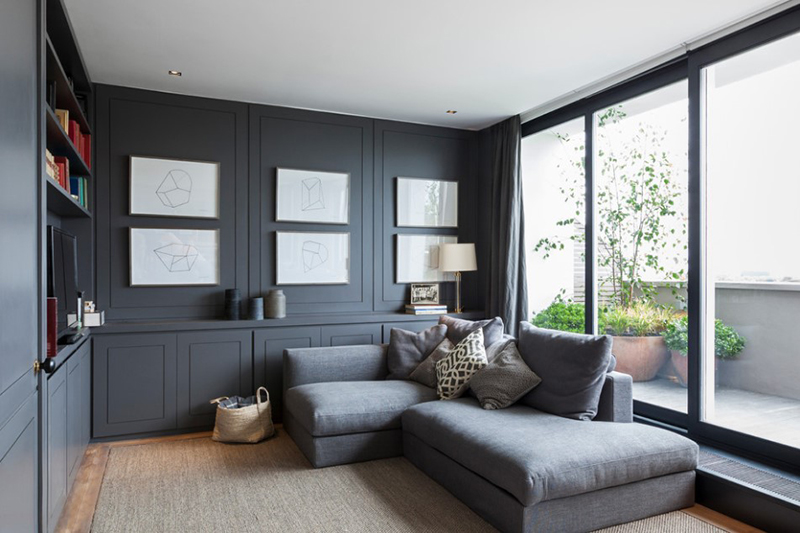 In this space, the area between the furniture and the ceiling was increased to add a sense of height. Seen here is a low L-shaped sofa which is ideal for this living room, freeing up the area above it.
4. My House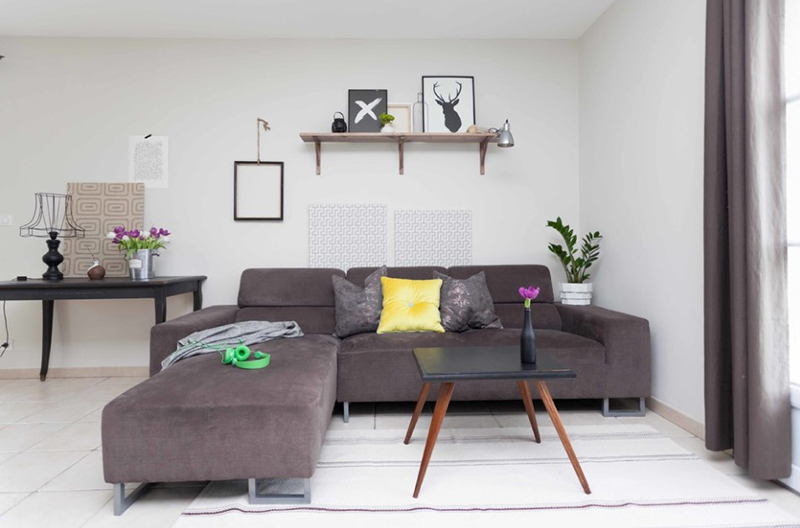 Like the rest of her house, Morris's living room has a mix of styles, with a contemporary, L-shaped sofa, vintage coffee table and classic striped rug. She tries not to stick to one formula, instead choosing just what she likes.
5. Reynolds Home Tour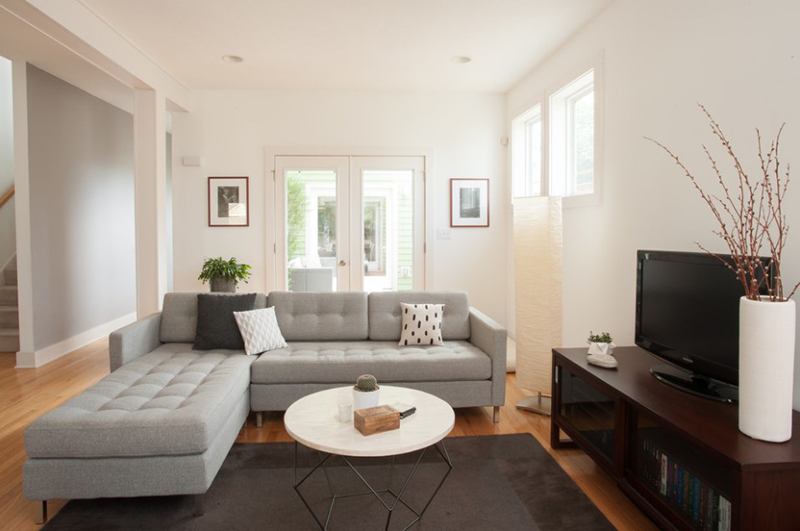 This contemporary living room with white walls and a wooden flooring. The gray sofa is a good choice as it compliments with the walls and the black area rug.
6. Seashore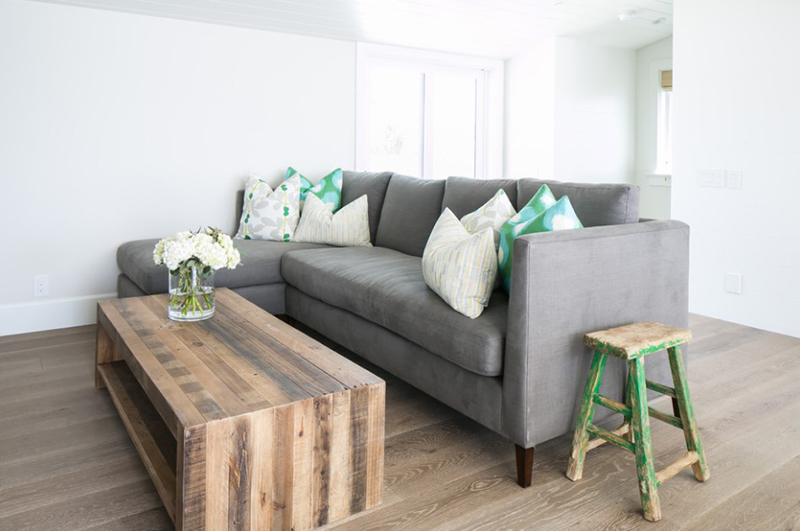 Legacy Custom Homes, Inc.
This mid-sized coastal living room has an open concept which features light wood floor. Also seen here is a coffee table made from reclaimed wood and a gray sofa with printed throw pillows.
7. Apartment in Oktyabrskoe pole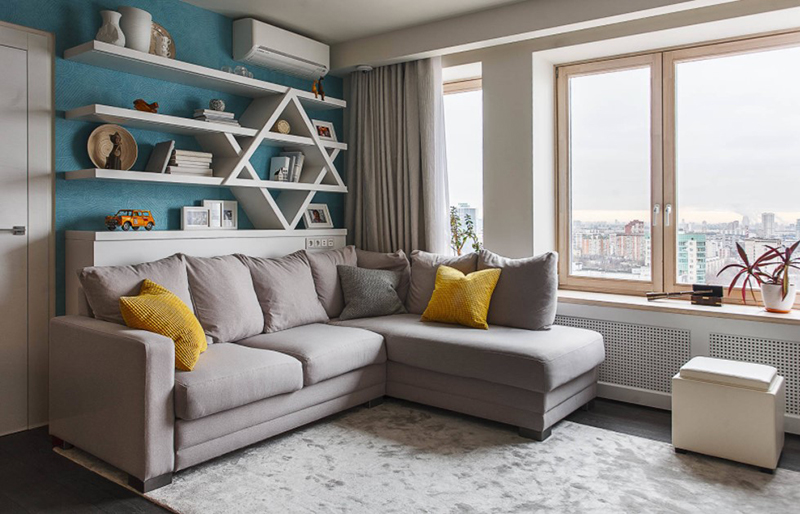 This living area used a loose back cushion in gray. The back of the sofa is covered in many large throw pillows. This style of the sofa has a definite casual vibe.
8. Ritz-Carlton Residences at LA Live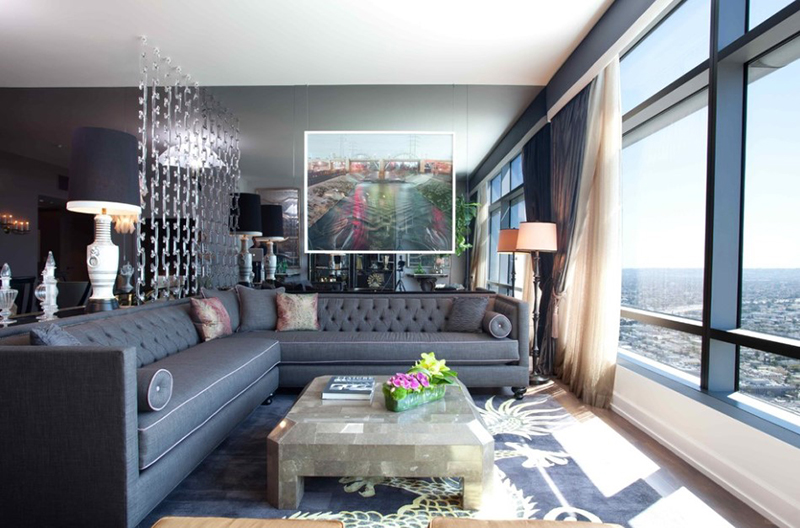 In this modern glam open-plan area, a row of clear Murano glass C-link chains are used to divide the area. It creates a visual and physical barrier between the sitting and dining zones. It also adds another layer of understated glamour along with the beautiful sofa and coffee table.
9. Cobble Hill Condo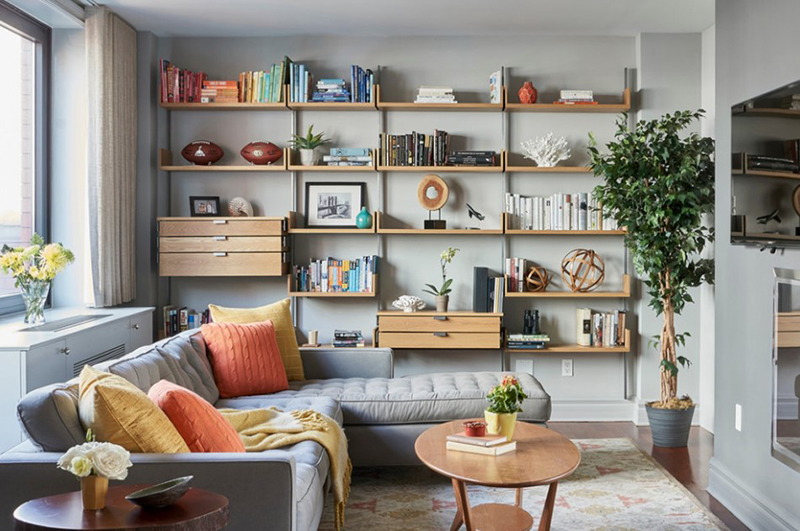 The homeowners needed help so they can decide what to keep, what to add and where to place a mix of furniture that they bought from a smaller apartment. They also want to bring a warmer, more lived-in feeling to the new space. To add casualness, a gray sectional sofa was added in the area.
10. Fairmont Pacific Rim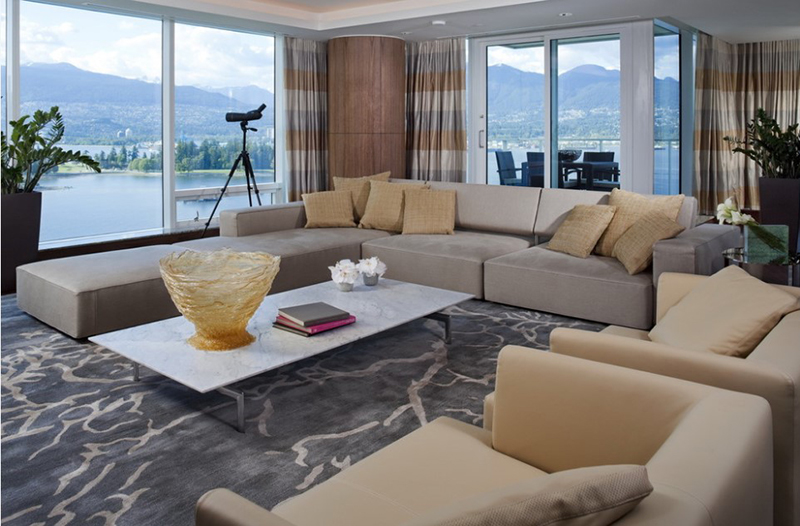 A formal and open concept carpeted living room with white walls and gray L-shaped sofa. Notice that the placement of the sofa is just perfect for the design of the space wherein the sofa's corner is parallel to the walls.
11. Design Lab Showroom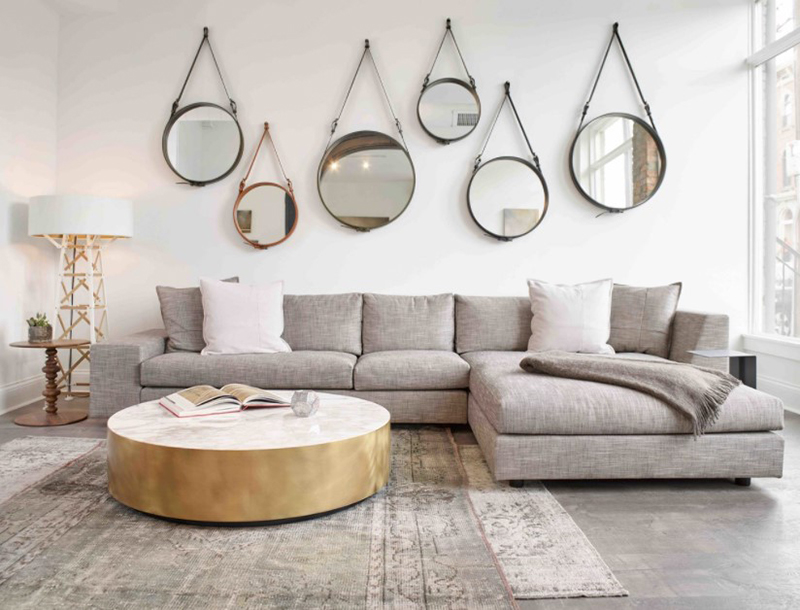 Layering neutrals, textures, and materials are used to achieve this beautiful living room. A comfortable, light and elegant vibe is achieved in the area. Isn't it nice that it used many round mirrors on the wall?
12. Living Spaces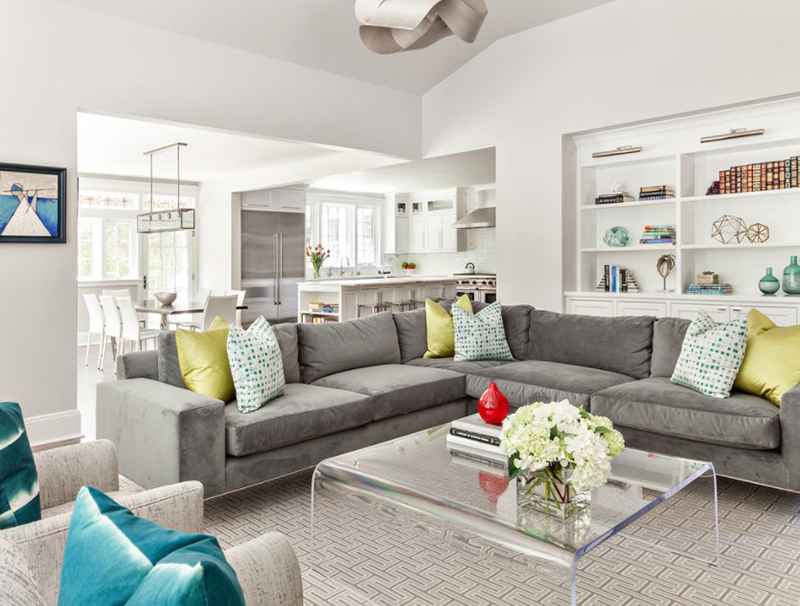 A compact living space with a plastic transparent table and gray L-shaped sofa. The area rug has gray patterns on it while the throw pillows bring pops of color into the space.
13. Crosby Street Loft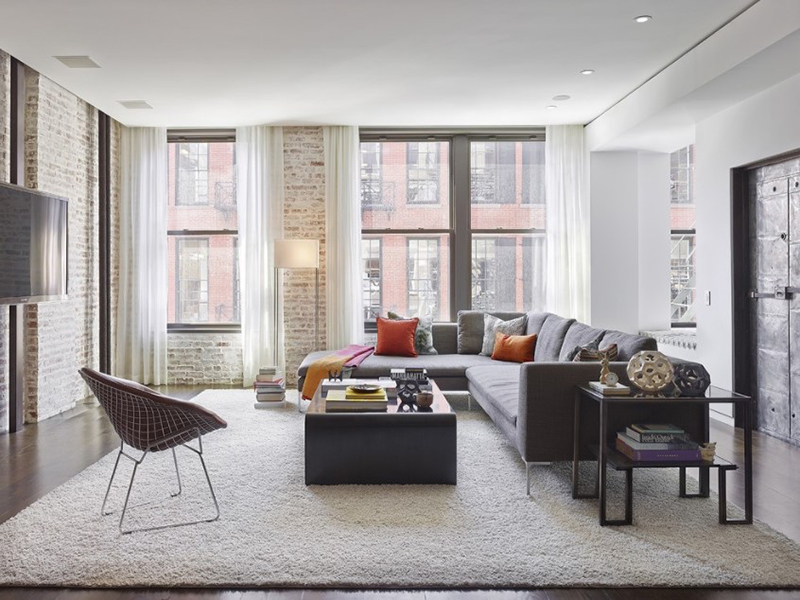 An industrial formal living room with a mix of textures in it from the brick walls to the soft carpets. You can also see a good contrast of colors in it.
14. Bucktown Modern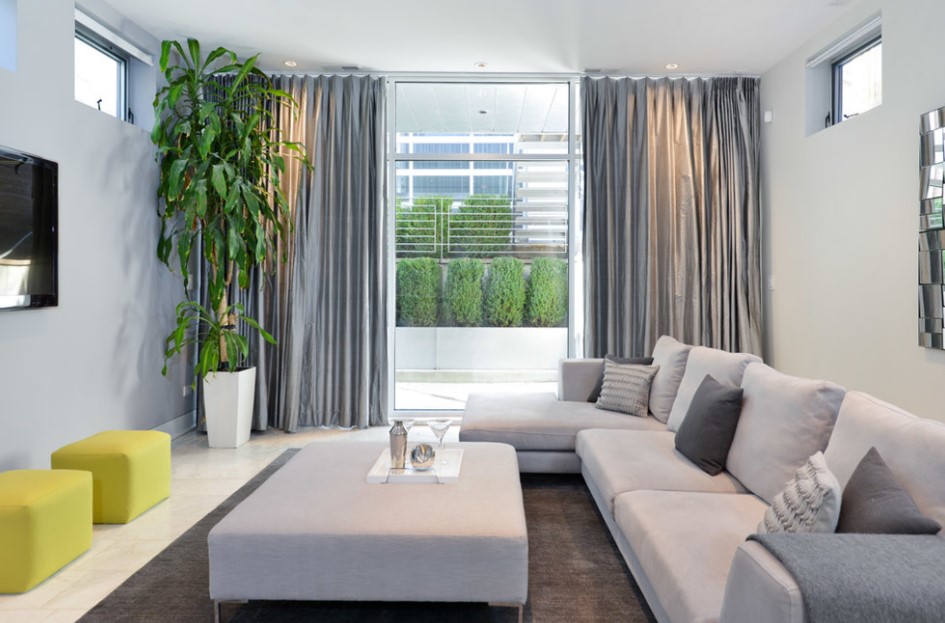 Add navy cushions with charcoal grey and light gray sofa to a small living room and you can get this look! Do not hesitate to bring in some plants too!
15. Jackling Drive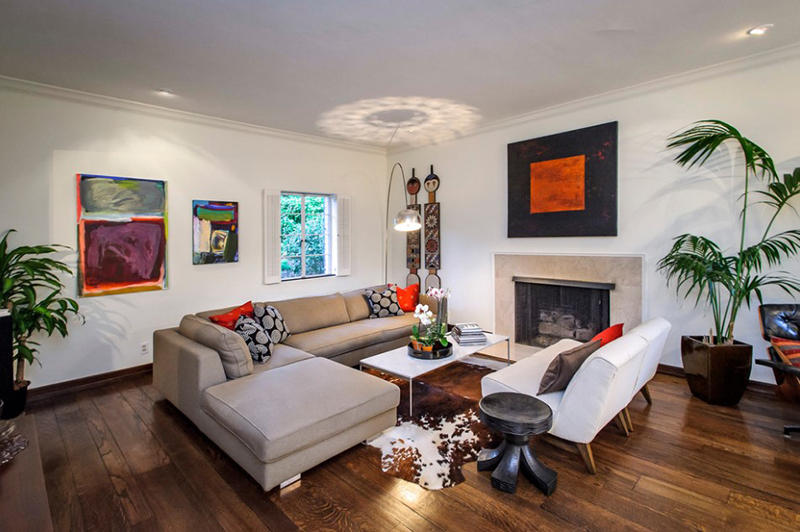 Seen above is a contemporary space with dark wood floor with a standard fireplace, white walls, and an L-shaped sofa. Notice that artistic wall decors are added in the area.
16. Ocean Bluff Renovation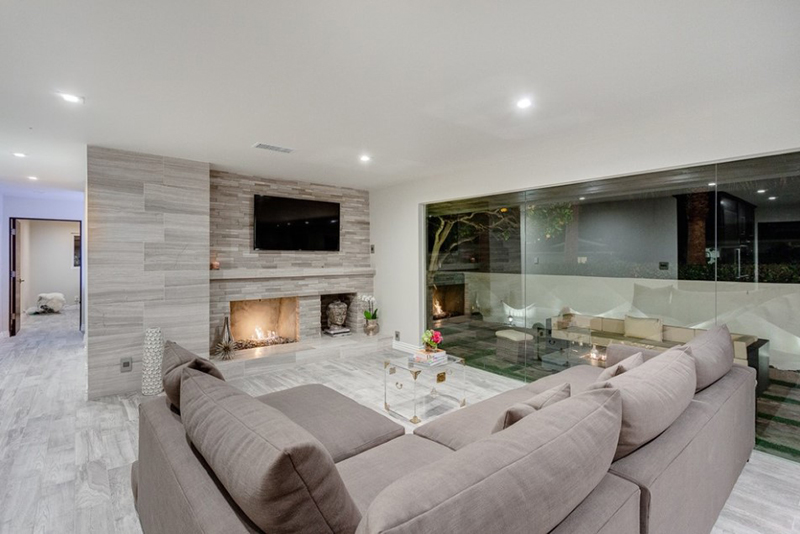 If you want something with a minimalist look but luxurious and sophisticated at the same time, then this is the perfect living room for you.
17. Sacramento Modern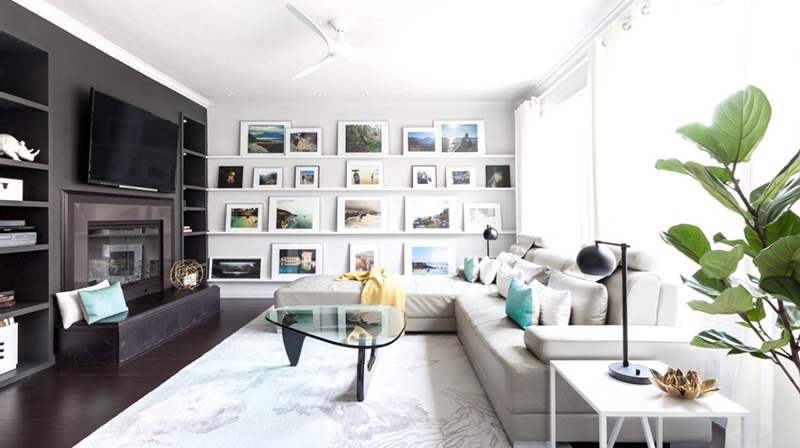 One side of the wall is black with a wall-mounted TV. Under it is a standard fireplace while there are open shelves on both sides of it. The white wall has a photo gallery in it with images in white frames. I like the bright appeal of this space and its use of a triangular coffee table and an L-shaped sofa.
18. Lookbook: Minerals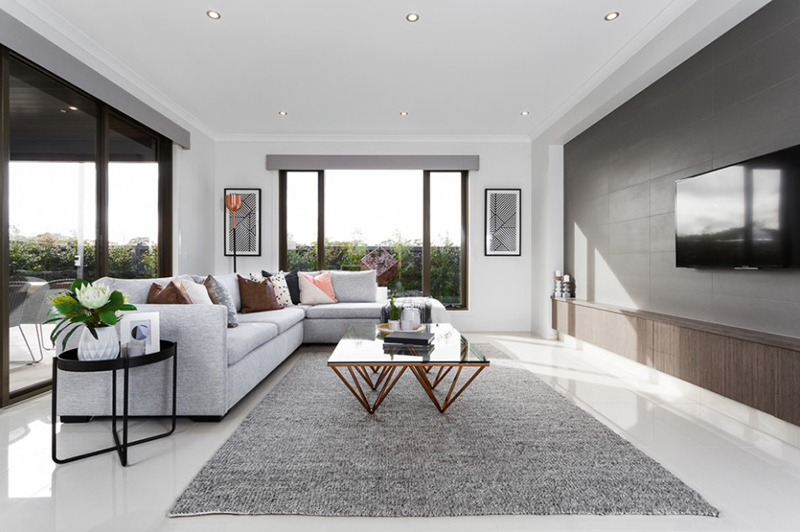 Seen here is a trendy and formal open concept living room with gray walls and a light gray sofa. On its end is a black side table while the center has a coffee table with pointed legs.
19. Hermosa Projects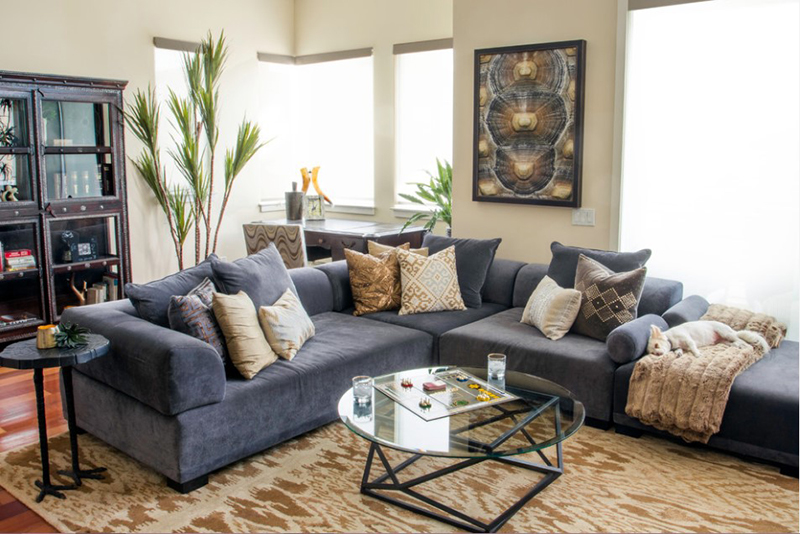 A transitional medium tone wood floor is used in this living room with beige walls. Notice that the sofa has throw pillows with different covers.
20. Bellevue Avenue, West Vancouver BC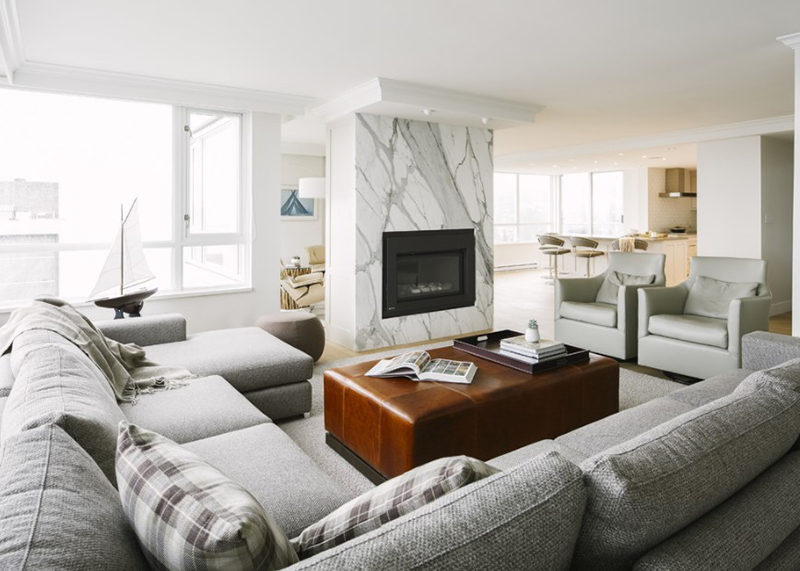 This one looks bright and sophisticated because of its choice of colors and furniture. The stone fireplace is one highlight in the space.
Whatever is the style of your interior, an L-shaped sectional sofa will look good in the living room. It is also a good way to define the living space as well as create a division between those areas to other areas of the house. When it comes to color, you can also choose other colors aside from gray. Although white is common, you can also try sofa with bright and bold colors like the ones you can see in this Bohemian apartment. This becomes a nice statement and feature in your living area. Do you have an L-shaped sofa in your house? What made you decide to get one?