Colorful and Funky Bohemian Apartment in New York
You'd love the mix of colors and patterns in this apartment.
Whenever we play with colors in a certain space, it would look lively and fun but still cozy and function. We have seen many homes that used different colors in the interior to give it a fun interior which will no doubt make the owners feel happy. In today's feature, we are going to show you a beautiful apartment that doesn't just have a mix of colors but as well as textures and patterns. The end result is very stunning and inviting.
New York-based studio, Incorporated Architecture & Design designed the Bohemian Apartment which was completed in 2010. The space is a colorful, contemporary apartment that holds surprises around every corner. Every room has a very distinct personality ranging from bold and modern to fun and playful, from muted and earthy to funky and retro. It is like you will be in awe once everywhere you look. The apartment has uses a combination of furniture too from modern to contemporary ones. Even its lighting is also unique. Let us take a look at the apartment's images below.
Location: New York
Designer: Incorporated Architecture & Design
Style: Modern
Number of Levels: Apartment
Unique feature: A unique modern home that plays with colors and textures giving the apartment a playful and funky feel.
Similar House: A Splash of Colors Fills the Tuhachevsky Street Apartment in Russia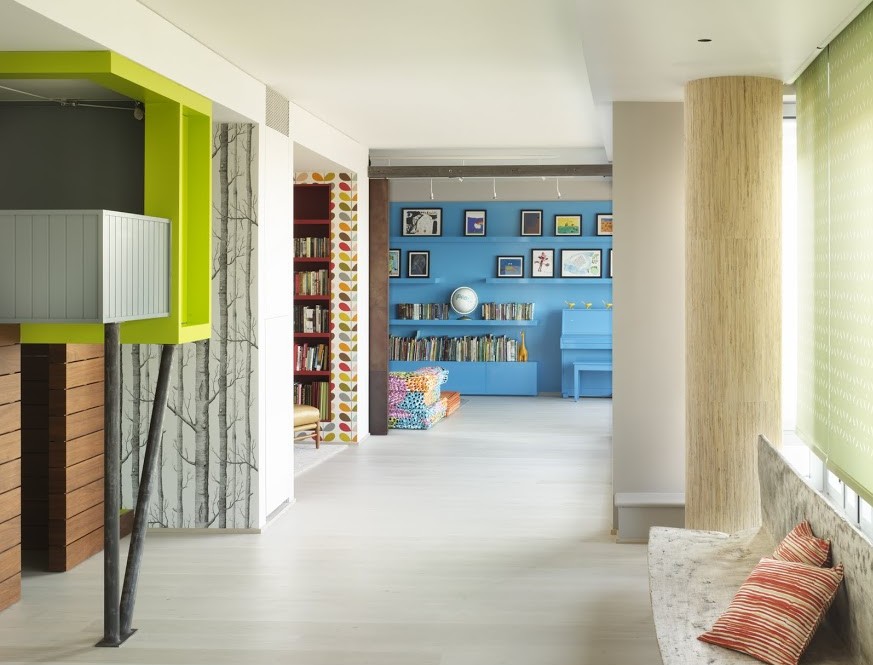 This apartment has various areas in it that is being defined by the different patterns and colors in each area. It is like you are in a different home in just one space!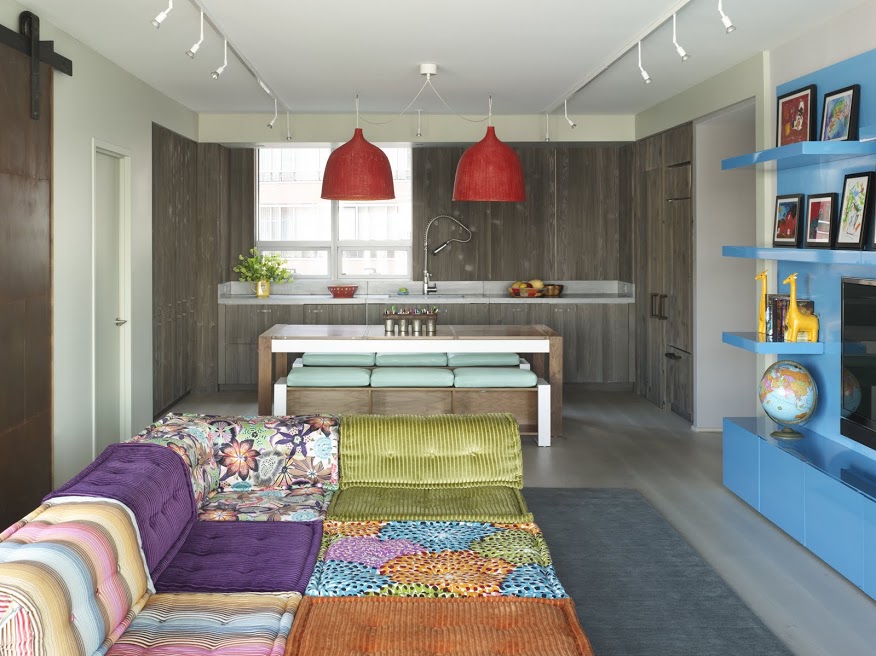 The highlight of the living room is this sofa with various patterns in it that comes in different colors. Apart from being beautiful, it also looks comfy.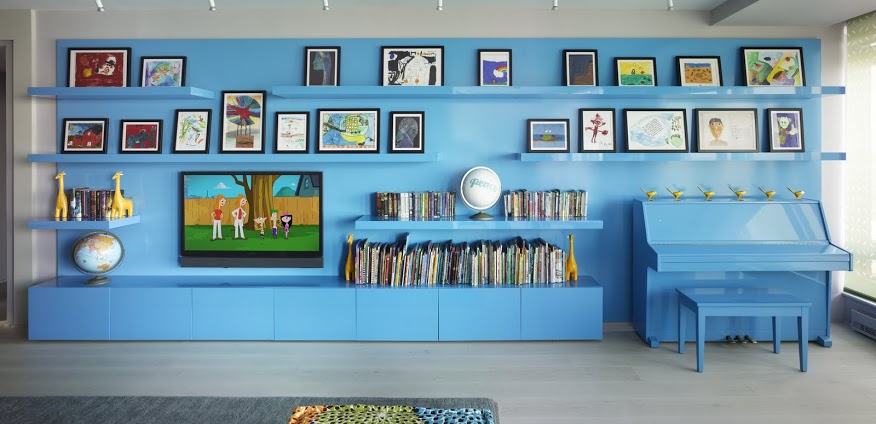 The family room's bright blue built-in shelving along the length of one entire wall beautifully showcases what this space is all about – family. Framed artwork from the littlest residents claims its rightful place in the heart of the home.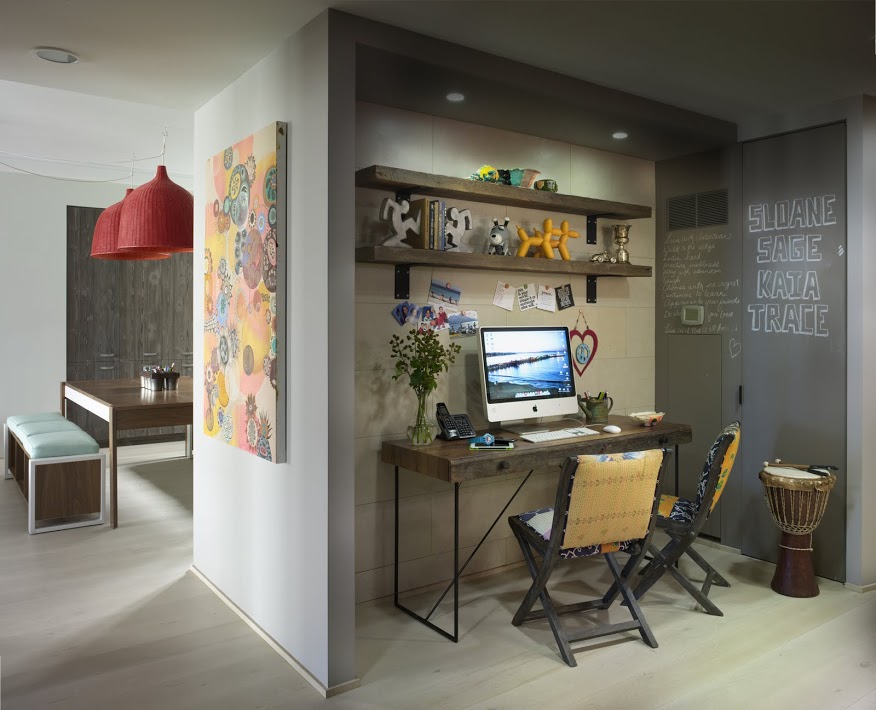 The owner also allocated a working area inside the house. Isn't it cute that it has a chalkboard wall where they can scribble and write whatever they want? If this is my house, I would be spending much of time in this corner.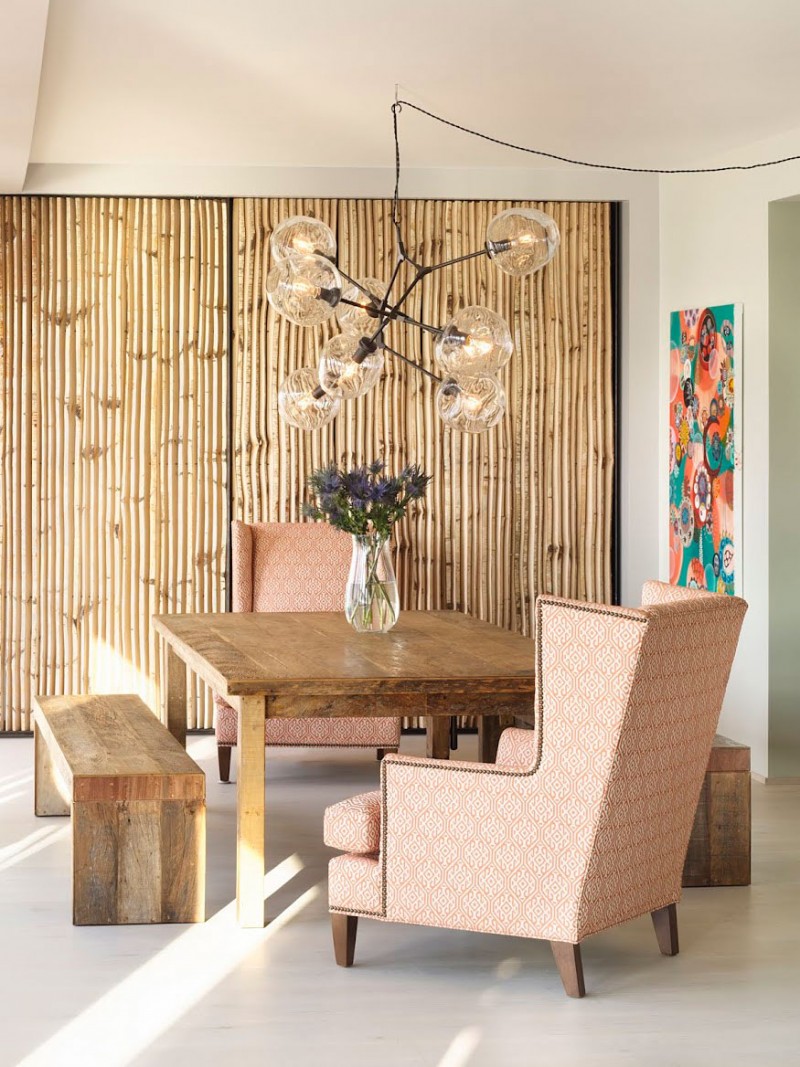 The dining area also has an accent wall of bamboo that looks interesting and defines the area from the rest of the house. It has a wooden dining table with a bench and a pretty chair.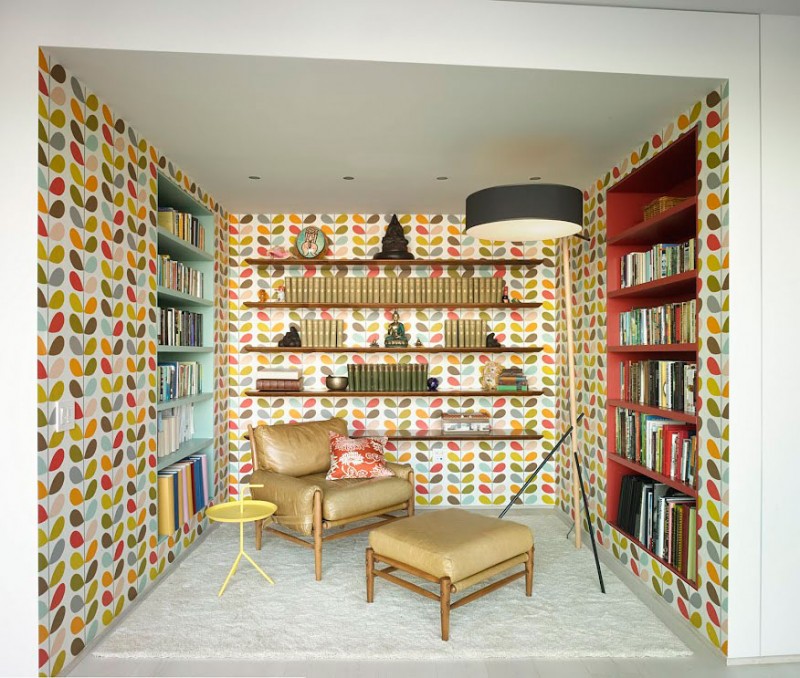 The apartment also has its own mini-library and reading area. Apart from the bookshelves, it also has a wallpaper that is very attractive and beautiful.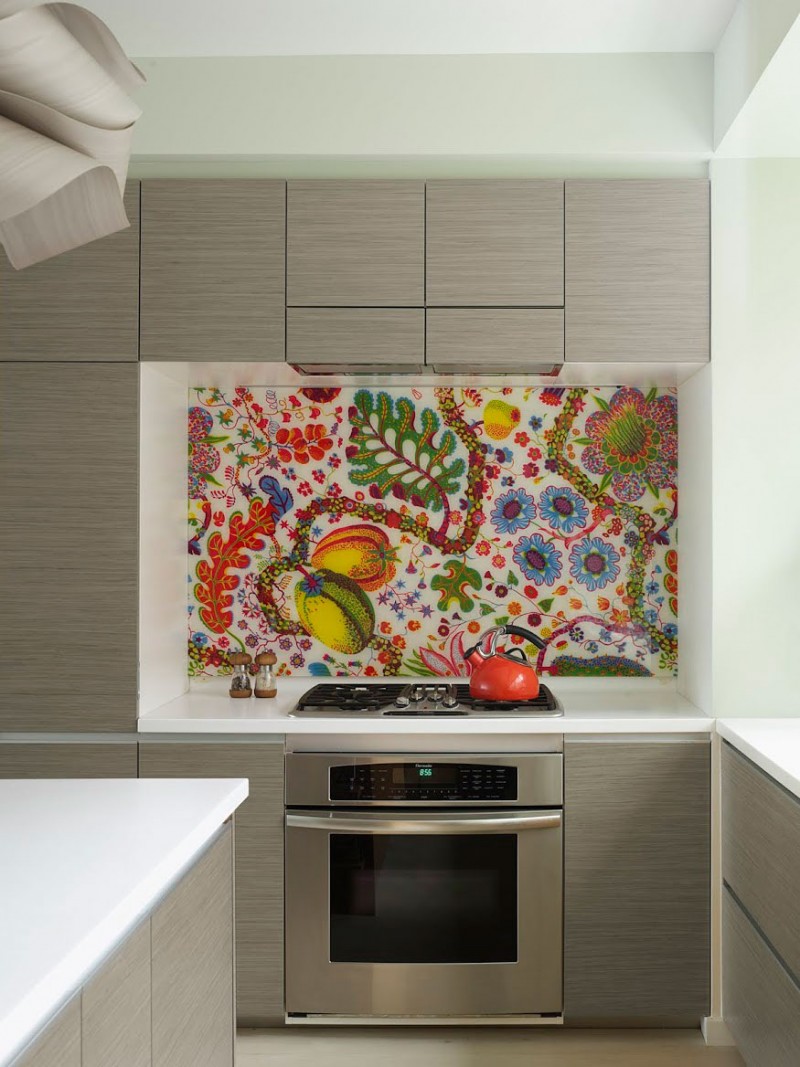 Even the kitchen has a colorful backsplash above it with a surrounding gray tile on the wall. Isn't this a nice space to work and prepare food? It sure is!
Read Also: Colorful and Multi-functional Features of the Interiors in Trama Apartment in Brazil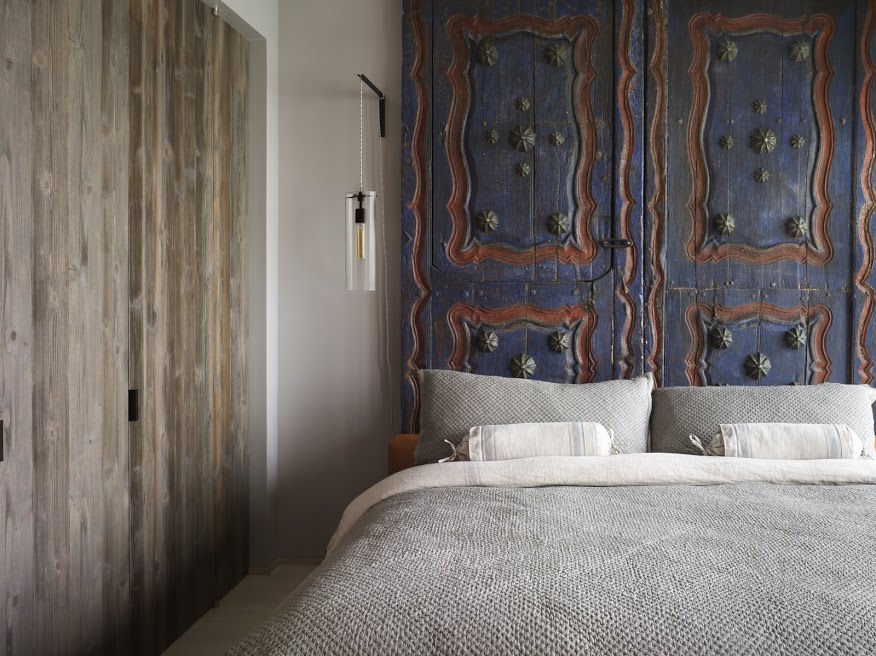 Though the other rooms in the home are decidedly more grownup, they all have unique design elements that add visual interest and warmth. There's a bright and whimsical backsplash above the stove in the kitchen, a chalkboard wall in the office nook, and a headboard in the master bedroom that looks more like a pair of antique doors.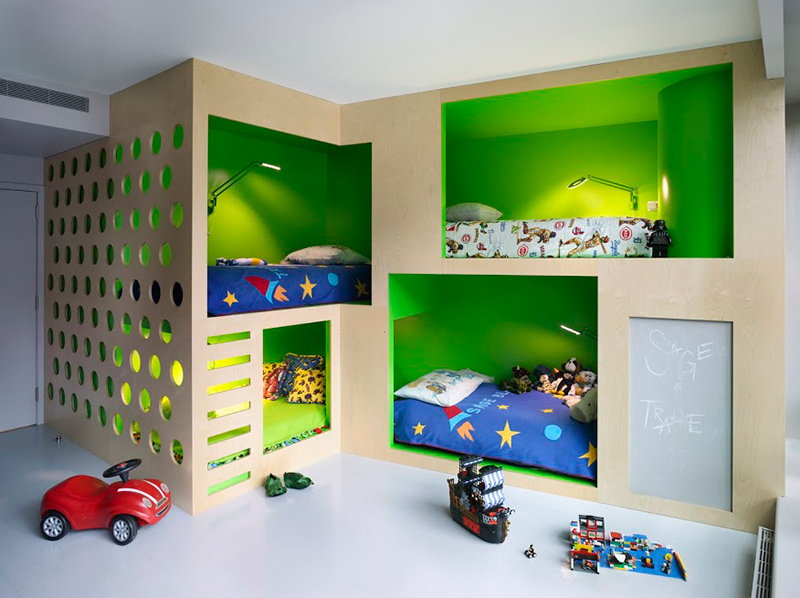 If you have four kids to use a bedroom, you can do it in this manner to give save space. It is nice that the interior of the beds are painted green and each one has a lovely light.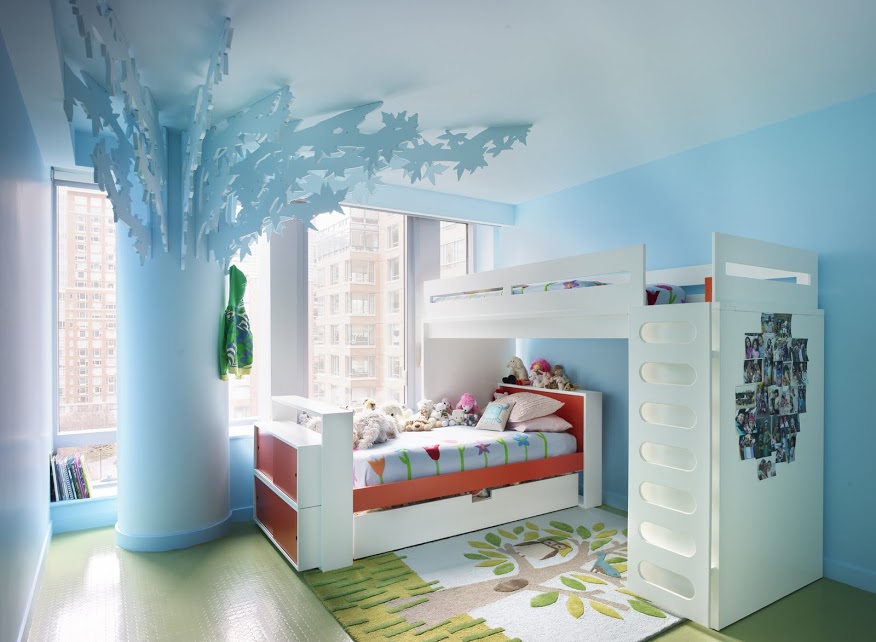 The children's bedrooms are just as fun as the playhouses. Here you will find mini-lofts with curious cutouts in the boys' room and an elaborate 3-dimensional carved wooden tree reaching down from the ceiling in the girls'.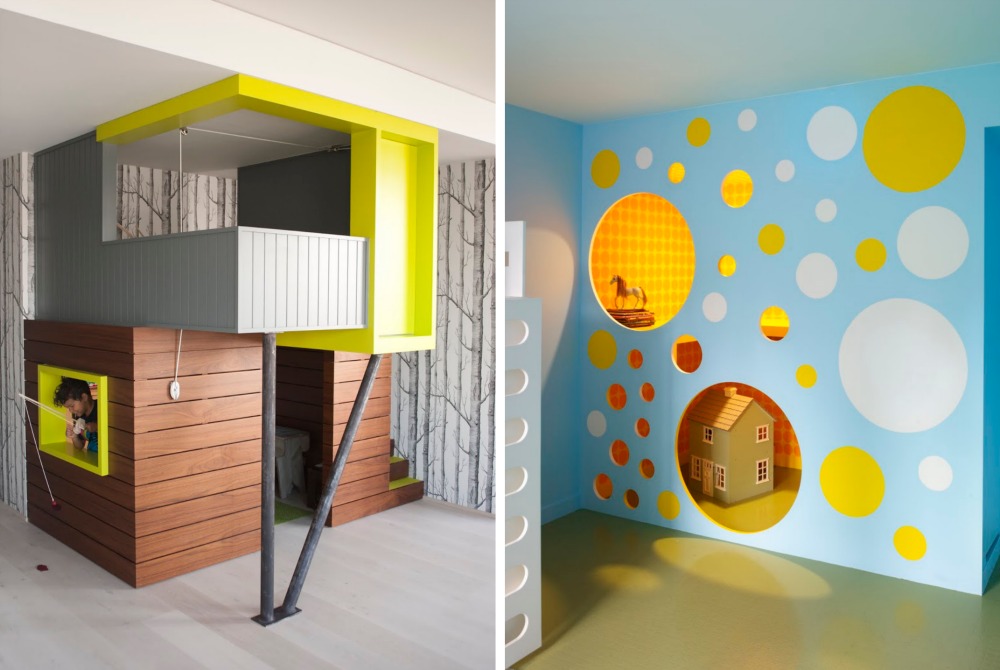 And if there's any doubt that the pint-sized family members are the focus, all you need to do is set your eyes on the not one, but two indoor play houses to be convinced. Though they may have been designed for the kiddies, the child in us would have no trouble getting curled up with a good book in either one.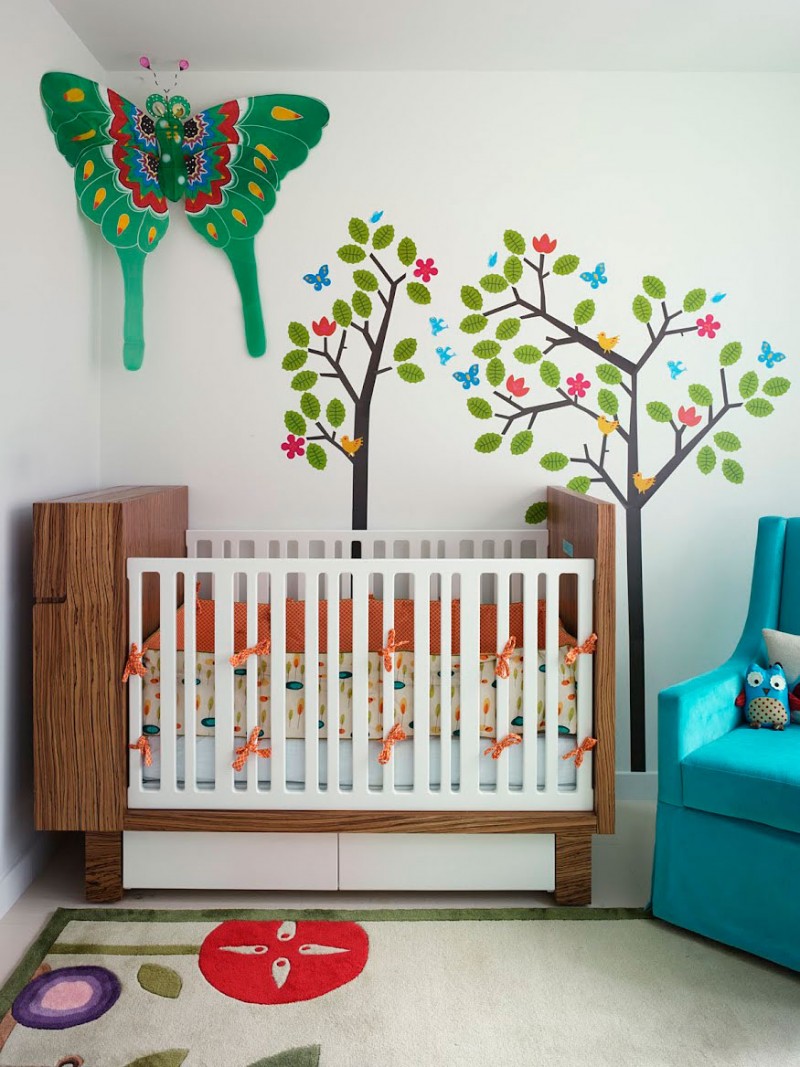 Seen here is a nursery that has sweet wall renderings that perfectly accent the delicate space. Isn't it a nice modern approach to a playful nursery?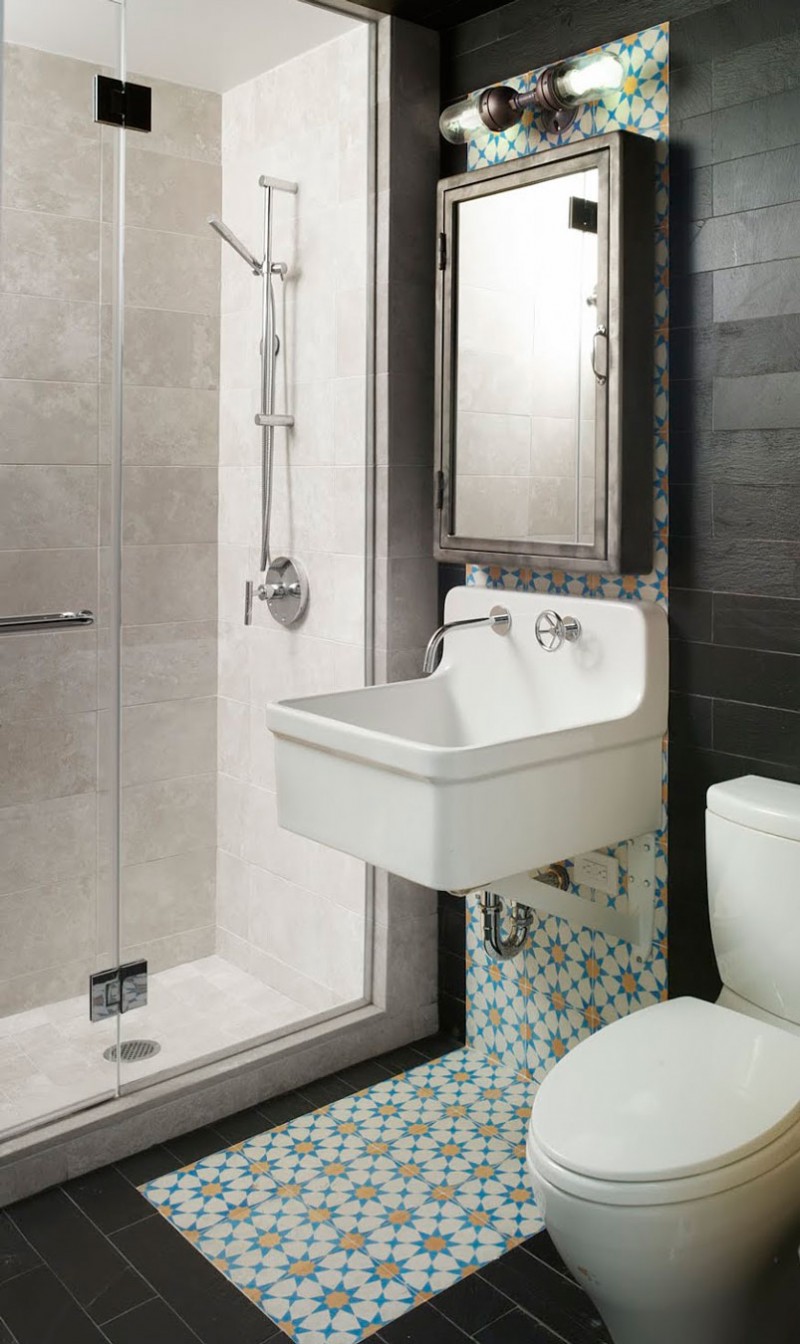 The bathroom has a patterned tile under the sink which is being given emphasis because of the black tiles around it. It also has a shower area that is enclosed in glass.
If you love colors, you will surely love this apartment by Incorporated Architecture & Design. I like it that there are surprises in every corner of it. Apparently, this apartment is a head turner as it mixes different elements of design in it. But of course, it isn't just about aesthetics because the areas are also functional. The bedrooms, especially the ones for the kids are one of the highlight of the space because of how it was designed with a modern playful approach. I also like it that it has its own library where they can read and have a private time. How about you, what do you like about this apartment?