Before and After: Boring Basement in Maryland Gets a Cottage Feel Update
Not all of our homes has a basement. But if you have one, I'm sure you are thinking of how to make use of it. You can use it in so many different ways. Others turn their basement into a man cave which is a good way to use it of course for extra fun. A gaming area or entertainment area can be added there too. Still others turn it into a play area for kids, a family room, a gym or just whatever functions that they find necessary for their lifestyle and needs.
A single woman in Bethesda, Maryland lives in a two-story colonial home and wanted to create a space for her visiting families and friends. Hence, she decided to update the look of her 580 square feet basement with a budget of $69,000. The basement used to have a scary and dark feel and is really too far from being inviting. But after the renovation, it turned into a charming space with a cottage-like feel. Let us take a look at the before and after photos of the basement.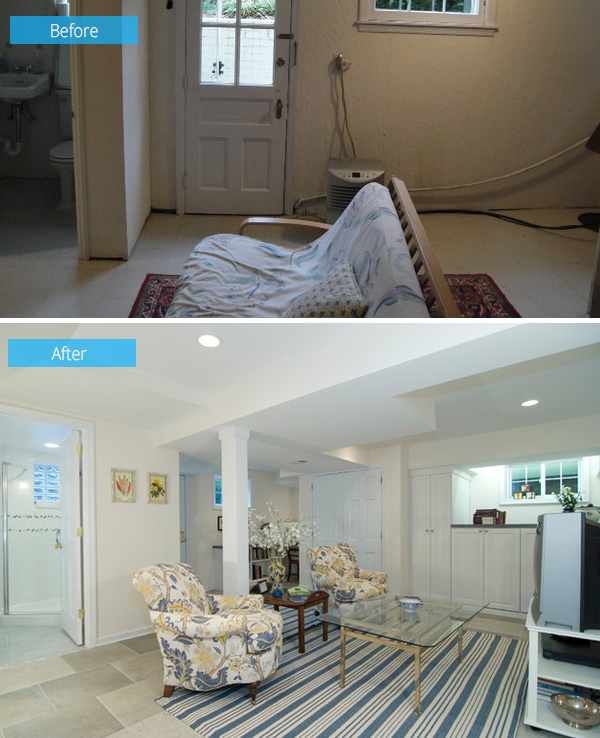 The renovation wasn't easy because there were plenty of things that needed repair. Even the entire wall and framing were removed because of an irreparable termite damage. The flooring was changed too. A major renovation was needed for this basement. But look at how the work turned out to be!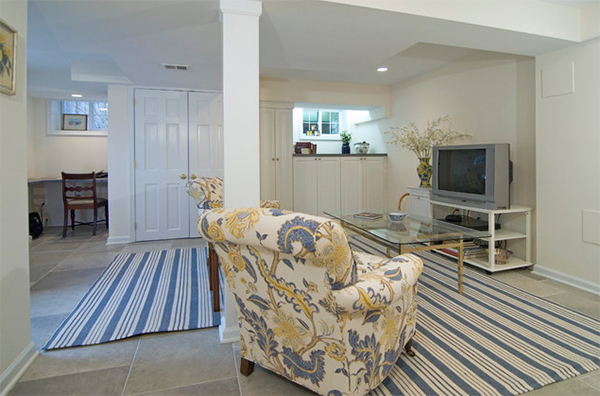 The flooring is covered with ceramic tiles that looked like stone. It was expensive to add new tiles to the entire floor but it was sure worth it.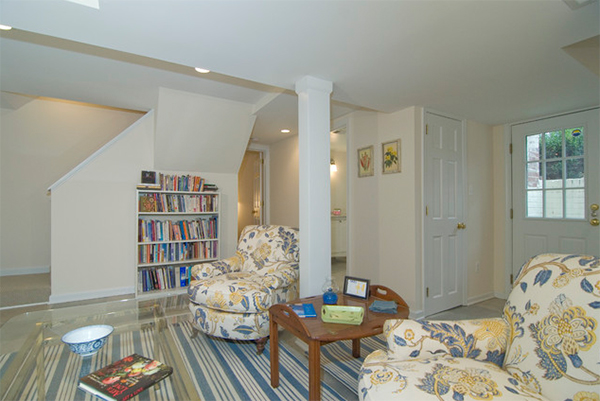 The color of the flooring added more to its cottage or beach-y feel. It used classic striped are rug from Dash and Albert that looked lovely in the space.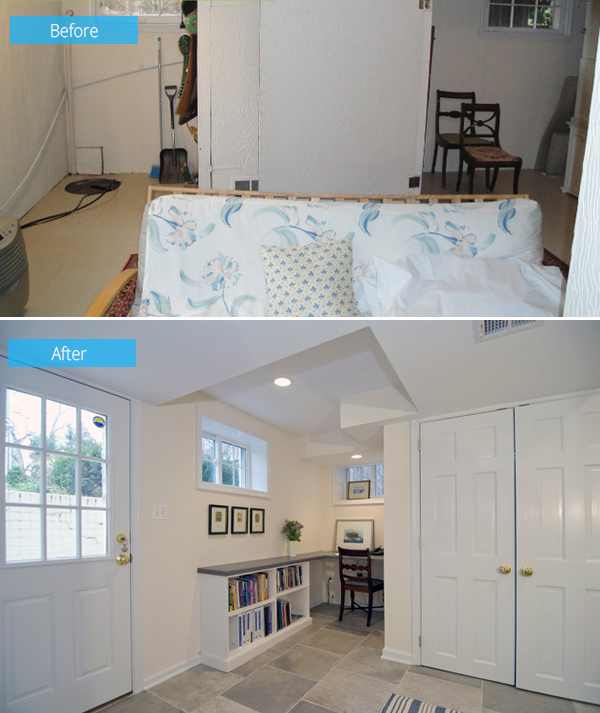 Before, the space isn't very usable. But now, the left and right areas was used as the other side was turned into a workstation with built-in bookshelves and desk.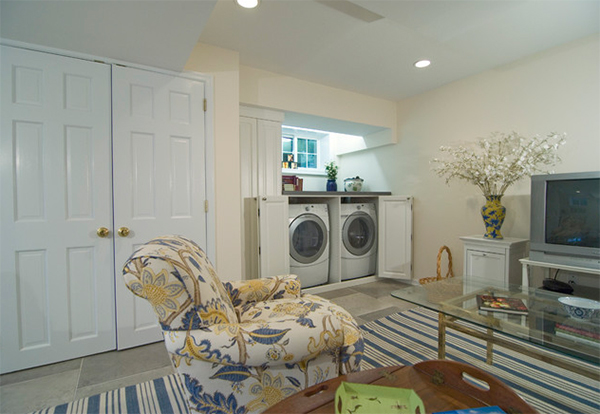 When the cabinets are closed, you will not realize that it is actually hiding a washer and dryer. There is also enough room for folding clothes and even for storing laundry supplies.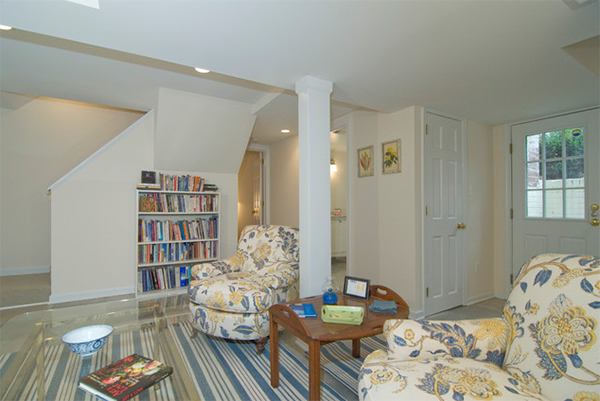 Under the stairwell are more bookcases. I can just imagine reading books in this cottage feel basement.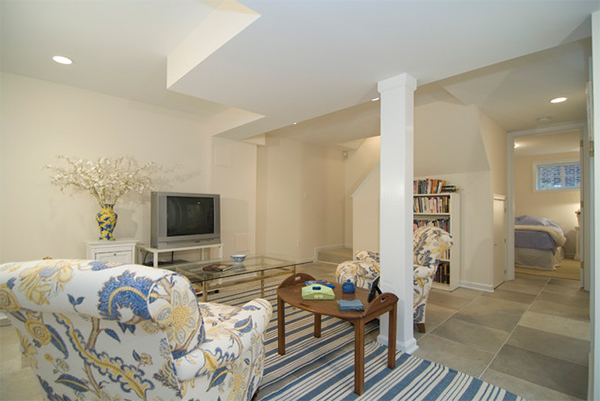 The entire basement looked very lovely after the renovation and you will no longer recognize it from its previous look.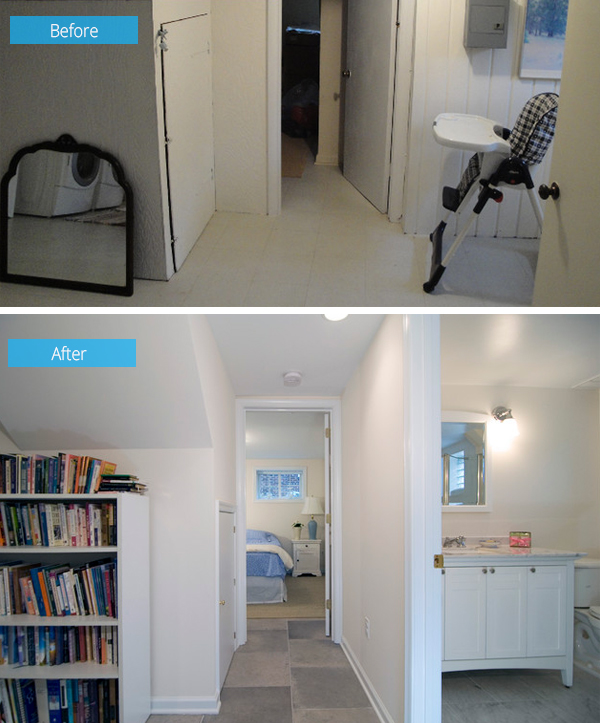 The hallway once looked ugly but now it looked clean with a full bathroom and guest bathroom that you can see in the picture.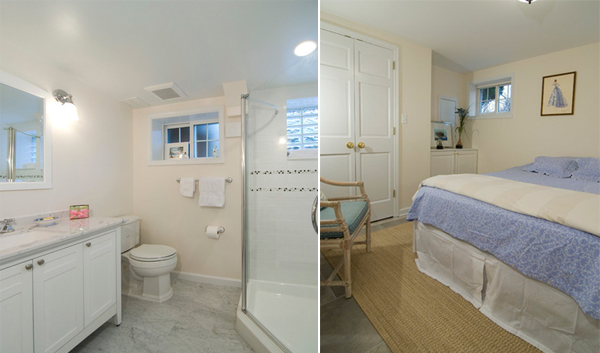 On the right is the photo of the bathroom with a shower while on the other side is the bedroom with jute rug on the floor.
Now this is a space where you can really spend long chats with family and friends! Isn't this a charming basement? This is designed by Michael O'Hearn, a special project designer at Case Design/Remodeling. The once dark basement is now complete with a living room, bedroom, full bath, hidden washer-dryer station and workspace. Isn't that amazing?